November, 30, 2011
11/30/11
2:23
PM PT
Oh by the way, UCLA has a game this weekend.
Amid all the commotion surrounding the firing of coach Rick Neuheisel this week, it's easy to forget the Bruins are preparing to play Oregon Friday in the Pac-12 championship game.


Yes, the team with the coach who just got fired is playing for a championship. And that fired coach isn't really fired until after coaching the team in that game. Those are just some of the bizarre circumstances hovering over the inaugural Pac-12 title game, which is otherwise known as the Kinda-Sorta Bowl.
UCLA is the team that kinda-sorta has a coach and kinda-sorta qualified to play for the championship in a game it kinda-sorta has a chance to win.
Well, maybe that last one is a bit of a stretch. UCLA probably has as much chance to win as Sonny Corleone had at the tollbooth.
But that only adds to the bizarreness of a title game that probably isn't exactly the scenario the Pac-12 had in mind when it split into two divisions and created a title game.
"It's a strange situation all together because in all honesty we're really not supposed to be here and our coach got fired so he's not going to be here," UCLA receiver
Randall Carroll
said. "I guess it's a real crazy situation."
November, 26, 2011
11/26/11
11:22
AM PT
Welcome to Trojans (and Bruins) Live! Saturday, 7 p.m. PT Set your reminders.
ESPNLA.com's interactive chat from the ESPN staff covering the USC-UCLA game at the Coliseum. Game will be shown on Fox Sports regional network (Prime Ticket).


November, 23, 2011
11/23/11
2:45
PM PT
November, 2, 2011
11/02/11
1:50
PM PT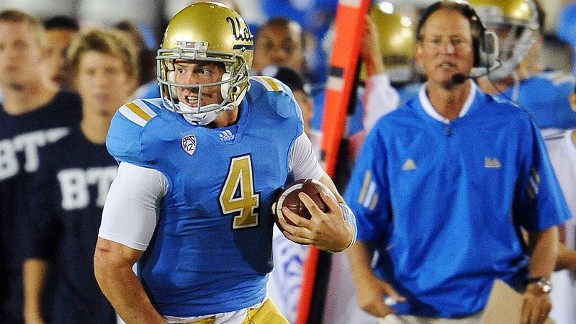 Jayne Kamin-Oncea/US Presswire
"Now the challenge is to be able to put two wins together," quarterback
Kevin Prince
said after the Cal game.
The pattern is so painfully obvious that it doesn't take Sherlock Holmes to crack the code: UCLA will lose this weekend. At least that's what the past results would indicate.
The Bruins so far this season have followed each loss with a victory and each victory with a loss. They are coming off a victory over California, and UCLA, which is 4-4, has yet to put together a streak, winning or losing.
The yo-yo season is partially rooted in scheduling, with the Bruins seemingly playing a top-25 team one week and a struggling team the next. But it's also one rooted in attitude. The Bruins have figured out how to bounce back, but haven't figured out how to build upon past success.
It's a pattern that has grown tiresome for many at UCLA, and one they hope to end when they face Arizona State on Saturday at the Rose Bowl.
"It's frustrating," cornerback Andrew Abbott said. "We've shown we can overcome a loss, but not that we can handle success. We have to come back out and work hard to improve instead of strutting around like we're the best thing and the Rose Bowl is going to be filled this weekend just because we won last week. We can't let stuff get to our head, we just have to come back out and grind."
There is every reason to believe that the Bruins have, indeed, changed their attitude about winning. Inside the UCLA locker room following the 31-14 victory over California last week, the players and coaches all delivered the message that they could not be satisfied.
They celebrated the victory and took pride in their best played game of the season, but almost immediately began to focus on playing consecutive good games.
"Now the challenge is to be able to put two wins together," quarterback Kevin Prince said while sitting in front of his locker after the Cal game. "We haven't done that this year. For the most part we haven't been able to do that for my career here. So we just have to be more mature and handle this win better."
It's a message coach Rick Neuheisel has also been preaching almost since the moment the California game ended.
October, 28, 2011
10/28/11
12:53
PM PT
UCLA has been picked to win the Pac-12 Conference men's basketball title in the annual pre-season media poll, the conference announced Friday.

The Bruins, conference runner up last season, received 14 of 38 first-place votes and 421 total points to edge California (13 first-place votes, 405 points) and defending conference champion Arizona (11, 404).

The Bruins return last season's leading scorer and rebounder in power froward Reeves Nelson and along with center Joshua Smith UCLA has one of the top front courts in the nation. UCLA is No. 17 in the Associated Press preseason rankings and No. 20 in the ESPN/USA Today preseason coaches' poll.

The media has correctly picked the conference champion 12 times in 19 tries. UCLA has topped the preseason media poll seven times during that span and ended up winning the conference five of those times.

The complete poll:

1. UCLA (14): 421 points
2. California (13): 405
3. Arizona (11): 404
4. Washington: 355
5. Oregon: 282
6. Stanford: 255
7. USC: 194
8. Oregon State: 188
9. Arizona State: 148
10. Colorado: 119
10. Washington State: 119
12. Utah: 74

First-place votes in parentheses

March, 24, 2011
3/24/11
6:34
AM PT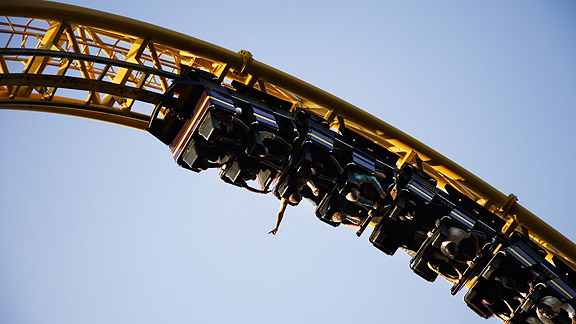 Gianluigi Guercia/AFP/Getty ImagesIf you were a UCLA fan this year, you learned how to endure a good roller coaster ride.
LOS ANGELES--At his season-ending press conference Tuesday, UCLA basketball coach
Ben Howland
gave a surgery update on injured guard
Malcolm Lee
and then a reporter asked the logical next question: Is anyone else going to have any off-season procedures?
"Not to my knowledge," Howland said, then paused for a few moments, cracked a grin and added "maybe me."
Howland said that he was kidding, but as he waves goodbye to the season his Bruins just put him through, a visit to a heart specialist or a psychologist's couch might not be a bad idea.
The Bruins (23-10) ended their season Saturday in Tampa, Fla., with a 73-65 loss to Florida in the NCAA tournament, completing a four-month journey that featured a stress-inducing wild ride of highs and lows.
In the end, the season had to be considered a success based on the amount of improvement UCLA made from where they ended last season, but getting there wasn't easy on anyone who followed the team simply because you never knew what you were going to get.
The Bruins made a run at the Pac-10 title, won some high-profile games and got into the NCAA tournament -- meeting the minimum of standards at UCLA -- but along the way delivered moments of hair-pulling frustration and scream-out-loud elation, sometimes within the span of the same game and hardly ever with any rhyme or reason.
[+] Enlarge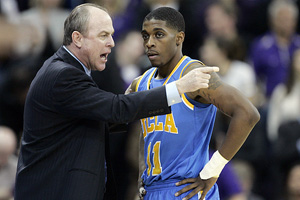 Joe Nicholson/US PresswireBen Howland: "We have a chance to be pretty darn good next year."
In 12 of their 23 victories UCLA kept fans on the edge of their seats by either rallying from double-digit deficits or by nearly blowing leads for 15 points or more only to squeak by at the end. Those practices became so commonplace that Howland joked about it, quipping that "this is a great team for TV ratings and keeping the fans involved for sponsors all the way until the end."
With those near collapses and huge deficits to overcome, UCLA's season easily could have gone the other way, but by continually pulling out victories in those situations, the Bruins showed that they were growing up and improving.
"We had a lot of improvement form a lot of our kids and that is really exciting for me," he said. "I love to see that. And that's what you want is you want to have that continued improvement. I do think that we were a good team at the end of the year."
UCLA entered this season coming off a disappointing 14-18 season and was an inexperienced and unproven squad. Early in the season, their youth and inexperience showed as they were unable to overcome early holes against Villanova and Virginia Commonwealth, but gradually the team started to grow up in front of our eyes.
December, 8, 2010
12/08/10
8:43
AM PT
Vanessa Zamarripa, the reigning NCAA vault champion, will miss the 2011 season with an Achilles injury, the UCLA gymnastics program announced Tuesday.

Zamarripa -- the defending Pac-10 Gymnast of the Year and a U.S. national team member -- tore her left Achilles tendon in practice Tuesday. She will redshirt the upcoming season and have two years of eligibility left.



"I feel so badly for Vanessa," UCLA coach Valorie Kondos Field said. "She was just coming back from tweaking her elbow and her ankle and was looking really good. The injury was not a result of a fall or miscue in her gymnastics. She was punching for a tumbling pass on floor and felt it pop. It's an unfortunate injury, but we know that she will recover well. However, for this season, this is a huge loss to our team. As much as our team and fans will miss Vanessa's gymnastics this season, we will also miss her personality on the competition floor. Vanessa's gift has always included her ability to have fun while competing well and focused."
November, 5, 2010
11/05/10
1:48
PM PT
UCLA on Friday released its 2011 football schedule, the first for the Bruins as member of the newly-aligned Pac-12 Conference.

The Bruins open the season at Houston on Sept. 3 and follow with nonconference home games against San Jose State and Texas. They open Pac-12 play with three consecutive games against Pac-12 North opponents and will have a Thursday night game at Arizona on Oct. 20 to open Pac-12 South play.

Both Utah and Colorado are in the Pac-12 South, so UCLA will play the new conference members every year. Next year, they visit Utah and play Colorado in their final home game.

In 2012, UCLA will play the same Pac-12 opponents with the sites reversed. Dates are still to be determined.

The complete 2011 schedule:

Sept. 3 at Houston

Sept. 10 vs. San Jose State

Sept. 17 vs. Texas

Sept. 24 at Oregon State

Oct. 1 at Stanford

Oct. 8 vs. Washington State

Oct. 20 at Arizona (Thurs.)

Oct. 29 vs. California

Nov. 5 vs. Arizona State

Nov. 12 at Utah

Nov. 19 vs. Colorado

Nov. 26 at USC
2013 TEAM LEADERS
| TEAM | RUSH | PASS | TOTAL |
| --- | --- | --- | --- |
| Offense | 196.6 | 251.6 | 448.2 |
| TEAM | PF | PA | MARGIN |
| Scoring | 36.5 | 24.1 | 12.4 |