May, 16, 2014
5/16/14
11:30
AM PT
March, 11, 2014
3/11/14
11:30
AM PT
The hubris it must take to yank a soul out of non existence, into this, meat. And to force a life into this, thresher. Yeah so my daughter, she uh, she spared me the sin of being a father.
January, 31, 2014
1/31/14
5:30
PM PT
Happy Friday. Welcome to the mailbag.
Follow the Pac-12 blog on Twitter
.
By the way, we will be reviewing the
top-25 list
on Monday, explaining some of our thinking, and looking ahead.
So stay tuned! To the notes!

RidingTheRange from Dallas writes:
Thanks for your Top 25 list
! I enjoy this every year. However, with Top 25 lists, they always encourage witty banter. And here's my suggestion: Where is
Ty Montgomery
? If memory serves me correct,
the KR/PR from Utah was rated last year
. Montgomery was a much more integral part of the Stanford offense (though the offense as a whole was not particularly potent). Any word on where he would actually fall or if there was any debate between the Pac-12 bloggers?
Ted Miller
: I suspect the list last year will be more controversial than this year's. Kevin fired off a first draft to me and Kyle a few weeks ago, and that list stuck pretty well with minimal changes. We also knew the handful of players who would be tops among the "HOW CAN YOU LEAVE OFF [PLAYER X]? YOU HAVE LOST ALL CREDIBILITY!"
Utah's Reggie Dunn ended up at No. 25 last year because he returned four kickoffs for touchdowns, which had never been done before. Yes, it was controversial. To me, the worst omission from the list was
Desmond Trufant
, and we not unfairly took a lot of crud for it. Kevin felt more strongly about Dunn than I did, but I'd also say that setting an NCAA record is pretty darn shiny on a résumé.
Montgomery returned two kicks for touchdowns in 2013 and was the Cardinal's leading receiver, ranking ninth in the Pac-12. You could make a case for him.
But here's what I typically say to folks making the case for another player: Who do you take off our top-25 to make room for Montgomery?
Here's the bottom six:
No. 20
:
Trevor Reilly
, DE/OLB, Utah
No. 21
:
Sean Mannion
, QB, Oregon State
No. 22
:
Austin Seferian-Jenkins
, TE, Washington
No. 23
:
Hroniss Grasu
, C, Oregon
No. 24
:
Josh Huff
, WR, Oregon
No. 25
:
Myles Jack
, LB/RB, UCLA
That's a pretty strong group to break into.
---

Bobby from Phoenix writes:
Carl Bradford
not in the top 25? You guys were very generous to put in Sutton, Grice and Kelly, but I can't imagine a list without Bradford! Rabble rabble rabble!
Ted Miller
: Bradford was one of the top guys who got left out, along with several All-Pac-12 defenders, such as Stanford safety
Ed Reynolds
, Washington defensive end
Hau'oli Kikaha
, USC LBs
Devon Kennard
and
Hayes Pullard
, etc.
I'm surprised more Washington fans aren't griping about leaving out Kikaha, who finished second in the Pac-12 with 13 sacks. We rated him higher than Bradford, who had 8.5 sacks, and I personally found leaving him out one of our toughest calls, in large part because he came back from two knee surgeries this season.
Bradford had a good, but not great, season. In fact, I'm not sure he'd rank better than fifth on the Sun Devils defense this season, behind DT
Will Sutton
, DB
Alden Darby
, CB
Robert Nelson
and LB
Chris Young
.
Further, with all that talent, I do question why the Sun Devils' defense wasn't better, ranking eighth in the Pac-12 in yards per play -- 5.5 -- and seventh in scoring (26.6 ppg).
---

Spencer from Orem, Utah, writes:
I would argue that
Anthony Barr
is better than
Ka'Deem Carey
. I would be interested on your thoughts on why you disagree.
Ted Miller
: You could argue that. I'm sure many folks are guessing that Barr is headed to a better NFL career as a perennial All-Pro.
NFL prospects factor more in my judgments than they do with Kevin. To me, it's a safeguard against getting too googly-eyed about statistics. That said, what separates Carey are his numbers. To quote our review:
"[Carey] ranked second in the nation with 157.1 yards per game. He completed his career by topping 100 yards in 16 consecutive games, a Pac-12 record and a streak that hasn't been accomplished by any other back in a decade. He is Arizona's career rushing leader (4,232 yards) and ranks seventh in Pac-12 history."
Barr had a great season and earned consensus All-American honors, just like Carey. But his best football is in front of him. His numbers -- 10 sacks (No. 3 in the conference) and 20 tackles for a loss (No. 2) -- were good, but not epically good, like Carey's.
Further, I think UCLA's defense wouldn't have collapsed without Barr. If you took Carey away from Arizona, the Wildcats would have lost at least a touchdown from their scoring average of 33.5 and wouldn't have sniffed bowl eligibility.
So that's the distinction.
---

Undeniable Stanford Homer from East "of" Palo Alto writes:
My question is about the top 25 players list for this past season. I understand the issues with rankings vs. grades is same reason why people do rankings over grades -- you get to say 1 player is "better" then another player because of their standing in the rankings. As we all know, the top 10 players are all All-Pac-12 performers, but by ranking them you infer that one is better than the other, causing intrigue and argument (which is both good and bad). What I am wondering is when you compile this list, how do you have eight players better than
David Yankey
, and five players ahead of
Trent Murphy
. The former was the best player on the best team on the best unit in the Pac-12 (hard to argue unit but this question is too long for my explanation already, and hard to argue with Morris but he already had one) and the latter is the best defensive player (depends on if you look at qualitative data, the DPOY by coaches vs. quantitative data, statistics). I know you have reasons why you chose players over these two outstanding athletes but i just would like to hear them.
Ted Miller
: We rated Yankey at No. 8 as the Pac-12's top offensive lineman, despite his playing guard and not tackle. I don't think guards would make the top 10 many years. But Yankey, a unanimous All-American, is a beast.
That said ... I'm not sure he's better than UCLA OG
Xavier Su'a-Filo
, who won the the Morris Trophy over Yankey, an award voted on by opposing defensive players. Yankey got more All-American love, but Su'a-Filo, who ranked 12th, was just as beastly. It will be interesting to see who ends up better in the NFL.
So who do you drop from our top seven in order to boost Yankey? That's a pretty salty group.
Murphy is the most interesting case. The Pac-12 blog named Murphy the conference
Defensive Player of the Year
after the coaches went with Sutton. Why? Murphy ranked second in the nation and first in the Pac-12 with 15 sacks and fourth in the nation and first in the Pac-12 with 23.5 tackles for a loss.
Like Carey, his numbers speak for themselves, as well as his being the best player on the conference's best defense.
So how did he end up rating behind Barr at No. 3? And how do I type this without immediately contradicting my explanation for putting Carey ahead of Barr (epic numbers!)?
We have debated this before
, and I've had what some might call controversial takes. I ranked
Matt Barkley
and
Matt Scott
higher in 2012 than many might have in large part based on the notion of, "If you were drafting Pac-12 players for your team, what would be the selection order?"
That's not specifically about NFL prospects. It's about who you subjectively view as being the best college player.
While I think Murphy was the most
accomplished
defensive player in the Pac-12 this year, I also think Barr was the best defensive player. If I were drafting Pac-12 players for the Ted Miller Super Awesome squad, I'd pick Barr before Murphy.
But would I pick Barr before Carey? I'd rate that a toss-up. Ergo, I fall back to Carey's numbers for our ranking order.
---


Paul from Boise, Idaho, writes:
I'm willing to bet nobody would have guessed that at the end of the year, both
Marqise Lee
and
De'Anthony Thomas
would be left out of the illustrious Pac-12 postseason top 25. It seems every season a team or a top-tier player plays subpar, either because of injury or an underperforming team. Would the blog care to take a gamble and bet on somebody next year that is in danger of underperforming?
Ted Miller
: Injuries are the biggest reason neither Lee nor Thomas made the Top 25, though Thomas was pretty underwhelming much of the year.
There's no way I'd speculate on who might get hurt next fall. That's sort of morbid.
Further, only eight guys will be back next season: 1.
Marcus Mariota
; 8.
Brett Hundley
; 10.
Leonard Williams
; 14.
Taylor Kelly
; 15.
Ifo Ekpre-Olomu
; 21. Sean Mannion; 23. Hroniss Grasu; 25. Myles Jack.
Of that list, the most challenged will be Mannion because he loses No. 4
Brandin Cooks
.
I expect Mannion's passing numbers to go down in any event because I suspect coach Mike Riley will work a lot harder to be more balanced next fall. The key for Mannion is being more efficient and avoiding the mistakes that littered his season's second half.
---

Haggmeez from Cincinnati writes:
Here we are, just one week before national signing day and the Pac-12 has a whopping 35 combined commits in the
ESPN 300
. By contrast, Alabama and LSU have a combined 32 ESPN 300 commits just between the two of them (not including the JC 50). I'm not usually one to buy into recruiting rankings at face value, but the disparity is fairly staggering. Do you think that the Pac-12 is going to be able to continue to keep up with the amount of raw physical talent that is being basically channelled into these southern power programs?
Ted Miller
: Yes.
---

Jack from La Quinta, Calif., writes:
Ted and Kevin, many thanks for your work in keeping the Pac-12 Blog current and interesting. However, I am still smarting over
your season grade of B-plus for Stanford
. Stanford won its division, won the Pac-12 championship and was only defeated by four points in the Rose Bowl by the third-ranked team in the country -- certainly no blowout. But they only deserve a B-plus. I think you place too much emphasis on the postseason -- bowl games, a national championship and ranking the Pac-12 against other conferences. The road to a Pac-12 championship should be your primary emphasis. The rest is gravy. Many Oregon players started looking too far ahead, to a national championship instead of next Saturday's game. Look where they ended up. The Rose Bowl on 1/1/14 was not a worthy goal for Oregon. Your thinking plays a part in influencing players, coaches and fans and your current emphasis is not in the best interest of the sport. I certainly would not give Stanford a solid A for their work. They lost two games on their way to the Pac-12 championship and the Rose Bowl. But, this is no less than an A-minus performance -- unless winning the Pac-12 conference championship is no big deal and is only a stepping stone to more worthy goals.
Ted Miller
: Is this an example of the grade inflation at Stanford that Cal fans are always telling me about?
You meet expectations, you get a B. You want an A? Exceed expectations.
Stanford has become an elite team -- a Pac-12 and national title contender. It's not graded the same as most other teams. It has a smaller margin for error. 11-3 is a good, but not great, season on The Farm these days. That should feel like good news, by the way.
Stanford and Oregon were co-favorites to win the Pac-12. Both Kevin and I picked Stanford to win the Pac-12. By winning the Pac-12, the Cardinal therefore met expectations. If the Cardinal had won the Rose Bowl, they would have received an A-minus.
What are the knocks on Stanford's season?
It lost to two teams it was better than: Utah and USC. And, in a toss-up matchup with Michigan State in the Rose Bowl, it got solidly beaten.
Good, but not great.
No Pac-12 team received an A this year. An "A" for Stanford and Oregon would have been a final top-five ranking and a BCS bowl win. An "A" for, say, Washington State, would have been eight wins, including the Apple Cup, and a bowl victory.
Just like Stanford, Arizona State also got a B-plus, the highest grade any Pac-12 team received from us this year. If the Sun Devils had won their bowl game, they would have received an A-minus. UCLA also got a B-plus. If it had won the South Division and its bowl game, it would have received an A-minus.
The Pac-12 blog doesn't believe in grade inflation. It is a demanding taskmaster. It believes in high standards.
And awesomeness.
---
UCLA Fan from Federal Way, Wash., writes:
I was just wondering why I haven't seen anyone talk about how after it was all said and done, the
four hardest schedules of the year
belonged to Pac-12 teams. Including those four, eight Pac-12 teams were ranked in the top 13 for strength of schedule. There was only one SEC team in the top 13. I haven't heard anyone talk about this, and would like to hear your opinion about what this says about the SEC vs. Pac-12 discussion, among other things.
Ted Miller
: It shows that the Pac-12 was the deepest conference, top to bottom, in the nation. Not sure anybody really disagrees with that. Further, in a year when the Pac-12 did well overall, it means the nine-game conference schedule significantly boosted strength-of-schedule measures.
If this continues to be a pattern going forward, the Pac-12 should do well in the eyes of the selection committee for the four-team college football playoff, which has said it will put an emphasis on strength of schedule.
January, 24, 2014
1/24/14
9:00
AM PT
The Pac-12 has 26 of the 98 early entrants in the NFL draft. That's impressive. Some players are locks to get drafted. Others might have jumped the gun a bit and find themselves on practice squads or brushing up on their Canadian. We'll see.
What we're more concerned about here is who is going to replace them. Some answers are clearer than others. Some teams might have to alter their schemes just to account for a departed player.
Here's a look at the possible replacement players in the Pac-12 South. We'll look at the North later this morning.
Leaving:
Ka'Deem Carey
, RB, Arizona.
The replacement:
Jared Baker
should be in the mix, though an injury will keep him out of spring ball. He's expected to return in time for fall camp.
Pierre Cormier
and
Zach Green
will also get looks. Speaking with folks at Arizona, the word right now is that it's wide open. One player could emerge, or it could end up being a by-committee approach. Nothing is off the table at this point.
Leaving:
Carl Bradford
, LB, Arizona State
The replacement:
There really isn't anyone who has Bradford's skill set in the program yet, so the position is wide open.
Viliami Latu
has potential. So does
Chans Cox
, who was hurt a lot last season. They are also excited about incoming freshman
Ismael Murphy-Richardson
. He might not be ready to jump in immediately, but he could be the Devil backer by 2015.
[+] Enlarge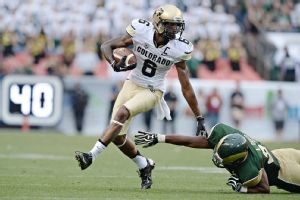 Ron Chenoy/USA TODAY SportsColorado will have a hard time replacing the explosive plays that Paul Richardson provided.
Leaving:
Paul Richardson
, WR, Colorado
The replacement:
It was probably going to be
Jeff Thomas
before he transferred. Now it's probably going to be a rotation of
D.D. Goodson
,
Devin Ross
, or redshirt freshmen
Bryce Bobo
or
Elijah Dunston
.
Nelson Spruce
has been solid, but he's not the breakaway threat Richardson was. This will be a key spring battle to watch.
Leaving:
Xavier Su'a-Filo
, OL, UCLA
The replacement:
Simon Goines
should be back after starting six games at left tackle before an injury forced him out.
Scott Quessenberry
stepped in and played five games at left guard, which is where he'll likely be next season with Goines back at tackle.
Leaving:
Dion Bailey
, LB, USC
The replacement:
Leon McQuay III
saw some playing time and is very highly regarded by the coaching staff. His contributions last season were mostly on special teams, but he'll take on a larger role with Bailey's departure.
Leaving:
Marqise Lee
, WR, USC
The replacement:
Remember
George Farmer
? He's still around and could be in for a big season if healthy.
Darreus Rogers
and
Steven Mitchell
both are promising, but both have missed time with injury. You never truly replace a Biletnikoff winner, but playing opposite a surging
Nelson Agholor
could help boost the production of whoever gets in the regular rotation.
Leaving:
George Uko
, DT, USC
The replacement:
Transfer
Delvon Simmons
is coming off a redshirt season, as is freshman
Kenny Bigelow
. Both should get some serious looks, as this will be one of the hot position battles this spring. Someone will ultimately win the job, but expect a rotation with both next season.
Leaving:
Marcus Martin
, C, USC
The replacement:
Lots of ifs here. It could be
Max Tuerk
moving over from guard, but he'll also be in the mix for right tackle to replace
Kevin Graf
.
Khaliel Rodgers
redshirted and is an option at guard or center.
Giovanni Di Poalo
could also get a look.
Leaving:
Xavier Grimble
, TE, USC
The replacement:
Grimble and
Randall Telfer
were basically co-starters, so all this probably means is Telfer's workload increases as he becomes the clear No. 1.
Jalen Cope-Fitzpatrick
is the only other scholarship tight end on the roster.
Leaving:
Jake Murphy
, TE, Utah
The replacement:
Westlee Tonga
seems like the logical fit. He has been around for a few years and has some experience, but was injured most of last year. He'll get another opportunity to be the lead tight end in the newest installment of Utah's offense.
January, 20, 2014
1/20/14
7:00
PM PT
The Pac-12 has seen a flurry of defensive coordinator movement over the last couple of weeks -- starting with the
power struggle for former Washington defensive coordinator Justin Wilcox
to the recent exoduses of Stanford's
Derek Mason to Vanderbilt
as head coach and UCLA's
Lou Spanos to the Tennessee Titans
as linebackers coach. Oregon's promotion of
Don Pellum to defensive coordinator
to replace Nick Aliotti will also shine a spotlight on the Ducks' defense in 2014 and beyond.
And then there is, of course, former USC defensive coordinator Clancy Pendergast, who mysteriously continues to be out of work.
[+] Enlarge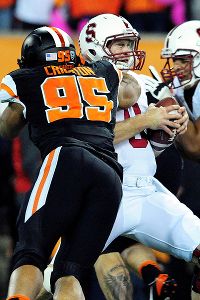 Steve Dykes/Getty ImagesOregon State defensive end Scott Crichton is among the Pac-12 defensive stars entering the NFL in 2014.
Look at the top five scoring defenses in the Pac-12 in 2013: Stanford, Oregon, USC, Washington and UCLA, respectively. All five have had defensive coordinators in flux in the young offseason.
That makes for an interesting transition period for the Pac-12. Defenses had closed the gap in recent years with several teams ranking in the top 25 nationally in scoring defense. That in itself is an achievement considering the level of offensive skill players and the diversity of offenses in the conference.
But when you look ahead to 2014, there are a lot of quarterbacks coming back to man the league's high-powered offenses --
Marcus Mariota
,
Brett Hundley
,
Taylor Kelly
,
Sean Mannion
,
Connor Halliday
, etc. You combine that with a massive talent drain of defensive players graduating or declaring for the NFL, plus all of the shifting within the defensive coaching ranks, and you have to wonder if 2014 is going to be the Year of Offense in the Pac-12.
Consider a few of the defensive standouts leaving:
Anthony Barr
(UCLA),
Will Sutton
(ASU),
Shayne Skov
(Stanford),
Dion Bailey
(USC),
Terrance Mitchell
(Oregon),
Scott Crichton
(Oregon State),
Trent Murphy
(Stanford),
Carl Bradford
(ASU),
Deone Bucannon
(Washington State),
Trevor Reilly
(Utah). There are a couple dozen others who aren't mentioned who were high-impact guys like Stanford's
Ben Gardner
and
Ed Reynolds
,
Eric Kendricks
,
Jordan Zumwalt
and
Cassius Marsh
from UCLA and
Alden Darby
,
Osahon Irabor
and
Robert Nelson
from ASU.
In total, 19 of the 25 all-conference defensive players from 2013 will be gone next year -- including 10 of 12 from the first team. Plus about a dozen more that were honorable mention are leaving or graduating. That is a major hit to the defensive talent in the league.
The Pac-12 is rarely appreciated nationally for its defensive prowess, either from a player or coaching perspective. And now three of the best coordinators in the conference are gone, one has moved from Washington to USC and another is looking for a gig.
Pac-12 offenses are going to be loaded in 2014 while the defenses have huge question marks. There is plenty of young talent. Guys like
Myles Jack
(UCLA),
Addison Gillam
(Colorado) and
Su'a Cravens
(USC) have all made names for themselves early in their careers. There are also some very notable returners like
Ifo Ekpre-Olomu
(Oregon),
Henry Anderson
(Stanford),
Shaq Thompson
(Washington) and
Hayes Pullard
(USC).
But a lot more is gone than is coming back.
That opens the door for all sorts of comparison storylines. Wilcox did an outstanding job re-tooling the defense at Washington. And now Pete Kwiatkowski will be measured against what Wilcox was able to accomplish. Likewise, Pendergast probably should have been USC's MVP for what he did with the Trojans in one season. Now Wilcox has to take over an outfit that is losing a lot of playmakers to the NFL. No doubt, he'll be compared to his predecessor. Just as Pellum will be compared to Aliotti, and whoever fills the seats at Stanford and UCLA will be compared to what Mason and Spanos were able to accomplish.
The guard is changing, as it does every year in college football. This year it might be the Pac-12 defenses that take a step back.
January, 16, 2014
1/16/14
11:00
AM PT
While a number of big-name players opted to stick around for another year of Pac-12, most notably Oregon QB
Marcus Mariota
, UCLA QB
Brett Hundley
and Oregon State QB
Sean Mannion
, the conference was hit hard by early defections.
Here's the complete list of Pac-12 players who entered the NFL draft despite remaining eligibility.
Ka'Deem Carey
, RB, Arizona
Carl Bradford
, LB, Arizona State
Brendan Bigelow
, RB, California
Richard Rodgers
, TE, California
Khairi Fortt
, LB, California
Kameron Jackson
, CB, California
Viliami Moala
, DT, California
Paul Richardson
, WR, Colorado
De'Anthony Thomas
, RB/WR, Oregon
Colt Lyerla, TE, Oregon (was kicked off the team in October)
Terrance Mitchell
, CB, Oregon
Brandin Cooks
, WR, Oregon State
Scott Crichton
, DE, Oregon State
David Yankey
, OG, Stanford
Cameron Fleming
, OT, Stanford
Ed Reynolds
, S, Stanford
Xavier Su'a-Filo
, OG, UCLA
Dion Bailey
, LB, USC
Marqise Lee
, WR, USC
George Uko
, DT, USC
Marcus Martin
, C, USC
Xavier Grimble
, TE, USC
Jake Murphy
, TE, Utah
Bishop Sankey
, RB, Washington
Austin Seferian-Jenkins
, TE, Washington
January, 14, 2014
1/14/14
11:30
AM PT
January, 6, 2014
1/06/14
12:30
PM PT
While the return of UCLA QB
Brett Hundley
for his redshirt junior season was the weekend's big news, an early-entry to the NFL draft talent drain is hitting the Pac-12 hard.
While a number of big-name players have not yet formally announced their intensions -- such as Arizona RB
Ka'Deem Carey
, Stanford OG
David Yankey
, Oregon CB
Ifo Ekpre-Olomu
, Arizona State LB
Carl Bradford
and Oregon State QB
Sean Mannion
-- already 17 players have announced they will give up their remaining eligibility to turn professional.
The deadline to declare is Jan. 15.
There has been good news at quarterback. Hundley joins Oregon's
Marcus Mariota
as pretty significant surprises that they opted to return to school, and that means the 2014 class of Pac-12 quarterbacks will be without peer in the nation by a wide margin.
Here's the early-entry list so far:
Dion Bailey
, LB, USC
Marqise Lee
, WR, USC
George Uko
, DT, USC
Marcus Martin
, C, USC
Xavier Su'a-Filo
, OG, UCLA
Brandin Cooks
, WR, Oregon State
Scott Crichton
, DE, Oregon State
Paul Richardson
, WR, Colorado
Bishop Sankey
, RB, Washington
Austin Seferian-Jenkins
, TE, Washington
De'Anthony Thomas
, RB/WR, Oregon
Colt Lyerla, TE, Oregon*
Terrance Mitchell
, CB, Oregon
Khairi Fortt
, LB, California
Kameron Jackson
, CB, California
Richard Rodgers
, TE California
Jake Murphy
, TE, Utah
*Lyerla was kicked off the team at Oregon in October.
December, 20, 2013
12/20/13
11:30
AM PT
It's Christmas Eve! It's... it's the one night of the year when we all act a little nicer, we ... we ... we smile a little easier, we ... w-w-we ... we ... we cheer a little more. For a couple of hours out of the whole year, we are the people that we always hoped we would be!
2014 TEAM LEADERS
| TEAM | RUSH | PASS | TOTAL |
| --- | --- | --- | --- |
| Offense | 199.4 | 268.5 | 467.9 |
| TEAM | PF | PA | MARGIN |
| Scoring | 32.9 | 27.5 | 5.4 |