May, 23, 2014
May 23
12:00
PM PT
Over the last two weeks
we've been taking a look at some players who had big springs for their respective teams. Some are upperclassmen finally coming into their own, some are younger guys taking advantage of open spots on the depth chart, while others are leap frogging some older players and making a name for themselves. Regardless, there were plenty of impressive performances in the Pac-12 this spring. All of these players are going to play a big part for their teams this fall, but which player do you think will be the most crucial to his team's success in 2014?
Rank them 1-12 here
.
Here's a breakdown of the players we've profiled over the past two weeks:
Arizona: WR Cayleb Jones
-- The Wildcats might have the deepest wide receiver group in the entire conference, but could a Texas transfer become the most important one of the bunch? With a year spent studying the offense and learning from the sideline, Jones could be a major factor.
Arizona State: LB D.J. Calhoun
-- The early enrollee ended the spring listed as a starter with
Antonio Longino
at the weakside linebacker position. With the Sun Devils trying to replace three starting linebackers, could Calhoun become a significant contributor as a true freshman? Seems likely.
Cal: RB Daniel Lasco
-- Lasco found himself taking some extra reps this spring as
Khalfani Muhammad
(last season's leading rusher) split time between the Cal track and football teams this spring. During his career he has been slowed by injury, but now that he's finally healthy and taking more reps, could he battle Muhammad for the lead spot this fall?
Colorado: WR Bryce Bobo
-- Colorado fans should feel encouraged by Bobo's spring game performance (five catches, 132 yards) as they head into the summer wondering who can replace
Paul Richardson
's yardage. It's highly unlikely that it'll be one single player, but could Bobo carry a large part of it?
Oregon: WR Devon Allen
-- When he wasn't running for the Oregon track team this spring he was running circles around some Ducks defensive backs. The redshirt freshman could prove to be a huge player for Oregon as they look to replace last season's top-three receivers as well as injured
Bralon Addison
's production.
Oregon State: WR Victor Bolden
-- Could Bolden be a possible replacement for some of the yardage lost by Biletnikoff Award winner
Brandin Cooks
? He has seen most of his time on special teams, but could step up as a big contributor in the fall as QB
Sean Mannion
looks to have another very big season for the Beavers.
Stanford: DL Aziz Shittu
-- The sophomore, who can play every spot on the defensive line for the Cardinal, has received high praise this spring. Coach David Shaw said Shittu was, "probably the player of spring for us." If it's good enough for Shaw, is that good enough for you?
[+] Enlarge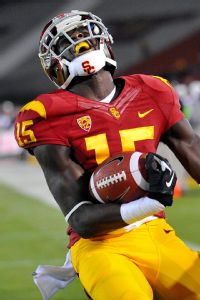 Gary A. Vasquez/USA TODAY SportsHow will USC wideout Nelson Agholor follow up his stellar 2013 season and excellent spring?
UCLA: CB Fabian Moreau
-- He was a big contributor to the Bruins last season but during this spring season Moreau became a better leader for UCLA. Coach Jim Mora has given Moreau high praise and if the Bruins are able to take the South Division title next season, a bit part could be because of the breakout year Moreau could have.
USC: WR Nelson Agholor
-- Chances are if you're a USC fan, you know who Agholor is. If you're not -- then he was the guy who played opposite
Marqise Lee
. But this spring Agholor took the steps to go from good WR to great WR, and next fall, the fruits of his labor could be on display for the entire conference to see.
Utah: RB Devontae Booker
-- Booker is right on the heels of RB
Bubba Poole
, as displayed by his spring game performance (2 touchdowns, 19 carries, 103 yards). But between Booker, Poole and
Troy McCormick
, the Utes could have a three-headed monster at running back that Pac-12 teams would not enjoy having to face.
Washington: LB/RB Shaq Thompson
-- He was the second-leading tackler for the Huskies last season so it wasn't a defensive breakout spring for him. But considering he started getting offensive reps, it was a breakout spring for him as a running back. UW needs to replace
Bishop Sankey
's yardage, could Thompson's spring give him a jump start to do so?
Washington State: WR Vince Mayle
-- The converted running back had a big spring for the Cougars. This spring Mayle got close to becoming quarterback
Connor Halliday
's safety net. Considering Halliday threw for more than 4,500 yards last season, being his safety net would mean major, major yardage next fall.
April, 25, 2014
Apr 25
2:45
PM PT
Happy Friday. Welcome to the Mailbag.
Following the Pac-12 blog on Twitter
is the equivalent of eating a perfectly cooked bone-in ribeye, only with the caloric burn of a P90X workout.
To the notes.
Bellingham Duck from Bellingham, Wash., writes:
I remember as kid sitting on my back porch listening to my Ducks get blown out by perennial powerhouse Oklahoma 62-7. I dreamed of what it what it would be like to ever be that good. Too ashamed to ask God to intervene, I accepted what seemed to be our fate. What Pac-12 program that is currently down is most unlikely but still destined to reach the top and stay a while?
Ted Miller
: This question interested me because of my initial reaction: I see reasons for optimism for EVERY SINGLE PAC-12 TEAM.
That reaction made me grumpy. That much optimism doesn't sit well with me. The Pac-12 blog is not "Oprah." We aren't about uplifting folks. We aren't about fairy tales and happy endings. We are about being realistic. Objective. We want to tell it like it is. We're like Marlo Stanfield in "The Wire" whispering with understated but ineluctable menace, "You want it to be one way… but it's the other way."
And we are not embarrassed to admit we enjoy a bit of snark.
Yet here's what I see with the Pac-12 heading into the 2014 season: Oregon, Stanford, UCLA, USC, Arizona State and Washington look like potential top-25 teams to me. Oregon State, Arizona, Washington State and Utah look like teams that could be dark horses if a couple of things fall into place and they stay healthy. And California and Colorado look like they will be much better in 2014 than they were last season.
The biggest potential backward step? Arizona State, because it's rebuilding its defense. But I see the Sun Devils as a team that could win nine games, so we're not talking about a tumble.
But none of this answers your question.
Part of that nonanswer is only Utah, Colorado and California could qualify as "down" after the 2013 season. Everyone else seemed to be maintaining a solid status or trending up.
So if you are asking me which program among those three should most decisively reverse course in the next five years, I'd go with Cal, mostly because of its recently -- and dramatically -- upgraded facilities and recruiting base.
If you're asking me which Pac-12 team is on the midst of making a major leap as a program, I'd go with UCLA in the South Division -- as long the Bruins retain Jim Mora -- and Washington in the North.
I also think the Arizona-Arizona State rivalry is going to get very interesting if both retain their present coaching staffs.
---

Brandon from Seattle writes:
This isn't a new topic and relates more to my recent discovery of
cfbstats.com
(and my loss of productivity). I'm a die-hard Coug fan and after looking into some rushing statistics, I've got a small bone to pick with college football analysts. The last two seasons, much has been made about WSU's ineffectiveness running the football. This viewpoint comes around because of two archaic "truths" of college football: 1. Balance means a team is 50-50 rushing and passing; and 2. Sacks are counted as rush attempts. Without getting into why I believe those "truths" are archaic, I'll just state my point that WSU's rushing game isn't nearly as bad as it's made out to be. In fact, if you look just at rushes by running backs, WSU ranks sixth in yards per attempt at 4.97. That's better than Stanford at 4.96 and UCLA at 4.72. I?m definitely not downplaying those teams' abilities to run the ball, but instead I'd like to bring to light the fact that WSU's O-line and running backs are significantly more efficient in the run game than what we're led to believe by many media members. Just food for thought and a hope that analysts might eventually take a deeper dive than rushing and passing totals.
Ted Miller
: This gets a yes and no.
Yes, Washington State was better running the ball than its paltry 53.4 yards per game suggests. Each of its top four running backs averaged 4.5 yards per carry or better. The poor rushing stats were mostly due to a lack of attempts and, as you note, losing 244 yards on 32 sacks. Further, as coach Mike Leach often points out, his short passing game using running backs isn't much different than handing off.
Yet, just as you've gone inside the numbers, you also can go a bit deeper.
Two stats stand out: Third-down conversions and red-zone offense. Both tend to be better for teams with reliable running games.
The Cougars ranked seventh in the Pac-12 in third-down conversions and 10th in red-zone offense. They were eighth in red-zone TD percentage (though it's a curiosity that said TD percentage was better than both Arizona State and Stanford, two good running teams).
Most notable: The Cougars turned the ball over in the red zone a conference-worst seven times. Hard to believe part of that isn't about the challenge of throwing the ball in a compressed space when defenses aren't worried about the run.
All this said, it's really about results. The Cougars ranked eighth in the Pac-12 in scoring last year -- ninth in conference games -- and finished 6-7. If they finished in the top three in scoring and won eight or more games, nobody would care about the rushing statistics.
---

Mitch from Tucson writes:
Hey Ted, longtime reader, first-time writer. What was your reasoning for leaving
Austin Hill
off
the "2014 challengers" list
? If I remember correctly, that guy was pretty good. ... Maybe even All-American good: "The sophomore looked like a potential All-American in 2013 after catching 81 passes for 1,364 yards -- 16.8 yards per reception -- with 11 touchdowns. " - Ted Miller
Ted Miller
: Considering the receiving depth in the Pac-12 next year, if I listed all the potential challengers to lead the Pac-12 in receiving yards, there would be 20 names.
There are two reasons I left out Hill. First, he's coming back from a knee injury that killed his 2013 season and he wasn't 100 percent himself this spring. I want to see how he reacts when the lights come on and the games are for real. I do suspect we're going to see a guy who is even better than he was in 2012.
But the biggest reason is this: Arizona is as deep as any team in the country at receiver. It's much deeper than it was in 2012, when Hill put up huge numbers, and 2013, when Hill was out. I could see multiple 1,000-yard receivers for Arizona -- or four guys with over 800 yards -- but not one guy with, say, 1,500 yards.
Also, based on how Texas transfer
Cayleb Jones
looked this spring, he might actually be the favorite to lead the Wildcats in receiving yards.
---
Kurt from Corvallis writes:
Naming the starting QB? Simple:
When the coach knows, he announces
.
Ted Miller
: Maybe for some, but plenty of coaches subscribe to the notion that they want to prolong the competition as long as possible.
For example, it was pretty obvious that
B.J. Denker
was going to be Arizona's starting quarterback early in fall camp last year, but Rich Rodriguez opted
not to announce it until the week of the first game
. Why? He didn't want Denker to become comfortable. He told me specifically that he wanted to cultivate as much mental toughness as possible in Denker because he knew Denker's lackluster arm would not be widely celebrated among the Wildcats' fan base and there would be growing pains. As there were -- see his game at Washington.
Chip Kelly also wasn't a big fan of showing his cards early. Think about what we know about
Marcus Mariota
now. But he wasn't revealed as the Ducks starter as a freshman until after 22 fall camp practices, one week before the opener.
Again, some coaches like to anoint a QB as soon as possible in order to allow him to take up a defined leadership role. Others like to wait as long as possible, believing a lengthy, stressful competition creates mental toughness.
---
Matt from Carrollton, Texas, writes:
Hi, Ted. I'm a longtime fan of USC and the Pac-12 blog, which means it would take something I consider especially momentous to write in (given that I value Kevin and your opinions so much). Anyways, I also happen to be an avid NCAA football gamer on Xbox 360 (read in: nerd), and I hit a milestone this past weekend with a resounding 252-0 win as USC over Wazzu (the first game in my 21st Dynasty season, and first over 250 points). I figured I'd send you this in the hopes that it warrants some space on your next mailbag, especially since it probably took me roughly 340-plus hours of gameplay to accomplish this. P.S.: Before you ask, those 340 hours took place over the course of the past 21 months, and yes, this was on "freshman" difficulty, but in my defense I do play only six-minute quarters and use an accelerated play clock. That's gotta count for something right?
Ted Miller
: The Nobel committee has been alerted.
Now, Matt, please go read a book.
December, 31, 2013
12/31/13
5:30
PM PT
First off, a great, big thank you to everyone who sent Merry Christmas notes to the mailbag. They were received ... and appreciated.
To the notes!

Alex in Las Vegas writes
: Hi Kevin: What is it that causes Pac 12 teams to lay eggs repeatedly at the Holiday Bowl? The Big 12 teams always seem to show up.
Kevin Gemmell
: Though no one actually comes out and says it, there seems to be a vibe around the Pac-12 team at the National University Holiday Bowl the last few years that it somehow feel slighted or miffed to be there. Consider ASU this season. Technically speaking, it was the runner-up in the Pac-12 after losing to Stanford in the title game. But the Valero Alamo Bowl, which has the first pick of Pac-12 teams after the BCS, opted for an Oregon team that lost two conference games.
Same thing last year with UCLA -- which was the league runner-up and won its division. But it was passed over for Oregon State.
There is also something to be said for the delay between the end of the season and the actual bowl game. A lot happens to teams in three weeks. Some teams come in prepared. Other don't. And a lot of times it's a crap shoot on what you're going to get. I'm pretty confident that if Arizona State played Texas Tech in early November, the Sun Devils would have rolled the Red Raiders.
But Texas Tech had that us-vs.-the-world mentality that they rallied around when no one gave them a chance. This game is a built-in trap game for the Pac-12, because the Pac-12 team is usually perceived to be the "better" of the two teams so the Big 12 team has nothing to lose.
It hasn't been totally one-sided. Washington topped Nebraska in 2009. Oregon beat OSU in 2008 and Cal beat Texas A&M in 2006. Washington State's last bowl appearance -- prior to this season -- was a 28-20 win over Texas in 2003.
But I've said many times that motivation plays a huge role in the postseason. One team looked motivated to be there last night. The other didn't.
Dave in Bend, Ore. writes
: Wilcox or Pendergast? Which one can stop run-first spread offenses with mobile QBs? USC made improvements in its defensive stats overall. While USC showed it can handle the pro style of pass-centric offenses (Stanford, BC & Fresno State) the Trojans had horrible defensive games against ASU and UCLA. The defense was also fortunate to miss both [Keith] Price and [Marcus] Mariota. Perhaps this helped the stats. Don't get me wrong if Pendergast stays (stayed), I think he might be fine but it is far from a slam dunk considering the road back to the top of the Pac 12 goes through schools with mobile QBs.
Gemmell
: Well, it's official that Justin Wilcox is headed to USC, which means an extremely good coordinator in Clancy Pendergast is going to be on the market. And I'm willing to bet Mark Helfrich has already made that phone call.
I'm guessing you're referring to
last week's mailbag
where I broke down the improvements Wilcox and Pendergast brought to their respective programs. But you raise an interesting point about the mobile QBs/spread offenses. So I took a look at how USC and Washington both faired against ASU and UCLA -- two of the schools you brought up. And the numbers are actually pretty similar.
Against both of those teams, USC gave up an average of 48.5 points, 504 total yards, 279.5 passing yards, 224.5 rushing yards, 79.5 quarterback rushing yards and two QB rushing touchdowns. Washington gave up an average of 47 points, 495.5 total yards, 227.5 passing yards, 268 rushing yards, 49.5 QB rushing yards and two QB rushing touchdowns.
So both USC and Washington struggled against those teams. And when you factor in Oregon, which Washington played but USC didn't, the Huskies gave up 45 points, 631 total yards, 366 in the air, 265 on the ground and 88 yards and a touchdown to Mariota.
Both are outstanding coordinators and coaches and both know how to scheme. But sometimes the guys on the other side of the field are just better at what they do. And in the case of Washington and USC this season, they didn't have the answers. It doesn't mean one coordinator is "better" than the other. Most teams in the country struggled against UCLA, Oregon and Arizona State.
USC is getting an outstanding coordinator. Whomever gets Pendergast is going to get an outstanding coordinator. And my hope is that he stays in the Pac-12 because the league is better off with him in it.
Pac-12 fan in Reno writes
: Kevin - I'm disappointed that you have allowed yourself to be duped into believing that AU is going to be scary good next season. Yes, the Wildcats have some good WRs and 8 or 9 scholarship QBs (he-he), but it takes more than that to win in the Pac-12. A defense and an O-line can come in handy in our conference. I don't see how some me-first transfers and malcontents are going to change the outlook. They will win 7 games with their SEC-like nonconference schedule, but will find the going awfully tough in the Pac-12 without
Ka'Deem [Carey]
. AU is a basketball school that has reached its football ceiling. Go Dawgs!!
Kevin Gemmell
: I agree. It does take more than wide receivers. And I certainly don't ever remember saying that Arizona was going to win the Pac-12. I believe the quote I used in last week's mailbag was: "But Arizona does indeed have some scary potential next year."
Potential being the operative word.

I still think the balance of power lies in the North Division until proven otherwise. There have been three Pac-12 championship games, and the North has won all three. Until that changes, it is still the dominant division.
However, I do think Arizona has a bunch of talented players coming off the scout team who could make them more competitive in the South Division -- which is pretty wide open.
Cayleb Jones
,
Davonte' Neal
and
Austin Hill
coming back from injuries certainly are a massive boost.
But the question with Arizona is still going to be quarterback.
B.J. Denker
did a better job as the season progressed in the passing game, but his greatest asset was as a runner. Whomever is the starter in 2014 will likely have more a down-the-field presence than Denker did. And with that amazing wide receiver corps, they are going to do some damage offensively.
As for Rich Rodriguez, well, I think it's just silly to say Arizona has reached its football ceiling. Just as I think it's silly to classify the Wildcats as just a basketball school. They have spent plenty of time through the years as a ranked team. And yes, I am a RichRod fan. Not because his name is fun to say. But because he's an offensive innovator, and his teams are fun to watch. And the fact that he's had them in back-to-back bowl games speaks to the potential of the program.
If you really want to know what went on at Michigan, read Three and Out: Rich Rodriguez and the Michigan Wolverines in the Crucible of College Football by John U. Bacon. That'll tell you all you need to know.
Arizona might not win the Pac-12 South next season, but I can promise you the Wildcats are a team no one is looking forward to playing.
Caleb in Spokane, Wash. writes:
Hi Kevin. Do you think that the Cougs losing that bowl game will hurt the quality of the players they get in the offseason? I am a die-hard Coug but seeing the worst "Couging it" of all-time, I am worried about the players for next year. Also, do you think the Cougs should stick with
Connor Halliday
?
Kevin Gemmell:
I think Mike Leach will open up the competition, but I'd be surprised if Halliday doesn't retain the job. There is no substitute for experience, and when you look at his numbers over the final five games, you can see a pretty clear improvement in his efficiency with 16 touchdowns to five interceptions. Even taking away the Gildan New Mexico Bowl, it's still 10 touchdowns to four interceptions.
Then again, Leach has been known to play fast and loose with his quarterbacks, so who knows?
As for how the bowl loss impacts recruiting, I don't think it's going to be significant. You can
check out their recruiting page here
, and as you can see, there are some pretty good prospects coming in -- including a couple of highly-rated running backs.
If you're Leach and his staff, you sell the immediate progress the program has made in just two seasons. This was supposed to be the final rebuilding year before a push to the postseason in 2014. But Leach had his own agenda, and you look back at games like USC, Arizona and Utah as the difference-makers.
The Cougars took a very big step forward, and despite the bowl loss, momentum is on their side. I think they keep it rolling into recruiting and into next year. A couple more seasons under Leach, and the Cougars could be in that eight-nine win range.
Adam in Los Angeles writes
:
Brett Hundley
staying or going. Discuss.
Kevin Gemmell
: I'm of the opinion that if Jim Mora would have gone elsewhere, then Hundley certainly would have gone. It wouldn't have made sense for him to stick around one more season with a third head coach, a third coordinator and a third offensive system. As I previously wrote somewhere else (it all blurs, might have been a column or a story or a chat), if he's going to learn a third system, it might as well be in the NFL.
But the fact that UCLA ponied up and extended Mora -- and more specifically gave more money to his assistants -- bodes well for his chances of staying for another season. The draft landscape is interesting next year with Mariota and Bryce Petty and maybe Jameis Winston all in the mix.
In 2013, Hundley upped his completion percentage and his raw and adjusted QBR. He took fewer sacks and threw fewer interceptions. If he can refine that raw talent just a little bit more, he could play himself into possibly being a top-five NFL pick.
2013 TEAM LEADERS
| TEAM | RUSH | PASS | TOTAL |
| --- | --- | --- | --- |
| Offense | 196.6 | 251.6 | 448.2 |
| TEAM | PF | PA | MARGIN |
| Scoring | 36.5 | 24.1 | 12.4 |