June, 2, 2014
6/02/14
5:30
PM PT
Life is full of great joys. A child's smile. A roasting whole pig. A sunset at the beach. A sunset at the beach with a child's smile and a roasting whole pig. And a drink with an umbrella in it. Hitting a point at a Vegas craps table covered in chips.
Yet for some of you, there is no greater joy than the Pac-12 blog face planting. We imperiously prognosticate -- some might call it "doing our job" but let's not get bogged down in nuance -- and we often end up going rear-end-over-tea-kettle. Pointing that out in colorful ways is not unlike a second Christmas morning for some of you.
In 2012, the
Pac-12 blog was practically the Walmart of bad predictions
. You might recall our doe-eyed affection for
Matt Barkley
-led USC.
We were exposed early and often
.
So, as we start to formulate many of our preseason predictions for 2014, it seems worthwhile to look back the 2013 preseason in an effort to establish how often we were stupid and how often your favorite blind squirrels actually found nuts.
We'll start with our preseason list of the
Pac-12's top-25 players
. And here's our
postseason list
.
[+] Enlarge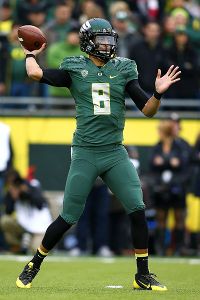 Jonathan Ferrey/Getty ImagesHey, turns out we were right about Oregon's Marcus Mariota being the Pac-12's top player.
The postseason top 10:
No. 1
:
Marcus Mariota
, QB, Oregon
No. 2:
Ka'Deem Carey
, RB, Arizona
No. 3
:
Anthony Barr
, LB, UCLA
No. 4
:
Brandin Cooks
, WR, Oregon State
No. 5
:
Bishop Sankey
, RB, Washington
No. 6
:
Trent Murphy
, LB, Stanford
No. 7
:
Will Sutton
, DT, Arizona State
No. 8
:
Brett Hundley
, QB, UCLA
No. 9
:
David Yankey
, OL, Stanford
No. 10
:
Leonard Williams
, DE, USC
The preseason top 10:
No. 1
:
Marcus Mariota
, QB, Oregon
No. 2
.
Will Sutton
, DT, Arizona State
No. 3.
Marqise Lee
,
WR, USC
No. 4
.
Anthony Barr
, OLB, UCLA
No. 5.
Brett Hundley
, QB, UCLA
No. 6.
Ka'Deem Carey
, RB, Arizona
No. 7.
Trent Murphy
, OLB, Stanford
No. 8.
Ifo Ekpre-Olomu
, CB, Oregon
No. 9
.
David Yankey
, OG, Stanford
No. 10
.
Scott Crichton
, DE, Oregon State
As noted here
, there were plenty of changes between the two.
Who made the preseason list and missed the postseason list?
3. Marqise Lee, WR, USC
11. Ed Reynolds, S, Stanford
14. De'Anthony Thomas, RB, Oregon
17. Kevin Hogan, QB, Stanford
19. Morgan Breslin, OLB, USC
20. Colt Lyerla, TE, Oregon
21. Carl Bradford, LB, Arizona State
25. Ben Gardner, DE, Stanford

Notes: Injuries or getting the boot (Lyerla) was the biggest reason these guys fell off the postseason list. Reynolds' numbers fell off, and the Cardinal's pass defense slipped to the middle of the conference, but I'm sure David Shaw would tell us we blew it. Hogan had a good season but maybe didn't take as big a step forward as some of us thought he would. Bradford, as previously noted, had a good, but not great, season and was eclipsed by other players.
Still, there wasn't much to be embarrassed about with either list.
Here's how Kevin and I voted in the Pac-12 preseason media poll:
Kevin Gemmell's ballot

North


Stanford
Oregon
Washington
Oregon State
Washington State
California

South


Arizona State
UCLA
USC
Arizona
Utah
Colorado

Pac-12 title game champion: Stanford

Ted Miller's ballot



[+] Enlarge

Mark J. Rebilas/USA TODAY SportsAnd yes, we nailed the Stanford-Arizona State title game matchup with Stanford heading to the Rose Bowl.

North


Stanford
Oregon
Washington
Oregon State
California
Washington State

South


Arizona State
USC
UCLA
Arizona
Utah
Colorado

Pac-12 title game champion: Stanford
Hmm. It appears that we both picked the divisional winners and Pac-12 champion correctly. We, clearly, rock.
Did you notice anything about Kevin's ballot. It looks
exactly like the final Pac-12 standings
. He, by the way, never, ever mentions that.
How about the
preseason power rankings
versus the
final version
?
The top-six in both matches up precisely. Betting that's the first time that has happened since the Pac-12 blog began in 2008.
The bottom six is far less precise, though no team is more than two spots different in the final ranking than in the preseason version.
Then there were our self-proclaimed "
Bold Predictions
."
As more than a few of you have pointed out, these often are not so bold, but that doesn't stop them from being wrong. Further, because they were made in January of 2013, some of them actually ran counter to our late-summer predictions, such as picking Stanford as the Pac-12 leader. The switch from Oregon came after Chip Kelly left for the
Philadelphia Eagles
.
We made 19 predictions. Seven were correct or mostly so:
The Pac-12 will finish 2013 with six teams in the Top 25: That will be six of this seven: Oregon, Stanford, Washington, Arizona State, UCLA, USC and Oregon State.
The Washington renaissance will arrive: The Huskies will finish 9-3 in 2013, opening the new Husky Stadium in style.
Colorado will win four games in Year 1 under Mike MacIntyre: And Buffs fans will be reasonably encouraged.
The sledding will be rough in Sonny Dykes' first season at California: The Bears don't have great talent coming back, but the schedule is the biggest problem. By my guess, Dykes will play eight ranked teams in his first season, including a strong Big Ten duo at home the first and third weekends of the season (Northwestern and Ohio State).
Arizona's offensive numbers will make everyone realize how good Matt Scott was: Arizona averaged 37 points and 522 yards per game last year because of QB Matt Scott, who ranked seventh in the nation in total offense with 338.5 per game. He was a perfect fit for Rich Rodriguez's K offense. We expect the Wildcats' offense to take a step back in 2013, whether B.J. Denker or JC transfer Jesse Scroggins wins the QB job. As good as national rushing champion Ka'Deem Carey is, he will find the holes a bit smaller without Scott, even with a solid offensive line coming back.
Defenses will continue to rise: Arizona State defensive tackle Will Sutton and UCLA outside linebacker Anthony Barr will be first-team preseason All-Americans, and Stanford will again have one of the nation's top 10 defenses. But we also expect across-the-board improvement on defense.
But it will still be the Conference of QBs: Mariota will win the Heisman and again earn the first-team All-Pac-12 nod, but the battle for second-team will be hot between Arizona State's Taylor Kelly, Stanford's Kevin Hogan, UCLA's Brett Hundleyand Washington's Keith Price, who will be the conference's Comeback Player of the Year.
Breakout player: Junior Oregon State receiver Brandin Cooks will earn first-team All-Pac-12 honors with Marqise Lee.
The last one was mostly about Cooks breaking out, as he did as the Biletnikof Award winner. The Huskies went 9-4, but it's certainly fair to term the season a "renaissance." Arizona's offensive numbers went down, but
B.J. Denker
, while limited, turned in a better season than most expected.
Some were way off. Such as:
[+] Enlarge

Christian Petersen/Getty ImagesBut about that Lane Kiffin will quiet his critics thing ... um, did we mention that we did say USC would win 10 games and they did?

Lane Kiffin and USC will post a bounce-back season: We expect the Trojans to win 10 games -- that's with a highly favorable 13-game schedule, by the way -- and return to the national rankings. Although the Trojans won't return to dominance, they will play better all-around football in 2013, and it will be enough to quiet Kiffin's critics -- at least enough for him to return in 2014. We don't, however, expect USC to win the South Division.
He was fired before midseason, though the Trojans did win 10 games, including their bowl victory.
And, of course, our Oregon enthusiasm -- national champs! Marcus Mariota wins Heisman! -- didn't come to pass.
Then there were
our week one bowl projections
:
VIZIO BCS National Championship
: Stanford vs. BCS
Rose Bowl Game Presented by VIZIO
: Oregon vs. Big Ten
Valero Alamo
: Washington vs. Big 12
Holiday
: Arizona State vs. Big 12
Hyundai Sun
: UCLA vs. ACC
Las Vegas
: USC vs. MWC
Fight Hunger
: Arizona vs. BYU
Gildan New Mexico
: Washington State vs. MWC
Four of those were correct -- the Holiday, Sun, Las Vegas and New Mexico.
Finally, there were our "
Best case-worst case
" flights of fancy. There is a strong possibility this series will be retired. It feels as if it might have jumped the proverbial shark.
(We typed the exact same thing last year, but this year we, unfortunately, mean it).
April, 25, 2014
4/25/14
2:45
PM PT
Happy Friday. Welcome to the Mailbag.
Following the Pac-12 blog on Twitter
is the equivalent of eating a perfectly cooked bone-in ribeye, only with the caloric burn of a P90X workout.
To the notes.
Bellingham Duck from Bellingham, Wash., writes:
I remember as kid sitting on my back porch listening to my Ducks get blown out by perennial powerhouse Oklahoma 62-7. I dreamed of what it what it would be like to ever be that good. Too ashamed to ask God to intervene, I accepted what seemed to be our fate. What Pac-12 program that is currently down is most unlikely but still destined to reach the top and stay a while?
Ted Miller
: This question interested me because of my initial reaction: I see reasons for optimism for EVERY SINGLE PAC-12 TEAM.
That reaction made me grumpy. That much optimism doesn't sit well with me. The Pac-12 blog is not "Oprah." We aren't about uplifting folks. We aren't about fairy tales and happy endings. We are about being realistic. Objective. We want to tell it like it is. We're like Marlo Stanfield in "The Wire" whispering with understated but ineluctable menace, "You want it to be one way… but it's the other way."
And we are not embarrassed to admit we enjoy a bit of snark.
Yet here's what I see with the Pac-12 heading into the 2014 season: Oregon, Stanford, UCLA, USC, Arizona State and Washington look like potential top-25 teams to me. Oregon State, Arizona, Washington State and Utah look like teams that could be dark horses if a couple of things fall into place and they stay healthy. And California and Colorado look like they will be much better in 2014 than they were last season.
The biggest potential backward step? Arizona State, because it's rebuilding its defense. But I see the Sun Devils as a team that could win nine games, so we're not talking about a tumble.
But none of this answers your question.
Part of that nonanswer is only Utah, Colorado and California could qualify as "down" after the 2013 season. Everyone else seemed to be maintaining a solid status or trending up.
So if you are asking me which program among those three should most decisively reverse course in the next five years, I'd go with Cal, mostly because of its recently -- and dramatically -- upgraded facilities and recruiting base.
If you're asking me which Pac-12 team is on the midst of making a major leap as a program, I'd go with UCLA in the South Division -- as long the Bruins retain Jim Mora -- and Washington in the North.
I also think the Arizona-Arizona State rivalry is going to get very interesting if both retain their present coaching staffs.
---

Brandon from Seattle writes:
This isn't a new topic and relates more to my recent discovery of
cfbstats.com
(and my loss of productivity). I'm a die-hard Coug fan and after looking into some rushing statistics, I've got a small bone to pick with college football analysts. The last two seasons, much has been made about WSU's ineffectiveness running the football. This viewpoint comes around because of two archaic "truths" of college football: 1. Balance means a team is 50-50 rushing and passing; and 2. Sacks are counted as rush attempts. Without getting into why I believe those "truths" are archaic, I'll just state my point that WSU's rushing game isn't nearly as bad as it's made out to be. In fact, if you look just at rushes by running backs, WSU ranks sixth in yards per attempt at 4.97. That's better than Stanford at 4.96 and UCLA at 4.72. I?m definitely not downplaying those teams' abilities to run the ball, but instead I'd like to bring to light the fact that WSU's O-line and running backs are significantly more efficient in the run game than what we're led to believe by many media members. Just food for thought and a hope that analysts might eventually take a deeper dive than rushing and passing totals.
Ted Miller
: This gets a yes and no.
Yes, Washington State was better running the ball than its paltry 53.4 yards per game suggests. Each of its top four running backs averaged 4.5 yards per carry or better. The poor rushing stats were mostly due to a lack of attempts and, as you note, losing 244 yards on 32 sacks. Further, as coach Mike Leach often points out, his short passing game using running backs isn't much different than handing off.
Yet, just as you've gone inside the numbers, you also can go a bit deeper.
Two stats stand out: Third-down conversions and red-zone offense. Both tend to be better for teams with reliable running games.
The Cougars ranked seventh in the Pac-12 in third-down conversions and 10th in red-zone offense. They were eighth in red-zone TD percentage (though it's a curiosity that said TD percentage was better than both Arizona State and Stanford, two good running teams).
Most notable: The Cougars turned the ball over in the red zone a conference-worst seven times. Hard to believe part of that isn't about the challenge of throwing the ball in a compressed space when defenses aren't worried about the run.
All this said, it's really about results. The Cougars ranked eighth in the Pac-12 in scoring last year -- ninth in conference games -- and finished 6-7. If they finished in the top three in scoring and won eight or more games, nobody would care about the rushing statistics.
---

Mitch from Tucson writes:
Hey Ted, longtime reader, first-time writer. What was your reasoning for leaving
Austin Hill
off
the "2014 challengers" list
? If I remember correctly, that guy was pretty good. ... Maybe even All-American good: "The sophomore looked like a potential All-American in 2013 after catching 81 passes for 1,364 yards -- 16.8 yards per reception -- with 11 touchdowns. " - Ted Miller
Ted Miller
: Considering the receiving depth in the Pac-12 next year, if I listed all the potential challengers to lead the Pac-12 in receiving yards, there would be 20 names.
There are two reasons I left out Hill. First, he's coming back from a knee injury that killed his 2013 season and he wasn't 100 percent himself this spring. I want to see how he reacts when the lights come on and the games are for real. I do suspect we're going to see a guy who is even better than he was in 2012.
But the biggest reason is this: Arizona is as deep as any team in the country at receiver. It's much deeper than it was in 2012, when Hill put up huge numbers, and 2013, when Hill was out. I could see multiple 1,000-yard receivers for Arizona -- or four guys with over 800 yards -- but not one guy with, say, 1,500 yards.
Also, based on how Texas transfer
Cayleb Jones
looked this spring, he might actually be the favorite to lead the Wildcats in receiving yards.
---
Kurt from Corvallis writes:
Naming the starting QB? Simple:
When the coach knows, he announces
.
Ted Miller
: Maybe for some, but plenty of coaches subscribe to the notion that they want to prolong the competition as long as possible.
For example, it was pretty obvious that
B.J. Denker
was going to be Arizona's starting quarterback early in fall camp last year, but Rich Rodriguez opted
not to announce it until the week of the first game
. Why? He didn't want Denker to become comfortable. He told me specifically that he wanted to cultivate as much mental toughness as possible in Denker because he knew Denker's lackluster arm would not be widely celebrated among the Wildcats' fan base and there would be growing pains. As there were -- see his game at Washington.
Chip Kelly also wasn't a big fan of showing his cards early. Think about what we know about
Marcus Mariota
now. But he wasn't revealed as the Ducks starter as a freshman until after 22 fall camp practices, one week before the opener.
Again, some coaches like to anoint a QB as soon as possible in order to allow him to take up a defined leadership role. Others like to wait as long as possible, believing a lengthy, stressful competition creates mental toughness.
---
Matt from Carrollton, Texas, writes:
Hi, Ted. I'm a longtime fan of USC and the Pac-12 blog, which means it would take something I consider especially momentous to write in (given that I value Kevin and your opinions so much). Anyways, I also happen to be an avid NCAA football gamer on Xbox 360 (read in: nerd), and I hit a milestone this past weekend with a resounding 252-0 win as USC over Wazzu (the first game in my 21st Dynasty season, and first over 250 points). I figured I'd send you this in the hopes that it warrants some space on your next mailbag, especially since it probably took me roughly 340-plus hours of gameplay to accomplish this. P.S.: Before you ask, those 340 hours took place over the course of the past 21 months, and yes, this was on "freshman" difficulty, but in my defense I do play only six-minute quarters and use an accelerated play clock. That's gotta count for something right?
Ted Miller
: The Nobel committee has been alerted.
Now, Matt, please go read a book.
March, 3, 2014
3/03/14
12:00
PM PT
Looking back at some teams the current group of Pac-12 coaches have led during their respective head-coaching careers turns up an impressive list. All 12 have coached a team to a bowl appearance, 10 have finished a season with double-digit wins and eight have had teams appear in the AP top 10.
Taking it a step further and just looking at each individual coach's best team (in college) also made for an interesting study. Choosing which teams those are is clearly a subjective process so for the purpose of consistency, the teams listed below were chosen based on the final spot in the AP poll.
Here are some notable takeaways:
Eight teams ended with bowl victories, but two occurred after the coach left.
Seven teams started unranked, but only one finished out of the polls.
Half of the coaches did it at their current school, four of which occurred in 2013.
Six teams appeared in the top 5 at some point and nine were in the top 15.
Three coaches immediately parlayed the success into their current job.
Only three of the teams won conference titles, none of which was in the Pac-12.
Two teams beat No. 1-ranked squads.
Four teams played in BCS bowls, and three were victorious.
We're not going attempt to rank them ourselves, but here they are in reverse order based on each team's final AP ranking:
No. 12 Sonny Dykes, Louisiana Tech, 2012
Dykes' record:
9-3 (4-2, third in WAC)
Final AP rank:
unranked
Highest AP rank:
19
Bowl result:
no bowl

The team:
The Bulldogs finished the season as the country's highest scoring team (51.50 ppg) and top-ranked offense (577.9 ypg). They rose to No. 19 in the AP poll before losing their final two games of the season, including one against Mike MacIntyre-coached San Jose State in the season finale. Louisiana Tech was
offered a spot
in the Independence Bowl, but it was given away while the school unsuccessfully sought other bowl options. Dykes left for Cal after the season.
[+] Enlarge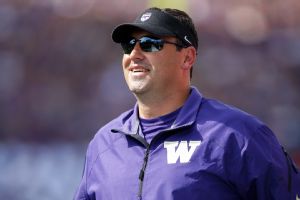 Otto Greule Jr/Getty ImagesSteve Sarkisian parlayed his successful 2013 season into the head-coaching job at USC.
No. 11 Steve Sarkisian, Washington, 2013
Sarkisian's record:
8-4 (5-4, third in Pac-12 North)
Final AP rank:
25
Highest AP rank:
15
Bowl result:
Beat BYU in Fight Hunger Bowl (Sarkisian did not coach)

The team:
The season began with a win against then-No. 19 Boise State, and the season ended with Broncos coach Chris Petersen being hired by the Huskies. Sarkisian departed for USC prior to the bowl. After the win against Boise, Washington debuted in the rankings at No. 19 and rose four spots before a string of three straight losses to Stanford, Oregon and Arizona State.
No. 10 Mike MacIntyre, San Jose State, 2012
MacIntyre's record:
10-2, (5-1, second in WAC)
Final AP rank:
21
Highest AP rank:
21
Bowl result:
Beat Bowling Green in Military Bowl (MacIntyre did not coach)

The team:
Two years after coaching San Jose State to a 1-11 record in his first season as head coach, MacIntyre's team became the first in program history to finish in the final AP poll -- although, the Spartans were unranked when MacIntyre accepted the job at Colorado. SJSU didn't beat any ranked teams, but lost just 20-17 to Stanford, which went on to win Pac-12 and Rose Bowl championships. The other loss came to Utah State, which finished No. 16.
No. 9 Todd Graham, Arizona State, 2013
Graham's record:
10-4 (8-1, won Pac-12 South)
Final AP rank:
21
Highest AP rank:
11
Bowl result:
Lost to Texas Tech in Holiday Bowl
The team:
In his eighth season as an FBS head coach, Graham's most recent Arizona State team was his best. The Sun Devils began the season unranked and entered and exited the Top 25 twice before closing the regular season with a seven-game winning streak. It was ranked No. 11 when it hosted Stanford in the Pac-12 championship game, but a second loss to the Cardinal kept ASU out of the Rose Bowl.
No. 8 Mike Riley, Oregon State, 2008
Riley's record:
9-4 (7-2, tied for second in Pac-10)
Final AP rank:
18
Highest AP rank:
17
Bowl result:
Beat Pittsburgh in the Sun Bowl

The team:
The Beavers started unranked and lost their first two games before winning eight of nine to peak at No. 17. After a 1-2 start, it beat No. 1 USC in Corvallis, but didn't immediately build off the big win. The next week the Beavers lost to Kyle Whittingham's undefeated Utah team (more later).
Riley's highest spot in the polls came in 2012, when the Beavers reached No. 7 after a 6-0 start. He was a head coach in the NFL for three years and the Canadian Football League for four, where he won a pair of Grey Cups.
No. 7 Jim Mora, UCLA, 2013
Mora's record:
10-3 (6-3, second in Pac-12 South)
Final AP rank:
16
Highest AP rank:
9
Bowl result:
Beat Virginia Tech in Sun Bowl

The team:
The Bruins spent the entire season in the polls after starting at No. 21. They began 5-0 and rose to No. 9 before road losses to No. 13 Stanford and No. 3 Oregon. Mora's best coaching job came in the NFL in 2004 when he guided the Atlanta Falcons to an NFC South title and an appearance in the NFC Championship.
No. 6 Mike Leach, Texas Tech, 2008
Leach's record:
11-2 (7-1, tied for first in Big 12 South)
Final AP rank:
12
Highest AP rank:
2
Bowl result:
Lost to Ole Miss in Cotton Bowl

The team:
The Red Raiders started the year at No. 12 and moved up to No. 6 after an 8-0 start. They rose to No. 2 after Michael Crabtree's memorable touchdown catch secured a win vs. No. 1 Texas. After two weeks at No. 2, the Red Raiders lost to No. 5 Oklahoma in a game that propelled Sooners quarterback Sam Bradford to the Heisman Trophy. Leach arrived at WSU in 2012.
[+] Enlarge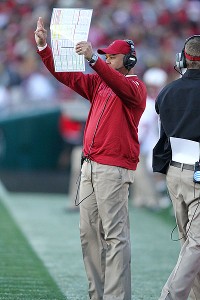 AP Photo/Kevin ReeceDavid Shaw's best team at Stanford didn't win the Pac-12 title.
No. 5 Mark Helfrich, Oregon, 2013
Helfrich's record:
11-2 (7-2, tied for first in Pac-12 North)
Final AP rank:
9
Highest AP rank:
2
Bowl result:
Beat Texas in Alamo Bowl
The team:
Of all the teams on the list, none started higher than the Ducks in Helfrich's head-coaching debut at No. 3. Oregon spent eight weeks at No. 2 before losses to Stanford and Arizona in a three-game span ended any hopes of a conference or national title. The team finished ranked No. 2 in the country in both total offense (565.0 ypg) and scoring (45.5 ppg). Quarterback
Marcus Mariota
dealt with some late-season injury problems, but, when healthy, he was as good as any player in college football.
No. 4 David Shaw, Stanford, 2011
Shaw's record:
11-2 (8-1, second in Pac-12 North)
Final AP rank:
7
Highest AP rank:
3
Bowl result:
Lost to No. 3 Oklahoma State in Fiesta Bowl
The team:
In three seasons as head coach, Shaw has won a pair of Pac-12 titles. But in 2011, when Oregon won the Pac-12 title, he probably had his best team. The Rose Bowl championship team the following year also finished No. 7 and has more hardware, but it didn't have Andrew Luck. Stanford started the year at No. 7, moved up to No. 3 after winning its first nine games, but then lost 53-30 at home to No. 6 Oregon. Stanford received a second consecutive BCS at-large bid, but suffered an overtime loss to No. 3 Oklahoma State in the Fiesta Bowl. In addition to Luck, 10 other players landed on 53-man NFL rosters from the team's departing class. Stanford's low ranking of No. 8 was the best among teams on this list.
No. 3 Rich Rodriguez, West Virginia, 2005
Rodriguez's record:
11-1, (7-0 Big East champion)
Final AP rank:
5
Highest AP rank:
5
Bowl result:
Beat No. 8 Georgia in Sugar Bowl
The team:
Freshmen QB Pat White and RB Steve Slaton were the names of note for the current Arizona coach. West Virginia started the year unranked and its lone loss came to then-No. 3 Virginia Tech. It was the first of three consecutive double-digit win seasons for the Mountaineers, who were undefeated in Big East play and capped the season with a win over No. 8 Georgia in the Sugar Bowl. A strong case can be made that West Virginia had a better team in 2007, when Rodriguez left following the regular-season finale to become head coach at Michigan. The Mountaineers were ranked No. 2 (No. 1 in the coaches poll) going into Rodriguez's final game, but
lost to a 4-7 Pittsburgh team
in the 100th Backyard Brawl, which cost them a chance to play for the national title. They finished No. 6.
No. 2 Chris Petersen, Boise State, 2009
Petersen's record:
14-0 (8-0, WAC champions)
Final AP rank:
4
Highest AP rank:
4
Bowl result:
Beat No. 4 TCU in the Fiesta Bowl
The team:
Washington's new coach has quite the résumé. Many consider Boise State's undefeated 2006 team that beat Oklahoma in that's year memorable Fiesta Bowl as the school's best, but three years later the Broncos finished 14-0 and finished a spot higher in the final AP poll. They opened the season at No. 14 and started with a win against No. 16 Oregon in Chip Kelly's first game as head coach. Boise capped the season with a win against undefeated TCU in the Fiesta Bowl. The team's offensive coordinator, Bryan Harsin, is now the head coach and its defensive coordinator, Justin Wilcox, spent last season with Sarkisian at Washington and followed him to USC in the same capacity.
No. 1 Kyle Whittingham, Utah, 2008
Whittingham's record:
13-0 (8-0, Mountain West champions)
Final AP rank:
2
Highest AP rank:
2
Bowl result:
Beat No. 4 Alabama in Sugar Bowl
The team:
In Whittingham's fourth season as head coach, the Utes finished as the nation's lone undefeated team after starting unranked. Utah opened with a win at Michigan -- Rodriguez's first game as the Wolverines' coach -- and went on to beat four teams that finished in the final AP poll, including Alabama (6), TCU (7), Oregon State (18) and BYU (25). Quarterback Brian Johnson threw for 336 yards in a convincing 31-17 win against Alabama in the Sugar Bowl.
Want to swap out one team for another or switch the order? Email me at Kyle.Bonagura@espn.com.
2014 TEAM LEADERS
| TEAM | RUSH | PASS | TOTAL |
| --- | --- | --- | --- |
| Offense | 199.4 | 268.5 | 467.9 |
| TEAM | PF | PA | MARGIN |
| Scoring | 32.9 | 27.5 | 5.4 |