September, 27, 2011
9/27/11
6:34
AM PT
Any time Stanford football comes up, thoughts immediately turn to quarterback
Andrew Luck
and the Cardinal offense, but the other side of the ball should is cause for just as much concern.
Luck is almost a certainty to go as the No. 1 pick in the NFL draft next spring and the balanced offense he directs is a major reason why Stanford is ranked No. 4 in the Associated Press poll, but the Cardinal defensive numbers are off the chart.

Stanford leads the nation in rushing defense, giving up a paltry 36 yards per game on the ground. True, the Cardinal has played some opponents with pretty weak running games (Duke is 96th in the nation in rushing offense and Arizona is 119th), but 36 yards?
The Cardinal defense has also given up only two touchdowns in three games this season and only nine in nine games dating to last season. It's no wonder Stanford has the nation's longest current win streak at 11 consecutive games.
"They're on a great run," UCLA coach
Rick Neuheisel
said. "They've lost one game since the last time we saw them and the last time we saw them, they waxed us. So we've got a huge challenge ahead of us."
Stanford has a new head coach in
David Shaw
, a new offensive coordinator in
Pep Hamilton
and a new defensive coordinator in
Derek Mason
, but all three were on the staff last season under
Jim Harbaugh
, so the schemes have not changed much and that could be bad news for UCLA.
Stanford defeated the Bruins, 35-0, at the Rose Bowl last season--one of three shutouts the Cardinal posted in 2010. Neuheisel called his team's performance "an offensive disaster" after passing for only 81 yards and committing three turnovers.
September, 9, 2010
9/09/10
7:27
AM PT
Last year,
Andrew Luck
was a young and inexperienced redshirt freshman playing quarterback, but that was OK because he had workhorse running back such as
Toby Gerhart
to help get through the growing pains.
A year later, Gerhart is gone to the NFL and Stanford is thinking it's nice to have Luck on its side.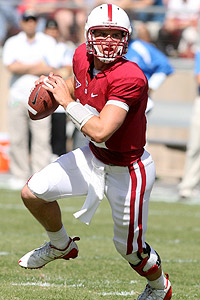 Associated Press
With Toby Gerhart a member of the Minnesota Vikings, the Cardinal spotlight shines solely on quarterback Andrew Luck.

Already considered one of the top pro quarterback prospects in the nation, Luck, who turns 21 Sunday, has a strong accurate arm that helped him lead the Pac-10 in passing efficiency last year.
And as the son of former Houston Oilers quarterback
Oliver Luck
, he's been around the game enough to develop the type of impeccable instincts that have him pegged as an early NFL draft pick even if he came out of school after this season.
"He puts the ball on the money, he's real patient in the pocket and he's probably one of the best quarterbacks we're going to see all year," said UCLA cornerback
Aaron Hester
, whose Bruins will face Stanford Saturday at 7:30 p.m. at the Rose Bowl.
Despite playing in the shadow of Gerhart, the nation's leading rusher and Heisman Trophy runner up last season, Luck managed to pass for 2,575 yards and 13 touchdowns as Stanford set a school record for scoring with 461 points.
Now, he's primed to become the spotlight player on that offense. In Stanford's opening 52-17 victory over Sacramento State, he completed 17 of 23 passes for 316 yards and four touchdowns despite playing barely more than a half.
The added emphasis on the passing game is just fine, he said.
"It's definitely different," Luck told ESPN.com's Ted Miller. "Toby was definitely the man for the whole team last year. I tried to put more pressure on myself this spring to step up and shoulder the load of the team more."
Luck's arm is clearly what makes him so highly regarded, but he's no one-trick pony. Last year he was second to Gerhart on the team with 354 yards rushing—the most by a Stanford quarterback since 1966. Still, it's his arm that has UCLA most concerned.
"Luck is a very accomplished player and he's very accomplished throwing the ball deep down the field," UCLA Coach
Rick Neuheisel
said.
Luck burned UCLA a couple of times last season, when Stanford defeated the Bruins, 24-16, completing two long passes inside the Bruins' 10 that set up Gerhart touchdown runs.
"He's going to be a tough test," UCLA cornerback
Sheldon Price
said. "We're going to have to be on our 'A' game."
Three other Cardinal to watch:
Chris Owusu
, WR—A player Neuheisel called "a speed merchant," he had a team-high five touchdown receptions and was second with 37 catches and 682 yards, but he does even more damage as a kick returner. He had three return touchdowns last year and five returns of 50 yards or more.
Thomas Keiser
, LB/DE—Keiser is a pass rush specialist no matter if he's on the line or backing it. He has 15 sacks in 25 career games and tied for fourth in the Pac-10 with nine sacks last season. His 15 tackles for a loss last season tied for third in the conference.
Chase Beeler
, C—Beeler is the leader of an offensive line that returns four starters from the group that helped pave the way for Gerhart's 1,871 yards rushing last season and led the Pac-10 in fewest sacks allowed with seven. He's started 21 games since 2008, including all 13 last season.
2013 TEAM LEADERS
| TEAM | RUSH | PASS | TOTAL |
| --- | --- | --- | --- |
| Offense | 196.6 | 251.6 | 448.2 |
| TEAM | PF | PA | MARGIN |
| Scoring | 36.5 | 24.1 | 12.4 |