February, 10, 2011
2/10/11
1:46
PM PT
UCLA football coach Rick Neuheisel announced Thursday the hiring of Jim Mastro and dismissal of defensive line coach Todd Howard.

Mastro, who served as Nevada's running backs coach the last 11 years, will work with tight ends and F-backs. According to the statement released by the school, Mastro will "also play a key role in the continued development of the running component of UCLA's offense that incorporates elements of the Pistol schemes."

"Jim has a wealth of knowledge and experience with the Pistol and will be a great asset as we incorporate many of its run-game principles into our offense," Neuheisel said in the statement. "He has enjoyed great success in the running game and I feel he will work well alongside (offensive coordinator) Mike Johnson, (running back coach) Wayne Moses and (offensive line coach) Bob Palcic to give us a very cohesive offensive staff."

Howard had worked with UCLA's defensive line the last five seasons. The move comes 54 days after the firing of former defensive coordinator Chuck Bullough. Neuheisel has interviewed a number of candidates but has yet to hire a replacement.

"Todd knew that this was a possibility," Neuheisel said. "We discussed the situation back in December and decided to wait until after recruiting to make a final decision. I feel that it is in the best interest of our program and also in Todd's best interest that we part ways at this time. I appreciate all that he has done for UCLA football and I know that he will be successful in his next position."
January, 27, 2011
1/27/11
8:35
PM PT
Three-star defensive back
Stefan McClure
(Vista, Calif./Vista) committed to California on Thursday, adding yet another prospect to UCLA's long list of misses.
"UCLA is a great school and I still feel coach
(Rick) Neuheisel
has them going in the right direction," McClure
told ESPN.com's Greg Biggins
. "It wasn't that UCLA did anything wrong, I just felt Cal was the best place for me. It was definitely not an easy decision for me, both are great schools and I would fit in very well at both places but in the end, I just thought Cal was where I needed to be."
UCLA was always considered a favorite to land McClure -- the CIF San Diego Section Defensive Player of the Year -- but he wavered in the final days before announcing.
The uncertainty surrounding UCLA's defense couldn't have helped. Defensive coordinator
Chuck Bullough
was fired on Dec. 18 and Neuheisel has yet to hire a replacement.
December, 5, 2010
12/05/10
1:54
AM PT
PASADENA -- UCLA defensive coordinator Chuck Bullough was given a one-year extension on his contract midway through this season, ESPNLosAngeles.com has learned.

Bullough confirmed that his contract, which was previously set to expire June 30, 2011, was extended by a year midway through this season. Bullough was paid a $265,000 base salary this season. He was also paid a $60,000 talent fee.

In other words, he's no lame duck.

Still, that's no guarantee he'll be back next season as UCLA head coach Rick Neuheisel has promised to evaluate his entire staff after the season.

"It's never been mentioned to me," Bullough said, when asked about his status next season. "I've been around football a long time and I know everything is always evaluated, win or lose. But there's been nothing said to me. We've just been working, trying to win games. "
October, 19, 2010
10/19/10
8:00
AM PT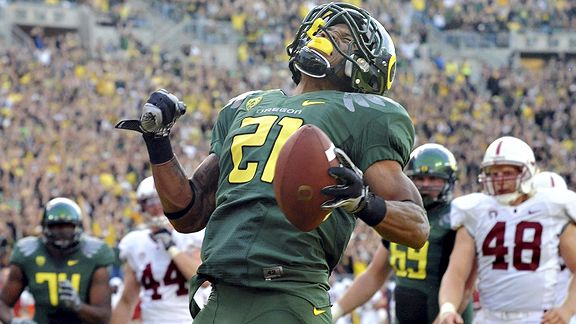 Steve Dykes/Getty Images
Oregon's LaMichael James set a Pac-10 freshman rushing record last year with 1,546 rushing yards.
Of all the things UCLA's defense must worry about when facing top-ranked Oregon on Thursday night,
LaMichael James
tops the list.
Oregon leads the nation in total offense and James, leading the nation with 169.6 yards rushing per game, is a major reason why.
And that is not good news for the Bruins, who have had difficulties stopping top-tier running backs this season.
Daniel Thomas
of Kansas State, the nation's eighth-leading rusher, had 234 yards against the Bruins and
Shane Vereen
of California, 19
th
in the nation in rushing, had 151 against UCLA.
But James is a different kind of back than those two power runners. Vereen is 5-feet-10, 204 pounds and Thomas is 6-2, 228, both dwarfing James, who is a mere 5-9, 185.
"He's a totally different back than what we've seen so far," UCLA defensive coordinator
Chuck Bullough
said. "He's smaller but quicker. He spins out of tackles and has better movement so he's a different type of back, but he's a pretty good one as it is."
James did not play the season opener against New Mexico because he was serving one-game suspension after an offseason harassment charge, but he has scored at least one touchdown in every game since and has a total of 10. His 12 points per game average is fourth in the nation.
October, 17, 2010
10/17/10
8:00
AM PT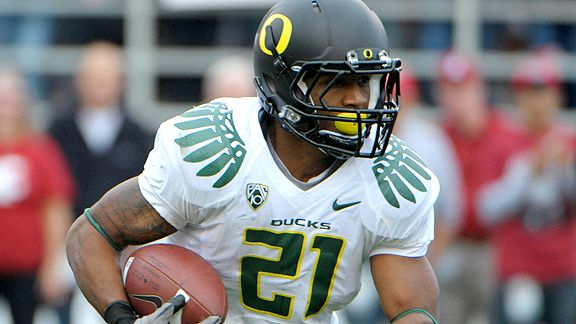 Kirby Lee/Image of Sport/US Presswire
Oregon's LaMichael James is the nation's leading rusher at 169.6 yards a game.
The first word that comes to mind with Oregon's football team is explosive.
And for good reason: the Ducks average a national-best 54.33 points a game and 567 yards in total offense — also tops in the nation.
Those scary numbers are made even more so when you consider the Oregon spread attack is actually losing the time of possession battle against opponents by an average of five minutes per game.
But with a quick-strike attack that has 29 plays of 25 yards or more in six games, Oregon is averaging a mind-boggling 7.24 yards per offensive play and a touchdown every 4½ minutes they have the ball.
"It's a great challenge," said UCLA coach
Rick Neuheisel
, whose team will face the Ducks on Thursday at 6 p.m. in game to be televised nationally on ESPN. "We're going to need all hands on deck."
Shifty running back
LaMichael James
, the nation's leader in rushing with 169.6 yards per game, is the main threat in the offense, but dual-threat quarterback
Darron Thomas
, who has 1,231 yards and 14 touchdowns passing is no slouch.
September, 4, 2010
9/04/10
11:52
AM PT
It's only the first game of the season Saturday at Kansas State, so it's not exactly a make-or-break game for UCLA...is it?

Well, when you consider what is to follow--a solid Stanford squad, a scoreboard-lighting Houston and a trip to No. 6 Texas--let's just say a Bruins victory against the Wildcats would go a long way for a young, inexperienced team running an offense with new wrinkles.

A victory at Kansas State could give the team confidence and belief in what they are doing. Win it and Stanford becomes a little less intimidating and a 2-2 becomes reasonable, a 3-1 start becomes hopeful and a 4-0 start enters the mind.

But a loss could hamper morale and it isn't too far of a reach to imagine UCLA at 0-4 going into October if they leave Manhattan, Kansas empty handed.

"I think it's key for us to start the season right," quarterback Kevin Prince said. "It will give us some momentum heading into a big stretch early in our season."

The matchup against Kansas State is a difficult one to predict. UCLA strengths such as defensive backfield and wide receivers will go head to head with Kansas State weak spots at quarterback, wide receiver and defensive back.

In contrast, Kansas State is strong on the offensive line and at running back, while UCLA has an untested front seven.

"Kind of an interesting matchup," defensive coordinator Chuck Bullough said. "Where they are experienced, we are inexperienced. We have all our skill guys back, but they don't. I'm not sure how you predict how that will play out."

Hopefully for the Bruins, it plays out with a victory.

"Obviously if you win your first game, you feel better than you do if you don't," Coach Rick Neuheisel said. "But regardless of that, we're going to play our second game."

Last year, a season-opening victory against San Diego State propelled the Bruins to a victory the following week at Tennessee and an eventual 3-0 start. This game is even bigger than the San Diego State game, momentum-wise, Prince said.

"I think this is a more significant game because it's on the road and it's against a Big 12 opponent," he said. "I think that's a bigger stage. Obviously it would be huge for us in our confidence."

But, Neuheisel said, if things don't go the Bruins way, they will have to find a way to rebound.

"We're going to go in there and do everything we can to get one more point than they have," he said. "But we can't let it be a towel throw-in if it doesn't turn out that way."

Added Prince: "Obviously you don't want to start 0-1. That's not to say that a loss would completely kill us, but obviously we want to get off to a good start with the games we have coming up."
August, 24, 2010
8/24/10
7:12
PM PT
With Fall camp ending and the Bruins switching to game preparation mode, the fuses of many UCLA coaches have become quite a bit shorter.

Many on the staff, including coach Rick Neuheisel, defensive coordinator Chuck Bullough, offensive line coach Bob Palcic and special teams coach Frank Gansz had a noticeable uptick in the number of choice words over the past two days.

"They're not tolerating the same mistakes that we made early in camp," receiver Ricky Marvray said. "It's time to start sharpening up, honing in our skills and becoming the team that's going to beat Kansas State."
August, 15, 2010
8/15/10
8:21
PM PT
The Bruins defense enters this season with some big holes to fill after losing key players such as Brian Price and Alterraun Verner to the NFL draft and losing top returning lineman Datone Jones to a broken foot, but even so, the Bruin defenders seemed to have the upper hand in Saturday evening's scrimmage.

Freshman safety Dietrich Riley had two interceptions, linebacker Akeem Ayers made several big hits and the Bruins defense allowed only one score and two plays of more than 10 yards.

"We're ahead of where I thought we'd be," All-American safety Rahim Moore said. "Our IQ game is better. We're smarter, we're more physical, we're faster. We know our goals. We're more hungry."

But did the defense dominate Saturday, or did it just take advantage of an offense that made some crucial mistakes?

"I wouldn't say the defense dominated the offense or that the offense dominated the defense," Moore said. "They put up some plays and we put up some plays. I would just say that we had a good day of competing. That's how I look at it."

Defensive coordinator Chuck Bullough said the best part of his unit's performance was the attitude it took to the field.

"I was pleased with the effort," he said. "There was some hitting going on. There were some good hits. There are still some things we need to clean up, but this is early in season. That's going to happen."
August, 13, 2010
8/13/10
12:51
PM PT
UCLA is getting bigger and faster. Look no further than true freshman safety Dietrich Riley for proof.

"He's physically strong, just naturally that way," secondary coach Tim Hundley said. "He'll be much stronger, much more physical when (strength coach) Mike Linn gets working with him. He's an instinctive guy. In the future, I believe he's going to get faster and more flexible -- all things that help you as you grow. He'll be a really fine player here."

There's talk that Riley and a number of other freshmen will be able to contribute right away. It's by design, according defensive coordinator Chuck Bullough.

"In the springtime this year, we made a concerted effort to stay in touch with them and push them in terms of lifting," he said. "We can't work them out at that time but we were on them every day more than in the past. We knew that this class could be special, so we wanted to make sure that when they came in they weren't coming in totally out of shape."
April, 22, 2010
4/22/10
7:37
PM PT
The football team concluded its spring practices Thursday afternoon with a light session at Spaulding Field.

A few news and notes:

-- The team wore shorts and shoulder pads, with much of the action coming in individual drills. Seniors did not participate, instead wearing T-shirts, shorts and bucket hats (ala defensive coordinator Chuck Bullough). "It was a good intensity," coach Rick Neuheisel said. "We had our seniors kind of coaching it up. They all had whistles and they were excited about that."

-- On a play in the red zone, quarterback Kevin Prince rolled out and threw to tight end Cory Harkey, who just failed to come down with the ball as safety Rahim Moore trailed closely behind. Moore was so ecstatic with his coverage that he proceeded to do a cartwheel.

-- Neuheisel on Saturday's spring game at the Rose Bowl: "I want to see a lights-out scrimmage, everybody flying around, players that we're counting on that maybe haven't played as much to make some big plays. ... When I blow the whistle and say, 'That's enough,' everybody to walk in and nobody in the training room."

-- Saturday's game, which is free to all fans, begins at 7 p.m. The parking lots will open at 3 p.m. (cost to park is $15). After the game, fans can participate in a "Meet the Bruins" session.
April, 10, 2010
4/10/10
8:36
PM PT
The UCLA football team has to replace six starters on defense (three on the line, two linebackers and one in the secondary). After seeing most of his time on special teams the last two seasons, rising junior Sean Westgate is a candidate to fill one of the holes at linebacker. He's had an impressive spring so far.
Blair Angulo: What's it feel like to be getting most of your reps with the first unit this spring?
Sean Westgate
: The last two years I've been primarily trying to make sure that I was in the right spot, not trying to mess up or going for big plays. Now that I've got a shot to start I'm trying to show my strengths.
Angulo: What do you feel your biggest strengths are?
Maya Sugarman/Daily Bruin Sean Westgate (11) is primed to start at outside linebacker next season after standing out on special teams the first two years.
Westgate
: Speed and quickness.
Angulo: In what way does speed help you?
Westgate
: Well, you can ask our linemen -- they've been having a tough time blocking me. But I mean, they're good and the new offense is letting me run a little bit more and giving me more space to work with. I'm really good in space.
Angulo: With that said, has defensive coordinator Chuck Bullough given you more liberty to roam?
Westgate
: No (laughs). Absolutely not. We have a very disciplined defense and gap-oriented to make sure you're in your spot. He's given us certain situations where we get a choice. We do have some liberty but if you take a chance you have to make the play.
Angulo: Do you have a preference between playing linebacker or special teams?
Westgate
: I love defense. I'm here to help the team in any way possible and I've had a lot of fun on special teams, but defense is where I wanted to be. I'm getting a shot now and I'm just going to make the best of it.
Angulo: You made a splash in your first game as a freshman by recovering a punt for a touchdown at the Rose Bowl. How far have you come since then?
Westgate
: Coming in as a scared little freshman against Tennessee, I had no idea. On the first kickoff, the ground was shaking and I was like, 'Oh man, it's real.' There was 70 thousand people and it was very, very ground-breaking. Since I've been here it's been humbling -- I've been beat up, thrown down, everything. The chances I've had to play with the first unit -- even in practice -- has made me so experienced to where I feel like I can step up and assume a role as a starter without any real skip.
Angulo: You talk about the 70 thousand at the Rose Bowl, how was 100 thousand in Knoxville last season? Could you even hear yourself think?
Westgate
: I couldn't hear out there. Coming out with a win in Knoxville was crazy.
Angulo: In your opinion, what makes a good season? What kind of role will the defense play in that?
Westgate
: Primarily, our school has been a defensive school but with these guys we have coming in on offense and even the guys from last year that are coming back with experience, we're going to be a very balanced team this year. I feel like our defense just needs to keep doing what it's been doing. As far as a successful season, we don't consider it successful unless it is Rose Bowl or better. We're not going to settle for anything less.
2014 TEAM LEADERS
| TEAM | RUSH | PASS | TOTAL |
| --- | --- | --- | --- |
| Offense | 199.4 | 268.5 | 467.9 |
| TEAM | PF | PA | MARGIN |
| Scoring | 32.9 | 27.5 | 5.4 |