May, 12, 2014
May 12
7:00
PM PT
There were
34 Pac-12 players selected
during the NFL draft, but there will be more than twice that many rookies in NFL training camps this summer. Shortly after the draft ended, the dominoes started falling and those who went undrafted started signing free-agent contracts.
The following list of undrafted free agent signings, which was compiled from various announcements and media reports, could change in the coming days:
Arizona
Arizona State
California
Note:
K
Vincenzo D'Amato
will
reportedly attend
Green Bay's rookie minicamp.
Colorado
Oregon
Oregon State
Stanford
Notes:
S
Devon Carrington
(Pittsburgh) and LB
Jarek Lancaster
(Oakland) will attend rookie minicamps.
UCLA
USC
Utah
Notes:
DT
LT Tuipulotu
will attend Green Bay's rookie minicamp and C
Vyncent Jones
told the Deseret News
he will attend minicamps for Pittsburgh and Kansas City.
Washington
Note:
S
Sean Parker
will
reportedly attend
Washington Redskins rookie minicamp.
Washington State
Note:
K
Andrew Furney
will attend Seattle Seahawks rookie minicamp.
April, 3, 2014
Apr 3
12:00
PM PT
Washington was the final Pac-12 school to host its pro day Wednesday, essentially putting an end to 40-yard-dash season. Here is a look at some of the conference's top prospects and a few others who helped their cause over the past month.
Arizona (March 6)

Big name:
RB
Ka'Deem Carey
. After getting clocked at 4.70 in the 40 at the combine, Carey's pro day was a bit more intriguing than some of the other big-name players. There was some improvement -- various reports had him in the high 4.6-range -- but it wasn't enough to change the book on him. Still, Carey's production should make up for his perceived shortcomings.
Sleeper:
OLB
Marquis Flowers
. Flowers
reportedly ran in the 4.4s
and had a good showing in position drills.
Arizona State (March 7)

Big name:
DT
Will Sutton
. The Sun Devils' pro day further cemented what scouts learned at the combine, when he turned in below average numbers. There was slight improvement at the pro day, according to several reports, but nothing to save his falling stock.
Sleeper:
RB
Marion Grice
. Grice was invited to the combine, but didn't participate as he recovers from a broken leg suffered late in the season. He also didn't participate at the pro day, but will hold an individual workout for NFL scouts on April 8.
California (March 19)

Big name:
DT
Deandre Coleman
. Coleman only participated in the bench press at the combine, but fared well in field drills on campus with
a reported 40 time
in the mid 4.9-range. Coleman is projected by most to be a mid-round selection.
Sleeper:
RB
Brendan Bigelow
. Bigelow was perhaps the player with the most to gain at pro day. The book on him has always been that he's loaded with talent and the physical skills necessary to be an impact player. It didn't happen for the Bears before he decided to leave early for a shot at Sunday football. Despite
injuring his hamstring
midway through his 40, Bigelow still was reported as running in the high 4.4-range with former Cal running backs
Marshawn Lynch
and
Jahvid Best
looking on.
Colorado (March 12)

Big name:
WR
Paul Richardson
. There were 24 teams on hand, with Richardson the obvious prize of the nine that worked out. He only participated in the vertical jump, short shuttle and three-cone drills.
Sleeper:
LS
Ryan Iverson
. Iverson will not be drafted, but after four years as the Colorado long snapper he has a chance to make some money at the next level. His 27 reps on the bench press were a team high. All the Colorado results
can be viewed here
.
Oregon (March 13)

Big name:
RB
De'Anthony Thomas
. Thomas' 4.50 40 time at the combine was among the disappointments for the conference and turned a perceived strength into average attribute. After his showing in Eugene -- a 4.34 40 time -- the world is back on its axis. On his combine performance, Thomas
told the Ducks' official website
: "I ran a 4.5 in ninth grade, so I was like, 'Wow, that's crazy'. I feel like that made me train harder and I used it as motivation."
Sleeper:
CB
Avery Patterson
. Patterson was left puzzled by his own performance after putting up just 10 repetitions in the bench press, but the two-year starter remains focused on making the jump to the next level. He's likely the type of player that will have to earn his way on a team via a training camp invitation and possibly a practice squad.
Oregon State (March 14)

Big name:
WR
Brandin Cooks
. The Biletnikoff Award winner could have showed up to the Beavers' pro day as a spectator and it likely wouldn't have mattered. His showing at the combine was enough to solidify his stock as a first-round pick. Cooks didn't take part in field drills, but did run routes.
Sleeper:
WR
Micah Hatfield
. Yes, a receiver with 20 career catches helped his cause. One scout
told the Oregonian
he had Hatfield at 4.33 in the 40 -- the same times Cooks clocked when he was the fastest receiver at the combine.
Stanford (March 20)

Big name:
OL
David Yankey
. Kansas City, Tampa Bay and St. Louis were the only no-shows at Stanford. If the mock drafts are to be trusted, Yankey figures to be the first Stanford player of the board. He improved slightly on the bench press (22 to 25) and clocked the same 40 time (5.48) from the combine.
Sleeper:
DE
Ben Gardner
. Is it fair to call Gardner a sleeper after earning some form of all-Pac-12 recognition the past three years? Probably not, but after
not being invited to the NFL combine
we'll go ahead and list him here anyways. Gardner benefitted most from the day, quantifying his explosiveness and athleticism with a 39.5-inch vertical jump.
UCLA (March 11)

Big name:
OLB
Anthony Barr
. After running a 4.66 40 at the combine, Barr was clocked at 4.45 to ease any lingering doubt about his straight-line speed. Barr helped his case to become a top-10 pick and will likely be the first player from the Pac-12 selected.
Sleeper:
RB
Malcolm Jones
. The Gatorade national high school player of the year never developed into the player UCLA fans were hoping for, but he's still hanging on to hopes of an NFL career. He was credited with a 4.57 40 at the Bruins' pro day.
USC (March 12)

Big name:
WR
Marqise Lee
. Lee went Jerry Seinfeld and
chose not to run
, letting his combine performance serve as the final measurement of his ability. After not lifting in Indianapolis, Lee finished with 11 reps in the bench. He's tagged for the first round.
Sleeper:
DE
Morgan Breslin
. Like Gardner, who he has been working out with in San Ramon, Calif., Breslin was a combine snub. He ran a 4.75 40, put up 26 reps on the bench and registered a 35.5-inch vertical jump. Here are the
complete results
for the 18 players who took part.
Utah (March 19)

Big name:
CB
Keith McGill
. One of the fastest risers since the season has ended, McGill decided to
participate in every drill
despite a good showing at the combine. His 40 time (4.52) was a hundredth of second slower than what he did at combine, and his vertical leap (35.5) was about four inches less.
Sleeper:
FB
Karl Williams
. The 240-pound former walk-on clocked a 4.5, which will could give him a shot to get in a training camp.
Washington (April 2)

Big name:
RB
Bishop Sankey
. Content with his good showing in Indy, Sankey elected to just run the 60-yard shuttle and catch passes. Most mock drafts have Sankey, who left with a year of eligibility remaining, as the No. 2 running back.
Sleeper:
QB
Keith Price
. There were 19 quarterbacks at the combine, but Price was not one of them, marking the first time since at least 1999 that the conference didn't send a quarterback -- and it could be longer -- we could only find combine rosters dating back that far.
Price got good reviews
for his performance Wednesday, but it would still be surprising if he gets drafted.
Washington State (March 13)

Big name:
S
Deone Bucannon
. WSU's remote location and limited number of pro prospects resulted in
less than a dozen
scouts on hand, but those that were there got to see one of the conference's most intriguing prospects. Bucannon just participated in position drills after performing well across the board in Indianapolis.
Sleeper:
K
Andrew Furney
. Furney showed a leg capable of hitting from beyond 60 yards and further established himself as a potential candidate for training camp invitations.
January, 27, 2014
Jan 27
1:00
PM PT
The Pac-12 was represented by six players in the
Senior Bowl on Saturday
, but the group's impact on the game was minimal.
Five of the six were defensive players, with Stanford fullback
Ryan Hewitt
(3 carries, 11 yards) the lone offensive player from the conference.
Utah cornerback
Keith McGill
, who drew rave reviews throughout the week, capped his solid trip to Alabama with a good performance that included a game-sealing interception of Miami's
Stephen Morris
. McGill measured in at 6-3, 214 pounds and has
drawn comparisons
to former Stanford star Richard Sherman.
Reviews for two-time Pac-12 Defensive Player of the Year
Will Sutton
of Arizona State were mixed, but his production in the game was there. Sutton was tied with Stanford linebacker
Trent Murphy
for a conference-high four tackles, including one for a 3-yard loss.
Washington State safety
Deone Bucannon
recorded three tackles, and Cal's
Deandre Coleman
followed up a well-reviewed week of practice with a pair of tackles.
Oregon receiver
Josh Huff
and UCLA's duo of linebacker
Jordan Zumwalt
(groin) and receiver
Shaquelle Evans
(undisclosed injury) practiced throughout the week, but did not play.
I'm not playing today for precautionary reasons

— ChosenOne1_ (@Huff_Era_1) January 25, 2014
In a Scouts Inc. list of superlatives from the week,
only Huff was included

. However, Todd McShay mentions McGill in the accompanying video:
Best vertical speed: Josh Huff, Oregon. We were surprised by Huff's quick start and extra gear when tracking the ball down vertically.
Here is the
official box score
from the game.
Pac-12 stats
Offense
Ryan Hewitt, Stanford: 3 carries, 11 yards.
Defense
Will Sutton, Arizona State: 4 tackles, 1 tackle for loss
Trent Murphy, Stanford: 4 tackles
Deone Bucannon, Washington State: 3 tackles
Deandre Coleman, Cal: 2 tackles, 0.5 tackles for loss
Keith McGill, Utah: 1 tackle, 1 interception
Did not play
Josh Huff, Oregon: "precautionary reasons"
Shaquelle Evans, UCLA: undisclosed injury
Jordan Zumwalt, UCLA: groin injury
January, 24, 2014
Jan 24
8:00
PM PT
Here is the last look at how the Pac-12 players performed in Alabama before Saturday's Senior Bowl.
[+] Enlarge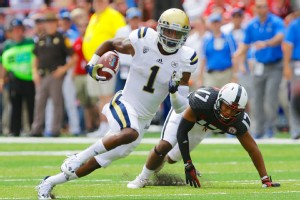 AP Photo/Nati HarnikUCLA WR Shaquelle Evans has been a Senior Bowl standout in practices, but might miss the game.
First, some news on the injury front.
UCLA receiver
Shaquelle Evans
, who had been impressive throughout the week,
will not play in the game
due to a minor undisclosed injury. His teammate with the Bruins, LB
Jordan Zumwalt
, is doubtful
with a groin strain
.
And now, to some observations.
According to the official Baltimore Ravens website
, Washington State safety
Deone Bucannon
has stood out.
Buchannon passes the eye test. He's cut up and looks like he's in phenomenal shape. He's got the right mentality too, talking about how he'll play anywhere and wants to prove himself on special teams. He's projected as a possible second-round pick.
Zumwalt, Stanford linebacker
Trent Murphy
and Arizona State defensive tackle
Will Sutton
were all included on
a list of winners and losers
. It was good news for Zumwalt, not for Murphy and Sutton.
Zumwalt: Zumwalt showed great instincts and an ability to cover sideline to sideline. He was all over the field and, despite a wiry frame (6-foot-4, 231 pounds) flashed impressive power as a pass rusher.

Murphy: Maybe it was because he was going against Martin most of the time, but Murphy couldn't beat his man off the edge and failed to showed dominant power. There will definitely be some teams that question whether the nation's sack leader can transition over to the NFL.

Sutton: Sutton dropped 10 pounds to 315 for the Senior Bowl and never seemed comfortable. He looked slow and without great explosion.
Best agility at the Senior Bowl?
Possibly Oregon receiver
Josh Huff
.
Huff may be the most fluid athlete at the Senior Bowl. He shakes past, slips around and jumps over defenders, spinning, twisting and dashing with ease. While Mike Davis of Texas, Jordan Matthews of Vanderbilt and several other receivers stood out, I talked to several scouts who thought Huff was the most impressive of the bunch.
Cal defensive tackle
Deandre Coleman
was mentioned as a player that
improved his draft stock
by the NFL Network.
The Detroit Lions are keeping a close watch on Utah corner
Keith McGill
, who is
drawing interest because of his size
.
January, 23, 2014
Jan 23
1:15
PM PT
Some interesting stuff about former Pac-12 players trying to impress NFL coaches and scouts at Senior Bowl practices in Mobile, Ala.
[+] Enlarge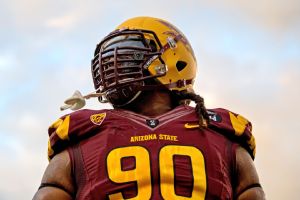 Mark J. Rebilas/USA TODAY SportsWill Sutton's weight is one of the topics at the Senior Bowl this week.
Seems like there's plenty of debate about Arizona State DT
Will Sutton
's weight. It's nice the ESPN's draft folks
are pointing out
that the film on Sutton -- and his Senior Bowl practice performances -- don't lie.
DT Will Sutton, Arizona State: At 6-foot, 315 pounds, he isn't going to win any Mr. Universe contests, and his body type will likely be a concern for NFL teams. Even if he loses some weight between now and the draft, his height could be an issue, as it will for Pittsburgh's Aaron Donald. But teams can't forget about how well he performs on the field. He has a quick first step for his size and he can disrupt running plays in the backfield, plus his girth and low center of gravity make it tougher for taller offensive linemen to get under him and move him off the ball, as we've seen in practices this week.
If NFL teams looking for a 3-technique defensive tackle can throw out his measurements and just watch the tape, they'll see a guy who can make an impact early.
USA Today gave Oregon WR
Josh Huff
a "rising"
grade from his week of practice
.
Wide receivers are often overlooked in Oregon's offense due to the Ducks' explosive running game. He's not being overlooked during Senior Bowl practices.

The Atlanta Falcons coaching staff made sure Day 1 to get the ball in Huff's hands. The 5-11, 201 wide receiver continually gets separation and is an available target. He caught a pair of passes in the end zone during Wednesday's practice. The first, he was falling backwards but still had the wherewithal to come down with the reception. Huff was able to high-point the second catch over the cornerback.

If it weren't for a diving attempt for a third touchdown reception which went through Huff's outstretched arms, the wide receiver may have gotten top billing.
But Huff
hasn't, apparently, been perfect
.
Oregon wideout Josh Huff might be the gifted of the North's receivers but he showed the same frustrating struggles with consistency which characterized his career with the Ducks. Possessing broad shoulders, strength and toughness, Huff is capable of fighting through safeties to gain position, as well as the quickness and speed to separate from cornerbacks. Unfortunately, the tendency to lose focus on the details -- like exploding through his routes or securing the football through the entire catch process -- again came into play during Wednesday's practice. Huff can make the spectacular play, demonstrating the ability to track the ball over his shoulder on vertical routes as well as twirling to make acrobatic catches against tight coverage. He also dropped a beautiful deep ball down late in practice down the right sideline and too often was knocked off his feet by aggressive cornerbacks.
One of the things you start to realize reading a lot of Senior Bowl notes packages is that you can pretty much get folks saying the opposite of each other ... over and over. Welcome to the draft process, which is really little more than a beauty contest.
More positive reviews
for UCLA WR
Shaquelle Evans
:
Shaquelle Evans/WR/UCLA: Evans, 6-foot-1, 210, built a lot of momentum throughout the week and by Wednesday was one of the better receivers at the Senior Bowl. He's a physical wideout with a strong build and soft hands. Evans consistently separated from opponents by running good routes and fought hard to come away with the reception. He's a terrific possession receiver with the ability to help any NFL team as a rookie.
Here's a take
on Washington State S
Deone Bucannon
, Stanford OLB
Trent Murphy
and UCLA LB
Jordan Zumwalt
:
Deone Buccanon, SAF, Washington State – Finally showed up a bit today with some very strong coverage on the TE. Stayed tight to the hip on a jerk route, out-muscled the TE and made a play on the ball. Is going to have trouble turning and running in coverage, because he's not real fluid. In the box, covering the TE, and bringing the edge type of Safety.

Trent Murphy, DE, Stanford – While he can beat OL with his effort, motor, and power, his concerns have been reinforced this week. Lack of explosion and speed are major concerns. Can bend some, but it looks like it takes some effort. Tall, linear frame for defenders to target.

Jordan Zumwalt, LB, UCLA – Once again set the physical tone. Was embarrassing RB in blitz pick up drills. Displayed excellent coverage on David Fluellen in downfield coverage, completely blanketing him and forcing the QB to pull down and run.
And, again, here are the Pac-12 players in Mobile:
North
South
January, 22, 2014
Jan 22
1:00
PM PT
Lots of interesting stuff about former Pac-12 players trying to impress NFL coaches and scouts at Senior Bowl practices in Mobile, Ala.
[+] Enlarge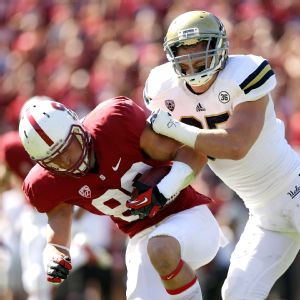 Ezra Shaw/Getty ImagesFormer UCLA linebacker Jordan Zumwalt has been impressive -- and intense -- during Senior Bowl practices.
It appears that former UCLA LB
Jordan Zumwalt
is
turning heads
, and this little tidbit made me smile.
Throughout, Zumwalt, 6-foot-4, 231, played with nonstop intensity, so much so that coaches politely asked him to dial it down a bit. Zumwalt presented himself as second-round material, something which could come to fruition if the competitive linebacker turns in good workouts at the NFL Scouting Combine.
I'm shocked to hear Zumwalt's dial goes up to 11. And he wasn't the only UCLA
player noted for his physical play
.
Another receiver that has caught my eye is Shaq Evans of UCLA. A corner came up to press Evans, and Evans just put him on the ground. Very physical play. He also showed good long speed on a deep ball, and he has decent size at 6'1, 210.
Jim Mora has talked about changing UCLA's culture. Winning 19 games over the past two seasons is proof enough, but reading about former players getting edgy at a college all-star game has to warm the cockles of Bruins fans' hearts.
Here's a pretty thorough look at

Utah DB
Keith McGill
:
He needs to improve his press technique, but he has the tools to do it. McGill's size will be tempting for teams. He's 6-3, 214 pounds, which is slightly bigger than Richard Sherman when he was coming out of school (6-2, 205) and roughly the same size as [Brandon] Browner when he was coming out (6-3, 221). For teams in the middle rounds looking to add size at cornerback, particularly one who can hold his own in press coverage, McGill could be an intriguing option.
And
another on McGill
:
The corner with the highest ceiling looks like Utah's Keith McGill. At 6-3, 214 pounds, he moves with tremendous fluidly through transitions and impressed during T-step redirect drills. He's not a natural hands guy and continued to drop interception opportunities. Nevertheless, the length to affect the catch point is still overwhelming for some of the South receivers he faced. When lined up in press man, he flashed the ability to mirror and wall receivers to the sideline, but will require further development with his hand usage through the release.
Former California defensive tackle
Deandre Coleman
is
also playing well

:
DT Deandre Coleman, California: Coleman isn't a big-name D-lineman like Ford or Arizona State's Will Sutton, but he has played really well both days here. He looked very strong against the double-team on Tuesday, using his hands effectively and playing really hard. He plowed through Oklahoma's Gabe Ikard during one session.
And, yes, Cal fans, there were some folks who wondered
where this beastly version
of Coleman was this season:
Powerful and surprisingly athletic, the 6-foot-5, 315 pounder is position and scheme versatile, though scouts are left to question where this passionate play was throughout a disappointing senior season in the Pac-12.
There seem to be some questions about where Stanford OLB
Trent Murphy
will fit in with an NFL defense. At present, he's playing defensive end and
having mixed results
.
Murphy, a playmaking outside linebacker for a highly physical Stanford squad, is also having a tough time adjusting as the Falcons are asking him to play defensive end. While known for his toughness and physicality with the Cardinal, Murphy looked surprisingly lean during Monday's weigh-ins, showing little upper body development on his 6-foot-5, 253-pound frame. He has strong, active hands to knock away blockers' attempts to latch on and accelerates around the edge in a controlled, efficient manner. He isn't an explosive athlete in any way, however, leading to questions about where he'll fit at the next level as he does not possess great burst nor the strength teams are looking for in an end capable of setting the edge.
Former Oregon WR
Josh Huff
continues
to play well
.
On Monday, while most observers were buzzing about Oregon receiver Josh Huff, I wrote about Wyoming receiver Robert Herron and even slapped a TY Hilton comparison on him. Tuesday's practice did not reaffirm my observation. Huff continued to stand out in his position group and Herron struggled with a few drops and at times looked uncomfortable settling under the ball.
Arizona State DT Will Sutton's weight
is still a big question
, and it appears he plans to drop some pounds after the Senior Bowl.
Will Sutton of Arizona State is still working to lower his weight during this draft season after playing the year at 325 pounds because his coaches asked him to. His goal is to get back down to 300 pounds by the NFL Combine, which could further help his quickness after his first rush. He uses his hands well, attacking guards and centers with quick, decisive movements and generating pressure initially with high frequency. However, when he didn't win initially, he struggled to recover.
Finally, I thought this was interesting:
an inside look at a team interviewing a player at the Senior Bowl
.
And, again, here are the Pac-12 players in Mobile:
North
Shaquelle Evans
, WR, UCLA
Trent Murphy
, OLB, Stanford
Deone Bucannon
, S, Washington State
Ryan Hewitt
, FB, Stanford
Josh Huff
, WR, Oregon
Jordan Zumwalt
, LB, UCLA
South
Deandre Coleman
, DT, California
Will Sutton
, DT, Arizona State
Keith McGill
, S, Utah
January, 6, 2014
Jan 6
10:00
AM PT
The Reese's Senior Bowl, which is scheduled for Jan. 25th in Mobile, Ala., is the most prestigious postseason college All-Star game, mostly because it picks the players NFL GMs and scouts want to see up close in advance of the NFL draft.
So far 11 Pac-12 players have been offered and accepted invitations.
Here's the list,
which you can review here
.
•
Deone Bucannon
, S, Washington State
•
Deandre Coleman
, DT, California
•
Shaquelle Evans
, WR, UCLA
•
Marion Grice
, RB, Arizona State
•
Taylor Hart
, DE, Oregon
•
Ryan Hewitt
, FB, Stanford
•
Josh Huff
, WR, Oregon
•
Keith McGill
, DB, Utah
•
Trent Murphy
, OLB, Stanford
•
Shayne Skov
, LB, Stanford
•
Will Sutton
, DT, Arizona State
2014 TEAM LEADERS
| TEAM | RUSH | PASS | TOTAL |
| --- | --- | --- | --- |
| Offense | 200.6 | 291.9 | 492.4 |
| TEAM | PF | PA | MARGIN |
| Scoring | 35.1 | 29.3 | 5.9 |