March, 8, 2012
3/08/12
9:26
PM PT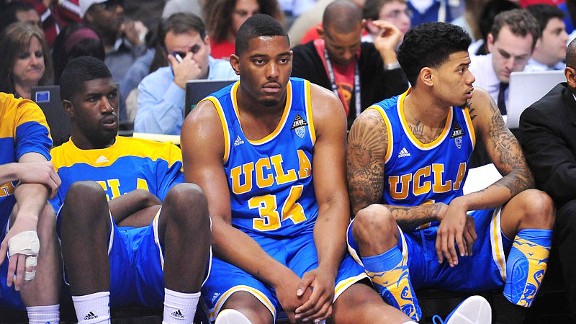 Gary A. Vasquez/US PresswireThe expression of the UCLA bench says it all in the waning moments of the Bruins' loss to Arizona.
LOS ANGELES -- A difficult and sometimes bizarre season took a disappointing turn for the UCLA basketball team in a game that pretty much summed up the way the season went.
The Bruins lost, 66-58, to Arizona Thursday in a Pac-12 tournament quarterfinal that, much like the season, featured UCLA fighting through adversity, looking as if it might turn a corner but could never quite get things rolling in the right direction.
UCLA (19-14) will lament losing the game in a wide-open Pac-12 tournament that was their only possible path to the NCAA tournament, especially after the Bruins' path to the final cleared somewhat with top-seeded Washington's loss earlier in the day, but the inconsistencies that have plagued UCLA all season did so again against Arizona.
The Bruins did not put together a win streak of more than three games in conference play this season and could not put together a stretch of more than five minutes of high-level play Thursday. The Bruins fell into an early hole, climbed back out and made a run, but could not close it out.
"We had our opportunities to win and did not seize the moment," coach
Ben Howland
said.
The same could be said for UCLA all season. UCLA lost four conference games by three points or fewer and lost four times on the road after taking second-half leads. Those close losses ended up being the difference between making the NCAA tournament and
hoping for an NIT invitation
.
But so are so many other things.
The Bruins entered this season without two of their top three leading scorers from last year after
Malcolm Lee
and
Tyler Honeycutt
left school to enter the NBA draft. UCLA lost the third member of that group when
Reeves Nelson
was kicked off the team seven games in. The fourth-leading scorer,
Joshua Smith
, reported for the season grossly out of shape and was hardly a factor most of the season.
The rest of the Bruins tried to keep things together, but simply never built any momentum.
January, 17, 2012
1/17/12
2:57
PM PT
LOS ANGELES -- UCLA forward De'End Parker is exploring the option of transferring to a school closer to his ailing mother in San Francisco, Bruins coach Ben Howland said Tuesday.

Parker, a 6-foot-6 junior transfer from City College of San Francisco, played in the first two games this season for UCLA, but has not played since because of a knee injury. His mother had heart surgery last year and needs assistance in daily living.

"I think that's something that's weighed heavily on his heart so I'm in full support of that," Howland said. "She needs someone to help take care of her so I'm hoping we can get that worked out."

Parker is still enrolled in classes at UCLA, Howland said, but has not been with the team for the last three games. He stayed at home over the Christmas break to be with his mother and because he played only two games, he is hoping to petition the NCAA for a redshirt year so he can play two more years after transferring.

Parker had eight points and two rebounds in his two games with the Bruins. Last season, he helped lead City College of San Francisco to the state title.
January, 6, 2012
1/06/12
5:00
PM PT
UCLA may be facing a short-handed Arizona State team in their Pac-12 game Saturday night at the Honda Center in Anaheim, but coach
Ben Howland
is taking nothing for granted.
The Sun Devils are traveling with only six scholarship players because starting point guard
Keala King
, starting forward
Kyle Cain
and reserve guard
Chris Colvin
have been suspended for unacceptable conduct, but that didn't stop them from defeating USC, 62-53, Thursday night at the Galen Center.
"Arizona State proved real clearly last night that maybe this thing has brought them together more," Howland said. "We're going to have to play really well tomorrow to beat them. I know that and I think our team knows that."
King is averaging a team-high 13.7 points while Crain averages 8.5 points and Colvin 5.4. In their absence
Trent Lockett
moved to point guard and junior forward
Carrick Felix
had a career-high 22 points as Arizona State used a starting lineup of players that measured 6-6, 6-7, 7-0, 6-5 and 6-4. Sophomore
Jordan Bachynski
, a 7-2 center, is the only other scholarship player available for the Sun Devils.
"They're really big right now," Howland said. "They have those three kids that are going to miss tomorrow's game as well. So they're huge and really have great length. It makes it different because our matchups are so hard."
The other thing that makes Arizona State difficult is their zone defense. The Sun Devils (5-9, 1-1) are holding opponents to 40.1 percent from the field which ranks second in the Pac-12.
"They do a good job contesting every shot," Howland said. "They're matching up. They have man to man principles within the zone. It's a hard defense to play against."
UCLA (8-7, 1-2) is coming off of a 65-58 victory over Arizona, which defeated a full-strength Arizona State, 68-51, last week. The Bruins are looking to even up their conference record, which would actually get them right back into the thick of the conference race.
On Thursday, California, Stanford, Washington and Arizona all lost, leaving Colorado as the lone undefeated team in the conference and the league title race very much wide open. Those teams all lost on the road and Howland, whose team lost two road games last week, said that will be the challenge in the conference this season.
"There are home games and road games," Howland said. "Every team at home won last night except USC and so that's not that big of a surprise. And now you're going up into the mountains and you're going to Utah and Colorado, take the oxygen."
Howland said the Pac-12 title winner could be a team that finishes 13-5. Washington in 1984-85 and California in 2009-10 are the only teams to win the conference with five losses since the conference expanded to 10 teams in 1978.
"Yeah, I do," Howland said when asked if he thought a five-loss team could win the Pac-12 this season. "It wouldn't surprise me in the least. I don't think it'll happen. I still think it'll probably be four, but who knows?"
The Bruins have a pair of very winnable games coming up with Arizona State and then a game at USC (5-11, 0-3) before a difficult road trip to Oregon State (11-4, 1-2) and Oregon (11-4, 2-1) Jan. 19 and 21 which will likely determine if the Bruins can stay in the conference title race.
Presuming, of course, they don't take a short-handed Arizona State for granted.
Other tidbits:
Forward De'End Parker is on an excused absence to be with his ailing mother in the Bay Area. She had open heart surgery earlier this year and has had some complications, Howland said. Parker has a knee injury and has not played since Nov. 15. "Because he's not healthy and not playing I just decided it was OK for him to stay at home and be with her," Howland said. "He's supposed to be back in school on Monday."
Freshman Norman Powell has had some acrobatic dunks over the last couple of games, but his shooting percentage is way down after scoring a career-high 19 points Dec. 20 against UC Irvine. Powell was one for six Thursday against Arizona making him four of 22 (18.1 percent) over the last four games. He was shooting 47.1 percent before his current slump. "For him typically, it's just good shot, bad shot and recognizing when he's open," Howland said. "When he's open, he's a good shooter."
Lazeric Jones will continue to play more minutes at shooting guard than at point guard, Howland said. Jones, the team's leading scorer at 13.5 points a game, is also leading the team with 149 shots attempted and Howland feels that Jones is a better fit at off guard. Jones played there for the first time on Thursday against Arizona and had 13 points on a team-high 16 shots. Jerime Anderson ran the point most of the game. "We executed a lot better offensively than we have been," Howland said.
December, 22, 2011
12/22/11
4:31
PM PT
The UCLA basketball team has one final tune-up before Pac-12 play begins next week, but the game against Richmond on Friday night at the Sports Arena also serves as an all-important barometer game for exactly where the Bruins stand.

It has been a difficult team to figure out so far after a 1-4 start against pretty good teams and then a four-game win streak against teams that aren't exactly top-10 material.

Richmond (7-5) certainly doesn't fit into that latter class either, but at least the Spiders have a winning record, which is more than UC Irvine (2-9), UC Davis (1-10), Eastern Washington (6-6) or Penn (5-6) can say. And Richmond is coming off a season in which it advanced to the Sweet 16, so a victory Friday night would carry a bit more clout than any of UCLA's victories so far this season.

"This will be a very good test because they are an outstanding program and they have a very good team," coach Ben Howland said.

The Spiders lost three starters from last season's 29-8 team that lost to Kansas in the Sweet 16, but have five players back who played significant minutes for that team. They are well-coached and run the Princeton offense, shooting 39 percent from three-point range.

They also have four players averaging in double figures scoring, including freshman guard Kendall Anthony, the leader at 14.2 points, and junior guard Darien Brothers, who had 38 points and made seven of 11 3-pointers Tuesday in Richmond's victory over Old Dominion.

"We'll have our hands full trying to guard the Princeton offense," Howland said. "They probably run the Princeton offense as well as anybody in the country and is down to very detailed. They've got very good personnel, they have a lot of guys that can score. They have good balance in their different players in terms of scoring so it's going to be tough."

The Bruins appear to have turned a corner after their rough start, having won their last three games by an average of 28.3 points, but a hint of skepticism remains about dominating hapless teams. So far, UCLA's only victory over a team with a wining record was a 62-39 thumping of Pepperdne (6-4) on Nov. 28.


November, 5, 2011
11/05/11
6:20
PM PT
UCLA's frontcourt is getting most of the attention this preseason, and rightfully so with what is considered one of the a nation's top front lines heading into the season.
It's because of the big guys that UCLA is a top-20 team in the
preseason rankings and polls
, but questions marks in the backcourt are the reason why UCLA is not among the top 10.
Earlier we broke down
the frontcourt
, here is our Bruins backcourt breakdown as UCLA heads into its first public appearance in an exhibition game against Cal State San Bernardino Sunday at 2 p.m. at Citizen's Business Bank Arena in Ontario.
POINT GUARD
Projected starter:
Lazeric Jones, Sr., 6-0
Key reserves:
Jerime Anderson, Sr., 6-2; Tyler Lamb, So. 6-5
The skinny:
Jones had a solid, but not spectacular first year at the major college level last season. He was plagued by injuries all season and showed his toughness by playing through them, but they clearly affected his play as he went through some bad shooting stretches. When healthy, he proved to be a valuable cog and a clutch free-throw shooter. He's got a good outside shot and is an excellent penetrator and he'll be expected to play a lot of minutes this season so he'll have to avoid the injury bug.
Anderson developed into a key player off the bench last season and also blossomed into a leader. He showed good shooting skill and knows how to get the ball inside when he's running the offense. He will miss the exhibition game and season opener because of an off-court incident, but should continue to make key contributions off the bench when he returns.
Lamb will occasionally run the point, but he's much more of a natural shooting guard. Still, he understands the offense and is among the best on the team at feeding the post players. He's also one of the top defenders on the team and has the quickness to stay in front of opposing point guards.
SHOOTING GUARD
Projected starter:
Tyler Lamb, So., 6-5
Key reserves:
Norman Powell, Fr., 6-3; Jerime Anderson; De'End Parker, Jr., 6-6
The skinny: Lamb will get the first crack at filling the void left by
Malcolm Lee
's departure to the NBA. He's shown good athleticism and court smarts at times and is a top-notch defender, but his outside shooting needs work. He made only eight of 39 (20.5 percent) of his three-point attempts last season and shot 32.7 percent from the field. He had some solid stretches that showed his potential and if he continues to develop, he could be a surprise this season.
Powell is an athletic, two-time all-state high school selection out of Lincoln High in San Diego, where he led the team to back-to-back state titles. There is no doubt about his ability to get to the basket and finish and he also has good shooting touch. The question on Powell heading into the season is his ability to defend college-level players.
Anderson will also get some minutes at the off guard, especially when coach Ben Howland goes to a three-guard lineup as he did several times last season. His shooting range is more than adequate to handle the job and when he get's hot, he can carry the team for stretches.
Parker, a transfer from San Francisco City College, will get most of his time at small forward, but is also an ideal candidate for the third guard spot because of his versatility. He's a good passer with the athleticism to get to the basket from the outside and could create matchup problems with his size when playing guard.
November, 4, 2011
11/04/11
5:38
PM PT
UCLA will unveil the college basketball version of "Super Size Me" when the Bruins hit the court in public for the first time on Sunday at Citizen's Business Bank Arena in Ontario.

There, where the Bruins will face Cal State San Bernardino in an exhibition game, UCLA will run out a team that features six players at 6-8 or taller, including starters Joshua Smith (6-10), Reeves Nelson (6-8) and David Wear (6-10).

"'We're going to play big this year," coach Ben Howland said. "As a coach you want to scheme to play your best players as many minutes as possible so we're going to play big."

Reserves Travis Wear (6-10), Anthony Stover (6-10) and Brendan Lane (6-9) round out the shortness-challenged Bruins squad, giving UCLA an Herculean-like presence that already has opponents intimidated.

"You walk through an airport and see them and they scare you," California coach Mike Montgomery said. "They are huge."

The Bruins will need their big men to play big. Howland will rely on the inside guys for most of the scoring this season and the team will go as far as the inside guys will take it.

Here is a breakdown of the giant-sized front court:

CENTER

Projected starter: Joshua Smith, So., 6-10

Key reserves: Travis Wear, So., 6-10; Anthony Stover, So., 6-10; Brendan Lane, Jr., 6-9

The skinny: Smith averaged 10.9 points and 6.3 rebounds in only 21 minutes a game, but will be counted on for about 10 more minutes a game this season. If he can stay on the court that long, he will become the top big man in the country because he is virtually unstoppable on the block because of his combination of size, strength and soft hands. He's also a good passer. He tends to make lazy mistakes when tired so conditioning will be of utmost importance for Smith, who is listed at 305 pounds.

Wear, a North Carolina transfer, brings a completely different skill set to the interior. At nearly 100 pounds lighter than Smith, he's not going to over power people the way Smith can, but he has good shooting range and can draw out defenders. He's also a hard worker, which makes him a tenacious rebounder.

Stover, who is going to miss a couple of weeks because of a shoulder injury, is the defensive specialist on the inside. He is a tenacious, high-energy player with excellent shot blocking instincts. He's not much of an offensive threat, but his defensive intimidation presence is a valuable weapon.

Lane won't play a ton of minutes, but has the ability to make significant contributions when he does play. He had a nice three-game stretch late last season when he scored 11, eight and seven points off the bench.

POWER FORWARD

Projected starter: Reeves Nelson, Jr., 6-8

Key reserves: Travis Wear, Brendan Lane

The skinny: Nelson returns after leading the Bruins in scoring (13.9 points) and rebounding (9.1) and earning a spot on the all Pac-10 first team. He's a tough-minded forward who plays with a chip on his shoulder and simply never backs down. His defensive skills gradually improved over the course of the season and he turned into an excellent one-on-one defender by the end of the season. He's an emotional player who tends to mentally check out when things aren't going his way, but can take over games for minutes at a time when he is on.

Wear's more natural position is the power forward, but with an established star occupying the spot, he'll only get backup minutes there. Still, he will be the first man off the bench whenever Nelson or Smith needs a breather or gets into foul trouble and should get plenty of minutes in that role.

Lane's skill set also leans more toward power forward but will probably have a decrease in minutes because of the addition of Travis Wear. He's not quite strong enough to hold his own defensively and on the boards, but will bring a nice shooting touch when he is called upon.

SMALL FORWARD

Projected Starter: David Wear, So., 6-10

Key reserves: De'End Parker, Jr., 6-6; Tyler Lamb, So., 6-5

The skinny: Small forward is a bit of a misnomer with David Wear manning the position. Wear, who transfered from North Carolina with his twin brother Travis, is actually a more natural power forward, but the loss of all Pac-10 selection Tyler Honeycutt to the NBA draft left a void at the position and Wear will get first crack at filling it. He has the offensive skills to be able to handle the job, including shooting range all the way to the three-point line (he was 8-16 on three pointers at North Carolina). The question mark is his ability to defend the smaller, quicker players he'll match up against, but that will turn into an advantage with post-up opportunities on the other end of the floor.

Parker is a transfer from City College of San Francisco, where he averaged 12 points, six rebounds and five assists in leading the Rams to the State JC title. He's an athletic wing with good court vision and passing skills and knows how to finish at the basket. His all-around skill set makes him a good fit for the small forward.

Lamb will probably start at shooting guard, but may get some time at small forward when the Bruins switch to smaller lineups or if Wear and Parker find foul trouble or injuries. He's one of the top defenders on the team so that will be a bonus at any position he plays. A good passer, he led the team in assists four times, but his outside shot is a work in progress.
October, 26, 2011
10/26/11
8:28
PM PT
Backup center Anthony Stover suffered a dislocated left shoulder in practice Wednesday and will be re-examined Thursday, coach Ben Howland said. Stover, a redshirt sophomore who had sat out the previous week because of a concussion, is expected to miss a couple of weeks.

"It's really lousy luck for him to just be coming back and then, boom, getting hurt again," Howland said.

Junior guard De'End Parker is still out because of a concussion he suffered last week but is improving. Team trainers will continue to monitor his progress, Howland said. Parker, a transfer from City College of San Francisco, could return sometime in the next week.

"He had a pretty severe concussion that affected him in terms of sensitivity to light and sound; he missed a midterm," Howland said. "Today was the first day he's felt better since Saturday. He was at practice for the first time. He sat there and watched."

Junior forward Brendan Lane underwent an endoscopy Wednesday for stomach issues and did not practice. His results came back normal, Howland said. Lane will play in Thursday's closed scrimmage at the Los Angeles Sports Arena against Cal State Fullerton.

"We're still pretty green right now, but the main part is staying healthy," Howland said.
October, 12, 2011
10/12/11
10:46
PM PT
The UCLA men's basketball team will officially begin practice Thursday for a highly anticipated 2011-12 season, but it will have a decidedly different feel than seasons past.

With Pauley Pavilion undergoing major renovations and the team being displaced for its home games this season, the Bruins also will need to find a new practice home.

So they're going to reach a little into their past.

Workouts and game preparations will take place in "the Old Men's Gym" or the Student Activities Center on campus.

The team held its annual media day Wednesday in the Men's Gym -- a place where coach John Wooden once practiced with his teams from 1948 to '65.

"That chalk board over there is the actually chalk board that Coach used to write on," UCLA coach Ben Howland told reporters. "It's the actual board itself, it's pretty cool. His 101st birthday is Friday, always right at the start of the college basketball season. Coach Wooden's teams practiced in here until Pauley was built."

This season's UCLA team is looking to do big things, despite the departures of underclassmen Tyler Honeycutt and Malcolm Lee, who left school early to pursue professional aspirations.

The Bruins' strength appears to be on the front line, giving the team some size and bulk, especially with the additions of twins David and Travis Wear, former Mater Dei High standouts who transferred from North Carolina and sat out last season.

The Wear twins, each 6-foot-10 sophomores, could open things up on the inside for 6-10, 305-pound center Joshua Smith, who averaged 10.9 points and 6.3 rebounds as a freshman last season. UCLA also returns athletic junior Reeves Nelson, who was the team's leading scorer last season at 13.9 points per game.

Adding depth inside are 6-10 sophomore defensive specialist Anthony Stover and 6-9 junior forward Brendan Lane.

"Our real strength is our front line," said Howland, who is beginning his ninth season in Westwood.


June, 1, 2011
6/01/11
1:37
PM PT
Shooting guard
Khalid McCaskill
(Harlem, N.Y./Brewster Academy) announced Wednesday
on his Twitter account
that he will attend UCLA.
"Its official," McCaskill wrote. "I have committed to #UCLA next year. #GoBruins."
According to numerous reports, McCaskill will join the Bruins as a preferred walk-on. The 6-foot-4, 190-pound guard gives coach
Ben Howland
a third player in the 2011 recruiting class. Incoming guards
Norman Powell
(San Diego, Calif./Lincoln) and
De'End Parker
(San Francisco, Calif./City College) will compete for former starter
Malcolm Lee
's minutes.
April, 13, 2011
4/13/11
5:29
PM PT
The UCLA basketball team has been hit hard by the losses of Tyler Honeycutt and Malcolm Lee over the last two weeks, but coach Ben Howland took a step toward softening those blows when he signed De'End Parker on the first day of the late signing period.

Parker, a 6-foot-6, 215-pound swingman, played point guard at City College of San Francisco last season and helped lead his team to a 32-1 record and the state community college title. He averaged 12 points, six rebounds and five assists and made 43 percent of his three-point attempts. He was co-MVP of the Coast Conference North Division. He will have two seasons of eligibility remaining.

"We are extremely excited about De'End Parker joining our basketball program and family," Howland said in a statement. "He will give us immediate help as a transfer with the loss of our starting wings. He is a very good athlete and a great competitor, but most of all, he is an outstanding young man that will represent UCLA to our expectations in all aspects. He's a great kid and has been very well coached."

Parker joins current UCLA point guard Lazeric Jones as rare JC transfers at UCLA. Before Jones, who signed before last season, the last significant JC transfer at UCLA was Jack Haley in 1986.

Parker had originally committed to California but switched after receiving an offer from UCLA in early March. He is expected to help at small forward and shooting guard for the Bruins -- the positions vacated when Honeycutt and Lee left school to enter the NBA draft.

"When UCLA offered me a scholarship, I was really excited, and I knew it was a no-brainer after speaking with my family," Parker said in a statement. "I have spoken to the UCLA coaches and know that I can come in and make an immediate impact. I'm excited about getting the opportunity to play because my natural position is on the wing as an off-guard. UCLA produces the most NBA players and I'm very thankful to have the chance to come in and compete."

The late signing period runs through May 18. Howland is not expected to add any other players before then, though he said on a conference call Tuesday that "anything is possible."
2013 TEAM LEADERS
| TEAM | RUSH | PASS | TOTAL |
| --- | --- | --- | --- |
| Offense | 196.6 | 251.6 | 448.2 |
| TEAM | PF | PA | MARGIN |
| Scoring | 36.5 | 24.1 | 12.4 |