November, 21, 2013
Nov 21
12:00
PM PT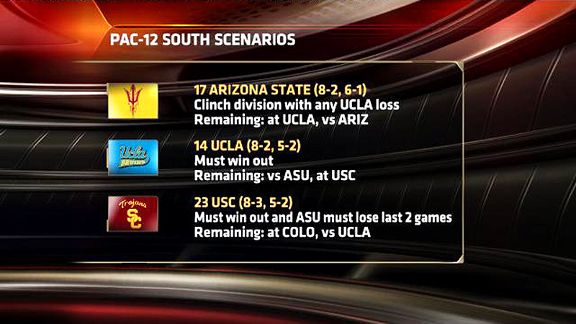 ESPN Stats & InformationArizona State and UCLA's meeting will likely determine the Pac-12 South title.
Consider the
UCLA Bruins
on Jan. 1, 2012. One day earlier, they had lost to Illinois, 20-14, in the Kraft Fight Hunger Bowl. Before that, they had been blown out by Oregon in the inaugural Pac-12 championship game 49-31. That was on the heels of a 50-0 shellacking by USC. Rick Neuheisel was relieved of his job, and there was already blowback for bringing in a career NFL coach. The scuttlebutt was that Jim Mora probably couldn't recruit a surfer to the beach.
Consider Arizona State on Jan. 1, 2012. Losers of five straight, including a 56-24 loss to Boise State in the MAACO Bowl Las Vegas. They lost the Territorial Cup. They lost to Washington State. They lost to UCLA. Dennis Erickson had been relieved of his job and there was already blowback for bringing in a perceived job-hopper from Pittsburgh. The scuttlebutt was that Todd Graham would probably use this as the next stepping stone.
[+] Enlarge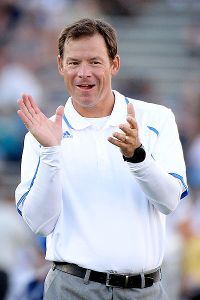 Harry How/Getty ImagesJim Mora has UCLA fans and recruits excited about Bruins football.
Consider the Bruins and Sun Devils today. Both are in the top 20 of the BCS standings -- UCLA at No. 14 and ASU at No. 17 -- and are preparing to square off in Pasadena, Calif., Saturday in a game that could decide the Pac-12 South champion.
In two years, Jim Mora and Todd Graham have won over their respective fanbases, altered the way the rest of the country thinks about their programs and elevated them to top 20 status.
"It's talented guys that are really serious about being a good football team," Mora said. "It sounds really simple, but I think it is really simple. You get good players and they work hard, and they trust in what you're telling them, and they try to do the best they can every day, and I think you have a chance to be a good football team. It's not really as complicated as you might think. It's an attitude."
The hiring of Mike Leach at Washington State was considered a coup for the Cougars. The hiring of Rich Rodriguez at Arizona was a windfall for the Wildcats. Both still might be -- with the Wildcats bowl eligible for the second straight year and the Cougars on the verge of a postseason berth for the first time since 2003. But today, it's the Bruins and Sun Devils who are the frontrunners in their division.
"Obviously, we're both having some success," Mora said. "We've put ourselves in position to play each other in a very important game. Both Coach Graham and I are in our second years in our program and I think it's showing up in the way they play. They are physical and disciplined and tough and they play fast. They really look like they know what they are doing. They have a veteran group. They are a much older team than us and they play like it. They are impressive."
The divisional scenarios for both teams are pretty clear. If the Sun Devils win Saturday, they will represent the South Division in the Pac-12 title game. If UCLA wins, the Bruins still would need to win next week at USC to claim their third straight division title. Graham reminds his players of the goal daily.
"We talk about it all the time," Graham said. "It's something we've been talking about all year long and since we walked in the door we've been talking about winning championships. Ain't a day gone by this season we haven't talked about Pac-12 South championship, Pac-12 championship and a Rose Bowl championship."
Last year's showdown in Tempe, Ariz., served as a critical moment for both teams. Not only did it propel the Bruins into first place in the South Division, which they went on to win, it was a coming-of-age moment for both team's quarterbacks.
Taylor Kelly
drove the Sun Devils 56 yards and threw a 7-yard touchdown pass with 1:33 left to give ASU a 43-42 lead.
Brett Hundley
returned the favor by moving his team 60 yards in the final 93 seconds to set up
Ka'imi Fairbairn
's 33-yard field goal as time expired.
[+] Enlarge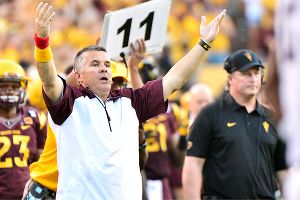 Matt Kartozian/USA TODAY SportsTodd Graham and the Sun Devils can clinch the Pac-12 South title with a win over UCLA on Saturday.
Since that game, Hundley and Kelly have gone on to be two of the most dynamic quarterbacks in the conference -- maybe the country. Hundley has thrown 35 touchdowns to 12 interceptions with 11 rushing touchdowns. Kelly has thrown 38 scores to 15 picks with eight rushing touchdowns. They've thrown for almost identical yards (4,213 for Hundley, 4,184 for Kelly) and Hundley has completed 67.3 percent of his throws to Kelly's 63.9 percent.
Graham said it's what Hundley is capable of doing when plays break down that keeps him up at nights. Per ESPN Stats and Information, since the start of last season, Hundley has 687 scramble yards -- second most of any AQ quarterback behind
Johnny Manziel
.
"I don't think there is another guy in the league who can extend plays the way he does," Graham said. "The key is to make sure we don't give up big plays. We have to minimize his impact."
Likewise, UCLA's touted linebacking corps has to find a way keep ASU's
Marion Grice
out of the end zone. Grice has scored 20 times this season -- 10 of which have come on the ground running outside the tackles, which is tied with Washington's
Bishop Sankey
and Boston College's
Andre Williams
for the most among AQ running backs.
Also key will be ASU's veteran front seven against a UCLA offensive line that is starting three true freshmen. Since the start of last season, ASU has more sacks (40) than any other AQ team when it sends five or more pass rushers. It also forces offenses to go three-and-out 47.2 percent of the time, tops in FBS.
"It's a huge test," Mora said. "This is a very, very, very good defensive front. I think we all recognize what a talent
Will Sutton
is. But the other players along that line and really their whole defense, I think they start eight seniors, they are a veteran group, they know how to play. They play hard. They have a good scheme. Their head coach is a defensive-minded guy. It's going to be a heck of a test for us. This is certainly an enormous challenge."
November, 7, 2013
Nov 7
11:30
AM PT
Gentlemen, the hopes and dreams of an entire town are riding on your shoulders. You may never matter again in your life as much as you do right now.
November, 7, 2013
Nov 7
10:15
AM PT
A few storylines to keep an eye on this week in the Pac-12:
The big one: No. 5 Stanford will host No. 3 Oregon on Thursday night in a game that is sure to send shock waves throughout the Pac-12 and BCS Standings. A win for the Ducks likely re-catapults them back over Florida State and into the No. 2 spot of the BCS rankings -- the outcome of Alabama-LSU pending. A victory for the Cardinal keeps their national championship hopes alive, but they'd still need some help along the way to pass Ohio State and Florida State. This is just the second time that two Pac-12 teams have met while ranked in the top five of the BCS standings. The last time was No. 4 Arizona State and No. 5 Oregon in 2007.

[+] Enlarge

Scott Olmos/USA TODAY SportsByron Marshall leads the Oregon rushing attack at Stanford on Thursday night.

Edges matter: Per the brilliant number crunchers at ESPN Stats & Info, the Cardinal will have to contain the Ducks when they try to run outside. Oregon averages 8.7 yards per rush outside the tackles, second among all AQ teams behind Wisconsin. Last season, Stanford forced Oregon to run 63 percent of the time between the tackles. And when the Ducks did get outside, the Cardinal were able to contain them to the tune of just 29 yards, 1.9 yards per rush and 1.3 yards before contact. In Oregon's other games last season, they averaged 108.1 yards per game outside the tackles.

The other side of the ball: We know about Oregon's offense. We know about Stanford's defense. How about when roles are reversed? The Cardinal offense hasn't been all that productive of late, averaging just 21.6 points over its past three games. Oregon's defense yields just 16.9 points per game -- seventh-best in the country. Turnovers will obviously be a premium for both defenses. Stanford has a zero turnover margin with 11 takeaways and 11 giveaways. Oregon, however, is plus-13 with 23 turnovers gained to 10 turnovers lost.

Quotable: Always good for a one-liner, Stanford coach David Shaw was asked earlier in the week about De'Anthony Thomas' comments that he expects the Ducks to score at least 40 points. "I don't have an issue with that," Shaw said. "He's a confident young man, and they put it on film. They've done it. So I have no problem with that if that's his mentality. I'm just glad he only said 40." Seeing as Shaw has a penchant for the us-against-the-world approach for his team, here's betting he had a different message for his defense behind closed doors.

South showdown (1): UCLA heads to Tucson, where it hasn't won since 2003 -- the first year of the Karl Dorrell era. Both teams have already achieved bowl eligibility. Both teams sit at 3-2 in conference play. Now it becomes a question of pecking order. Ka'Deem Carey has rushed for at least 100 yards in 11 straight games, which is tops in the FBS. The Bruins snapped their two-game losing streak with a win over Colorado last week. Brett Hundley posted the third game of his career with two rushing and two passing touchdowns and he accounted for 345 yards of total offense. Keep an eye on how things play out in the first 30 minutes, because the Bruins are 13-0 under coach Jim Mora when they lead at the half.

South showdown (2): The Sun Devils look to strengthen their foothold on the South with a trip to Utah -- a team they blasted in Tempe last season. In fact, Utah coach Kyle Whittingham said he has "horrible memories" of last season's loss and called it one of Utah's poorest performances since joining the Pac-12. The obvious sidebar here is it's the first time Utah offensive coordinator Dennis Erickson is facing the team he used to coach. But Whittingham said Erickson is a pretty even-keeled guy and he doesn't expect sentiment or emotions to play a role. Whittingham also said that quarterback Travis Wilson is healed from his hand injury and won't wear a glove. Across the field, ASU quarterback Taylor Kelly is coming off of a seven-touchdown game on the road at Washington State.

Trojans rolling: Since making the coaching switch from Lane Kiffin to interim coach Ed Orgeron, the Trojans have gone 3-1, including a convincing 31-14 win last week on the road at Oregon State. For the second time this season USC had a pair of running backs post 100-yard games with senior Silas Redd rushing for 140 yards and Buck Allen collecting 133 yards (8.3 yards per catch) and 3 TDs. Allen was USC's fourth different back to rush for 100 yards this season. Marqise Lee is also coming off an outstanding performance, grabbing five passes for a season-high 105 yards and one touchdown in the win over the Beavers. Cal is still looking for a conference win, but should have some more confidence after an improved showing last week against Arizona.

Bowl eligible: So far there are six teams already bowl eligible (Oregon, Stanford, Oregon State, Arizona State, Arizona and UCLA) with two more on the verge of becoming eligible this week. USC, because of the 13-game regular season schedule sits at 6-3 overall and needs to pick up a win at California to get a spot in the postseason. Washington is at 5-3 with a visit from Colorado. Both teams are favorites, which would give the league eight teams headed to the postseason with the legitimate potential for two more (Utah and Washington State). Both have four wins and Colorado still has an outside shot. Cal is the only Pac-12 team eliminated from bowl eligibility.

Star power: Two of the nation's elite offensive playmakers square off in Seattle when Colorado visits Washington. Buffs wide receiver Paul Richardson has 57 catches for 984 yards with eight touchdowns and continues to close in on several of Colorado's single-season receiving marks. Washington counters with running back Bishop Sankey, who enters the week as the nation's No. 3 rusher, averaging 145.3 yards per game. He's coming off a career-best 241-yard performance against Cal and ranks fourth nationally with 12 rushing touchdowns.

Taking a breather: There are two teams on bye this week with Oregon State looking to refocus after dropping back-to-back games against Stanford and USC and Washington State taking its second bye week in the past three. The Beavers, who are already bowl eligible, close the season with two of their final three on the road; at ASU, home to Washington and at Oregon for the Civil War. With four wins, the Cougars need to win two more to teach the postseason. They are also on the road for two of their past three with dates at Arizona next week and home to Utah before closing out the Apple Cup in Seattle.
October, 17, 2013
Oct 17
10:15
AM PT
A few storylines to keep an eye on this week in the Pac-12:
1. Title game rematch
: UCLA and Stanford will face each other for the third time in the last 10 months. Only this time it's the Bruins who are the higher-ranked team, coming in at No. 9 after Stanford slid to No. 13 following its loss at Utah. Remember all of those side-to-side swing passes that Dennis Erickson and Utah used to keep Stanford off balance? Remember who worked for Erickson at ASU? Yep, Noel Mazzone. And UCLA loves to hit its receivers in the flat. Keep an eye on what happens after the second-half kickoff, as well. The Bruins are outscoring opponents 71-0 in the third quarter this year. Stanford has a 12-game home winning streak -- third longest in the nation -- and is 10-1 at home against ranked opponents since 2009. Stanford hasn't lost consecutive games since the middle of the 2009 season.
[+] Enlarge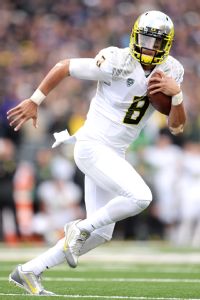 Allen Kee/ESPN ImagesMarcus Mariota and the Ducks are expected to be one of the top two teams when the BCS standings are released on Sunday.
2. BCS time
: The first Harris Poll of the season was released Sunday and featured four Pac-12 teams in the top 25: Oregon (2), UCLA (9), Stanford (12) and Washington (25). The first BCS standings will be released this week -- which comes on the heels of the announced selection committee for the College Football Playoff that starts next year. We're all expecting Oregon to be in one of the top two spots. Question is, where will UCLA or Stanford land?
3. North vs. South:
Two more critical North versus South showdowns this week with UCLA traveling to Stanford and Washington heading to Arizona State. The UCLA-Stanford game takes center stage for obvious reasons. But Washington-ASU has all the makings of a thriller. This is one of those 50-50 games that either team needs to win to show they belong in the upper tier of the Pac-12. The quarterbacks,
Keith Price
and
Taylor Kelly
, are obviously the mechanisms that make their teams go. But Washington running back
Bishop Sankey
(899 yards) has rushed for at least 125 yards in five of six games and ASU gives up almost 170 yards per game on the ground. Look for him to probably break 1,000 for the season by the final whistle. On the flip side, ASU's
Marion Grice
already has 15 total touchdowns. He had 19 last year, so look for him to eclipse that mark in the next couple of games.
4. Making up is hard to do
: Colorado will face Charleston Southern this week as a makeup for the Sept. 14 game against Fresno State that was canceled because of severe rain and flooding in Colorado. Charleston Southern is a perfect 7-0 on the year and is receiving votes in the Sports Network FCS College Football Poll. The Buffs are looking to get to 3-3 for the first time since 2010. And they are making a change at quarterback with
Sefo Liufau
stepping in after going 18 of 26 for 169 yards and a touchdown and two interceptions in relief against Arizona State.
5. No. 5?
The Cougars are looking for their fifth win for the first time since 2007. Tough draw, however, this week with a trip to Oregon. The Ducks are averaging 56.8 points per game and are second in the country in total offense with 630.5 yards per game.
6. Taking care of the ball
: Speaking of Oregon, quarterback
Marcus Mariota
, the Heisman frontrunner through the first half of the season, continues to impress with turnover-free performances. Though his completion percentage is down from last year, he hasn't thrown an interception in 165 pass attempts this year -- which extends a streak dating back to last season of 233 attempts. His last interception was against Stanford. During that stretch, he's completed 100 passes for 1,724 yards and 17 touchdowns. Receivers
Josh Huff
and
Bralon Addison
have 27 catches each for a combined 1,054 yards and 11 touchdowns.
7. Rebuilding the brand:
Nothing can unite the USC fan base like a win against Notre Dame. Better yet, a win
at
Notre Dame. The Trojans won their first game of the Ed Orgeron era and look to follow it up against the Irish. Neither team is ranked, but the names carry a lot of weight. This is a game that could re-energize the Trojans moving forward.
Marqise Lee
and
Morgan Breslin
have both practiced and it's looking like both will play. That should be a huge boost after getting running back
Silas Redd
back last week.
8. Momentum building?
What do the Utes do with their big win over Stanford? Do they keep the momentum rolling? They have to go on the road for four of their next six -- including leaving the state for the first time this season when they travel to face Arizona. The Wildcats are still looking for their first conference win, though quarterback
B.J. Denker
had a strong statistical performance in the loss last week to USC, completing 28 of 44 passes for a career high 363 yards and four touchdowns.
9. Who needs a running game?
The Pac-12's top two passing offenses square off with Oregon State's trip to Cal. OSU quarterback
Sean Mannion
has six straight games of 350 passing yards and the Beavers lead the conference with 433.2 passing yards per game and 25 passing touchdowns. Cal averages 371.3 yards in the air -- second in the league, but just 11 passing touchdowns, third worst. The Bears can move it, they just haven't been able to convert yards into points.
10. No off week:
For the second straight week, all 12 schools will be in action. This was supposed to be a bye week for Colorado, but the Charleston Southern game fills the void. Next week Arizona State and Washington State are on bye. It will be the first of two byes in three weeks for the Cougars, who will have opened the year with eight straight games following this week's matchup with Oregon.
October, 2, 2013
Oct 2
5:30
PM PT
UCLA and USC are uncomfortably intertwined more than just about any other college football rivalry. They share a city, not just a state. Many of the players know each other, having played together or against each other during their high school careers in Southern California. Many of them cross paths on a regular basis around town.
More often than not, they exchange a fist bump and leave the posturing stares to overzealous fans. And they do chat. So yes, it's likely that during the four days since USC fired Lane Kiffin, the topic has come up and there's been a degree of Bruins curiosity.
[+] Enlarge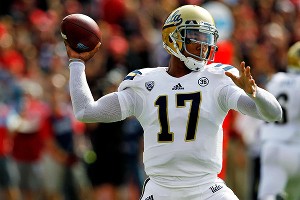 Bruce Thorson/USA TODAY SportsBrett Hundley has accounted for 10 touchdowns this season for UCLA.
Or not.
While UCLA second-year coach Jim Mora has repeatedly expressed sympathy for Kiffin's plight, he also denies that his players give a flip about the goings-on across town.
"We don't worry about that stuff," Mora said. "We don't talk about it. We don't think about it. It's not in our orbit. That's another team. We worry about our team. Our players worry about our team. They couldn't care less what's going on over there. It doesn't matter to us. It's not going to affect us. We don't play them until late November. It doesn't matter to us. It's a nonfactor."
Mora has a point, too. Any focus on USC distracts from the present purpose: His team pays a visit to Utah on Thursday as the No. 12 Bruins open their Pac-12 schedule with a South Division showdown.
It's an interesting matchup with more than a few notable connections.
Start with UCLA's win in last year's meeting, with the Bruins bouncing back from a blowout loss to woeful California the week before. At the time, Bruins quarterback
Brett Hundley
, a redshirt freshman, was beginning to establish himself as a budding star. In the opposite huddle, true freshman quarterback
Travis Wilson
was making his first career start. Wilson would throw for more yards than Hundley -- 220 versus 183 -- but was far less efficient. And Hundley just killed the Utes defense with his running, accounting for 68 yards on 15 carries.
Hundley's offensive coordinator is Noel Mazzone, who was hired by Mora because of the work he did with Brock Osweiler running an up-tempo, pass-happy spread offense at Arizona State.
This offseason, Utah coach Kyle Whittingham decided he wanted to adopt an up-tempo, pass-happy spread offense. So he hired Mazzone's former boss at Arizona State, Dennis Erickson, who is one of the fathers of the up-tempo, pass-happy spread offense.
Erickson has done wonders with the 6-foot-6, 240-pound Wilson, whom Mora this week compared to the 6-foot-8, 240-pound Osweiler, who is now with the Denver Broncos.
UCLA's offense, very good last year, is putting up ridiculous numbers this season with Hundley in his second year as a starter. It ranks second in the nation in total offense (614 yards per game) and third in scoring (52.7 points per game). Balance? The Bruins are 13th in the nation in rushing (284.3 YPG) and 12th in passing (330 YPG). Efficiency? UCLA leads the nation with an eye-popping 68 percent conversion rate on third down.
Said Whittingham: "They are doing everything right on offense."
Yet perhaps no offense in the nation is as improved as Utah's. Last year, the Utes averaged 324 yards and 26.7 points per game. This year, they are averaging 505 yards and 42 points per game. Utah passed for a conference-worst 190.7 yards per game in 2012. This year it's 286 yards per game. The Utes had 16 touchdown passes all of last season. They have nine through four games this fall.
"Dennis has his handprints all over that," Mora said.
Obviously, the linchpin has been Wilson, whom Whittingham admits has thus far exceeded expectations. Wilson is simply a different player than he was as a true freshman trying to negotiate a Pac-12 schedule.
"I think there are quite a few differences," Whittingham said. "No. 1, his confidence level, his poise level, his command of the offense. He's playing very confidently right now. He's really progressed and matured a lot faster than any of us thought he would. His numbers and Hundley's numbers are almost the exact same."
[+] Enlarge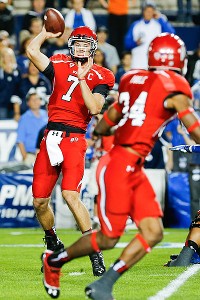 Chris Nicoll/USA TODAY SportsUtah QB Travis Wilson has seen improvement this season working with Dennis Erickson.
That is -- perhaps surprisingly -- true. Wilson is third in the Pac-12 and 15th in the nation in passing efficiency, while Hundley is fourth and 16th. Hundley ranks 11th in ESPN's
Total QBR
, while Wilson is 16th. Hundley is averaging 282.7 yards passing per game with eight TDs and three interceptions, while Wilson is averaging 279.5 YPG with nine TDs and three picks.
Wilson has rushed for 257 yards, Hundley for 157.
"That will be an intriguing matchup, to see how the quarterbacks match up against each other," said Whittingham, making an accurate statement that no one would have said in August.
When you add up all these sparkling numbers, you figure this game won't end up 21-14, with the teams combining for less than 700 yards of offense.
Of course, the defenses will have their say, too. The Bruins have a clear advantage there, yielding 18 points per game compared to 24.2 for the Utes, but it's difficult to truly measure things based on the nonconference schedule.
As always, turnovers will be a key, something that typically starts with quarterback play. But also pay attention to third down. As previously noted, the Bruins are great at converting them on offense, but they also are pretty salty thwarting them on defense (26.7 percent). The Utes convert just 35 percent of their third downs and are at 36.6 percent on third-down defense.
For UCLA, this is the first step toward winning the South Division. Utah, on the other hand, is trying to gain traction in Year 3 in the conference. The previous two years, the Utes started Pac-12 play at a dismal 0-4. Beating the Bruins not only would prevent them from heading toward that early-oh-fer direction again, it would make a strong statement.
As in: The Utes now have a Pac-12 QB, so now they are ready to advance in the conference pecking order.
November, 24, 2010
11/24/10
9:27
AM PT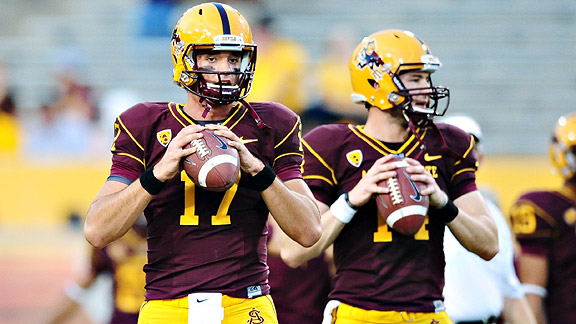 Mark J. Rebilas/US Presswire
There is a little quarterback controversy brewing in Tempe between Brock Osweiler and Steven Threet.
Arizona State coach Dennis Erickson didn't pause.
UCLA defensive coordinator Chuck Bullough didn't care.
And UCLA coach Rick Neuheisel just kind of shrugged and laughed.
There may or may not be a quarterback controversy at Arizona State heading into Friday's game against UCLA in Tempe.
Which would qualify as a fairly large story line in most games, but both UCLA (4-6) and the Sun Devils (4-6) have much larger issues to concern themselves with than whether junior Steven Threet or sophomore Brock Osweiler starts at quarterback for Arizona State.
Larger issues like having to win out to salvage 6-6 seasons and have a shot at playing in a bowl game.
"We're at about the same place with our programs," Erickson said on his weekly conference call. "We both have an opportunity to compete in our last two football games.
"We're both playing with a lot of young players. We've both lost close games, so yeah, we're very, very similar."
2013 TEAM LEADERS
| TEAM | RUSH | PASS | TOTAL |
| --- | --- | --- | --- |
| Offense | 196.6 | 251.6 | 448.2 |
| TEAM | PF | PA | MARGIN |
| Scoring | 36.5 | 24.1 | 12.4 |