November, 14, 2010
11/14/10
4:38
PM PT
UCLA returned to the practice field after taking two days off and appeared to lose some of the intensity that highlighted practice last week.

Gone was the yelling and jumping and trash talking that led to some heated practice sessions and a few minor skirmishes, but coach
Rick Neuheisel
said the Bruins hadn't lost their edge.
"We went back to scout practices so there isn't quite the competitive back and forth as there is when you're going good on good," Neuheisel said. "But I thought the intensity was fine. We were at it and we benefitted greatly from the day."
A few tidbits:
Linebacker Steve Sloan fully practiced for the first time since a strained hamstring knocked him out of the Arizona game Oct. 30. He worked with the second team at middle linebacker while freshman Jordan Zumwalt continued to get the first-team reps. "It was a pretty bad strain," Sloan said. "It popped and did all that stuff. I was supposed to be out a lot longer, but I feel great." Sloan says he is not concerned about whether he gets his starting spot back. "When I went out, Zumwalt stepped right up to the plate and played a great game," he said. "Coach is going to do what's best for the team. I have full faith in Zumwalt how he played."
Middle linebacker Patrick Larimore, out since dislocating his shoulder Oct. 21 against Oregon, spoke to a family doctor about the possibility of surgery and Neuheisel said they would make a decision early this week. "He's hopeful that he can hang around and make something still of this season," Neuheisel said. Neuheisel added that no matter the decision, Larimore is questionable to play Thursday against Washington.
Tight end Cory Harkey was back at practice after missing two days last week because of food poisoning.
Eddie Williams was back at his usual spot with the first team offensive line. Williams sat out last week because of a sprained foot.
Dalton Hilliard is fully recovered from a concussion he suffered in practice two weeks ago and practiced without the red no-contact jersey he had been wearing last week. He saw some reps with the second team defense and made a nice interception during seven on seven drills.
November, 11, 2010
11/11/10
6:42
PM PT
For the third consecutive day, UCLA brought a lot of energy and spirit to the practice field on Thursday. Defensive players erupted in the Florida State/Atlanta Braves "tomahawk chop" chant during team drills and there were a few minor skirmishes during the mid-day practice session.
"Kids are excited about playing and finishing," Coach
Rick Neuheisel
said. "It's that portion of the season where the guys who are fortunate enough to still be going are excited about it. And there's a lot to play for especially given the conference. Only three teams are guaranteed a bowl and everyone else is in the same situation, fighting like mad and it's going to make for some very, very competitive games."
The Bruins will take the next two days off as the coaches do some recruiting. The next practice is Sunday.
A few tidbits from Thursday:
As with last time the Bruins were off, the final practice of the bye week ended with a live scrimmage between the scout teams. Linebackers Eric Kendricks and Aramide Olaniyan each made a couple of nice plays on defense while Jerry Rice Jr. continued to show off some nice speed and open-field moves on offense. The offense converted a couple of fourth down plays, but did not score a touchdown. Receivers dropped several passes, two or three of which hit the ground in the end zone. "It's fun to watch them compete and watch their teammates get excited for them," Neuheisel said.
Receiver Nelson Rosario was limited after aggravating his sprained ankle on Tuesday. Neuheisel said he hoped Rosario would be at full strength soon. "He's still a little hampered," Neuheisel said. "Those are slow injuries to heal. I can be frustrated or I can be hopeful. I'm going to choose helpful."
Linebacker Patrick Larimore sought a second opinion on his dislocated shoulder, but Neuheisel did not have an update. Larimore injured his left shoulder against Oregon and season-ending surgery is a possibility.
Linebacker Steve Sloan did not dress, but did some running on the side as he tries to come back from a hamstring strain. Neuheisel said Sloan should practice Sunday, but would not commit to him getting his spot back at middle linebacker. Freshman Jordan Zumwalt has performed admirably in his absence. "We'll wait and see," Neuheisel said. "Certainly we like competition at all positions."
Special teams practice was especially spirited, with Coach Frank Ganz, Jr. even more animated than usual. Ganz, unhappy with one kickoff, asked the players "What is this, Dancing with the Stars?" then pointed at Ricky Marvray and said "Ricky, you're voted off." Later, Ganz tried to inspire the team by telling them Washington has a "martian who is 6-foot-10 and weighs 5,000 pounds and you better block him."
Offensive lineman Eddie Williams missed practice for the third consecutive day because of a sprained foot. Tight end Cory Harkey missed his second consecutive practice because of food poisoning. Safety Dalton Hilliard practiced in a red no-contact jersey as he recovers from a concussion.
November, 10, 2010
11/10/10
7:04
PM PT
A few notes from Wednesday afternoon's football practice:
Surgery is an option for linebacker Patrick Larimore (shoulder), coach Rick Neuheisel said. Larimore had an MRI taken on his left shoulder and is seeking secondary opinions. Neuheisel said he would know more by the end of the week. The sophomore suffered a dislocated shoulder early in the loss at Oregon and has missed UCLA's last two games.
Guard Eddie Williams (sprained right ankle) sat out of practice for a second straight day. He wore a protective walking boot on Tuesday, but ditched it on Wednesday. Freshman Chris Ward earned the reps with the first team in his place.
Linebacker Steve Sloan (hamstring) again did not suit up. Safety Dalton Hilliard (concussion), on the other hand, was back in full pads, wearing a red no-contact jersey as he works his way back from the big hit he endured two weeks ago.
There were more promising flashes from true freshman tailback Malcolm Jones, who appears to have shaken an ankle issue that was bothering him a few weeks ago. Neuheisel said the extra practice time is allowing him to give Jones more work. "And he's responding," Neuheisel added. Starter Johnathan Franklin has also noticed Jones' improvement. "He's working hard in practice, pretty much," Franklin said. "When you work hard, it pays off. He's going to be a great running back."
Wideout Nelson Rosario re-tweaked his ankle on Tuesday but Neuheisel does not believe it is serious. Rosario practiced fully on Wednesday. The junior returned to action Saturday after sitting out the previous three games. He did not make any receptions.
November, 9, 2010
11/09/10
8:46
PM PT
UCLA returned to the practice field Tuesday for the first time since their last-second 17-14 victory over Oregon State and the emotion of that victory seemed to still be with the Bruins.

It was one of the more spirited and intense practices of the season, with loud yelling, trash talking and intense play. Although it was not a live hitting practice -- the players were in shorts and shoulder pads -- there were some solid hits. A couple of minor skirmishes broke out but no punches were thrown.
"They were out here having fun and I did not want to curtail it," coach
Rick Neuheisel
said. "I wanted it to be that. Football is supposed to be fun. It's a hard game to practice but when you get that kind of energy you want to capitalize on it. And I told them that if we have anything less than that kind of enthusiasm from here on out, we're cheating ourselves."
The defense seemed to instigate the intensity, with the defensive players celebrating every good play they made. The offense responded by doing the same. Several times, players circled around each other yelling and screaming and jumping up and down in unison.
"I think defensively after setting the tone against Oregon State we wanted to keep that going and keep that fun and excitement going," defensive back
Sheldon Price
said. "It's good to see that we're real excited about coming out to practice because a lot of times guys come out flat and stuff like that. But to have this type of practice is good for the program."
October, 14, 2010
10/14/10
7:16
PM PT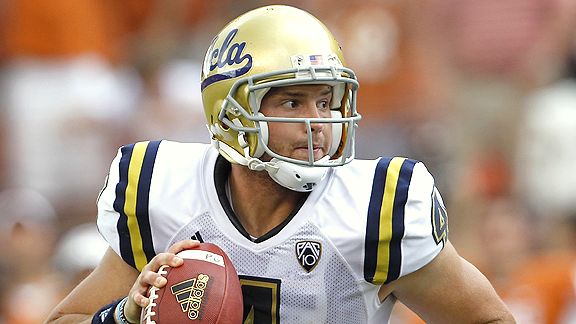 Aaron M. Sprecher/Getty Images
Quarterback Kevin Prince's knee is still giving him problems during practice this week.
UCLA quarterback
Kevin Prince
had his practice time limited Thursday because his injured right knee has been acting up.
Prince practiced full speed in passing drills and seven-on-seven drills, splitting reps with
Richard Brehaut
, but ran only three reps during 11-on-11 drills because of a knee he called "stiff and swollen."
"We're trying to rest it and get it better," Prince said. "Get the swelling out of there and get back the full range of what a knee is supposed to be able to do."
Prince originally inured his knee Sept. 25 against Texas. He sat out the following week against Washington State but returned and started last week against California. He has not missed practice this week but sat out the end of practice on Wednesday before taking limited reps Thursday.
He had the same knee surgically repaired when he was a senior in high school and he said that has made it difficult to get a diagnosis of what is causing this injury to linger.
"It's kind of a muddy picture," he said. "So they're not 100% sure on why it is, but the facts are that it is and we're just trying to manage the symptoms."
Prince said that drop-back passing does not aggravate the injury, but that running has caused him problems.
October, 3, 2010
10/03/10
11:00
PM PT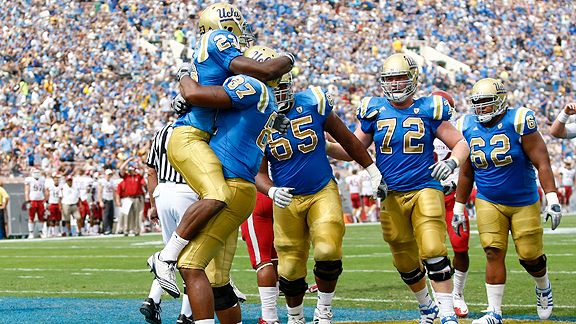 Craig Bennett/Icon SMI
UCLA offensive linemen, who embrace the nickname the "Filthy Five" enjoy the reward of helping a running back reach the end zone.
When UCLA took the ball at its 1-yard line in the fourth quarter with the score tied Saturday against Washington State, the Bruins had only one thing on their minds.
"Time to get filthy," guard
Eddie Williams
said.
It worked. UCLA went on a 99-yard scoring drive, keyed in large part by the play of UCLA's ragtag bunch of offensive linemen, who have been dubbed "The Filthy Five" by the Bruins coaches.
It's a collection of former castoff linemen suddenly thrust into starting roles who have become the most consistent performers in what has been a wildly inconsistent Bruins team.
"This isn't the most talented group that I've ever coached in my career, but they work as hard as any group I've ever coached," said Bruins veteran offensive line coach
Bob Palcic
. "They work for each other. There's no selfishness in the group. They've bought into what we're doing and it's showing up on the field."
There are actually six of them -- Williams,
Sean Sheller
,
Ryan Taylor
,
Darius Savage
,
Micah Kia
and
Mike Harris
-- but the name applies to whichever five are on the field at the time.
On Saturday, all six were blasting open holes for a UCLA running game that piled up 437 yards rushing—the most by a Bruins team since 1979.
Johnathan Franklin
had a career-high 216 yards rushing and
Derrick Coleman
set his career high with 185.
It was the first time in school history that two backs had rushed for 180 yards in a game, and it was no fluke. The offensive line has allowed Franklin to eclipse the 100-yard mark in three consecutive games—the first Bruins back to do that since Maurice Jones-Drew in 2004.
September, 20, 2010
9/20/10
8:00
AM PT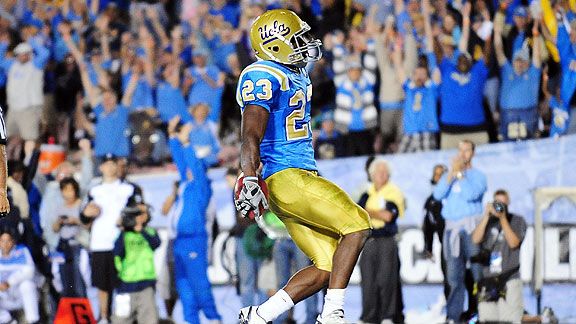 Gary A. Vasquez/US Presswire
Johnathan Frankin said he had his "best" game as Bruin against Houston on Saturday night.
PASADENA --
Johnathan Franklin
doesn't just want to be UCLA's feature tailback, he feels as if he needs to be.
It's far from a selfish gesture. He was actually content when good friend
Derrick Coleman
made the start in last week's embarrassing loss to Stanford. But with Coleman sidelined indefinitely because of a concussion and neck strain, Franklin knew he had to be the difference.
"We need an alpha dog, a head honcho," Franklin said.
On Saturday night, he was.
The redshirt sophomore scored a career-high three touchdowns behind a career-high 158 yards rushing, pacing a suddenly rejuvenated UCLA team to a 31-13 win over No. 23 Houston. The Bruins rushed for 266 yards -- the most by the team in nearly three years.
It began, and ended, with Franklin as the centerpiece of the offense.
Franklin put the Bruins (1-2) up for good with an 11-yard touchdown run in the first quarter, and added scores of one yard in the second and 12 yards in the third.
"That's what he did at Dorsey," said
Rahim Moore
, who played with Franklin in high school. "You give him the ball, he's going to give you that performance every night."
August, 23, 2010
8/23/10
1:17
PM PT
Freshman running back Malcolm Jones, in the mix for a starting role in the Bruins backfield, wore a protective boot and sat out of practice Monday after spraining his ankle in the Fall scrimmage.

Jones, the national high school player of the year at Oaks Christian last year, led the Bruins with 59 yards in 11 carries during the scrimmage, but said he injured his ankle on his last carry. He said it wasn't serious enough to require X-Rays or an MRI exam and he should be back before the end of the week.

"They just wanted me to be safe about it and not hurt it any more so they just want me to take some time off," Jones said. "It's just a mild sprain, they just want to make sure I don't walk around with a limp all day so they put me in a boot."

Jordon James, another freshman running back, did some running on the sidelines Monday morning and is close to returning from a hamstring strain that has kept him out for 10 days, Coach Rick Neuheisel said. Offensive lineman Eddie Williams, out with a concussion, sat out practice Monday morning, but is expected to be back Monday afternoon. Linebacker Glenn Love had "a stinger" Neuheisel said, and was in a red jersey Monday morning, but he participated in all drills.
August, 20, 2010
8/20/10
6:34
PM PT
For two weeks, UCLA football players have been showing their talents on the field. Tonight, they show their talents off of it.

The Bruins' annual Fall camp talent show takes place after practice tonight and coach Rick Neuheisel said it's going to have to be special to live up to last year's edition.

"It was outstanding last year," Neuheisel said. "Eddie Williams on the Ukulele was terrific. Darius Savage doing his dance to 'My Dougie' was a hit."

But the most anticipated moment is when tight ends Andrew Yelich and Joe Fauria will reprise their co-written parody song.

It "almost always brings everybody to their knees," Neuheisel said. "They'll parody the entire operation. It may be the longest song in the history of the world, but certainly worthwhile."
August, 19, 2010
8/19/10
7:27
PM PT
Coach Rick Neuheisel all but announced that quarterback Kevin Prince would not play in the Fall scrimmage Saturday evening.

Prince did not make any throws during practice Thursday and did not take any snaps during the short-yardage scrimmage at the end of practice.

"Hopefully we get him back next week and we can put this chapter behind us," Neuheisel said. "There is no reason to be upset about it. Our trainers are doing everything they can and it's just a muscle injury that takes some time. Unfortunately, none of us are in the patience business, but we have to be."

In other injury news, linebacker Patrick Larimore returned to practice after missing almost a week because of a strained hamstring. Offensive lineman Eddie Williams sat out of the short-yardage scrimmage and went to the training room with what Neuheisel called "concussion-like symptoms." Darius Savage replaced Williams on the first-team line.

"We're not sure it's a concussion," Neuheisel said. "We hope it isn't. We decided to take him out. It's precautionary."
2013 TEAM LEADERS
| TEAM | RUSH | PASS | TOTAL |
| --- | --- | --- | --- |
| Offense | 196.6 | 251.6 | 448.2 |
| TEAM | PF | PA | MARGIN |
| Scoring | 36.5 | 24.1 | 12.4 |