February, 25, 2012
2/25/12
7:36
AM PT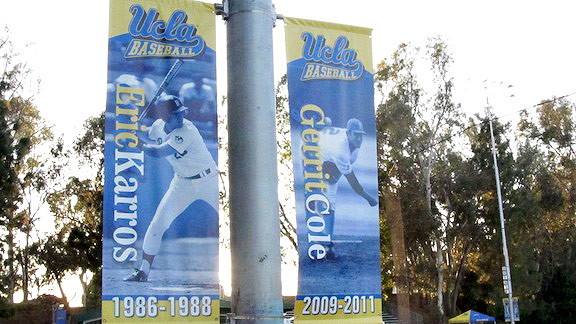 Blair AnguloWhat does the No. 1 overall pick in the MLB Draft get? Yep, a banner next to Eric Karros.
LOS ANGELES -- A new banner greets UCLA baseball fans when they reach the concourse at Jackie Robinson Stadium. It hangs by the main entrance on the first-base side, next to an old one of former Bruins infielder and Los Angeles Dodgers career home run record holder Eric Karros. A bronze statue of the man for whom the ballpark is named sits a few yards away.
It's precise product placement, and there's no shame in promoting former UCLA right-hander Gerrit Cole, the top overall selection in last year's MLB amateur draft. Cole arrived on campus in 2009 and, along with third overall draft pick and Golden Spikes Award winner Trevor Bauer, would go on to lead the Bruins to their first College World Series appearance since 1997 and their first Pac-10 championship since 1986. Bauer, too, is recognized on a banner which hangs next to one of Philadelphia Phillies second baseman Chase Utley on the third-base side, behind the UCLA dugout.
"You have to recognize them, they warranted it," eighth-year head coach John Savage says. "Those are high honors, but it's a credit to both of those guys for being special people and players at UCLA."
The banners are commemorative, yes. They're meant to inspire current team members — a third-year player says they're indicative of UCLA's recent success. They're meant to attract recruits, meant to boost the program's perception. At the same time, they're a reminder that Cole, an elite prospect in the Pittsburgh Pirates system, and Bauer, a spring training invitee with the Arizona Diamondbacks, are gone.
UCLA baseball, though, has been transformed. Maybe forever.
2014 TEAM LEADERS
| TEAM | RUSH | PASS | TOTAL |
| --- | --- | --- | --- |
| Offense | 199.4 | 268.5 | 467.9 |
| TEAM | PF | PA | MARGIN |
| Scoring | 32.9 | 27.5 | 5.4 |