July, 14, 2010
7/14/10
2:12
PM PT
Some offseason notes to pass along:
Steve Pearse, who served as UCLA's infield and baserunning coach the last two seasons, accepted the head coaching position at Reedley College late last week. A replacement has not been named.
Niko Gallego, a 27th-round selection in last month's MLB Draft, signed with the Arizona Diamondbacks on July 11 to forgo his senior season. Gallego, the son of 13-year big leaguer and current Oakland Athletics third base coach Mike Gallego, will be assigned to Class High-A Visalia of the California League. Gallego's departure means slick-fielding backup Adrian Williams, who is playing the West Coast League this summer, will have an opportunity to start at shortstop next season.
Reliever Erik Goeddel, a 24th-rounder who excelled as UCLA's setup man last season, has agreed to terms with the New York Mets. His signing leaves a gaping hole in the Bruins' bullpen since closer Dan Klein (third round) and Matt Grace (eighth round) are also expected to sign.
Right-handed pitcher Garett Claypool, an 11th-rounder for the Philadelphia Phillies, is 2-0 with an ERA of 2.25 in two games with the Williamsport Crosscutters of the Class A Short-season New York-Penn League.
Meanwhile, the five UCLA signees who were selected in the MLB Draft have yet to sign professionally. They are: pitchers Adam Plutko (Houston Astros, sixth round), Zachary Weiss (Pittsburgh Pirates, 10th round) and Nick Vander Tuig (Toronto Blue Jays, 39th round), outfielder Brenton Allen (Philadelphia Phillies, ninth round) and infielder Kevin Williams (Los Angeles Dodgers, 41st round). Incoming freshmen have until August 15 to sign.
June, 9, 2010
6/09/10
6:06
PM PT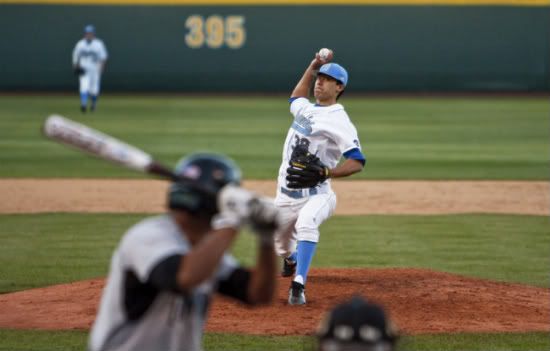 Daily Bruin Senior pitcher Garett Claypool has his eyes set on getting to Omaha -- then he'll worry about his professional future.
Pitcher Garett Claypool was chosen in the 32nd round of the MLB draft last June, but decided against signing for an opportunity to go to Omaha as a senior. A year later, UCLA is two wins away from a trip to Rosenblatt Stadium and Claypool (8-3, 2.05 ERA) rose to the draft's 11th round. The right-hander spoke Tuesday night about being selected by the Philadelphia Phillies, as well as the Bruins' upcoming Super Regionals matchup against Cal State Fullerton.
What were you doing when you found out you had been chosen?
Claypool
: I was actually in the training room getting some work done and a teammate came over and told me. It was really exciting. I didn't really know when I was going to go, but being told I was drafted by the Phillies was an exciting moment.
How many teams were you hearing from?
Claypool
: I talked to a lot of teams, but no one was really giving me a concrete answer on when they thought they were going to pick me. I wasn't really sure.
Have you had a chance to get your cap yet?
Claypool
: I actually already had one, so I put it on and wore it a little bit.
Talk a bit about being able to increase your stock this season.
Claypool
: I built off last year. This year I was way more consistent and throwing more innings helps. Getting more time on the mound and being seen more just helped me in the draft.
How gratifying is it to know you were able to jump a good number of rounds from where you were drafted last June?
Claypool
: It's a nice feeling coming back and getting drafted higher. But honestly, the biggest reason why I came back was to get to Omaha. Now we have a chance to do that, so I feel it was a smart move to come back. I'm happy with my decision.
Do you even have to show up this weekend? They didn't really need you in the regional.
Claypool
: If our starters go seven or eight innings, then they don't really need me. Hopefully I get a chance to go out there, but if our starters cruise that's even better.
You faced Cal State Fullerton twice this season. How big of a role do you play in terms of being in the other pitchers' ears?
Claypool
: I've talked to the starters about it and they know what to expect. We've all seen Fullerton -- we know what they've got. They're good hitters.
May, 11, 2010
5/11/10
10:25
PM PT
IRVINE -- For only the third time all season, the UCLA baseball team dropped a road game Tuesday night.

UCLA head coach John Savage was not there to see the end of it.

The sixth-year coach was ejected in the bottom of the fifth inning immediately after UC Irvine's Jeff Cusick doubled to give the Anteaters the two go-ahead runs in an eventual 2-1 win at Anteater Ballpark. Earlier in the inning, Savage disputed a blooper that first base umpire Bradley Hungerford ruled had hit the ground before center fielder Beau Amaral made the catch.

"I thought it was a catch," Savage said afterward. "It was a difference in opinion and I expressed my thoughts. After the two-run double, I said something I shouldn't have said."

Hungerford ejected Savage right after Cusick's game-winning double -- though it was unclear because Hungerford began to jog toward center while Savage chased after him. Savage eventually retreated back into the first base dugout to gather his belongings and was set to exit down the right field line but was told he had to leave from the other side.

Here's a condensed version of the sequence:



Before then, UCLA had struggled to string productive at-bats.

"It was disappointing," Savage said. "We just didn't get good swings."

The night looked promising after the Bruins (34-11) got on the board in the first on a run-producing bouncer from Tyler Rahmatulla. But UCLA collected four hits -- all singles -- and was held in check by Irvine relievers Nick Hoover and Evan Brock (combined 7 2/3 innings, two hits, no runs and seven strikeouts).

UCLA starter Garett Claypool (7-2) absorbed his second loss of the season despite giving up only two runs in six innings.

"We should have given a better offensive effort," said Blair Dunlap, who scored UCLA's run in the first.
May, 5, 2010
5/05/10
1:12
AM PT
That familiar feeling returned Tuesday afternoon.

Following three discouraging losses to Arizona State, the UCLA baseball team got back on track with a 5-1 win against Pepperdine in Malibu.

The Bruins (31-10) recorded 15 hits -- something they had not done since late-March -- and once again received fine pitching from senior right-hander Garett Claypool, who has evolved into one of the nation's top midweek starters. Claypool tossed 6 1/3 innings of one-run ball, striking out five and surrendering just three hits to earn his team-leading seventh win of the year.

The victory does not necessarily erase UCLA's bad weekend -- which dropped them seven spots from No. 5 to No. 12 in the Baseball America poll -- but head coach John Savage says he believes it's a start.

"We've had a very good run and a very good team," Savage said. "We had a very difficult weekend, but we have to learn from it, move on and make sure we get better."
April, 27, 2010
4/27/10
10:34
PM PT
Garett Claypool
was zoned in Tuesday night.
The senior right-hander tossed a career-high 7 2/3 innings, leading the UCLA baseball team to a 4-1 win against UC Irvine (24-14) at Jackie Robinson Stadium.
"Every time you're out there, you want to compete and go as long as you can," Claypool said. "I had to do a little convincing to have coach
[John Savage]
keep me in the game."
By the time Savage brought in
Erik Goeddel
in the eighth, Claypool had done enough. The Bruins' offense had done just enough too.
After stranding eight runners in the first four innings, UCLA scored three in the fifth -- highlighted by
Chris Giovinazzo
's
two-run blast
-- to open a rather comfortable 4-0 advantage.
Closer
Dan Klein
lowered his ERA to a minuscule 0.62 and earned his eighth save of the season with a scoreless ninth.
UCLA (30-7), which reached 30 wins in the fewest games in program history, welcomes No. 3 Arizona State (33-5) for a three-game series beginning Friday night.
April, 10, 2010
4/10/10
11:12
PM PT
It started to feel like the game that would never end.

Finally -- a good six hours and 23 minutes later -- the UCLA baseball team broke through, finding the will to defeat Oregon State, 3-1, in 16 innings Saturday.

Sophomore catcher Steve Rodriguez smacked a clutch two-run single in the top of the 16th inning to break a 1-1 tie. He was four for eight at the plate.

Head coach John Savage used all but five of his players in a game that began at 2 p.m.

No. 3 UCLA (24-3, 3-2 Pac-10) got on the board with a run in the fifth and was three outs away from the win. But the Beavers (20-7, 3-2) tagged Bruins closer Dan Klein for the tying run -- his first given up this season -- in the ninth. Matt Grace and Garett Claypool combined for six innings of scoreless relief.

Both teams blew their share of opportunities. UCLA left 22 runners on base and No. 17 Oregon State stranded 17.

UCLA starter Trevor Bauer had pitched a gem, tossing 7 1/3 innings of scoreless ball. He struck out eight.

The teams take the field at noon Sunday in the final game of the series.
March, 30, 2010
3/30/10
9:54
PM PT
The UCLA baseball team found yet another way to emerge victorious on Tuesday night. This time, the Bruins extended their best-ever win streak to 21 games thanks to -- what else -- a pair of bunt singles.
With the game scoreless in the fifth inning,
Trevor Brown
laid down a bunt that bounced off third base
for a single to load the bags. After a ground out scored a run,
Cody Regis
laid down a bunt of his own, this one to the right side of the infield
for another single and another run
.
UCLA Athletics Garett Claypool earned his third win of the season Tuesday night. He has an ERA of 1.03 as a starter this year.
That's all UCLA's offense could muster against Pepperdine's
Aaron Gates
. That's all UCLA's
Garett Claypool
and the bullpen needed.
Claypool, a senior right-hander, allowed an unearned run on two hits and a walk in six and two thirds innings. He struck out nine.
"I just like pitching," Claypool said. "So if it's on Tuesdays, it doesn't really matter."
Claypool could very well start on weekends if he was on another team. But since head coach
John Savage
has
Gerrit Cole
,
Trevor Bauer
and
Rob Rasmussen
in his weekend rotation, Claypool has had to fill the midweek role.
He may be the best midweek starter in the nation.
"Every time out I attack hitters," he said. "I like to compete and like to do well."
So far he has. Claypool (3-0) touts an ERA of 1.03 in four starts and has walked four and struck out 30.
No. 6 UCLA begins Pac-10 play Thursday against Stanford.
March, 23, 2010
3/23/10
5:22
PM PT
In Westwood... or on the road. Night... or day.

So far, it's all been the same for the UCLA baseball team. The latest example came Tuesday afternoon, as UCLA traveled up the 101 Freeway to defeat UC Santa Barbara 7-1 and improve to 17-0 on the season. It was the Bruins' seventh win away from Jackie Robinson Stadium.

It was yet another example of UCLA's depth on the mound, with senior right-hander Garett Claypool (2-0) allowing one run in seven innings of work and striking out 10 of the 24 batters he faced. Relievers Erik Goeddel and Dan Klein combined to toss two scoreless innings out of bullpen.

After stranding four runners in the first three innings, UCLA broke through with five runs on seven hits in the fourth. The scrappy, wear-you-out Bruins finished with 16 hits -- none of which were home runs. Blair Dunlap had three hits, while Tyler Rahmatulla, Cody Keefer, Cody Regis, Justin Uribe and Beau Amaral had two apiece.

No. 9 UCLA (17-0) returns to Jackie Robinson Stadium Thursday night to take on Cal Poly San Luis Obispo (7-11) in the first of a three-game set.
February, 23, 2010
2/23/10
10:35
PM PT
The light might not be as bright on Tuesday nights, but don't tell that to pitcher Garett Claypool.

Despite knowing he wasn't a lock to make UCLA's stacked weekend rotation, the senior right-hander returned to school after being selected in the 32nd round in last June's Major League Baseball draft.

"He came back for his senior year because he wants to go to Omaha," coach John Savage said. "He's willing to take that role and run with it. He wants to be the best Tuesday guy in the country."

If tonight's performance at Long Beach State is any indication, Claypool might be just that. He gave up a run and scattered five hits in seven strong innings, leading the Bruins to a 10-1 victory over the 49ers at Blair Field.

Junior right fielder Brett Krill led the charge offensively, going four for five with two runs and two RBIs. Sophomore catcher Steve Rodriguez, the team's No. 9 batter, hit his fourth home run of the season. UCLA has scored in double-digits in every game.
2013 TEAM LEADERS
| TEAM | RUSH | PASS | TOTAL |
| --- | --- | --- | --- |
| Offense | 196.6 | 251.6 | 448.2 |
| TEAM | PF | PA | MARGIN |
| Scoring | 36.5 | 24.1 | 12.4 |