UCLA:

Inoke Breckterfield
December, 16, 2011
12/16/11
5:33
PM PT
Inoke Breckterfield and Marques Tuiasosopo both expressed relief upon learning that incoming coach Jim Mora wanted to retain them as part of the new coaching staff.

Breckterfield, the first-year defensive line coach, will stay on in the same capacity under Mora and Tuiasosopo, an intern on Rick Nuehiesel's staff who was recently promoted to quarterbacks coach, will coach the tight ends under Mora.

"Not knowing what is going to happen is natural for anyone to wonder what is going to happen next," Breckterfield said. "And when he offered the job there is a natural feeling of relief."

Breckterfield's unit drew some criticism for poor play early on his season, but had a better second half and he said was happy to get he chance to stay on and continue to try and improve. Defensive lineman Datone Jones was happy to hear his position coach would remain aboard.

"I'm excited," Jones said. "He's a great guy. He got his feet wet his first year and he'll come back and do bigger things next year. Guys are used to him now and he's going to get a lot of things in this program."

Tuiasosopo, a former quarterback at Washington and with the Oakland Raiders, will have some learning to do in his new role as tight ends coach, but he said he's not that concerned.

"One thing about being a quarterback, especially playing in the NFL, you get to learn about everybody," he said. "I've got some friends that still play tight end I can call to get some tips. It'll be a fast learning curve, but I'm fired up for it."

Mostly, he said, he's happy that he's getting the chance to be a full time coach. He was an intern at Washington and at UCLA before taking on the quarterbacks coaching responsibilities two weeks ago when Neuheisel left.

"You never know how it's all going to shake out so when coach Mora offered me the job, I was pretty excited," Tuiasosopo said. "When you work for three years as an intern and a strength coach then to get your first job at UCLA, that's just a tremendous blessing."
December, 15, 2011
12/15/11
6:48
PM PT
UCLA defensive line coach Inoke Breckterfield and quarterbacks coach Marques Tuiasosopo will be retained by incoming coach Jim Mora, the school announced Thursday.

The school also confirmed the previously reported hirings of Demetrice Martin, Adrian Klemm and Steve Broussard. Martin, from Washington, will serve as passing game coordinator/defensive backs coach. Klemm, from Southern Methodist, will take over as run game coordinator/offensive line coach and Broussard, from Arizona State, will serve as running backs coach for the Bruins.

Klemm and Martin will join Mora's staff immediately, while Broussard will come to Los Angeles after Arizona State competes in the Maaco Bowl Las Vegas on Dec. 22. Breckterfield will stay on as defensive line coach, and Tuiasosopo will move to tight ends coach. Mora can add three more coaches.

"Each of these coaches will bring unique qualities to the UCLA football program," Mora said in a statement released by the school. "All of them will be integral pieces of the UCLA football puzzle from their first day on the job."
October, 2, 2011
10/02/11
8:44
PM PT
Coach
Rick Neuheisel
spent Sunday watching the game film of UCLA's 45-19 loss to Stanford and came away with mostly the same impressions he had after the game Saturday: If not for a handful of game-changing plays, UCLA would have hung tough with the Cardinal.
"We were in that game," Neuheisel said. "But for a few mistakes that game is a tossup. And those are the mistakes that we've got to continue to work to stop. We can't fumble a punt when it should have been fair caught. We can't not punch it in when we get down there inside the five. Those are the things that we can do better and we will continue to work and do better."
Some highlights from the call:
Neuheisel said one of the biggest differences between UCLA and Stanford was size in the trenches. The Cardinal averages 6 feet 5, 303 pounds on the starting offensive line and was able to manhandle UCLA's defensive line, which averages 6-4, 279 pounds. "We've got to get a little bigger," Neuheisel said. "They were clearly bigger across their offensive line than we were. We've got to continue to build on our strength and keep recruiting bigger kids and then develop them."
UCLA continued to struggle on defense, especially the defensive front. UCLA did not register a sack for the third consecutive game and had only one tackle for a loss. The Bruins are No. 118 in the nation in tackles for a loss and 114th in sacks. "They were getting great push yesterday," he said, referring to Stanford's offensive line. "As I was saying, they were a very big, stout offensive line. I think that's been well documented. We're going to have to keep working at it. I believe we have the talent to get it done." Neuheisel refused to put the blame on new defensive line coach Inoke Breckterfield. "Inoke is working hard," Neuheisel said. "We're going to continue to work hard. I'm not going to point fingers, all I'm going to tell you is we're going to get better."
Stanford was 1-11 in 2006, 4-8 in 2007 and 5-7 in 2008, but has since blossomed into a national power at 12-1 last season and 4-0 this season. Neuheisel was asked what was keeping UCLA from making a similar turnaround. "There's a number of things we can talk about, but that's all worthless," Neuheisel said. "The point of the matter is we've got to get better and we're working to get that accomplished. If you look at all the great teams out there, there is a reason they become great teams and normally it's because they have established some very experienced players that are doing it for them."
Neuheisel has couched praise for the performance of quarterback Richard Brehaut, who completed 18 of 33 passes for 202 yards and two touchdowns. "I thought it was the second week in a row which he was poised," Neuheisel said. "There were some times I think in the running game that he could have pulled the ball and been wise to do so. But we'll keep working at that."
Taylor Embree's fumble on a punt return was a major turning point in the game because it helped Stanford increase its lead from 24-13 to 31-13 late in the third quarter. It's particularly painful because Embree is in that spot because of his sure hands. He had not fumbled a punt return in two seasons. Neuheisel stood by Embree, though criticized his decision not to call for the fair catch in that spot. "Taylor Embree is like a son to me," Neuheisel said. "Taylor Embree was about five years old when he was hanging out at my house back when I coached at Colorado. I have nothing but the highest regard for Taylor and nothing but the highest confidence, especially in catching punts. He's a young guy that's trying to make a play and that just wasn't the appropriate place and he knows it. He's trying to spin away from a defender before he catches the ball and that's why he dropped it."
September, 21, 2011
9/21/11
3:56
PM PT
Inoke Breckterfield hasn't checked into Facebook during the last few days, partly because he's been too busy and partly because he's afraid of what he mind find there.

"I'm sure there is something there, but I'm not sure I want to look," Breckterfield said.

That's because Breckterfield, UCLA's defensive line coach, is returning to Oregon State this weekend for the first time as an enemy. Breckterfield played for the Beavers from 1995-98 and returned there as an assistant coach from 2006-08. He still has a lot of friends and connections in the Corvallis, Ore., and within the Beavers' football program.

"It's going to be different," he said. "It's definitely going to be different. It's going to be weird being on the opposite sideline and in the visitors locker room. But, it's going to be fun."

Breckterfield remains close with the coaching staff at Oregon State. Head coach Mike Riley was his head coach as a player and as an assistant and defensive coordinator Mark Banker was also there during Breckterfield's playing and coaching careers at Oregon State.

And he is very close with Beavers' defensive line coach Joe Seumalo and offensive line coach Mike Cavanaugh--all three of their families have vacationed together the past few summers.

"My son coach Joe's son are best friends so we always make sure we get back there and reconnect," Breckterfield said. Camping, staying at a summer house. We're already planning our summer trip for next year. We've been back every summer since I left."

Last summer, Breckterfield's first as a member of the UCLA staff, he went back wearing some UCLA gear. He remembers stopping by one of his favorite restaurants and getting some funny looks.

"That was a little weird," he said. "I stopped in and had some lunch at a Hawaiian restaurant and they recognized me. It was kind of a weird deal."

Weirdness aside, the is a bit of an advantage to having Breckterfield on staff. Because the coaching staff is the same, so are the schemes meaning Breckterfield has some additional insight. Also, some of the players that are starting for the Beavers now were on Breckterfield's scout team when he was a graduate assistant.

"I know personnel and I know players and I know the defensive philosophy, but I don't know how much of an edge that give us," he said. "It's just means I'm familiar with them."

Breckterfield isn't the only Bruins coach making a homecoming. Offensive coordinator Mike Johnson had his first coaching job at Oregon State when he was wide receivers coach under Riley in 1997 and 98 and quarterbacks coach under Dennis Erickson in 1999.

He said he hasn't been back to Corvallis since he left, but it still holds a special place in his heart.

"Both my kids were born in Corvallis," he said. "It's the place where I started my coaching career. So I know exactly what we're up against and how tough of a place it is to play."

UCLA defensive backs coach Tim Hundley also has Oregon State roots. He was defensive coordinator there from 1984-89.

But, as Breckterfield says, the time for reconnecting all those past relationships will come after the game is over.

"This is a business trip," he said. "Our main focus is to try and go up there and get W."

And if UCLA does win, maybe then Breckterfield will get around to checking that Facebook page.
September, 2, 2011
9/02/11
9:10
AM PT
1. THE QUARTERBACK SITUATION

Kevin Prince
will start, but coach
Rick Neuheisel
has promised
Richard Brehaut
will get in the game. He didn't say when or for how long either would play or if they would rotate or any other details of the dual-quarterback plan, so it will be interesting to see how it all plays out.
If Prince is on fire in the first half, but the game is still close, does he pull Prince anyway? Will Prince play more conservatively in fear of making a mistake that will put him on the bench? Will Brehaut go in there and try to do do much in an attempt to show he's the man for the starting job?
Dual quarterback systems rarely work out over the long haul of a season, but it's certainly not unprecedented for a team to win a game using two quarterbacks. Still, this is an interesting decision for Neuheisel in an opener that will set the tone for a season in which his job is on the line.
2. THE OFFENSE
Last season, UCLA's offense was pitiful for the first two weeks of the season and while the running game showed some life, the passing game never got much better.
This year, there have been wholesale changes on the offensive coaching staff in the hopes of producing a
more dynamic
and not-so one-dimensional offense after the Bruins finished 32nd in the nation in rushing, but 116th in passing last year.
UCLA's first series last year was a harbinger of things to come as
Morrell Presley
dropped passes on the first two plays and then Prince missed
Taylor Embree
for a quick three-and-out. The Bruins will need to get off on the right foot in this game in order to gain confidence in the new schemes.
Johnathan Franklin
, 1,127-yard rusher last season, is UCLA's best weapon and the Bruins certainly won't be shy about handing him the ball because they need to control the clock in this game, but they will need other elements to prevent Houston from keying on stopping him. Neuheisel and offensive coordinator
Mike Johnson
have promised to add such elements.
3. THE KICKING GAME
Mr. automatic
Kai Forbath
is no longer with the Bruins, leaving the field goal kicking duties to redshirt freshman
Kip Smith
. Forbath shares the school record of 85 field goals and had an .842 field goal percentage--second in school history.
Smith learned from Forbath all last season and appeared ready to carry on the tradition of top-flight kickers at UCLA, but began to falter in the spring and lost his confidence during training camp. He's improved, but has still been inconsistent and you have to wonder if Neuheisel will have the trust to send him in there on a fourth and short to try a 45-yard field goal.
With Forbath it would have been a no-brainer. But what if it's Smith first attempt? You'd rather have him build confidence by trying a couple of 25-or 30-yarders first, wouldn't you? And how will Smith and Neuheisel handle things if Smith misses an early attempt?
Oh, and an added special teams bonus to watch will be
Jared Koster
on the kickoff team. He's
shouldering quite a load
after getting knocked out for the season on the opening kickoff against Houston last year.
4. THE DEFENSIVE SECONDARY
Houston is going to try to pass the ball. The Cougars' spread offense, led by veteran quarterback
Case Keenum
, is pass happy. Keenum tore his ACL against UCLA and was lost for the season, but when he was in there the year before, Houston passed 747 times and rushed 403--65% passing plays.
Last year, with Keenum out, they were more balanced at 54% passing, but Keenum isn't tracking in on NCAA records for passing yards and touchdowns because he hands the ball to running backs and that means a test for UCLA's secondary. Last year, they held their own even before Keenum's injury as Keenum completed 10 of 18 passes for only 83 yards with two interceptions before leaving with four minutes left in the first half.
UCLA's defensive front will try to help by getting pressure on Keenum, but cornerbacks
Aaron Hester
and
Sheldon Price
need to be ready to run with backups
Brandon Sermons
and
Andrew Abbott
prepared to get a few more reps than they normally would. Safeties
Tony Dye
,
Dalton Hilliard
,
Dietrich Riely
,
Alex Mascarenas
,
Tevin McDonald
and
Stan McKay
will all get action in an effort to stay fresh and the Bruins will play a lot of nickel with Abbott, Mascarenas and McDonald on the field quite a bit at that spot.
James Cleveland
, the receiver who torched UCLA for 144 yards receiving last season, graduated, but Houston's best athletes are still the receivers with
Partick Edwards
and
Tyron Carrier
presenting the biggest challenges because they have been favorite targets for Keenum in the past. If the secondary allows them too much daylight, it could be a long game for the Bruins.
5. THE COACHES
Neuheisel brought five new coaches into the mix this season, including Johnson, the offensive coordinator, and
Joe Tresey
, the defensive coordinator. Also new are running game coordinator
Jim Mastro
, defensive line coach
Inoke Breckterfield
and special teams coach
Angus McClure
.
That's a lot of new cooks in the kitchen, especially considering Johnson, Mastro and Neuheisel will all have a hand in play calling duties. There seems to have been a good rapport brewing throughout camp, but this group has never before coached together in a game situation and personalities can certainly change in battle, so this will be the first true test of the chemistry of this staff.
If you see Neuheisel red faced and screaming into his headset, you can be sure something has gone awry. If he's smiling and laughing and looking confident, then things are going just fine.
Another thing to keep an eye on here is the hot seat temperature. It's certainly going to go up if UCLA gets off to a poor start and you have to wonder if Neuheisel will change the way he coaches, calling plays more aggressively and taking more chances, because his job status is so perilous.
August, 25, 2011
8/25/11
7:31
PM PT
Defensive end
Datone Jones
, a camp standout the last few weeks, nearly lost his cool during an altercation with an unidentified teammate Thursday during UCLA's practice and was sent to the sidelines for a brief period before returning.
He needed some calming words from defensive line coach
Inoke Breckterfield
, but then rejoined his teammates after sitting out for about 10 plays.
"I just let my emotions get to me," said Jones, a normally even-keeled player who is expected to be a defensive leader for the Bruins this season. "I took a few plays off to get my mind right and realized it was pretty selfish of me and I apologized to my defense and it will never happen again."
It was the second consecutive day that things got chippy between the defense and offense. On Wednesday, defensive tackle
Cassius Marsh
and center
Kai Maiava
let things escalate to the point where Marsh threw his helmet to the ground and pointed in Maiava's direction yelling some choice words.
Jones, a 6-foot-5, 275-pound junior who sat out last season because of a broken foot after totaling 30 tackles, 11 tackles for a loss and four sacks as a sophomore, said his altercation did not get to the helmet-throwing level, but included the choice words.
"It's going to happen," he said. "You're going to have fights with your teammates on the field. You're going to get into it. I guess we're getting close to game time and things are getting tense."
A few tidbits:
Coach Rick Neuheisel indicated he would name a starting quarterback before the Sept. 3 season opener at Houston, perhaps sometime early next week, picking either Kevin Prince, Richard Brehaut or both. "I don't want to make it uncomfortable for anybody," he said.
Offensive lineman Chris Ward was still in a walking boot as he recovers from an ankle sprain, but he was without the crutches he needed on Wednesday. He remains day-to-day.
Defensive back Jamie Graham also attended practice without crutches, but was limping noticeably on his surgically-repaired right knee. He is expected to be out until at least mid-September.
Joe Fauria made a dazzling one-handed grab in the back of the end zone on a pass from Prince to cap the two-minute drill. Before the drive, Neuheisel told the offense it had to score a touchdown, not a field goal, to win the game.
F-back Damien Thigpen, out since the first week of camp because of a strained hamstring, did some light running on the side but did not practice. He indicated that he would be ready for the season-opener.
The team will hold a live scrimmage at the Rose Bowl on Friday afternoon during which Neuheisel said the team would "get after it." It is closed to the public and the media, but Neuheisel said that would allow live practice of some of the Houston game plan without the fear of prying eyes.
July, 25, 2011
7/25/11
5:45
PM PT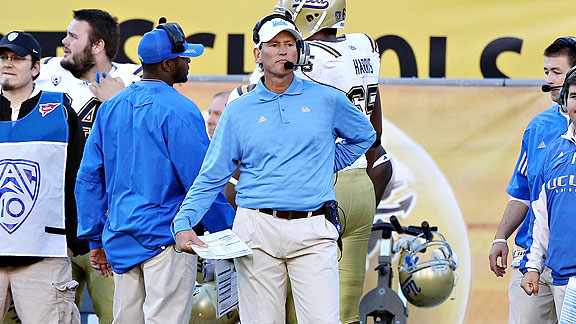 Christian Petersen/Getty ImagesRick Neuheisel will face many questions about his job security on PAC-12 media day.
Questions abound when it comes to the 2011 UCLA football team, and there will be plenty of questions directed the way of Coach
Rick Neuheisel
concerning the direction of the program and his future within it.
The real answers, of course, will come during the season when we find out if the Bruins can improve upon their disappointing 2010 season, but we'll start hearing from Neuheisel and the other coaches in the newly aligned Pac-12 Tuesday during the annual conference media day.
Here, we take a look at some of the biggest questions facing UCLA:
1. HOW HOT IS NEUHEISEL'S SEAT?
This is guaranteed to be the topic of the day when it comes time for Neuheisel to address the media on Tuesday. Each coach gets 15 minutes in front of the reporters and cameras and it could very well be the only topic Neuheisel discusses.
In his first three seasons at UCLA, his teams have gone 4-8, 7-6 and 4-8. Last season injuries played a significant factor, but there is no getting around the fact that UCLA left a sour taste in the mouths of their fans by losing six of seven games to close the season and going 2-7 in conference.
Neuheisel is 8-19 in conference games as UCLA's coach and the Bruins have finished no better than eighth in the Pac-10 in Neuheisel's three seasons. UCLA has only two victories against teams that ended up with a winning record (Tennessee and Temple in 2009).
Neuheisel has gotten a pass for the first three years because he has been rebuilding the program, but outside pressures and calls for his job are going to come early and often if he doesn't get things turned around this season.
2. WILL THE NEW COACHING STAFF GEL?

Neuheisel cleaned house as far as the coaching staff is concerned. Offensive coordinator
Mike Johnson
and defensive coordinator
Joe Tresey
replace
Norm Chow
and
Chuck Bullough
while
Inoke Breckterfield
(defensive line),
Jim Mastro
(Tight ends/F-backs) and
Angus McClure
(special teams) are also new to the staff.
Neuheisel has cited a lack of chemistry among the coaching staff as a reason for some of the problems over the last couple of years so bringing in some different personalities could help resolve some of those issues.
Neuheisel, who is adding quarterbacks coach to his responsibilities, has worked with Johnson in the past, so that is a proven relationship and should help get the offensive braintrust on the same page—a place it couldn't seem to find last season.
Tresey, the man in charge of the defense, is bringing a freewheeling, spirited style that should help the players stay more comfortable on the field.
3. WHO WILL PLAY QUARTERBACK?
It's been the big question on the field since fall camp of last season and it will most likely linger all the way until the season opener Sept. 3 at Houston.
Kevin Prince
entered last season with the job, but promptly got hurt in fall camp. He tried to play through it and was ineffective early in the season. When he finally got healthy, the Bruins got on a bit of a roll, but he then suffered a season-ending knee injury.
That gave
Richard Brehaut
a chance to show his mettle, and while he showed flashes of top-tier talent, he failed to overwhelm with his performance.
Prince, when healthy, is probably the best choice. While not a flashy talent with a big arm, he's a respected leader with field smarts and the fortitude to win big games (at Tennessee in 2009, against Temple in the 2009 Eagle Bank Bowl and at Texas in 2010).
Brehaut is a talented athlete with a strong arm, but seems to keep himself at arm's length from fully committing to becoming a top-tier quarterback. If the competitive fire lights and he becomes fully immersed in the competition, he could win the job this fall.
Waiting in the wings is freshman
Brett Hundley
, who is undoubtedly the quarterback of the future. He'll be in the mix, but even though he participated in spring camp, is still probably a year away from getting enough of a command of the position to seize the job full time.
4. WILL THE DEFENSE BE AS GOOD ON THE FIELD AS IT IS ON PAPER?
Defensively, UCLA appears to be loaded from the front line to the deep safety. Defensive end
Datone Jones
, middle linebacker
Patrick Larimore
and safety
Tony Dye
are All-Conference caliber players. Cornerbacks
Aaron Hester
and
Sheldon Price
are both physical and quick. Interior linemen
Cassius Marsh
and
Nate Chandler
are as tough as they come.
Their defensive front goes 10 deep with talented experienced players. The linebacker crew is filled with gritty, blue collar workhorses and the secondary could be among the conference's best.
Now, the Bruins must translate that talent into performance. Last year, many of those players were raw and inexperienced and the defense suffered. With a year of seasoning and on-the-job training, this is a unit that could carry the Bruins this season.
5. HOW WILL THE OFFENSIVE LINE HOLD UP?
The Bruins are deep at running back with 1,000-yard rusher
Johnathan Franklin
leading a group that goes four deep, and have enough speed and talent at wide receiver to make any quarterback look good.
But the offense will only go as far as the offensive line, and keeping that unit on the field has been a problem. Injuries and ineligibility made this a fairly shallow unit last season and things got off on the wrong foot in the spring when projected starters
Jeff Baca
,
Kai Maiava
and
Sean Sheller
all missed time because of injuries.
When healthy, this unit is at worst passable and at best very good. Staying healthy hasn't been all that easy, though, and it will need to if the Bruins want to have success.
6. WHERE WILL THE BRUINS FINISH?
It's media day, so we have to have a prediction, right?
The new conference alignment helps the Bruins in a big way. They are in the Pac-12 South and away from Oregon and Stanford, widely considered the top two teams in the conference (UCLA plays Stanford, but won't be in a division race with the Cardinal).
The South is wide open and it's conceivable that the Bruins could win the Pac-12 South. Yes, you read that right.
In order for that to happen, however, everything would have to go right: The coaching staff has to gel, Prince has to stay healthy, the offensive line has to stay together and the defense has to take a step forward.
The chances of all those forces aligning are, admittedly, slim, so we're going to shy away from picking the Bruins to win the South. We'll say Prince stays healthy and the coaching staff has good chemistry, but the offensive line depth will be problematic and the defense will have a crucial lapse or two.
The Bruins finish 7-5, good enough for a second-tier bowl game.
Predicted Pac-12 standings:
NORTH
Oregon
Stanford
Washington
Oregon State
California
Washington State
SOUTH
USC
Arizona State
UCLA
Utah
Arizona
Colorado
2014 TEAM LEADERS
| TEAM | RUSH | PASS | TOTAL |
| --- | --- | --- | --- |
| Offense | 199.4 | 268.5 | 467.9 |
| TEAM | PF | PA | MARGIN |
| Scoring | 32.9 | 27.5 | 5.4 |