September, 20, 2011
9/20/11
7:36
AM PT
If recent history is any indication, UCLA's Pac-12 opener against Oregon State should be quite a nail biter.
The Bruins will travel to Corvallis, Ore., for a Saturday matchup between teams that have gone down to the wire the last two times they met. Last year,
Kai Forbath
made a game winning field goal as time expired for a 17-14 UCLA victory. In 2009,
James Rodgers
scored on a 17-yard run with 44 seconds remaining to give Oregon State a 26-19 victory.

"These have been great games over the years," UCLA coach
Rick Neuheisel
said. "We have the utmost respect for their program and coach Riley and his staff. We know it's going to be a very tough environment, but if we're going to be who we want to be, we've got to win on the road in the Pac-12."
The Bruins haven't had much success in conference road games since Neuheisel took over, having gone 2-11 in such games, but they have won three of the last four games played at Oregon State.
And this year is as good as any to win another because while the Bruins may be off to a rocky start tot he season, if there is a team in the Pac-12 Conference going through a tough time, it's Oregon State.
The Beavers are coming off of a bye week and they have had two weeks to stew over an 0-2 start that included an embarrassing home loss to Sacramento State and a blowout loss at Wisconsin.
Getting routed on the road against a top-10 team is one thing, but losing to a Football Championship Subdivision team at home is another. And the combination of those two is what gives Neuheisel some concern heading into the Bruins' first conference game in the newly-aligned Pac-12.
August, 15, 2011
8/15/11
7:16
PM PT
Dietrich Riley
is a year older and a year wiser than he was as a true freshman last season, and he's also out to show he's more than just a big hitter.
Riley earned that reputation with a barrage of big hits in fall camp last season and had UCLA's offensive players' heads on a swivel almost all season. He solidified it with a
helmet-popping hit
on Oregon State's
Jacquizz Rodgers
last season, but this season, he said he's looking to become a more complete player.
"Everyone knows I can be physical in the box, but I just want to become an overall defensive player like
Rahim Moore
," Riley said, invoking UCLA's former all-American now with the Denver Broncos. "That's all I want to do is improve my coverage abilities and be more reliable."
Riley said he's also focused more on becoming a leader. As a safety, he's one of the defensive quarterbacks with the ability to see the whole field. And now with a year of part-time play under his belt as well as a spring football session, he feels more comfortable in that regard.
"I know the playbook really well," he said. "Now it's just a matter of correcting little mistakes—alignment and stuff like that--and becoming more consistent."
He acknowledged that he has seen the video of the hit on Rodgers more than a few times and friends still post links to it on his Facebook page, but he's not quite as enamored with it as he was last year.
"It's something great to look back on, but at the same time I'm moving forward," he said. "It was a great highlight. A big hit is always great, but part of my job is pass coverage, too and I need to show that I can cover those speedy guys coming down field."
November, 4, 2010
11/04/10
7:42
AM PT
Jacquizz Rodgers
is about as versatile as running backs come, and nobody knows that better than UCLA.
Last year, Rodgers helped Oregon State defeat UCLA, 26-19, by using his legs, his hands and his arm.
In that game, Rodgers had 112 yards rushing, 92 yards receiving and completed a 14-yard touchdown pass out of the Wildcat formation.
"Jacquizz is a bona fide superstar," UCLA Coach
Rick Neuheisel
said. "A for sure NFL back. And he does so much more than carry the ball. He's a wildcat quarterback. He's very adept at protecting the quarterback. He's a great receiver. He's a very versatile player. And very tough to bring down."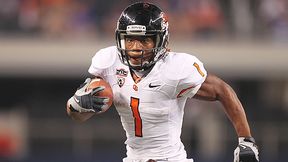 Win McNamee/Getty Images
Oregon State do-everything back Jacquizz Rodgers has 15 total touchdowns on the season, just five fewer than the whole UCLA offense.

This year, Rodgers is second in the Pac-10 and 14th in the nation with 105 yards rushing per game. He's scored a rushing touchdown in every game this year and has a streak of 12 consecutive games with at least one rushing touchdown. His 15 touchdowns this season are tied for the most in the nation.
For his career, Rodgers, a junior, has 3,430 yards rushing--10th on the all-time Pac-10 list, and his 126 career receptions are more than any running back in Oregon State history.
"I don't say this about many players, but he has no weaknesses," UCLA safety
Rahim Moore
said. "He's tough, quick, fast. Patience. He can catch the ball and throw touchdowns. It's going to take all 11 of us to get to him because if we don't, he's going to be running for days."
Perhaps the most amazing thing about Rodgers, other than his versatility, is his size. He's listed at 5-feet-7, 191 pounds, but looks even smaller than that. But he more than makes up for his lack of size with excellent field vision, shifty open field moves and, most of all, heart.
"People think because he's short and he's not 220, he's not strong," Moore said. "He gets stronger every play every quarter. He's a complete back."
And his touchdown pass against UCLA was no fluke. Rodgers frequently lines up as quarterback in the Wildcat formation and while he most often runs out of it, he threw another touchdown pass last week in a 35-7 victory over California.
"He can pretty much do it all," UCLA linebacker
Akeem Ayers
said. "There's a lot of things we have to watch out for against him."
Three others to watch:
Stephen Paea
, DL, Sr.--This returning All Pac-10 selection is one of the premier defensive linemen in the nation. At 6-1, 311, he is a run-stuffing load and often powers into the backfield. He has 23 career tackles for a loss, including 12 sacks.
Markus Wheaton
, WR, So.--Wheaton, a sprinter on the Oregfon State track team, has blazing speed and has picked up the receiving slack in the absence of injured James Rodgers. He has 32 catches for 406 yards and has two rushing touchdowns.
Dwight Roberson
, LB, Sr.--The Beavers leader with 50 tackles, he has a sack in each of the last three games. He has 23.5 tackles for a loss in his career and has forced six fumbles. He was an honorable mention All Pac-10 selection last season.
November, 2, 2010
11/02/10
8:06
AM PT
Oregon State may be the "other" team from Oregon this season, but the Beavers are used to being under the radar.
Every year, it seems, Oregon State is overlooked and every year, it seems, the Beavers are right in the thick of the conference title race.

This year is no exception.
Oregon State (4-3, 3-1 in Pac-10) hopes to keep its conference title hopes alive when it visits UCLA at the Rose Bowl Saturday at 4 p.m. Pacific.
"They are doing well in our conference, so they have a lot to play for," UCLA Coach
Rick Neuheisel
said. "That certainly adds to the challenge."
The Beavers have won three of their last four games and are coming off an impressive 35-7 victory over California last week, the best defensive performance they have turned in this season.
On paper, the Beavers seem extremely average. They rank no higher than 48
th
in any major offensive or defensive category, but have a knack for staying in games. Until last week's victory over Cal, all of Oregon States games had been decided by nine points or fewer and three had been decided by three points or fewer.
And that is the way Oregon State operates. The last two seasons, the Beavers stared 2-2, but hung around long enough to have a shot at the conference title in the regular season finale. This year, the Beavers dropped two of their first three games, but are again making a conference title run.
Running back
Jacquizz Rodgers
, who is averaging 105 yards rushing to rank 14
th
in the nation and is tied for the national lead with 15 touchdowns, is the clear standout player—especially since his brother James is out for the season with a knee injury.
But Oregon State still ranks only 88
th
in the nation in rushing offense and 77
th
in total offense, despite a balanced attack. Sophomore quarterback
Ryan Katz
, in his first year as a starter, has emerged as a legitimate passing threat with 1,521 yards and 11 touchdowns passing.
On defense, the Beavers are No. 109 in the nation against the pass and 94
th
in total defense, so UCLA's newfound vertical passing game could find some big plays. Defensive tackle
Stephen Paea
, however, is a returning All Pac-10 selection and will create problems in the trenches.
One thing the Beavers will have to protect against is road weariness. This will be Oregon State's third road game in four weeks and its fourth in six weeks. They are 1-2 in road games this year, though have a distinct advantage over UCLA when it comes to common opponents: Oregon State defeated California and Arizona, both teams that defeated the Bruins.
2014 TEAM LEADERS
| TEAM | RUSH | PASS | TOTAL |
| --- | --- | --- | --- |
| Offense | 159 | 288 | 447 |
| TEAM | PF | PA | MARGIN |
| Scoring | 30 | 24 | 6 |