June, 25, 2014
Jun 25
9:00
AM PT
It's time to start our preseason position reviews. Please, hold your applause until we are finished.
Here's how we do this: We provide three evaluative categories: "Great shape," "Good shape" and "We'll see."
Hint: You'd prefer your team to be in "Great shape."
"We'll see" doesn't mean you're going to stink at said position. It means just what it says -- we'll see because there's no way at present to know.
You can
review last year's rankings here
.
And away we go ... starting, of course, with quarterback.
GREAT SHAPE

Oregon
: Junior
Marcus Mariota
is -- again -- a leading Heisman Trophy candidate and a two-time first-team All-Pac-12 performer. He would have been an early-round NFL draft pick this spring if he'd opted not to return. The Ducks have some questions at receiver though.

UCLA
: Junior
Brett Hundley
is the conference's No. 2 Heisman Trophy candidate. While Arizona State's
Taylor Kelly
eclipsed him for second-team All-Pac-12 last fall, Hundley's tremendous upside is why he has NFL scouts eagerly awaiting his entering the draft.

Arizona State
: As noted, Kelly was the Pac-12's No. 2 QB last season, which means he was one of the nation's best at the position. It also helps his cause that he's got WR
Jaelen Strong
, an All-American candidate. However, Kelly does need to take fewer sacks -- you could say the same for Hundley -- and throw fewer interceptions.

Oregon State
:
Sean Mannion
ranked second in the nation with 358.6 yards passing per game in 2013 and is also an NFL prospect. Life might be just a bit harder in the passing game without
Brandin Cooks
.
GOOD SHAPE

Stanford
:
Kevin Hogan
, a third-year starter, had a good but not great sophomore season while leading the Cardinal to the Pac-12 championship. He was mostly efficient and showed a good touch downfield, but he made some surprisingly bad decisions and needs work with his intermediate passing game. He's got a good crew of veteran receivers coming back, which bodes well for him.

Washington State
:
Connor Halliday
threw for a bunch of yards (4,597) and TDs (34) last season, but he also tossed way too many interceptions (22). Part of that was an inconsistent O-line and a neglected running game. The good news is he's in his third year under Mike Leach and has a strong crew of returning receivers. Of all the Pac-12 QBs, he might make the biggest climb this season.

USC
:
Cody Kessler
didn't put up big numbers last season and didn't beat Notre Dame or UCLA but significantly improved after Lane Kiffin was fired. Like Kelly, he's got an A-list target coming back in WR
Nelson Agholor
. We expect Kessler to thrive with a new, up-tempo scheme under Steve Sarkisian.

Utah
: Utah received good news yesterday when 16-game starter
Travis Wilson
was medically cleared to play. When healthy, Wilson has been a solid performer with good upside. He'll have to fight off a challenge this preseason from Oklahoma transfer
Kendal Thompson
though.

California
:
Jared Goff
averaged 292 yards passing per game as a true freshman. That's good. But the Cal offense struggled to do much else but throw the ball between the 20s -- hence a conference-worst 23 points per game. He had just 18 TD passes on 531 attempts. Still, he flashed potential and has a very good crew of receivers coming back.

Colorado
:
Sefo Liufau
became the Buffaloes' starter at midseason and often played like the true freshman he was. Furthermore, he won't have
Paul Richardson
serving as a safety blanket and making big plays for him. Still, Liufau's baptism by Pac-12 fire provided some seasoning that was evident this spring. The Buffs feel pretty good about having a returning starter behind center.
WE'LL SEE

Washington
: While
Cyler Miles
flashed potential last season coming of the bench for Keith Price, logging a road victory at Oregon State in his first start, he also had
an off-field issue that has muddied the waters at QB for the Huskies
. It remains to be seen how quickly Miles emerges from Chris Petersen's doghouse, and if he can beat out
Jeff Lindquist
and
Troy Williams
.

Arizona
: The Wildcats have
no clear frontrunner in their QB competition
. That's the bad news. The good news is the performances this spring were generally solid. Rich Rodriguez believes he's got a couple of guys who can win games for him. He's just not sure which guy is No. 1 between
Jesse Scroggins
,
Connor Brewer
,
Anu Solomon
and
Jerrard Randall
.
June, 11, 2014
Jun 11
7:00
PM PT
It will come as no surprise that Mel Kiper Jr. sees two of the five best senior QBs and three of the six best underclass QBs
coming from the Pac-12

.

But who would have thought that
three of the 11 best defensive tackles

would come from the Pac-12, while none came from the D-line rich SEC?
USC's
Leonard Williams
, a junior, is a likely top-10 pick next spring, and he also is a candidate for top pick overall. But Kiper also really likes Williams' buddy at UCLA,
Ellis McCarthy
.
Really emerged in 2013 as his first-team reps arrived. McCarthy was a big-time recruit, but he had to learn about leverage and keeping blockers occupied, not just looking to shed them immediately and make plays in the backfield. He has a powerful, 6-4, 330-pound frame and could emerge as a likely first-rounder.
The third Pac-12 DT is Washington senior
Danny Shelton
.
Kiper also likes Pac-12 cornerbacks

. He rates Oregon's
Ifo Ekpre-Olomu
as the No. 1 senior, USC's
Josh Shaw
as No. 2 and Oregon State's
Steven Nelson
as No. 3.
Among the underclass CBs, Kiper ranks Washington's
Marcus Peters
No. 2 and Stanford's
Alex Carter
as "5A."
On the defensive downside, Kiper doesn't including any Pac-12 defensive ends on
his list

, which bodes well for those QBs.
On offense, Kiper
likes Pac-12 receivers

but not running backs. He rates Stanford's
Ty Montgomery
the No. 2 senior receiver and Arizona State's
Jaelen Strong
and USC's
Nelson Agholor
as the Nos. 2 and 3 underclassmen, but Oregon's
Byron Marshall
-- at 5B -- is the only conference running back to make the list.
May, 27, 2014
May 27
9:00
AM PT
While summer is considered the "offseason," we all know there is no offseason. Every Pac-12 team is either gaining -- or losing -- ground right now due to its focus and effort at getting better, both on a team and individual level.
So how do things stand in advance of teams beginning preseason camp?
Glad you asked (and you can view the
final 2013 power rankings here
).

1. Oregon
: I know. We always rank Oregon here, underrating Stanford and its more physical but less sexy style of play. But the return of QB
Marcus Mariota
and a veteran offensive line is just too tantalizing. The Ducks look like the Pac-12's best bet for an entrant in the inaugural College Football Playoff.

2.
UCLA
: I know. We're dropping the two-time defending Pac-12 champions to No. 3, underrating Stanford and its more physical but less sexy style of play. But the Pac-12 blog keeps reviewing the Bruins' depth chart and
contemplating a trip to Vegas
... 20/1 ... hmm.

3.
Stanford
: The quandary with Stanford: Was the defensive front seven dominant this spring because it's going to again be among the best in the nation (probably)? Or was it because four new starters on the O-line means a step back on offense (maybe)? Two other issues: 1. Replacing D-coordinator Derek Mason; 2. Can QB
Kevin Hogan
improve enough on short and intermediate throws to take advantage of a strong crew of receivers?

4.
USC
: The Trojans enter the final season under NCAA scholarship reductions with a starting 22 good enough to win the Pac-12, but depth and health are issues. There is a lot to like on both sides of the ball, though the offensive line probably rates as the most critical question mark.

5.
Arizona State
: The defending South champions are going to be tough to stop on offense behind QB
Taylor Kelly
and WR
Jaelen Strong
, but replacing nine starters -- and just about all its star power -- on defense is not an issue you can write off with a "Hey, we've got lots of great JC transfers coming in."

6.
Washington
: The return of QB
Cyler Miles
from suspension provides a big boost and probably means that the Huskies can be a factor in the North race. The secondary is a concern, and that's not a good concern to have in the QB-laden conference this fall. And there is some mystery as to whether there will be growing pains during the transition to Chris Petersen from Steve Sarkisian.

7.
Oregon State
: We expect the Beavers defense to be better this fall compared to last season, so the big question is how do the 10 guys on offense complement QB
Sean Mannion
? The O-line -- again -- is a question, and it's not easy to replace the nation's best receiver. Still, we expect the 2014 Beavers to be better than the 2013 version. Perhaps much better.

8.
Washington State
: If you are looking for a true conference dark horse, it's the Cougars. There are questions on the O-line and on defense, but the passing game should be outstanding with third-year starter
Connor Halliday
and a deep, talented crew of receivers. Put it this way: What does this team look like if it improves as much in Mike Leach's third year as it did in Year 2?

9.
Arizona
: The Wildcats are outstanding at receiver, good on the offensive line and solid at safety. There are questions just about everywhere else, and the strange thing is that quarterback might be the least worrisome. Still, to show how we view the Pac-12's depth again this fall, the Wildcats over/under for wins is seven.

10.
Utah
: The Utes situation seems fairly simple. If the production at quarterback is consistent, this is a bowl team. The best bet is with a healthy
Travis Wilson
, though it really is about just starting the same guy all 12 games.

11.
Colorado
: The Buffaloes should take another step forward in Year 2 under Mike MacIntyre, but the real issue is whom can they crawl over to rise in the conference pecking order? With about six or seven projected senior starters this fall, the Buffs might not make a move up until 2015.

12.
California
: If the bet were to pick who finishes last in the Pac-12 in 2014, Cal or the field, I'd be reluctant to tap Cal. I'd much rather go with the field because I think the Bears were awful in Year 1 under Sonny Dykes because of an epidemic of injuries and a poorly-coached defense. The latter should be solved by the hiring of coordinator Art Kaufman, and I can't foresee the injury situation being nearly as bad.
March, 24, 2014
Mar 24
5:30
PM PT
You remember the three-headed monster, right? It's about returning production that will scare -- terrify! --opponents. Or not.
On offense, it's elite combinations at quarterback, running back and receiver.
On defense, it's elite combinations of a leading tackler, a leader in sacks and leader in interceptions.
[+] Enlarge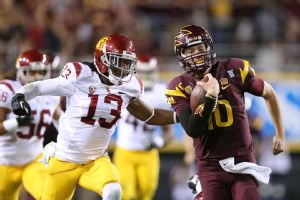 Christian Petersen/Getty ImagesTaylor Kelly could have Arizona State's offense off and running this fall.
This year, we're breaking things down by division.
First up: South Division offense three-headed monsters.
There are two "pure" offensive three-headed monsters in the South: USC and Utah. Both welcome back their leading passer, rusher and receiver, though some fans might be surprised to know that
Marqise Lee
didn't lead the Trojans in receiving last season.
The biggest mystery team? Arizona, which is replacing its leading passer and rusher and has several wild cards who might challenge to be the first pass-catching option. Typically we'd project a starter, but the Wildcats seem to be completely wide open at QB and RB. So they get a "?" at both positions.
Otherwise, the projections of new starters aren't terribly unpredictable.

1. Arizona State
QB
Taylor Kelly
, RB
D.J. Foster
, WR
Jaelen Strong
The skinny
: If you were ranking three-headed monsters nationally, this might be a top-10 troika. You have a three-year starter at quarterback who passed for 3,635 yards and 28 TDs last year, a receiver who caught 75 passes for 1,122 yards and versatile running back who's dangerous as a runner or receiver.

2. UCLA
QB
Brett Hundley
, RB
Jordan James
, WR
Devin Fuller
The skinny
: Hundley starts the season as a top Heisman Trophy candidate. James started off great last year -- 116 yards rushing per game with a 6.3 yards per carry average in the first four games -- before getting hurt. While WR
Shaq Evans
is off to the NFL, Fuller leads a strong crew of returning receivers.

3. USC
QB
Cody Kessler
, RB
Javorius Allen
, WR
Nelson Agholor
The skinny
: This is a strong threesome, though some see Kessler being threatened by redshirt freshman
Max Browne
this spring. Allen surged in the second half of the 2013 season, when he rushed for most of his 785 yards (5.8 yards per carry), but the Trojans have a lot of depth at the position. Agholor is a frontrunner for first-team All-Pac-12 honors after catching 56 passes for 918 yards last year.

4. Utah
QB
Travis Wilson
, RB
Bubba Poole
, WR
Dres Anderson
The skinny
: If Wilson is cleared medically and is 100 percent full-go, he's got a chance to be a good QB, building on what he did while healthy in 2013. Poole is the Utes' leading returning rusher, though he could face a challenge from a handful of other backs, including redshirt freshman
Troy McCormick
and juco transfer
Devontae Booker
. Anderson will be joined by
Kenneth Scott
, who suffered a season-ending ankle injury in the 2013 opener.

5. Colorado
QB
Sefo Liufau
, RB
Michael Adkins
, WR
Nelson Spruce
The skinny
: Liufau was solid as a true freshman starter last year. He should be much better this fall. Adkins combined with
Christian Powell
to essentially split 1,000 yards rushing in 2013, with Powell offering the power option. Spruce was a solid No. 2 behind
Paul Richardson
last year, but it remains to be seen how he will perform as option No. 1.

6. Arizona
QB ?, RB ?, WR
Austin Hill
The skinny
: We honestly have no idea who will start at QB and RB next year, and the Pac-12 Blog believes that's probably not far from what Rich Rodriguez is thinking today. If we were going to go with complete conjecture at QB, we'd bet on a showdown between Texas transfer
Connor Brewer
and redshirt freshman
Anu Solomon
. Same thing at running back, where it seems likely a true or redshirt freshman replaces
Ka'Deem Carey
. Even Hill is a projection here based on his outstanding 2012 numbers, as he sat out last season with a knee injury. Sophomore
Nate Phillips
is the Wildcats' leading returning receiver.
January, 17, 2014
Jan 17
9:00
AM PT
The recruiting dead period is over, and it's full speed ahead for a number of Pac-12 programs as coaches look to load up on official visitors over the next three weekends. A list of important official visitors for Pac-12 programs this weekend could easily extend to two or even three dozen names, so limiting it to just the top 10 was challenging -- though likely not as difficult as the task facing conference coaches looking to wrap up their recruiting classes as national signing day approaches.
1. CB Kweishi Brown (El Cajon, Calif./Grossmont College) visiting Arizona State.
The ESPN Junior College 50 cornerback made an early commitment to Arkansas but pulled away from that as more Pac-12 programs expressed interest. Brown, the nation's No. 3 juco cornerback, will be at Arizona State as part of a huge group of official visitors and will be one of the main targets committed quarterback
Manny Wilkins
(Novato, Calif./San Marin) sets his sights on this weekend.
December, 16, 2013
12/16/13
10:00
AM PT
It's tough to put a grade on the 2013 edition of Pac-12 football. When we look back 20 years from now, all that will probably stand out is that the Pac-12 had just one BCS bowl team in the final year of the Bowl Championship Series. So with Stanford carrying the flag for the league, its performance against Michigan State in the 100th Rose Bowl Game presented by Vizio takes on a greater importance.
But this year, perhaps more than any other, the Pac-12 showed why it is one of the toughest, if not the deepest, conference in all of college football. It passed the nonconference test, going 31-6 against non-league competition -- with wins over teams from the SEC, Big Ten and ACC. It crushed the Mountain West, going 10-0 against the West Coast's little brother conference. And three more meetings in the postseason could extend it to 13-0.
[+] Enlarge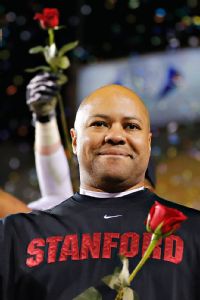 AP Photo/Matt YorkDavid Shaw has Stanford atop a very deep conference.
Speaking of bowls, a record nine Pac-12 teams are in the postseason, 75 percent of the league. Washington State is bowling for the first time since 2003. Colorado is making headway. Utah appears right on the cusp of breaking through.
There were thrilling upsets. (Utah, Washington State and USC all get thumbs up.) There was the Week 1 Oregon State debacle. There were All-Americans, national award winners and a style of football that is uniquely Pac-12.
The influx of big-name coaches has raised the ante over the past few seasons, and that trend continued this year, with Steve Sarkisian's move to USC and Chris Petersen's ingress to Washington.
The South was nasty, and will be again next year. Arizona State has staked its claim. But UCLA is right on the Sun Devils' heels, as are USC and an Arizona squad that has the potential to be very, very scary in 2014.
The North belongs to Stanford until proven otherwise. The Cardinal's recipe for beating Oregon has yielded fruit for two years. But with
Marcus Mariota
back for another season, you certainly have to expect the Ducks to be a top-10 team. And Petersen's arrival makes Washington an instant player for the division.
The best thing the Pac-12 can go is finish strong in the postseason, win its BCS bowl game and head into the playoff era with plenty of momentum.
Offensive MVP
: Arizona running back
Ka'Deem Carey
was arguably the most consistent skill player in college football this season, posting at least 100 yards in every game he played and finishing with 1,716 yards and 17 touchdowns on 322 carries (5.3 average). He also caught 26 passes and a touchdown.
Defensive MVP
: With 14 sacks, Stanford linebacker
Trent Murphy
was the Pac-12 and the national leader in getting at the quarterback. He also ranked third nationally with 21.5 tackles for loss. Murphy posted 58 total tackles, blocked a kick, forced a fumble and returned an interception for a touchdown.
Newcomer of the year
: Plenty of fantastic options, including ASU receiver
Jaelen Strong
and Colorado linebacker
Addison Gillam
. But it was UCLA linebacker/running back
Myles Jack
who made the biggest splash. The Bruins' true freshman posted 70 tackles with five for a loss, an interception and two forced fumbles. He also blocked a kick. As a running back he carried 37 times for 269 yards with seven touchdowns.
Biggest surprise
: Washington State athletic director Bill Moos said he thought the Cougars would start being a consistent winner by 2014. Coach Mike Leach had his own timetable. In just his second season in Pullman, Leach has the Cougars in a bowl game for the first time since 2003 -- and they recorded a marquee win on the road at USC in Week 2 that ultimately helped them become bowl-eligible.
Biggest disappointment
: There was no great redemption story for Lane Kiffin. In fact, the Trojans looked like a significantly improved team after he was removed from his coaching duties. Hopes were high that Kiffin would be able to turn the Trojans around after an abysmal 2012. But a 62-41 loss at ASU in Week 5 was the straw that broke the back of his fairly underwhelming tenure with the Trojans.
Best game
: At the quarter pole, we went with Oregon State at Utah. At the midway post, we went with Oregon State at Utah. And now in the season wrap, we're sticking with that. That game, now more than ever, spells out the importance of every single week. Oregon State would be home for the holidays without that dramatic 51-48 overtime victory. And because of said dramatic overtime defeat, the five-win Utes are out of the postseason again. From a pure tension and excitement level, that game was tough to beat.
November, 12, 2013
11/12/13
1:00
PM PT
Some Pac-12 numbers for your review.
Number to the left is national rank.
Scoring offense
3. Oregon, 51.7 points per game
8. Arizona State, 43.7
T24. Oregon State, Washington, 37.2
Total offense
2. Oregon, 596.6 yards per game
10. Washington, 515.9
17. Arizona State, 490.4
25. Oregon State, 474.2
Rushing offense
7. Oregon, 301.5 yards per game
12. Arizona, 271.3
17. Washington, 229.0
Passing offense
2. Oregon State, 404.8 yards per game
7. Washington State, 365.0
8. California, 345.3
18. Arizona State, 304.8
20. Oregon, 295.0
25. Washington, 286.9
Note
: Oregon's numbers took a dramatic fall after the loss at Stanford. The Ducks entered last week averaging 55.6 ppg., 632.1 ypg and and 331.5 rushing yards per game. Arizona State also went down after its tough win at Utah, but Washington used a blowout win against Colorado to perk up considerably.
Scoring defense
10. Oregon, 17.9 points per game
18. Stanford, 19.4
19. USC, 19.6
27. Washington, 21.8
Total defense
14. Arizona State, 332.7
17. USC, 339.5
20. Stanford, 348.8
Yards yielded per play (FBS foes only)
7. Oregon, 4.45 yards per play
11. Stanford, 4.75
20. USC, 4.93
23. Washington, 4.99
25. UCLA, 5.01
29. Arizona, 5.08
31. Arizona State, 5.10
35. Utah, 5.12
Pass-efficiency defense
8. Oregon
12. Washington
18. Arizona
20. Arizona State
21. USC
Note
: The defensive numbers continue to be strong in the conference, with eight teams ranked in the nation's top 35 in yards per play, a great measure of a defense's efficiency. Further, five top-21 pass efficiency defenses is pretty incredible when you think about the QBs in the conference.
Rushing
2.
Ka'Deem Carey
, Arizona, 152.6 yards per game
3.
Bishop Sankey
, Washington, 145.0
17.
Tyler Gaffney
, Stanford, 115.9
T23.
Byron Marshall
, Oregon, 102.8
Note
: Carey lost the nation's lead because Boston College's
Andre Williams
piled up 295 yards at woeful New Mexico State. Gaffney has become the go-to guy in Stanford's offense, as the Cardinal has reclaimed its hard-nosed, run-first mentality.
Pass efficiency
7.
Marcus Mariota
, Oregon
14.
Sean Mannion
, Oregon State
18.
Brett Hundley
, UCLA
20.
Keith Price
, Washington
Note
: Interesting that Arizona State's
Taylor Kelly
, as well as he is playing, is ranked 34th in passing efficiency. He's 11th in ESPN.com
Total QBR
.
Receiving yards per game
1.
Brandin Cooks
, Oregon State, 149.3
5.
Paul Richardson
, Colorado, 117.9
Note:
Lots of guys have fallen off among the national leaders here. Are these two the first-team All-Pac-12 receivers?
Sacks per game
T3.
Trent Murphy
, Stanford, 1.1
T15.
Tony Washington
, Oregon, 0.8
20.
Devon Kennard
, 0.8 (in 10 games)
T21.
Trevor Reilly
, Utah, .08
Note
: Reilly is an underrated guy who is making a push for first-team All-Pac-12. Funny that picking the All-Pac-12 defense might be more challenging than the offense.
Random notes
Eight Pac-12 QBs are ranked in the top 44 of ESPN.com's total QBR: 2. Mariota, 11. Kelly, 13. Hundley; 17. Kevin Hogan, Stanford; 28. B.J. Denker, Arizona; 29. Mannion; 36. Price; 44. Travis Wilson, Utah.
With three regulars season games to play, a conference title game and bowl games ahead, nine Pac-12 players presently have at least four interceptions. Last year, nine players had at least four interceptions at season's end.
California has run 894 plays this year, most in the nation.
Washington has just five turnovers this year, tied for seventh fewest in the nation. Washington State's 27 turnovers ranks 122nd in the nation and last in the Pac-12.
Utah has just two interceptions. Only Kentucky has fewer.
USC and Arizona have recovered just three fumbles this year.
UCLA's Anthony Barr is tied for the nation's lead with Colorado's Chidera Uzo-Diribe with five forced fumbles.
October, 10, 2013
10/10/13
10:15
AM PT
Here are a few storylines to keep an eye on this week in the Pac-12.
Welcome, Coach O: The USC Trojans will make their debut with Ed Orgeron running the show. Considered a fiery alternative to his predecessor, the former Ole Miss coach says he's been putting an emphasis on bringing fun back to football. The Trojans, who face the Arizona Wildcats tonight, are 0-2 in conference play for the first time since 2001, when they started 0-3. The last USC coach to lose his debut was John Robinson in his second stint in 1993. Not sayin' … just sayin'.

Speaking of that game: The past six matchups between Arizona and USC has been decided by a touchdown or less. Of the 35 meetings, 15 have been within a touchdown. The Trojans and Wildcats have split their past four meetings, with each team winning one at home and one on the road.

Get up for "GameDay"! ESPN's "College GameDay" is making its first appearance in Seattle for Saturday's showdown between the Oregon Ducks and Washington Huskies. Just a reminder, the Ducks have won nine straight in the series -- all by at least 17 points and with a 26-point average margin of victory. This is the second time in as many weeks the Huskies will face a top-5 opponent after falling 31-28 last week to No. 5 Stanford.

[+] Enlarge

Otto Greule Jr/Getty ImagesWashington State quarterback Connor Halliday won a shootout against Cal.

Conference of quarterbacks: Some quarterback numbers from our friends at the Pac-12 office: "Pac-12 quarterbacks continue to put up impressive numbers each weekend. Washington State's Connor Halliday [521 yards] and California's Jared Goff [504 yards] combined for 1,025 passing yards in WSU's 44-22 win at Cal. It was the most passing yards by two opposing players in a Conference game. Four Pac-12 quarterbacks ranked among the top eight in the FBS in passing yards per game -- No. 1 Oregon State's Sean Mannion (403.6 YPG), No. 3 California's Goff (364.2 YPG), No. 5 Arizona State's Taylor Kelly (346.4 YPG) and No. 8 Washington State's Halliday (332.2 YPG)."

North vs. South: Just an update on how things are going in the unofficial rivalry. The North division is 6-0 against teams from the South division. There's a good chance the Bruins -- the only South team yet to play a team from the North -- break up the no-hitter with a visit from California, which has dropped nine straight games to FBS opponents. That is one of two interdivision games this weekend. Stanford's trip to Utah is the other. The Bruins are 4-0 for the first time since 2005 and are coming off a six-interception performance against Utah.

Everyone in action: Did you know there are only three weeks out of the entire season in which every Pac-12 team is playing against another Pac-12 team? This is the first one. Every team played in Week 3, but mostly against nonconference foes. The next time this happens will be in Week 12, then again in Week 13.

55 for six? Last week, we asked if the Ducks could break 50 points for the fifth straight game. They did, becoming the first team since 1885 to start the season with five straight wins with 55 points or more. Now they'll look to become the first team to do it six times in a row since Oklahoma in 2008.

Must-see TV: Better yet, see it live. Stanford makes its first trip to Utah since the Utes joined the conference. The teams haven't played since 1996. It's been hard luck for the Utes so far in conference play, having dropped an overtime game to Oregon State and then falling by a touchdown last week to UCLA. Coach Kyle Whittingham talked this week about the need to be stronger on first and second down to give his team a more manageable third down. Utah is just 3-of-27 on third downs in its past two games. On the flip side, Stanford will look to rebound from a shaky offensive performance in the win over Washington. Quarterback Kevin Hogan has thrown an interception in four straight games.

Elite receivers: Two of the league's top receivers square off when Colorado travels to Arizona State. The Buffs' Paul Richardson has four plays of 50 yards or more and has three 100-yard receiving games this season. Also with three 100-yard games is ASU's Jaelen Strong, the junior college transfer who has made an immediate impact for the Sun Devils. OSU's Brandin Cooks still leads the league with 10.4 receptions per game, but Strong and Richardson are right behind, tied for second with 7.8 per game.

Bowl implications: Oregon State heads to Washington State with four wins. The Cougs likewise have four wins -- making this a critical game for postseason hopes. Both teams have a challenging second half of the schedule, so this one feels like one of those must-win games to keep bowl hopes alive and well. Don't expect a ton of play on the ground. As noted above, Cooks leads the league in receptions and Oregon State has the No. 1 passing offense with 21 touchdowns and 420.6 yards per game with Mannion at the helm. Washington State is third in passing offense (359.7 yards per game) and tied for second in the league with 15 passing touchdowns. The Beavers and Cougars rank 11th and 12th, respectively, in the league in rushing offense. Speaking of bowls, more of a formality, but Stanford and Oregon can become bowl eligible with a win.
October, 10, 2013
10/10/13
9:00
AM PT
Ted went 5-0 last week. Kevin went 4-1, missing on his Notre Dame-Arizona State pick.
For the season, Kevin is 42-4 while Ted is 41-5.
Things get much tougher from here on, though.
Thursday
ARIZONA at USC


Kevin Gemmell
: I have no clue what to make of USC right now. Is this a situation where all of that potential energy is going to erupt? I know getting
Silas Redd
back is going to be a huge boost to an already outstanding running game. The teams have split the last four meetings and the last six games have been decided by a touchdown or less. When things are that close, go with the home team.
USC 38, Arizona 31
.
Ted Miller
: Arizona State ripped USC's previously dominant defense apart in a 62-41 win, but that was due to QB
Taylor Kelly
passing for 351 yards and three touchdowns. As in: Kelly's potent passing opened up the Sun Devils running game. Arizona doesn't have that element. The Trojans will be able to gang up against
Ka'Deem Carey
. Plus, I suspect we'll see an inspired effort from the Trojans under interim coach Ed Orgeron.
USC 28, Arizona 24
.
Saturday
COLORADO at ARIZONA STATE


Gemmell
: The Sun Devils better not take the foot off the gas now that their tough four-game stretch is through. The Buffs have talent and they haven't lost confidence. I'm excited to see
Paul Richardson
and
Jaelen Strong
square off in a battle of elite receivers. ASU ultimately has more consistent firepower and should win easily. But Colorado isn't going to roll over.
Arizona State 42, Colorado 27
.
Miller
: Arizona State should be mad about its lackluster performance against Notre Dame. It also plays much better at home. Richardson will be a good test for the Sun Devils secondary, which made
Tommy Rees
look like Tom Brady.
Arizona State 38, Colorado 24
.
CALIFORNIA at UCLA


Gemmell
: The list of defensive injuries continues to grow for the Bears. The fact that
Jordon James
might not play is a blow, but not a huge one, since the Bruins were expecting a by-committee backfield anyway. Its secondary should feel pretty good about nabbing six interceptions last week. The Bears, however, have dropped nine straight against FBS opponents. This should make it an even 10.
UCLA 42, California 27
.
Miller
: The Bruins are going to be hungry because of the embarrassing way they played in Berkeley last year, particularly QB
Brett Hundley
. How beat up is the Bears defense? Just one starter from the spring depth chart will start Saturday. The only question is how the potent Cal passing game matches up with the Bruins secondary, which grabbed six interceptions at Utah last week.
UCLA 50, California 31
.
STANFORD at UTAH


Gemmell
: Utah is getting closer, but hasn't quite gotten over the hump yet. Stanford's offense will be looking to bounce back -- as will Utah's. Last week felt like a good wakeup call for the Cardinal, who own the nation's second-longest winning streak. I'm expecting physical line play from both teams, but ultimately a Cardinal win.
Stanford 31, Utah 21
.
Miller
: I like both quarterbacks to bounce back from poor performances last week, but Stanford's
Kevin Hogan
has a better supporting cast than Utah's
Travis Wilson
, and Wilson will be facing the Pac-12's best front seven. There should be plenty of good contact at the line of scrimmage.
Stanford 35, Utah 20
.
OREGON at WASHINGTON


Gemmell
: I'm curious to see how Washington responds after its first loss of the year. Oregon has been so completely dominant, and would love nothing more than to score 55 or more points for a sixth straight game this season, especially at the expense of the Huskies. I like the progression of Washington, but I like Oregon better in this game.
Oregon 42, Washington 31
.
Miller
: Husky Stadium will be rocking, and Washington is perfectly capable of pushing the Ducks.
Keith Price
could make himself a true UW legend by leading a winning effort, but we suspect it will be Ducks QB
Marcus Mariota
getting the ultimate star -- Heisman? -- turn. It's going to be 10 in a row for the Ducks, but it won't be by at least 17 points.
Oregon 35, Washington 24
.
OREGON STATE at WASHINGTON STATE


Gemmell
: Call me crazy, but I like the Cougs in this one. The secondary is physical enough to hang with OSU's receivers (as well as anyone can hang with
Brandin Cooks
) and the front seven has done a good job creating pressure. That leads to turnovers. Washington State seems ready to take a step forward in the North Division pecking order. This game would qualify as a step forward. Plus, two of my four misses this year have come by way of Oregon State. I clearly have no clue how to predict the Beavs.
Washington State 45, Oregon State 42
.
Miller
: Oregon State, Oregon State, Oregon State. ... I ... am ... really ... sorry ... but I just got to do it. There really isn't a jinx ... is there? On the other side of the ledger, you are welcome in Pullman. Cold beverages on Kevin at The Coug.
Oregon State 40, Washington State 38
.
October, 7, 2013
10/07/13
9:30
PM PT
Here's a quick look at Week 7 in the conference. All times are ET.
Thursday


Arizona (3-1, 0-1) at USC (3-2, 0-2) 10:30 p.m. Fox Sports 1
: USC leads the series 28-8, but the Wildcats prevailed 39-36 last year in Tucson and the teams have split the last four meetings. This will be the Trojans' first game after the firing of coach Lane Kiffin, with Ed Orgeron taking over as interim coach. A lot of Wildcats will be able to identify, as Mike Stoops was fired after the sixth game in 2011. Both teams had byes last week. The Wildcats are coming off two byes in three weeks -- a stretch that will have put them on the field just once (Sept. 28 at Washington) in a span of 25 days before Thursday's kickoff. Arizona scored 26 unanswered points in the second half of last year's victory over the then-No. 10 Trojans. The Wildcats defense has seven INTs this season and ranks No. 11 nationally in pass efficiency defense. In the Trojans' last game, they yielded a school-record tying 62 points. USC has some injury issues as both WR
Marqise Lee
and OLB
Morgan Breslin
are questionable.
Saturday


No. 2 Oregon (5-0, 2-0) at No. 16 Washington (4-1, 1-1) 4 p.m. Fox Sports 1
: Washington leads the series 58-42-5, but the Ducks have won nine straight in the series by at least 17 points, including a 52-21 win last year in Eugene. Washington has gone three-and-out on offense in only six of 65 drives this season (9.2 percent). Only Baylor (1-out-of-61; 1.6 percent) boasts a better percentage. Washington is highly ranked in a number of NCAA offensive and defensive categories, including: third in third-down conversions, seventh in completion percentage and fifth in total offense, as well as third in pass efficiency defense and 11th in scoring defense. Oregon is No. 2 in the nation in scoring, No. 2 in total offense, No. 3 in rushing offense and No. 9 in passing efficiency. The Ducks also are No. 2 in the nation in scoring defense, No. 7 in pass efficiency defense and No. 8 in third down defense. The Huskies have turned the ball over six times this year, but have not allowed any of those turnovers to be converted into points. The Huskies have converted six of eight takeaways into touchdowns. Oregon is third in the nation in turnover margin. Washington has allowed just seven points in the first and fourth quarters this season. Oregon QB
Marcus Mariota
has accounted for 21 touchdowns -- 14 passing, seven rushing. UW RB
Bishop Sankey
enters the week as the nation's No. 4 rusher with 146.4 yards per game. He's rushed for 100 or more in eight of the last 10 games.


No. 5 Stanford (5-0, 3-0) at Utah (3-2, 0-2) 6 p.m. Pac-12 Network
: Stanford leads the series 3-2, but this will be the teams' first meetings with the Utes being Pac-12 members. Utah won the most recent game 17-10 at Stanford in 1996, but the Utes are 0-2 against Stanford in Salt Lake City. In the last meeting Utah's defense, under the direction of then-defensive coordinator Kyle Whittingham, shut out the Cardinal for three and a half quarters in a 17-10 win. The Utes led 17-0 entering the fourth quarter.
Juan Johnson
rushed for 114 yards and Jeff Kaufusi had two sacks to lead the Utes. Since joining the Pac-12 in 2011, Utah is 0-4 against ranked conference opponents and 1-4 overall (the win was against No. 25 BYU in 2012). Stanford and Utah both average 39 points per game. Utah leads the Pac-12 with 18 sacks. Stanford has yielded just five, second fewest in the conference. Utah has forced just six turnovers. Stanford has forced seven. Those are the two lowest totals in the Pac-12. Stanford and Utah are tied for first in the Pac-12 in red zone offense. The Utes have 12 TDs in 18 red zone trips. The Cardinal has 11 in the same number of penetrations.


Colorado (2-2, 0-2) at Arizona State (3-2, 1-1) 10 p.m. Pac-12 Network
: Arizona State leads the series 4-0, including a 51-17 win in Boulder last year. The Sun Devils have won two games in Tempe and two in Boulder against CU and have outscored the Buffaloes 153-48 in those contests. Colorado is coming off a 57-16 defeat to No. 2 Oregon. The Sun Devils lost to Notre Dame 37-34. Arizona State WR
Jaelen Strong
is off to one of the best starts for a receiver in school history, amassing 569 yards (113.8 ypg, which ranks 15th in the nation) on 39 receptions (7.8 rpg) in his first five games in a Sun Devil uniform. Of those 39 receptions this season, 25 have resulted in first downs. He has also drawn six pass interference penalties against him this season, four of which have results in first downs, giving him a total of 29 of ASU's 126 first downs this season (23.0 percent). Colorado WR
Paul Richardson
ranks second in the nation with 155.3 yards receiving per game. The Sun Devils rank 11th in the Pac-12 in run defense (182.8 yards per game), but Colorado only ranks 10th in rushing offense (110.2 ypg).


California (1-4, 0-2) at No. 11 UCLA (4-0, 1-0) 10:30 p.m. ESPN2
: UCLA leads the series 50-32-1, but the Bears posted a stunning 43-17 win over the then-No. 25 Bruins last year. It was the high moment of the Bears 3-9 season that got coach Jeff Tedford fired. That game was notable for two individual performances. In a poor-to-middling career, it probably was Bears QB Zach Maynard's best game -- he completed 25 of 30 passes for 295 yards with four TDs. And, in what is a career rising from good to elite, Bruins QB
Brett Hundley
had his worst career game, throwing four interceptions. The key matchup will be the Bears passing attack against the Bruins secondary, which grabbed six of its seven interceptions last week against Utah. Cal's true freshman QB
Jared Goff
ranks third in the nation with 364 yards passing per game. But the Bears rushing offense is struggling, and the defense is suffering through epidemic injuries. Cal is 122nd in the nation in scoring defense, surrendering 45 points per game. A fast start might help.
As noted by the San Francisco Chronicle
, Cal has allowed a touchdown on the opposing team's first drive in each of the first five games and has been outscored 86-31 in the first quarter this season.


Oregon State (4-1, 2-0) at Washington State (4-2, 2-1) 10:30 ESPNU
: Washington State leads the series 48-46-2, but it has dropped five of the last six games, including the past two. The Beavers won 19-6 last year. The Cougs last win over the Beavers in Martin Stadium was 36-30 in 2003. The game features two of the nation's most prolific passing QBs. Oregon State's
Sean Mannion
leads the nation in both passing yards per game (403.6) and touchdowns (21). Washington State's
Connor Halliday
is ninth at 332.2 yards per game. If there is a difference, it's interceptions. Mannion has thrown just two, while Halliday has 10 to go with 13 TD passes. Halliday did pass for 521 yards in the win at California last weekend, just 10 yards short of a school record. It's the most passing yards by any FBS QB so far this year. The 44 points against Cal are the most scored by WSU in a conference game since beating Oregon 55-10 in Eugene in 2003. The Cougars claimed their first win over Cal since 2002 (in Berkeley), snapping an eight-game skid. Don't expect a lot of rushing yards. The Beavers and Cougars rank 121st and 122nd in the nation in rushing.
October, 7, 2013
10/07/13
2:15
PM PT
The Pac-12 has named Oregon quarterback
Marcus Mariota
the offensive player of the week, Stanford linebacker
Trent Murphy
its defensive player of the week and Stanford receiver
Ty Montgomery
the special teams player of the week.
Some more on the trio, per the Pac-12's release:
Mariota, a sophomore from Honolulu, set a school record with 42 points accounted for in Oregon's 57-16 win at Colorado on Saturday. He completed 16 of 27 passes for 355 yards and five touchdowns. Mariota also ran for an additional 43 yards and two more scores. He is eighth in the country in passing efficiency (176.30 QB rating) and ninth in total offense (339.20 ypg), helping Oregon to a No. 2 national ranking in total offense (630.40 ypg).

Murphy, a senior from Mesa, Ariz., recorded six tackles, including 2.5 tackles for loss and two sacks, in Stanford's narrow 31-28 win over Washington at home on Saturday night. He also deflected a pass that led to a Stanford interception that ended a Huskies' drive late in the fourth quarter. The forced turnover proved to be pivotal in the Cardinal's three-point victory.

Montgomery, a junior from Tahlequah, Okla., set a school record with 204 kickoff return yards that included a 99-yard kickoff return for a touchdown to open the game against Washington. He added a 39-yard touchdown reception and ended the game with 290 all-purpose yards on nine carries (32.2 yards per touch). Montgomery currently ranks sixth in the nation in all-purpose yards (176.6 ypg).

Also nominated for offensive player of the week honors were quarterbacks Brett Hundley of UCLA and Connor Halliday of Washington State; and wide receivers Jaelen Strong of Arizona State, Chris Harper of California, and Dres Anderson of Utah. Also nominated for defensive player of the week honors were linebackers Addison Gillam of Colorado, Eric Kendricks of UCLA and Jared Norris of Utah; safety Deone Bucannon of Washington State; and defensive back Damarious Randall of Arizona State. Also nominated for special teams player of the week honors were kickers Zane Gonzalez of Arizona State, Ka'imi Fairbairn of UCLA and Andy Phillips of Utah.
October, 1, 2013
10/01/13
11:30
AM PT
I'm gonna go get the papers, get the papers.
2014 TEAM LEADERS
| TEAM | RUSH | PASS | TOTAL |
| --- | --- | --- | --- |
| Offense | 159 | 288 | 447 |
| TEAM | PF | PA | MARGIN |
| Scoring | 30 | 24 | 6 |