May, 20, 2014
May 20
6:00
AM PT
Another watch list, another strong showing for the Pac-12. Six players from the conference were placed on the spring watch list for the Rimington Trophy, awarded annually to the nation's top center.

The organization has expanded its watch list to 64 players this year.
You can click
here to see the complete list of players
. Here are the six from the Pac-12:
The Rimington Trophy committee uses the All-American lists from the Walter Camp Foundation, Sporting News and Football Writers Association of America to determine its winner.
Players who play center as their "primary" position will be considered -- even though some may interchange at other positions. For example, Oregon State coach Mike Riley has said they've tinkered with the idea of playing Seumalo at other positions. However, he's widely regarded as one of the nation's top centers and that's still considered his primary position (for now).
Grasu was a finalist for the award in 2013. Florida State's
Bryan Stork
was the winner last season.
A player from the Pac-12 has never won the Rimington Trophy.
March, 31, 2014
Mar 31
5:30
PM PT
UCLA opens spring football on Tuesday with high hopes and a good chance to be ranked in the preseason top 10. This is the third spring for UCLA coach Jim Mora, who has led the Bruins to a 19-8 mark in two seasons. He took a couple of minutes to chat with the Pac-12 blog before spring kicks off.
This is your third spring. What have you learned during those first two, and are you going to be doing anything different this time around?
[+] Enlarge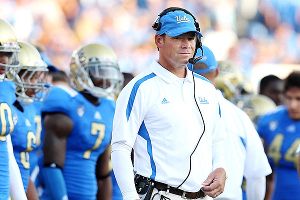 Stephen Dunn/Getty ImagesJim Mora believes spring is a great time to go hard and be physical.
Jim Mora:
Nope. Pretty much the same thing. It's a great time to develop your younger players and start to get a feel for what your team is going to look like in the fall and start to develop that bond you need to have success. We won't change anything. We go hard in the spring. It's physical. It's demanding. I think it's a great time to get physical work in.
After the 2012 season, you closed with the back-to-back losses to Stanford and the bowl loss. Last year you closed with a win over USC and a bowl win. Do you buy into the idea of offseason momentum?
JM
: No. To me, that first year, everyone says, "Oh, you lost three games in a row." But those were three pretty different games. It wasn't like we lost our last three regular season games. We lost our last regular season game, we lost in the Pac-12 championship game and we lost our bowl. It's not like we had this huge slump or something. Every season is a new season. You have to develop the identity of your team. You have to commit to a certain work ethic, and our guys have done that. To me, spring ball signifies the start of a new season.
As a coach, what position battle are you most interested in?
JM
: Outside linebacker, the guy who is going to replace
Anthony Barr
. I think that will be a good battle with
Kenny Orjioke
and
Aaron Wallace
and
Deon Hollins
. I'm excited to see how our defense adapts. We've got a new defensive coordinator. And as a staff we've learned a little bit more about our players and how to play in this conference and how to play college football with what teams are doing. We're going to have to adapt a little bit, but it's going to be fun to see.
With defensive coordinator Lou Spanos heading back to the NFL and Jeff Ulbrich being promoted from within, what kind of impact, if any, will that have on the defense?
JM
: Not a lot. Just like every year, you tweak some things. It's not going to impact it a lot. We've certainly made some changes. But we're going to make changes next year, too. You continue to adapt. You try to grow. You try to add things that will make you better. You try to improve upon things you didn't do well and you try to cut the fat so you're not teaching things you're not going to use throughout the year.
Was that a tough adjustment coming to the college game from the NFL? Every year in college there is going to be a lot of turnover and each season is a different team and a different personality.
JM
: It's interesting because it's very different than the NFL. You're right, there is more turnover. But at the same time, there is a little more certainty as well because unlike the NFL, where there is free agency so you're adding guys, and there's a draft where you're adding guys who should be ready to play right away, in college you know there is going to be a natural attrition and you have a pretty good idea of who you can count on and who still needs to develop going into a season. Hopefully some of the freshmen develop, but you can't always count on that. In some ways, as strange as it seems, it might be a little bit easier because you know what your team makeup is going to be a year in advance.
[+] Enlarge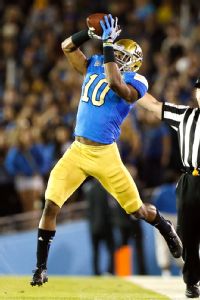 Ric Tapia/Icon SMIRising junior corner Fabian Moreau has earned positive reviews from Jim Mora.
Heading into spring, who is a player we haven't heard of yet, but you think we're going to hear his name a lot in 2014?
JM
: I don't know if you've heard his name a lot. Hopefully you don't hear it a lot because he's a cornerback and when you hear a cornerback's name a lot, that means he's making a lot of tackles because the ball is getting caught on him or he's giving up touchdowns. But I think we have a really fine player in
Fabian Moreau
. Defensive backs are where I've worked most of my career and I think this guy has some real special traits. I think he has a chance to be a great player.
You're big on leadership, as all coaches are. And you like to see players naturally develop into team leaders. Who are you eyeballing this year?
JM
: That's a great question. That's the point of most uncertainty for me is -- who is going to assert themselves on the team. Four of our six team captains return, which is a real positive because they were voted captains by their teammates. You've got
Brett Hundley
. You've got
Eric Kendricks
,
Jake Brendel
our starting center and Ryan Hoffmeister, a linebacker and special teams guy.
Xavier [Su'a-Filo]
and Anthony [Barr] leaving, those are huge voids. It will be fun to see who steps up. Guys like Fabian, even though
Myles Jack
is only a sophomore, I think he's got some leadership qualities to him. I don't want to point too many guys out because there are a whole lot of guys on our team who are capable of stepping into that role.
December, 2, 2012
12/02/12
10:00
PM PT
UCLA Bruins
running back
Johnathan Franklin
and linebacker
Anthony Barr
were named team MVPs at the annual awards banquet Sunday night.
Franklin is fifth in the nation with 1,700 yards rushing and this season became the school's all-time leader in career rushing and also set the school single-season mark for rushing yards. Barr currently leads the nation with 13.5 sacks.
Quarterback
Brett Hundley
was named rookie of the year and center
Jake Brendel
, defensive lineman
Datone Jones
and kicker
Ka'imi Fairbairn
were named most improved.
A complete list of the team award winners:
November, 16, 2012
11/16/12
5:34
PM PT
By
Pedro Moura
| ESPNLosAngeles.com
The
USC Trojans
(No. 18 BCS, No. 21 AP) and
UCLA Bruins
(No. 17 BCS, No. 17 AP) haven't matched up in a game that meant this much in a long time.
The winner of Saturday's 12 p.m. PT game at the Rose Bowl will secure the Pac-12 South title and earn a trip to the conference championship to compete for a bid to another game at the Rose Bowl.
Here are 10 things to watch in the winner-take-all matchup:
1. Mora vs. Kiffin
. Long-term, the most important takeaway from this game will be who takes the upper hand between the two coaches who seem destined for a nice rivalry. Jim Mora and Lane Kiffin have the perfect mix of similarities and differences to make things interesting -- coaching bloodlines, NFL failures and recruiting successes, plus their opposite personalities. Mora is engaging and exciting as a speaker; Kiffin is, at his best, mildly entertaining. But who's a better coach? Perhaps we'll find out on Saturday.
2. More Marqise Lee
. Lee hasn't lost any of his luster over the past couple of weeks, as he continues to be probably the second-hottest player in the country, behind only
Johnny Manziel
of Texas A&M. The whole defense thing from last week didn't work out, and Lee said he won't be playing there this week, but even so, he should be able to exploit a weak UCLA secondary. Lee is just 14 catches, 86 yards and four touchdowns away from breaking the Pac-12 single-season marks in all three categories.
3. Strength vs. weakness
. If this isn't a recipe for abject disaster, what is? UCLA's biggest weakness is its secondary, and specifically, at corner. USC's biggest strength is its receivers, the top pass-catching duo in the nation. If the Bruins single-cover Lee with
Sheldon Price
or
Aaron Hester
at any point, they'll essentially be inviting the Trojans to score a touchdown. If they double- or triple-cover him, they'll be inviting Kiffin to re-explore throwing the ball to
Robert Woods
, which has never worked out too poorly for USC.
4. Hundley and Franklin
. USC has Lee and
Matt Barkley
. UCLA has
Brett Hundley
and
Johnathan Franklin
, and the Bruins' duo isn't far off in terms of overall excitement and ability to explode for dynamic plays. It'll be particularly interesting to see how the Trojans try to stop Franklin, who has reinvented himself this season as an outside runner after running mostly between the tackles in the old Bruins scheme. As for Hundley, he's a dual-threat quarterback who has been more effective as a passer than a runner, and he makes his living passing short to backs and tight ends. In fact, only one of the Bruins' top four receivers is an actual wide receiver, and only four of Hundley's 24 touchdown passes have gone to an actual receiver, not counting newly healthy running back/receiver
Damien Thigpen
.
5. The offensive lines
. No, they won't be battling directly against one another, but the Trojans' and Bruins' lines will collectively determine a lot of what happens at the Rose Bowl. UCLA's offensive line is particularly young and hasn't kept Hundley off the ground, but the Trojans' linemen probably would've been on the hook for more sacks if Kiffin didn't call so many three-step drops because of them. Who will step up to the occasion? If there's an indicator, maybe it's that USC starts a fifth-year senior at center in
Khaled Holmes
, and UCLA starts a redshirt freshman,
Jake Brendel
.
November, 8, 2012
11/08/12
8:41
PM PT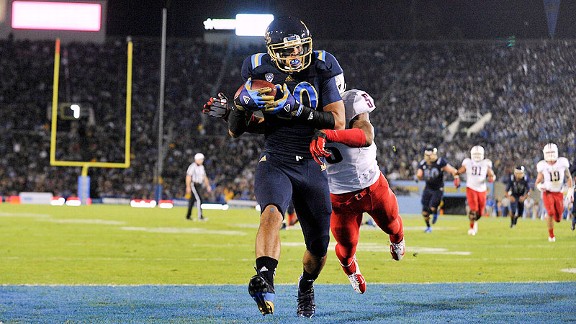 Andrew Fielding/US PresswireJordan Payton is one of many UCLA freshmen who have stepped up to play well for the Bruins.
LOS ANGELES --
Jordan Payton
said he stopped feeling like a freshman after he took his first hit.
Jake Brendel
said that moment came for him after his first game.
Simon Goines
said his came about four games into the season. And
Brett Hundley
said it happened for him after his first big win over
Nebraska
.
The
UCLA Bruins
have had plenty of those "a-ha" moments this season. Coach Jim Mora and his staff have rolled out 25 freshmen so far this season, and nine of them have started, including four who have been starters every game.
Three games ago against
Utah
, the Bruins started seven -- yes, seven -- freshmen on offense. Yet despite the wet-behind-the-ears lineup, all the young guys have performed at a high enough level to have the Bruins (7-2, 4-2) ranked No. 18 in the BCS standings and in control of the Pac-12 Conference race as they head to
Washington State
for a Saturday night game.
"We kind of went through our moments early in the season where we wondered if we could coach or not," offensive coordinator Noel Mazzone said. "We went through our ups and our downs, but in my mind we don't have any more freshmen on this team."
That's because nine games in, they have been through the ringer enough to know what they are doing. Hundley has started every game at quarterback and plays behind an offensive line featuring Brendel at center, Goines at one tackle and
Torian White
, another freshman, at the other tackle. UCLA is averaging 37 points a game, which is second in the Pac-12.
Hundley, Brendel and White are redshirt freshmen so they at least had a year of seasoning in practice and on scout teams to adjust. But Goines and Payton, a receiver who has started the past three games, are true freshmen getting a lot of playing time and contributing at a high level.
UCLA has used 12 true freshmen this season after using only one last year.
Last week, Payton caught his first career touchdown against Arizona in a game that featured UCLA touchdowns by four freshmen. Kicker
Ka'imi Fairbairn
, also a true freshman, had a field goal and tied a school record with nine extra points in that game.
"There were a couple of games where I was just like, 'Wow,'" said Brendel, who has started every game at center. "It was a different atmosphere, a different speed than I'm used to. But the more you go through it, the more used it you get. It just takes experience to get used to all of it."
September, 11, 2012
9/11/12
7:33
PM PT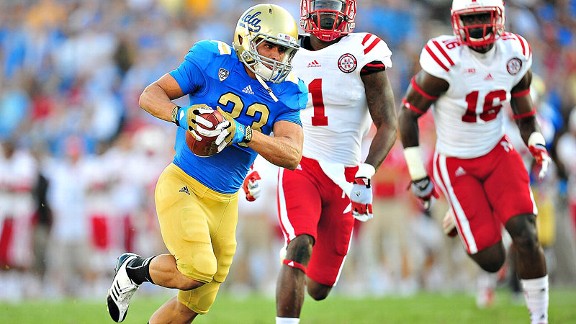 Gary A. Vasquez/US PresswireUCLA's Steven Manfro scores on a 49-yard touchdown pass against Nebraska last week.
LOS ANGELES -- The
UCLA Bruins
are one of the early surprises of the college football season, having risen into the top 25 for the first time since 2008 after a 2-0 start.
What's even more surprising is that the Bruins have done so with five freshmen starting on offense and had another start on defense Saturday during a 36-30 upset victory over Nebraska.
That's right, almost half of the starting offense that is No. 3 in the nation in total offense had not played a college football game before this season. That group includes quarterback
Brett Hundley
, who has passed for 507 yards and six touchdowns.
Senior running back
Johnathan Franklin
is getting a lot of attention for his nation-leading 431 yards rushing, and deservedly so, but Franklin is the first to say that an offensive line consisting of freshman
Simon Goines
and redshirt freshmen
Torian White
and
Jake Brendel
deserves an equal amount of the credit.
Slot back
Steven Manfro
, another redshirt freshman who starts, caught a 49-yard touchdown pass from Hundley on Saturday against Nebraska.
Randall Goforth
, a true freshman, started at safety against Nebraska and ended up leading the team in tackles.
And those starters don't include receiver
Devin Lucien
, who has made highlight-worthy catches in each of the first two games and leads the team with 115 yards receiving.
"They responded well," coach Jim Mora said. "They are mature beyond their age. When you get in an environment like [Saturday] where it is intense and you are playing a great opponent and you're in front of a big crowd and the lights come on, you can get overwhelmed and I didn't see that from our guys so I was really proud of them."
The offensive line was considered a question mark for the team during training camp and it wasn't until the week before the first game that the coaches settled on a starting five that included three freshmen. Brendel displayed the smarts and toughness to man the center spot while Goines (6-7, 324) and White (6-5, 285) displayed the size and athleticism that led the coaches to take the chance on starting them over more experienced players.
So far, all they have done is impress by helping open holes for Franklin and giving Hundley enough time to complete 42 of 61 (68.9 percent) passes.
"The skill guys can come in and play as freshmen no problem, but it's those big guys you worry about," offensive coordinator Noel Mazzone said. "We saw the potential, but they hadn't performed. That was the great unknown, but so far they have shown that they can handle it."
August, 31, 2012
8/31/12
6:43
PM PT
The three missed extra-point attempts in the
UCLA Bruins
' season opening 49-24 victory over Rice were a product of poor technique on the front line, coach Jim Mora said Friday after reviewing the film, and he plans on correcting those mistakes this week in practice.
"We recognized some technique errors that we'll get fixed this week," Mora said. "It was primarily up front. It's little things, correctable things, but things that need to get corrected now. Pad level, foot placement. Really minor things that can turn into huge, huge issues if you don't get them corrected."
Rice's
Cameron Nwosu
set an NCAA record with three blocks on extra-point tries as the Rice front line created a surge and Nwosu plunged through the middle each time. He blocked UCLA's first two attempts during a two-minute span of the first quarter and then got another near the end of the first half.
UCLA went for two on its two second-half touchdowns and Mora said he made sure to talk with kicker
Ka'imi Fairbairn
, a true freshman making his college football debut against Rice, about the reason he was going for two. It was because Rice nearly returned one of the blocks for a two-point score.
"I didn't want him to think it was a product of him in his first year as a kicker," Mora said. "He's going to be an outstanding player. He's a really great kid. But I didn't want to give them a chance to put points on the board on a play where we're supposed to be putting points on the board."
Fairbairn wasn't too fazed by the blocks, Mora said. In between the first two blocks and the third, Fairbairn made two extra points and a 27-yard field goal, so his confidence was fine, Mora said.
"There were a couple that he could have gotten up quicker, but that wasn't the primary reason that we got those kicks blocked," Mora said. "I think he's OK, he's a tough young man, he's pretty resilient. During the game he was OK. I think it was good for him the he got to get out there and make a field goal, make a couple of extra points. He responded well on sideline. He was upbeat."
August, 16, 2012
8/16/12
7:27
PM PT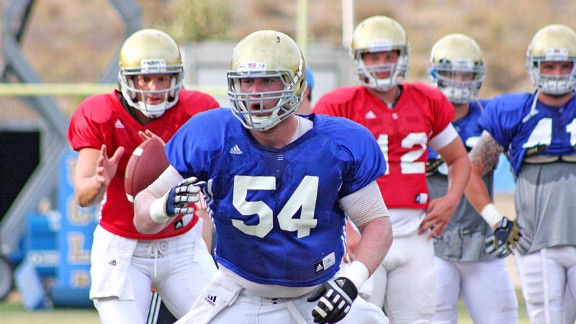 Peter Yoon/ESPNLAJake Brendel (54) has solidified UCLA's vacant center spot after struggling with snaps in spring practice.
SAN BERNARDINO--
Jake Brendel
is one of those quiet, intellectual types who prefers to keep to himself, but these days he's the center of attention for the UCLA football team.
Brendel, a redshirt freshman has all but locked up the vacant spot in the middle of the offensive line with a strong showing through the first two weeks of training camp, solidifying a spot that had been worrisome coming out of spring practice.
And with the offensive line struggling to find a starting five so far, it's a load of the minds of the coaching staff to know that Brendel has a stronghold on the snapper spot.
"Jake being in the middle and being solid and being smart and being tough and handling all the calls has been a real positive for us," coach
Jim Mora
said. "He's a redshirt freshman but he doesn't play like a young guy. He's tough, he's out there every day, he's dependable, he's able to make the calls."
That last attribute is particularly important in UCLA's uptempo offense. After each play, Brendel is responsible for finding the ball and getting his teammates to it. When the quarterback sets the offense, Brendel must make the pass protection calls for the offensive line and so far the coaches have been impressed.
"Our center is so important to this offense," offensive coordinator
Noel Mazzone
said. "We have to have a center that is just like a quarterback for us because we're a fast tempo team and he's trying to get four other guys on the same page with him in a very quick amount of time. I'm really happy with Brendel and how he's stepped out and stepped up for us."
It didn't come easily for Brendel. During spring practice, he acknowledged that he struggled with the quick tempo that the new coaching staff wanted. He began thinking too much and struggled, especially with snapping the ball. When spring practice ended, Brendel was no lock for the starting role, but he spent a lot of time honing his craft over the summer and has had few issues with snaps in camp.
"It takes a couple of weeks to get in the whole tempo," said Brendel, a deep thinker. "Really it just comes down to reps and just doing the same thing over and over and getting that muscle memory down. It's just second nature. It's like you are just doing it and you really don't have to think about it. It's unconscious competence, sort of."
August, 15, 2012
8/15/12
2:14
PM PT
SAN BERNARDINO--Jim Mora employed the old if-at-first-you-don't-succeed method when UCLA's practice didn't get off to a particularly sharp start Wednesday morning at Cal State San Bernardino.

About 20 minutes in to the session, Mora pushed control-alt-delete and had the players start over from the pre-practice warm up. He said it was a bit of a fun hangover after a team bowling trip the night before and implored the team to learn how to re-focus after a fun experience.

"Sometimes they just need a little push to get going," Mora said. "What I think they are starting to understand is that every time you step on the field, regardless of the circumstances, you have to focus in. I thought they responded well."

Safety Dalton Hilliard also noticed a lack of focus during the early portion of practice with some guys standing on the sideline holding various conversations and not paying attention to what was going on in practice. He fully supported Mora's decision to restart.

"We needed it," Hilliard said. "Whenever we have success and come off of a big win or having fun, we have to be able to flip the switch and put work in."

Hilliard, a senior, said he later regretted not taking action himself and had a meeting with some other seniors about making sure they take the initiative in those situations.

"That's not something [Mora] should have to do," Hilliard said. As seniors, we have to take it upon ourselves to be like 'hey guys, let's focus up.' As seniors we have to take that a little more seriously especially these next two days with guys focusing on getting back to Westwood. We can't have our guys lose focus and we have to really make sure the guys finish strong."

O-Line adjusting: The offensive line, down more than a handful of players because of injuries and heat-realted issues, is starting to get some players trickling back into action.

Alexandru Cheachir returned Wednesday morning after sitting out several days with heat issues while Simon Goines, Michael Padovese and Will Oliver were all in attendance. They did not dress, but getting outside is a strong indication that they are close to a return from their heat issues.

The falloff of lineman that ran rampant early in camp seems to have halted, thanks in large part to an adjustment of how they are practicing. Early on, the linemen spent the entire time in the sun, even doing conditioning drills in between periods.

Now, the linemen get frequent breaks in the shade and rest even while the skill players run pass patterns.

"When you're down numbers and you go at the tempo that we go at, you have to be careful with those guys, Mora said. "They're the biggest guys, it takes them the longest to cool off so we modified how we practice them strictly because of numbers."

Center Jake Brendel, one of the few linemen who has not had heat problems during camp, said the extra rest has made a big difference.

"It's really helped," Brendel said. "We're getting back to full rest, getting back to as rested as we can be to get to the next team period. Lowering the heart rate down and regrouping because this offense can be really intense."

Injury updates: Offensive lineman Torian White will have a procedure later this month to correct a heart rhythm problem. He is cleared to practice until then and is not expected to miss time after the minor procedure...Receiver Devin Lucien sat out of practice for the second consecutive day with a concussion. There is no timetable for his return...running back Damien Thigpen, who has a history of hamstring issues, did light work on the side after feeling tightness in his lower body, Mora said.


August, 8, 2012
8/08/12
9:37
PM PT
SAN BERNARDIO -- The Bruins' offensive line had questions coming in to camp and Thursday the biggest question was: Where's the beef?

The Bruins were down to nine offensive linemen by the end of practice Thursday, when Alberto Cid left because of a head injury and Greg Capella tweaked his calf. They joined Jeff Baca (heat), Simon Goines (heat), Brett Downey (heat), Chris Ward (back) Tre Hale (heat), Colby Cyburt (back) and Torian White (chest pains) on the sideline, giving the Bruins as many injured linemen as healthy at the end of Wednesday's session.

The players out because of heat symptoms should return in the next day or two and so, too, should Cyburt, but this group still has to fill some holes before it starts making them.

Xavier Su'a-Filo is guaranteed to be starting at left tackle and Baca will be starting somewhere, but the other three slots are open. Jake Brendel seems to have taken a stronghold on the center spot and Capella is the early favorite for left guard, but the coaches are still searching high and low for a right tackle.

"It's wide open," offensive line coach Adrian Klemm said. "You can come right in off the street right now and start at right tackle."

White, Goines and Downey were getting the right tackle reps before they were injured and Ben Wysocki is there now with Will Oliver backing him up. If none of them can win the job, Baca will likely move from right guard to right tackle, where he played last season.

Klemm says he prefers to have Baca at guard because that's where Baca will play should he get drafted by an NFL team, but Baca is open to playing tackle if another player is better suited for right guard.

"I don't have a preference," Baca said. "I just like being out there and I'll play any position. I just like to have some time to practice that position."


July, 27, 2012
7/27/12
11:34
AM PT
With UCLA training camp set to begin Aug. 4 at Cal State San Bernardino, we're taking a preseason look at the roster and breaking down the Bruins, position-by-position.
We started with
quarterbacks
and now move to the guys expected to protect the quarterback: The offensive line.
DEPTH CHART AT THE END OF SPRING PRACTICE:
Left Tackle
Xavier Su'a-Filo (6-4, 295, So.)
Michael Padovese (6-5, 310, Fr.)
Left Guard
Wade Yandall (6-4, 315, So.)
Alexandru Ceachir (6-5, 305, So.)
Ben Wysocki (6-4, 295, Fr.)
Center
Greg Capella (6-4, 292, Jr.) OR
Jake Brendel (6-4, 295, Fr.)
Tre Hale (6-1, 308, So.)
Kody Innes (6-3, 291, So.)
Right Guard
Jeff Baca (6-3, 290, Sr.)
Alberto Cid (6-3, 310, Jr.)
Chris Ward (6-4, 305, Jr.)
Right Tackle
Torian White (6-5, 285, Fr.)
Will Oliver (6-7, 290, Fr.)
Brett Downey (6-6, 305, Sr.)
PROJECTED OPENING DAY DEPTH CHART:
Left Tackle
Xavier Su'a-Filo (6-4, 295, So.)
Simon Goines (6-7, 324, Fr.)
Michael Padovese (6-5, 310, Fr.)
Conor McDermott (6-8, 247, Fr.)
Left Guard
Alberto Cid (6-3, 310, Jr.)
Alexandru Ceachir (6-5, 305, So.)
Ben Wysocki (6-4, 295, Fr.)
Center
Jake Brendel (6-4, 295, Fr.)
Carl Hulick (6-2, 300, Fr.)
Tre Hale (6-1, 308, So.)
Kody Innes (6-3, 291, So.)
Right Guard
Greg Capella (6-4, 292, Jr.)
Chris Ward (6-4, 305, Jr.)
Colby Cyburt (6-4, 265, Fr.)
Right Tackle
Jeff Baca (6-3, 290, Sr.)
Torian White (6-5, 285, Fr.)
Brett Downey (6-6, 305, Sr.)
Will Oliver (6-7, 290, Fr.)
KEY LOSSES
Mike Harris, 14-game starter at tackle. Graduated
Kai Maiava, 13-game starter at center. Graduated
Sean Sheller, Started 13 games the last two years. Graduated
Wade Yandall, Projected starter at guard took a medical retirement (concussion).
April, 14, 2012
4/14/12
5:45
PM PT
LOS ANGELES -- The big story out of the first two weeks of UCLA's spring practice has been the up-tempo offense the Bruins are running.

It's a fast-paced, no-huddle attack with a blink-and-you'll-miss-it flair that has brought a higher energy level, lots of exciting scoring plays and dozens of cheers from the Bruins' faithful who have come out to watch practice.

But the dizzying pace has also made the UCLA defense look a little shaky at times, because guess who is giving up all of those big plays and thrilling scores?

"It's definitely a tough pace to match," said linebacker Patrick Larimore. "It definitely blew our minds when we first saw it. We kind of knew it was coming, but we didn't know how hard it was going to be with pads. We're starting to get a feel for it, but we're not doing good enough yet."

The defense has been getting better as time has gone on and the players have been exposed more and more to the up-tempo pace. One of the keys to solid defense is being able to react within the scheme without thinking too much. Forcing the players into action quickly has put a premium on knowing the schemes well enough that thinking is not required.

"At this pace, you really have to know your assignment," lineman Datone Jones said. "By them going so fast, you don't want to slip up or get out of your gap because you'll mess up the defense. You can't be thinking about where you are supposed to be, you just have to know how to do it and just play."

But while the offense might be a step ahead of the defense thus far, the faster pace certainly has a fringe benefit for the defense in that many teams in the Pac-12 play an up-tempo style. Last year, the Bruins played a much slower tempo with an offense designed to control the ball and the clock. The UCLA defense suffered against high-tempo teams, however, and ended up giving up 38 points or more in six games.

The Bruins were No. 92 in the nation in scoring defense, giving up 31.36 points per game.

"Houston tempoed us last year," safety Tevin McDonald said. "Arizona State tempoed us last year. Oregon. A lot of teams were just go-go-go and we weren't preparing against that kind of pace so we were a little behind."


August, 10, 2011
8/10/11
7:06
PM PT
The UCLA football team practiced in shorts and shoulder pads for the first time Wednesday and things didn't go exactly as planned as problems with the shotgun snap marred the session.

Backup center Jake Brendel, a true freshman, was responsible for many of the gaffes but starter Kai Maiava also had issues connecting with the quarterbacks, stopping several offensive plays before they began.

"Far too many center-quarterback exchanges on the ground and you can't play football that way so that's going to be a huge order of business as we get going," coach Rick Neuheisel said. "It's the first day of pads and live contact and all that, so that certainly probably added to it, but we've got to be sharper with the football and handle our business in that regard so we have to really pay a lot of attention to it."

Shotgun snaps are an integral part of the Bruins' offense as the quarterback lines up four yards deep on every play in the Pistol formation, but when the centers are sending the snaps high, wide and low on a regular basis, it tends to slow things down quite a bit.

Brendel's presence was supposed to shore up the depth lost at the position when Ryan Taylor graduated. Taylor started every game last year Maiava was injured and he rarely missed a play all season. Greg Capella, Taylor's backup last season, also had problems with shotgun snaps in practice and in his limited game time and has moved to guard this season.

Maiava has been solid the first two days in camp, but Wednesday was a bad day for both centers, who had mishaps on close to a dozen snaps.

"Certainly in playing some new centers, that led to what we're doing," Neuheisel said. "But we've got to do a better job. There's no reason and no excuse for not being able to handle the ball. It's a four-yard pass."

Asked how he planned to get that part of the offense shored up, Neuheisel hinted at sending the centers out to the practice field until all hours to get things down.

"Practice, practice practice," Neuheisel said. "And then maybe some more practice. The good thing about this time of year is there is no 20-hour rule. There is no limit to how many times we can practice that so we will take advantage of the opportunities."
2014 TEAM LEADERS
| TEAM | RUSH | PASS | TOTAL |
| --- | --- | --- | --- |
| Offense | 208.5 | 278.2 | 486.6 |
| TEAM | PF | PA | MARGIN |
| Scoring | 35 | 27.2 | 7.8 |