November, 16, 2010
11/16/10
7:17
PM PT
UCLA wrapped up its practice week on a chilly Tuesday evening that should help get the Bruins ready for the Seattle weather they will face Thursday at Washington.
The forecast is for temperatures in the low 40s and a 50% chance of rain at game time, which actually plays into the Bruins' hands. UCLA won games in the cold at Washington State and in the Eagle Bank Bowl last season and has developed a reputation as somewhat of a bad-weather team.
"But over the years UCLA has gone on the road—in my mind since I was a part of this program—and had some big success in bad weather," Coach
Rick Neuheisel
said. "Hopefully we're up to the task again."
The fact that several players arrived at the practice field complaining about the cold might not be a good sign, but at least long snapper
Christian Yount
was getting ready for possible rain. He was squirting ball and the ground under the ball with water before snapping to holder
Danny Rees
during practice.
The offense didn't go as far as to practice with wet balls, but Neuheisel acknowledged that he'd rely more on the Pistol running attack if rain comes.
"We've been able to be successful without much in the way of throwing the ball and we'll see if we can do it again," Neuheisel said. "But usually wet doesn't mean you can't throw, it just means you've got to keep the ball dry. But the ability to run the ball becomes more important, no question."
A few tidbits:
The Bruins have been using an aggressive substitution pattern in the defensive backfield, so much so that it is difficult to tell who is getting first team reps and who is with the second team.
Aaron Hester
,
Andrew Abbott
,
Sheldon Price
and
Courtney Viney
have all been playing at corner.
Tony Dye
and
Rahim Moore
are the first team safeties, but
Dietrich Riley
,
Dalton Hilliard
,
Stan McKay
and
Alex Mascarenas
have gotten an uptick in reps.
"We're fortunate that we've developed some depth with attrition," Neuheisel said. "Some other guys have had to step up and become really good players for us so we want to make sure we keep everybody fresh. We know that [the Huskies are] a big play offense. They've got a lot of balls down the field type of air show and it's important that we stay fresh."
--
Washington Coach
Steve Sarkisian
announced Tuesday night on his
Twitter page
that quarterback
Jake Locker
has been cleared to play.
Neuheisel never had a doubt. He has said all week that Locker would play.
Locker missed Washigton's last game with a broken rib and even though he practiced this week, Washington remained mum on his status until Tuesday.
"That's the biggest joke of all time," Neuheisel said about an hour before Sarkisian's tweet. "The man is playing, I'm telling you. It's just the way it is."
--
Linebacker
Steve Sloan
practiced with the second team defense all week and Neuheisel said he would be in the rotation Thursday. Receiver
Nelson Rosario
had a nice practice Tuesday and also looks ready to go.
November, 15, 2010
11/15/10
5:35
PM PT
The status of Washington quarterback Jake Locker might still be in doubt, but not in the mind of UCLA coach Rick Neuheisel.

Locker, considered a first-round NFL draft pick, has a broken rib and missed the Huskies' 53-16 loss to Oregon on Nov. 6. He has practiced with the team the last two days, but a final decision on his availability for Thursday night's game against UCLA at Husky stadium is not expected until Tuesday. Neuheisel, though, has no doubt that a decision has already been made.

"There's no uncertainty over Jake," Neuheisel said. "He'll play. He absolutely will play. And there is really no uncertainty about rain. It will."
November, 15, 2010
11/15/10
8:00
AM PT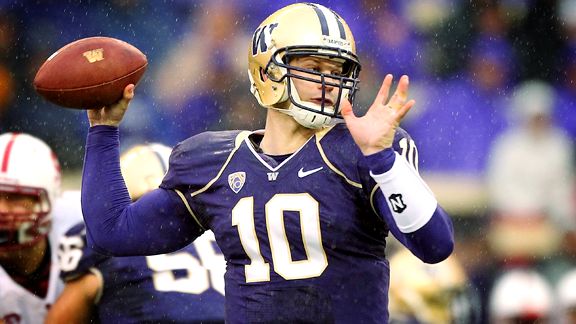 Otto Greule Jr/Getty Images
Washington's success against UCLA could depend on whether quarterback Jake Locker is healthy enough to have an impact.
There are two very important questions Washington will try to answer as it prepares for UCLA in a battle between teams fighting to save their seasons:
1. Will
Jake Locker
be able to play?
2. If he does, which Locker will show up?
Locker, the Huskies' start quarterback, missed Washington's last game because of broken ribs and his status is still uncertain for Thursday night's game against UCLA at Husky Stadium. His availability may well determine whether Washington (3-6) can end its three-game losing streak and keep alive its hopes for becoming bowl eligible by winning its last three games.
UCLA (4-5) is in a similar situation, needing two victories in its last three games to become bowl eligible and that should add to the intensity of a prime time game to be televised nationally by ESPN.
"It's a big game for both programs because we're both trying to stay alive in post season," UCLA coach
Rick Neuheisel
said. "There will be plenty of excitement going up there."
2014 TEAM LEADERS
| TEAM | RUSH | PASS | TOTAL |
| --- | --- | --- | --- |
| Offense | 199.4 | 268.5 | 467.9 |
| TEAM | PF | PA | MARGIN |
| Scoring | 32.9 | 27.5 | 5.4 |