August, 29, 2011
8/29/11
2:49
PM PT
In an offseason filled with schools getting bad news from the NCAA, Houston stood out as the contrarian.
First came word that quarterback
Case Keenum
had been granted a sixth year of eligibility and next the Cougars learned that the NCAA had reinstated running back
Charles Sims
' eligibility.

It all adds up to a Cougars offense that has all the weapons it needs to maintain the prolific pace it has set over the last several seasons and UCLA will be the first to face it when the teams meet Saturday at 12:30 p.m. Pacific. The game will be televised by FSN.
Keenum, in the hunt to break NCAA passing records for career yards and touchdowns, tore his ACL in Week 3 against UCLA last season and the NCAA deemed him worthy of resuming his chase. He is 3,487 yards shy of
Timmy Chang
's career passing record (17,072) and needs 28 touchdown passes to surpass
Graham Harrell
's record of 134.
And while it might seem as if 3,487 yards and 28 touchdowns are a lot, consider that Keenum passed for more than 5,000 yards in 2008 and 2009 and had 44 touchdowns in each of those seasons. He benefits from Houston's pass-happy spread offense that, even in Keenum's absence most of last season, ranked fifth in the nation in passing at 327.25 yards per game.
Keenum will no longer have
James Cleveland
, who torched UCLA for 144 yards receiving last season, but top target
Patrick Edwards
, a 1,000-yard receiver in each of the last two seasons is back, as is speedster
Tyron Carrier
, a 1,000-yard receiver in 2008 and 2009.
The Cougars also have a deeper running attack with the return of Sims, the 2009 Conference USA freshman of the year who sat out last season because of ineligibility. He joins leading returning rusher
Bryce Beall
, who had 870 yards rushing last season, and
Michael Hayes
, the shifty counterpart who had 629 yards rushing last season.
Hayes and Sims are also good receivers and will often split out wide in an empty backfield set, putting even more of a strain on UCLA's defensive secondary, especially considering the Bruins are a bit thin at cornerback.
But while Houston's skill players are dangerous, the Cougars' offensive line is suspect. The Cougars return only two offensive linemen and UCLA's front seven -- led by defensive end
Datone Jones
-- will try to exploit that weakness and disrupt the offensive attack.
Houston also proved vulnerable on defense last season, especially against the run. The Cougars gave up 208.75 yards per game on the ground to rank No. 114 in the nation and last year when the teams met, UCLA came into the game struggling on offense, but overmatched the Cougars' defense and pounded out 266 yards rushing in a 31-13 victory. Johnathan Franklin had 158 yards and three touchdowns.
UCLA was able to control the clock and keep Houston's potent offense off the field, bolting to a 31-3 lead after three quarters before Houston rallied in the fourth quarter against some of UCLA's reserves. Houston, which runs a 3-4 defense, has five returning starters among its defensive front seven with linebackers
Sammy Brown
and
Marcus McGraw
leading the charge of experience, but the Cougars are thin on the defensive line and have very little in terms of experience in the secondary.
September, 16, 2010
9/16/10
11:46
AM PT
Case Keenum
's mind-boggling numbers make things go haywire.
To be more specific, they send statisticians, scoreboards and defenses into a tizzy.
Consecutive 5,000-yard passing seasons tend to do that. A run at the all-time NCAA career passing yardage record does, too.
And because Keenum plays quarterback for a Houston team that led the nation in scoring, passing offense and total offense a year ago, he tends to be the focus even when there is a chance he might not play.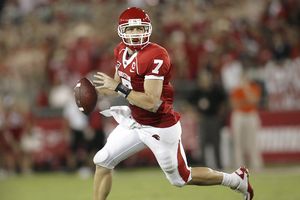 Brett Davis/US Presswire
UCLA is prepping for Houston quarterback Case Keenum, even though he might not play because of a concussion.

Houston visits UCLA Saturday night for a nonconference game at the Rose Bowl, but Keenum, the Cougars' starting quarterback, is no certainty to play after suffering a concussion last week against UTEP.
Still, UCLA coach
Rick Neuheisel
said the Bruins are preparing this week as if the 2009 Conference USA MVP will be in the lineup.
"You just have to anticipate that he'll be ready," Neuheisel said. "And you have to anticipate that their offense, if he weren't able to go, would be the exactly the same offense that you'd be playing anyway. It won't change how we prepare for the game."
Preparing for that offense means preparing for a heavy dose of offense. Keenum has directed an offense that is averaging 61 points a game through two weeks. He has completed 32 of 46 passes for 553 yards and five touchdowns.
He did not have a touchdown pass last week against UTEP, however, ending a streak of 31 consecutive games with at least one.
He did have 279 yards passing in that game before the concussion knocked him out and he is now seventh on the NCAA FBS all-time list with 13,503 yards -- 3,569 short of the record 17,072
Tommy Chang
put up at Hawaii from 2000-04.
"He's very wise in their scheme," Neuheisel said. "He understands it really well. He's got an extremely quick arm and accurate arm. I'd be surprised if he's not a first rounder."
Three others to watch:
Bryce Beall
, RB: He showed Houston isn't a one-trick pony by rushing for a career-high 195 yards and three touchdowns last week against UTEP when the Cougars topped 300 yards rushing for the first time since 2007.
James Cleveland
, WR: Keenum's favorite target, he led the Cougars in receptions and receiving yards last season. At 6-2, 205, he's the physical compliment to speedsters
Patrick Edwards
and
Tyron Carrier
, who joined Cleveland to form the only receiving trio in school history to record 1,000-yard seasons in the same year.
Marcus McGraw
, LB: The team tackle leader last season with a whopping 156, he ranked fifth nationally with 11.1 tackles per game. A 6-foot, 215-pound middle linebacker, he already has 17 tackles, a sack, a forced fumble and a fumble recovery this season.
September, 14, 2010
9/14/10
10:51
AM PT
Houston football starts and ends with offense.
The No. 23 Cougars will come to the Rose Bowl Saturday night (7:30 FSN) boasting the nation's leading scoring offense, averaging 61 points per game, and third-best total offense at 576 yards per game. Their 122 points in two games is 100 more than UCLA has in its first two games.
Sure, the Cougars (2-0) have put up those gaudy numbers against Texas State, a Football Championship Subdivision team, and UTEP, a team that ranked No. 110 in total defense last season, but Houston has been piling up big numbers since Coach Kevin Sumlin took over in 2008.

Sumlin's pass happy spread offense last year led the nation in scoring (42.21 points per game), passing offense (433.71) and total offense (563.36). In 2008, the Cougars were second in the nation with 562.77 yards per game and 10th in scoring with 40.62 points per game.
"A very explosive team," UCLA Coach Rick Neuheisel said. "They score a ton of points and it's going to be a difficult challenge."
Quarterback Case Keenum left Houston's game last week with a concussion and Sumlin said he'd be day-to-day for this week, making him a game-time decision. Keenum has had consecutive 5,000-yard passing seasons, including 5,671 last season—third most in NCAA FBS history.
Backup Cotton Turner has played only sparingly the last two seasons and mostly in blowout victories where he hasn't had to pass much. Neuheisel said he's planning as if Keenum will play, but doesn't expect the Houston offense would change much if Keenum can't go.
"You just have to anticipate that he'll be ready," Neuheisel said. "And you have to anticipate that their offense, if he weren't able to go, would be the exactly the same offense that you'd be playing anyway. It won't change how we prepare for the game."
Houston has five players with more than 100 yards receiving already. The main targets are James Cleveland and Patrick Edwards, both returning starters who had more than 1,000 yards receiving last year.
The Cougars showed last week that they could run the ball, too, with Bryce Beall running for 195 yards last week. Beall and Michael Hayes combined for six rushing touchdowns in Houston's 54-24 victory over UTEP, but historically Houston has passed nearly twice as much as it has run under Sumlin.
Part of the reason the Cougars are so offense-minded is because they have to be thanks to a defense that is giving up 392.5 yards a game, including 252.5 through the air. Last year, they gave up 451.29 yards per game.
That defense could be the perfect remedy for a Bruins offense that has struggled so far this season, averaging a dismal 11 points and 273 yards per game.
2014 TEAM LEADERS
| TEAM | RUSH | PASS | TOTAL |
| --- | --- | --- | --- |
| Offense | 199.4 | 268.5 | 467.9 |
| TEAM | PF | PA | MARGIN |
| Scoring | 32.9 | 27.5 | 5.4 |