June, 19, 2012
6/19/12
9:19
PM PT

UCLA's season came to an end with a 4-1 loss to Florida State in an elimination game at the College World Series Tuesday in Omaha. Here's a quick look at the game:

OVERVIEW: Florida State struck early, tagging UCLA starter Zack Weiss for two runs on three walks and a hit in only 1/3 of an inning before he got pulled.

Both of the Florida State first-inning runs came on bases loaded walks as reliever Grant Watson walked the first man he faced after coming in with the bases loaded.

The Seminoles (50-16) consistently worked long at-bats, forcing UCLA pitchers to make 94 pitches through the first four innings. They left eight runners on base over that stretch but struck for two more runs in the fourth when cleanup hitter Joyce Boyd laid down a surprise bunt with the bases loaded and one out on the first pitch by UCLA reliever Ryan Deeter.

Third baseman Kevin Kramer charged the ball and tried to grab it, but overran the ball. As the it sat on the infield grass, Florida State's Devon Travis motored from second and scored giving Boyd a two-run bunt single that traveled about 50 feet.

Florida State pitchers Scott Sitz, Hunter Scantling and Robert Benincasa did the rest. Sitz, the starter, pitched 6 2/3 innings and gave up only one run and five hits with eight strikeouts. Scantling and Benincasa closed out the game with 1 1/3 perfect innings.

TURNING POINT: Things started looking up for UCLA in the sixth inning when Kevin Williams walked, Beau Amaral doubled, Tyler Heineman got hit by a pitch and Cody Keefer singled in a run to make the score 4-1.


June, 15, 2012
6/15/12
8:15
PM PT
UCLA's Jeff Gelalich, one of the team's top hitters from the cleanup spot, talks to ESPN.com's Mitch Sherman after the Bruins' 9-1 victory over Stony Brook in the College World Series opener on Friday.

June, 15, 2012
6/15/12
5:47
PM PT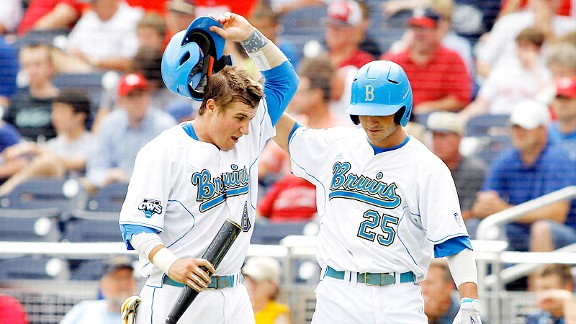 Matt Ryerson/US PresswireUCLA's Tyler Heineman, left, and teammate Beau Amaral celebrate one of the team's five first-inning runs.
UCLA opened the College World Series with a 9-1 victory over Stony Brook on Friday in Omaha, Neb. Here's a quick look at the game:
OVERVIEW:
The College World Series opener couldn't have gotten off to a better start for UCLA (48-14), which struck for five runs in the first inning against Stony Brook ace
Tyler Johnson
(12-2). UCLA would tag Johnson for two more in the third and chase him after 2 1/3 innings -- his shortest outing of the season. The five runs in the first equaled the most Johnson had given up in a game this season.
UCLA used the same formula it has used all season in putting away the Seawolves (52-14). The Bruins got their nine runs with only two extra-base hits. They generated most of their offense with singles, walks, hit batters and sacrifices. A two-run double to center field by
Kevin Williams
in the third was the only "big" hit for the Bruins, who had seven players score their nine runs.
Adam Plutko
(12-3) pitched seven solid innings,
Jeff Gelalich
and Williams each drove in two runs, and reliever
David Berg
pitched two hitless innings to close out the game.
TURNING POINT:
In the top of the second, after UCLA had taken a 5-0 lead, Stony Brook made a push to get back in the game by loading the bases with one out. Plutko pitched out of the jam by getting a strikeout and a popout, and deflated the Seawolves.
Stony Brook had another threat going in the fifth with runners at second and third with nobody out, but again failed to score thanks to an unusual double play in which first baseman
Trevor Brown
fielded a grounder, stepped on first and then fired home to get
Kevin Courtney
attempting to score on the play.
But really the turning point came in the bottom of the first when
Beau Amaral
led off with a single,
Tyler Heineman
beat out a chopper to shortstop for an infield single and
Cody Keefer
walked to load the bases. Gelalich followed with a two-run single for all the runs UCLA pitchers would need.
UCLA STAR OF THE GAME:
Plutko continued his postseason dominance by giving up only one run on five hits with seven strikeouts and two walks in seven innings. He improved to 3-0 this postseason and 4-0 for his postseason career, tying
Trevor Bauer
for most postseason wins in UCLA history.
June, 14, 2012
6/14/12
10:28
PM PT
The name on the front of their jerseys is the same and if UCLA had names on the backs of their jerseys, many of those would be the same, too.

But make no mistake, the UCLA baseball team that takes the field against Stony Brook for the College World Series opener Friday at 2 p.m. Pacific in Omaha, Neb., is a much different Bruins team than the 2010 version.

This team relies on balanced across all three phases of the game rather than a pitching staff that was among the best ever assembled in college baseball. This team has veteran leadership and experience rather than a staring lineup that included mostly freshmen and sophomores.

And while the 2010 team was the upstart program making only the third College World Series appearance since 1969, this team comes in as a national power with something to prove after coming up short in the 2010 national championship series.

"We got left at the altar last time," coach John Savage said. "There are some guys left saying 'hey, we came that close to winning the national championship.'"

There are seven of those players, to be exact. Seven current juniors who were on the team that advanced through the College World Series bracket only to get swept by South Carolina in the best-of-three championship series.

Outfielders Beau Amaral and Jeff Gelalich, designated hitter Cody Regis and infielder Trevor Brown all either started or played regularly during that 2010 post season run. Outfielder Cody Keefer was a starter that season until a leg injury knocked him out of the last 20 games. Catcher Tyler Heineman did not play in the College World Series, but he was there to experience the loss as was closer Scott Griggs, who pitched an inning of relief in Omaha that season.

For those players, a shot at redemption and a chance to complete some unfinished business is before them, but the Bruins know they have to keep those thoughts in check.

"It's always disappointing to come that close and to lose," Gelalich said. "But it's a different team, a different group of guys, a different ball park. We're not going to try to make one game bigger than it needs to be."


June, 3, 2012
6/03/12
11:48
PM PT
LOS ANGELES--Yes, UCLA can hit a little bit, too.

And the Bruins do, indeed, have a solid bullpen.

Dominant starting pitching had been the story for UCLA the first two days of the NCAA regional at Jackie Robinson Stadium, but the Bruins broke out the bats in a big way Sunday and thumped Creighton, 13-5, to win the regional and advance to a Super Regional for the second time in three years and third time in six.

UCLA, seeded No. 2 nationally, will face the winner of Monday's elimination game between Texas Christian and Mississippi next weekend. If the Bruins continue to play the way they did in the regional, they should have no trouble winning that best-of-three series and making a return trip to Omaha for the College World Series.

The Bruins (45-14) simply steamrolled through the regional, displaying dominance in all facets of the game. Right fielder Jeff Gelalich keyed the Bruins charge Sunday, blasting two home runs off the hitting facility beyond the right field fence to lead the offensive outburst.

The 11-hit attack came on the heels of dominant outings by starters Adam Plutko and Nick Vander Tuig, who combined to give up only three hits and no earned runs in 17 combined innings on Friday and Saturday. Zack Weiss started Sunday and wasn't quite as effective, but the offense and the bullpen -- which hadn't gotten much work this weekend -- carried the day.


June, 1, 2012
6/01/12
11:29
PM PT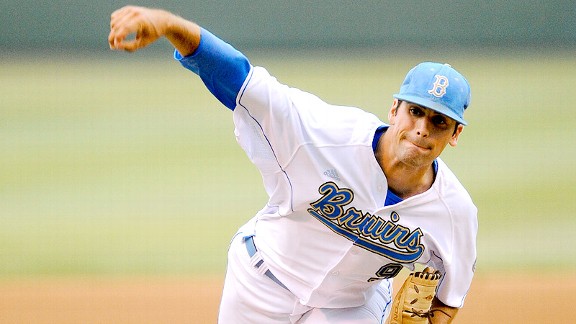 AP Photo/Gus RuelasAdam Plutko pitched his second complete game of the season as the UCLA beat Creighton.
LOS ANGELES --
Adam Plutko
was pitching with a heavy heart, but luckily for him the baseball felt light.
A day after attending the funeral of his great grandmother, Plutko turned in the finest pitching performance of the season for UCLA as he spun a two-hitter to lead the Bruins to a 3-0 victory over Creighton in a first-round game of the NCAA Los Angeles Regional on Friday night at Jackie Robinson Stadium.
It was the first postseason shutout for UCLA since an 8-0 victory over Yale in 1992, putting the Bruins, seeded no. 1 in the regional, in a winner's bracket game against New Mexico on Saturday at 7 p.m.
After driving back from the funeral in San Diego on Friday morning, Plutko met his team at the ballpark and proceeded to dominate the Creighton bats from the outset. The sophomore right-hander retired the first nine batters he faced and 15 of the first 16. He struck out seven and walked three and allowed only one base runner to advance past first base.
"It's been kind of a rough week," Plutko said. "It's been a whirlwind of a week, but it was a lot of fun to pitch this game."
The complete game was a boon for the Bruins (43-14), who have not gotten many of them this year. Plutko had the only other one -- a 2-0 victory at Georgia on March 9. Obviously the Bruins have been relying heavily on their bullpen, but to get complete game in the first game of a regional could prove invaluable down the road.
"Adam gave his best outing of the year, quite honestly, and we needed it," coach
John Savage
said. "In a series when you are talking about multiple games in a few days, you're talking about saving your bullpen and Adam just did it as well as he could."
The Bruins got all the offense they would need in the first inning when
Cody Keefer
beat out a chopper to shortstop for a two-out infield single and
Jeff Gelalich
followed by ripping a run-scoring double into the left-center gap.
Another two-out rally in the second produced two more runs as
Cody Regis
singled and
Kevin Kramer
and
Beau Amaral
followed with back-to-back doubles to give UCLA a 3-0 lead.
After that it was all Plutko (10-3) who effectively moved his fastball around the strike zone to keep the Bluejays (26-29) off balance. He got some help from Amaral, who made two nice running catches in center field with a man on first to thwart a potential Creighton threat.
May, 26, 2012
5/26/12
7:31
PM PT


LOS ANGELES--UCLA erased a four-run, sixth-inning deficit then got a bases-loaded walk by Cody Regis with two out in the bottom of the ninth inning for a 6-5 victory over USC that kept the Bruins alive in their efforts to repeat at Pac-12 champions.

The Bruins (41-14, 19-10 Pac-12) are tied with Oregon (42-16, 19-10) and left Jackie Robinson Stadium Saturday afternoon a half game behind Arizona (37-16, 19-9). The Wildcats played Arizona State in a night game in Tucson.

It's a familiar position for the Bruins, who last year entered the final weekend of the regular season a game out of first, but ended up winning the ninth conference title in school history and the first outright since 1986. So even though USC (23-31, 8-21) is struggling this season, the Bruins say Saturday's victory was important.

"It put us in position to possibly win the conference," coach John Savage said. "That's the most important thing. Winning the series is a big deal, but there is still baseball to be played in the conference and it's still yet to be determined who is going to win this league."

In order for UCLA to claim a share of the title, Arizona would have to lose either Saturday or Sunday and UCLA must win on Sunday. If UCLA loses Sunday, the Bruins have to hope Arizona loses Saturday and Sunday and Oregon loses to Oregon State on Sunday.

Regardless, the Bruins are a lock for a NCAA tournament berth and will likely be one of the 16 hosts of the regionals when the NCAA announces them Sunday. But winning the conference is first and foremost on the minds of the Bruins, who know anything is possible after unexpectedly winning the conference last year.

"I think that's helping us," Savage said. "We've been there. And even though you're focusing on your game, you're hearing those scores and now it's gotten interesting."

It wasn't looking good early Saturday for the Bruins. USC got single runs in the third and fourth and then got two more in the fifth to take a 4-0 lead. UCLA finally got to USC starter Andrew Triggs in the bottom of the sixth, when the Bruins scored three times. A two-run triple by Jeff Gelalich keyed the rally.

UCLA tacked on two more in the seventh to take a 5-4 lead, but USC would not go down without a fight. The Trojans put runners at first and third with one out and tied the game when Kevin Swick hit a slow bouncer to shortstop and the Bruins couldn't turn a double play.

The Bruins rallied in the bottom of the ninth, though they nearly blew a chance to win it when, after a Cody Keefer double and an intentional walk to Gelalich, Trevor Brown launched a high fly to deep left field. Instead of going half way between second and third, Keefer tagged up at second. When the ball hit the wall, Keefer could only advance to third instead of scoring the winning run.

"He should have been about two thirds of the way to third base," Savage said. "That was poor base running. Everybody thinking the game is over and he's darn near standing on second base. We were fortunate because that was poor base running."

What turned out o be a single for Brown loaded the bases with one out. Pat Valaika appeared to get the winning run across when he leaned into a curve ball and was hit by the pitch, but the umpire ruled that he failed to make an effort to get out of the way.

Valaika ended up striking out, but Regis followed with a four-pitch walk for the game winner and emphatically flung his bat toward the UCLA dugout before trotting to first base as the UCLA dugout spilled on to the field in celebration.

"Just winning that type of game at this time of the year late in the year, were getting excited with the playoffs coming up," Regis said. "And obviously its always fun to beat USC in that type of fashion."
March, 13, 2012
3/13/12
7:14
PM PT
UCLA outfielder Jeff Gelalich was named Pac-12 player of the week and teammate Adam Plutko was named the conference pitcher of the week after leading the Bruins to a 4-0 record last week.

Gelalich, a junior, batted .563 for the week, including going 9-for-13 (.692) during UCLA's three-game sweep at Georgia. It is the second player of the week honor this season for Gelalich, who was batting .491 with three home runs and 12 RBIS through 15 games.

Plutko, a sophomore, pitched a five-hitter with 11 strikeouts and no walks in a 2-0 victory over Georgia last Friday. He is 2-1 with a 2.13 ERA and 33 strikeouts in 33.1 innings this season.

The Bruins (12-3) were on a 10-game win streak heading into Tuesday's Dodgertown Classic game against USC at Dodger Stadium. They are ranked No. 9 in the nation by Baseball America.
June, 5, 2011
6/05/11
11:45
PM PT
UCLA's baseball season came to an end with a 4-3 loss to UC Irvine in an NCAA regional game Sunday night at Jackie Robinson Stadium in a manner that has become quite familiar to Bruins' fans.

Some will blame Bruins closer Nick Vander Tuig for allowing the tying and winning runs to score on three hits in the bottom of the ninth as UC Irvine clinched a spot in the Super Regionals next week against Virginia.

But the Bruins lost this game, as they had lost so many this year, because they put too much weight and too much pressure on the shoulders of their elite pitching staff by continually failing to finish rallies.

UCLA left 13 men on base in Sunday's game, bring their total to 40 in four regional games. They scored only 10 runs in those four games and that was little for even one of the top starting pitching rotations in the nation to overcome.

"That was really the story of our season," coach John Savage said. "We just could not get people in."

Freshman Zack Weiss, a rising star, was the victim of that lack of run support on Sunday, but it could just have easily have been any one of the Bruins stellar starters. Weiss pitched eight innings and gave up three runs on six hits and three walks with six strikeouts.

He gave up consecutive singles to start the game, then didn't give up another hit until the fifth. UCLA managed to get a 3-0 lead by then, but had also left two men on base in each of the first four innings. Clinging to a 3-2 lead, the Bruins loaded the bases in the eighth, but left all three men out there.

The Bruins had gotten away with stranding 14 runners on Saturday thanks to a dominant pitching performance by Trevor Bauer in a 3-1 victory over Fresno State. They stranded eight runners Sunday afternoon, but Adam Plutko pitched a gem and UCLA won, 4-1.

But the high LOB total finally came back to haunt UCLA as Irvine rallied for two runs in the bottom of the ninth, a rally capped by Ronnie Shaeffer's two-strike walk-off single just inside the first base line to score pinch-runner Scott Gottschling with the winning run.

"I was just trying to get the guy in from third, that's the main goal there," Shaeffer said. "I was sitting there ready for a fastball. Once I got to two strikes, I tried to battle and I stuck the bat out there and snuck it by the first baseman."

It's the type of clutch hit with men on that UCLA had trouble getting all season.

The Bruins this season averaged only 4.6 runs per game and ranked 249th of 292 teams in Division I before the regional started. They'll be even lower after averaging 2.5 in the four regional games. UCLA scored four runs or fewer in 38 of their 59 games this season. That's 64% of the time.

They also ranked 243rd with a .263 batting average and had only two regulars--Dean Espy and Cody Keefer--finish the season at .300 or higher. And they averaged 8.14 men left on base per game.

So that's why even with a starting rotation that boasts Gerrit Cole, the projected No. 1 pick in Monday's MLB Draft and Bauer, the premier pitcher in college baseball this season, the Bruins finished with a 35-24 record. UCLA had a team ERA of 2.44, the lowest at UCLA since 1969--in the wooden bat era--yet lost 24 games.

"For whatever reason, we didn't produce enough runs for how many runners we had on," Savage said. "It's frustrating."

It is a disappointing end for the Bruins, who had high hopes this season after advancing to the College World Series finals last year and returning a strong nucleus of players from that team. But the Bruins will be staying home this year with memories of missed opportunities to keep them company.

"I would say for us, we're disappointed that we didn't get where we want to go," designated hitter Jeff Gelalich said. "I know the guys that will be coming back will remember this and hopefully we will learn from this."
March, 13, 2011
3/13/11
7:53
PM PT


LOS ANGELES -- The field level at Dodger Stadium was nearly filled to the brim and evenly split; half Trojan crimson, half Bruin blue.

Fans welcomed baseball's return to Chavez Ravine two and a half weeks ahead of the Dodgers' season opener. USC's contingent left the ballpark happy following the Trojans' 2-0 win Sunday afternoon in the second annual Dodgertown Classic.

Ricky Oropesa and Adam Landecker each had RBI singles and starting pitcher Logan Odom tossed 7 1/3 scoreless innings to lead USC to its first win over UCLA in six tries. Closer Chad Smith escaped a bases-loaded jam in the eighth by striking out Dean Espy on a high fastball.

"It feels good to beat them," Smith said. "We've been on the losing end over the past few years. It feels good to come out on top at Dodger Stadium in front of our fans."

The announced crowd of 11,680 fell short of last year's 14,588, but UCLA head coach John Savage deemed it a success.

"This is a great event," he said. "The Dodgers have been so courteous and generous in their efforts. Five-dollar tickets, free parking, half-off concessions and all the bells and whistles of the stadium. It's a great event and one that we're going to keep doing every year. I'd like to expand it into two days. My hat is off to the Dodgers and their generosity towards this event."

For Savage, the day-long event would have been better had the Bruins (8-6) won. UCLA, the defending national runner-up, lost two of three for the third straight weekend and will likely slip in the poll Monday. The Bruins began the season ranked No. 1 by ESPN/USA Today.

"This is a common thing teams go through," Savage said. "This isn't a catastrophe."

The offense has been in the middle of UCLA's woes. The Bruins are hitting just .245 as a team -- only Jeff Gelalich (.325) and Cody Keefer (.313) are above the .300 mark.

"We went up there maybe trying to do too much," said Gelalich, who had two of UCLA's four hits Sunday. "Maybe we got caught up in playing at Dodger Stadium."

Freshman pitcher Adam Plutko pitched well, allowing two runs and striking out eight in six innings. But Odom was slightly better.

"They know what they need to do," Savage said. "We just haven't been able to put our offensive days together. ... We're just not a very good team right now. We're disappointed but we have a lot of confidence in our players."

USC head coach Frank Cruz was pleased with the Trojans' fifth win of the year.

"This is a great opportunity to play here at Dodger Stadium against UCLA," Cruz said. "They're all excited to play at a big-league park with this great atmosphere."
April, 13, 2010
4/13/10
10:14
PM PT
Believe it or not, UCLA -- the nation's top-ranked collegiate baseball team -- is a win away from matching its total from last season.

That alone shows what coach John Savage, his staff of assistants and the players have been able to accomplish this spring.

"I haven't really thought about it that way," Savage said. "We've always played a difficult schedule. Last year's schedule was really road heavy and we had a very young pitching staff. I think they've grown up."

The Bruins (26-3) are well on their way to surpassing last year's disappointing 27-29 record. UCLA earned its latest victory -- its first as the country's No. 1 team -- Tuesday night, defeating UC Riverside 10-0 at the Riverside Sports Complex.

"We're just taking it as a challenge, game by game," said freshman Jeff Gelalich, who had two hits and three RBIs Tuesday night. "We're not trying to look forward to anything."

And as cliche as it may sound, it's perhaps the best approach a No. 1 team can take.

UCLA welcomes Oregon for a three-game set beginning Friday night at Jackie Robinson Stadium.
2013 TEAM LEADERS
| TEAM | RUSH | PASS | TOTAL |
| --- | --- | --- | --- |
| Offense | 196.6 | 251.6 | 448.2 |
| TEAM | PF | PA | MARGIN |
| Scoring | 36.5 | 24.1 | 12.4 |