June, 25, 2014
Jun 25
9:00
AM PT
It's time to start our preseason position reviews. Please, hold your applause until we are finished.
Here's how we do this: We provide three evaluative categories: "Great shape," "Good shape" and "We'll see."
Hint: You'd prefer your team to be in "Great shape."
"We'll see" doesn't mean you're going to stink at said position. It means just what it says -- we'll see because there's no way at present to know.
You can
review last year's rankings here
.
And away we go ... starting, of course, with quarterback.
GREAT SHAPE

Oregon
: Junior
Marcus Mariota
is -- again -- a leading Heisman Trophy candidate and a two-time first-team All-Pac-12 performer. He would have been an early-round NFL draft pick this spring if he'd opted not to return. The Ducks have some questions at receiver though.

UCLA
: Junior
Brett Hundley
is the conference's No. 2 Heisman Trophy candidate. While Arizona State's
Taylor Kelly
eclipsed him for second-team All-Pac-12 last fall, Hundley's tremendous upside is why he has NFL scouts eagerly awaiting his entering the draft.

Arizona State
: As noted, Kelly was the Pac-12's No. 2 QB last season, which means he was one of the nation's best at the position. It also helps his cause that he's got WR
Jaelen Strong
, an All-American candidate. However, Kelly does need to take fewer sacks -- you could say the same for Hundley -- and throw fewer interceptions.

Oregon State
:
Sean Mannion
ranked second in the nation with 358.6 yards passing per game in 2013 and is also an NFL prospect. Life might be just a bit harder in the passing game without
Brandin Cooks
.
GOOD SHAPE

Stanford
:
Kevin Hogan
, a third-year starter, had a good but not great sophomore season while leading the Cardinal to the Pac-12 championship. He was mostly efficient and showed a good touch downfield, but he made some surprisingly bad decisions and needs work with his intermediate passing game. He's got a good crew of veteran receivers coming back, which bodes well for him.

Washington State
:
Connor Halliday
threw for a bunch of yards (4,597) and TDs (34) last season, but he also tossed way too many interceptions (22). Part of that was an inconsistent O-line and a neglected running game. The good news is he's in his third year under Mike Leach and has a strong crew of returning receivers. Of all the Pac-12 QBs, he might make the biggest climb this season.

USC
:
Cody Kessler
didn't put up big numbers last season and didn't beat Notre Dame or UCLA but significantly improved after Lane Kiffin was fired. Like Kelly, he's got an A-list target coming back in WR
Nelson Agholor
. We expect Kessler to thrive with a new, up-tempo scheme under Steve Sarkisian.

Utah
: Utah received good news yesterday when 16-game starter
Travis Wilson
was medically cleared to play. When healthy, Wilson has been a solid performer with good upside. He'll have to fight off a challenge this preseason from Oklahoma transfer
Kendal Thompson
though.

California
:
Jared Goff
averaged 292 yards passing per game as a true freshman. That's good. But the Cal offense struggled to do much else but throw the ball between the 20s -- hence a conference-worst 23 points per game. He had just 18 TD passes on 531 attempts. Still, he flashed potential and has a very good crew of receivers coming back.

Colorado
:
Sefo Liufau
became the Buffaloes' starter at midseason and often played like the true freshman he was. Furthermore, he won't have
Paul Richardson
serving as a safety blanket and making big plays for him. Still, Liufau's baptism by Pac-12 fire provided some seasoning that was evident this spring. The Buffs feel pretty good about having a returning starter behind center.
WE'LL SEE

Washington
: While
Cyler Miles
flashed potential last season coming of the bench for Keith Price, logging a road victory at Oregon State in his first start, he also had
an off-field issue that has muddied the waters at QB for the Huskies
. It remains to be seen how quickly Miles emerges from Chris Petersen's doghouse, and if he can beat out
Jeff Lindquist
and
Troy Williams
.

Arizona
: The Wildcats have
no clear frontrunner in their QB competition
. That's the bad news. The good news is the performances this spring were generally solid. Rich Rodriguez believes he's got a couple of guys who can win games for him. He's just not sure which guy is No. 1 between
Jesse Scroggins
,
Connor Brewer
,
Anu Solomon
and
Jerrard Randall
.
June, 13, 2014
Jun 13
7:00
PM PT
Welcome to the mailbag.
You can follow me on Twitter by clicking here
. One word: Nirvana. And I'm not talking about the band, though they would sound pretty good just about now.
To the notes!
Grant from Seattle writes:
Ted, what are the odds that someone other than
Cyler Miles
starts a game at QB for the Huskies this year? And who would it be -- Lindquist or Williams? I've heard some really good things about Lindquist.

Ted Miller
: The Huskies QB situation will be intriguing to watch this August.
While the overwhelming sentiment is Miles is the most ready to take over for Keith Price, there are no guarantees. You, of course, start with
his off-field incident
after the Super Bowl. While Miles wasn't charged, there is no question that he didn't conduct himself well. Even if it was all on wide receiver
Damore'ea Stringfellow
, which I find dubious, Miles' proper response would have been to grab his enraged teammate by his collar and say, "You need to shut up and chill out."
(Funny fact: I have a good buddy who might be reading this who was the captain of my high school football team and did that exact thing to me when I was acting like an imbecile. Perhaps more than once. Gemmell now has that job).
The reason I bring that up is that coach Chris Petersen has made a big deal out of OKGs -- "Our Kind of Guys." When I say big deal, I mean it's actually written in big letters beside his picture on the
Huskies official website
.
It's fair to ask how quickly Miles might earn OKG status, whether he's the most game-ready guy or not. My feeling with Petersen is he probably isn't going to make things easy for Miles, at least in the early going.
As for a pecking order between
Jeff Lindquist
and
Troy Williams
, I haven't noted an appreciable separation, at least nothing that can't be quickly overcome in fall camp.
So, to answer your question, I'd rate it a 39-percent chance that someone other than Miles starts a game at QB for the Huskies this year.
---
0006shy from Los Angeles writes:
hey ted, do you think the lack of conference championship games for the Big 12 and Notre Dame will hurt them when it comes to being selected for the playoff? Generally speaking won't teams that play thirteen games have stronger schedules?
Ted Miller
: Yes and no.
A strong 12-game schedule will trump a weak 13-game one. An undefeated Notre Dame or undefeated Big 12 team is a very good bet for the four-team College Football Playoff because they will, more often than not, play a strong schedule.
On the other hand, it could hurt if the selection committee is comparing an array of one-loss teams, including Notre Dame and the Big 12 champion, and the SEC, Big Ten, ACC and Pac-12's one-loss champs are coming off impressive victories over ranked teams just days before. There is an unavoidable what-have-you-done-for-me-lately psychology there that might be difficult to overlook.
And an "extra" quality game would bolster a team's strength of schedule of metrics.
On the other hand, Notre Dame and the Big 12 also know that a conference title game means said conference's lead team is vulnerable to a season-ruining upset.
In the end, you are hitting on a point -- one of many -- that folks will be paying attention to when the committee starts making tough distinctions.
---


Ed from Placentia, Calif., writes:
Why is your
non-important article
on kendricks on a Trojan website? As a Trojan fan, I don't care what he thinks or does to prepare for this season. Write and publish articles that are important to Trojan fans? Was this an error? I really don't want to read any more bRUIN articles. I paid money to read info regarding USC.
Ted Miller
: I've received more of these sorts of notes from USC fans over the past year than any previous season. The meaning is simple. USC fans are officially concerned about UCLA's rise under Jim Mora.
In 2008, this was the sort of note a UCLA fan would write.
One of the unmistakable fan psychoses I've witnessed over the years is RUNT -- Rivalry Ululation from Niggling Team -- the often irrational petulance of fans whose team is struggling while their rival is thriving. (Kevin and I have been talking about this, and Chantel may take over the Pac-12 Blog's Department of Complaints this fall).
Ed, you are a fan of USC, perhaps college football's preeminent program. Act accordingly.
But feel free to worry privately about the Bruins' rise. That is completely rational.
---
Matt from Oakland writes:
After losing one of the Robinson twins and
Jake Rodriguez
recently, should Oregon be concerned at the number of good players transferring away from the program?
Ted Miller
: Absolutely. You should panic. That should be your perpetual state.
It sure seems as though a gaggle of Ducks fans love to cuddle with anxiety, obsessively wringing their hands over every single negative blip for the program.
Matt, you and Keith Dennis, who also asked this question, should band together for a trip to consult with the Oracle at Delphi. Only she can provide you the knowledge you seek!
Obviously, we've been here before
.
Short answer: No.
Remember all the other sorts of offseason tribulations you've been through during the Ducks greatest run in program history? The departure of a few nonstarters is not something that should ruffle your feathers.
A loss to Michigan State, now that would be time to really panic.
---
Jake from MTL writes:
Hey Ted. Whats your prediction for Arizona starting QB?
Ted Miller
: Prediction? Paaaaaaaaainnnn.
Sorry, Clubber Lang took over the mailbag for a moment. He said to tell you he "pities the fool who thinks he knows what Rich Rodriguez is thinking."
Before spring practices began, I saw senior
Jesse Scroggins
as a long shot. Though I'd probably still take the field over him, I'd rate him a slight frontrunner, at least based on spring practices.
---
Tom from Portland writes:
Inexperience
. Reminds me of a secondary textbook I had in Economics 201: "Lying With Numbers".Having most of your lettermen back can sometimes be a very bad thing if, for example, those same guys went 1-8 in your own conference the year before.
Ted Miller
: Yes, if your returning players are uninterested bloated zombies who drank beer and played video games all summer then their experience doesn't matter.
Another thing I've learned through the years -- so much wisdom today! -- is that folks who uproot Benjamin Disraeli's quote, "Lies, damned lies and statistics," often are having an emotional reaction to statistics that don't fall in their favor.
Getting a lot of this from Arizona State fans at present. Their offseason story is to judge it irrelevant that their team lost nine defensive starters and will be relying on a bevy of players on that side of the ball this season who haven't seen a Pac-12 snap.
Leaps of faith are great. Heroic even. But the available evidence suggests reasonable people should be skeptical about the Sun Devils defense this fall. Or any other unit on any other team in which inexperienced or generally unknown players will be taking over starting roles.
Folks, returning starters is simply one way we judge teams in the preseason. It's a straightforward measure of the known. It also takes the not unreasonable position that a freshman will be better as a sophomore and sophomore will advance as a junior, etc. Doesn't always work that way, but it's perfectly logical as a predictive model.
Consider this before/after photo of Washington State safety
Deone Bucannon
.
& gets you paid. RT @WSUCougars: This is what commitment to weight room looks like. @deonebucannon20 #GoCougs pic.twitter.com/5v1LjBut6G - Ted Miller (@TedMillerRK) June 10, 2014
He kept getting better as a returning starter, no?
Sure, some teams seem to operate in a realm where returning experience doesn't matter, most notably during dynastic runs when top recruiting rankings are piling on top of each other -- see Alabama at present and USC from 2002 to 2008.
Again, noting returning starters and lettermen isn't the end-all of analysis, but it unquestionably is a useful piece of information.
---
Eric from Somerset, via Boulder writes:
Ted, the best-case/worst-case cannot die. Not only are they hilarious, and well written -- even the ones you probably don't like after writing them, but more importantly, What will happen to Jon Embree's daughter's bike? I have a solution. Don't worry that it may mean more work for you. You no doubt have ample free time to fill anyway, writing and rewriting pieces you don't like. Have us -- we humble Pac 12 Blog fans -- submit them. Your time "could" be cut in half, just reviewing, editing and posting, vs. writing, reviewing, editing and posting. It might even end up not sucking. Just an idea. ... Long live the Pac-12 Blog, and hopefully the best-case/worst-case scenarios. Go Buffs.
Andy from Austin, Texas writes:
Ted, I have a suggestion to appease folks asking for the best/worst case series to continue, hopefully without adding to your work load too much: Why not ask for fan submissions? As an avid UW fan I would love to spend a few days perfecting a 1000-word piece about my beloved Huskies going 12-1, dropping one on the road to the frequently pesky Arizona, followed by winning the Pac-12 championship game before losing a heartbreaker to FSU in the first round of the playoffs. Similarly, I'd relish the chance to craft a couple submissions about Oregon crashing and burning to 7-6 post-Mariota injury with Phil Knight having a crisis of conscience and deciding to refocus all of his financial resources on tackling child labor laws in southeast Asia, as well as WSU flaming out to 3-9 with Mike Leach jumping ship in favor of using his law background to defend actual Somali pirates in legal proceedings. It might take some time for you and your team to read through a lot of these submissions, but that may be more amenable (and hopefully more entertaining) than to have to actually create all of these yourself. Just a thought. Love the blog.
Brian from Cincinnati writes:
Hi Ted, I read your comment about the Best Case/Worst Case piece and have an idea to keep it going. Launch a reader contest and have them submit their takes -- you select and publish the best or most relevant? I'd take a crack at Oregon's if you opened it up to us readers. Thanks for what you do. Keep it going!
Ted Miller
: Did you guys get together and talk about this? Lots of notes suggesting this course of action.
First of all, thanks for the kind words. Gratifying to know some folks enjoyed the pieces.
I am intrigued. Let me give this some thought. Maybe I can set up an email box for folks to send in their work/ideas.
Going on vacation next week, so I can let this marinate.
May, 13, 2014
May 13
5:30
PM PT
When the Class of 2012 was finalized, it appeared the Pac-12 had secured a solid crop of quarterbacks.
Four of the nation's top 12 and six of the top 26 were headed to -- or staying on -- the West Coast. There was a good mix of dual-threat guys and pocket passers -- enough to instill high expectations moving forward. For comparison, the SEC and Big 12 both signed one player from the top 15.
Just over two years later, it's clear the class will never live up to those expectations.
Of the 14 players listed as quarterbacks by ESPN that signed with Pac-12 schools that year, only four are currently on the roster at the school they signed with, listed at quarterback and in good standing with the program. With Monday's news that
Oregon's
Jake Rodrigues
would transfer
, the transfer count is up to six. The other four situations are composed of a suspension, a position change, a dismissal and an LDS Church mission.
Here is a look at the Pac-12's quarterbacks from the Class of 2012 and an update on how their careers have progressed:
[+] Enlarge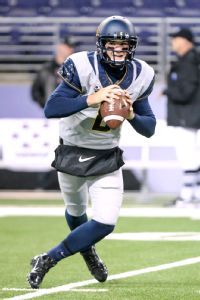 Joshua Weisberg/Icon SMIZach Kline lost out on the starting job at Cal in 2013 to a true freshman and transferred at season's end.
Zach Kline
Ranking:
No. 2
School:
Cal
Status:
Transferred (Butte College)
Comment:
Kline redshirted in coach Jeff Tedford's final season behind starter Zach Maynard then lost the competition to replace him to true freshman
Jared Goff
last year. He appeared in seven of 12 games but made the decision to transfer following the season. Originally it was reported that Kline would attend Oregon State, but instead he announced last month
he would attend Butte College
-- the same school Aaron Rodgers attended
before
he went to Cal.
T.J. Millweard
Ranking:
No. 5
School:
UCLA
Status:
Transferred (Kansas)
Comment:
After landing at UCLA the year after
Brett Hundley
, Millweard left Westwood
after one redshirt season
to head to Kansas. He sat out last season due to NCAA transfer rules but
does not appear to be in line for playing time
with the Jayhawks. Sophomore
Montell Cozart
was named the starter following spring practice.
Cyler Miles
Ranking:
No. 10
School:
Washington
Status:
Suspended
Comment:
The heir apparent to Keith Price during the 2013 season, it appeared Miles had the potential to become the prize of this class. That still might be the case, but his career remains in a state of flux due to an indefinite suspension following his connection to a post-Super Bowl assault. Coach Chris Petersen
told 710 ESPN Seattle
a decision won't be made public on Miles' future until August.
Jake Rodrigues
Ranking:
No. 12
School:
Oregon
Status:
Transferring
Comment:
Rodrigues' decision on Monday seemingly came out of nowhere after a spring in which multiple reports cast him as a strong candidate to replace
Marcus Mariota
following next year. But after meeting with coach Mark Helfrich on Monday,
as reported by Comcast SportsNet Northwest
, he made the decision to move on. It's a safe bet Helfrich didn't say, "Jake, we see you as Marcus' primary backup and expect you to be the starter in 2015," in that meeting. Too early to say where he'll end up.
Jeff Lindquist
Ranking:
No. 17
School:
Washington
Status:
Potential starter
Comment:
With Miles' status uncertain, Lindquist moved to the top of the depth chart by default during spring practice. Lindquist and
Troy Williams
competed as the
only two quarterbacks through the spring
. He hasn't attempted a pass for the Huskies, but had two carries for 10 yards in 2013.
Javelle Allen
Ranking:
No. 26
School:
Arizona
Status:
Dismissed from team
Comment:
Allen served as
B.J. Denker
's primary backup in 2013, but he was dimissed from the team before the Wildcats played in the AdvoCare V100 Bowl for
violating team policies
. He appeared in five games but attempted just one pass. It's unclear where his career will go from here.
[+] Enlarge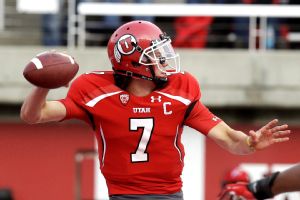 AP Photo/Rick BowmerTravis Wilson so far has been the best Pac-12 QB from the 2012 signing class.
Travis Wilson
Ranking:
No. 39
School:
Utah
Status:
Starter
Comment:
The unquestioned success story (so far) from this class, Wilson is the only starter among the group. He started seven games as a true freshman and the Utes' first nines games in 2013 before a scary head injury cost him the rest of the season. The injury was serious enough that his career was in jeopardy, but it was announced in February that
he would return
. Wilson has thrown for 3,138 yards and 23 touchdowns.
Chase Hansen
Ranking:
No. 43
School:
Utah
Status:
LDS mission
Comment:
Hansen spent the 2012 season with the Utes, but he put his college football career on hold to depart on his LDS Church mission. He is expected to return to the team for the 2015 season.
Josh Kern
Ranking:
No. 44
School:
Arizona
Status:
Converted to tight end
Comment:
After redshirting in 2012, he converted to tight end and played in nine games last season -- mostly on special teams -- without recording a catch.
Shane Dillon
Ranking:
No. 51
School:
Colorado
Status:
Transferred to play basketball (Cuyamaca JC)
Comment:
Dillon left the school in July 2013 to pursue college basketball. He initially announced on Twitter he would play basketball at San Diego in the WCC, but that fell through and he landed at Cuyamaca Junior College in San Diego.
In 27 games in the 2013-14 season
, he averaged 11.9 points and 6.1 rebounds per game.
Wayne Capers
Ranking:
No. 78
School:
Arizona
Status:
Transferred (Western Pennsylvania)
Comment:
Although listed as a quarterback during the recruiting process by ESPN, Capers played defensive back for the Wildcats. He appeared in 11 games as a true freshman, but injuries limited him in 2013 before he
left the program in November
.
Jeff Lockie
Ranking:
No. 105

School:
Oregon
Status:
No. 2 on depth chart
Comment:
With Rodrigues' transfer, Lockie is in position to serve as Mariota's backup in 2014 -- which should allow for plenty of playing time -- and give him a leg up on becoming the starter in 2015. He completed 8 of 13 passes for 57 yards last year without a touchdown and one interception. At Monte Vista High in Danville, Calif., Lockie was crosstown rivals with Kline (San Ramon Valley High).
Austin Apodaca
Ranking:
No. 111
School:
Washington State
Status:
Transferred (Mesa CC)
Comment:
The writing was on the wall for Apodaca even though he was the Cougars' No. 2 quarterback in 2013. He didn't project to ever become the starter in Pullman and decided to transfer in February.
Brent VanderVeen
Ranking:
No. 144
School:
Oregon State
Status:
Competing for backup job
Comment:
VanderVeen redshirted in 2012, and sat at No. 3 on the depth chart in 2013 without throwing a pass. He's currently competing for the backup job with
Kyle Kempt
and Alabama transfer
Luke Del Rio
.
Note:
Arizona State, Stanford and USC did not sign quarterbacks that year.
April, 24, 2014
Apr 24
5:30
PM PT
There hasn't been a shortage of intriguing storylines this spring in the Pac-12. Then again, there usually aren't. From quarterback battles to disciplinary issues, the 2014 spring has given us plenty to talk about. But which one stands out as the biggest storyline? That's today's Pac-12 blog poll question.
What's the biggest storyline in the Pac-12 this spring?
Your options:
Bralon Addison injury:
The Ducks lost one of their top receiving threats when Addison tore his ACL in spring practice. There are options for the Ducks, who are never wanting for offensive talent. But Addison seemed poised to build off an outstanding 2013 after catching 61 balls for 890 yards and seven touchdowns -- not to mention his prowess as a return man. This is the third-straight spring a marquee receiver has gone down (
Paul Richardson
, 2012;
Austin Hill
, 2013).
USC quarterback
:
Cody Kessler
is USC's starting quarterback, for now. New coach Steve Sarkisian announced before the spring game that the incumbent had continued to distance himself from challengers
Max Browne
and
Jalen Greene
. It wasn't a total shock -- given Kessler's year of experience and the fact that he came on strong in the second half last fall. But USC quarterbacks will always garner national attention.
Quarterback questions marks:
While 10 Pac-12 coaches have the luxury of having their QB in place already, two schools are still looking for their starter. Arizona has a host of quarterbacks to choose from. And spring has brought
little clarity to the situation
. At Washington,
Jeff Lindquist
and
Troy Williams
split the snaps, but we won't know much until
Cyler Miles
returns from his suspension.
ASU's defense:
Every team has to replace a few key players, but the
Arizona State Sun Devils
essentially have to replace its entire starting defense. With nine starters gone from last season's defense gone -- including two-time Pac-12 defensive player of the year
Will Sutton
-- the competition level was upped to see who is going to step in.
Stanford's RBs:
Being a starting running back at Stanford means big production. The Cardinal have had a 1,000-yard rusher every year since 2008, so whoever replaces
Tyler Gaffney
is probably in for a big season. Though coach David Shaw
told the Pac-12 blog earlier this month
he'd prefer to have a committee approach, a natural No. 1 will likely emerge. Who that is, however, remains a question.
April, 22, 2014
Apr 22
5:30
PM PT
Welcome to the mailbag, where no question is dumb. Except for the dumb ones.
Jaime in Los Angeles writes
:
Your poll was interesting
about anointing a quarterback. Where do you come down?

Kevin Gemmell
: If you can, you should, without question. Coaches, however, don't always have that luxury.
This is an interesting season for Pac-12 quarterbacks because there are potentially 10 starters returning. That's pretty rare for a conference. But it's also a relief to 10 coaches who don't have to deal with Ted texting them at 2 a.m. inquiring who their starting quarterback is going to be. (Now he just texts me).
To have a starting quarterback in place post-spring --
if
it's the
right
quarterback -- can be a blessing. He'll lead the way in the weight room. He'll call his receivers up to go throw for no other reason than he wants to throw. He'll bond with his guys and they'll start to respect him off the field.
Now for the two schools that don't have a starter coming back -- Arizona and Washington -- there is no reason to rush things. During this time, Chris Petersen and Rich Rodriguez will be getting feedback from their strength coaches about how the quarterbacks interact with the other players. Who is stepping up and being a leader? Who do the guys respect? Who do they respond to? It's not just about the Xs and Os.
So while I wholeheartedly endorse the idea of anointing a quarterback, I also know that if you don't have one in place you shouldn't force the issue.
---
Tim in Salt Lake City writes
: Kevin, Which Pac-12 programs do you expect to benefit the most from new rules allowing coaches to work with players over the summer?
Kevin Gemmell:
I could give you the "duh" answer, and that's all of them. Because obviously it's going to benefit every team. But if you're looking for the impact on just this upcoming season, I think it's a huge asset to every team with a young or new quarterback. An Arizona, California, Colorado, Washington, etc.

The rule offers an additional eight hours per week (assuming student-athletes hit certain academic benchmarks) and up to two of those hours can be spent in the film room. That means extra time studying formations, cutups, etc. It gives a
Sefo Liufau
and
Jared Goff
extra time to review what they did right and wrong in 2013. And it allows one of Arizona's 17 quarterbacks to gain that little extra knowledge that might make the difference. It could either be catch-up for
Cyler Miles
or the difference between starting or sitting on the bench for
Jeff Lindquist
or
Troy Williams
.
The physical aspect of it is important, also. It's a way to make sure guys are sticking with their regimen. And for a team like, say, Colorado, which has dramatically needed to improve its physical strength (and made strides in 2013), it's another few hours of supervised work.

Since you're writing from SLC, this will be especially helpful as the Utes adjust to their third offensive coordinator in three years. Even for
Travis Wilson
(assuming he's the guy), it's a similar system in terms of concepts, but with probably just enough tweaks from the previous one that a little extra film time would be beneficial.
There isn't a coach out there who thinks more time during the summer is a bad thing. If for no other reason than just to remind them to do the right thing when they go out at night. I remember a conversation I had once with Mike Leach about players getting into to trouble in the offseason, but because of limited contact, coaches can't always babysit. Will this new rule stop players from getting into trouble? No. But maybe it stops one from having one too many pops and creating a ruckus.
This is a good thing developmentally for all parties involved on and off the field.
---

Ryan in NYC writes
: Kevin, saw your
interview of the UCLA DC
. You looked pretty sharp in that coat and tie. But seriously, aren't you guys getting a little tired of the relentless "happy, happy and more happy" spin coming from the UCLA camp? I mean, isn't it pretty clear that they've assumed this position that they won't say anything negative or even something not deemed positive about their program? I mean come on man. I can understand their energy and focus. They have a chance at a really good year. But everybody has concerns and questions, let's be fair. Finally, I think the way they ended recruiting is a reason why they need to be careful. They did a poor job of managing expectations and fell on their faces. Yes, college football fans are passionate, but we're not stupid. Be frank and candid. We know they have a shot at something special, but nothing is perfect, right? Just an observation, not a question. Peace out.
Kevin Gemmell
: I found it interesting, Ryan, that you opted to chime in this week regarding the UCLA coverage. Because since I visited both LA schools last week, there was an equal amount of USC stuff -- yet you're choosing to focus on UCLA. Fascinating.
First, thanks for the kudos. But as someone kindly mentioned in the comments section, I could stand to drop a couple of pounds. So that was appreciated.
As for the message, I got a lot of the same positive thinking at USC as I did at UCLA. Heck, Steve Sarkisian essentially said
USC is historically due for a big run
. That seemed pretty positive.
Except for maybe the Week 1 news conferences, you won't find a time when players and coaches are as optimistic about their programs as they are now. Same goes for fans, who are scanning the schedules right now and checking off perceived wins. This is, of course, a dangerous exercise (see Utah-Stanford/Oregon-Arizona etc.). But it's fun to do.
Yes, I happen to think UCLA is going to be pretty darn good in 2014. And though we haven't filled out our preseason ballots yet, I'm strongly considering the Bruins as the No. 1 team in the South.
But you're right. Every team has questions and concerns. The Bruins still need to figure out what's going to happen at right tackle. They need to find a way to replace
Anthony Barr
's production. They need to settle on the running back situation and see just how much the secondary has grown up from last season.
I have no problem with players and coaches putting a positive spin on their team in April. But if a team is 0-5 in October, then the happy-go-lucky chatter gets a little old.
---

Cougar Brian in Stumptown writes:
Hey Kevin, any word on the status of
Gabe Marks
and
DaQuawn Brown
in Pullman? Mum seems to be the word, and both are touching the three pillars of Coach Leach's no-nos. Hope all is well, friend!
Kevin Gemmell:
As of right now, both guys are practicing with the team. Leach hasn't addressed it much, other than when he was asked about Brown during his pre-spring news conference and he offered up this:
We're going to have to wait and see how everything unfolds. I mean, right now it's appearing most of what's come out and been spewed around has been greatly embellished so we'll just have to see how all that comes out.
Marks was limited for the first couple of practices, but has been full go the rest of the way. Though he didn't participate in the scrimmage on Saturday. I talked to someone in the know Monday and they said they didn't think that was because of disciplinary reasons.
My guess is that when the legal side of everything gets worked out in the coming weeks, we'll have a clearer picture of what punishments await. And don't forget that Leach has already booted a few guys from the team in his two-and-a-half-year tenure.
Worth noting that, from the folks up there I've talked to,
Connor Halliday
is having a great spring, along with receivers
Vince Mayle
and
Dominique Williams
. Mayle has leaned up and is "running around and through people," according to one person I talked to. So if Marks isn't able to go, the corps is looking pretty good. And so is the quarterback.
February, 24, 2014
Feb 24
4:00
PM PT
Spring has sprung in the Pac-12
, with Stanford starting spring practices this week and several schools following suit next week.
Ergo, we break down where teams stand with each position group, starting with quarterbacks.

Arizona
: The Wildcats probably have the most wide-open QB competition, with four guys having a legitimate chance to replace the departed
B.J. Denker
. Three are transfers from big-time programs: senior
Jesse Scroggins
(USC), sophomore
Connor Brewer
(Texas) and junior
Jerrard Randall
(LSU). The fourth, redshirt freshman
Anu Solomon
, was one of the biggest stars in the 2013 recruiting class. Don't expect much to be settled by the end of spring, though coach Rich Rodriguez might at least allude to some sort of pecking order. Or a top three.

Arizona State
: The Sun Devils are strong at QB with senior
Taylor Kelly
, a third-year starter who has put up big numbers the past two seasons, and junior
Mike Bercovici
, a big-armed backup -- perhaps, in fact, the best backup in the Pac-12. That's why
Michael Eubank
opted to transfer to Samford in Birmingham, Ala. It will be interesting to see which of the youngsters on the roster emerge as a No.3, a guy who might challenge Bercovici in 2015.

California
: It seems unlikely that sophomore
Jared Goff
will be unseated, particularly after
Zach Kline
opted to transfer. Goff was uneven last season -- his entire team was -- but flashed plenty of potential. He and a talented crew of receivers should get better this spring. The big question might be whether anyone challenges senior
Austin Hinder
for the backup job.

Colorado
: Sophomore
Sefo Liufau
is solid as the returning starter. He took some lumps last season but also flashed plenty of promise -- as both a player and leader. After him, there's junior college transfer
Jordan Gehrke
, a redshirt sophomore, the likely backup. Depth is a problem, at least this spring. As the
Boulder Daily Camera noted
, "Five quarterbacks have left the CU program either to transfer to other schools or give up the sport entirely since the start of spring football last year. A sixth completed his eligibility last season." That's why the Buffs added walk-on Trent Sessions to the roster. He worked with the equipment staff last year.

Oregon
: The Ducks probably feel pretty good about their third-year starter, junior
Marcus Mariota
, a leading 2014 Heisman Trophy candidate who would have been a first-round pick if he'd entered the 2014 NFL draft. The competition for the backup spot, however, will be interesting because Mariota is almost certain to enter the NFL draft after the season. Sophomores
Jeff Lockie
and
Jake Rodrigues
are 2A and 2B, with Lockie first off the bench as the backup in 2013, but Rodrigues the more physically talented player as a runner and passer.

Oregon State
: Like their friends to the north, Oregon State is fortunate its 2013 starter,
Sean Mannion
, decided to return instead of entering the NFL draft. Mannion's chief focus will be finding some receivers to replace the production of the departed
Brandin Cooks
. The battle for the backup job also will be interesting between sophomore
Brent VanderVeen
and redshirt freshman
Kyle Kempt
. Of course, their battle might not resolve things much for 2015, with incoming Alabama transfer
Luke Del Rio
joining the fray after sitting out a season.

Stanford
: It seems unlikely that two-year starter
Kevin Hogan
will be challenged for the starting job this spring, even though he had some ups and downs in 2013, but there is no lack of talent battling for the backup job. Junior
Evan Crower
was the backup in 2013, but redshirt freshman
Ryan Burns
is a big-time talent. As is incoming freshman
Keller Chryst
, who officially will arrive in the fall but, as a Palo Alto resident, figures to hang around spring practices.

UCLA
: Heading into his third season running the offense,
Brett Hundley
gives the Bruins one of the best starting quarterbacks in the nation. He's a proven dual threat and leader who will be refining his game this spring and building chemistry with his receivers. After him, however, things are a bit iffy, in large part because of the 2013 preseason transfer of
T.J. Millweard
to Kansas. The chief competitors for the backup job are
Jerry Neuheisel
, the 2013 backup, and redshirt freshman
Asiantii Woulard
, with Woulard being the guy with the most future upside. Of course,
there is another QB out there
some UCLA fans might be thinking about.

USC
: The returning starter facing the most formidable challenge to his starting job this spring is probably
Cody Kessler
, even though Kessler played well in the second half of the 2013 season. With the transfer of
Max Wittek
, touted redshirt freshman
Max Browne
, at the very least, sets up to be a high-quality backup next season. But plenty of folks think Browne has a legitimate shot to unseat Kessler, particularly with new coach Steve Sarkisian taking over.

Utah
: There's still no final word on the long-term health issue that might end QB
Travis Wilson
's career, though you'd think something would be announced before the Utes begin spring practices on March 18. If Wilson gets cleared, the good bet is on him returning to the starting job. If not, a spring competition will begin between
Adam Schulz
, who stepped in when Wilson went down, and redshirt freshmen
Conner Manning
and
Brandon Cox
. In the fall, dual-threat QB
Donovan Isom
arrives.

Washington
:
Keith Price
, a three-year starter, is gone, but the Huskies seemed fairly set at QB with sophomore backup
Cyler Miles
appearing plenty capable of stepping into the cockpit this spring. In limited action last season, Miles completed 61 percent of his throws for 418 yards with four TDs and two picks, and he also showed good mobility, rushing for 200 yards. The pecking order at least seemed set, that is, until Miles got into some
off-field trouble that threatens his status for spring practice
and perhaps beyond. If Miles is still suspended, that means opportunity comes knocking for sophomore
Jeff Lindquist
or redshirt freshman
Troy Williams
to make an impression.

Washington State
:
Connor Halliday
will be a senior, three-year starter and the Cougars' top leader in the third season running Mike Leach's "Air Raid" offense. He figures to put up huge numbers this fall with a strong crew of receivers. His 2013 backup, sophomore
Austin Apodaca
, opted to transfer, perhaps believing that redshirt freshman
Tyler Bruggman
had the inside track to the starting job in 2015. Depth is a bit of a question, with the No. 3 this fall likely being true freshman
Peyton Bender
.
2014 TEAM LEADERS
| TEAM | RUSH | PASS | TOTAL |
| --- | --- | --- | --- |
| Offense | 199.4 | 268.5 | 467.9 |
| TEAM | PF | PA | MARGIN |
| Scoring | 32.9 | 27.5 | 5.4 |