April, 28, 2014
Apr 28
9:00
AM PT
Here's a quick look at some of the highlights of the three spring games in the Pac-12 this past weekend.
California

Quarterback
Jared Goff
completed 14 of 23 passes for 170 yards and a touchdown as the Bears wrapped their spring session in front of approximately 2,500 fans at Memorial Stadium.
Daniel Lasco
and
Jeffrey Coprich
each made 1-yard touchdown runs and Goff connected with
Kenny Lawler
on an 8-yard touchdown strike. Lawler finished with four catches for 30 yards and the score.
Bryce Treggs
had two catches for 47 yards.
Goff said the Bears are looking to move beyond last season's horrific 1-11 showing, in which they failed to beat an FBS team.
"We're done with last year," Goff said. "We're done with everything that had to do with last year. We're a brand new team now and we're ready to go. …
"We're two or three deep at every [wide receiver] position that I think honestly have NFL potential. I'm just so fortunate to have that receiving corps out there willing to make plays. They all want the ball and they all want to make plays. It's really, really lucky for me."
Austin Hinder
, who is competing with
Kyle Boehm
to be Goff's backup, was 6-of-12 for 46 yards and interception. Boehm was 1-of-2 for three yards.
You can see the full stats
here
.
UCLA

Offensive coordinator Noel Mazzone guided his Blue team to a 28-0 victory over defensive coordinator Jeff Ulbrich's White team behind two rushing touchdowns from
Jordon James
at the StubHub Center in Carson, Calif.
Paul Perkins
and
Steven Manfro
also scored rushing touchdowns.
Quarterback
Brett Hundley
only played in one offensive series and was 4-of-5 for 30 yards.
Jerry Neuheisel
completed 14 of 22 passes for 180 yards, but threw interceptions to
Ishmael Adams
and
Adarius Pickett
.
Asiantii Woulard
was 4-of-13 for 42 yards and
Mike Fafaul
was 7-of-16 for 116 yards.
"I like the way they competed," head coach Jim Mora
told the Pac-12 Network
. "I like the fact that nobody got seriously injured. I'm sure there's some nicks. I thought they came out and competed well. I thought we protected the ball fairly well. It's good to be in a game environment. It will help us going down the road."
Three defensive players each recorded two sacks -- linemen
Owamagbe Odighizuwa
and
Zach Vinci
and linebacker
Deon Hollins
.
You can see the full stats
here
.
Washington State

Quarterback
Connor Halliday
completed 25 of 41 passes for 326 yards and three touchdowns and the Crimson team topped the Gray squad 23-19 in front of 6,233 fans at Joe Albi Stadium in Spokane, Wash.
Vince Mayle
caught six balls for 92 yards and a touchdown to lead the Crimson group, while freshman
Calvin Green
led all players with eight catches for 101 yards.
"Spring went well," Halliday
told the Pac-12 Network
. "Spring games are always a little frustrating. We've got the team split in half and we have some O-linemen that haven't played together and the receivers are split in half. We had a real good spring before today. Today was a little sloppy here and there. But it went well."
DaQuawn Brown
hauled in two of the five interceptions. Redshirt freshman
Jamal Morrow
rushed for 44 yards on five carries and
Gerard Wicks
added two scores on the ground.
Drew Loftus
had a pair of touchdown receptions.
You can see the full stats
here
.
March, 31, 2014
Mar 31
5:30
PM PT
UCLA opens spring football on Tuesday with high hopes and a good chance to be ranked in the preseason top 10. This is the third spring for UCLA coach Jim Mora, who has led the Bruins to a 19-8 mark in two seasons. He took a couple of minutes to chat with the Pac-12 blog before spring kicks off.
This is your third spring. What have you learned during those first two, and are you going to be doing anything different this time around?
[+] Enlarge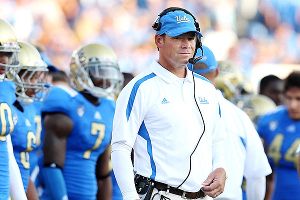 Stephen Dunn/Getty ImagesJim Mora believes spring is a great time to go hard and be physical.
Jim Mora:
Nope. Pretty much the same thing. It's a great time to develop your younger players and start to get a feel for what your team is going to look like in the fall and start to develop that bond you need to have success. We won't change anything. We go hard in the spring. It's physical. It's demanding. I think it's a great time to get physical work in.
After the 2012 season, you closed with the back-to-back losses to Stanford and the bowl loss. Last year you closed with a win over USC and a bowl win. Do you buy into the idea of offseason momentum?
JM
: No. To me, that first year, everyone says, "Oh, you lost three games in a row." But those were three pretty different games. It wasn't like we lost our last three regular season games. We lost our last regular season game, we lost in the Pac-12 championship game and we lost our bowl. It's not like we had this huge slump or something. Every season is a new season. You have to develop the identity of your team. You have to commit to a certain work ethic, and our guys have done that. To me, spring ball signifies the start of a new season.
As a coach, what position battle are you most interested in?
JM
: Outside linebacker, the guy who is going to replace
Anthony Barr
. I think that will be a good battle with
Kenny Orjioke
and
Aaron Wallace
and
Deon Hollins
. I'm excited to see how our defense adapts. We've got a new defensive coordinator. And as a staff we've learned a little bit more about our players and how to play in this conference and how to play college football with what teams are doing. We're going to have to adapt a little bit, but it's going to be fun to see.
With defensive coordinator Lou Spanos heading back to the NFL and Jeff Ulbrich being promoted from within, what kind of impact, if any, will that have on the defense?
JM
: Not a lot. Just like every year, you tweak some things. It's not going to impact it a lot. We've certainly made some changes. But we're going to make changes next year, too. You continue to adapt. You try to grow. You try to add things that will make you better. You try to improve upon things you didn't do well and you try to cut the fat so you're not teaching things you're not going to use throughout the year.
Was that a tough adjustment coming to the college game from the NFL? Every year in college there is going to be a lot of turnover and each season is a different team and a different personality.
JM
: It's interesting because it's very different than the NFL. You're right, there is more turnover. But at the same time, there is a little more certainty as well because unlike the NFL, where there is free agency so you're adding guys, and there's a draft where you're adding guys who should be ready to play right away, in college you know there is going to be a natural attrition and you have a pretty good idea of who you can count on and who still needs to develop going into a season. Hopefully some of the freshmen develop, but you can't always count on that. In some ways, as strange as it seems, it might be a little bit easier because you know what your team makeup is going to be a year in advance.
[+] Enlarge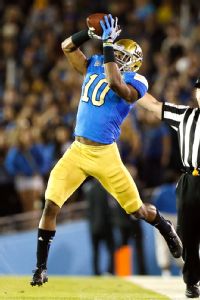 Ric Tapia/Icon SMIRising junior corner Fabian Moreau has earned positive reviews from Jim Mora.
Heading into spring, who is a player we haven't heard of yet, but you think we're going to hear his name a lot in 2014?
JM
: I don't know if you've heard his name a lot. Hopefully you don't hear it a lot because he's a cornerback and when you hear a cornerback's name a lot, that means he's making a lot of tackles because the ball is getting caught on him or he's giving up touchdowns. But I think we have a really fine player in
Fabian Moreau
. Defensive backs are where I've worked most of my career and I think this guy has some real special traits. I think he has a chance to be a great player.
You're big on leadership, as all coaches are. And you like to see players naturally develop into team leaders. Who are you eyeballing this year?
JM
: That's a great question. That's the point of most uncertainty for me is -- who is going to assert themselves on the team. Four of our six team captains return, which is a real positive because they were voted captains by their teammates. You've got
Brett Hundley
. You've got
Eric Kendricks
,
Jake Brendel
our starting center and Ryan Hoffmeister, a linebacker and special teams guy.
Xavier [Su'a-Filo]
and Anthony [Barr] leaving, those are huge voids. It will be fun to see who steps up. Guys like Fabian, even though
Myles Jack
is only a sophomore, I think he's got some leadership qualities to him. I don't want to point too many guys out because there are a whole lot of guys on our team who are capable of stepping into that role.
February, 20, 2014
Feb 20
11:00
AM PT
So far, only three Pac-12 teams retained their 2013 offensive and defensive coordinators: Arizona, Colorado and Washington State.
Here's a look at who's in, who's out and what it means in the South Division. You can review the
North Division here
.

Arizona Wildcats
No change
: Rich Rodriguez has proven coordinators on both sides of the ball, with the offensive humming under co-coordinators Calvin Magee and Rod Smith and the 2013 defense being the Pac-12's most improved unit under Jeff Casteel.

Arizona State Sun Devils
Out
: Cornerbacks coach and special teams coordinator Joe Lorig left for Utah State, which allowed coach Todd Graham to rejigger his defensive coaching staff. Paul Randolph, a co-defensive coordinator the past two seasons, will serve as senior associate head coach and defensive ends coach.
In
: Keith Patterson left West Virginia to co-coordinate the defense with Chris Ball. Patterson will coach linebackers and be the Sun Devils' defensive special teams coach. Ball will continue to serve as the safeties and defensive passing game coach.
Thoughts
: A lot of these moves emerged from Graham's concern about special teams, as well as his wish to reunite with an old friend. He and Patterson, according to the press release announcing the hiring, "have a professional and personal relationship that goes back to East Central University where they were college roommates." That same press release noted that "Patterson will oversee the defense, but Graham will be heavily involved in the planning." Graham also will have a "major" role with the special teams coaching and will assist Ball with the cornerbacks. It was also announced that Chip Long, the Sun Devils tight ends coach and recruiting coordinator, will become the offensive special teams coach. As for Patterson's track record, it was a lot better at Pittsburgh than at West Virginia, where the Mountaineers allowed 33.3 and 38.0 points per game over the past two seasons.

Colorado Buffaloes
No change
: Colorado's second-year coach Mike MacIntyre retained both defensive coordinator Kent Baer and offensive coordinator Brian Lindgren. Compared to 2012, the Buffaloes scored 7.6 more points per game and allowed 7.8 points fewer per game last season. The overall numbers weren't good, but it was clearly a step in the right direction on both sides of the ball.

UCLA Bruins
Out
: Defensive coordinator Lou Spanos left to become the LBs coach for the Tennessee Titans
In
: Jeff Ulbrich was promoted from LBs coach and special teams coordinator.
Thoughts
: Ulbrich has coached perhaps the Bruins most improved position over the past two years -- linebackers -- and he deserves credit for players like
Anthony Barr
,
Jordan Zumwalt
,
Myles Jack
and
Eric Kendricks
developing into stars. He also ensures the Bruins improved defense retains schematic continuity. Named the 2013 FootballScoop Special Teams Coordinator of the Year, Ulbrich has guided the Bruins special teams unit to one of the top rankings in the country in each of the last two seasons. Ulbrich also won't have to work too hard to have credibility with his players as he was a LB San Francisco 49ers from 2000-2009.

USC Trojans
Out
: Defensive coordinator Clancy Pendergast
In
: Justin Wilcox, who followed new Trojans coach Steve Sarkisian from Washington to USC
Thoughts
: Sarkisian decided to retain USC offensive coordinator Clay Helton, though like his predecessor, Lane Kiffin, Sarkisian will call offensive plays. Pendergast did a great job last year with his hybrid 3-4, which he termed a 5-2. Wilcox is widely seen as one of the nation's top defensive coordinators and a future head coaching candidate. His scheme won't be too much different than what the Trojans ran last year, though the Huskies officially ran a 4-3.

Utah Utes
Out
: Co-offensive coordinators Dennis Erickson and Brian Johnson were demoted to running backs and quarterbacks coaches, respectively. Johnson then left Utah to become Mississippi State's quarterbacks coach.
In
: Former Wyoming head coach Dave Christensen was hired to be the Utes' single offensive coordinator
Thoughts
: Will Christensen bring the Utes offense stability?
He's their sixth different play caller in six years
. The good news is he's highly regarded, getting hired at Wyoming because of the work he did with Missouri's offense. Johnson's departure probably helps reduce the feeling that there are too many cooks in the kitchen, seeing that he, Erickson and Aaron Roderick, now the Utes QBs coach after coaching receivers since 2005, have each been in the coordinator carousel at Utah. Head coach Kyle Whittingham also hired former Purdue All-American Taylor Stubblefield to coach receivers. Christensen, an offensive line specialist, will oversee tight ends.
February, 14, 2014
Feb 14
1:00
PM PT
The
shuffling of defensive coordinators
appears to be over. We think. And as previously noted, all five of the top scoring defenses in the Pac-12 last year have seen changes at the top of the defensive coaching hierarchy. Three of the hires were internal promotions and two were coordinators who stayed with their head coach while switching schools.
This is how the top five scoring defenses played out last year:
Stanford (19.0 points per game)
Oregon (20.5)
USC (21.2)
Washington (22.8)
UCLA (23.2)
Who got the better end of the deal? Sounds like a poll question for you to ponder all weekend long.
Which team will lead the Pac-12 in scoring defense in 2014?
Your options:

Stanford
: Derek Mason departed to become head coach at Vanderbilt and Lance Anderson was promoted from within. The Cardinal lose some marquee players but have others such as safety
Jordan Richards
and linebacker
A.J. Tarpley
returning.
Oregon
: Out is longtime coordinator Nick Aliotti, who retired. In is longtime position coach Don Pellum. The Ducks lose some talent but return standout cornerback
Ifo Ekpre-Olomu
, who gives the Ducks' secondary instant credibility.
USC
: Clancy Pendergast was not retained by new head coach Steve Sarkisian. So Justin Wilcox is in after working his magic at Washington. The Trojans lost a lot of players to the draft, but a couple key players are back and there is a pretty good crop of young, talented players.
Washington
: New head coach Chris Petersen brought his guy, Pete Kwiatkowski, with him from Boise State. The Huskies made tremendous strides in two seasons under Wilcox and have some pretty solid personnel returning.
Other
: UCLA's Lou Spanos returned to the NFL and Jeff Ulbrich was promoted from within. Head coach Jim Mora will still oversee a lot of the defense. Though impact players like
Anthony Barr
and
Cassius Marsh
are gone, the Bruins have plenty of talent coming back. ... Arizona was sixth in the conference last year and made huge strides from 2012 to 2013. Can it keep the momentum going? ... Arizona State (seventh) also shuffled its defensive staff around with
the hiring of Keith Patterson
, though Todd Graham will still be heavily involved in the defense. ... Utah (eighth) is just two seasons removed from leading the conference in scoring defense. Can the Utes get back to the top?
August, 13, 2012
8/13/12
11:47
PM PT
SAN BERNARDINO -- The UCLA defense lost a big part of its heart and soul on Monday.
Middle linebacker
Patrick Larimore
, the emotional leader, physical intimidator and defensive captain, told the team he was
taking a medical retirement
after suffering multiple concussions.
The guy who loved nothing more than to bang heads, seemingly banged one too many. The guy who once said he had trouble containing himself every time it was the first day in pads, will forgo any further first days in pads. The guy who became UCLA's symbol of toughness whenever the Bruins needed one hung his dinged and dented helmet in a locker room that now has a huge empty hole.
No player is irreplaceable, but Larimore was about as close as you can get when it comes to the Bruins defense. Not only was he the physical leader who could deliver a knockout blow at a crucial time, he called defensive plays during games and kept order in the locker room when needed.
"Patrick has been a huge part of this team long before I got here," coach
Jim Mora
said. "He's probably one of the most respected players on this team, if not the most respected player on this team. He's focused, he plays hard, he plays with intensity, he plays with passion, he holds his teammates accountable and he holds himself accountable to a high standard. He's all those things you love in a football player and so we'll miss that."
2014 TEAM LEADERS
| TEAM | RUSH | PASS | TOTAL |
| --- | --- | --- | --- |
| Offense | 159 | 288 | 447 |
| TEAM | PF | PA | MARGIN |
| Scoring | 30 | 24 | 6 |