December, 14, 2011
12/14/11
3:10
PM PT
The fate of UCLA's coaching staff remains in limbo Wednesday, even after incoming coach Jim Mora met with each coach individually Tuesday after noon.

The holdovers from Rick Neuheisel's staff will remain on board to coach the team through the Kraft Fight Hunger Bowl on Dec. 31, but Mora, who attended practice Wednesday for about 15 minutes but did not speak with reporters, is expected to bring in his own assistants.

He has already hired Washington cornerbacks coach Demetrice Martin and is close to adding Arizona State offensive coordinator Noel Mazzone, SMU offensive line coach Adrian Klemm, and Arizona State receivers coach Steve Broussard. Marques Tuiasosopo, recently named quarterbacks coach, is also expected to remain on as tight ends coach, but that leaves little room for the other current coaches.

"I talked to him briefly but we didn't talk about anything whether I was going to stay or if I was going to go," interim coach Mike Johnson said.

Johnson previously served as offensive coordinator and receivers coach, so bringing Mazzone and Broussard aboard could mean Johnson's chances are slim, however there is no indication what jobs those coaches will have at UCLA. Johnson could also remain as quarterbacks coach.

"I'll just have to wait and see what happens," Johnson said. "I have to look at all my options and then I'll go from there. I like UCLA. I like L.A. and if the right opportunity comes up, I'll definitely look at it."

Jim Mastro has reportedly already agreed to take a job with Mike Leachat Washington State. Mastro was not at practice for the fourth consecutive day, but that is because of a personal matter and not the Washington State job. Mastro will be back for the bowl game.

Also, defensive coordinator Joe Tresey left practice midway through Wednesday's session. Johnson said Tresey had to attend to a family matter, but acknowledged the regime change is a trying time for the staff.

"It's a situation that is not normal," Johnson said. "It's not a normal situation. You have guys that have things they have to do to take care of themselves. It's a situation where we're coaching a football team and some guys don't have jobs after the 31st of December."

Johnson is reportedly a candidate for the open head coaching job at Akron, though he said he hadn't heard anything further on that front. For now, he said, he's focused on getting the team ready for the bowl game.

"All I worry about is what I do day to day," Johnson said. "That's how I've always lived my life. I'm very confident in my abilities. I know I'm capable of doing a high job if given the opportunity. If someone wants to go on a different direction, that's their right. I'll find a job somewhere if it comes to that. But at the same time, Jim Mora has a job to do and I can respect that. If I'm part of that, then I'm part of that. If not then I can deal with that also."
December, 13, 2011
12/13/11
2:31
PM PT
Just like at every other practice this season, the UCLA quarterbacks briefly huddled up Tuesday morning while the rest of the team stretched in the background. Then, interim quarterbacks coach Marques Tuiasosopo -- who stepped in when Rick Neuheisel was fired -- joined them.

The huddle disintegrated following a quick chant, and each quarterback broke away with a signature dance that's been fine tuned throughout the year. Tuiasosopo didn't hold back, either.

"I want to give him a seven out of 10," freshman Brett Hundley said of Tuiasosopo's dance moves, "but I'm being pretty nice."

"He's are better than I expected, but he's still sub-par," junior Richard Brehaut said, laughing. "He was a little bit stiff but, other than that, I'll give him an A for effort."

Tuiasosopo, who before the promotion served as an intern, apparently brings a rejuvenated approach to the position. There were limitations, per NCAA rules, on what he could and could not do as an intern. Now there are no restrictions, and Tuiasosopo has embraced the freedom.

"I'm able to be with the quarterbacks in the meeting room, and I can give my 100 percent coaching them," Tuiasosopo said. "I have no stipulations. It's been a great opportunity for me."

The quarterbacks praised the job Neuheisel did as their position coach and haven't noticed major changes between the two. Tuiasosopo, a former second-round draft selection of the Oakland Raiders, was a quarterback at Washington while Neuheisel was head coach of the Huskies.

"Coach Neuheisel, he was the head coach, so he had to be paying attention to other things," redshirt junior Kevin Prince said. "Coach Tui' is focused on us all day. The only thing he cares about is the quarterback position, so he's a lot more attentive to the little things we're doing."

Tuiasosopo, 32, said he knows newly hired coach Jim L. Mora "pretty well" from his time at Washington, and that he "would love to stay" as quarterbacks coach past Dec. 31, when the Bruins take on Illinois in the Kraft Fight Hunger Bowl in San Francisco.

"We'll have a chance to speak to coach Mora at some point this week and he and the administration will make those decisions," Tuiasosopo said.

Other news and notes from Tuesday's practice:

• Immediately after the post-practice huddle, players scurried off Spaulding Field for a meeting with Mora. The meeting went on inside the Bud Knapp Football Center for close to 30 minutes.

• Starting middle linebacker Patrick Larimore had surgery on his injured thumb and did not practice. Interim head coach Mike Johnson said Larimore will most likely be outfitted with a cast and should play in the bowl game. "He's not out," Johnson. "I think he's going to come back and try to play. He's questionable right now."

• Junior defensive end Datone Jones threw a punch at offensive lineman Brett Downey. "That's what happens when you run all those plays and have all that testosterone going," Johnson said. "Sometimes you get upset. One guy pulls another guy, but you can't lose your cool. It has to be part of our discipline heading into this game."

• Johnson said he had no update on the possibility of him taking the head coaching position at Akron. "It's the same as yesterday. Nothing has changed," Johnson said.

• Running-game coordinator Jim Mastro, who reportedly has been hired as an assistant at Washington State, was not at practice for the third straight day.

• Sophomore offensive lineman Chris Ward is scheduled to undergo left knee surgery and is out indefinitely. Safety Dalton Hilliard wore a red no-contact jersey, while Tony Dye, Sean Westgate and Alex Mascarenas did not dress.

• Brehaut made the two best throws of the two-hour session, hitting Shaquelle Evans on a skinny post for a long touchdown and, a few minutes later, lofting a soft fade pass to Derrick Coleman down the sideline.
December, 11, 2011
12/11/11
4:39
PM PT
In two weeks, the Bruins went from team coached by a guy who had been fired to a team not coached by the guy who has been hired.

It's how the bizarre world of UCLA football has turned in recent weeks, but one thing we know for sure is that Sunday marked another phase in the strange season as the Bruins practiced for the first time in the post-Rick Neuheisel era.

Neuheisel was fired Nov. 28, but stayed on and coached the team through the Pac-12 championship game Dec. 3. The Bruins took last week off and returned with Mike Johnson, the team's offensive coordinator, as interim coach even though the school hired Jim L. Mora as a permanent replacement Saturday.

Mora is expected to arrive on campus Monday, but it's unclear exactly when he will assume coaching duties, so Johnson is in charge until he does.

"It's a unique situation," quarterback Kevin Prince said. "These past two or three weeks have been really weird so you kind of just go with a flow and just do what you're told."

Practice under Johnson had a slightly different look and feel. The team began practice with special teams work, which under Neuheisel had come at the end of practice. The tempo was also much quicker.

Also, run game coordinator Jim Mastro was not present. Mastro is under consideration for a position on the staff at Washington State and was thought to be meeting with new Cougars coach Mike Leach this weekend. Mastro is expected to be back with the Bruins this week and remain at UCLA through the Kraft Fight Hunger Bowl on Dec. 31.

The fate of the rest of the coaching staff remains to be determined. Mora said he would meet with the staff when he arrives and discuss the possibilities with each coach individually. Defensive coordinator Joe Tresey said the coaches are simply doing the best they can while they await word on their futures.

"I think we were all in agreement that we want to work with these guys, get them better, keep them focused and help them improve so when the new staff comes in we've done everything in our power to make sure they are ready," Tresey said. "We're all aware that it's difficult to keep your job when a new guy comes in especially if you don't have a relationship with him."

In the meantime, the Bruins set about their business by using a training-camp approach to their first bowl game practice session.

"We're going back to the basics, especially the first week," Johnson said. "We're going back to the fundamentals and the technique of what we do and we want to make sure we do those things properly. Sometimes during the season you get away from those things."

The players didn't know what to expect coming to the field on Sunday. Most of them have had only Neuheisel as a head coach at UCLA, so the different order of drills and pace of practice caught them a bit off guard. And, of course, they missed some of Neuheisel's quirks.

"It's obviously a little different and strange to not have coach Neuheisel out here saying 'It's a great day to be alive and be a Bruin,' and stuff like that but it's fine," quarterback Prince said. "We all like coach Johnson and respect the way that he wants to run practice so it was a nice little change up. You do it a certain way for so long, it's nice to kind of change it up and do things a little differently."
November, 6, 2011
11/06/11
8:42
PM PT
The question was teed up perfectly for Rick Neuheisel.

The moment was his to seize.

After being buried five and a half feet deep by most of the local and national media following an embarrassing 48-12 loss to Arizona just three weeks ago, Neuheisel has resurrected his career and his team's season with two impressive wins over California on Oct. 30 and No. 20 Arizona State on Saturday night.

Instead of six feet under, the Bruins are over the moon and staring at a once-improbable berth in the inaugural Pac-12 Conference championship game if they can beat Utah, Colorado and USC in their final three games.

If ever there was a time for Neuheisel to gloat, to take a small bow, it was now.

He passed. UCLA still has three more games left, starting with a tough road game at Utah this Saturday.

"You may have had me dead and buried, but I certainly wasn't throwing stuff on top of myself," he joked on a conference call Sunday night. "I've been at this long enough to know that you're not as good as they say you are and you're not as bad as they say you are.

"I'm going to keep doing my best. That's always going to be it. But I do believe you can build things if you stay the course and you have a good plan and keep a very positive outlook and that's been the way I've operated my entire life."

He did however, allow the excitement from Saturday night's win to sink in deeply.

"You know the first game that I got to coach, against Tennessee, felt like that." Neuheisel said, when asked how badly he had yearned for a win like that. "Since that time it's been hard to have that kind of excitement. We've had some games here and there but that felt like genuine excitement last night.

"Hopefully there's more of that to come. But it'll only come because we keep busting our tails and understand this is a one game at a time process."


October, 30, 2011
10/30/11
4:19
PM PT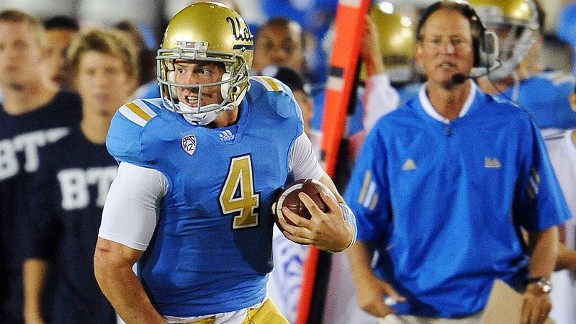 Jayne Kamin-Oncea/US PresswireUCLA quarterback Kevin Prince rushed for a career-high 163 yards in a victory over Cal on Saturday.
PASADENA --
Kevin Prince
's shoulders have been bruised and beaten, sprained and separated several times during his UCLA career, so it seems odd to place the weight of winning a game there.
Yet that's exactly what the UCLA coaching staff did Saturday and Prince responded by leading the Bruins to a 31-14 victory over California.
The quarterback with the extensive injury history took off running, bobbing and blasting his way through the Golden Bears defense and didn't stop until he had amassed a career-high 163 yards rushing. It was the first time since
Jeff Dankworth
in 1976 that a UCLA quarterback had eclipsed 100 yards rushing and the most rushing yards by a Bruins quarterback since
John Sciarra
had 178 in 1974.
"We kind of had an idea that we might be able to get some chances with the quarterback," coach
Rick Neuheisel
said. "And I told Kevin before the game that you can not run not to get hurt tonight. That won't work. You have to go and I told him I wanted 100 yards. I told him I was going to be in his tail if he didn't get his shoulder pads down and go."
The idea stemmed from run game coordinator
Jim Mastro
, who was at Nevada last year when the Wolfpack ran for 316 yards in a 52-31 victory over California. Nevada quarterback
Colin Kaepernick
rushed for 148 yards and three touchdowns in that game. So Prince, who was booed the last time he took the field at the Rose Bowl, gave the crowd plenty to cheer Saturday.
"We saw some things that we liked and some things that we wanted to take advantage of," Prince said. "Coach Mastro and Coach Neuheisel told me that I'd have to rush for 100 today. They told me to be aggressive and that's what I was going to do. For the most part I lowered my shoulder and tried to get extra yards and that paid off for us tonight."
It wasn't exactly the most prudent strategy to use with a quarterback who has missed 11 games during his career because of injuries. This year alone he suffered a concussion and sprained shoulder in the opening game and then injured his other shoulder two weeks later.
But the Bruins had no other choice. They were down four receivers because of suspensions handed down in the wake of UCLA's brawl with Arizona and California had been effective at stopping the run game against just about every opponent they had faced. The Golden Bears entered the game ranked No. 27 in the nation in run defense, giving up only 115.57 yards rushing per game, but UCLA plowed for 294.
"We didn't have a lot of options," Neuhiesel said. "We were down to very few wide receivers. It was how to play the game and fortunately it worked."
October, 17, 2011
10/17/11
5:05
PM PT
QUARTERBACKS
Instability at the most important position has been the story of the season, with
Kevin Prince
and
Richard Brehaut
shuffling between starting roles. As a result, neither has been able to find much of a groove. Both have played well at times and the passing numbers are up nearly 100 yards a game over this time last season, but the quarterback play must get more consistent if the Bruins are to remain in the Pac-12 title race.
RUNNING BACKS
Johnathan Franklin
and
Derrick Coleman
have been the standouts of the UCLA offense this season, with a combined four 100-yard games in the first half. Franklin, with 509 yards, is on pace for a second consecutive 1,000-yard season and Coleman's six touchdowns are already a career high.
Jordon James
has emerged as a valuable pass-catching threat as an F-back.
RECEIVERS
Nelson Rosario
has made his share of highlight-reel plays, tight end
Joe Fauria
has become a valuable weapon in the passing game and
Josh Smith
has shown flashes of electric playmaking ability, but inconsistency has plagued this unit. The dropped passes are down from last season, but there are still too many, and it sometimes feels like the receivers aren't giving a 100 percent effort.
OFFENSIVE LINE
This unheralded bunch has played admirably through the first half, paving the way for a rushing attack that is 28th in the nation with 194 yards a game. The pass blocking, while suspect at times, has been better than anticipated as UCLA quarterbacks have been sacked only four times, the ninth fewest in the nation. Losing
Sean Sheller
to a broken arm was a setback, but getting
Jeff Baca
back at around the same time helped offset that loss.
DEFENSIVE LINE
This unit has been the biggest disappointment of the season. The Bruins are 115th in the nation in sacks and no player has more than one this season. They are 111th in tackles for a loss and no defensive lineman has more than 2.5. They played admirably going into the break with two sacks and eight tackles for a loss against Washington State, and will need more of those types of games if they are to contend for the conference title.
LINEBACKERS
Another pretty disappointing unit that has shown signs of improvement in recent weeks. Tackling was a major issue early in the season and pass-coverage problems continues to hamper the UCLA linebackers.
Patrick Larimore
leads the team in tackles while
Eric Kendricks
is emerging as a future star and
Jordan Zumwalt
leads the team with 3.5 tackles of a loss.
DEFENSIVE BACKS
Sheldon Price
had established himself as a top-tier cover corner before he sprained his knee and
Aaron Hester
has been far more consistent this year and also a boon in run support.
Andrew Abbott
has proven himself a valuable contributor as injuries have hampered the unit the last three games. Those injuries have caused inconsistent play among the safeties. The Bruins have only two interceptions by defensive backs and are 95th in the nation in pass-efficiency defense.
SPECIAL TEAMS
Jeff Locke
has been his usual solid self with a 43.77 punting average and the field goal kicking has had its moments, but the special teams are a disaster in other areas. The Bruins rank 102nd or lower in punt returns, kickoff returns, punt return defense and kickoff return defense. Some of UCLA's most memorable gaffes this season -- Oregon State's punt return for a touchdown and
Taylor Embree
's fumble against Stanford -- have come on special teams.
OFFENSIVE COACHING
The offense is still a little run heavy and conservative at times, but offensive coordinator
Mike Johnson
and coach
Rick Neuheisel
have shown a willingness to take shots downfield when needed. Pistol guru
Jim Mastro
has added some new wrinkles to the run game to keep opponents off balance and UCLA's run game is still difficult to stop. Still, you'd like to see a bit more creativity in getting the ball into the hands of playmakers in the open field.
DEFENSIVE COACHING
The UCLA defense is giving up 413 yards and 32 points a game and defensive coordinator
Joe Tresey
's puzzling unwillingness to adjust to short, quick passing routes is a major reason why. UCLA's opponents are completing 68.32 percent of their passes because of soft coverage schemes and UCLA is 118th in the nation in third-down defense, allowing opponents to convert nearly 55 percent of the time.
September, 2, 2011
9/02/11
9:10
AM PT
1. THE QUARTERBACK SITUATION

Kevin Prince
will start, but coach
Rick Neuheisel
has promised
Richard Brehaut
will get in the game. He didn't say when or for how long either would play or if they would rotate or any other details of the dual-quarterback plan, so it will be interesting to see how it all plays out.
If Prince is on fire in the first half, but the game is still close, does he pull Prince anyway? Will Prince play more conservatively in fear of making a mistake that will put him on the bench? Will Brehaut go in there and try to do do much in an attempt to show he's the man for the starting job?
Dual quarterback systems rarely work out over the long haul of a season, but it's certainly not unprecedented for a team to win a game using two quarterbacks. Still, this is an interesting decision for Neuheisel in an opener that will set the tone for a season in which his job is on the line.
2. THE OFFENSE
Last season, UCLA's offense was pitiful for the first two weeks of the season and while the running game showed some life, the passing game never got much better.
This year, there have been wholesale changes on the offensive coaching staff in the hopes of producing a
more dynamic
and not-so one-dimensional offense after the Bruins finished 32nd in the nation in rushing, but 116th in passing last year.
UCLA's first series last year was a harbinger of things to come as
Morrell Presley
dropped passes on the first two plays and then Prince missed
Taylor Embree
for a quick three-and-out. The Bruins will need to get off on the right foot in this game in order to gain confidence in the new schemes.
Johnathan Franklin
, 1,127-yard rusher last season, is UCLA's best weapon and the Bruins certainly won't be shy about handing him the ball because they need to control the clock in this game, but they will need other elements to prevent Houston from keying on stopping him. Neuheisel and offensive coordinator
Mike Johnson
have promised to add such elements.
3. THE KICKING GAME
Mr. automatic
Kai Forbath
is no longer with the Bruins, leaving the field goal kicking duties to redshirt freshman
Kip Smith
. Forbath shares the school record of 85 field goals and had an .842 field goal percentage--second in school history.
Smith learned from Forbath all last season and appeared ready to carry on the tradition of top-flight kickers at UCLA, but began to falter in the spring and lost his confidence during training camp. He's improved, but has still been inconsistent and you have to wonder if Neuheisel will have the trust to send him in there on a fourth and short to try a 45-yard field goal.
With Forbath it would have been a no-brainer. But what if it's Smith first attempt? You'd rather have him build confidence by trying a couple of 25-or 30-yarders first, wouldn't you? And how will Smith and Neuheisel handle things if Smith misses an early attempt?
Oh, and an added special teams bonus to watch will be
Jared Koster
on the kickoff team. He's
shouldering quite a load
after getting knocked out for the season on the opening kickoff against Houston last year.
4. THE DEFENSIVE SECONDARY
Houston is going to try to pass the ball. The Cougars' spread offense, led by veteran quarterback
Case Keenum
, is pass happy. Keenum tore his ACL against UCLA and was lost for the season, but when he was in there the year before, Houston passed 747 times and rushed 403--65% passing plays.
Last year, with Keenum out, they were more balanced at 54% passing, but Keenum isn't tracking in on NCAA records for passing yards and touchdowns because he hands the ball to running backs and that means a test for UCLA's secondary. Last year, they held their own even before Keenum's injury as Keenum completed 10 of 18 passes for only 83 yards with two interceptions before leaving with four minutes left in the first half.
UCLA's defensive front will try to help by getting pressure on Keenum, but cornerbacks
Aaron Hester
and
Sheldon Price
need to be ready to run with backups
Brandon Sermons
and
Andrew Abbott
prepared to get a few more reps than they normally would. Safeties
Tony Dye
,
Dalton Hilliard
,
Dietrich Riely
,
Alex Mascarenas
,
Tevin McDonald
and
Stan McKay
will all get action in an effort to stay fresh and the Bruins will play a lot of nickel with Abbott, Mascarenas and McDonald on the field quite a bit at that spot.
James Cleveland
, the receiver who torched UCLA for 144 yards receiving last season, graduated, but Houston's best athletes are still the receivers with
Partick Edwards
and
Tyron Carrier
presenting the biggest challenges because they have been favorite targets for Keenum in the past. If the secondary allows them too much daylight, it could be a long game for the Bruins.
5. THE COACHES
Neuheisel brought five new coaches into the mix this season, including Johnson, the offensive coordinator, and
Joe Tresey
, the defensive coordinator. Also new are running game coordinator
Jim Mastro
, defensive line coach
Inoke Breckterfield
and special teams coach
Angus McClure
.
That's a lot of new cooks in the kitchen, especially considering Johnson, Mastro and Neuheisel will all have a hand in play calling duties. There seems to have been a good rapport brewing throughout camp, but this group has never before coached together in a game situation and personalities can certainly change in battle, so this will be the first true test of the chemistry of this staff.
If you see Neuheisel red faced and screaming into his headset, you can be sure something has gone awry. If he's smiling and laughing and looking confident, then things are going just fine.
Another thing to keep an eye on here is the hot seat temperature. It's certainly going to go up if UCLA gets off to a poor start and you have to wonder if Neuheisel will change the way he coaches, calling plays more aggressively and taking more chances, because his job status is so perilous.
September, 1, 2011
9/01/11
7:24
AM PT
It's time for the Pistol, part deux.
Or, perhaps more accurately, it's a Pistol remake.
[+] Enlarge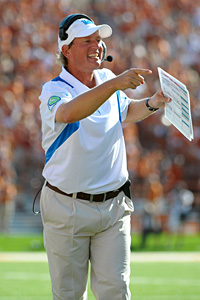 Brendan Maloney/US PresswireRick Neuheisel brought in Mike Johnson and Jim Mastro to tweak the Pistol offense into its current incarnation.
UCLA's first go-round with the Pistol offense didn't go all that well as the Bruins stumbled through a 4-8 2010 season and ended up ranked 100
th
in the nation in total offense, 104
th
in scoring and 116
th
in passing.
So coach
Rick Neuheisel
brought in a couple of offensive minds—offensive coordinator
Mike Johnson
and Pistol expert
Jim Mastro
—and the result has been a sort of Pistol hybrid offense that the Bruins will unveil in their season opener Saturday at Houston.
It's an offense designed to enhance the passing game without losing the gains made last season in the running game. The Pistol formation--a modified shotgun with a running back directly behind the quarterback--and its zone read and zone blocking concepts are still there, fine-tuned with the nuances only someone as experienced as Mastro can offer, but Johnson has put his own footprint on it with a multi-faceted passing game wrought with concepts he brought from his former job in the NFL.
"The offense is a lot different than it was last year," Mastro said. "There aren't a lot of similarities to it other than the Pistol formation itself. We've added a lot to it and taken what was working and brought to the next level. It's going to be a lot of fun if we execute it properly."
This year's offense features much more pre-snap movement with shifts and motion men. The F-backs will move all over the place and so will receivers and running backs. After the snap, there will be changes, too, with misdirection plays and in between plays, personnel groupings will switch out on a regular basis.
"It's an offense that I'm having fun with," Johnson said.
August, 8, 2011
8/08/11
8:17
PM PT
Improving the passing game is priority No. 1 for the UCLA offense this season, but the Bruins have to be careful they don't forget about the running game.

Last year, the opposite happened as Bruins installed the Pistol formation as a means to revamp a running game that had struggled for two years, but coach Rick Neuheisel acknowledged Monday the focus on running game came at the expense of the passing attack and UCLA plummeted to No. 116 in the nation in passing offense.

"It was really that we didn't devote enough time to it," Neuheisel said. "Like anything, if you ignore it, it's going to drift away on you. We needed to spend more time on it but because of the newness of the run game and the desire to get that up to speed, we missed out on that and we made a mistake and we all have to take responsibility for that."

Neuheisel also acknowledged that a set of injuries caused the coaching staff to overlook the root of the problem in the passing games. Quarterback Kevin Prince missed much of fall camp last season, so he wasn't sharp enough to be an effective passer early on.

The Bruins had success without throwing much against Houston and Texas, but Prince then got injured and Richard Brehaut took over as the starter. When the passing woes continued, Neuheisel justified it by saying he had an inexperienced quarterback.

"There were all these reasons that allowed us to rationalize why it was happening and it didn't really require us to change," Neuheisel said. "But retrospectively as I look back, we didn't spend the time we needed to if you are going to have a quality throw game."


August, 6, 2011
8/06/11
1:05
PM PT
With UCLA preparing to open fall camp on August 8, we will break down the depth charts at each position in order to look at how the Bruins stack up heading into this season. We've previously looked at
quarterbacks
, the
defensive line
and the
offensive line
. Now we look at the running backs.
Current depth chart:
RUNNING BACK
Johnathan Franklin (Jr., 5-10, 193)
Derrick Coleman (Sr. 5-11, 240)
Malcolm Jones (So., 6-0, 227)
Jordon James (Fr., 5-9, 192)
F-BACK
Anthony Barr (So., 6-4, 237)
Damien Thigpen (Jr., 5-8, 182)
July, 25, 2011
7/25/11
5:45
PM PT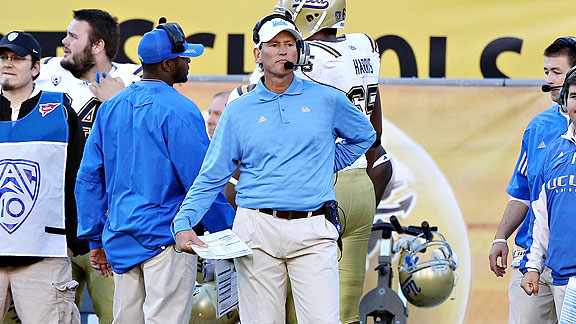 Christian Petersen/Getty ImagesRick Neuheisel will face many questions about his job security on PAC-12 media day.
Questions abound when it comes to the 2011 UCLA football team, and there will be plenty of questions directed the way of Coach
Rick Neuheisel
concerning the direction of the program and his future within it.
The real answers, of course, will come during the season when we find out if the Bruins can improve upon their disappointing 2010 season, but we'll start hearing from Neuheisel and the other coaches in the newly aligned Pac-12 Tuesday during the annual conference media day.
Here, we take a look at some of the biggest questions facing UCLA:
1. HOW HOT IS NEUHEISEL'S SEAT?
This is guaranteed to be the topic of the day when it comes time for Neuheisel to address the media on Tuesday. Each coach gets 15 minutes in front of the reporters and cameras and it could very well be the only topic Neuheisel discusses.
In his first three seasons at UCLA, his teams have gone 4-8, 7-6 and 4-8. Last season injuries played a significant factor, but there is no getting around the fact that UCLA left a sour taste in the mouths of their fans by losing six of seven games to close the season and going 2-7 in conference.
Neuheisel is 8-19 in conference games as UCLA's coach and the Bruins have finished no better than eighth in the Pac-10 in Neuheisel's three seasons. UCLA has only two victories against teams that ended up with a winning record (Tennessee and Temple in 2009).
Neuheisel has gotten a pass for the first three years because he has been rebuilding the program, but outside pressures and calls for his job are going to come early and often if he doesn't get things turned around this season.
2. WILL THE NEW COACHING STAFF GEL?

Neuheisel cleaned house as far as the coaching staff is concerned. Offensive coordinator
Mike Johnson
and defensive coordinator
Joe Tresey
replace
Norm Chow
and
Chuck Bullough
while
Inoke Breckterfield
(defensive line),
Jim Mastro
(Tight ends/F-backs) and
Angus McClure
(special teams) are also new to the staff.
Neuheisel has cited a lack of chemistry among the coaching staff as a reason for some of the problems over the last couple of years so bringing in some different personalities could help resolve some of those issues.
Neuheisel, who is adding quarterbacks coach to his responsibilities, has worked with Johnson in the past, so that is a proven relationship and should help get the offensive braintrust on the same page—a place it couldn't seem to find last season.
Tresey, the man in charge of the defense, is bringing a freewheeling, spirited style that should help the players stay more comfortable on the field.
3. WHO WILL PLAY QUARTERBACK?
It's been the big question on the field since fall camp of last season and it will most likely linger all the way until the season opener Sept. 3 at Houston.
Kevin Prince
entered last season with the job, but promptly got hurt in fall camp. He tried to play through it and was ineffective early in the season. When he finally got healthy, the Bruins got on a bit of a roll, but he then suffered a season-ending knee injury.
That gave
Richard Brehaut
a chance to show his mettle, and while he showed flashes of top-tier talent, he failed to overwhelm with his performance.
Prince, when healthy, is probably the best choice. While not a flashy talent with a big arm, he's a respected leader with field smarts and the fortitude to win big games (at Tennessee in 2009, against Temple in the 2009 Eagle Bank Bowl and at Texas in 2010).
Brehaut is a talented athlete with a strong arm, but seems to keep himself at arm's length from fully committing to becoming a top-tier quarterback. If the competitive fire lights and he becomes fully immersed in the competition, he could win the job this fall.
Waiting in the wings is freshman
Brett Hundley
, who is undoubtedly the quarterback of the future. He'll be in the mix, but even though he participated in spring camp, is still probably a year away from getting enough of a command of the position to seize the job full time.
4. WILL THE DEFENSE BE AS GOOD ON THE FIELD AS IT IS ON PAPER?
Defensively, UCLA appears to be loaded from the front line to the deep safety. Defensive end
Datone Jones
, middle linebacker
Patrick Larimore
and safety
Tony Dye
are All-Conference caliber players. Cornerbacks
Aaron Hester
and
Sheldon Price
are both physical and quick. Interior linemen
Cassius Marsh
and
Nate Chandler
are as tough as they come.
Their defensive front goes 10 deep with talented experienced players. The linebacker crew is filled with gritty, blue collar workhorses and the secondary could be among the conference's best.
Now, the Bruins must translate that talent into performance. Last year, many of those players were raw and inexperienced and the defense suffered. With a year of seasoning and on-the-job training, this is a unit that could carry the Bruins this season.
5. HOW WILL THE OFFENSIVE LINE HOLD UP?
The Bruins are deep at running back with 1,000-yard rusher
Johnathan Franklin
leading a group that goes four deep, and have enough speed and talent at wide receiver to make any quarterback look good.
But the offense will only go as far as the offensive line, and keeping that unit on the field has been a problem. Injuries and ineligibility made this a fairly shallow unit last season and things got off on the wrong foot in the spring when projected starters
Jeff Baca
,
Kai Maiava
and
Sean Sheller
all missed time because of injuries.
When healthy, this unit is at worst passable and at best very good. Staying healthy hasn't been all that easy, though, and it will need to if the Bruins want to have success.
6. WHERE WILL THE BRUINS FINISH?
It's media day, so we have to have a prediction, right?
The new conference alignment helps the Bruins in a big way. They are in the Pac-12 South and away from Oregon and Stanford, widely considered the top two teams in the conference (UCLA plays Stanford, but won't be in a division race with the Cardinal).
The South is wide open and it's conceivable that the Bruins could win the Pac-12 South. Yes, you read that right.
In order for that to happen, however, everything would have to go right: The coaching staff has to gel, Prince has to stay healthy, the offensive line has to stay together and the defense has to take a step forward.
The chances of all those forces aligning are, admittedly, slim, so we're going to shy away from picking the Bruins to win the South. We'll say Prince stays healthy and the coaching staff has good chemistry, but the offensive line depth will be problematic and the defense will have a crucial lapse or two.
The Bruins finish 7-5, good enough for a second-tier bowl game.
Predicted Pac-12 standings:
NORTH
Oregon
Stanford
Washington
Oregon State
California
Washington State
SOUTH
USC
Arizona State
UCLA
Utah
Arizona
Colorado
February, 10, 2011
2/10/11
1:46
PM PT
UCLA football coach Rick Neuheisel announced Thursday the hiring of Jim Mastro and dismissal of defensive line coach Todd Howard.

Mastro, who served as Nevada's running backs coach the last 11 years, will work with tight ends and F-backs. According to the statement released by the school, Mastro will "also play a key role in the continued development of the running component of UCLA's offense that incorporates elements of the Pistol schemes."

"Jim has a wealth of knowledge and experience with the Pistol and will be a great asset as we incorporate many of its run-game principles into our offense," Neuheisel said in the statement. "He has enjoyed great success in the running game and I feel he will work well alongside (offensive coordinator) Mike Johnson, (running back coach) Wayne Moses and (offensive line coach) Bob Palcic to give us a very cohesive offensive staff."

Howard had worked with UCLA's defensive line the last five seasons. The move comes 54 days after the firing of former defensive coordinator Chuck Bullough. Neuheisel has interviewed a number of candidates but has yet to hire a replacement.

"Todd knew that this was a possibility," Neuheisel said. "We discussed the situation back in December and decided to wait until after recruiting to make a final decision. I feel that it is in the best interest of our program and also in Todd's best interest that we part ways at this time. I appreciate all that he has done for UCLA football and I know that he will be successful in his next position."
2013 TEAM LEADERS
| TEAM | RUSH | PASS | TOTAL |
| --- | --- | --- | --- |
| Offense | 196.6 | 251.6 | 448.2 |
| TEAM | PF | PA | MARGIN |
| Scoring | 36.5 | 24.1 | 12.4 |