October, 5, 2011
10/05/11
8:37
PM PT
After missing three of his last four extra-point attempts, Jeff Locke said Wednesday he expected to be removed from the short kicking duties and that walk-on Tyler Gonzalez will get those opportunities Saturday against Washington State.

Locke, who also serves as punter and kickoff specialist, was forced into field goal kicking duties because of injuries to Kip Smith and Joe Roberts. He started strong, making field goals of 51 and 49 yards against Texas, but has struggled in the last two games.

"I've missed three extra points in two games. You can't do that at the college level," Locke said. "You've got to give another guy a shot. I wish I would have come through and I haven't felt the best the last couple of days about it, but it is what it is now."

Gonzalez was the student manager for the UCLA men's soccer team when the football team began having injury problems among its kicking corps. He went through a tryout period and has progressively improved. He will kick extra points and short field goals, though Locke would probably still get longer field goals.

"Everyone knows Tyler doesn't have the strongest leg," Locke said. "He's not the biggest guy so I think definitely super long field goals I'd still be thrown in the mix for that."

Gonzalez made three of five field-goal attempts in practice Wednesday. One of them hit the upright and probably would have been good if not for a goal post that was leaning significantly to the left. He also made a field goal to end the two-minute drill.


October, 4, 2011
10/04/11
9:19
PM PT
The UCLA Bruins returned to the practice field Tuesday, licking their wounds from a 45-19 loss at Stanford and looking ahead to a game against Washington State that appears it will be much tougher than anyone might have predicted before the season.

The Cougars are 3-1 and coming off of an impressive comeback victory at Colorado. That's actually good news for UCLA, which practiced as if they were not taking the Cougars lightly even though Washington State went 5-32 the previous three seasons.

"I think our guys came to work and are looking forward to what promises to be a big-time game against a hot team in Washington State," coach Rick Neuheisel said. "I know that they're riding high and I know that their confidence is brimming because it's been lean for them over the past several years and they've believed in Coach [Paul] Wulff's mantra that the thing was going to turn and it's turning. So this is going to be an inspired team that comes in."

Neuheisel is the right guy to be coaching in this game. He never has lost a game against Washington State having gone 8-0 against the Cougars in his coaching stops at UCLA, Washington and Colorado.

"All those games in the past are in the past," Neuheisel said. "It's all about this game and this particular UCLA team against their particular Washington State team."

A few tidbits from practice:


September, 22, 2011
9/22/11
6:45
AM PT
Jeff Locke
hadn't attempted a field goal in a game since he was a senior in high school four years ago and he had been shaky on his field goal attempts during practice, but coach
Rick Neuheisel
called his number anyway.
[+] Enlarge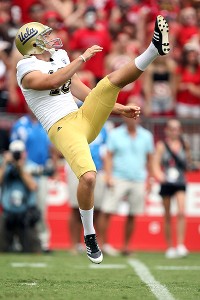 Thomas Campbell/US PresswirePressed into action, Jeff Locke drilled a 51 and 49-yard field goals against Texas.
Never mind that it was against Texas or that the game was on national television or that it was for a 51-yard field goal.
The Bruins needed a field goal and Locke was the best field goal kicker available at the time, so Neuheisel sent Locke out there with time winding down in the first half and Locke delivered. Then he delivered again early in the second half, drilling a 49-yard field goal that got he Bruins to within striking distance at 28-13.
UCLA wound up losing, 49-20, but in an ugly game, Locke certainly stood out and made a breakthrough as a field goal kicker just in time for the Bruins to open Pac-12 play Saturday at Oregon State.
"It was definitely a big confidence boost in terms of kicking field goals because frankly I wasn't comfortable kicking field goals up to that point," Locke said.
He was kind of forced into the job.
Kip Smith
, the first-string kicker, strained his hip flexor last Tuesday in practice and was unavailable for the game. Backup kicker
Joe Roberts
has a quad injury so he was out of the picture. The team brought on walk-on
Tyler Gonzalez
, but he wasn't quite ready for competition after just two days of practice.
September, 16, 2011
9/16/11
6:47
AM PT
1. QUARTERBACK SHUFFLES

Both teams enter the game with question marks at quarterback.
Kevin Prince
and
Richard Brehaut
have been in a six-week competition for the starting job, yet neither has been able to claim it outright. Prince, who appears to be the choice to start against Texas, can't stay on the field because of injuries. Brehaut has shown flashes of excellence, but sprinkles in too much inconsistency. They may split time or alternate or one may play the whole game. Oh, and don't forget true freshman
Brett Hundley
. He's supposed to have a package of plays ready to run, but we haven't yet seen it in a game. Across the field, last year's starter
Garrett Gilbert
was replaced after a game and a half by the tandem of
Case McCoy
and
David Ash
. McCoy,the brother of former Texas quarterback Colt, is the more seasoned of the two, but Ash may be the more talented and is definitely the more athletic. He's only a true freshman, however, so don't expect him to have everything down just yet. They are slated to split time.
2. CHESS MATCH

This game will be far different from last year's 34-12 UCLA victory because of coaching staff overhauls on both teams. The head coaches,
Rick Neuheisel
and
Mack Brown
are the same, but both teams have new offensive and defensive coordinators. That means you can throw last year's film out the window because both teams are running different schemes. UCLA's offensive coordinator
Mike Johnson
is adding a pro-style section to the Pistol playbook and seeking more balance. Texas co-offensive coordinators
Bryan Harsin
and
Major Applewhite
are trying to add a power running attack. UCLA defensive coordinator
Joe Tresey
is looking for a fast, aggressive tempo while Texas defensive coordinator
Manny Diaz
is looking to confuse and dictate the opposing offense. But with so much newness on both teams, they are both still trying to find their identities. That means the normal cat and mouse game between the coaches will be at a heightened level for this game as they try to read one another.
3. PISTOL WHIPPED
When these teams met last year, UCLA rushed for 264 yards--the most rushing yards by any team against Texas last season. UCLA's Pistol attack, a zone read-based offense, was so effective that the Bruins needed to pass only nine times for 27 yards and still won, 34-12. The Bruins still use the Pistol, though it is only a component of the offense this year, and will almost assuredly try to see if it can be effective again. The Bruins will want to control the clock with running backs
Johnathan Franklin
and
Derrick Coleman
doing the bulk of the work. Quarterback
Kevin Prince
had 50 yards against Texas last year and is also an effective runner. Expect to see more of
Malcolm Jones
and
Jordon James
, too, especially if UCLA runs 56 times like they did last year. Texas is certainly studying what went wrong against UCLA's run game and it's defense, currently giving up only 86.5 yards rushing per game, will be out to shut down the UCLA backs.
4. KICKING GAME
UCLA's kicking game is a bit of a question mark as we head toward game day. Field goal kicker
Kip Smith
made two field goals last week against San Jose State, but sometime between Saturday and Tuesday he began feeling tightness in his kicking leg. He sat out almost all week of practice and with backup
Joe Roberts
also injured, coach
Rick Neuheisel
brought in soccer team manager
Tyler Gonzalez
to try out. All this after Smith had seemingly turned a corner after struggling through training camp. The oddsmakers have Texas as a 3.5-point favorite, so a field goal could very well play a major role in the game. Punter
Jeff Locke
would be the field goal kicker if Smith can't go and Gonzalez would probably be available as an emergency replacement. But Locke has been off a bit in his top skill. The Pac-10 leader with a punting average of 45.84 last season, his average is only 37.4 so far this season. Locke also handles kickoffs, but none of his six kickoffs went for touchbacks last week.
5. GETTING DEFENSIVE
UCLA's defense has been a major disappointment thus far, giving up 469 total yards against Houston and 202 yards rushing against San Jose State, one of the worst rushing teams in the nation last season. They've had problems with missed tackles and letting quarterbacks scramble for big yards--especially on third downs. That combination could spell trouble against a Texas running attack that is averaging 197 yards a game this season. Both Texas quarterbacks are athletic enough to do damage with their legs and
David Ash
in particular is a legitimate running threat. Leading rusher
Malcolm Brown
is the right combination of size and speed to cause problems for a struggling run defense. The Bruins have vowed to play with more energy and passion this week and must keep containment in the pocket and also shore up some holes in the middle of the defensive line in order to prevent Texas from gaining control of the clock and the game.
September, 14, 2011
9/14/11
7:40
PM PT
The hip flexor injury to kicker Kip Smith appears to be giving the UCLA coaching staff cause for a little bit more concern than they are letting on because on Wednesday they had men's soccer team manager Tyler Gonzalez trying out for the job.

Gonzalez, a senior who last kicked at Fullerton High school, kicked early in practice, making an extra-point attempt and a 40-yard field goal, but also had a 30-yard attempt blocked by Joe Fauria. He finished practice with a 40-yard field goal at the end of the two-minute drill, drawing a rousing ovation from the team.

"We're just taking a look around," coach Rick Neuheisel said. "By rule we can have a couple of day tryouts."

Because Gonzalez is not an official member of the team, he was not available to talk to the media, but Neuheisel says he is roommates with one of the football team's student assistants. He was an all-CIF soccer player in high school but has not played soccer for UCLA.

Smith, the redshirt freshman who made two field goals Saturday during UCLA's 27-17 victory over San Jose State, did not dress for practice Wednesday. He left practice Tuesday after trying one kick and complaining of tightness in his kicking leg.

Neuheisel said Smith would rest again Thursday, but that he was hopeful to have him available for Saturday's game against Texas.

"We'll see how it responds to treatment but my expectation is that he'll be ready to go," Neuheisel said. "I don't know that we'll practice tomorrow. We'll test it out before game time, but I don't know that we'll do anything tomorrow."

If Smith is unable to go, it leaves punter Jeff Locke as the only other legitimate option among players on the current roster. Backup Joe Roberts is out because of a quad injury.

Locke, who also handles kickoffs, has been reluctant to add field-goal kicking to his duties. He kicked Wednesday, however, hooking an extra point wide right before making an extra point, a 30-yard field goal and a 40-yard field goal.
September, 14, 2011
9/14/11
1:09
PM PT
Kicker
Kip Smith
had seemingly
gotten over the mental road block
that led to inconsistencies on the field, but he had a physical setback Tuesday at UCLA's practice.
Smith attempted only one field goal, banked it in off the upright and then headed straight to the training room to get work on what coach
Rick Neuheisel
said was a "sore hip flexor" in his kicking leg.
Smith returned to the field after an absence of about 45 minutes, but did not participate the rest of the session.
"I was feeling a little tight and I didn't want to push it," Smith said. "The kick didn't feel good and I wasn't comfortable so I didn't want to push it."
Smith, who made field goals of 38 and 20 yards in UCLA's 27-17 victory over San Jose State, said he felt confident that he would be able to play Saturday against Texas and added that had Tuesday been a game day, he would have played.
"I should be fine," he said. "It's Texas."
Smith is the only available kicker for the Bruins right now. Backup
Joe Roberts
is nursing a quad injury and hasn't practiced in a week. After Smith left the practice field, the Bruins continued their field-goal kicking drill with nobody kicking the ball. Punter
Jeff Locke
is the emergency option and was dusting off his field goal technique after practice Tuesday just in case, but Smith said there was no cause for alarm just yet.
"I'm the only kicker, so it was all precautionary," he said.
August, 18, 2011
8/18/11
11:28
AM PT
Kickers Kip Smith and Joe Roberts had their best day of practice Wednesday, shaking off a dismal start to training camp and regaining confidence in themselves and the confidence of their coaches and teammates.

Smith made a 42-yard field goal in a two-minute drill to close the morning practice and then kicked two solid short field goals to end drives in the red zone during the afternoon practice. He also made three of four kicks in a kicking drill to begin the afternoon practice with his final attempt, a 45-yarder, hitting the left upright.

Roberts and Smith were both booming kickoffs into the end zone during special teams practice and Roberts made three of three field goals attempts during the kicking drills, but did not have an attempt during the live session.

"I always knew I had it in me, but it didn't happen until yesterday when I felt comfortable," Smith said. "I was too tense so I just loosened up and tried not to think about it too much. That's what I did and focused on my form and it's working."

Smith said a team bonding session Tuesday night helped. Teammates got together and shared personal details about their lives in an attempt to get to know one another better.

"I got some things off my chest and I'm feeling great," he said. "I'm feeling the most confident since I've been here."

Roberts acknowledged that he had been letting the pressure of trying to win the kicking job get to him, but remembered that pressure is part of the job.

"It's kind of the life we chose," he said. "We were born with the talent to kick the ball and we all know we can. We've been doing it for years now and pressure is something we chose so we have to do it. We have to kick in front of 60,000 people and whoever is watching at home."

Special teams coach Angus McClure wasn't all that concerned with the early struggles of the kickers given that both are redshirt freshmen trying to replace Kai Forbath--one of the top kickers in school and NCAA history.

"We went through the same growing pains when I coached the field goal unit in 2007 with Kai," he said. "We're doing the same type of things as we did then. They've been inconsistent as most freshmen are, so we're just working on getting them more consistent."
August, 16, 2011
8/16/11
8:26
PM PT
Reserve linebacker David Allen took a field-goal attempt during practice Tuesday, adding his name to a competition that appears wide open more than a week into fall camp.

Allen, a junior who played on special teams last season and kicked at South Pasadena High, missed right on his lone attempt from about 35 yards in a live drill with the rest of the team surrounding the kicker and making noise. His performance was pretty much on par with Kip Smith and Joe Roberts, the two main competitors for the spot who haven't made much of an impression.

Smith made his first attempt, booting an ugly knuckleball just over the cross bar, then hooked his second one badly to the left. Roberts hit the goal post on his first attempt and hooked his second.

"It wasn't good enough," coach Rick Neuheisel said. "We've got to find a guy who can go out there amid some pressure and kick the ball well."

Earlier in practice, without the team surrounding them, Smith and Roberts kicked form 25, 30, 35 and 40 yards. Smith made three of four, missing the last one with a hook. Roberts made all four, though the first two were low liners. He also made a 50-yarder -- the best kick by either player for the day.

"In practice they are terrific, but driving-range guys don't get the trophies," Neuheisel said. "You have to actually go out there and do it on the golf course. So we're going to keep smothering it and keep looking for other options because we need somebody who can put it through there reliably."
August, 15, 2011
8/15/11
1:14
PM PT
UCLA kickers continued to struggle in the post-Kai Forbath era, with walk-on Joe Roberts botching several kickoffs that left coach Rick Neuheisel fuming Monday during a special teams drill.

"Do I need to go to the junior colleges to find someone who can kick the ball down there?" Neuheisel screamed after Roberts shanked back-to-back kickoffs.

Roberts and Kip Smith have not looked good on field goal attempts all spring and the struggles seem to have spilled over to kickoffs. On Saturday, Smith smother hooked a couple of kickoffs.

Punter Jeff Locke normally handles the kickoff duties, but he is still not at 100 percent after offseason hip surgery. Locke is also an option for field goals once he gets healthy, but Neuheisel hinted that he may, in fact, be looking elsewhere for a kicker given the struggles of Smith and Roberts so far.

"We're exploring every option we've got," Neuheisel said. "We're looking and trying to make sure these guys understand that they've got a golden opportunity to take over a great position—a position that's been rich with tradition here at UCLA--but the expectations are going to be large and you have to have shoulders big enough to handle that."

Smith did not do any kicking during Monday morning's practice, but Neuheisel said he would continue to put both kickers in pressure situations to see if one of them emerges.

"We'll continue to create live opportunities and chances to show that they are capable," he said. "We want to create as much competition as we can."
August, 11, 2011
8/11/11
8:09
PM PT
It was never going to be easy for UCLA to replace kicker Kai Forbath, but it wasn't supposed to be this difficult, either.

Forbath, a former All-American and Lou Groza award winner as the nation's top kicker, is in Dallas Cowboys camp now and the burden of replacing one of the top kickers in UCLA history is apparently taking its toll.

Kip Smith, the redshirt freshman who had been the heir apparent, has had troubles since the spring and there is now an open competition for the job between Smith, punter Jeff Locke and walk-on Joe Roberts, but none of the kickers has proven reliable so far in camp.

Coach Rick Neuheisel is keeping a close eye on the competition, too, spending the early parts of practice the last two days watching over the kickers as they attempt field goals.

"I'm looking for some consistency," Neuheisel said. "We haven't been. That's a concern of mine right now. Kip, we have high hopes for, but he's been anything but consistent to start so we'll just have to keep working him so we're going to try to create some competition there."

Smith was an All-State kicker in Colorado and once made a 67-yard free kick for a field goal. He made a 56-yarder as a sophomore and was considered a shoo-in to replace Forbath. But after struggling in the spring, Smith has changed his technique and still hasn't quite figured it out.

"So far, it's not what I would have liked," Smith said. "I think my problem right now is I'm not trusting myself. It's a new kick."

Smith says he is trying to employ a style similar to that of Forbath, where he swings at only 60 percent strength to increase accuracy.

"I used to be a driver and now I'm a chipper," Smith said.


2014 TEAM LEADERS
| TEAM | RUSH | PASS | TOTAL |
| --- | --- | --- | --- |
| Offense | 199.4 | 268.5 | 467.9 |
| TEAM | PF | PA | MARGIN |
| Scoring | 32.9 | 27.5 | 5.4 |