February, 27, 2014
Feb 27
5:30
PM PT
We're taking a look at a player from each Pac-12 team who could step into the spotlight in 2014.
Spotlight:
WR
Devin Fuller Jr.
, 5-foot-11, 195 pounds
2013 summary:
Fuller caught 43 passes for 471 yards and four touchdowns, all of which ranked second on the team.
[+] Enlarge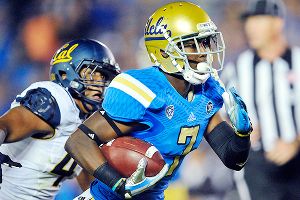 Gary A. Vasquez/USA TODAY SportsDevin Fuller, who had 43 catches for 471 yards and 4 TDs last season, has a chance to play an even bigger role in UCLA's offense this season.
The skinny:
The past two seasons aren't necessarily how Fuller saw his college career playing out when he was getting recruited to play quarterback, but, in all likelihood, it has worked out for the best. As he enters his junior year, it's clear the transition is complete -- he can longer be considered merely an athlete playing receiver. With
Shaq Evans
, the Bruins' leading receiver from 2013, off to the NFL, Fuller has an opportunity to play a bigger role in the offense next season. He and
Jordan Payton
will serve as Nos. 1 and 1A in a receiving corps that has the benefit of a pairing with quarterback
Brett Hundley
. Fuller, who lines up primarily in the slot, has caught a pass the last 19 games dating back to his midseason position change in 2012 brought on by a rash of injuries. Fuller's production dipped toward the end of the 2013 season -- potentially related to a hamstring injury that kept him out against Arizona State -- but for most of the season he was a reliable option for Hundley on short routes.
Previous spotlights
November, 11, 2012
11/11/12
12:24
AM PT
The
UCLA Bruins
took a big lead, then hung on for a 44-36 victory over the
Washington State Cougars
in a Pac-12 game on Saturday night in Pullman, Wash.
The Bruins (8-2, 5-2) remained in control of the Pac-12 South Division race with a division-deciding game against the
USC Trojans
(7-3, 4-3) coming up next week.
Here's how the Bruins graded out after taking a 44-14 lead late in the third quarter, only to let Washington State climb right back to within one score:
PASSING OFFENSE
Brett Hundley
completed 18 of 21 passes for 261 yards and three touchdowns. He began the game with 11 consecutive completions.
Joseph Fauria
and
Jordan Payton
had nice games at receiver. The offensive line had a bit of an off night in pass protection, giving up four sacks.
RUSHING OFFENSE
Johnathan Franklin
had 66 yards rushing, his second lowest total this season. The Bruins had a season-low 73 yards rushing as a team and averaged a paltry 1.9 yards per carry. It was only the second time this season the Bruins failed to crack 100 yards rushing (95 against the
Oregon State Beavers
).
PASS DEFENSE
Washington State passed for 457 yards and five touchdowns, both of which were season highs against UCLA. Receivers routinely got deep against the UCLA secondary and the Cougars had two 100-yard receivers. Still, six sacks and a late interception by
Andrew Abbott
saved the grade.
RUN DEFENSE
Yes, the Bruins gave up only 67 yards on the ground, but that is more than double what Washington State has averaged this season. Running back
Teondray Caldwell
averaged 6.2 yards per carry. Linebackers
Anthony Barr
and
Eric Kendricks
had nice games and combined for 23 tackles.
SPECIAL TEAMS
The Bruins had two blocked field goals, two blocked punts and recovered a fumble on a kickoff.
Sheldon Price
returned Datone Jones' blocked field goal for a touchdown and the kickoff fumble recovery led to a UCLA touchdown.
Jeff Locke
punted four times, three inside the 20, including one inside the five.
COACHING
After a slow start, the staff got the team turned in the right direction. But the Bruins weren't able to muster the killer instinct and let the Cougars back in the game after taking a 30-point lead with four minutes left in the third quarter. Penalties (12 for 126 yards) continued to be an issue.
November, 9, 2012
11/09/12
5:41
PM PT
The
UCLA Bruins
end the road portion of their regular-season schedule with a difficult trip to
Washington State
for a 7:30 p.m. game Saturday night that will be televised by ESPN2.
The Bruins (7-2, 4-2 Pac-12) have a four-game win streak over Washington State (2-7, 0-6) and have outscored the Cougars, 141-63, during that stretch. Washington State is currently on a six-game losing streak and has lost three in a row at home. The Bruins are 3-1 on the road this season. Here are five things to watch:
Avoid the trap
Coach Jim Mora says he doesn't believe in trap games, but there is no mistaking that this game is exactly that. The Bruins are riding high after a resounding 66-10 victory over
Arizona
put them atop the Pac-12 South Division and into the BCS standings for the first time since 2006. Not only that, but the Bruins are now the "it" team in Los Angeles as
USC
struggles with its image and UCLA is ranked ahead of USC for the first time in a decade. The Bruins play the Trojans next week, so there is always the possibility of getting caught looking ahead and add it all up and you have a possible letdown game coupled with a team possibly looking ahead that is playing on the road against a last-place team. In other words, it's a classic trap game.
Weather the storm
The weather forecast in Pullman, Wash., calls for the game-time temperature to be 23 degrees. It looks as if the Bruins will escape the light snow projected for Friday night, but that is not the kind of cold any UCLA players have experienced over the last couple of seasons. It will be the same weather for both teams, obviously, but for a team coming from 90-degree temperatures earlier this week, it will be a major adjustment. The ball will be harder to throw, catch and hold on to, especially with frozen hands. It could be particularly troubling for quarterback
Brett Hundley
, who hails from Arizona. Still, the Bruins can at least rely on their ground game if passing proves difficult. As indicated in the next item, that is not a luxury the Cougars have.
November, 8, 2012
11/08/12
8:41
PM PT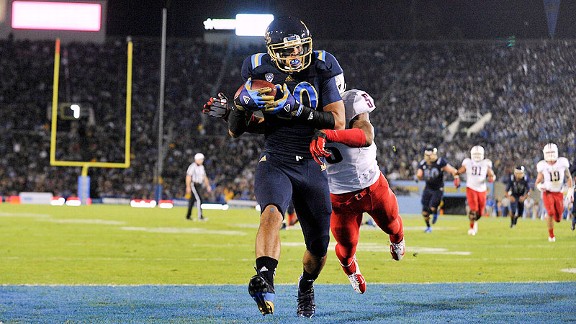 Andrew Fielding/US PresswireJordan Payton is one of many UCLA freshmen who have stepped up to play well for the Bruins.
LOS ANGELES --
Jordan Payton
said he stopped feeling like a freshman after he took his first hit.
Jake Brendel
said that moment came for him after his first game.
Simon Goines
said his came about four games into the season. And
Brett Hundley
said it happened for him after his first big win over
Nebraska
.
The
UCLA Bruins
have had plenty of those "a-ha" moments this season. Coach Jim Mora and his staff have rolled out 25 freshmen so far this season, and nine of them have started, including four who have been starters every game.
Three games ago against
Utah
, the Bruins started seven -- yes, seven -- freshmen on offense. Yet despite the wet-behind-the-ears lineup, all the young guys have performed at a high enough level to have the Bruins (7-2, 4-2) ranked No. 18 in the BCS standings and in control of the Pac-12 Conference race as they head to
Washington State
for a Saturday night game.
"We kind of went through our moments early in the season where we wondered if we could coach or not," offensive coordinator Noel Mazzone said. "We went through our ups and our downs, but in my mind we don't have any more freshmen on this team."
That's because nine games in, they have been through the ringer enough to know what they are doing. Hundley has started every game at quarterback and plays behind an offensive line featuring Brendel at center, Goines at one tackle and
Torian White
, another freshman, at the other tackle. UCLA is averaging 37 points a game, which is second in the Pac-12.
Hundley, Brendel and White are redshirt freshmen so they at least had a year of seasoning in practice and on scout teams to adjust. But Goines and Payton, a receiver who has started the past three games, are true freshmen getting a lot of playing time and contributing at a high level.
UCLA has used 12 true freshmen this season after using only one last year.
Last week, Payton caught his first career touchdown against Arizona in a game that featured UCLA touchdowns by four freshmen. Kicker
Ka'imi Fairbairn
, also a true freshman, had a field goal and tied a school record with nine extra points in that game.
"There were a couple of games where I was just like, 'Wow,'" said Brendel, who has started every game at center. "It was a different atmosphere, a different speed than I'm used to. But the more you go through it, the more used it you get. It just takes experience to get used to all of it."
October, 17, 2012
10/17/12
6:00
PM PT
LOS ANGELES -- Noel Mazzone has a pretty nasty changeup.
UCLA's
offensive coordinator doesn't like to use it much, preferring his offense to go fast, faster or fastest, but on days such as last Saturday, he'll change up the pace in a strategic move.
Going into last week's 21-14 victory over
Utah
, the Bruins had been averaging 82.6 plays per game, or one every 22.64 seconds. Injuries required the Bruins to start seven freshmen on offense against the Utes so Mazzone figured he'd be better off slowing down the pace.
UCLA ran a season-low 68 plays, averaging one every 27.7 seconds.
"We kind of slowed it down on purpose last week because we had so many new guys in there," Mazzone said. "I don't using freshmen, but when you have seven of them running around out there at the same time it worries me."
The slowdown had an impact on UCLA's offensive numbers. The Bruins were averaging 33.5 points and 529 yards in total offense before that game, but scored 21 and had a season-low 354 yards. The play calling went more conservative as well, with 47 runs and a season-low 21 pass attempts.
"I actually called three runs in a row down in the red zone inside the five which is like a first for me, ever," Mazzone said. "Lightning didn't strike me or anything."
Injuries to receivers
Darius Bell
and
Devin Lucien
have forced true freshmen
Jordan Payton
and
Kenneth Walker
into starting roles without as much practice time. The result was a season-low 183 yards passing for quarterback
Brett Hundley
, more than 100 yards below his season average before the game.
Mazzone said he doesn't like to get in defensive battles like that, but did what he had to in that game.
"By nature I'm not a conservative guy," he said. "But you're going to have games like that during the course of a season. Everybody does. We just kind of played a little closer to the vest than I usually like to but it's always about the end result anyway. We didn't score as many points or have as many yards but we won."
Ideally, Mazzone said, he'd like to be running a play every 15 or 20 seconds, much like
Oregon
does. The Bruins have gotten there only once this season, running a play every 19.4 seconds two weeks ago at
Colorado
.
Whether the Bruins will match that this season depends on the development of the younger players.
"We're always looking to go faster," Mazzone said. "But it doesn't bother me if we have to go slower. The only thing that bothers me is if we don't have more points than them."
August, 29, 2012
8/29/12
7:19
PM PT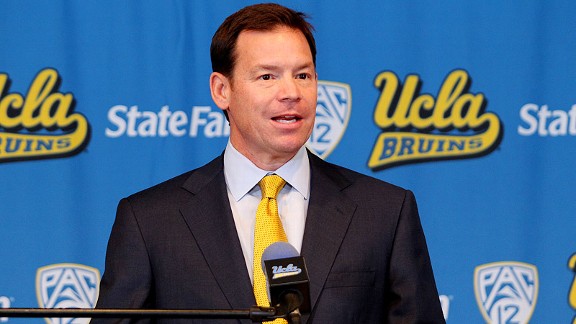 Adam Davis/Icon SMIJim Mora spent the past 27 years mostly coaching in the NFL, and now he's trying to adjust to the college game at UCLA.
LOS ANGELES -- The clock is about to begin ticking on the Jim Mora era at UCLA, and that's one of the things that has Mora nervous.
The clock ticking part, that is, not his debut as a college coach.
Clocks tick differently in college football than they do in the NFL. They stop after first downs. They don't stop with two minutes remaining in each half.
Mora spent the vast majority of his 27-year career in the NFL before UCLA hired him last year to replace Rick Neuheisel, and he learned to manage clocks the NFL way. Now he has had to retrain his brain to think on college time and hope it doesn't slip back into NFL mode when the game-time juices start flowing during UCLA's season opener at Rice on Thursday at 4:30 p.m. PT.
"Am I afraid of calling a timeout late in a game after a first down? Yes, I am," Mora said. "I've always kind of prided myself on not making game management errors. One of my primary roles on game day is to manage the game and not waste timeouts or have silly timeouts or make silly decisions that will put our team at a disadvantage. I'm sure I'll screw something up, I just hope it's not something that hurts our team."
Mora is not the first NFL coach to become a college coach, but he is the first to do so with so much NFL coaching experience and so little at the college level. He spent one year as a graduate assistant at Washington in 1984 before embarking on an NFL career that lasted until he was fired from the Seattle Seahawks after the 2009 season.
This makes Mora a trailblazer of some sort, and adds some intrigue to the project of turning around a UCLA program that has struggled for much of the last decade. The Bruins are 81-80 since 1999 and they are pinning their hopes of escaping mediocrity on a man who has never been so much as a position coach or coordinator at the college level.
So far, Mora seems to have made all the right moves. He hired a staff of successful recruiters to help ease him into that unfamiliar part of the job, and his NFL background has served as a bonus on the recruiting trail.
The X's and O's of scheming and game planning are pretty much the same and he's conducting practices and film sessions the only way he knows how, so there is no difference in the football part and he has plenty of assistants with college experience as well as a compliance officer to help navigate the murky waters of NCAA regulations.
Rulebook notwithstanding, it's off the field and away from the meeting rooms where Mora has had to make the biggest adjustment. He's no longer coaching professionals with agents and wives and instead is dealing with developing young men with parents and homework. It's a change Mora has embraced.
July, 28, 2012
7/28/12
3:31
PM PT
With UCLA training camp set to begin Aug. 4 at Cal State San Bernardino, we're taking a preseason look at the roster and breaking down the Bruins position by position.
We looked at
quarterbacks
and the
offensive line
earlier this week. We stick with the offense and check in a group that must replace its two most productive members over the last three season: Receivers.
DEPTH CHART AT THE END OF SPRING PRACTICE:
X (receiver)
Jerry Johnson (6-3, 211, Sr.) OR
Devin Lucien (6-0, 200, Fr.)
Sam Handler (5-10, 195, Fr.)
Y (receiver)
Joseph Fauria (6-7, 255, Sr.) OR
Darius Bell (5-10, 205, Jr.)
John Young (6-6, 255, Fr.)
Jordan Barrett (6-2, 255, Jr.)
Jackson Reeder (6-3, 194, Fr.)
F (receiver)
Ricky Marvray (5-11, 192, Jr.)
Jordon James (5-8, 193, So.)
Roosevelt Davis (5-6, 155, Fr.)
Z (receiver)
Shaq Evans (6-1, 201,Jr.)
Jerry Rice, Jr. (5-11, 185, Jr.)
Logan Sweet (6-0, 185, Fr.)
Tyler Scott (6-2, 205, Fr.)
PROJECTED OPENING-DAY DEPTH CHART:
X (receiver)
Jerry Johnson (6-3, 211, Sr.)
Devin Lucien (6-0, 200, Fr.)
Javon Williams (6-5, 180, Fr.)
Sam Handler (5-10, 195, Fr.)
Christoph Bono (6-1, 162, Fr.)
Y (receiver)
Joseph Fauria (6-7, 255, Sr.)
Darius Bell (5-10, 205, Jr.)
John Young (6-6, 255, Fr.)
Jordan Barrett (6-2, 255, Jr.)
Jackson Reeder (6-3, 194, Fr.)
F (receiver)
Jordon James (5-8, 193, So.)
Ricky Marvray (5-11, 192, Jr.)
Kenny Walker (5-10, 171, Fr.)
Ahmaad Harris (5-6, 155, Fr.)
Roosevelt Davis (5-6, 155, Fr.)
Z (receiver)
Shaq Evans (6-1, 201, Jr.)
Jordan Payton (6-2, 214, Fr.)
Jerry Rice, Jr. (5-11, 185, Jr.)
Tyler Scott (6-2, 205, Fr.)
Logan Sweet (6-0, 185, Fr.)
KEY LOSSES:
Nelson Rosario, 64 catches, 1,161 yards, 5 TDs. Graduated.
Taylor Embree, 20 catches, 228 yards, 2 TDs. Graduated.
Josh Smith, 11 catches, 243 yards, 1 TD. Graduated.
Cory Harkey, 1 catch, 10 yards. Graduated.
Anthony Barr, 3 catches, 16 yards, 1 TD. Switched to linebacker.
2013 TEAM LEADERS
| TEAM | RUSH | PASS | TOTAL |
| --- | --- | --- | --- |
| Offense | 196.6 | 251.6 | 448.2 |
| TEAM | PF | PA | MARGIN |
| Scoring | 36.5 | 24.1 | 12.4 |