March, 23, 2010
3/23/10
5:22
PM PT
In Westwood... or on the road. Night... or day.

So far, it's all been the same for the UCLA baseball team. The latest example came Tuesday afternoon, as UCLA traveled up the 101 Freeway to defeat UC Santa Barbara 7-1 and improve to 17-0 on the season. It was the Bruins' seventh win away from Jackie Robinson Stadium.

It was yet another example of UCLA's depth on the mound, with senior right-hander Garett Claypool (2-0) allowing one run in seven innings of work and striking out 10 of the 24 batters he faced. Relievers Erik Goeddel and Dan Klein combined to toss two scoreless innings out of bullpen.

After stranding four runners in the first three innings, UCLA broke through with five runs on seven hits in the fourth. The scrappy, wear-you-out Bruins finished with 16 hits -- none of which were home runs. Blair Dunlap had three hits, while Tyler Rahmatulla, Cody Keefer, Cody Regis, Justin Uribe and Beau Amaral had two apiece.

No. 9 UCLA (17-0) returns to Jackie Robinson Stadium Thursday night to take on Cal Poly San Luis Obispo (7-11) in the first of a three-game set.
March, 21, 2010
3/21/10
7:42
PM PT
The UCLA baseball team did it again Sunday, beating Oral Roberts 9-1 at Jackie Robinson Stadium to earn a sweep and extend its winning streak to 16 games.

Junior left-hander Rob Rasmussen continued to prove that the Bruins' weekend rotation extends beyond aces Gerrit Cole and Trevor Bauer. Rasmussen gave up a run on two hits in five and two thirds innings and retired 17 in a row after surrendering a single to the game's first batter.

Senior Blair Dunlap also led off UCLA's first inning in good fashion, but his hit left the yard to give the Bruins an early 1-0 lead. UCLA added five in the fourth and three more in the sixth. First baseman Justin Uribe drove in three runs with a 3-for-4 effort at the plate.
March, 1, 2010
3/01/10
2:40
PM PT
Senior Justin Uribe didn't get to start Sunday at Dodger Stadium, but he made an impact when the situation called for it.

With UCLA and USC locked in a 1-1 duel in the seventh inning, Uribe -- arguably the most experienced Bruins batter -- lined a single to center field to score the go-ahead runs in a 6-1 victory in the inaugural Dodgertown Classic. He tacked on an RBI walk in UCLA's three-run eighth inning to put the game out of reach.

But his moment came an inning prior. In a situation where Uribe said he was trying to lift a pitch into the outfield to score a runner from third, he instead sent USC pitcher Shuhei Fujiya's 1-1 offering back up the middle.

"He left a split up and I just poked it through the infield," Uribe said. "It's a lot easier when [the infielders] are 70 feet away than when they're 90 or 120. I'll take it."

Uribe didn't get start at first base because coach John Savage liked how Dean Espy was swinging the bat. Espy was hitting .625 heading into Sunday. The switch at first base was just another example of UCLA's depth.

The Bruins improved to 6-0 in front of a crowd of 14,588 that filled Dodger Stadium's field level seats and parts of the outfield bleachers. With such a turnout, Savage deemed the first-ever Dodgertown Classic a success.

"It lived up beyond everybody's expectations," Savage said. "The Dodgers did a remarkable job. The fans showed up on both sides... It's a credit to the college baseball community."

Sophomore right-hander Erik Goeddel earned his second victory of the season in relief of junior Rob Rasmussen, who gave up five hits and the lone run in 4.2 innings. He struck out six.

Fans started heading towards the exits when junior shortstop Niko Gallego led off UCLA's three-run eighth inning with a home run to the left-field bleachers.

"Our team just wore them down," Gallego said. "It was a battle -- that was a great baseball game. We've been jumping on teams early, but it was good to see that we can jump on teams late as well."

Here's video from the final out:


The UCLA baseball team has unveiled a new weapon this season, but it's not a freshman or junior college transfer (though
Beau Amaral
and
Dean Espy
, respectively, fall into those categories). It's not a change in bats or gloves, either.
The new weapon? Stirrups. Yes, stirrups.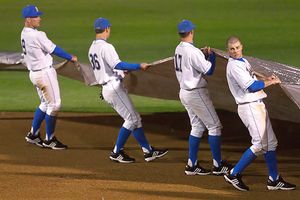 "We went old-school," coach
John Savage
said. "The whole team did it right when we got together in the fall. I like it -- it's a good look, it's good, old-fashioned baseball. Fans are going to like this team because they play hard."
There has to be more than that, right? Well, yes.
"We realized that the team's we play that have the socks up get lower pitches called balls," said catcher
Steve Rodriguez
, who should know a thing or two about an umpire's tendencies. "We always get those low pitches called strikes."
Ah hah! It might be an optical illusion, but it's not crazy to think that wearing high socks raises the bottom part of the strike zone just a tad bit. UCLA, a team that prides itself on wearing out opposing pitchers by taking multiple pitches, has drawn 21 walks through four games.
"It seems to be working so far," senior first baseman
Justin Uribe
said. "Everyone is pretty much buying in. Our pants were normally on the bigger side, so I don't know if we're going to get them tailored this year."
2014 TEAM LEADERS
| TEAM | RUSH | PASS | TOTAL |
| --- | --- | --- | --- |
| Offense | 199.4 | 268.5 | 467.9 |
| TEAM | PF | PA | MARGIN |
| Scoring | 32.9 | 27.5 | 5.4 |