December, 23, 2012
12/23/12
9:10
AM PT
LOS ANGELES -- For the UCLA basketball team these days, the best defense is a good offense.
The Bruins defensive woes this season have been well-chronicled, but for the last three games it's been moot thanks to an offense that is putting up some impressive numbers.
The Bruins defeated Fresno State, 91-78, Saturday night at Pauley Pavilion and pushed their win streak to four consecutive games. They have scored 95, 89 and 91 points in their last three games, shooting a whopping 57.6% during that stretch.
UCLA (9-3) has won by 19 and 13 points the last two games despite allowing Long Beach State and Fresno State (5-7) to shoot nearly 48 percent in those games. It's not exactly a recipe for long-term success, but it's nice for the Bruins to know they have the ability to simply out-score opponents when they need to.
"It's great when you have a few mishaps on defense and everybody is clicking on the offensive end and everybody is being unselfish," said guard
Kyle Anderson
. "But I think it's much better if we want to be a contending team we need to buckle down on defense."
Unselfishness has become a hallmark of the UCLA offense. In the last three games, they have a combined 70 assists on 91 made field goals. Point guard
Larry Drew II
has a 28-to-3 assist-to-turnover ratio in those games, making the offense run quite efficiently.
On Tuesday against Long Beach State,
Jordan Adams
and
Shabazz Muhammad
each scored 20 or more to become the first freshmen in UCLA history to score 20 or more in the same game. Against Fresno State on Saturday, they did it again and added Kyle Anderson to the mix, giving UCLA three freshmen with 20 or more for the first time in school history.
"Guys aren't afraid to give up the ball and really trust their teammates and that's a big factor with us right now," Muhammad said. "It's unselfishness and it's bringing our team a long way."
At some point the UCLA defense is going to have to tighten up. Fresno State got way too many open three-point looks and opponents all season have found easy paths to the basket, and UCLA's interior defense has been almost non existent against upper-tier post players.
Howland, a notorious stickler for defense, said he planned on drilling the team hard on staying in front of the ball because they are getting beat off the dribble far too often. His most successful teams were always hard-nosed defensive teams that held opponents to scoring in the 60's and he said he doesn't want to gamble on being a team that needs to score 90 points a night to win games.
"We don't want to play that way," Howland said. "We want to do better defensively."
Saturday's offensive performance may have been the most impressive of the season. Fresno State was giving up an average of only 55.8 points a game this season and no Bulldogs' opponents before UCLA had scored as many as 70. The Bulldogs had held their last six opponents to under 60 points.
And that performance came amid the distraction created by an Internet report this week that said that UCLA was leaning toward firing Howland and that he could be let go during the season. The players said it was not a distraction and that it even served as a bit of motivation.
"We didn't pay attention to it," Muhammad said. "There are a lot of rumors that go around and as you can see he's a great coach who is pushing us to get better and we're improving as a team. It doesn't affect us. We went out there and played. We're always playing for him because not only is he a good coach, but he's a good guy so it's a big thing for us to play for him."
Muhammad said the team played "with a chip on our shoulder" and they hope to carry that over into the next few games. The Bruins face No. 12 Missouri next Friday and then begin Pac-12 play against California and Stanford on Jan. 3 and 5.
It's an important stretch for the Bruins, who began the season as a top-15 team with high expectations.
"We're looking forward to this game [against Missouri]," Adams said. "It's been marked on our calendar. They're a top-10 team and we need this game to get back."
Offensively, at least, they seem to be well on their way.
December, 4, 2012
12/04/12
9:51
PM PT
LOS ANGELES -- It was a little closer than
UCLA
fans would have liked for most of the first half, but the Bruins ended up dominating the way they should against Cal State San Marcos in winning an exhibition game 83-60 on Wednesday night at Pauley Pavilion.
A quick look at the game:
How it happened:
The Bruins used a balanced scoring attack, with four players scoring in double figures, and even got a few walk-ons into the game at the end.
Shabazz Muhammad
tallied 19 points,
Norman Powell
scored 14,
David Wear
contributed 11 and Larry Drew had 10.
Kyle Anderson
and
Travis Wear
just missed the double-digit party, scoring 9 points each. Anderson also had 16 rebounds and 5 assists, while Drew had 10 assists.
UCLA opened the second half with a 10-1 run, then held the Cougars scoreless for a period of nearly five minutes later in the half to take a 63-42 lead and blow open the game.
During the first half, San Marcos was within a point at 20-19 with 11:52 left and was trailing by four after a
Jacob Ranger
basket made it 29-25 with 5:48 left. But Travis and David Wear lead a 13-5 run to close the half for UCLA ,and the Bruins took a 42-30 lead into the break.
Player of the game:
Muhammad continues to progress in getting his game legs back. He made 7-of-12 shots from the field for a team-leading 19 points. He also added 5 rebounds and couple of blocked shots.
Stat of the game:
UCLA, playing a man-to-man defense the entire game, held San Marcos to 37.9 percent shooting. The Bruins outrebounded San Marcos 49-29.
What it means:
Nothing. It was an exhibition game against an NAIA team and the Bruins were working on specific aspects of their game. It's difficult to judge the results against a clearly inferior opponent, in a game prior to which UCLA coach Ben Howland had asked the San Marcos coaching staff to play at least one half using man-to-man defense so he could work the Bruins on offensive sets.
What's next:
UCLA travels to Houston for a Saturday game at 2:15 p.m. PT against the
Texas Longhorns
at Reliant Stadium. It is part of a doubleheader, with the women's teams from each school squaring off before the men tip off.
October, 16, 2012
10/16/12
11:00
PM PT
LOS ANGELES -- Ben Howland wants his UCLA Bruins to run this year. Now if only the NCAA will let him.

Howland, as he is apt to do before seasons begin, has said all summer and repeated last week during UCLA's basketball media day that this team will be looking to run more often than his plodding defense-minded teams of the past.

This time, however, he seems to be serious. At every practice session that reporters have been allowed to watch, fast-break offense has been a major focal point because the Bruins have added some dynamic, athletic and quick players this season. An up-tempo offense suits players such as scorer Shabazz Muhammad, ball-handling expert Kyle Anderson and speedy point guard Larry Drew.

The problem is, the NCAA still hasn't told Howland if Muhammad and Anderson can play this season as the two freshmen are the subjects of independent reviews of their amateurism. That means that Howland is extolling the promise of a higher tempo even though he doesn't know for sure what players he will have available.

"We're really trying to play faster," Howland said. "That was one of the big implementations of the summer was really trying to push the ball to take advantage of the fact that we have depth but also of our speed and our ability to run."

Howland says he plans on using a rotation of nine or 10 players so it will be easier to push the pace. But that drops to seven or eight players if the NCAA rules against Muhammad and Anderson. Guard Tyler Lamb may also miss the early part of the season as he recovers from arthroscopic knee surgery. At this point it could be Drew and Norman Powell, another athletic guard, playing with five guys nobody would call fleet-a-foot: center Joshua Smith, twin forwards David and Travis Wear, center Tony Parker and shooting specialist Jordan Adams.

For obvious reasons, the rest of the team is hoping for Muhammad and Anderson to be eligible. They are two of the top five freshmen in the country this season and make up half of the top-ranked recruiting class that is supposed to help lift UCLA back into the national spotlight after missing the NCAA tournament in two of the last three seasons. Muhammad can score from anywhere, and is certain to cap many a fast break with a highlight-reel dunk. Anderson is an open-court professor who facilitates the offense from a number of positions.


July, 17, 2012
7/17/12
5:08
PM PT
Editor's note: ESPN.com's Summer Shootaround series catches up on the offseason storylines for each conference. For more on the Pac-12,
click here
.
Arizona: Nick Johnson
The shooting guard tapered off at the end of his freshman season, when he averaged just 6.1 points in his last seven games. It will be interesting to see if the presence of highly touted freshman Gabe York and Xavier transfer
Mark Lyons
will cause Johnson to step up his game.
[+] Enlarge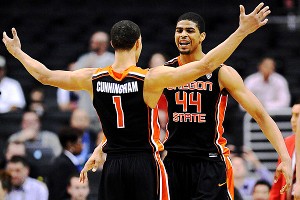 Jayne Kamin-Oncea/US PresswireJunior forward Devon Collier, right, will be heavily leaned on by the Beavers this upcoming season.
Arizona State: Jordan Bachynski
The 7-foot-2 center was a bright spot for the Sun Devils during an otherwise frustrating season in 2011-12. Don't be fooled by his ho-hum statistics (6.0 points; 4.0 rebounds). In Arizona State's last 13 games, Bachynski averaged 10.1 points, 6 boards and 2 blocks. He'll be one of the top post players in the league this season.
California: Richard Solomon
The 6-foot-10, 220-pound forward was averaging 6.8 points and 6.2 rebounds when he was declared academically ineligible after 13 games last season. It was a huge loss for the Golden Bears, who are a much better team when Solomon is anchoring the defense down low.
Colorado: Andre Roberson
The forward ranked third in the nation in rebounding last season with 11.1 boards per game. Most NBA mock drafts predict that Roberson will be a first-round pick next summer. For now, the biggest question is whether Roberson can lead the Buffaloes to the NCAA tournament for the second straight season.
Oregon: Tony Woods
The 6-foot-11, 250-pound Woods put up modest numbers (6.3 points, 3.7 rebounds) after transferring to Eugene last season. Still, the former Wake Forest post player has yet to live up to the lofty expectations that have hovered over him since high school. Oregon will be a different caliber team if Woods takes that "next step" in his final season.
Oregon State: Devon Collier
With
Jared Cunningham
now in the NBA, the spotlight will shine on Collier. The 6-foot-7 forward averaged 13.2 points and 5.3 rebounds as a sophomore last season, when he shot 61.5 percent from the field. He also blocked an average of 1.3 shots per contest.
Stanford: Aaron Bright
The point guard should be full of confidence after averaging 16.8 points and 4.2 assists during Stanford's march to the NIT title. Bright's performance earned him tournament MVP honors. If he plays that way in 2012-13, the Cardinal will be back in the NCAA tournament.
UCLA: Larry Drew
The Bruins' recruiting class has generated a ton of offseason buzz, and rightfully so. But a strong performance by Drew at point guard will be vital if the Bruins hope to be a mainstay in the top 10. Drew was North Carolina's starter before walking out on his team midway through the 2010-11 season.
USC: J.T. Terrell
The shooting guard averaged 11.1 points as a freshman at Wake Forest in 2009-10. He withdrew from school last fall after he was arrested for driving while impaired. Terrell played last season at Peninsula Junior College. Trojans coach Kevin O'Neill said Terrell is one of the most talented players he's ever signed.
Utah: David Foster
The 2009-10 Mountain West Defensive Player of the Year missed all of last season with a broken foot. Foster, a 7-foot-3, 243-pound center, will return this season and try to help the Utes bounce back from the worst season in school history. Foster holds Utah's all-time record for blocked shots with 219.
Washington: Scott Suggs
C.J. Wilcox
and
Abdul Gaddy
are the most recognizable names on the roster. But don't forget about Suggs, a sharpshooter who averaged 7.4 points and shot 45 percent from 3-point range as a junior two years ago. The 6-foot-6 Suggs, who redshirted last season because of a foot injury, could be one of the X factors for the Huskies.
Washington State: Reggie Moore
The Cougars might be decent if Moore can keep his head on straight. The point guard was suspended in January 2011 following his arrest on marijuana-related charges. Last season, he played in all 37 games and averaged 10.2 points and 5.2 assists. Moore is one of the most underrated players in the country at his position. His leadership this season will be key.
July, 5, 2012
7/05/12
9:58
PM PT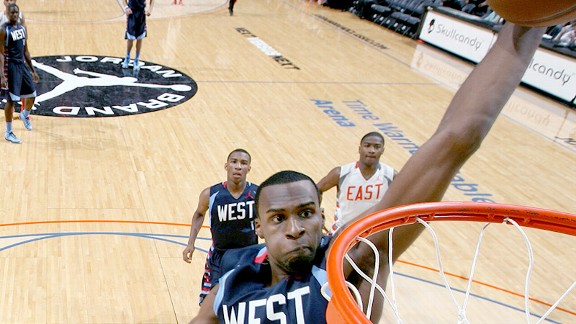 Kelly Kline/Getty ImagesShabazz Muhammad hopes to take UCLA to new heights in the coming season.
LOS ANGELES -- The basketball season is still four months away, but
Shabazz Muhammad
can already feel the pressure starting to build.
Muhammad has been at UCLA less than two weeks but has already seen the people pointing at him as walks by and heard the whispers about how he and his fellow freshmen would be the guys to pull UCLA out of the college basketball doldrums.
Muhammad is used to that kind of attention having been the top high school recruit in the nation for most of the past year, but the stage suddenly became a lot bigger when he arrived at UCLA to begin summer school on June 25.
[+] Enlarge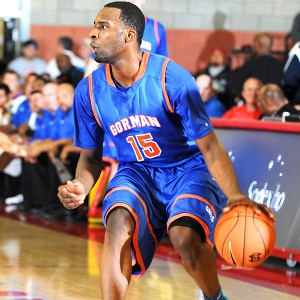 Courtesy Scott KurtzShabazz Muhammad says he felt the pressure right away when he stepped onto the UCLA campus, but he plans to be a leader for this team.
During the recruiting period, everyone fantasized about the potential monster recruiting class, with Muhammad joining
Kyle Anderson
,
Tony Parker
and
Jordan Adams
. After all four signed with UCLA, giving coach
Ben Howland
the No. 1 recruiting class in the nation, the fantasy turned to speculation about just how good UCLA would be.
But fantasy and speculation turned to reality once those four players stepped onto campus. Even though they could barely find their way from dorm rooms to class rooms and practice facilities, they were looked at as the guys who would lead UCLA back to the college basketball promised land.
"I could feel the pressure right away," Muhammad said. "There's been a lot of talk about this class and what we're going to do for UCLA, but now we're here and we have to go out there and prove ourselves. It's a great opportunity for us, but it's also a lot of pressure."
Anderson, Parker and Adams also used the word "pressure" several times when talking about arriving at UCLA. A certain amount of pressure comes with the territory of being named the No. 1 recruiting class in the nation, but the pressure for these guys is different.
UCLA has a storied tradition with 11 national championships and a place on the Mt. Rushmore of college basketball programs, but the Bruins are in the midst of a downturn. They missed the NCAA tournament last season for the second time in three seasons and haven't made it to the second week of the NCAA tournament since a run to the Final Four in 2008. Add to that a Sports Illustrated report last March that painted the program in an unflattering light and you have a program on the brink of sliding into oblivion.
Yet somehow Las Vegas bookmakers list the odds of UCLA winning the national title at 15-1. Only Indiana, Louisville and Kentucky --- teams that made deep runs in the NCAA tournament last season -- are more heavily favored. The arrival of Muhammad, Anderson, Parker and Adams is a major reason why.
"All of us know that they had a down year last year, so they brought us in here for a reason and that was to win," Adams said. "We know there is going to be pressure because we're expected to do big things. It's going to make us better because we don't want to be embarrassed by pressure. It's going make us dig down and fight."
2014 TEAM LEADERS
| TEAM | RUSH | PASS | TOTAL |
| --- | --- | --- | --- |
| Offense | 199.4 | 268.5 | 467.9 |
| TEAM | PF | PA | MARGIN |
| Scoring | 32.9 | 27.5 | 5.4 |