August, 1, 2014
Aug 1
9:00
AM PT
Our list of the
top 25 players in the Pac-12
concludes.
No. 5: Arizona State QB Taylor Kelly
2013 stats:
Completed 62.4 percent of his throws for 3,635 yards with 28 touchdowns and 12 interceptions, giving him an adjusted QBR of 74.2, which ranked 24th nationally. He also rushed 173 times for 608 yards and nine touchdowns.
Why he's ranked here:
There was some disagreement at the end of last season about who was the second-team All-Pac-12 quarterback. Kelly won the official Pac-12 vote with the coaches, and that means a lot. It also helps that he is the quarterback of the defending South Division champion. Further, you have to love his story. Nothing has been given to Kelly. In the spring of 2012, he was little more than an afterthought, ranking third in the Sun Devils' quarterback competition. You have to be mentally tough to emerge from that sort of deficit. He has earned his spot by fighting like crazy to win the job, to lead his team well and, finally, to become an A-list quarterback worthy of national attention. He has a chance to play his way into a solid spot in the NFL draft too. As for this season, Kelly has a lot coming back on offense and, because of the Sun Devils' questionable defense, offensive coordinator Mike Norvell figures to set him free as a third-year starter.
No. 4: Oregon CB Ifo Ekpre-Olomu
2013 stats:
Ekpre-Olomu was second on the Ducks with 84 tackles. He had five tackles for a loss to go with three interceptions and nine passes defended. He also forced a fumble.
Why he's ranked here:
Ekpre-Olomu might be the best cornerback in the nation. He earned All-American honors last season and is pretty much a unanimous 2014 preseason All-American. He is not expected to last too far into the first round of the 2015 NFL draft, and truth be told, it was a bit of a surprise he stuck around for another season because he likely would have been a first-round pick last spring. It will be interesting to see if he sees much action on his side of the field this season, considering he is the lone returning starter in the Ducks' secondary. His numbers might not wow you, but opposing coaches will start their Monday meetings by drawing a line down one third of the field and saying, "Ifo is here, so we're throwing over here."
No. 3: UCLA QB Brett Hundley
2013 stats:
Hundley completed 67.2 percent of his throws for 3,071 yards with 24 touchdowns and nine interceptions. He also rushed for 748 yards and 11 scores.
Why he's ranked here:
Kelly-Hundley, Hundley-Kelly -- based on last season, Kelly should nip his buddy from UCLA. But Hundley ends up at No. 3 because of projection. He is simply overbrimming with talent. He's big, strong, smart, charismatic, etc. Outside of Johnny Manziel, no one has more scramble yards in the past two seasons than Hundley (per ESPN Stats & Information). Though there are parts of his game that didn't completely arrive in 2013 -- still more feared as a runner than downfield passer and still takes too many sacks -- those were delays, not cancellations. Hundley also has a stacked supporting cast. The Bruins are the favorite in the Pac-12 South, a preseason top-10 team and a dark horse national title contender. If UCLA surges, Hundley almost certainly will become a top Heisman Trophy candidate.
No. 2: USC DT Leonard Williams
2013 stats:
Williams was second on the Trojans with 74 tackles, tied with
Devon Kennard
for the team lead with 13.5 tackles for loss and forced two fumbles.
Why he's ranked here:
Williams, a 2013 first-team ESPN.com All-American, is the consensus pick as the nation's best returning defensive lineman. He could be the top overall pick in the 2015 NFL draft, and he's almost certainly not going to last past the top 10 picks. Former USC coach Ed Orgeron called him the best defensive lineman he's ever coached, and Orgeron's defensive line résumé is deep. Williams has great length and athleticism and surprising power. He is the centerpiece of what might be the Pac-12's best defense. Last season, he was the lone sophomore semifinalist for the Chuck Bednarik Award, given to the nation's top defensive player, and he is likely to be a finalist for just about every award for which he is eligible.
No. 1: Marcus Mariota
2013 stats:
Mariota completed 63.5 percent of his passes for 3,665 yards with 31 touchdowns and just four interceptions. He also rushed for 715 yards and nine touchdowns.
Why he's ranked here:
Surprise! Bet you didn't see this coming, considering Mariota finished No. 1 on this list in 2012 and 2013. This was the easiest spot to fill on this list, perhaps the only easy spot by the way. Why? Mariota might be the best quarterback and player in the nation. In the 2014 Heisman Trophy race, he is option 1A besides Florida State's
Jameis Winston
, who won it last year but has significant character issues. Mariota opted to return and get his degree -- yes, he is taking a light class load this fall because he doesn't need any more credits -- and instantly made the Ducks (again) the Pac-12 favorite and a national title contender. The biggest question of the 2013 season was what might have happened if Mariota didn't suffer a knee injury before playing at Stanford. Pre-injury, he had 20 touchdowns and zero interceptions; post-injury, 11 touchdowns and four picks. All nine of his rushing touchdowns came before he partially tore his MCL. Despite that injury, Mariota led an offense that averaged 45.5 points per game last season -- tops in the Pac-12 and fourth in the nation -- in a very good defensive conference. While his speed and production as a runner is impossible to ignore, what separates him is his passing ability. He was No. 1 in the Pac-12 in efficiency and No. 1 in the nation in ESPN's adjusted QBR rating. He set an Oregon single-season record with 4,380 total yards. He also set a Pac-12 record by attempting 353 consecutive passes without an interception. Though character isn't much of a factor on this list -- the Pac-12 is fortunate that it didn't see much of that weigh down the offseason -- Mariota's is difficult to ignore. St. Marcus of Eugene seems likely to be in New York in December.
June, 11, 2014
Jun 11
7:00
PM PT
It will come as no surprise that Mel Kiper Jr. sees two of the five best senior QBs and three of the six best underclass QBs
coming from the Pac-12

.

But who would have thought that
three of the 11 best defensive tackles

would come from the Pac-12, while none came from the D-line rich SEC?
USC's
Leonard Williams
, a junior, is a likely top-10 pick next spring, and he also is a candidate for top pick overall. But Kiper also really likes Williams' buddy at UCLA,
Ellis McCarthy
.
Really emerged in 2013 as his first-team reps arrived. McCarthy was a big-time recruit, but he had to learn about leverage and keeping blockers occupied, not just looking to shed them immediately and make plays in the backfield. He has a powerful, 6-4, 330-pound frame and could emerge as a likely first-rounder.
The third Pac-12 DT is Washington senior
Danny Shelton
.
Kiper also likes Pac-12 cornerbacks

. He rates Oregon's
Ifo Ekpre-Olomu
as the No. 1 senior, USC's
Josh Shaw
as No. 2 and Oregon State's
Steven Nelson
as No. 3.
Among the underclass CBs, Kiper ranks Washington's
Marcus Peters
No. 2 and Stanford's
Alex Carter
as "5A."
On the defensive downside, Kiper doesn't including any Pac-12 defensive ends on
his list

, which bodes well for those QBs.
On offense, Kiper
likes Pac-12 receivers

but not running backs. He rates Stanford's
Ty Montgomery
the No. 2 senior receiver and Arizona State's
Jaelen Strong
and USC's
Nelson Agholor
as the Nos. 2 and 3 underclassmen, but Oregon's
Byron Marshall
-- at 5B -- is the only conference running back to make the list.
May, 19, 2014
May 19
9:00
AM PT
It's time to start thinking about preseason watch lists. And the first one out is the Lott IMPACT Trophy, which is given annually to the defensive player who has the biggest "impact" on his team -- impact being an acronym for Integrity, Maturity, Performance, Academics, Community and Tenacity.
The award is in its 11th year.
Of the 42 players on this year's watch list, 11 come from the Pac-12:
UCLA's Anthony Barr was the 2013 winner. Cal's Dante Hughes was the league's only other winner, in 2006.
Other previous winners include Manti Te'o (Notre Dame, 2012), Luke Kuechly (Boston College, 2011), J.J. Watt (Wisconsin, 2010), Jerry Hughes (TCU, 2009), James Laurinaitis (Ohio State, 2008), Glenn Dorsey (LSU, 2007), DeMeco Ryans (Alabama, 2005) and David Pollack (Georgia, 2004).
You can click here for the
complete watch list
.
May, 14, 2014
May 14
7:20
PM PT
ESPN's Todd McShay released his
Way-too-early 2015 mock draft
on Wednesday, giving a very early look into the future of some potential NFL draftees next season. Once again, the SEC leads the way, putting 10 players in the first 32 picks of McShay's first mock draft.
McShay predicts the No. 1 draft pick being a defensive lineman just like the 2014 draft. Only, instead of coming out of the SEC, he believes that defensive lineman will be one out of the Pac-12, USC's
Leonard Williams
.
McShay put eight Pac-12 players in the first round, including three top-10 picks. The ACC is behind the Pac-12 with seven picks, though six of those are from Florida State. The Big Ten has four players on the list while the Big 12 landed three.
Oregon leads the way for the Pac-12 with three players in the top 20 picks -- cornerback
Ifo Ekpre-Olomu
, quarterback
Marcus Mariota
and center
Hroniss Grasu
. USC got on the board with two players in the top 32 while UCLA, Stanford and Arizona State each had one player.
March, 26, 2014
Mar 26
12:00
PM PT
You remember the three-headed monster, right? It's about returning production that will scare -- terrify! --opponents. Or not.
On offense, it's elite combinations at quarterback, running back and receiver.
On defense, it's elite combinations of a leading tackler, a leader in sacks and leader in interceptions.
This year, we're breaking things down by division. We've already done offense for
the South
and
North
divisions.
Next up: South Division defensive three-headed monsters.

1. USC
LB
Hayes Pullard
, DT
Leonard Williams
, S
Su'a Cravens
The skinny
: Pullard was second-team All-Pac-12 after leading the Trojans with 94 tackles. While DE
Devon Kennard
led the Trojans with nine sacks last year, Williams was a force inside with six. It's also possible, of course, that attention to Williams, a certain preseason All-American, will open things up for a DE/OLB, such as
J.R. Tavai
. Cravens is likely to become as a true sophomore an all-conference performer. He had four interceptions last year, second on the team.

2. UCLA
LB
Eric Kendricks
, OLB
Kenny Orjioke
, CB
Ishmael Adams
The skinny
: Kendricks ranked third in the Pac-12 with 8.8 tackles per game last year. Does he finally break through on the all-conference team after two years as an honorable mention? Orjioke is the frontrunner to replace
Anthony Barr
. He's 6-foot-4, 240 pounds and has tons of potential. He, however, had just 12 tackles and two sacks as a sophomore. Adams led the Bruins with four interceptions last year.

3. Arizona
LB
Scooby Wright
, DE
Reggie Gilbert
, "spur" LB
Tra'Mayne Bondurant
The skinny
: Wright earned honorable mention All-Pac-12 as a true freshman, finishing with 83 tackles, including 9.5 coming for a loss. With both MLB
Jake Fischer
and weakside LB
Marquis Flowers
gone, he seems like a favorite to lead the team in tackles, even if he stays at strongside backer. Gilbert ranked second on the team with four sacks, though it's possible the Wildcats defense will do some juggling to increase anemic sack numbers this fall. Or a new guy, such as LB
Antonio Smothers
or DL
Jeff Worthy
, will break through. Bondurant, a hybrid LB/safety, led the Wildcats with four interceptions in 2013.

4. Arizona State
LB
Salamo Fiso
, DE/OLB
Viliami Latu
, S
Damarious Randall
The skinny
: The Sun Devils are replacing nine starters on defense, but Randall and Fiso are two of the three returning starters. It is notable that coach Todd Graham has been moving guys around on defense this spring, so ultimate positions are a matter of conjecture at this point. Fiso ranked fourth on the team with 71 tackles. Sophomore Latu might have a lead in the battle to replace
Carl Bradford
at the highly productive "devil" LB position. Randall had three interceptions last year.

5. Utah
LB
Gionni Paul
, OLB
Jacoby Hale
, S
Eric Rowe
The skinny
: Paul, a Miami transfer, is drawing raves this spring. He was a terror on the scout team a year ago. Hale is likely to replace
Trevor Reilly
, who led the Utes in tackles and sacks last year, at the "stud" linebacker. He was second on the Utes with 10 tackles for a loss and 6.5 sacks a year ago. As for the Utes' leader for interceptions, well, funny you should ask about a team that had just three picks all of last year, tied for fewest in the nation. We're going with Rowe, even though he didn't have a pick in 2013 and had just one in 2012.

6. Colorado
LB
Addison Gillam
, TBA, CB
Greg Henderson
The skinny
: Along with Wright and UCLA's
Myles Jack
, Gillam was a true freshman LB revelation last year. He led the Buffaloes with 107 tackles. He might be a good bet to lead the team in sacks, too. The Buffs are replacing leading sacker
Chidera Uzo-Diribe
(4), and it's unclear who will fill that void. D-lineman
Samson Kafovalu
is a possibility, but he's sitting out spring focusing on academics.
Derek McCartney
-- yeah, that McCartney -- has been playing well this spring. Henderson led the Buffaloes with four picks a year ago.
March, 4, 2014
Mar 4
9:20
PM PT
Our look at position groups in the Pac-12 continues.

Arizona:
Coach Rich Rodriguez is confident in both
Reggie Gilbert
and
Dan Pettinato
and anxious to get junior-college transfers
Jeff Worthy
, who also spent a year at Boise State, and
Jerod Cody
acclimated to the system.
Calvin Allen
,
Jack Banda
and
Luca Bruno
are coming off redshirt seasons and represent a group Rodriguez said the team needs production from.

Arizona State:
With the departure of
Gannon Conway
and
Davon Coleman
, there is a question about the team's depth at end. Without
Will Sutton
clogging things up next year, the Sun Devils' lack of experience is even more of a concern.
Sean O'Grady
backed up Conway and Coleman last year, but ASU has several well-regarded junior-college transfers in
Edmond Boateng
,
Marcus Hardison
and
Demetrius Cherry
.

California:
The Bears list seven defensive ends, but former junior-college transfer
Kyle Kragen
and
Puka Lopa
gained the most experience last season listed at the rush position.
Antione Davis
was outgoing starter
Dan Camporeale
's primary backup, but
Brennan Scarlett
's return is more important. He started nine games in 2012 and has been cleared to play following a hand issue that cost him the 2013 season.
Todd Barr
,
Sione Sina
and recent-transfer
Jonathan Johnson
are also in the mix.

Colorado:
Colorado must replace
Chidera Uzo-Diribe
, but
Juda Parker
is back for his senior season, and several others have game experience.
Samson Kafovalu
is the likely candidate to start opposite him after making 18 tackles in seven games last year.
Jimmie Gilbert
was Uzo-Diribe's backup,
Kirk Poston
and
De'Jon Wilson
also played.

Oregon:
The Ducks took a hit with the departure of
Taylor Hart
, who was named second-team All-Pac-12, but have a talented player in
Arik Armstead
lined up to take his spot. Armstead started five times in 2013 and left the basketball team midseason to shift his focus back to football.
T.J. Daniel
,
Jason Sloan
are projected to be in the mix for playing time.

Oregon State:
Scott Crichton
is gone, but
Dylan Wynn
remains and will likely be the Beavers' best defensive player a year after finishing fourth on the team in tackles.
Lavonte Barnett
, Crichton's primary backup in 2013, and
Jaswha James
figure to compete for the starting job, but there are two others to keep an eye on.
Obum Gwacham
recently switched from receiver and Mike Riley has been complimentary of
Titus Failauga
, who is coming off his redshirt.

Stanford:
Henry Anderson
has a chance to be one of the best defensive players in the conference and
Blake Lueders
, who switched from OLB, began the spring atop the depth chart. The intriguing prospect is
Luke Kaumatule
, who was recruited to play defense but began 2013 as the team's starting tight end. Spring will be important for his development, but his raw ability is impressive.

UCLA:
Both
Ellis McCarthy
and
Eddie Vanderdoes
were all-Pac-12 honorable mention last season and highlight a talented UCLA defensive line. Their return will help account for the loss of
Cassius Marsh
, who started 12 games last year. Both McCarthy and Vanderdoes can play inside or outside, but the Bruins listed them both at end. Highly recruited DE
Kylie Fitts
saw playing time as a true freshman last season, and
Keenan Graham
and
Brandon Willis
will provide depth.

USC:
Leonard Williams
, the only sophomore named first-team all-Pac-12 on defense last season, is the best in the conference.
Delvon Simmons
, who sat out last season after transferring from Texas Tech, has a lot of game experience. He started 12 games for the Red Raiders in 2012 and had regular playing time as a freshman there in 2011. Both Simmons and
J.R. Tavai
, who was an all-Pac-12 honorable mention selection, can play inside or outside.

Utah:
There's no replacing
Trevor Reilly
, who made 100 tackles despite lingering effects from a torn ACL, but
Nate Orchard
and
Hunter Dimick
both saw extensive playing time last season. The Utes have five other defensive ends on the roster, but of that group only
LT Filiaga
made a tackle last season.

Washington:
The Huskies are in great shape with the return of
Hau'oli Kikaha
, a second-team All-Pac-12 selection,
Cory Littleton
and
Evan Hudson
.
Josh Shirley
has 10 career starts, while
Joe Mathis
and
Psalm Wooching
provide depth.

Washington State:
With Toni Pole expected to move back inside, the depth chart will look similar to how it did going into last season, minus Matt Bock. After making 50 tackles last year,
Xavier Cooper
will start on one side, with
Destiny Vaeao
and
Lyman Faoliu
strong candidates for more playing time.
Emmitt Su'a-Kalio
is coming off a redshirt, and the Cougars also signed a pair of defensive ends from Hawaii in
Kingston Fernandez
and
Hercules Mata'afa
.
Previous positions
Tight end
Quarterback
Running back
Receiver
Offensive line

Defensive tackle
January, 21, 2014
Jan 21
2:30
PM PT
Tired of searching for Richard Sherman memes? Me, neither. But take a break anyway and enjoy the mailbag.
Jack in Boulder, Colo. writes
:
Pretty harsh with some of your grades
, weren't you?
Kevin Gemmell
: I don't think so. Did anyone in the league deserve an A? No national champions. No BCS bowl game victories. I didn't do the Stanford review, that one was all Ted. But I thought a B-plus was fair, considering how the season ended and the fact that the Cardinal did lose to an unranked team that didn't make the postseason along the way. I did do the Oregon review and thought a B was also a fair grade -- considering what the expectations were for the Ducks in 2013 compared to how they finished.
[+] Enlarge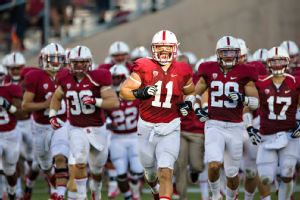 David Madison/Getty ImagesStanford won the Pac-12 and went to the Rose Bowl, but didn't deserve an A.
Arizona State gets the same grade as Stanford because it won its division and had the best overall record in the Pac-12. No small accomplishment.
Outside of that, who deserves a better grade than they received? Some people thought Arizona's B was a little too generous, given the schedule they played (see the question below, by the way). But they knocked off Oregon, won their bowl game and made huge strides defensively.
Others have said Cal's F grade was too harsh. But I'm of the opinion that if you don't beat an FBS team, that's a fail.
Oregon State's C-minus feels right, considering what the expectations were.
UCLA's B-plus was fair from Ted and my B-minus for USC was pretty reflective of the ups and downs of the season.
I thought Ted's C-minus for Utah was probably generous, but upsetting Stanford warrants something in the average range.
The Washington schools both got Bs because the Cougs exceeded expectations and the Huskies got over the seven-win hump and won their bowl game.
As always, happy to hear arguments in favor for or against changing grades.
---

Pac-12 Fan in Reno writes
: C'mon, Kevin.
Arizona at No. 25 in your final poll
? It is now becoming apparent that you have some repressed "feelings" for [RichRod] and Arizona. How can you put AU at No. 25 after the way they were so thoroughly humiliated at the hands of relatively pedestrian ASU (No. 20)? AU beat Oregon and ... whom exactly? Their wins came over the likes of UNLV and UTSA. Wow. Impressive. AU will win 8-9 games again next year because they play a bunch of [weak teams]. You really need to admit your bias/obsession and try to move past it. You are better than this.
Kevin Gemmell
: Consider the alternative. Who would you put at No. 25? Washington is there in the AP poll at No. 25, but I had the Huskies higher because I thought they finished strong and deserved a higher ranking.
So let's look at the options, including
all of the teams that finished in the final AP rankings or received votes
.
Vanderbilt? The Commodores beat an injury-depleted No. 15 Georgia, but the rest of their schedule sets up much like Arizona with sub-.500 competition.
Nebraska? Its signature win was also over No. 22 Georgia. (And yes, Ryan in New York, I know you are going to chime in about UCLA's win over Nebraska, but you still won't convince me that wasn't an amazing win for the Bruins given all that had happened).
Fresno State? Played one ranked team all year (USC) and got blasted by them in the bowl game.
Northern Illinois? Zero ranked teams on the schedule.
North Dakota State? I'll actually listen to that argument.
Texas Tech? Never beat a top-10 team.
Georgia? See above.
Iowa? Never beat a ranked team.
Ole Miss? It beat LSU, but won just three games in conference. Thank goodness for the eight-game conference schedule. (I can already feel a retort coming on from Chris Low.)
Kansas State? The Wildcats beat a reeling No. 25 Texas Tech team, but had no other victories over ranked opponents.
That brings us to Arizona. It only beat one ranked team all season. But of all the teams listed above, it was the highest-ranked team in No. 5 Oregon.
There are no repressed feelings. But all things being equal -- and I think you can make a case that all of these teams I've just listed pretty much being equal -- I'm going to go with the one that showed the greatest improvement on defense from 2012 to 2013 and has one of the country's most dynamic playmakers. And Arizona beat a team from a BCS conference in its bowl game.
The Wildcats played in "arguably" the toughest, deepest league in college football, had a comparable record and had the best win of all those teams listed above. On a neutral field, I'll put the Arizona team that played against Boston College against any one of those teams.
---
Henry in San Juan Capistrano writes
: Your colleague Chris Low stated today that
the three "marquee" QB's in the P-12
are Hundley, Marcus and Mannion when we all know that it's Kelly, not Mannion, that rounds out that group. Can you set him straight, Kev? You would be doing all P-12 fans a huge favor.
Kevin Gemmell
: Can't it be both? Mannion had the superior passing numbers, a better completion percentage with 1,000 more passing yards and nine more passing touchdowns. He also finished with a higher raw QBR.
Kelly had fewer interceptions and a higher adjusted QBR. He also rushed for 608 yards and had nine rushing touchdowns while Mannion had minus-223 yards rushing and zero rushing touchdowns.
So when push comes to shove, they had an equal amount of total touchdowns accounted for. Mannion had more turnovers (including seven fumbles).
Both quarterbacks are asked to do very different things. Mannion is a pure drop-back passer. That's not to say that Kelly can't chuck it. He was fifth in the league 3,635 passing yards and third in passing touchdowns. But he has more zone-read responsibilities than Mannion does.
When Mannion isn't going through one of his interception spells, he can be one of the top pure passers in college football, but he has his moments of inefficiency. And Kelly, too, has the occasional bad game, when things aren't clicking. But both are very good at what they are asked to do.
---

Ryan in New York writes
: Kevin,
Excellent article on the Pac-12 defenses
. But how could you forget perhaps the nation's best interior defensive lineman next year --
Lenny Williams
-- when discussing the best defenders in the Pac?
Kevin Gemmell
: *Slaps head with palm and shouts "D'oh!"* Yep, Williams is up there as well. Was thinking of younger guys, but he absolutely should be a preseason All-American.
The point of the column wasn't to say that there are no good defensive players coming back. There are. USC has some. UCLA has some. Stanford and Oregon have some. Pretty much every school has a player or two who is going to get some looks on a preseason all-conference squad.
But given the amount of talented defensive players across the conference that are leaving, combined with coordinators from the top five defensive schools in the conference in 2013, I felt it warranted a column. UCLA fans got after me on Twitter, reminding me of all the young talent the Bruins have coming back. And I agree with all of it. I expect UCLA to be strong defensively. But stronger without Anthony Barr and Jordan Zumwalt? We'll have to see.
But from a league-wide perspective, the Pac-12 loses a bunch of veteran defenders. When you combine that with the offensive firepower coming back, it makes for an intriguing 2014.
---

Bob in Menlo Park writes
: Kevin,
I read your Todd Graham question
. I thought I read on the Pac-12 Blog that [athletic director Steve] Patterson signed an agreement with Arizona State not to poach personnel when he went to Texas. Enjoyed your writing and the blog.
Kevin Gemmell
: As a matter of fact, you did read that on the blog.
Here's the link
.
It's obviously moot with Charlie Strong landing the job at Texas. If Patterson really wanted Todd Graham, I'm sure there would have been a way to make it work. As Ted points in his piece from November, there isn't much that can't be fixed with motivation and money. Contracts can be torn up in lieu of checks.
Obviously, that didn't happen. But if Graham continues at this current pace -- winning division championships and posting outstanding conference records, he's going to start getting phone calls. What's an acceptable time frame for a coach to move on? Three years? Five? Seven?
This is going to be an interesting year for Graham. He's losing a ton of defensive stars and he spends the majority of his time on that side of the football. It's not unreasonable to think the Sun Devils might take a step back defensively in 2014, but if they can come close to matching some of their 2013 defensive production after that kind of a talent drain, we'll know just how good of a coach Graham really is.
---
Bryce in San Franciso writes
: I'm happy to see Kyle Bonagura getting on board with the lunch link quotes. I don't see an inbox for him, so hoping you can pass this note along.
Kevin Gemmell
: I'll let him know. He started strong with a quote from "The Sandlot." When it comes to the lunch links quotes, we try to have fun with them … but sometimes they can be a bit obscure. Last year, on the anniversary of Kurt Cobain's death, I posted a stanza from "The Mighty K.C." a one-hit wonder song by For Squirrels from 1995. Didn't think anyone would get the reference, and they didn't. On the day Ray Bradbury died, Ted quoted "Fahrenheit 451." Sometimes, it's just a movie or song or book that's stuck in my head. They aren't always gems, but we try to make it fun.
December, 16, 2013
12/16/13
1:00
PM PT
While the Pac-12 was shut out of the Heisman Trophy ceremony, Oregon State WR Brandin Cooks won the Biletnikoff Award as the nation's best receiver and Washington tight end Austin Seferian-Jenkins won the John Mackey Award as the nation's best tight end, so the postseason has seen some individual accolades for the conference.

Further, a number of Pac-12 players are on their way to consensus and unanimous All-American honors.
While we still await the AP, FWAA and the American Football Coaches Association teams, here's how things stand so far with 12 different Pac-12 players receiving note on at least one first team.
PAC-12 FIRST-TEAM ALL-AMERICANS
ESPN.com
Offense: RB
Ka'Deem Carey
, Jr., Arizona,
WR
Brandin Cooks
, Jr., Oregon State,
OL
David Yankey
, Sr, Stanford
Defense
:
DT
Leonard Williams
, So., USC,
LB
Trent Murphy
, Sr., Stanford,
CB
Ifo Ekpre-Olomu
, Jr., Oregon
Walter Camp
Offense
: Carey, Cooks, Yankey
Defense
: Murphy,
LB
Anthony Barr
, Sr., UCLA
The Sporting News
Offense
: Cooks, Yankey
Defense
: Barr, Murphy
Specialists
:
KR
Ty Montgomery
, Jr., Stanford
Athlon
Offense
: Carey, Cooks, Yankey,
OL
Hroniss Grasu
, Jr., Oregon, All-purpose
Myles Jack
, Fr., UCLA
Defense
: Barr,
S
Deone Bucannon
, Sr., Washington State,
S
Ed Reynolds
, Sr., Stanford
Specialists
: Montgomery
SB Nation
Offense
: Carey, Cooks, Yankey
Defense
: Barr, Murphy
Specialists
: Montgomery
November, 30, 2013
11/30/13
6:00
AM PT
Five things to watch as No. 22 UCLA (8-3, 5-3 Pac-12) takes on No. 23 USC (9-3, 6-2) on Saturday at the Coliseum (5 p.m. PT, ABC).


Take back the City:
This one is for the bragging rights of Los Angeles and, after the UCLA victory in 2012, the Bruins have talked a lot this week about how this game is an opportunity to show that they run the town now. The Trojans, of course, will point to 12 USC victories in the last 14 matchups, and the fact that the Bruins have not won in the Coliseum since 1997. The USC players know that the best way to put a stop to any talk of UCLA momentum is a win Saturday.
Real ball:
When UCLA coach Jim Mora talked about facing the USC offense this week, he clearly relished the challenge of going against a "physical, downhill" offense, as opposed to so many of the spread offenses that are prevalent in the conference today. Mora called it "real ball" and he can expect to see plenty of it in this game. The Trojans have been running the ball well lately, with 240 or more rushing yards in three of the past four games.
Buck Allen
has nine rushing touchdowns in those four games and the USC offensive line has played particularly well.
Contain Hundley:
It's no secret that UCLA quarterback
Brett Hundley
is one of the top dual-threat players in the country. He ranks No. 2 in the Pac-12 in passing efficiency and the ball gets spread around, as 26 Bruins have caught passes this year. But where Hundley can often be most dangerous is when he takes off to run. He has more than 500 rushing yards and seven touchdowns on the ground this year. The biggest issue for UCLA is that their offensive line will start three freshmen who will be attempting to block
Leonard Williams
,
Devon Kennard
& Co.
Senior Day:
Among the USC seniors who be playing their final game at the Coliseum are a group of eight players who were a part of the final recruiting class of Pete Carroll at USC:
De'Von Flournoy
,
Kevin Graf
,
Kevin Greene
,
Torin Harris
,
Devon Kennard
,
John Martinez
,
Marquis Simmons
and
Simi Vehikite
. Those players signed up for what they thought would be a continuation of the Carroll dynasty but they were subjected instead to harsh NCAA penalties for violations that took place long before they arrived. They were also part of a resurgence at end of their final USC season that helped restore a great sense of pride to the program.
Finish the script:
The last seven weeks has brought an amazing turnaround and nothing could finish it better than a win over the Bruins in the Coliseum. All the feel-good emotion around the Trojans right now would reach a crescendo if USC can find a way to avenge the loss last season in the Rose Bowl. Of course, a Trojans victory on Saturday would also result in a landslide of public opinion in favor of retaining interim coach Ed Orgeron.
November, 25, 2013
11/25/13
6:00
PM PT
Arizona running back
Ka'Deem Carey
has been named the Pac-12 offensive player of the week, along with Arizona State linebacker
Chris Young
, who was named defensive player of the week and UCLA returner
Ishmael Adams
, who was named special teams player of the week.
Here's some more on the trio per the Pac-12's release:
Carey, a junior from Tucson, Ariz., racked up 206 yards on a school-record 48 carries to become the Wildcats' all-time leading rusher with 3,913 career yards as Arizona upset No. 5 Oregon 42-16 on Saturday afternoon in Tucson. His four touchdowns on the day established a new program mark for career touchdowns with 49 while his 45 career rushing touchdowns are also a school record. The 48 carries were the most by an FBS player in a game this season and his string of 14 straight 100-yard rushing games is tied for the longest streak by an FBS player over the past ten seasons. The nation's second-leading rusher (155.9 ypg) earns the conference offensive player of the week honor for the second time this year.

Young, a senior from Seattle, Wash., led an Arizona State defense that limited a potent UCLA offense and squashed a fourth-quarter comeback bid in a 38-33 win over the Bruins at the Rose Bowl on Saturday night as the Sun Devils clinched the Pac-12 South Division title with the victory. He collected a game-leading 13 tackles, including 12 solo, and three sacks for a loss of 27 yards. His two fourth-quarter sacks and game-ending tackle on the Bruins' final two drives secured the win for the Sun Devils, who earned a spot in the Pac-12 Football Championship Game on Dec. 7.

Adams, a sophomore from Woodland Hills, Calif., collected 234 return yards in his first game serving as the return man in the Bruins' 38-33 loss to Arizona State. His efforts in the return game led to three UCLA scores, including a 58-yard return on the Sun Devils' first kickoff of the game to set up a 42-yard scoring pass on the next play and a 49-yard punt return that set up a 48-yard field goal that put the Bruins ahead late in the first quarter.

Also nominated for offensive player of the week honors were quarterbacks Taylor Kelly of Arizona State and Connor Halliday of Washington State; running backs Javorius Allen of USC and Bishop Sankey of Washington; and wide receivers Ty Montgomery of Stanford and Shaq Evans of UCLA. Also nominated for defensive player of the week honors were linebackers Anthony Barr of UCLA and Justin Sagote of Washington State; cornerbacks Shaquille Richardson of Arizona and Marcus Peters of Washington; and defensive end Leonard Williams of USC and free safety Jered Bell of Colorado. Also nominated for special teams player of the week honors was Washington State kicker Andrew Furney and USC fullback/special teams member Soma Vainuku.
September, 26, 2013
9/26/13
11:30
AM PT
Dr. Stone, would you give the court your impression of Mr. Striker?
I'm sorry, I don't do impressions. My training is in psychiatry.
2014 TEAM LEADERS
| TEAM | RUSH | PASS | TOTAL |
| --- | --- | --- | --- |
| Offense | 200.6 | 291.9 | 492.4 |
| TEAM | PF | PA | MARGIN |
| Scoring | 35.8 | 30.3 | 5.5 |