October, 9, 2012
10/09/12
4:32
PM PT
LOS ANGELES -- A loss such as the
UCLA Bruins
' 43-17 beatdown by California last week tends to create a lot of questions.
What went wrong? How can it be fixed? Does there need to be a change in personnel?
The answers to the first two are generally found by a review of the game film. It's the third one that requires a little deeper thought.
The general consensus is that UCLA's biggest breakdowns came on the offensive line and in the secondary, and coach Jim Mora said those are the two most difficult positions in which to make personnel changes.
"Positions that depend on real cohesiveness like the offensive line or the secondary is pretty difficult," Mora said. "Probably the offensive line is the most difficult. The other positions you can kind of plug guys in and get through it. Offensive line is tough."
For that reason, the Bruins will stick with their offensive line for Saturday's game against Utah, even though the Bruins gave up five sacks and left tackle
Torian White
was pulled during the game against Cal.
The line includes three freshmen and a sophomore and offensive line coach Adrian Klemm says he wants to keep his young line intact to see if it can continue to develop. He said he won't make any rash decisions based on one poor showing.
"These guys are who we are rolling with," Klemm said. "This is it. We let them know that no one is going to save you. We're one deep. You better get it right or you are going to embarrass yourself."
The fact that the Bruins have very few other linemen with any experience is clearly a factor because replacing the current linemen with inexperienced players would be akin to starting over.
Greg Capella
, one of the few reserves who has experience, has missed the last three games because of a concussion. Alberto Cid and
Brett Downey
also have experience, but the coaching staff said it's too early to disrupt the developing chemistry.
September, 17, 2012
9/17/12
6:49
PM PT
LOS ANGELES -- UCLA freshman cornerback
Ishmael Adams
will have shoulder surgery Friday and is out for the rest of the season, coach Jim Mora said.
Adams, the No. 10 cornerback recruit in the nation and a member of the ESPN 150 for the class of 2012 out of Oaks Christian High in Westlake Village, Calif., played in each of
UCLA
's first two games, but he aggravated a lingering shoulder issue last week in practice and has decided to get it repaired. Because he has played so little, he should be eligible for a redshirt season, Mora said.
"He's had this problem for a couple years, and this is the best thing to do," Mora said. "He can probably play with a harness, but that's not the right way to go about this so we're going to get it fixed."
Adams (5-foot-8, 186 pounds) is expected to need six to nine months to recover, meaning his availability for spring practice also is in jeopardy.
Mora said freshmen
Fabian Moreau
and
Marcus Rios
would move up the depth chart as a result. Rios, expected to redshirt this season, got his first game action of the season Saturday against
Houston
.
The Bruins need to develop experience in the secondary because starting cornerbacks
Sheldon Price
and
Aaron Hester
are seniors, as is starting safety
Andrew Abbott
.
"These guys were brought here to, No. 1, get a great education and, No. 2, to help us win football games, so when it's their turn to step up, they step up," Mora said. "I think it's good for those guys to be able to contribute and play and get better and, long term, I think it's good for them."
July, 31, 2012
7/31/12
9:43
PM PT
With UCLA training camp set to begin Saturday at Cal State San Bernardino, we're taking a preseason look at the roster and breaking down the Bruins position by position.
We went through the offense first, looking at
quarterbacks
,
offensive line
,
receivers
and
running backs
.
Special teams
came next and now we begin our breakdown of the defense with the defensive backs.
DEPTH CHART AT THE END OF SPRING PRACTICE:
Left Cornerback
Sheldon Price (6-2, 180, Sr.)
Anthony Jefferson (6-1, 184, So.)
Erick Zumwalt (5-10, 170, Fr.)
Strong Safety
Andrew Abbott (5-8, 180, Sr.)
Dalton Hilliard (5-11, 198, Sr.)
Dylan Price (5-10, 206, So.)
Free Safety
Tevin McDonald (5-11, 185, So.)
Stan McKay (6-1, 205, Jr.)
Anthony Thompson (6-1, 208, Fr.)
Right Cornerback
Aaron Hester (6-1, 207, Sr.)
Brandon Sermons (6-0, 195, Jr.)
Marcus Rios (6-0, 180, Fr.)
PROJECTED OPENING-DAY DEPTH CHART:
Left Cornerback
Sheldon Price (6-2, 180, Sr.)
Anthony Jefferson (6-1, 184, So.)
Marcus Rios (6-0, 180, Fr.)
Erick Zumwalt (5-10, 170, Fr.)
Strong Safety
Dalton Hilliard (5-11, 198, Sr.)
Andrew Abbott (5-8, 180, Sr.)
Taylor Lagace (6-1, 200, Fr.)
Dylan Price (5-10, 206, So.)
Free Safety
Tevin McDonald (5-11, 185, So.)
Stan McKay (6-1, 205, Jr.)
Kenny Orjioke (6-4, 222, Fr.)
Right Cornerback
Aaron Hester (6-1, 207, Sr.)
Ishmael Adams (5-8, 186, Fr.)
Brandon Sermons (6-0, 195, Jr.)
Randall Goforth (5-10, 173, Fr.)
Justin Combs (5-7, 162, Fr.)
KEY LOSSES:
Tony Dye, safety, team leader in tackles in 2010. Graduated.
Alex Mascarenas, safety, key reserve in 2011. Medical retirement.
Dietrich Riley, safety, five-game starter in 2011. Injured.
April, 17, 2012
4/17/12
9:15
PM PT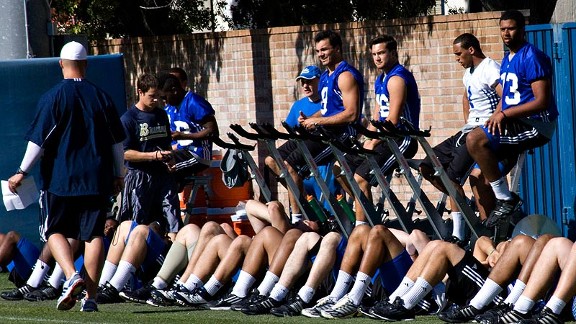 Peter Yoon/ESPNLA.comInjuries have taken a toll on UCLA's roster with many players relegated to bike work during spring practice.
LOS ANGELES -- A tweak here, a contusion there; This guy has a strain and that one has a sprain. Pretty soon the minor injuries start mounting to the point where it looks as if it might be a concern.
UCLA's football roster seems to have reached that point after seven spring practices. A total of 24 players did not dress for practice Tuesday and then receiver
Jerry Johnson
, cornerback
Aaron Hester
and safeties
Librado Barocio
and
Anthony Thompson
joined the walking wounded by day's end.
That's nearly one third of UCLA's current roster sidelined because of injuries. Most of them are minor -- coach
Jim Mora
likes to say they are "tweaks" or "he did something to his [insert body part here]" -- but it still seems a fairly alarming number. Unless you're the head coach, that is.
"I'm concerned only with the guys that are practicing," Mora said. "Those other guys who are over there, it's like I don't even see them."
Mora is trying to instill a heightened toughness in the team. Practices have been grueling so far with a constant aura of physicality hovering over every drill and a tempo that has just about everybody winded by day's end.
The pace and the hard hitting have taken a toll, but the fact that injured guys don't matter to Mora is part of the new attitude and the players don't seem to mind.
"We're building a new mentality out here," linebacker
Eric Kendricks
said. "Everyone is out here busting their butt and if you have a little nick or bruise, maybe last year you sat out but this year you want to push through for your teammates."
Mora said he doesn't pay attention to guys sidelined with minor injuries because he feels as if he has more than enough depth to cover the bases. He spent most of his career in the NFL with roster limits of 54 players. UCLA has 97 players on its spring roster and even with 28 players out, he has 69 in uniform.
"This is like a kid in a candy store to me to have all these players," Mora said.
2014 TEAM LEADERS
| TEAM | RUSH | PASS | TOTAL |
| --- | --- | --- | --- |
| Offense | 175.5 | 304.8 | 480.3 |
| TEAM | PF | PA | MARGIN |
| Scoring | 38 | 24.8 | 13.3 |