September, 21, 2012
9/21/12
8:38
AM PT
The No. 19
UCLA Bruins
(3-0) begin conference play against the
Oregon State Beavers
(1-0) in a Pac-12 opener for both teams Saturday at the Rose Bowl. Kickoff is at 12:30 p.m. PT and the game will be televised by ABC and ESPN2. Here are five things to watch:
1. Eager Beavers
Oregon State has played only one game so far this season because its opening-week game against Nicholls State was postponed when the Louisiana team was unable to travel during Hurricane Issac. Last week was a scheduled bye week so Oregon State has had 44 practices since the start of training camp with only one game and that means they are probably really sick of practicing against each other. It could mean a bit of rust for the Beavers, but it could also mean coach Mike Riley, a very good coach, has had plenty of time to sharpen up their game plan.
2. Running man
UCLA running back
Johnathan Franklin
leads the nation with 541 yards rushing and is closing fast on Gaston Green's UCLA career rushing record of 3,731 yards. Franklin, second on that list, has 3,210. He might find the going tough against Oregon State, however. The Beavers shut down Wisconsin's running game in Week 2, limiting the Badgers to 35 yards rushing. Wisconsin running back
Montee Ball
, a 1,900-yard rusher last season and a Heisman hopeful coming into this season, had only 61 yards in 15 carries. For Franklin to have success, the UCLA offensive line will have to find a way to open holes against a stout Oregon State four-man defensive front that includes talented ends
Scott Crichton
and
Dylan Wynn
as well as space-eating tackle
Castro Masaniai
(6-3, 350 pounds).
3. Third down is the charm
UCLA enters the game having converted only 16 of 48 (33.3 percent) third downs this season and ranks No. 94 in the nation in that category. The Bruins had their worst third-down performance of the season last week, when they converted only five of 17 third downs in a 37-6 victory over Houston. Based on Oregon State's performance against Wisconsin, it doesn't figure to get any easier trying to convert those crucial plays. The Beavers held Wisconsin to only two of 14 (14.3 percent) third down conversions on Sept. 8. It's a skewed statistic because Oregon State has only one game, but the Beavers are currently second in the country in third-down defense.
4. Well received
UCLA coach Jim Mora has spent a lot of time this week talking about the Oregon State running game, but the Beavers' top offensive weapons are receivers
Markus Wheaton
and
Brandin Cooks
. Wheaton has led Oregon State in receiving in each of the last two seasons and, as a sprinter for the Oregon State track team, has plenty of speed. Cooks, a sophomore, is another speedster who had seven receptions against Wisconsin. They are also a part of the running game as fly sweeps and end-arounds have long been a part of the Oregon State offense, so while Mora may be worried about facing a power running game for the first time this season, the UCLA secondary will have its hands full with Oregon State's outside guys.
5. Back in the groove
Even though the Bruins tallied 567 yards in offense last week, quarterback
Brett Hundley
was a bit out of synch. He missed his target on several passes, failed to see open receivers on some plays and threw two interceptions, yet still passed for 320 yards. Hundley's mobility also was affected by a gimpy ankle and he had -2 yards rushing against Houston after totaling 121 in the first two games. On paper, getting back on track against Oregon State appears to be a challenge as the Beavers gave up only 207 total yards to Wisconsin. That might not be all that impressive, however, considering Wisconsin is No. 116 in the nation in total offense despite playing FCS team Northern Iowa and Utah State as well as Oregon State.
September, 19, 2012
9/19/12
7:37
PM PT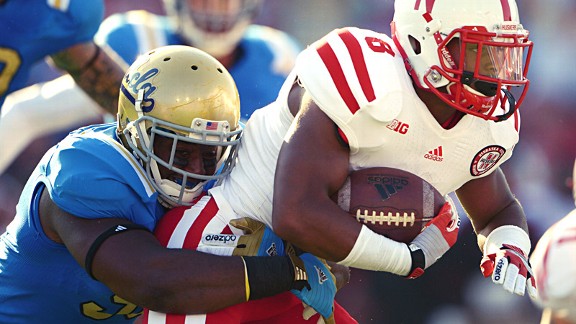 Kirby Lee/Image of Sport/US PresswireDatone Jones, making a tackle against Nebraska, figures to be key if Oregon State plays a physical game up front.
LOS ANGELES -- The spread is dead, at least for this week.
When the No. 19
UCLA Bruins
face Oregon State in a Pac-12 Conference opener for both schools Saturday at the Rose Bowl, it will be the first time this season UCLA will not be facing a team that runs the spread offense. That could be considered a bad thing for a team that is 3-0 against spread offenses and is coming off of its best defensive performance of the season, but coach Jim Mora says he is excited for the challenge.
"We need this right now," Mora said. "We need to get back to some hard-nosed gritty football on defense."
Oregon State isn't exactly a juggernaut when it comes to running the ball. The Beavers had only 78 yards rushing in their only game this season against Wisconsin and were No. 118 in the nation in rushing offense last season with 86.92 yards per game on the ground.
But after facing a
Houston Cougars
team that passed 60 times and rushed only 19, Oregon State's traditional pro set offense with running backs
Malcolm Agnew
ans
Storm Woods
will look and feel like a smash-mouth team from the leather helmet days.
"They run powers and they run lead draws and split bellies and isos and stretches and inside and outside zone," Mora said. "Real live run plays so we have to be on it. Against these backs, arm tackles are not going to do it. It's definitely a point of emphasis for us this week."
So far this season, the run games UCLA has faced have mostly come in the form of one-back spread formations. The Bruins are No. 95 in the nation against the run, having allowed an average of 191 yards rushing per game, but a closer look at those statistics reveals that they haven't been too bad against traditional run plays.
Quarterbacks
Taylor McHargue
of Rice,
Taylor Martinez
of Nebraska and
David Piland
of Houston combined for 278 yards rushing against UCLA. In comparison, the running backs from those teams have rushed for a combined 295 yards. Additionally, 218 of those quarterback rushing yards have come on three plays -- a 92-yard touchdown by Martinez, an 86-yard touchdown by Piland and a 40-yard run by McHargue.
Take away those three plays and UCLA is giving up 118.3 yards per game on the ground and in the top 40 in the nation in run defense.
"Our run defense has been outstanding except for quarterbacks, which I don't consider real runs," Mora said. "When teams have tried to run real runs against us, we've been pretty good."
September, 18, 2012
9/18/12
11:29
AM PT
Here is what the No. 19
UCLA Bruins
know about this week's opponent,
Oregon State
:
1. The team nickname is the Beavers
2. The Beavers defeated Wisconsin in Week 2
3. Oregon State is in Corvallis, Ore.
Although that might be a slight exaggeration, it's not all that far off, considering that victory over Wisconsin is the only game Oregon State has played this season. The Beavers (1-0) are coming off of a previously-scheduled bye week and had their first game against Nicholls State postponed because the Louisiana school had travel problems caused by Hurricane Issac.


Apparently, the Beavers don't think much of themselves because they rescheduled that game for Dec. 1, the day after the Pac-12 championship game. UCLA coach Jim Mora however, thinks plenty of the team he will face at the Rose Bowl Saturday at 12:30 p.m. in a Pac-12 conference opener that will be televised on ABC and ESPN2.
"They're a good football team," Mora said. "They're a very physical team, they run the ball well and play excellent on defense and they are very well coached. They tackle well. It'll be a stiff test for us, but I think we're excited for it."
Mora and his coaching staff are almost all new, so most weren't around for UCLA's 27-19 victory over the Beavers in Corvallis last year. That's even more of an issue considering the lack of game film available on this year's Oregon State team.
The Beavers surprised the country with their 10-7 victory over a Wisconsin team that was ranked No. 13 at the time. In that game they held
Montee Ball
, a Heisman Trophy candidate and 1,923-yard rusher last season, to 61 yards in 15 carries.
It's that type of run defense that stood out on film to Mora and has him worried about Oregon State's ability to take away a UCLA run game that currently ranks No. 5 in the nation at 311.33 yards per game.
"I don't know if I want to see more than one game the way they payed Wisconsin," Mora said. "They really looked good. Really good."
The strength of Oregon State's 4-3 defense is a stout line, led by end Scott Chricton, a freshman All-American last season.
Dylan Wynn
, the other end, is also a high energy guy that will cause problems and tackle
Castro Masaniai
is a 350-pound space eater. Oregon State held Wisconsin to 35 yards rushing as a team, thanks to three sacks.
On the back end, corner back
Jordan Poyer
is among the best in the nation at his position. He was a second-team all Pac-12 selection last year and UCLA will remember his 85-yard punt return for a touchdown just before halftime last season.
On offense, Oregon State runs a balanced attack. Quarterback
Sean Mannion
, who made his first career start against UCLA last year, returns after earning freshman All-American honors last year. He passed for 3,328 yards and 16 touchdowns as a freshman and had 276 against Wisconsin.
His top target figures to be
Markus Wheaton
, a multi-talented athlete who led the team in receptions last season and is equally dangerous when running the fly sweeps and end-arounds that are a staple of the Oregon State offense. Freshman
Storm Woods
and sophomore
Malcolm Agnew
split the tailback duties, though Oregon State rushed for only 78 yards against the Badgers two weeks ago.
"They're different than any of the three teams that we've faced," said Mora, whose squad has gone up against three spread offenses so far. "They're a little more conventional."
As far as who has the advantage in a situation where one team has played three games and the other has played only one, Mora wasn't quite sure.
"It probably works in the favor of both," Mora said. "They'll be well-prepared, they'll have a lot of film on us. Our guys will have played a little bit more in games. I still think it just comes down to who executes, who plays harder, who makes tackles, who tries to stay away from costly penalties, things like that."
September, 20, 2011
9/20/11
7:36
AM PT
If recent history is any indication, UCLA's Pac-12 opener against Oregon State should be quite a nail biter.
The Bruins will travel to Corvallis, Ore., for a Saturday matchup between teams that have gone down to the wire the last two times they met. Last year,
Kai Forbath
made a game winning field goal as time expired for a 17-14 UCLA victory. In 2009,
James Rodgers
scored on a 17-yard run with 44 seconds remaining to give Oregon State a 26-19 victory.

"These have been great games over the years," UCLA coach
Rick Neuheisel
said. "We have the utmost respect for their program and coach Riley and his staff. We know it's going to be a very tough environment, but if we're going to be who we want to be, we've got to win on the road in the Pac-12."
The Bruins haven't had much success in conference road games since Neuheisel took over, having gone 2-11 in such games, but they have won three of the last four games played at Oregon State.
And this year is as good as any to win another because while the Bruins may be off to a rocky start tot he season, if there is a team in the Pac-12 Conference going through a tough time, it's Oregon State.
The Beavers are coming off of a bye week and they have had two weeks to stew over an 0-2 start that included an embarrassing home loss to Sacramento State and a blowout loss at Wisconsin.
Getting routed on the road against a top-10 team is one thing, but losing to a Football Championship Subdivision team at home is another. And the combination of those two is what gives Neuheisel some concern heading into the Bruins' first conference game in the newly-aligned Pac-12.
2013 TEAM LEADERS
| TEAM | RUSH | PASS | TOTAL |
| --- | --- | --- | --- |
| Offense | 196.6 | 251.6 | 448.2 |
| TEAM | PF | PA | MARGIN |
| Scoring | 36.5 | 24.1 | 12.4 |