April, 28, 2014
4/28/14
9:00
AM PT
Here's a quick look at some of the highlights of the three spring games in the Pac-12 this past weekend.
California

Quarterback
Jared Goff
completed 14 of 23 passes for 170 yards and a touchdown as the Bears wrapped their spring session in front of approximately 2,500 fans at Memorial Stadium.
Daniel Lasco
and
Jeffrey Coprich
each made 1-yard touchdown runs and Goff connected with
Kenny Lawler
on an 8-yard touchdown strike. Lawler finished with four catches for 30 yards and the score.
Bryce Treggs
had two catches for 47 yards.
Goff said the Bears are looking to move beyond last season's horrific 1-11 showing, in which they failed to beat an FBS team.
"We're done with last year," Goff said. "We're done with everything that had to do with last year. We're a brand new team now and we're ready to go. …
"We're two or three deep at every [wide receiver] position that I think honestly have NFL potential. I'm just so fortunate to have that receiving corps out there willing to make plays. They all want the ball and they all want to make plays. It's really, really lucky for me."
Austin Hinder
, who is competing with
Kyle Boehm
to be Goff's backup, was 6-of-12 for 46 yards and interception. Boehm was 1-of-2 for three yards.
You can see the full stats
here
.
UCLA

Offensive coordinator Noel Mazzone guided his Blue team to a 28-0 victory over defensive coordinator Jeff Ulbrich's White team behind two rushing touchdowns from
Jordon James
at the StubHub Center in Carson, Calif.
Paul Perkins
and
Steven Manfro
also scored rushing touchdowns.
Quarterback
Brett Hundley
only played in one offensive series and was 4-of-5 for 30 yards.
Jerry Neuheisel
completed 14 of 22 passes for 180 yards, but threw interceptions to
Ishmael Adams
and
Adarius Pickett
.
Asiantii Woulard
was 4-of-13 for 42 yards and
Mike Fafaul
was 7-of-16 for 116 yards.
"I like the way they competed," head coach Jim Mora
told the Pac-12 Network
. "I like the fact that nobody got seriously injured. I'm sure there's some nicks. I thought they came out and competed well. I thought we protected the ball fairly well. It's good to be in a game environment. It will help us going down the road."
Three defensive players each recorded two sacks -- linemen
Owamagbe Odighizuwa
and
Zach Vinci
and linebacker
Deon Hollins
.
You can see the full stats
here
.
Washington State

Quarterback
Connor Halliday
completed 25 of 41 passes for 326 yards and three touchdowns and the Crimson team topped the Gray squad 23-19 in front of 6,233 fans at Joe Albi Stadium in Spokane, Wash.
Vince Mayle
caught six balls for 92 yards and a touchdown to lead the Crimson group, while freshman
Calvin Green
led all players with eight catches for 101 yards.
"Spring went well," Halliday
told the Pac-12 Network
. "Spring games are always a little frustrating. We've got the team split in half and we have some O-linemen that haven't played together and the receivers are split in half. We had a real good spring before today. Today was a little sloppy here and there. But it went well."
DaQuawn Brown
hauled in two of the five interceptions. Redshirt freshman
Jamal Morrow
rushed for 44 yards on five carries and
Gerard Wicks
added two scores on the ground.
Drew Loftus
had a pair of touchdown receptions.
You can see the full stats
here
.
July, 26, 2012
7/26/12
12:45
PM PT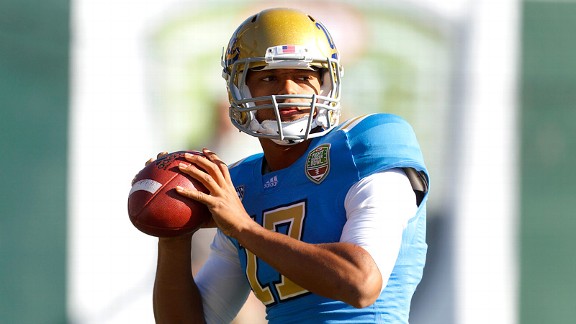 Jason O. Watson/US Preswire
Brett Hundley was one of the top quarterback recruits in the nation two years ago.
With UCLA training camp set to begin Aug. 4 at Cal State San Bernardino, it's time to take a preseason look at the roster and break down the Bruins position by position.
We start with the position of greatest interest: Quarterbacks.
DEPTH CHART AT THE END OF SPRING PRACTICE:
None. The post-spring depth chart was listed in alphabetical order because the coaching staff had not decided on a quarterback.
PROJECTED DEPTH CHART ON OPENING DAY:
Brett Hundley
(Fr., 6-3, 223)
Richard Brehaut
(Sr., 6-2, 230) OR
Kevin Prince
(Sr., 6-2, 225)
Jerry Neuheisel
(Fr., 6-1, 195)
Devin Fuller
(Fr., 6-0, 195)
Mike Fafaul
(Fr., 6-2, 200)
T.J. Millweard
(Fr., 6-3, 220)
2011 STARTER
Prince (10 games) 126-224 (56.2 percent), 1,828 yards, 12 TDs, 8 INTs
Brehaut (4 games) 67-121 (55.4 percent), 948 yards, 6 TDs, 1 INT
THE SKINNY:
The UCLA quarterback situation has been unsettled for the better part of the last decade, and this year is no different.
UCLA quarterbacks combined to complete a mere 55.78 percent of their passes last season and a paltry 50.9 the year before. Those figures ranked No. 93 and No. 115 in the nation and will have to improve to make UCLA a more potent offense.
Prince is the incumbent who can't seem to stay healthy. Brehaut is the backup whose light finally seemed to turn on last season. Hundley is the redshirt freshman who was one of the top quarterback recruits in the nation two years ago. Those three battled throughout the spring, but none emerged with the job.
Coach Jim Mora and offensive coordinator Noel Mazzone have set a deadline of Aug. 16 to name a starter, though the announcement could come earlier, Mora said, if it becomes clear who the guy would be. They are putting in a new, uptempo spread offense that will look far different than the Pistol of the past two seasons and want to be sure they pick the right guy to run it.
Mora, asked this week where he stood in the decision-making process said "I have a feeling, but still need to be convinced." He also talked about trying to project players and how a guy with upside will eventually pass a guy who is playing at a steady level. Put two and two together and it was a thinly veiled suggestion that Hundley is the leader and as long as he doesn't fall on his face the first two weeks of camp, the freshman will win the job.
April, 21, 2012
4/21/12
11:54
PM PT
LOS ANGELES -- The quarterback competition continues to rage in UCLA's spring practice as none of the contenders has yet to distinguish himself as the leading candidate and that can mean one of two things.

The optimist will say it's because each of the leading contenders has played at the same high level; the cynic would argue that they have all been equally mediocre.

Coach Jim Mora and offensive coordinator Noel Mazzone have made it known that they would like to have a quarterback emerge from the pack at some point this spring, but with nine of the 15 sessions in the books Kevin Prince, Richard Brehaut and Brett Hundley are still neck-and-neck for the lead with Jerry Neuheisel still clinging to a spot in the race.

"I feel a little bit different every day," Mora said when asked if anyone has emerged through the first three weeks of camp. "So me giving you that answer is really saying no. I really still feel like over the course of the next six practices we'll start to see some separation."

Judging by rep counts, there has been some separation over the last week. The spring began with six quarterbacks equally sharing the repetitions, but incoming freshman T.J. Millweard and walk-on Mike Fafaul have had their reps decrease over the past three or four sessions as Prince, Brehaut and Hundley have dominated the playing time.

Mazzone, asked about 14 different ways how the competition was unfolding in his mind, gave a similar non-answer about 14 different times.

"Right now, you've got a couple of old guys in Brehaut and K.P. who have been around the block a couple of times so they should be a little bit ahead of the other guys because they've played more," Mazzone said. "We've got some young talented kids that are kind of growing up."


April, 5, 2012
4/05/12
9:19
PM PT
LOS ANGELES -- Quarterback competitions are the annual rites of spring around UCLA, so it's no surprise to find the Bruins beginning another spring football camp without a clear-cut frontrunner for the most important position on the field.

And coach Jim Mora is making it clear he won't be rushing into a decision.

Mora and new offensive coordinator Noel Mazzone are making it a true open competition, giving six quarterbacks an equal number of reps through the first two days and if there were more quarterbacks in camp, they'd be getting reps, too.

"If you had any eligibility left, I'd give you a shot," Mazzone said to a reporter.

The goal is clear: The coaches want to see every quarterback in as many situations as possible before making any kind of a decision. They are looking for leadership, command of the offense and decision-making ability as much as accuracy and arm strength and they intend to give each quarterback the opportunity to show all of those things.

"We put guys in situations where you can evaluate them and if we get down the line a couple of days and we haven't seen a player in a certain position where we can make an evaluation then we have to create that situation for him," Mora said. "That's what we'll try to do with reps with the quarterback."

There is no official depth chart, but if there were it would appear Kevin Prince is No. 1 right now followed by Brett Hundley, Richard Brehaut, Jerry Neuheisel, walk-on Mike Fafaul and incoming freshman T.J. Millweard, based on performance and order of repetitions over the first two days.

But Mazzone said it would be inaccurate to read anything into the order and number of reps at this point in in the process.

"I grabbed [Prince] and threw him in there first because he was our starting quarterback, but it's a wide-open deal," Mazzone said. "After that, I just kind of turned around. They learned real quick that I turn around and the guy I see first I put in next. So they're all right there behind me."

The need-it-now mentality in the information age lends itself to a fanbase that wants immediate answers to the UCLA quarterback question, but Mora has no idea and he made it clear he isn't going to make his evaluations public on a regular basis. He never has seen any of these quarterbacks play live before this week and would like to build a database of information before he even starts to try and make any kind of decisions.

"The one thing I don't think is going to be appropriate for me to do is to come off the field and evaluate the quarterbacks on a daily basis with the media," Mora said. "I think that what's important is that we just let it happen. We need to be patient, but we need to be patient at the same time. I'm not going to come off the field every day saying oh it's this guy, it's that guy. I'll just let it develop naturally."


2014 TEAM LEADERS
| TEAM | RUSH | PASS | TOTAL |
| --- | --- | --- | --- |
| Offense | 199.4 | 268.5 | 467.9 |
| TEAM | PF | PA | MARGIN |
| Scoring | 32.9 | 27.5 | 5.4 |