May, 31, 2012
5/31/12
6:58
PM PT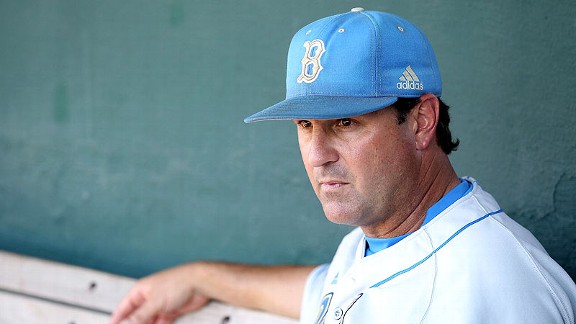 Christian Petersen/Getty ImagesSince arriving at the school in 2005, UCLA baseball coach John Savage has led the Bruins to new heights, but a national championship is still missing.
LOS ANGELES -- After nearly a century of playing at the intercollegiate level, UCLA baseball has finally arrived.
UCLA is seeded No. 2 nationally for the NCAA tournament, which begins Friday, and when the Bruins (42-14) face Creighton in the opening round of the Los Angeles Regional at Jackie Robinson Stadium, they begin their quest to back up all the recent accolades with the UCLA's first national championship in baseball.
Should they do so, it would be only the latest in a long line of firsts the program has achieved over the past few seasons. This year, the Bruins won consecutive conference titles for the first time. Last year, pitcher
Trevor Bauer
became the first UCLA player ever to win the Golden Spikes Award as the nation's top player and
Gerrit Cole
became the first UCLA player ever taken as the No. 1 pick in the Major League Baseball draft.
In 2010, the Bruins earned a national seeding for the NCAA tournament for the first time, were host of an NCAA regional and a Super Regional for the first time, and won a game at the College World Series for the first time.
The No. 2 seeding this year is the highest UCLA has ever been seeded for the NCAA tournament and it provides validation that the recent run of success is no fluke.
"One of our main goals when we got here was to become a national contender year in and year out," coach
John Savage
said. "That is very, very difficult to do in baseball and I don't know if we are there yet. Some people would argue yes, some would argue no."
But at least there is an argument now.
Since its inception in 1920, the Bruins' baseball program had been an 85-year see-saw session in which the Bruins would contend for conference titles and fifth-place finishes with equal frequency. That all changed when Savage took over as coach in 2005 and built UCLA into a consistent winner that now must be considered among the nation's top powers.
In the 58 years before Savage, UCLA had been to the College World Series only twice and had qualified for the NCAA playoffs 12 times. In the eight seasons since, Savage has taken UCLA to the NCAA playoffs six times and was two wins away from a national title in 2010.
And in conference play, the Bruins are now among the title contenders year in and year out. They have won the past two titles and have finished among the top three in the conference in seven consecutive seasons -- the longest such streak in school history.
June, 4, 2011
6/04/11
9:46
PM PT
UC Irvine moved into the driver's seat at the L.A. Regional with a 4-3 victory over San Francisco in a second-round game of the NCAA baseball playoffs Saturday at Jackie Robinson Stadium.

The No. 3-seeded Anteaters (41-16) now await the winner of the elimination game between No. 1 UCLA and No. 4 USF. Those teams meet at 2 p.m. Sunday and the winner plays Irvine at 6 p.m. Another victory for Irvine would send the Anteaters to the Super Regionals for the first time since 2008.

"Clearly we love being the team that's 2-0," Irvine coach Mike Gillespie said. "We prefer to be the team that's 2-0, not as much as we'd like to be the team 3-0. This is the position that every team wants to be in, so that's a good thing for us. We trust that all of us know that there's lots of work to be done so we have to stay after it."

Irvine pitcher Matt Whitehouse (4-0) held San Francisco in check, giving up two runs and four hits with seven strikeouts in 8 1/3 innings. San Francisco rallied with two runs in the ninth, but relievers Brian Hernandez and Jimmy Litchfield got the final two outs. Litchfield struck out San Francisco catcher Mason Morioka to end the game and picked up his third save of the season.

Irvine left fielder Drew Hillman provided the big blow, knocking a slider over the left field fence for a two-out, two-run home run in the sixth inning that gave Irvine a 4-0 lead.

San Francisco pitcher Matt Hiserman (6-4) took the loss despite a 98-pitch, complete game. He gave up seven hits and four runs with one walk and a strikeout, but made the crucial mistake to Hillman.

"I left a slider over the middle of the plate," he said. "I thought it was a good pitch, not a good location."
June, 3, 2011
6/03/11
8:03
PM PT
Fresno State baseball coach Mike Batesole and UC Irvine coach Mike Gillespie might have to have an arm wrestling contest to sort this out.

Irvine defeated Fresno, 12-6, in the opener of the Los Angeles regional Friday at Jackie Robinson Stadium and the game featured a combined seven errors.

It was uncharacteristically sloppy for both teams as Fresno State, which made four errors, entered the regional ranked 34th in the nation in fielding percentage and UC Irvine was fourth.

Batesole argued that postseason jitters had nothing to do with either the errors or the performance of pitching ace Greg Gonzalez, who came into the game with an 11-0 record and a 1.43 ERA but gave up 12 hits and five earned runs in 4 2/3 innings.

"He wasn't nervous," Batesole said, interrupting a question directed at Gonzalez. "We've got to make some plays behind him. That ball that jumps up and almost hits [shortstop Garrett] Weber in the shoulder, that's not him being nervous either. That's him staying down there where he's supposed to be and the ball jumps over his glove. You can't say anybody was nervous out there."

Gillespie, however, had a different take when asked if nerves were to blame for the sloppy defense.

"Absolutely, without a question," he said. "I don't see how they couldn't be. I think you would have to check the pulse of the guy who isn't excited and even nervous."

Jordan Leyland had two hits, including a three-run home run in the first inning, and five RBIs for the No. 2-seeded Anteaters. Irvine catcher Ronnie Shaffer had two hits and three RBIs while second baseman Tommy Reyes had three hits. Leyland, Shaffer and Reyes, the 7-8-9 batters for Irvine, were a combined 7-for-12 with nine RBIs.

Anteaters pitcher Matt Summers (11-2), coming off a no-hitter in his last start, gave up only one earned run on five hits with six strikeouts and a walk in six innings. The Bulldogs (40-15) entered the regional ranked No. 7 in the nation in home runs and No. 14 in slugging percentage, but had no extra base hits.
2013 TEAM LEADERS
| TEAM | RUSH | PASS | TOTAL |
| --- | --- | --- | --- |
| Offense | 196.6 | 251.6 | 448.2 |
| TEAM | PF | PA | MARGIN |
| Scoring | 36.5 | 24.1 | 12.4 |