May, 1, 2014
5/01/14
5:45
PM PT
The Pac-12 coaches chatted about spring practices with reporters Thursday afternoon. The biggest news was Stanford coach David Shaw
laying into the SEC for continuing to play eight conference games instead of nine
, but there were some other worthy notes.
[+] Enlarge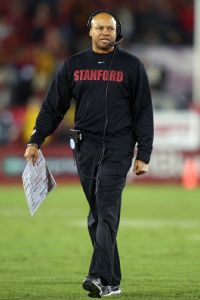 Kirby Lee/USA TODAY SportsStanford coach David Shaw, along with Oregon State's Mike Riley, was critical of the SEC's decision to stick with the 8-game conference schedule.
Here are a few.
Arizona coach Rich Rodriguez said it's possible he'll use a receiver, where the Wildcats are deep, as a cornerback, where they are not. He also offered no further insight on what his pecking order might be at quarterback.
Arizona State coach Todd Graham said S Jordan Simone, a Washington State transfer, had a great spring. "He's been a blessing for us -- tremendous passion," Graham said. "One of the things that surprised me is how fast he was." Graham said he's in the mix to be the starting "bandit" safety. There was an "Or" between him and Marcus Ball on the post-spring depth chart.
When asked to name a redshirt freshman that stood out this spring, California coach Sonny Dykes mentioned CB Darius Allensworth, LB Ray Davison and safety Griffin Piatt. He also lauded his redshirt freshmen offensive linemen as well as WR transfer Trevor Davis.
Colorado Mike MacIntyre said that defensive linemen Samson Kafovalu and Justin Solis, who missed spring due to academics, are on track to rejoin the team this summer, pending exams.
Oregon took a bit hit when receiver Bralon Addison suffered a knee injury, but coach Mark Helfrich noted that a pair of redshirt freshman receivers, Devon Allen and Darren Carrington, have "both shown flashes of what we thought they were in recruiting." On defense, he took note of defensive back Tyree Robinson.
While Oregon State coach Mike Riley is typically mild-mannered in his opinions, he does share Shaw's strong view that the SEC is gaming the system by playing one fewer conference game in the regular season. He said, "I don't think it's right. There's got to be some equity here."
When asked to name a redshirt freshman that stood out this spring, Stanford coach David Shaw said outside linebacker Peter Kalambayi. "He had a great spring game, great spring session completely," Shaw said. "He's shown speed and size and on top of all that has shown a great understand of what to do."
When asked about young standouts this spring, UCLA coach Jim Mora cited defensive lineman Eli Ankou, offensive tackles Poasi Moala and Kenny Lacy and receiver Eldridge Massington.
USC coach Steve Sarkisian said frosh offensive linemen Damien Mama and Viane Talamaivao will play in the interior at guard or center and not at tackle, where the Trojans are more questionable. He also lauded redshirt freshman CB Chris Hawkins.
It appears that Utah's moving of Marcus Sanders-Willams from running back to linebacker is permanent. Said Utes coach Kyle Whittingham, "We're only a couple of weeks into the evaluation process of it but it looks like a natural move for Marcus. He's got a lot of basic instincts."
Washington coach Chris Petersen said he had no update on the status of suspended QB Cyler Miles. He said the QB competition remained wide open. When asked about redshirt freshmen who performed well this spring, he cited RB Lavon Coleman, CB Jermaine Kelly, LB Keishawn Bierria and QB Troy Williams.
When asked to name a redshirt freshman that stood out this spring, Washington State coach Mike Leach mentioned right offensive tackle Cole Madison and a pair of defensive linemen, Daniel Ekuale and Emmitt Su'a-Kalio. He also lauded the play of CB Daquawn Brown.
April, 3, 2014
4/03/14
7:00
PM PT
Athlon Sports is big on lists. And we're big on bringing you their lists because, well, it's the offseason, and it's fun.

One annual list in particular always seems to get folks all hot and bothered, and that's their annual ranking of the Pac-12 coaches.
Before people go all crazy on Twitter, remember,
THIS IS NOT A PAC-12 BLOG LIST
. We are simply sharing it because we think it's interesting. Your thoughts are always welcomed
in the mailbag
.
Here's the 2014 list that Steven Lassan put together
:
David Shaw, Stanford
Chris Petersen, Washington
Todd Graham, Arizona State
Mike Riley, Oregon State
Mike Leach, Washington State
Rich Rodriguez, Arizona
Jim Mora, UCLA
Steve Sarkisian, USC
Mike MacIntyre, Colorado
Kyle Whittingham, Utah
Mark Helfrich, Oregon
Sonny Dykes, California
Some thoughts:
[+] Enlarge

AP Photo/Ross D. Franklin Arizona coach Rich Rodriguez (right) is ranked sixth on the Pac-12 coaching list by Athlon.

I went back to their 2013 and 2012 rankings and noticed a few interesting moves. Rich Rodriguez was No. 3 last year and is No. 6 this year. I find that interesting since he won the same amount of games last season as in 2012 (8-5), scored a signature win last season by topping No. 5 Oregon and did it without his 2012 quarterback. Granted, Arizona had a light nonconference schedule last fall, but does that warrant being dropped a quarter of the way down?
Two years ago, Shaw was No. 9 on their list, despite being named Pac-12 Coach of the Year in 2011. Last year, he bounced up to No. 1 and is in the top spot again. For having won back-to-back Pac-12 titles, I see no problem with him being No. 1 again.
My first thought was that Petersen was way too high, considering he has never coached a single game in the conference. Then I pushed that silliness out of my mind. He has coached against this conference, going 5-2 during his stint with Boise (not counting games against Utah when it was in the Mountain West or the bowl loss to Oregon State last season when he wasn't the head coach). Plus, he's a two-time national coach of the year. That's a better résumé than anyone else in the league. I'll buy him at No. 2.
My biggest gripe with the list is Mora at No. 7. He was No. 11 on the 2012 list and No. 8 on the 2013 list. All he has done is go 19-8, win the South title one of those two years and beat USC twice. Doesn't that get you a statue on campus? He has bolstered the national reputation of the program and was given a nice contract extension for his work. I would slot him in either the No. 3 or No. 4 spot with Todd Graham. Both have nearly identical résumés so far. Both are 2-0 against their rival. Both have won the Pac-12 South. They have split their head-to-head games with each winning once on the road. Both have had one blowout bowl win and one bad bowl loss. The only reason I'd probably put Graham ahead is that he was named coach of the year. But Mora belongs in the upper third.
Sarkisian is interesting. People are quick to rip his hire at USC, but recall the coaching job he did at Washington when he first got there. He turned a winless team into a pretty good program. Petersen is coming into a much more advantageous position than when Sark first got there. How that translates to USC remains to be seen.
Helfrich was No. 12 in 2013. For winning 11 games in 2013, he gets that big boost all the way up to No. 11. I get the sentiment -- that the Ducks were "supposed" to go to the BCS title game last season. He can't control an injury to his quarterback. Don't be shocked if he's in the top five when Athlon releases its 2015 list.
Whittingham has stumbled from the No. 4 spot he occupied in 2012. Like Helfrich, he can't control the unfortunate rash of injuries that have plagued his quarterbacks since coming into the league. I know this, there aren't many defensive-minded coaches I'd take over Whittingham.
Riley continues to be in the upper half of the list. Which is completely fair. He's done more in that setting than most people could. Oregon State fans seem to clamor annually about what's on the other side of the fence. When the day comes that Riley does step down (and I have to imagine it will be on his own terms), those complaining about change will miss him.
You get the idea. Lists are hard to put together, because everyone has a bias and an opinion. I think MacIntyre has done some great things at Colorado, and I think Washington State's progress under Leach has been outstanding. As for Dykes, well, let's give it another year and see what he can do with a healthy roster.
So we once again salute Athlon for making the list. Even if we don't always agree with it.
March, 3, 2014
3/03/14
12:00
PM PT
Looking back at some teams the current group of Pac-12 coaches have led during their respective head-coaching careers turns up an impressive list. All 12 have coached a team to a bowl appearance, 10 have finished a season with double-digit wins and eight have had teams appear in the AP top 10.
Taking it a step further and just looking at each individual coach's best team (in college) also made for an interesting study. Choosing which teams those are is clearly a subjective process so for the purpose of consistency, the teams listed below were chosen based on the final spot in the AP poll.
Here are some notable takeaways:
Eight teams ended with bowl victories, but two occurred after the coach left.
Seven teams started unranked, but only one finished out of the polls.
Half of the coaches did it at their current school, four of which occurred in 2013.
Six teams appeared in the top 5 at some point and nine were in the top 15.
Three coaches immediately parlayed the success into their current job.
Only three of the teams won conference titles, none of which was in the Pac-12.
Two teams beat No. 1-ranked squads.
Four teams played in BCS bowls, and three were victorious.
We're not going attempt to rank them ourselves, but here they are in reverse order based on each team's final AP ranking:
No. 12 Sonny Dykes, Louisiana Tech, 2012
Dykes' record:
9-3 (4-2, third in WAC)
Final AP rank:
unranked
Highest AP rank:
19
Bowl result:
no bowl

The team:
The Bulldogs finished the season as the country's highest scoring team (51.50 ppg) and top-ranked offense (577.9 ypg). They rose to No. 19 in the AP poll before losing their final two games of the season, including one against Mike MacIntyre-coached San Jose State in the season finale. Louisiana Tech was
offered a spot
in the Independence Bowl, but it was given away while the school unsuccessfully sought other bowl options. Dykes left for Cal after the season.
[+] Enlarge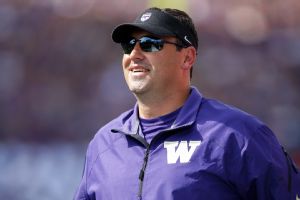 Otto Greule Jr/Getty ImagesSteve Sarkisian parlayed his successful 2013 season into the head-coaching job at USC.
No. 11 Steve Sarkisian, Washington, 2013
Sarkisian's record:
8-4 (5-4, third in Pac-12 North)
Final AP rank:
25
Highest AP rank:
15
Bowl result:
Beat BYU in Fight Hunger Bowl (Sarkisian did not coach)

The team:
The season began with a win against then-No. 19 Boise State, and the season ended with Broncos coach Chris Petersen being hired by the Huskies. Sarkisian departed for USC prior to the bowl. After the win against Boise, Washington debuted in the rankings at No. 19 and rose four spots before a string of three straight losses to Stanford, Oregon and Arizona State.
No. 10 Mike MacIntyre, San Jose State, 2012
MacIntyre's record:
10-2, (5-1, second in WAC)
Final AP rank:
21
Highest AP rank:
21
Bowl result:
Beat Bowling Green in Military Bowl (MacIntyre did not coach)

The team:
Two years after coaching San Jose State to a 1-11 record in his first season as head coach, MacIntyre's team became the first in program history to finish in the final AP poll -- although, the Spartans were unranked when MacIntyre accepted the job at Colorado. SJSU didn't beat any ranked teams, but lost just 20-17 to Stanford, which went on to win Pac-12 and Rose Bowl championships. The other loss came to Utah State, which finished No. 16.
No. 9 Todd Graham, Arizona State, 2013
Graham's record:
10-4 (8-1, won Pac-12 South)
Final AP rank:
21
Highest AP rank:
11
Bowl result:
Lost to Texas Tech in Holiday Bowl
The team:
In his eighth season as an FBS head coach, Graham's most recent Arizona State team was his best. The Sun Devils began the season unranked and entered and exited the Top 25 twice before closing the regular season with a seven-game winning streak. It was ranked No. 11 when it hosted Stanford in the Pac-12 championship game, but a second loss to the Cardinal kept ASU out of the Rose Bowl.
No. 8 Mike Riley, Oregon State, 2008
Riley's record:
9-4 (7-2, tied for second in Pac-10)
Final AP rank:
18
Highest AP rank:
17
Bowl result:
Beat Pittsburgh in the Sun Bowl

The team:
The Beavers started unranked and lost their first two games before winning eight of nine to peak at No. 17. After a 1-2 start, it beat No. 1 USC in Corvallis, but didn't immediately build off the big win. The next week the Beavers lost to Kyle Whittingham's undefeated Utah team (more later).
Riley's highest spot in the polls came in 2012, when the Beavers reached No. 7 after a 6-0 start. He was a head coach in the NFL for three years and the Canadian Football League for four, where he won a pair of Grey Cups.
No. 7 Jim Mora, UCLA, 2013
Mora's record:
10-3 (6-3, second in Pac-12 South)
Final AP rank:
16
Highest AP rank:
9
Bowl result:
Beat Virginia Tech in Sun Bowl

The team:
The Bruins spent the entire season in the polls after starting at No. 21. They began 5-0 and rose to No. 9 before road losses to No. 13 Stanford and No. 3 Oregon. Mora's best coaching job came in the NFL in 2004 when he guided the Atlanta Falcons to an NFC South title and an appearance in the NFC Championship.
No. 6 Mike Leach, Texas Tech, 2008
Leach's record:
11-2 (7-1, tied for first in Big 12 South)
Final AP rank:
12
Highest AP rank:
2
Bowl result:
Lost to Ole Miss in Cotton Bowl

The team:
The Red Raiders started the year at No. 12 and moved up to No. 6 after an 8-0 start. They rose to No. 2 after Michael Crabtree's memorable touchdown catch secured a win vs. No. 1 Texas. After two weeks at No. 2, the Red Raiders lost to No. 5 Oklahoma in a game that propelled Sooners quarterback Sam Bradford to the Heisman Trophy. Leach arrived at WSU in 2012.
[+] Enlarge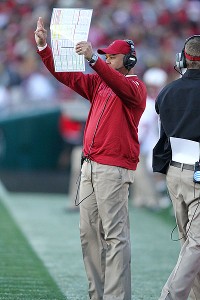 AP Photo/Kevin ReeceDavid Shaw's best team at Stanford didn't win the Pac-12 title.
No. 5 Mark Helfrich, Oregon, 2013
Helfrich's record:
11-2 (7-2, tied for first in Pac-12 North)
Final AP rank:
9
Highest AP rank:
2
Bowl result:
Beat Texas in Alamo Bowl
The team:
Of all the teams on the list, none started higher than the Ducks in Helfrich's head-coaching debut at No. 3. Oregon spent eight weeks at No. 2 before losses to Stanford and Arizona in a three-game span ended any hopes of a conference or national title. The team finished ranked No. 2 in the country in both total offense (565.0 ypg) and scoring (45.5 ppg). Quarterback
Marcus Mariota
dealt with some late-season injury problems, but, when healthy, he was as good as any player in college football.
No. 4 David Shaw, Stanford, 2011
Shaw's record:
11-2 (8-1, second in Pac-12 North)
Final AP rank:
7
Highest AP rank:
3
Bowl result:
Lost to No. 3 Oklahoma State in Fiesta Bowl
The team:
In three seasons as head coach, Shaw has won a pair of Pac-12 titles. But in 2011, when Oregon won the Pac-12 title, he probably had his best team. The Rose Bowl championship team the following year also finished No. 7 and has more hardware, but it didn't have Andrew Luck. Stanford started the year at No. 7, moved up to No. 3 after winning its first nine games, but then lost 53-30 at home to No. 6 Oregon. Stanford received a second consecutive BCS at-large bid, but suffered an overtime loss to No. 3 Oklahoma State in the Fiesta Bowl. In addition to Luck, 10 other players landed on 53-man NFL rosters from the team's departing class. Stanford's low ranking of No. 8 was the best among teams on this list.
No. 3 Rich Rodriguez, West Virginia, 2005
Rodriguez's record:
11-1, (7-0 Big East champion)
Final AP rank:
5
Highest AP rank:
5
Bowl result:
Beat No. 8 Georgia in Sugar Bowl
The team:
Freshmen QB Pat White and RB Steve Slaton were the names of note for the current Arizona coach. West Virginia started the year unranked and its lone loss came to then-No. 3 Virginia Tech. It was the first of three consecutive double-digit win seasons for the Mountaineers, who were undefeated in Big East play and capped the season with a win over No. 8 Georgia in the Sugar Bowl. A strong case can be made that West Virginia had a better team in 2007, when Rodriguez left following the regular-season finale to become head coach at Michigan. The Mountaineers were ranked No. 2 (No. 1 in the coaches poll) going into Rodriguez's final game, but
lost to a 4-7 Pittsburgh team
in the 100th Backyard Brawl, which cost them a chance to play for the national title. They finished No. 6.
No. 2 Chris Petersen, Boise State, 2009
Petersen's record:
14-0 (8-0, WAC champions)
Final AP rank:
4
Highest AP rank:
4
Bowl result:
Beat No. 4 TCU in the Fiesta Bowl
The team:
Washington's new coach has quite the résumé. Many consider Boise State's undefeated 2006 team that beat Oklahoma in that's year memorable Fiesta Bowl as the school's best, but three years later the Broncos finished 14-0 and finished a spot higher in the final AP poll. They opened the season at No. 14 and started with a win against No. 16 Oregon in Chip Kelly's first game as head coach. Boise capped the season with a win against undefeated TCU in the Fiesta Bowl. The team's offensive coordinator, Bryan Harsin, is now the head coach and its defensive coordinator, Justin Wilcox, spent last season with Sarkisian at Washington and followed him to USC in the same capacity.
No. 1 Kyle Whittingham, Utah, 2008
Whittingham's record:
13-0 (8-0, Mountain West champions)
Final AP rank:
2
Highest AP rank:
2
Bowl result:
Beat No. 4 Alabama in Sugar Bowl
The team:
In Whittingham's fourth season as head coach, the Utes finished as the nation's lone undefeated team after starting unranked. Utah opened with a win at Michigan -- Rodriguez's first game as the Wolverines' coach -- and went on to beat four teams that finished in the final AP poll, including Alabama (6), TCU (7), Oregon State (18) and BYU (25). Quarterback Brian Johnson threw for 336 yards in a convincing 31-17 win against Alabama in the Sugar Bowl.
Want to swap out one team for another or switch the order? Email me at Kyle.Bonagura@espn.com.
January, 31, 2014
1/31/14
5:30
PM PT
Happy Friday. Welcome to the mailbag.
Follow the Pac-12 blog on Twitter
.
By the way, we will be reviewing the
top-25 list
on Monday, explaining some of our thinking, and looking ahead.
So stay tuned! To the notes!

RidingTheRange from Dallas writes:
Thanks for your Top 25 list
! I enjoy this every year. However, with Top 25 lists, they always encourage witty banter. And here's my suggestion: Where is
Ty Montgomery
? If memory serves me correct,
the KR/PR from Utah was rated last year
. Montgomery was a much more integral part of the Stanford offense (though the offense as a whole was not particularly potent). Any word on where he would actually fall or if there was any debate between the Pac-12 bloggers?
Ted Miller
: I suspect the list last year will be more controversial than this year's. Kevin fired off a first draft to me and Kyle a few weeks ago, and that list stuck pretty well with minimal changes. We also knew the handful of players who would be tops among the "HOW CAN YOU LEAVE OFF [PLAYER X]? YOU HAVE LOST ALL CREDIBILITY!"
Utah's Reggie Dunn ended up at No. 25 last year because he returned four kickoffs for touchdowns, which had never been done before. Yes, it was controversial. To me, the worst omission from the list was
Desmond Trufant
, and we not unfairly took a lot of crud for it. Kevin felt more strongly about Dunn than I did, but I'd also say that setting an NCAA record is pretty darn shiny on a résumé.
Montgomery returned two kicks for touchdowns in 2013 and was the Cardinal's leading receiver, ranking ninth in the Pac-12. You could make a case for him.
But here's what I typically say to folks making the case for another player: Who do you take off our top-25 to make room for Montgomery?
Here's the bottom six:
No. 20
:
Trevor Reilly
, DE/OLB, Utah
No. 21
:
Sean Mannion
, QB, Oregon State
No. 22
:
Austin Seferian-Jenkins
, TE, Washington
No. 23
:
Hroniss Grasu
, C, Oregon
No. 24
:
Josh Huff
, WR, Oregon
No. 25
:
Myles Jack
, LB/RB, UCLA
That's a pretty strong group to break into.
---

Bobby from Phoenix writes:
Carl Bradford
not in the top 25? You guys were very generous to put in Sutton, Grice and Kelly, but I can't imagine a list without Bradford! Rabble rabble rabble!
Ted Miller
: Bradford was one of the top guys who got left out, along with several All-Pac-12 defenders, such as Stanford safety
Ed Reynolds
, Washington defensive end
Hau'oli Kikaha
, USC LBs
Devon Kennard
and
Hayes Pullard
, etc.
I'm surprised more Washington fans aren't griping about leaving out Kikaha, who finished second in the Pac-12 with 13 sacks. We rated him higher than Bradford, who had 8.5 sacks, and I personally found leaving him out one of our toughest calls, in large part because he came back from two knee surgeries this season.
Bradford had a good, but not great, season. In fact, I'm not sure he'd rank better than fifth on the Sun Devils defense this season, behind DT
Will Sutton
, DB
Alden Darby
, CB
Robert Nelson
and LB
Chris Young
.
Further, with all that talent, I do question why the Sun Devils' defense wasn't better, ranking eighth in the Pac-12 in yards per play -- 5.5 -- and seventh in scoring (26.6 ppg).
---

Spencer from Orem, Utah, writes:
I would argue that
Anthony Barr
is better than
Ka'Deem Carey
. I would be interested on your thoughts on why you disagree.
Ted Miller
: You could argue that. I'm sure many folks are guessing that Barr is headed to a better NFL career as a perennial All-Pro.
NFL prospects factor more in my judgments than they do with Kevin. To me, it's a safeguard against getting too googly-eyed about statistics. That said, what separates Carey are his numbers. To quote our review:
"[Carey] ranked second in the nation with 157.1 yards per game. He completed his career by topping 100 yards in 16 consecutive games, a Pac-12 record and a streak that hasn't been accomplished by any other back in a decade. He is Arizona's career rushing leader (4,232 yards) and ranks seventh in Pac-12 history."
Barr had a great season and earned consensus All-American honors, just like Carey. But his best football is in front of him. His numbers -- 10 sacks (No. 3 in the conference) and 20 tackles for a loss (No. 2) -- were good, but not epically good, like Carey's.
Further, I think UCLA's defense wouldn't have collapsed without Barr. If you took Carey away from Arizona, the Wildcats would have lost at least a touchdown from their scoring average of 33.5 and wouldn't have sniffed bowl eligibility.
So that's the distinction.
---

Undeniable Stanford Homer from East "of" Palo Alto writes:
My question is about the top 25 players list for this past season. I understand the issues with rankings vs. grades is same reason why people do rankings over grades -- you get to say 1 player is "better" then another player because of their standing in the rankings. As we all know, the top 10 players are all All-Pac-12 performers, but by ranking them you infer that one is better than the other, causing intrigue and argument (which is both good and bad). What I am wondering is when you compile this list, how do you have eight players better than
David Yankey
, and five players ahead of
Trent Murphy
. The former was the best player on the best team on the best unit in the Pac-12 (hard to argue unit but this question is too long for my explanation already, and hard to argue with Morris but he already had one) and the latter is the best defensive player (depends on if you look at qualitative data, the DPOY by coaches vs. quantitative data, statistics). I know you have reasons why you chose players over these two outstanding athletes but i just would like to hear them.
Ted Miller
: We rated Yankey at No. 8 as the Pac-12's top offensive lineman, despite his playing guard and not tackle. I don't think guards would make the top 10 many years. But Yankey, a unanimous All-American, is a beast.
That said ... I'm not sure he's better than UCLA OG
Xavier Su'a-Filo
, who won the the Morris Trophy over Yankey, an award voted on by opposing defensive players. Yankey got more All-American love, but Su'a-Filo, who ranked 12th, was just as beastly. It will be interesting to see who ends up better in the NFL.
So who do you drop from our top seven in order to boost Yankey? That's a pretty salty group.
Murphy is the most interesting case. The Pac-12 blog named Murphy the conference
Defensive Player of the Year
after the coaches went with Sutton. Why? Murphy ranked second in the nation and first in the Pac-12 with 15 sacks and fourth in the nation and first in the Pac-12 with 23.5 tackles for a loss.
Like Carey, his numbers speak for themselves, as well as his being the best player on the conference's best defense.
So how did he end up rating behind Barr at No. 3? And how do I type this without immediately contradicting my explanation for putting Carey ahead of Barr (epic numbers!)?
We have debated this before
, and I've had what some might call controversial takes. I ranked
Matt Barkley
and
Matt Scott
higher in 2012 than many might have in large part based on the notion of, "If you were drafting Pac-12 players for your team, what would be the selection order?"
That's not specifically about NFL prospects. It's about who you subjectively view as being the best college player.
While I think Murphy was the most
accomplished
defensive player in the Pac-12 this year, I also think Barr was the best defensive player. If I were drafting Pac-12 players for the Ted Miller Super Awesome squad, I'd pick Barr before Murphy.
But would I pick Barr before Carey? I'd rate that a toss-up. Ergo, I fall back to Carey's numbers for our ranking order.
---


Paul from Boise, Idaho, writes:
I'm willing to bet nobody would have guessed that at the end of the year, both
Marqise Lee
and
De'Anthony Thomas
would be left out of the illustrious Pac-12 postseason top 25. It seems every season a team or a top-tier player plays subpar, either because of injury or an underperforming team. Would the blog care to take a gamble and bet on somebody next year that is in danger of underperforming?
Ted Miller
: Injuries are the biggest reason neither Lee nor Thomas made the Top 25, though Thomas was pretty underwhelming much of the year.
There's no way I'd speculate on who might get hurt next fall. That's sort of morbid.
Further, only eight guys will be back next season: 1.
Marcus Mariota
; 8.
Brett Hundley
; 10.
Leonard Williams
; 14.
Taylor Kelly
; 15.
Ifo Ekpre-Olomu
; 21. Sean Mannion; 23. Hroniss Grasu; 25. Myles Jack.
Of that list, the most challenged will be Mannion because he loses No. 4
Brandin Cooks
.
I expect Mannion's passing numbers to go down in any event because I suspect coach Mike Riley will work a lot harder to be more balanced next fall. The key for Mannion is being more efficient and avoiding the mistakes that littered his season's second half.
---

Haggmeez from Cincinnati writes:
Here we are, just one week before national signing day and the Pac-12 has a whopping 35 combined commits in the
ESPN 300
. By contrast, Alabama and LSU have a combined 32 ESPN 300 commits just between the two of them (not including the JC 50). I'm not usually one to buy into recruiting rankings at face value, but the disparity is fairly staggering. Do you think that the Pac-12 is going to be able to continue to keep up with the amount of raw physical talent that is being basically channelled into these southern power programs?
Ted Miller
: Yes.
---

Jack from La Quinta, Calif., writes:
Ted and Kevin, many thanks for your work in keeping the Pac-12 Blog current and interesting. However, I am still smarting over
your season grade of B-plus for Stanford
. Stanford won its division, won the Pac-12 championship and was only defeated by four points in the Rose Bowl by the third-ranked team in the country -- certainly no blowout. But they only deserve a B-plus. I think you place too much emphasis on the postseason -- bowl games, a national championship and ranking the Pac-12 against other conferences. The road to a Pac-12 championship should be your primary emphasis. The rest is gravy. Many Oregon players started looking too far ahead, to a national championship instead of next Saturday's game. Look where they ended up. The Rose Bowl on 1/1/14 was not a worthy goal for Oregon. Your thinking plays a part in influencing players, coaches and fans and your current emphasis is not in the best interest of the sport. I certainly would not give Stanford a solid A for their work. They lost two games on their way to the Pac-12 championship and the Rose Bowl. But, this is no less than an A-minus performance -- unless winning the Pac-12 conference championship is no big deal and is only a stepping stone to more worthy goals.
Ted Miller
: Is this an example of the grade inflation at Stanford that Cal fans are always telling me about?
You meet expectations, you get a B. You want an A? Exceed expectations.
Stanford has become an elite team -- a Pac-12 and national title contender. It's not graded the same as most other teams. It has a smaller margin for error. 11-3 is a good, but not great, season on The Farm these days. That should feel like good news, by the way.
Stanford and Oregon were co-favorites to win the Pac-12. Both Kevin and I picked Stanford to win the Pac-12. By winning the Pac-12, the Cardinal therefore met expectations. If the Cardinal had won the Rose Bowl, they would have received an A-minus.
What are the knocks on Stanford's season?
It lost to two teams it was better than: Utah and USC. And, in a toss-up matchup with Michigan State in the Rose Bowl, it got solidly beaten.
Good, but not great.
No Pac-12 team received an A this year. An "A" for Stanford and Oregon would have been a final top-five ranking and a BCS bowl win. An "A" for, say, Washington State, would have been eight wins, including the Apple Cup, and a bowl victory.
Just like Stanford, Arizona State also got a B-plus, the highest grade any Pac-12 team received from us this year. If the Sun Devils had won their bowl game, they would have received an A-minus. UCLA also got a B-plus. If it had won the South Division and its bowl game, it would have received an A-minus.
The Pac-12 blog doesn't believe in grade inflation. It is a demanding taskmaster. It believes in high standards.
And awesomeness.
---
UCLA Fan from Federal Way, Wash., writes:
I was just wondering why I haven't seen anyone talk about how after it was all said and done, the
four hardest schedules of the year
belonged to Pac-12 teams. Including those four, eight Pac-12 teams were ranked in the top 13 for strength of schedule. There was only one SEC team in the top 13. I haven't heard anyone talk about this, and would like to hear your opinion about what this says about the SEC vs. Pac-12 discussion, among other things.
Ted Miller
: It shows that the Pac-12 was the deepest conference, top to bottom, in the nation. Not sure anybody really disagrees with that. Further, in a year when the Pac-12 did well overall, it means the nine-game conference schedule significantly boosted strength-of-schedule measures.
If this continues to be a pattern going forward, the Pac-12 should do well in the eyes of the selection committee for the four-team college football playoff, which has said it will put an emphasis on strength of schedule.
January, 14, 2014
1/14/14
11:30
AM PT
December, 23, 2013
12/23/13
11:30
AM PT
And it was always said of him, that he knew how to keep Christmas well, if any man alive possessed the knowledge. May that be truly said of us, and all of us! And so, as Tiny Tim observed, God bless us, every one!
December, 5, 2013
12/05/13
11:30
AM PT
All I wanted was to eat the chicken that is smarter than other chickens and to absorb its power.
November, 26, 2013
11/26/13
2:30
PM PT
What's the greatest chapter in your book? Are there pages where it hurts to look?
What's the one regret you can't work through? You got it baby, mine would be you.
November, 25, 2013
11/25/13
11:30
AM PT
I lingered round them, under that benign sky; watched the moths fluttering among the heath, and hare-bells; listened to the soft wind breathing through the grass; and wondered how any one could ever imagine unquiet slumbers for the sleepers in that quiet earth.
November, 25, 2013
11/25/13
9:00
AM PT
If you don't like where you are in the Power Rankings, play better.
Click here for
last week's Power Rankings
.

1. Stanford:
It seems in some ways that Stanford eclipses Oregon in the Pac-12 North based on the teams' head-to-head result. The Cardinal, by the way, could do the conference a favor by beating Notre Dame on Saturday. Otherwise the Fighting Irish, with wins over Stanford, Arizona State and USC, could claim their own Pac-12 title.
2. Arizona State:
You can't undersell what Todd Graham has done in Tempe. If the Sun Devils beat rival Arizona on Saturday, they will play host to Stanford in the Pac-12 title game. So there are considerable stakes outside of pride. And we know how well the Sun Devils play at home. The result earlier this season at Stanford might be meaningless.
3. Oregon:
It has been a long time since the Ducks weren't Nos. 1 or 2 in the Power Rankings. After getting blown out at Arizona, coach Mark Helfrich said there needed to be some "inward" looking inside the locker room. Can the Ducks regain their mojo? The Civil War against Oregon State will be a pretty grumpy affair, without substantial external stakes for either team for the first time in a long time.
4. USC:
The Trojans, as expected, improved to 6-1 under interim coach Ed Orgeron after whipping Colorado. Yet, much of the present goodwill would be surrendered with a second consecutive loss to UCLA. If Orgeron delivers a victory, however, his candidacy to become the next head coach takes on substantial legitimacy.
5. UCLA:
Losing at home to Arizona State hurt, but the Bruins know exactly how to turn their frowns upside down: Beat USC. That also would boost their bowl options, of course.
6. Washington:
While there has been a lot of hyperventilating about Steve Sarkisian and the inconsistent Huskies, the ultimate story will be written over the next two games, starting with Friday's Apple Cup. If Washington beats Washington State and then wins a bowl game, it will finish 9-4, and that would represent a strong step forward after three consecutive 7-6 seasons. On the downside, anything less would cap a disappointing season, and certainly wouldn't cool Sarkisian's coaching seat.
7. Arizona:
While Arizona's friends up North have taken a solid lead in the battle of second-year head coaches between Rich Rodriguez and Graham, the Wildcats can take back a lot with an upset win in Tempe. Not only would they boost their bowl prospects and make Rich Rod 1-1 versus Graham, they'd force the Sun Devils to travel to Stanford for the Pac-12 title game, which would substantially reduce their Rose Bowl chances.
8. Washington State:
The Cougars are bowl eligible, but they could become bowl eligible with a bang -- as well as positively giddy -- with a second consecutive upset win over the hated Huskies in Seattle. An added consolation would be seeing Sarkisian's seat heat up substantially and seeing a potential shift in the balance of power in the state.
9. Oregon State:
That was a dreadful performance against Washington. The worst I've personally witness from the Beavers. Coach Mike Riley is a class act and a heck of a guy, but he needs to answer for that. It wasn't about losing to the Huskies. It was about how it went down at home, with a listless, uninterested effort.
10. Utah:
While there are legitimate excuses for how Utah's season has gone, the loss at Washington State, even without QB
Travis Wilson
, delivered a resounding thud to Year 3 in the Pac-12. The Utes are 1-7 in conference play. A loss at home to Colorado on Saturday would make coach Kyle Whittingham's seat hot heading into 2014.
11. Colorado:
While the Buffaloes were brought back down to Earth after getting pounded by USC, they showed admirable fight in the second half. Concluding the season with a road win over Utah would bode well for the future. And it would mean the Buffs finish 10th in the Pac-12 Power Rankings, not 11th.
12. California:
The best news for the Bears is the season is over. Little went right in Sonny Dykes' first season, and he took the blame upon himself after the blowout Big Game defeat to Stanford. There is plenty of justifiable fan frustration. Dykes' first question is his staff, particularly on defense. He probably needs to make some changes. And then he needs to look at his roster and decide who cares about winning and who doesn't.
September, 21, 2012
9/21/12
8:38
AM PT
The No. 19
UCLA Bruins
(3-0) begin conference play against the
Oregon State Beavers
(1-0) in a Pac-12 opener for both teams Saturday at the Rose Bowl. Kickoff is at 12:30 p.m. PT and the game will be televised by ABC and ESPN2. Here are five things to watch:
1. Eager Beavers
Oregon State has played only one game so far this season because its opening-week game against Nicholls State was postponed when the Louisiana team was unable to travel during Hurricane Issac. Last week was a scheduled bye week so Oregon State has had 44 practices since the start of training camp with only one game and that means they are probably really sick of practicing against each other. It could mean a bit of rust for the Beavers, but it could also mean coach Mike Riley, a very good coach, has had plenty of time to sharpen up their game plan.
2. Running man
UCLA running back
Johnathan Franklin
leads the nation with 541 yards rushing and is closing fast on Gaston Green's UCLA career rushing record of 3,731 yards. Franklin, second on that list, has 3,210. He might find the going tough against Oregon State, however. The Beavers shut down Wisconsin's running game in Week 2, limiting the Badgers to 35 yards rushing. Wisconsin running back
Montee Ball
, a 1,900-yard rusher last season and a Heisman hopeful coming into this season, had only 61 yards in 15 carries. For Franklin to have success, the UCLA offensive line will have to find a way to open holes against a stout Oregon State four-man defensive front that includes talented ends
Scott Crichton
and
Dylan Wynn
as well as space-eating tackle
Castro Masaniai
(6-3, 350 pounds).
3. Third down is the charm
UCLA enters the game having converted only 16 of 48 (33.3 percent) third downs this season and ranks No. 94 in the nation in that category. The Bruins had their worst third-down performance of the season last week, when they converted only five of 17 third downs in a 37-6 victory over Houston. Based on Oregon State's performance against Wisconsin, it doesn't figure to get any easier trying to convert those crucial plays. The Beavers held Wisconsin to only two of 14 (14.3 percent) third down conversions on Sept. 8. It's a skewed statistic because Oregon State has only one game, but the Beavers are currently second in the country in third-down defense.
4. Well received
UCLA coach Jim Mora has spent a lot of time this week talking about the Oregon State running game, but the Beavers' top offensive weapons are receivers
Markus Wheaton
and
Brandin Cooks
. Wheaton has led Oregon State in receiving in each of the last two seasons and, as a sprinter for the Oregon State track team, has plenty of speed. Cooks, a sophomore, is another speedster who had seven receptions against Wisconsin. They are also a part of the running game as fly sweeps and end-arounds have long been a part of the Oregon State offense, so while Mora may be worried about facing a power running game for the first time this season, the UCLA secondary will have its hands full with Oregon State's outside guys.
5. Back in the groove
Even though the Bruins tallied 567 yards in offense last week, quarterback
Brett Hundley
was a bit out of synch. He missed his target on several passes, failed to see open receivers on some plays and threw two interceptions, yet still passed for 320 yards. Hundley's mobility also was affected by a gimpy ankle and he had -2 yards rushing against Houston after totaling 121 in the first two games. On paper, getting back on track against Oregon State appears to be a challenge as the Beavers gave up only 207 total yards to Wisconsin. That might not be all that impressive, however, considering Wisconsin is No. 116 in the nation in total offense despite playing FCS team Northern Iowa and Utah State as well as Oregon State.
September, 19, 2012
9/19/12
7:37
PM PT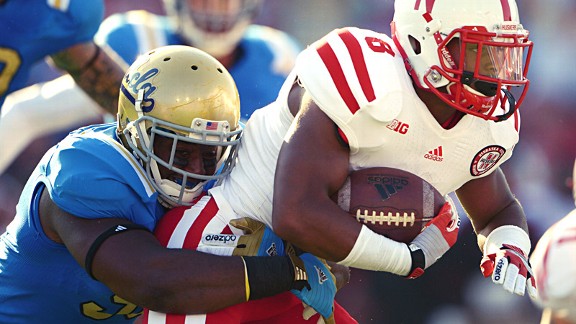 Kirby Lee/Image of Sport/US PresswireDatone Jones, making a tackle against Nebraska, figures to be key if Oregon State plays a physical game up front.
LOS ANGELES -- The spread is dead, at least for this week.
When the No. 19
UCLA Bruins
face Oregon State in a Pac-12 Conference opener for both schools Saturday at the Rose Bowl, it will be the first time this season UCLA will not be facing a team that runs the spread offense. That could be considered a bad thing for a team that is 3-0 against spread offenses and is coming off of its best defensive performance of the season, but coach Jim Mora says he is excited for the challenge.
"We need this right now," Mora said. "We need to get back to some hard-nosed gritty football on defense."
Oregon State isn't exactly a juggernaut when it comes to running the ball. The Beavers had only 78 yards rushing in their only game this season against Wisconsin and were No. 118 in the nation in rushing offense last season with 86.92 yards per game on the ground.
But after facing a
Houston Cougars
team that passed 60 times and rushed only 19, Oregon State's traditional pro set offense with running backs
Malcolm Agnew
ans
Storm Woods
will look and feel like a smash-mouth team from the leather helmet days.
"They run powers and they run lead draws and split bellies and isos and stretches and inside and outside zone," Mora said. "Real live run plays so we have to be on it. Against these backs, arm tackles are not going to do it. It's definitely a point of emphasis for us this week."
So far this season, the run games UCLA has faced have mostly come in the form of one-back spread formations. The Bruins are No. 95 in the nation against the run, having allowed an average of 191 yards rushing per game, but a closer look at those statistics reveals that they haven't been too bad against traditional run plays.
Quarterbacks
Taylor McHargue
of Rice,
Taylor Martinez
of Nebraska and
David Piland
of Houston combined for 278 yards rushing against UCLA. In comparison, the running backs from those teams have rushed for a combined 295 yards. Additionally, 218 of those quarterback rushing yards have come on three plays -- a 92-yard touchdown by Martinez, an 86-yard touchdown by Piland and a 40-yard run by McHargue.
Take away those three plays and UCLA is giving up 118.3 yards per game on the ground and in the top 40 in the nation in run defense.
"Our run defense has been outstanding except for quarterbacks, which I don't consider real runs," Mora said. "When teams have tried to run real runs against us, we've been pretty good."
2014 TEAM LEADERS
| TEAM | RUSH | PASS | TOTAL |
| --- | --- | --- | --- |
| Offense | 199.4 | 268.5 | 467.9 |
| TEAM | PF | PA | MARGIN |
| Scoring | 32.9 | 27.5 | 5.4 |