April, 19, 2012
4/19/12
4:53
PM PT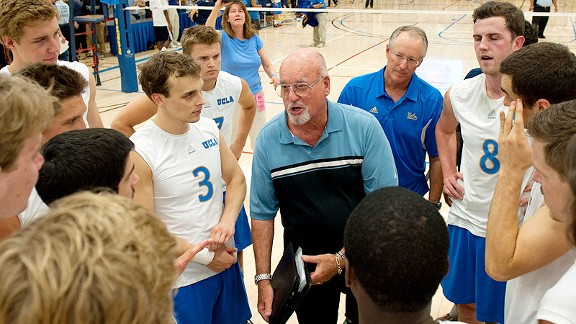 Courtesy of Don Liebig (ASUCLA)There's plenty to know about Al Scates, who will soon complete his 50th season at UCLA.
Legendary UCLA men's volleyball coach
Al Scates
is nearing the end of a career that spans half a century and, to this point, 19 national championships. The 72-year-old Scates, often pegged as his sport's
John Wooden
, will leave his post having changed volleyball forever, just as Wooden did with basketball.
Scates, the longest serving Division I coach in the nation, embarks on a quest for his 20th title on Saturday night when his fifth-ranked Bruins open postseason play at UC Irvine. He will walk away at the end of the season, win or lose. Here are eight things you should know about Scates before he retires:
He was a pioneer. Convincing then-athletic director J.D. Morgan to let his team play inside Pauley Pavilion in 1965 was monumental to the sport's progress. Morgan was adamant to the idea at first, forbidding Scates from drilling holes into the hallowed wooden floor. So to hold a triple-header showcase, Scates compromised and had makeshift referee stands -- built of pipe, plywood and string -- shipped in from Omaha. Five thousand paying customers attended the event, by far the largest crowd the country had ever seen for a volleyball event. Volleyball soon became an NCAA sport. "J.D. Morgan saw his first volleyball match that night, and he liked it," Scates says with his patented chuckle. "He was the chairman of the NCAA volleyball committee and negotiated TV contracts for the networks. When he wanted something done, it usually got done."

He won from the start. Scates captured the first three NCAA championships and six of the first seven. The program was a perennial power by the time Karch Kiraly, arguably the sport's greatest player, arrived at UCLA in 1978. "Al was already a legend when I got to campus," Kiraly says. "You wanted to play for the best? You went to UCLA to play for Al Scates."

He was good at volleyball, too. Scates played on six USA championship teams and was named All-American several times.

He had a calm demeanor. According to former players, it was never clear which team had called a timeout. They could never tell by just looking at Scates. They'd walk to the team huddle, with him front and center, and nothing ever changed. Regardless of the situation he had the same confident expression on his face. Kiraly recalls one memorable moment from a five-match tour in Japan where UCLA, highly regarded in its own right, was expected to lose the finale to a collegiate all-star team. It was winter but the gym wasn't heated. Steam escaped from players' heads, as the Bruins dropped the first two sets. More than 5,000 miles away from home, all that could go wrong did. Scates didn't flinch. "Al kept the same confidence level," Kiraly says. "He had this little laugh that every guy on the team tried to mimic. It was a confident laugh." There was nothing funny about it, though. Scates laughed because he knew what he had. UCLA stormed back and beat the Japanese on that chilly day in Tokyo, dominating the final set 15-2.
2014 TEAM LEADERS
| TEAM | RUSH | PASS | TOTAL |
| --- | --- | --- | --- |
| Offense | 159 | 288 | 447 |
| TEAM | PF | PA | MARGIN |
| Scoring | 30 | 24 | 6 |