May, 12, 2014
May 12
7:00
PM PT
There were
34 Pac-12 players selected
during the NFL draft, but there will be more than twice that many rookies in NFL training camps this summer. Shortly after the draft ended, the dominoes started falling and those who went undrafted started signing free-agent contracts.
The following list of undrafted free agent signings, which was compiled from various announcements and media reports, could change in the coming days:
Arizona
Arizona State
California
Note:
K
Vincenzo D'Amato
will
reportedly attend
Green Bay's rookie minicamp.
Colorado
Oregon
Oregon State
Stanford
Notes:
S
Devon Carrington
(Pittsburgh) and LB
Jarek Lancaster
(Oakland) will attend rookie minicamps.
UCLA
USC
Utah
Notes:
DT
LT Tuipulotu
will attend Green Bay's rookie minicamp and C
Vyncent Jones
told the Deseret News
he will attend minicamps for Pittsburgh and Kansas City.
Washington
Note:
S
Sean Parker
will
reportedly attend
Washington Redskins rookie minicamp.
Washington State
Note:
K
Andrew Furney
will attend Seattle Seahawks rookie minicamp.
April, 3, 2014
Apr 3
12:00
PM PT
Washington was the final Pac-12 school to host its pro day Wednesday, essentially putting an end to 40-yard-dash season. Here is a look at some of the conference's top prospects and a few others who helped their cause over the past month.
Arizona (March 6)

Big name:
RB
Ka'Deem Carey
. After getting clocked at 4.70 in the 40 at the combine, Carey's pro day was a bit more intriguing than some of the other big-name players. There was some improvement -- various reports had him in the high 4.6-range -- but it wasn't enough to change the book on him. Still, Carey's production should make up for his perceived shortcomings.
Sleeper:
OLB
Marquis Flowers
. Flowers
reportedly ran in the 4.4s
and had a good showing in position drills.
Arizona State (March 7)

Big name:
DT
Will Sutton
. The Sun Devils' pro day further cemented what scouts learned at the combine, when he turned in below average numbers. There was slight improvement at the pro day, according to several reports, but nothing to save his falling stock.
Sleeper:
RB
Marion Grice
. Grice was invited to the combine, but didn't participate as he recovers from a broken leg suffered late in the season. He also didn't participate at the pro day, but will hold an individual workout for NFL scouts on April 8.
California (March 19)

Big name:
DT
Deandre Coleman
. Coleman only participated in the bench press at the combine, but fared well in field drills on campus with
a reported 40 time
in the mid 4.9-range. Coleman is projected by most to be a mid-round selection.
Sleeper:
RB
Brendan Bigelow
. Bigelow was perhaps the player with the most to gain at pro day. The book on him has always been that he's loaded with talent and the physical skills necessary to be an impact player. It didn't happen for the Bears before he decided to leave early for a shot at Sunday football. Despite
injuring his hamstring
midway through his 40, Bigelow still was reported as running in the high 4.4-range with former Cal running backs
Marshawn Lynch
and
Jahvid Best
looking on.
Colorado (March 12)

Big name:
WR
Paul Richardson
. There were 24 teams on hand, with Richardson the obvious prize of the nine that worked out. He only participated in the vertical jump, short shuttle and three-cone drills.
Sleeper:
LS
Ryan Iverson
. Iverson will not be drafted, but after four years as the Colorado long snapper he has a chance to make some money at the next level. His 27 reps on the bench press were a team high. All the Colorado results
can be viewed here
.
Oregon (March 13)

Big name:
RB
De'Anthony Thomas
. Thomas' 4.50 40 time at the combine was among the disappointments for the conference and turned a perceived strength into average attribute. After his showing in Eugene -- a 4.34 40 time -- the world is back on its axis. On his combine performance, Thomas
told the Ducks' official website
: "I ran a 4.5 in ninth grade, so I was like, 'Wow, that's crazy'. I feel like that made me train harder and I used it as motivation."
Sleeper:
CB
Avery Patterson
. Patterson was left puzzled by his own performance after putting up just 10 repetitions in the bench press, but the two-year starter remains focused on making the jump to the next level. He's likely the type of player that will have to earn his way on a team via a training camp invitation and possibly a practice squad.
Oregon State (March 14)

Big name:
WR
Brandin Cooks
. The Biletnikoff Award winner could have showed up to the Beavers' pro day as a spectator and it likely wouldn't have mattered. His showing at the combine was enough to solidify his stock as a first-round pick. Cooks didn't take part in field drills, but did run routes.
Sleeper:
WR
Micah Hatfield
. Yes, a receiver with 20 career catches helped his cause. One scout
told the Oregonian
he had Hatfield at 4.33 in the 40 -- the same times Cooks clocked when he was the fastest receiver at the combine.
Stanford (March 20)

Big name:
OL
David Yankey
. Kansas City, Tampa Bay and St. Louis were the only no-shows at Stanford. If the mock drafts are to be trusted, Yankey figures to be the first Stanford player of the board. He improved slightly on the bench press (22 to 25) and clocked the same 40 time (5.48) from the combine.
Sleeper:
DE
Ben Gardner
. Is it fair to call Gardner a sleeper after earning some form of all-Pac-12 recognition the past three years? Probably not, but after
not being invited to the NFL combine
we'll go ahead and list him here anyways. Gardner benefitted most from the day, quantifying his explosiveness and athleticism with a 39.5-inch vertical jump.
UCLA (March 11)

Big name:
OLB
Anthony Barr
. After running a 4.66 40 at the combine, Barr was clocked at 4.45 to ease any lingering doubt about his straight-line speed. Barr helped his case to become a top-10 pick and will likely be the first player from the Pac-12 selected.
Sleeper:
RB
Malcolm Jones
. The Gatorade national high school player of the year never developed into the player UCLA fans were hoping for, but he's still hanging on to hopes of an NFL career. He was credited with a 4.57 40 at the Bruins' pro day.
USC (March 12)

Big name:
WR
Marqise Lee
. Lee went Jerry Seinfeld and
chose not to run
, letting his combine performance serve as the final measurement of his ability. After not lifting in Indianapolis, Lee finished with 11 reps in the bench. He's tagged for the first round.
Sleeper:
DE
Morgan Breslin
. Like Gardner, who he has been working out with in San Ramon, Calif., Breslin was a combine snub. He ran a 4.75 40, put up 26 reps on the bench and registered a 35.5-inch vertical jump. Here are the
complete results
for the 18 players who took part.
Utah (March 19)

Big name:
CB
Keith McGill
. One of the fastest risers since the season has ended, McGill decided to
participate in every drill
despite a good showing at the combine. His 40 time (4.52) was a hundredth of second slower than what he did at combine, and his vertical leap (35.5) was about four inches less.
Sleeper:
FB
Karl Williams
. The 240-pound former walk-on clocked a 4.5, which will could give him a shot to get in a training camp.
Washington (April 2)

Big name:
RB
Bishop Sankey
. Content with his good showing in Indy, Sankey elected to just run the 60-yard shuttle and catch passes. Most mock drafts have Sankey, who left with a year of eligibility remaining, as the No. 2 running back.
Sleeper:
QB
Keith Price
. There were 19 quarterbacks at the combine, but Price was not one of them, marking the first time since at least 1999 that the conference didn't send a quarterback -- and it could be longer -- we could only find combine rosters dating back that far.
Price got good reviews
for his performance Wednesday, but it would still be surprising if he gets drafted.
Washington State (March 13)

Big name:
S
Deone Bucannon
. WSU's remote location and limited number of pro prospects resulted in
less than a dozen
scouts on hand, but those that were there got to see one of the conference's most intriguing prospects. Bucannon just participated in position drills after performing well across the board in Indianapolis.
Sleeper:
K
Andrew Furney
. Furney showed a leg capable of hitting from beyond 60 yards and further established himself as a potential candidate for training camp invitations.
November, 6, 2013
11/06/13
11:30
AM PT
His subtle obsession with uniqueness troubled all his dreams.
October, 17, 2013
10/17/13
10:15
AM PT
A few storylines to keep an eye on this week in the Pac-12:
1. Title game rematch
: UCLA and Stanford will face each other for the third time in the last 10 months. Only this time it's the Bruins who are the higher-ranked team, coming in at No. 9 after Stanford slid to No. 13 following its loss at Utah. Remember all of those side-to-side swing passes that Dennis Erickson and Utah used to keep Stanford off balance? Remember who worked for Erickson at ASU? Yep, Noel Mazzone. And UCLA loves to hit its receivers in the flat. Keep an eye on what happens after the second-half kickoff, as well. The Bruins are outscoring opponents 71-0 in the third quarter this year. Stanford has a 12-game home winning streak -- third longest in the nation -- and is 10-1 at home against ranked opponents since 2009. Stanford hasn't lost consecutive games since the middle of the 2009 season.
[+] Enlarge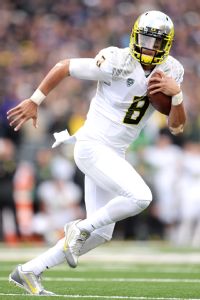 Allen Kee/ESPN ImagesMarcus Mariota and the Ducks are expected to be one of the top two teams when the BCS standings are released on Sunday.
2. BCS time
: The first Harris Poll of the season was released Sunday and featured four Pac-12 teams in the top 25: Oregon (2), UCLA (9), Stanford (12) and Washington (25). The first BCS standings will be released this week -- which comes on the heels of the announced selection committee for the College Football Playoff that starts next year. We're all expecting Oregon to be in one of the top two spots. Question is, where will UCLA or Stanford land?
3. North vs. South:
Two more critical North versus South showdowns this week with UCLA traveling to Stanford and Washington heading to Arizona State. The UCLA-Stanford game takes center stage for obvious reasons. But Washington-ASU has all the makings of a thriller. This is one of those 50-50 games that either team needs to win to show they belong in the upper tier of the Pac-12. The quarterbacks,
Keith Price
and
Taylor Kelly
, are obviously the mechanisms that make their teams go. But Washington running back
Bishop Sankey
(899 yards) has rushed for at least 125 yards in five of six games and ASU gives up almost 170 yards per game on the ground. Look for him to probably break 1,000 for the season by the final whistle. On the flip side, ASU's
Marion Grice
already has 15 total touchdowns. He had 19 last year, so look for him to eclipse that mark in the next couple of games.
4. Making up is hard to do
: Colorado will face Charleston Southern this week as a makeup for the Sept. 14 game against Fresno State that was canceled because of severe rain and flooding in Colorado. Charleston Southern is a perfect 7-0 on the year and is receiving votes in the Sports Network FCS College Football Poll. The Buffs are looking to get to 3-3 for the first time since 2010. And they are making a change at quarterback with
Sefo Liufau
stepping in after going 18 of 26 for 169 yards and a touchdown and two interceptions in relief against Arizona State.
5. No. 5?
The Cougars are looking for their fifth win for the first time since 2007. Tough draw, however, this week with a trip to Oregon. The Ducks are averaging 56.8 points per game and are second in the country in total offense with 630.5 yards per game.
6. Taking care of the ball
: Speaking of Oregon, quarterback
Marcus Mariota
, the Heisman frontrunner through the first half of the season, continues to impress with turnover-free performances. Though his completion percentage is down from last year, he hasn't thrown an interception in 165 pass attempts this year -- which extends a streak dating back to last season of 233 attempts. His last interception was against Stanford. During that stretch, he's completed 100 passes for 1,724 yards and 17 touchdowns. Receivers
Josh Huff
and
Bralon Addison
have 27 catches each for a combined 1,054 yards and 11 touchdowns.
7. Rebuilding the brand:
Nothing can unite the USC fan base like a win against Notre Dame. Better yet, a win
at
Notre Dame. The Trojans won their first game of the Ed Orgeron era and look to follow it up against the Irish. Neither team is ranked, but the names carry a lot of weight. This is a game that could re-energize the Trojans moving forward.
Marqise Lee
and
Morgan Breslin
have both practiced and it's looking like both will play. That should be a huge boost after getting running back
Silas Redd
back last week.
8. Momentum building?
What do the Utes do with their big win over Stanford? Do they keep the momentum rolling? They have to go on the road for four of their next six -- including leaving the state for the first time this season when they travel to face Arizona. The Wildcats are still looking for their first conference win, though quarterback
B.J. Denker
had a strong statistical performance in the loss last week to USC, completing 28 of 44 passes for a career high 363 yards and four touchdowns.
9. Who needs a running game?
The Pac-12's top two passing offenses square off with Oregon State's trip to Cal. OSU quarterback
Sean Mannion
has six straight games of 350 passing yards and the Beavers lead the conference with 433.2 passing yards per game and 25 passing touchdowns. Cal averages 371.3 yards in the air -- second in the league, but just 11 passing touchdowns, third worst. The Bears can move it, they just haven't been able to convert yards into points.
10. No off week:
For the second straight week, all 12 schools will be in action. This was supposed to be a bye week for Colorado, but the Charleston Southern game fills the void. Next week Arizona State and Washington State are on bye. It will be the first of two byes in three weeks for the Cougars, who will have opened the year with eight straight games following this week's matchup with Oregon.
October, 7, 2013
10/07/13
9:30
PM PT
Here's a quick look at Week 7 in the conference. All times are ET.
Thursday


Arizona (3-1, 0-1) at USC (3-2, 0-2) 10:30 p.m. Fox Sports 1
: USC leads the series 28-8, but the Wildcats prevailed 39-36 last year in Tucson and the teams have split the last four meetings. This will be the Trojans' first game after the firing of coach Lane Kiffin, with Ed Orgeron taking over as interim coach. A lot of Wildcats will be able to identify, as Mike Stoops was fired after the sixth game in 2011. Both teams had byes last week. The Wildcats are coming off two byes in three weeks -- a stretch that will have put them on the field just once (Sept. 28 at Washington) in a span of 25 days before Thursday's kickoff. Arizona scored 26 unanswered points in the second half of last year's victory over the then-No. 10 Trojans. The Wildcats defense has seven INTs this season and ranks No. 11 nationally in pass efficiency defense. In the Trojans' last game, they yielded a school-record tying 62 points. USC has some injury issues as both WR
Marqise Lee
and OLB
Morgan Breslin
are questionable.
Saturday


No. 2 Oregon (5-0, 2-0) at No. 16 Washington (4-1, 1-1) 4 p.m. Fox Sports 1
: Washington leads the series 58-42-5, but the Ducks have won nine straight in the series by at least 17 points, including a 52-21 win last year in Eugene. Washington has gone three-and-out on offense in only six of 65 drives this season (9.2 percent). Only Baylor (1-out-of-61; 1.6 percent) boasts a better percentage. Washington is highly ranked in a number of NCAA offensive and defensive categories, including: third in third-down conversions, seventh in completion percentage and fifth in total offense, as well as third in pass efficiency defense and 11th in scoring defense. Oregon is No. 2 in the nation in scoring, No. 2 in total offense, No. 3 in rushing offense and No. 9 in passing efficiency. The Ducks also are No. 2 in the nation in scoring defense, No. 7 in pass efficiency defense and No. 8 in third down defense. The Huskies have turned the ball over six times this year, but have not allowed any of those turnovers to be converted into points. The Huskies have converted six of eight takeaways into touchdowns. Oregon is third in the nation in turnover margin. Washington has allowed just seven points in the first and fourth quarters this season. Oregon QB
Marcus Mariota
has accounted for 21 touchdowns -- 14 passing, seven rushing. UW RB
Bishop Sankey
enters the week as the nation's No. 4 rusher with 146.4 yards per game. He's rushed for 100 or more in eight of the last 10 games.


No. 5 Stanford (5-0, 3-0) at Utah (3-2, 0-2) 6 p.m. Pac-12 Network
: Stanford leads the series 3-2, but this will be the teams' first meetings with the Utes being Pac-12 members. Utah won the most recent game 17-10 at Stanford in 1996, but the Utes are 0-2 against Stanford in Salt Lake City. In the last meeting Utah's defense, under the direction of then-defensive coordinator Kyle Whittingham, shut out the Cardinal for three and a half quarters in a 17-10 win. The Utes led 17-0 entering the fourth quarter.
Juan Johnson
rushed for 114 yards and Jeff Kaufusi had two sacks to lead the Utes. Since joining the Pac-12 in 2011, Utah is 0-4 against ranked conference opponents and 1-4 overall (the win was against No. 25 BYU in 2012). Stanford and Utah both average 39 points per game. Utah leads the Pac-12 with 18 sacks. Stanford has yielded just five, second fewest in the conference. Utah has forced just six turnovers. Stanford has forced seven. Those are the two lowest totals in the Pac-12. Stanford and Utah are tied for first in the Pac-12 in red zone offense. The Utes have 12 TDs in 18 red zone trips. The Cardinal has 11 in the same number of penetrations.


Colorado (2-2, 0-2) at Arizona State (3-2, 1-1) 10 p.m. Pac-12 Network
: Arizona State leads the series 4-0, including a 51-17 win in Boulder last year. The Sun Devils have won two games in Tempe and two in Boulder against CU and have outscored the Buffaloes 153-48 in those contests. Colorado is coming off a 57-16 defeat to No. 2 Oregon. The Sun Devils lost to Notre Dame 37-34. Arizona State WR
Jaelen Strong
is off to one of the best starts for a receiver in school history, amassing 569 yards (113.8 ypg, which ranks 15th in the nation) on 39 receptions (7.8 rpg) in his first five games in a Sun Devil uniform. Of those 39 receptions this season, 25 have resulted in first downs. He has also drawn six pass interference penalties against him this season, four of which have results in first downs, giving him a total of 29 of ASU's 126 first downs this season (23.0 percent). Colorado WR
Paul Richardson
ranks second in the nation with 155.3 yards receiving per game. The Sun Devils rank 11th in the Pac-12 in run defense (182.8 yards per game), but Colorado only ranks 10th in rushing offense (110.2 ypg).


California (1-4, 0-2) at No. 11 UCLA (4-0, 1-0) 10:30 p.m. ESPN2
: UCLA leads the series 50-32-1, but the Bears posted a stunning 43-17 win over the then-No. 25 Bruins last year. It was the high moment of the Bears 3-9 season that got coach Jeff Tedford fired. That game was notable for two individual performances. In a poor-to-middling career, it probably was Bears QB Zach Maynard's best game -- he completed 25 of 30 passes for 295 yards with four TDs. And, in what is a career rising from good to elite, Bruins QB
Brett Hundley
had his worst career game, throwing four interceptions. The key matchup will be the Bears passing attack against the Bruins secondary, which grabbed six of its seven interceptions last week against Utah. Cal's true freshman QB
Jared Goff
ranks third in the nation with 364 yards passing per game. But the Bears rushing offense is struggling, and the defense is suffering through epidemic injuries. Cal is 122nd in the nation in scoring defense, surrendering 45 points per game. A fast start might help.
As noted by the San Francisco Chronicle
, Cal has allowed a touchdown on the opposing team's first drive in each of the first five games and has been outscored 86-31 in the first quarter this season.


Oregon State (4-1, 2-0) at Washington State (4-2, 2-1) 10:30 ESPNU
: Washington State leads the series 48-46-2, but it has dropped five of the last six games, including the past two. The Beavers won 19-6 last year. The Cougs last win over the Beavers in Martin Stadium was 36-30 in 2003. The game features two of the nation's most prolific passing QBs. Oregon State's
Sean Mannion
leads the nation in both passing yards per game (403.6) and touchdowns (21). Washington State's
Connor Halliday
is ninth at 332.2 yards per game. If there is a difference, it's interceptions. Mannion has thrown just two, while Halliday has 10 to go with 13 TD passes. Halliday did pass for 521 yards in the win at California last weekend, just 10 yards short of a school record. It's the most passing yards by any FBS QB so far this year. The 44 points against Cal are the most scored by WSU in a conference game since beating Oregon 55-10 in Eugene in 2003. The Cougars claimed their first win over Cal since 2002 (in Berkeley), snapping an eight-game skid. Don't expect a lot of rushing yards. The Beavers and Cougars rank 121st and 122nd in the nation in rushing.
2014 TEAM LEADERS
| TEAM | RUSH | PASS | TOTAL |
| --- | --- | --- | --- |
| Offense | 215.8 | 273.4 | 489.2 |
| TEAM | PF | PA | MARGIN |
| Scoring | 35 | 27.2 | 7.8 |