June, 12, 2014
Jun 12
5:30
PM PT
Things are good for UCLA this summer. For one, in advance of preseason practices, the Bruins can recline by the pool and reflect on having defeated USC in consecutive seasons for the first time since 1997-98. That span, by the way, is also the last time preseason expectations were this high.
As in Pac-12 and national championships high.
The reclamation project that Jim Mora has wrought, one that had Texas eyeballing him in the winter before he signed a new contract with UCLA, seems to be gathering momentum rather than peaking.
"It feels great, but at the same time, this is where I believe we are supposed to be," linebacker
Eric Kendricks
said of the swirling enthusiasm in Westwood. "All the hard work me and my teammates have put in, I feel like we were supposed to end up in this situation."
Yet the 2013 season, a transformative one for UCLA, wasn't so easy for Kendricks. While the Bruins were asserting themselves, their star middle linebacker struggled through a variety of injuries -- kidney, shoulder, back and ankle. He played through most of them, but the bum ankle forced him to undergo surgery and miss the dominant Sun Bowl victory over Virginia Tech.
[+] Enlarge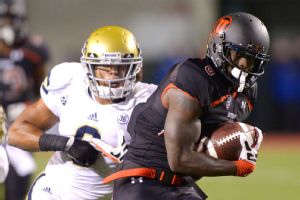 Kirby Lee/USA TODAY SportsUCLA linebacker Eric Kendricks has 332 career tackles, even though he was slowed by injuries in the 2013 season.
Winning eases pain, but it doesn't cure it.
"Last season was probably the hardest season I've ever been a part of," Kendricks said of his personal travails. "It was a learning experience for me having to play through pain. It made me mentally tougher. I was playing for my teammates. That was the main reason I was out there trying to fight my butt off."
Even with the injuries, Kendricks -- who has started 28 games -- didn't have a bad campaign. He still ranked third in the Pac-12 with 8.8 tackles per game. He again earned honorable mention All-Pac-12 honors. Still, when folks thought of a UCLA defense that -- finally? -- was developing some grit, they tended to start with
Anthony Barr
and true freshman
Myles Jack
, Kendricks' fellow linebackers, and then perhaps move on to a defensive front speckled with young talent.
Kendricks has been a tackling machine in the past three seasons with 332 career stops -- his 150 tackles in 2012 were the most by a UCLA player since 1978
--
but it's fair to say his junior season didn't play out how he would have scripted it. If his season had followed a logical progression from his sophomore production, he would presently be sharing top billing with Jack as the Bruins' defensive stars and probably would have earned preseason All-American attention.
Yet when asked about the finding himself outside the spotlight, Kendricks gives it a rhetorical shrug.
"I could care less," he said. "As long as I do my job, I think the film and the numbers speak for themselves. As far as attention I get from NFL teams, that will take care of itself. I don't need any of the spotlight, honestly."
A healthy Kendricks is an NFL prospect. For one, he's got good bloodlines. His father, Marv, led UCLA in rushing in 1970-71.
His older brother
Mychal
, the Pac-12 Defensive Player of the Year in 2011 at California, is a budding star for the Philadelphia Eagles. Both brothers are listed at 6-foot, but Eric Kendricks is a leaner version (230 pounds vs. 240).
As to who's faster, Eric said this about a 40-yard race between the two: "He might win one without pads, but I'd win one in pads."
The brothers talk frequently, and Eric is eager to learn about the NFL game and what it takes to play on Sundays. The general gist he's picked up is that everyone is a spectacular athlete, so it's your focus and preparation that separates you from the competition.
That lesson also applies to the current Bruins as they eyeball big goals. Preseason expectations don't mean squat. They don't block and tackle and make plays. No one is ceding the South Division to the Bruins.
Of course, Kendricks and his teammates know that. That, however, shouldn't stop them from enjoying the burgeoning excitement.
Or expressing to each other on a regular basis what it means to presently own the series with USC.
"Yeah," he said laughing. "That is awesome."
October, 25, 2011
10/25/11
8:02
AM PT
Another week, another top-notch pass offense standing in UCLA's way.
So far this season, UCLA has faced four of the top-20 passing offenses in the nation and gets a fifth Saturday when California visits the Rose Bowl for a 4 p.m. Pac-12 game.
That means that if UCLA is going to get its season back on track, the Bruins will have to find a way to contain California quarterback
Zach Maynard
and receiver
Keenan Allen
, who lead a Golden Bears offense that ranks No. 19 in the nation with 293 yards passing per game.


And not only that, but the short-handed Bruins must also figure out a way to decipher a California defense that is fourth in the Pac-12 in total defense and leads the conference in pass defense.
"We've got our work cut out for us," UCLA coach
Rick Neuheisel
said.
Allen, a 6-foot-3, 205-pound sophomore, is among the top receivers in the nation. A freshman All-American last season, he leads the country this season with 129.43 yards receiving per game and is eighth with 60 receptions. Maynard doesn't quite fit into the elite group of quarterback UCLA has faced this season, but he is improving in his first year as a starter and has passed for 1,840 yards and 12 touchdowns.
Last year when these teams met, Cal dominated with a running attack that gained 304 yards rushing in a 35-7 Golden Bears victory.
Shane Vereen
led that charge with 151 yards. Vereen is now with the New England Patriots, but
Isi Sofele
, who gained 80 yards in 13 carries in last year's game, is back and is having a strong season. He's averaging 89.57 yards per game, fourth in the Pac-12.
The Bruins are No. 106 in the nation in total defense, giving up 436.14 yards per game, so facing such a balanced offense could lead to more problems, but it's the other side of the ball that has Neuheisel most concerned.
Linebacker
Mychal Kendricks
, brother of UCLA linebacker Eric, is among the top defensive players in the conference, if not the country. He is third in the conference with eight tackles per game and is a key reason why Cal gives up only 115 yards rushing per game.
"They've got, in my mind, the best defensive player in the conference in Mychal Kendricks," Neuheisel said. "I think he is spectacular football player."
2013 TEAM LEADERS
| TEAM | RUSH | PASS | TOTAL |
| --- | --- | --- | --- |
| Offense | 196.6 | 251.6 | 448.2 |
| TEAM | PF | PA | MARGIN |
| Scoring | 36.5 | 24.1 | 12.4 |