June, 12, 2014
Jun 12
2:30
PM PT
Wisdom cannot be imparted. Wisdom that a wise man attempts to impart always sounds like foolishness to someone else.
May, 27, 2014
May 27
9:00
AM PT
While summer is considered the "offseason," we all know there is no offseason. Every Pac-12 team is either gaining -- or losing -- ground right now due to its focus and effort at getting better, both on a team and individual level.
So how do things stand in advance of teams beginning preseason camp?
Glad you asked (and you can view the
final 2013 power rankings here
).

1. Oregon
: I know. We always rank Oregon here, underrating Stanford and its more physical but less sexy style of play. But the return of QB
Marcus Mariota
and a veteran offensive line is just too tantalizing. The Ducks look like the Pac-12's best bet for an entrant in the inaugural College Football Playoff.

2.
UCLA
: I know. We're dropping the two-time defending Pac-12 champions to No. 3, underrating Stanford and its more physical but less sexy style of play. But the Pac-12 blog keeps reviewing the Bruins' depth chart and
contemplating a trip to Vegas
... 20/1 ... hmm.

3.
Stanford
: The quandary with Stanford: Was the defensive front seven dominant this spring because it's going to again be among the best in the nation (probably)? Or was it because four new starters on the O-line means a step back on offense (maybe)? Two other issues: 1. Replacing D-coordinator Derek Mason; 2. Can QB
Kevin Hogan
improve enough on short and intermediate throws to take advantage of a strong crew of receivers?

4.
USC
: The Trojans enter the final season under NCAA scholarship reductions with a starting 22 good enough to win the Pac-12, but depth and health are issues. There is a lot to like on both sides of the ball, though the offensive line probably rates as the most critical question mark.

5.
Arizona State
: The defending South champions are going to be tough to stop on offense behind QB
Taylor Kelly
and WR
Jaelen Strong
, but replacing nine starters -- and just about all its star power -- on defense is not an issue you can write off with a "Hey, we've got lots of great JC transfers coming in."

6.
Washington
: The return of QB
Cyler Miles
from suspension provides a big boost and probably means that the Huskies can be a factor in the North race. The secondary is a concern, and that's not a good concern to have in the QB-laden conference this fall. And there is some mystery as to whether there will be growing pains during the transition to Chris Petersen from Steve Sarkisian.

7.
Oregon State
: We expect the Beavers defense to be better this fall compared to last season, so the big question is how do the 10 guys on offense complement QB
Sean Mannion
? The O-line -- again -- is a question, and it's not easy to replace the nation's best receiver. Still, we expect the 2014 Beavers to be better than the 2013 version. Perhaps much better.

8.
Washington State
: If you are looking for a true conference dark horse, it's the Cougars. There are questions on the O-line and on defense, but the passing game should be outstanding with third-year starter
Connor Halliday
and a deep, talented crew of receivers. Put it this way: What does this team look like if it improves as much in Mike Leach's third year as it did in Year 2?

9.
Arizona
: The Wildcats are outstanding at receiver, good on the offensive line and solid at safety. There are questions just about everywhere else, and the strange thing is that quarterback might be the least worrisome. Still, to show how we view the Pac-12's depth again this fall, the Wildcats over/under for wins is seven.

10.
Utah
: The Utes situation seems fairly simple. If the production at quarterback is consistent, this is a bowl team. The best bet is with a healthy
Travis Wilson
, though it really is about just starting the same guy all 12 games.

11.
Colorado
: The Buffaloes should take another step forward in Year 2 under Mike MacIntyre, but the real issue is whom can they crawl over to rise in the conference pecking order? With about six or seven projected senior starters this fall, the Buffs might not make a move up until 2015.

12.
California
: If the bet were to pick who finishes last in the Pac-12 in 2014, Cal or the field, I'd be reluctant to tap Cal. I'd much rather go with the field because I think the Bears were awful in Year 1 under Sonny Dykes because of an epidemic of injuries and a poorly-coached defense. The latter should be solved by the hiring of coordinator Art Kaufman, and I can't foresee the injury situation being nearly as bad.
May, 7, 2014
May 7
8:35
PM PT
PHOENIX -- The overriding message coming out of Pac-12 meetings is that major changes in college football governance are now inevitable, even if the details and long-term consequences of those changes remain unclear.

The Big Five conferences will meet in August and almost certainly obtain a new autonomy level within the NCAA structure. At that point, major rules changes, including those that significantly bolster the support and benefits provided to athletes, will start to be formulated. Pac-12 commissioner Larry Scott intimated that things could move fairly quickly thereafter, so his message to conference coaches and athletic directors was basically to buckle up.
"Quickly is a relative concept, but deadlines are good," Scott said. "I think if we get the autonomy that we've asked for, the commissioners will be setting out a very aggressive timetable to put proposals out ... I expect we'll have a very intensive process over the next four months -- September through December -- where practitioners from our campuses are working on different agendas, including those with a deadline of January, specific proposals that can be voted upon by the 65 schools [in the Big Five]."
So "quickly" might mean?
"The goal is to implement whatever changes we're going to implement for the 2015-16 year," Scott said.
Chief among those would be cost of attendance scholarships, which could vary significantly by team and conference. Scott, however, noted that doesn't create a massive change of direction and complication because the pure value of tuition scholarships also vary by team and conference.
What does need to be implemented to prevent any fudging is a clear formula that all 65 schools apply to calculate the new value of their cost of attendance scholarships.
"I don't think it will that big of a deal, but there will be issues to work through in terms of a common method of determining the full cost," Scott said.
There is a significant degree of consensus within the Big Five conferences for adopting the cost of attendance scholarships, and it appears there is unanimity within the Pac-12.
"These are a lot of things that are going to be costly for us but I think are necessary and in line with what I believe we should be doing for our student-athletes," said Washington State athletic director Bill Moos, echoing other conference ADs.
While Scott was unwilling to admit that the Northwestern football union challenge and Ed O'Bannon lawsuit against the NCAA were driving the oncoming changes, he did concede the legal challenges to the NCAA governance structure and the publicity surrounding them weren't too far from administrators' minds.
"Is it some of these external challenges driving it? I would say no. There's been a recognition for some time [about these issues]," Scott said. "But I'd say external pressures bring a helpful focus and helpful push to get these things done."
[+] Enlarge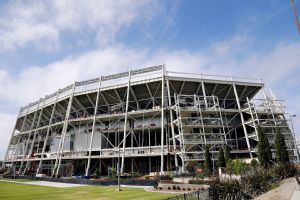 AP Photo/Marcio Jose SanchezLevi's Stadium, the new home of the San Francisco 49ers, could be the new home of the Pac-12 championship game as well.
As for the other major item on the Pac-12 agenda, it was more based on the West Coast: The location of the 2014 Pac-12 championship game. There were earnest discussions over the two days about changing it from a game hosted by the conference's top team to a neutral site, specifically the San Francisco 49ers' new home, Levi's Stadium, in Santa Clara, California.
While the potential move was an intriguing idea, it also isn't a done deal.
"I think there was a lot of positive feeling about it," Scott said. "Some objected. There are some pros and cons."
Said Moos: "Personally, I think [Levi's Stadium] is the way to go."
Said USC athletic director Pat Haden: "I think the current model has actually worked pretty well, the home host. I know the CEOs are debating that and discussing that. I don't think any decision has been made. Quite honestly, at USC, we don't mind the home-host model because we think we've got a chance of hosting."
Shrugged Washington's Scott Woodward: "I'm ambivalent. I trust the league and what they want to do. I have no problem one way or the other."
If the title game is going to be played in the new 49ers stadium on Dec. 5, a decision almost certainly would be announced in June, when the Pac-12 presidents meet.
"If we are going to make the move, it wouldn't be later than that," Scott said.
So it appears that the summer, once a quiet time for college football news, will be anything but that this year.
April, 4, 2014
Apr 4
6:33
PM PT
Welcome to the mailbag. It's Friday, and that is always a good thing.
Follow the Pac-12 blog on Twitter
.
To the notes.
Bryan from Portland, Ore., writes:
Now that Northwestern football players have been declared employees, and are eligible to unionize, can they be taxed for their scholarship? Nobody would be very happy to have to pay $15K in taxes for a full ride scholarship to NW.
Ted Miller
: You are correct. And if college football teams in the major conferences unionized across the country, things would become complicated.
In fact, I don't think that's what's going to happen. Further, despite my
mailbag last week
and
tweak of Texas AD Steve Patterson here
about being all business until it comes to the issue of treating college football players like employees, my feeling at present is unionizing college football would be fraught with potentially negative unintended consequences and probably not a good thing for the sport -- both for those who play as well as those who coach and administer.
Yet the threat of unionization, the threat of players uniting to get a better cut of the action, is what I view as a positive good. Unionizing should be a last resort if the folks who run things don't figure out a way to treat the players better.
To repeat myself from last week, my thinking on this aligns with Sports Illustrated's Andy Staples, and
I keep linking his article because he wrote things I was thinking before I did
, so he merits acknowledgment.
Further, this represents a change of heart for me. For a long time, I saw a scholarship as enough payment, and I resented the ignorance of the drive-by-columnists who took shots at college football without regularly covering the sport. My feeling was only a handful of players owned real star power, and that the jersey players wore on Saturdays actually held the enduring value and ultimately created the revenue. But that position was developed in the 1990s. Over the past three to five years, with conferences realigning and then signing mega-deals for broadcasting rights, as well as the coming College Football Playoff, I've adjusted my thinking.
What should players get? Glad you asked.
Full cost of attendance scholarships. My feeling is this is going to happen pretty soon.
Lifetime disability coverage for injuries suffered while they played college football.
Players should be able to profit from their images, though we certainly understand this could get complicated to monitor.
Transfer rules need to be reevaluated, making it easier for players to change schools. That will make life difficult for coaches, but they are paid $3 million or so a year to deal with difficulties.
There should be a need-based fund that pays for parents to go on recruiting visits and to attend games.
I also think we need to reevaluate player-agent contact. While pay-for-play with boosters is about a program gaining a competitive advantage, player-agent contact is about a player looking out for his future. You'll notice that the carping about agents tends to come from coaches, ADs and fans because they don't want their star players entering the draft before their eligibility has expired. Rules against agents have zero benefits for players.
Sure, you could open up some unsavory situations, but it seems like it would be better to have as much as possible happening out in the open than what we have now.
---
Gret from Salt Lake City writes:
Hey guys, the Big Ten blog did this a while back and I thought it would be fun to try here! If you could be the dictator of the Pac-12 for a day, and could only make three changes, what changes would you make?? and no school, no matter how powerful, could fight you on anything. They would all just have to go along with whatever decisions you made.
Ted Miller
: First, I adopt much of what I wrote above.
Second, I'd force the Pac-12 Network and DirectTV to reach a compromise deal. This is mostly because I am sick of hearing about the impasse between Pac-12 Network and DirectTV.
Third, I'd schedule more day games. There would be no more than two 7 p.m. PT (or later) kickoffs during the Pac-12 schedule.
Fourth, I'd make Kevin call me "The Great and Powerful Oz." Oh, oh … or "Heisenberg."
---

Ryan from New York writes:
Ted,
Nice "puff" piece on the Bruins
. But they need to beat somebody other than embattled Bo Pelini and a depleted USC team that dressed less than 50 scholarship players in LA last fall. UCLA is 1-6 in the last couple of years against Oregon, Stanford and ASU. Not good. Before you start popping off about being a national title contender, you have to beat the good teams. Oh, and beating an underachieving Virginia Tech team that played more than half the game with a backup QB who had thrown less than 5 passes all year doesn't count. Peace out.
Ted Miller
: I was wondering where you'd been. I fear it's going to be a long and frustrating year for you, Ryan.
UCLA welcomes back 19 starters from a squad that beat five teams that won eight or more games last year, including a 10-win USC team. By 21 points! Also back is QB
Brett Hundley
, leading a team that finished the season 10-3 and ranked 16th.
The Bruins are going to be ranked in or very near the preseason top 10. Oregon, USC and Stanford all visit the Rose Bowl.
You can stew and frump all you want, but the reason people think highly of the Bruins' chances is something called "supporting evidence."
---
Brian from San Diego writes:
You know how cities across the U.S. have sister cities? Los Angeles has Athens, Greece for example; and San Francisco has Naples, Italy. Just for fun what schools would you say are "sister schools" of Pac-12 members?
Ted Miller
: Just for fun.
Arizona-Florida: If you've hung out at both places, you'd get it. Close color schemes, too.
Arizona State-Florida State: Hey, bud, let's party!
California-Michigan: Great state schools. And not afraid to tell you about it.
Colorado-Texas: Perhaps the nation's two best college towns.
Oregon-Ohio State: Our fan base is more obnoxious. No, our fan base is more obnoxious. Wait. I like how you think. Same here! (Hugs). [70 percent of Oregon fans will find that at least reasonably funny; 30 percent will swear a blood oath against the Pac-12 blog].
Oregon State-Kansas State: Great coaches, overachieving programs, folksy atmosphere, cool towns.
Stanford-Duke: They could talk about computer code and James Joyce. Only problem is Duke students are mostly folks who got rejected by Stanford and the Ivy League.
UCLA-North Carolina: Good schools. Great hoops tradition. And shades of light blue!
USC-Alabama: They'd argue endlessly about which program is the "Greatest in College Football History," and the experience would be absolute bliss for each fan base.
Utah-TCU: The Pac-12 is hard! The Big 12 is hard!
Washington-Miami: They shared a national title and are presently trying to regain their national stature. And this pairing would give Hurricanes fans somewhere to go in the summer and Huskies fans somewhere to go in the winter.
Washington State-LSU: These programs are very different but if you got the fan bases together the party would be absolutely epic, whispered about for centuries, as in: "Great Granddaddy, tell me about the time you partied for four weeks with those Cajuns."
February, 27, 2014
Feb 27
2:30
PM PT
If that's true, if you don't know who I am, then maybe your best course ... would be to tread lightly.
October, 31, 2013
10/31/13
11:00
AM PT
The Pac-12 has its share of ghosts, ghouls and goblins. So in the spirit of the Halloween weekend ...
Scary movie -- Worst loss of the season:
Washington headed to Arizona State ranked 20th, with national pollsters being forgiving of consecutive, competitive losses to Stanford and Oregon. A shocking 53-24 beatdown delivered by the Sun Devils, and the Huskies were dumped from the national rankings. The new storyline was a familiar one: Another seven-win season?
[+] Enlarge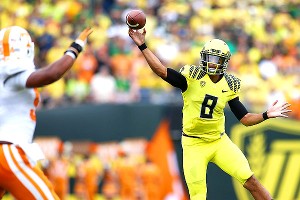 Jonathan Ferrey/Getty ImagesMarcus Mariota and the Ducks rocked Tennessee, 59-14, in the "biggest debacle of the season."
Rising from the dead
: Oregon State surely was headed for the slag heap after it opened with a 49-46 loss to Eastern Washington, an FCS team. The defense looked AWFUL. Fire Mark Banker! Fire Mark Banker! Panic in the streets of Corvallis! After all, we'd seen this before.The Beavers opened with a loss to Sacramento State in 2011 and then meandered to a woeful 3-9 finish. But the Beavers dusted themselves off and surged to six consecutive wins. Last weekend, they extended Stanford until the waning moments before falling 20-12. With QB
Sean Mannion
and WR
Brandin Cooks
fronting the nation's best passing offense, Oregon State remains a threat in the North Division.
Haunted House
: Arizona State struggles on the road, but it certainly has horrified visitors to Sun Devil Stadium. Of course, we can start with the, er,
unusual finish
against Wisconsin. Then there's the dismantling of both USC and Washington. Sure, the Sun Devils looked like a different team -- in a bad way -- while losing at Stanford and to Notre Dame in Cowboys Stadium, but visiting foes often leave Tempe with a haunted look.
Thriller
: The most exciting Pac-12 game so far this year is Oregon State's 51-48 overtime win at Utah. The Beavers jumped to a 20-7 lead, but the Utes tied things in regulation with a 21-point fourth quarter, including a 9-yard run from QB
Travis Wilson
for the tying TD on third-and-goal with 21 seconds left in the game. On the Beavers' side of things, QB Sean Mannion converted two critical fourth-down plays in the fourth and then threw the winning TD pass in overtime to, of course, Brandin Cooks.
Nightmare in Eugene -- Biggest debacle of the season
: Tennessee took a 7-0 lead at Oregon, and the folks in orange maybe starting thinking about "SEC!" chants. Then the Ducks scored 59 unanswered points by the end of the third quarter. Oregon fans started chanting "We want Bama."
House of horrors
: Horrors? We give you USC. The Trojans fired coach Lane Kiffin as he got off the team bus at LAX after a 62-41 beatdown at Arizona State, and they have suffered through epidemic injuries that are even worse for a team crippled by scholarship reductions. Meanwhile, the program has watched as the NCAA reduced Penn State's sanctions and provided a reprieve for Miami, which overlooked the scandalous doings of now-incarcerated booster Nevin Shapiro while under the leadership of late athletic director Paul Dee, who chaired the Committee of Infractions against USC.
Cursed team
: California, losers of 10 consecutive Pac-12 games, might be headed for its worst season since the regrettable Tom Holmoe Era. Start with one of the toughest schedules in the nation. Then move on to a roster decimated by injuries. The Bears have been slow to adjust to new schemes on both sides of the ball, and they presently ranked last in the conference in both scoring offense and scoring defense.
Halloween costumes
March, 15, 2013
3/15/13
8:54
PM PT
The
UCLA Bruins
advanced to the Pac-12 Tournament final with a thrilling 66-64 semifinal victory over the
Arizona Wildcats
on Friday night at the MGM Grand Garden Arena in Las Vegas. A quick breakdown:
How it happened:
Jordan Adams
scored 15 of UCLA's final 21 points, including 13 in a row at one point, as the Bruins (25-8) erased an 11-point deficit in the final 10:24. With the Bruins clinging to a 62-61 lead, Adams stripped the ball from Arizona's
Mark Lyons
, then was fouled and made a pair of free throws to give the Bruins a 64-61 lead with 1:13 to play.
Grant Jerrett
drilled a 3-point basket to tie the game at 64 with 55 seconds to play. Adams tried to answer, but his 3-pointer missed.
Kyle Anderson
came up with a huge offensive rebound and putback for a two-point lead with 22 seconds to play.
Solomon Hill
missed a shot as time wound down, and UCLA hung on for its third victory in three tries over the Wildcats (25-7) this season.
The Wildcats, who threatened to run away from the Bruins several times, opened a 49-38 lead with 10:24 to play, thanks in large part to cold shooting by the Bruins. UCLA missed their first six shots of the second half and could not prevent Lyons from penetrating for layups or passes to set up easy shots. Adams caught fire from there, however, making five of his last seven shots and going 6-of-6 from the free throw line in the last 9:56.
During the first half, Arizona went on a tear from long range, making 3-point baskets on three consecutive possessions to open a 26-18 lead with 5:18 before intermission. But UCLA stayed close as Adams made four free throws and
Travis Wear
scored on an alley-oop from Kyle Anderson. The Bruins cut Arizona's lead to 30-26 by halftime.
Player of the game:
Adams had a game-high 24 points, including 16 in the second half, providing most of the offense for a team that was struggling to score for most of the game.
Stat of the game:
The Bruins became the first team this season to win a game against Arizona when scoring fewer than 70 points. The Wildcats had been 23-0 when holding opponents under 70.
What it means:
UCLA has a chance to win its first conference tournament title since 2008 and got a nice addition to its NCAA Tournament résumé by thrice defeating Arizona, which has the highest RPI of any team in the conference. The Bruins are hoping for a seeding that puts them in a pod out West for the national tourney; this victory should help those chances.
What's next:
The Bruins advance to the conference tournament final for the first time since winning it all in 2008. The Wildcats will have Saturday off and await their NCAA tournament fate to be handed out on Selection Sunday.
November, 16, 2012
11/16/12
7:22
PM PT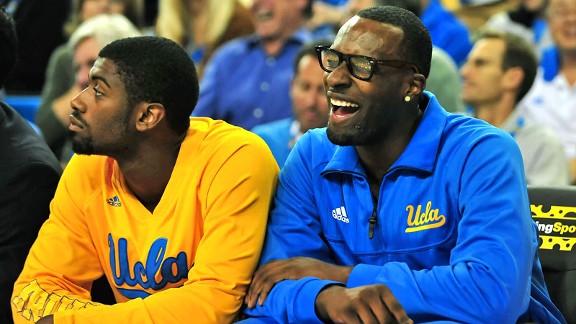 Louis Lopez/CSMAfter being reinstated by the NCAA on Friday, Shabazz Muhammad is expected to make his UCLA debut Monday.
LOS ANGELES -- You might say they put the band back together at
UCLA
, but, then, the band never really was together to begin with.
The NCAA
on Friday reinstated freshman Shabazz Muhammad
, and after months of wondering whether the No. 1 recruiting class in the country would ever play together, it finally will.
Muhammad will make his season debut Monday against
Georgetown
at the Legends Classic in New York. The highly coveted shooting guard out of Las Vegas, the top prize in this year's recruiting class, will join fellow freshmen
Jordan Adams
,
Kyle Anderson
and
Tony Parker
to complete the class that has been pegged as the impetus for UCLA's reascension into the national scene.
Muhammad is the key reason UCLA has been projected to return to prominence. He's an athletic, left-handed wing who can score from anywhere on the court and the type of clutch-time alpha dog who can carry a team through a tough stretch.
The consensus national high school player of the year last season and a projected lottery pick in the 2013 NBA draft should he leave school, Muhammad is the game-changing type of player who elevates the Bruins from very good to elite just in time for some of their most important games.
After opening with a few mid-major tuneups, the No. 13 Bruins have the Monday date with Georgetown in the semifinals of the Legends Classic. Win that, and they have a probable matchup against No. 1
Indiana
.
UCLA also has games coming up against No. 25
San Diego State
, No. 14
Missouri
and
Texas
. These are the games that define RPI, and UCLA will need to win as many of them as possible to fetch a coveted high seeding for the NCAA tournament.
These are the kinds of early-season games that define a team for the rest of the season. Win them, and the nation views you as a top-tier team as your RPI rises. Lose them, and poll voters and tournament selection committee members don't give you the benefit of the doubt when poll votes matter and tournament selection takes place.
NCAA tournament sites this season include San Jose for the first two rounds, and Staples Center for the regional semifinals and finals, so a high seeding could mean UCLA wouldn't have to leave California until the Final Four.
November, 6, 2012
11/06/12
4:02
PM PT
Last year, UCLA "won" the Pac-12 South Division and advanced to a bowl game, "honors" that were appropriate moments for mocking finger quotes. The Bruins were two games behind USC in the South standings and coming off a 50-zip loss to the Trojans. They got a ticket to Eugene to get whipped by Oregon only because the Trojans were ineligible because of NCAA sanctions.
Then the Bruins opted to use a rules loophole that allowed them to go to a bowl game despite a losing record. Just to make things a bit messier, they also fired head coach Rick Neuheisel. And then they got pushed around by a bad Illinois team that had also fired its coach and lost six in a row before meeting the Bruins.
Ugly times. And the Trojans cackled, anticipating their sure super-awesomeness in 2012.
[+] Enlarge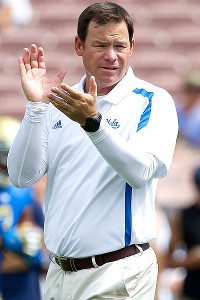 AP Photo/Nick LuceroThe annual rivalry game with USC will have more than bragging rights at stake this season for coach Jim Mora and UCLA.
Ah, but the sun is rising in Westwood under new coach Jim Mora, and the Trojans are no longer cackling at anyone. In fact, the Bruins are now casting a shadow on USC, which for the first time since 2001 trails UCLA in the BCS standings.
USC behind UCLA. In football. We'll now pause for a moment to let the UCLA folks savor that for a bit.
But wait ... there's Mora, er, more!
If the Bruins can survive a trip to Pullman, Wash., on Saturday, they will host USC on Nov. 17 with the South Division on the line. They could
win
the division right there and advance to the Pac-12 title game, no finger quotes or asterisk required. The secondary benefit would be putting a powder blue boot print in what was supposed to be a special season for USC.
That scenario assumes, by the way, that the Trojans don't flop at home Saturday against Arizona State. If that happens, the Bruins would merely need to win any two of their final three games -- Stanford visits on Nov. 24 -- to win the division.
In other words, UCLA controls its own destiny, which is nice.
2014 TEAM LEADERS
| TEAM | RUSH | PASS | TOTAL |
| --- | --- | --- | --- |
| Offense | 200.6 | 291.9 | 492.4 |
| TEAM | PF | PA | MARGIN |
| Scoring | 35.1 | 29.3 | 5.9 |