March, 11, 2014
3/11/14
11:00
AM PT
The Pac-12 has followed the script for the most part.
Entering this season, anyone could recognize Arizona's perch atop the conference with McDonald's All American
Aaron Gordon
joining one of the nation's best frontcourts.
Steve Alford, meanwhile, had come to Los Angeles to save UCLA.
Oregon, Colorado, Stanford, Arizona State and Cal all looked like potential NCAA tourney teams.
But even though we knew that about this league, no conference is teetering on a bigger platform of uncertainty right now. Maybe this is a three-bid league. Maybe it's a six- or seven-bid league.
The Pac-12 picked the perfect city, Las Vegas, for this toss-up
conference tournament
.
[+] Enlarge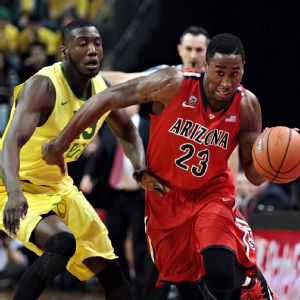 Scott Olmos/USA TODAY SportsRondae Hollis-Jefferson's versatility has helped Arizona move forward in the absence of Brandon Ashley.
What's at stake?
On Feb. 1,
Brandon Ashley
suffered a season-ending foot injury that changed Arizona's season and program. Ashley, a sophomore, stretched the floor in ways that few big men can.
But Sean Miller's recruiting spoils in recent years have been a godsend to the program. Freshman
Rondae Hollis-Jefferson
gives the starting five a true small forward and creates a mismatch nightmare for every frontcourt that faces Hollis-Jefferson, Gordon and
Kaleb Tarczewski
.
Everything is pointing to
Nick Johnson
, the Pac-12 player of the year, and the Wildcats earning a top seed and a place in Anaheim. But what could mess that up? A loss to Washington or Utah -- a pair of sub-50 teams in the RPI -- in Thursday's quarterfinals wouldn't help.
A quarterfinal loss to Oregon State (if the Beavers were to get past Oregon in the first round) could demote UCLA, too. And it's not like the Bruins are hot right now (2-3 in their past five games).
But neither has much to worry about right now, it seems. They're dancing.
As for the rest of the league? Well, that's not necessarily the case.
Oregon, Stanford, Arizona State, Colorado and Cal are all fighting to lock up berths in the NCAA tournament. Oregon, which defeated Arizona over the weekend, is probably the safest member of the group. The Ducks likely feel secure after defeating the Wildcats, but that buzz will die fast if they lose to Oregon State on Wednesday.
Stanford is searching for its first NCAA tournament berth under Johnny Dawkins. An NIT bid for Arizona State, which enters the conference tourney after suffering back-to-back road losses to Oregon State and Oregon, would be disappointing. The Sun Devils and Cardinal could be matched up on Thursday in a quarterfinal game with high stakes.
Colorado continues to deal with the question, "Who are the Buffs without
Spencer Dinwiddie
?" Including its Jan. 12 loss to Washington when Dinwiddie suffered his season-ending knee injury, Tad Boyle's program is 7-8 without the previously projected first-round pick in next summer's NBA draft. Colorado has a chance to prove it would still be a respectable addition to the field and a solid seed with a run this week. Its overtime road loss to Cal over the weekend didn't help.
Team with the most to gain
On Feb. 1,
Justin Cobbs
drove off a pick and connected on a 17-footer that beat the buzzer and then-No. 1 Arizona. Cal fans stormed the court and all seemed well for Mike Montgomery's program.
That thrill, however, didn't last. Cal has gone 4-5 since then but enters the conference tournament following a weekend overtime victory over Colorado.
Cal is still alive. The Bears are currently in Joe Lunardi's
"First Four Out" grouping
. So a couple wins, beginning with a potential matchup against Colorado in Thursday's quarterfinals, could be the difference for Cal.
It'll be interesting to see how the Pac-12 tourney affects the league's pool of at-large berths once they're announced on Selection Sunday.
It could be bigger than that, though. Few leagues have faced as much speculation about coaches who might be on the hot seat. This might be a pivotal tourney for Dawkins, Arizona State's Herb Sendek, Washington State's Ken Bone and Oregon State's Craig Robinson.
January, 10, 2014
1/10/14
2:17
AM PT
LOS ANGELES -- When you're putting together a puzzle, it's hard to remove one piece, hold it up on its own, and claim that it's the most valuable piece.
After all, what is that piece really worth without the surrounding pieces attached to it to make it whole?
Most coaches dream of having a team that plays as one -- connected like the pieces of a puzzle -- with each piece as valuable as the next. But that's not the way it usually works in basketball where there's often a star system and a hierarchy in place.
No one knows that balancing act better than Phil Jackson, who won 11 NBA titles with Michael Jordan and Kobe Bryant during his coaching career. Jackson was one of the many celebrities and athletes on hand to watch No. 1 Arizona beat UCLA, 79-75, Thursday night at Pauley Pavilion, and he smiled as he watched the action on the court.
Arizona's unselfish style would have made Jackson's mentor, Tex Winter, smile as well.
Winter was credited as the innovator of the Triangle offense and believed that every pass and cut has a purpose and everything is dictated by the defense. He also believed that egos needed to be checked at the door and was instrumental in getting Jordan and Bryant to understand the importance of trusting their teammates.
There are players talented enough to be stars on Arizona but there are no defined stars. They are a collection of players who have sacrificed individual numbers for a 16-0 record and a No. 1 ranking in the nation.
[+] Enlarge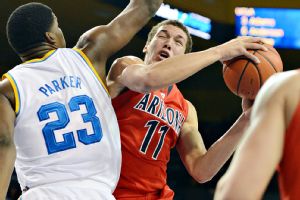 Jayne Kamin-Oncea/USA TODAY SportsAaron Gordon works to get off a shot against UCLA.
A big reason for this unselfish style comes from a couple of Pittsburgh-bred point guards who learned early from their coaching fathers the importance of spreading the ball around to your teammates.
Arizona coach Sean Miller, who played point guard at Pittsburgh from 1988 to '92, and Arizona point guard
T.J. McConnell
, who grew up in Pittsburgh and was the Pittsburgh Post-Gazette's Athlete of the Year in 2010, are mirrors of each other on the court. It's always about making the extra pass to find the open player and making sure everyone on the court is involved.
"Our point guard is unselfish and when you have an unselfish point guard it sometimes can become contagious," Miller said. "The other thing is our newcomers that are young and talented are great people. Great teammates are about winning. We don't deal with the egos or sometimes the selfishness that teams or great individual players can bring to the table."
McConnell, who had eight points and seven assists against UCLA, is a perfect tournament point guard. The 6-foot-1, 195-pound junior never gets rattled, always makes the right pass and is an extension of the coaching staff on the court.
"People don't care how much they score," McConnell said. "They get the satisfaction of getting the assist and that's rare in college basketball today. I think we all do a great job of finding open players and playing together as a team. I just set up the offense and find open players and they hit the open shots."
McConnell has embraced his leadership role on the team along with
Nick Johnson
, who had a game-high 22 points on Thursday. Both players gathered their teammates late in the second half after they blew a 13-point lead and were forced to come back to win the game.
"It was big for our team to keep our composure," McConnell said. "Nick's a great leader and we just gathered each other and said we're going to win this game, we just have to execute down the stretch."
Miller has several players on his roster who can play and guard multiple positions but none is as effective and able to adapt as quickly as Johnson. It's hard to make a push for being the best player in the country when you're playing on an unselfish team that spreads the ball around, but Miller wasn't shy about making a strong push for Johnson to be considered for player of the year honors.
"Yes, he should," Miller said when asked if Johnson should be in the conversation. "If you just look at statistics and how he defends and keep in mind he plays three positions. He plays the backup 1, starts at the 2 and many times when Gabe [York] and T.J. are in there with him he plays at the 3. The value that he brings to our team is really amazing."
His value was once again on display Thursday as he hit the go-ahead jumper over
Bryce Alford
to give Arizona the lead for good and added another free throw down the stretch. Afterward he was greeted by former Wildcats Gilbert Arenas, Luke Walton, Chris Mills and Miles Simon in the locker room. Even off the court, Johnson was unselfish when it came to crediting his performance.
"It starts with our point guard, that's very clear," Johnson said. "He had seven assists tonight. It starts with him and that's contagious. When we have an open man we try to hit him or get one more for our shooter. We're also forcing the ball down low and using our size, but it definitely starts with our point guard."
The Wildcats might be taking some by surprise this season, but the seeds for their unselfishness on the court were planted during offseason workouts and spearheaded by Johnson and McConnell, who knew how close they were to being the team they are now.
"I knew coming into this year we had a great team," Johnson said. "I really used our teams last year and the year before to see what to do and what not to do. We eliminated the stuff that we did bad last year and that's one of the reasons we are where we are right now."
They were reminded of another reason driving them this season as they looked up at the rafters of Pauley Pavilion before the game and then shook the hands of former Wildcats wearing championship rings after the game.
"The way our team is and how close we are off the court, it shows on the court," York said. "We're unselfish and we like to get things done. We all have a common goal and our common goal is to win the national championship. We all know what our goal is."
July, 17, 2012
7/17/12
5:08
PM PT
Editor's note: ESPN.com's Summer Shootaround series catches up on the offseason storylines for each conference. For more on the Pac-12,
click here
.
Arizona: Nick Johnson
The shooting guard tapered off at the end of his freshman season, when he averaged just 6.1 points in his last seven games. It will be interesting to see if the presence of highly touted freshman Gabe York and Xavier transfer
Mark Lyons
will cause Johnson to step up his game.
[+] Enlarge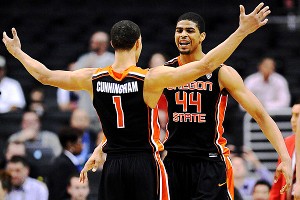 Jayne Kamin-Oncea/US PresswireJunior forward Devon Collier, right, will be heavily leaned on by the Beavers this upcoming season.
Arizona State: Jordan Bachynski
The 7-foot-2 center was a bright spot for the Sun Devils during an otherwise frustrating season in 2011-12. Don't be fooled by his ho-hum statistics (6.0 points; 4.0 rebounds). In Arizona State's last 13 games, Bachynski averaged 10.1 points, 6 boards and 2 blocks. He'll be one of the top post players in the league this season.
California: Richard Solomon
The 6-foot-10, 220-pound forward was averaging 6.8 points and 6.2 rebounds when he was declared academically ineligible after 13 games last season. It was a huge loss for the Golden Bears, who are a much better team when Solomon is anchoring the defense down low.
Colorado: Andre Roberson
The forward ranked third in the nation in rebounding last season with 11.1 boards per game. Most NBA mock drafts predict that Roberson will be a first-round pick next summer. For now, the biggest question is whether Roberson can lead the Buffaloes to the NCAA tournament for the second straight season.
Oregon: Tony Woods
The 6-foot-11, 250-pound Woods put up modest numbers (6.3 points, 3.7 rebounds) after transferring to Eugene last season. Still, the former Wake Forest post player has yet to live up to the lofty expectations that have hovered over him since high school. Oregon will be a different caliber team if Woods takes that "next step" in his final season.
Oregon State: Devon Collier
With
Jared Cunningham
now in the NBA, the spotlight will shine on Collier. The 6-foot-7 forward averaged 13.2 points and 5.3 rebounds as a sophomore last season, when he shot 61.5 percent from the field. He also blocked an average of 1.3 shots per contest.
Stanford: Aaron Bright
The point guard should be full of confidence after averaging 16.8 points and 4.2 assists during Stanford's march to the NIT title. Bright's performance earned him tournament MVP honors. If he plays that way in 2012-13, the Cardinal will be back in the NCAA tournament.
UCLA: Larry Drew
The Bruins' recruiting class has generated a ton of offseason buzz, and rightfully so. But a strong performance by Drew at point guard will be vital if the Bruins hope to be a mainstay in the top 10. Drew was North Carolina's starter before walking out on his team midway through the 2010-11 season.
USC: J.T. Terrell
The shooting guard averaged 11.1 points as a freshman at Wake Forest in 2009-10. He withdrew from school last fall after he was arrested for driving while impaired. Terrell played last season at Peninsula Junior College. Trojans coach Kevin O'Neill said Terrell is one of the most talented players he's ever signed.
Utah: David Foster
The 2009-10 Mountain West Defensive Player of the Year missed all of last season with a broken foot. Foster, a 7-foot-3, 243-pound center, will return this season and try to help the Utes bounce back from the worst season in school history. Foster holds Utah's all-time record for blocked shots with 219.
Washington: Scott Suggs
C.J. Wilcox
and
Abdul Gaddy
are the most recognizable names on the roster. But don't forget about Suggs, a sharpshooter who averaged 7.4 points and shot 45 percent from 3-point range as a junior two years ago. The 6-foot-6 Suggs, who redshirted last season because of a foot injury, could be one of the X factors for the Huskies.
Washington State: Reggie Moore
The Cougars might be decent if Moore can keep his head on straight. The point guard was suspended in January 2011 following his arrest on marijuana-related charges. Last season, he played in all 37 games and averaged 10.2 points and 5.2 assists. Moore is one of the most underrated players in the country at his position. His leadership this season will be key.
2014 TEAM LEADERS
| TEAM | RUSH | PASS | TOTAL |
| --- | --- | --- | --- |
| Offense | 199.4 | 268.5 | 467.9 |
| TEAM | PF | PA | MARGIN |
| Scoring | 32.9 | 27.5 | 5.4 |