UCLA:

Notre Dame Fighting Irish
June, 13, 2014
Jun 13
12:00
PM PT
This week we ranked the
Pac-12's nonconference games
. There's little question which is the best and most anticipated matchup.

If the idea of Michigan State, the defending Big Ten and Rose Bowl champion and a likely top-five team, visiting Oregon, another likely top-five team, doesn't get your juices flowing, you are probably a zombie, and the proper authorities will be alerted.
But which is the second-best game? Or the one you're most excited about? We see five options. Three involve Notre Dame.
Here's how we previously framed those games.
Tradition, obviously, makes the Fighting Irish a draw for national eyeballs, and USC and Stanford are traditional opponents, with the matchup with the Trojans being one of college football's great showcases.
But when something doesn't happen often, such as the Irish visiting Arizona State, that adds some juice.
Speaking of juice -- again -- UCLA's national title hopes could receive some with an impressive performance in front of a huge, antagonistic crowd in the NFL's marquee venue.
And, finally, the Big House is, well, just that: One of college football's most famous venues. The Utes could make some national noise -- and make life really, really difficult for Wolverines coach Brady Hoke -- with an upset victory.
June, 10, 2014
Jun 10
1:30
PM PT
The Pac-12 typically plays a rugged nonconference schedule, but the 2014 slate is, well, only fair to middling.
There's a true marque national game -- Michigan State at Oregon -- and there are three matchups with Notre Dame. But there aren't a whole lot of ranked foes from other areas of the country on the slate.
Here's how we'd rank the Pac-12's best nonconference games in 2014.


1. Michigan State at Oregon (Sept. 6)
: It's a top-10 -- perhaps even top-five -- matchup that looks like a Rose Bowl. Or a College Football Playoff semifinal. The Spartans shut down Stanford in the Rose Bowl in January and are eyeballing even bigger things this fall. Like the Ducks.


2. Stanford at Notre Dame (Oct. 4)
: This has become a strong, national rivalry. The last time the Cardinal was in South Bend, the ending was highly controversial -- the Fighting Irish wouldn't have played for the 2012 national title without a boost from the officials. This game likely reveals if one or the other is a CFP candidate.


3. Notre Dame at USC (Nov. 29)
: It remains the greatest intersectional rivalry in college sports. It would be a good idea for first-year USC coach Steve Sarkisian to win this one. A good way to win over his fan base.


4. Notre Dame at Arizona State (Nov. 8)
: The Fighting Irish tried to get out of this game. They also beat the Sun Devils last year. Arizona State should be plenty motivated in front of what is certain to be a packed house.


5. UCLA vs. Texas (Sept. 13, Cowboys Stadium in Arlington, Texas)
: Texas is breaking in new coach Charlie Strong in what is really a glorified home game. UCLA is only trying to announce itself as a national title contender. While the Longhorns are down, they won't lack talent.


6. Utah at Michigan (Sept. 20)
: Here's a good way for the Utes to announce their return to relevance -- a trip to the Big House. Utah certainly won't be intimidated. It won in Ann Arbor 25-23 in 2008 on its way to an undefeated season. It also lost 10-7 in 2002.


7. California at Northwestern (Aug. 30)
: Sonny Dykes wants to get his second season off with a bang. This is a good -- and winnable -- opportunity to do just that.


8. Rutgers vs. Washington State (Aug. 28, CenturyLink Field, Seattle)
: The Cougars are eyeballing a breakthrough season. It will be hard to do that with an opening loss to a Big Ten team. Yes, Rutgers is now a Big Ten team.


9. Illinois at Washington (Sept. 13)
: The Illini don't seem too scary, but they are a Big Ten team. They didn't make things too easy on the Huskies last year, either.


10. BYU at California (Nov. 29
): We've already noted how nice it would be for Dykes to get his second season off to a fast start. What about a strong finish?
November, 27, 2013
11/27/13
9:00
AM PT
Ted went 5-1 last week and Kevin went 4-2. Both missed on Arizona's upset of Oregon, and Kevin picked Oregon State to beat Washington, which it didn't. So, Beavers fans, Kevin is now your villain!
That leaves your bloggers tied at 69-16 for the season.
Friday
WASHINGTON STATE AT WASHINGTON


Kevin Gemmell
: I think this is an interesting game because -- aside from the normal rivalry -- this game has some meaning for postseason play, which is something we haven't said in a while. I think Mike Leach has gotten every drop out of his team. But Washington's motivation to break that seven-game seal, and the fact that they are at home, makes me lean toward the Huskies.
Washington 35, Washington State 27
.
Ted Miller
: Both teams posted nice wins last week that they really needed. The Huskies playing at home in some ways almost feels canceled by the potential absence of
Keith Price
.
Cyler Miles
did a solid job off the bench versus UCLA and starting at Oregon State, but the Beavers' defense offered pretty much zero resistance. Still, I like a big day from
Bishop Sankey
in front of the home fans.
Washington 42, Washington State 27
.
OREGON STATE AT OREGON


Kevin Gemmell
: It's pretty obvious that an Oregon State victory would heal more wounds than an Oregon win would. At the same time, Oregon is just simply a better team right now than the Beavers.
Oregon 42, Oregon State 21
.
Ted Miller
: You'd think both would be motivated after looking awful last week. The problem is that the Ducks' issues seem more solvable. The one-dimensional Beavers offense has been slipping since the competition got better, and the defense has yielded 130 points over the past three weeks.
Oregon 45, Oregon State 20
.
Saturday
ARIZONA AT ARIZONA STATE


Kevin Gemmell
: I'm well aware of the recent trend of road teams winning. But I also think ASU has a ton of motivation to win this so it can stay home for the Pac-12 title game. That's a huge, huge factor. A lot will depend on which Arizona team shows up. The one that stomped Oregon? Or the one that lost to Washington State? We're pretty sure we know which ASU team will show up at home.
Arizona State 38, Arizona 31
.
Ted Miller
: I witnessed Arizona beat Oregon, and the Wildcats looked fantastic on both sides of the ball. I also watched the Sun Devils outlast UCLA, one of the bigger wins for the Sun Devils in recent years. I'm taking the Sun Devils because they are great at home, the stadium will be rocking and the Wildcats have not posted a quality road win this year.
Arizona State 30, Arizona 27
.
UCLA AT USC


Kevin Gemmell
: Toughest call of the week, and maybe the toughest call of the year. How will UCLA respond after the loss to Arizona State -- especially when the South title is no longer on the line? I don't think any extra motivation is needed in this rivalry. But there's a sense that USC is playing much more relaxed and loose. Also, USC is awesome at getting after the quarterback, and UCLA gave up nine sacks last week.
USC 27, UCLA 24
.
Ted Miller
: Kevin's right, this is a tough call. It just seems like USC has a lot of momentum right now and is playing at home, and the Bruins last won in the Coliseum in 1997.
USC 30, UCLA 27.
COLORADO AT UTAH


Kevin Gemmell
: The Utes are a different team at home, plain and simple. I really like what Mike MacIntyre has done in this first season, and I think Colorado's trajectory is heading north. For all of Utah's struggles of late, that defense is still really, really tough -- especially at home.
Utah 24, Colorado 13
.
Ted Miller
: I agree with Kevin about the Utes playing in Rice-Eccles Stadium. It's notable that their five-game slide happened during a stretch where they played four of five on the road, the lone home loss being a 20-19 nail-biter to Arizona State. I suspect QB
Adam Schulz
will play better in large part because the Utes should be able to run on the Buffaloes.
Utah 28, Colorado 24
.
NOTRE DAME AT STANFORD


Kevin Gemmell
: This is still a critical game for Stanford. It doesn't want to be heading into the title game with a loss, and if it does lose, and then loses to ASU, its bowl position could slip dramatically. A victory over a rival -- one that's already beaten ASU and USC, by the way -- would go a long way. Stanford shouldn't be resting on any laurels, and I don't think it will.
Stanford 31, Notre Dame 21
.
Ted Miller
: Notre Dame has been good enough to beat Arizona State, Michigan State, USC and BYU, but it also lost to Michigan and Pittsburgh. It's notable that two of those losses were on the road. So we're going with the homestanding Cardinal, who are unbeaten at home.
Stanford 24, Notre Dame 20
.
November, 25, 2013
11/25/13
8:30
PM PT
Here's a quick look at Week 14 in the conference. All times are ET.
Friday


Washington State (6-5, 4-4) at Washington (7-4, 4-4) 3:30 p.m. Fox
: Washington leads the series 67-32-6 and is 38-15-5 in games played in Seattle. The Cougars have lost 10 of the last 15 Apple Cups, but they prevailed last year 31-28 in overtime, overcoming an 18-point Huskies fourth-quarter lead. Only since 1962 has the winner been awarded the Apple Cup trophy. The winner was awarded the Governor's Trophy from 1934 to 1961. Washington RB
Bishop Sankey
enters the week as the nation's No. 4 rusher with 143.2 yards per game. His 17 rushing TDs ranks sixth in the nation, and his 34 career TDs tied him with Napoleon Kaufman for the UW record. He needs 121 yards to eclipse Corey Dillon's single season rushing record of 1,695. After losing three in a row, the Cougars beat Arizona and Utah, thereby becoming bowl eligible for the first time since 2006. They haven't been picked for a bowl game since 2003. They won at Arizona with defense, holding the Wildcats to just 17 points, and beat the Utes with offense, scoring 49 against a defense that entered the game yielding 27 points per game. The big question for Washington is whether senior QB
Keith Price
will get the start. A shoulder injury last week forced
Cyler Miles
into action. The Huskies rushed for 530 yards last week against Oregon State.


Oregon State (6-5, 4-4) at No. 13 Oregon (9-2, 6-2) 7 p.m. Fox Sports 1
: Oregon leads the series 60-46-10 and has won the last five meetings. Both teams limp into the matchup. After an 8-0 start and rising to No. 2 in the BCS standings, the Ducks have lost two of three, including a shocking 42-16 blowout loss at Arizona. The Beavers started 6-1 but have lost four in a row, including a 69-27 loss last weekend at home to Washington, a game the Huskies led 48-zip after three quarters. Oregon State gave up 692 total yards, including 530 rushing yards to the Huskies. Oregon enters the game leading the Pac-12 in scoring (47.7 ppg), total offense (573.5 ypg) and rushing offense (277.9 ypg). QB
Marcus Mariota
ranks second in the nation in ESPN.com's Stats & Information's Total QBR rating. Oregon State receiver
Brandin Cooks
ranks first in the nation in receiving yards per game with 141.8 yards per game. His 15 TD receptions is five more than any other Pac-12 receiver.
Saturday


Colorado (4-7, 1-7) at Utah (4-7, 1-7) 2 p.m. Pac-12 Network
: Colorado leads the series 31-25-3, and this is both teams' longest series against any Pac-12 team. They played annually from 1903-62 with four exceptions, but then the rivalry went dormant for 49 years before it resumed in 2011 as Pac-12 members. Last season, Utah's 42-35 win in Boulder was its first over the Buffs since 1962. That game was a back and forth affair that was iced by Utah's Reggie Dunn producing his fifth 100-yard kickoff return of his career (an NCAA record) for the winning TD.
John White
rushed for 168 yards, and Utah's four interceptions matched its season total entering the game. In this week's NCAA rankings, Utah has the fifth-toughest schedule in the country (down from No. 2 a week ago). Utah's schedule has been rated among the nation's toughest all season. The combined FBS record of Utah's opponents is 64-30 and all of its first 11 FBS opponents are bowl eligible.


No. 25 Notre Dame (8-3) at No. 8 Stanford (9-2) 7 p.m. Fox
: Notre Dame leads the series 18-9 but Stanford has won three of the last four. The Fighting Irish won last year 20-13 in overtime in South Bend in controversial fashion. It appeared Stanford RB Stepfan Taylor scored twice near the goal line, but officials ruled he didn't, the second time being upheld after a replay. Notre Dame is trying to sweep the Pac-12. It previously beat Arizona State and USC. A win over Stanford, in fact, would give the Irish wins over the conference's North and South division champions. A year after going undefeated in the regular season, Notre Dame has lost to Michigan, Oklahoma and Pittsburgh. Stanford leads the Pac-12 in scoring defense, giving up 18.9 points per game. Notre Dame yields 22.5 ppg, which ranks 35th in the nation.


No. 22 UCLA (8-3, 5-3) at No. 23 USC (9-3, 5-3) 8 p.m. ABC
: USC leads the series 46-29-7 and has won 12 of the last 14 games. But the Bruins triumphed 38-28 last year, snapping a five-game losing streak. UCLA last beat USC in the Coliseum in 1997. A Trojans victory would give USC its second 10-win season in the past three years and its 25th overall. UCLA head coach Jim Mora's parents attended USC. The Trojans are 6-1 under interim head coach Ed Orgeron, a semifinalist for national coach of the year. UCLA has given up 32 sacks this year, second most in the conference. USC has 33 sacks, fourth most in the conference. USC QB
Cody Kessler
has completed 73 percent of his passes in the last four games. USC RB
Javorius Allen
has 10 TDs and three 100-yard rushing performances in the last four games. UCLA QB
Brett Hundley
is second in the conference in passing efficiency. The Trojans are No. 2 in the Pac-12 in scoring defense (20.2 ppg) and No. 1 in total defense (336.6 ypg). UCLA OLB
Anthony Barr
is second in the Pac-12 with 17 tackles for a loss. His eight sacks are tied for third.


Arizona (7-4, 4-4) at No. 12 Arizona State (9-2, 7-1) 9:30 p.m. Pac-12 Network
: Arizona leads the series 47-38-1. The Sun Devils won in Tucson last season, 41-34, overcoming a 10-point fourth-quarter deficit. The visiting team has won eight of the last 13 matchups, including the last four. Seven of the last nine have been decided by a TD or less. The past four games have been decided by a total of 15 points. More than just bragging rights are on the line as a Sun Devils victory would force Stanford to come to Tempe for the Pac-12 title game on Dec. 7. Both teams are coming off big wins over high-ranked teams. ASU beat UCLA 38-33, which gave the Sun Devils the South division title, while Arizona took down No. 5 Oregon, 42-16. Arizona is yielding 21.6 points per game. Last year, the Wildcats gave up 35.6 points per game. Both teams are giving up 5.2 yards per play. The blitz-happy Sun Devils are second in the Pac-12 with 34 sacks. Arizona has surrendered just 14 sacks, second fewest in the conference.
November, 25, 2013
11/25/13
9:00
AM PT
If you don't like where you are in the Power Rankings, play better.
Click here for
last week's Power Rankings
.

1. Stanford:
It seems in some ways that Stanford eclipses Oregon in the Pac-12 North based on the teams' head-to-head result. The Cardinal, by the way, could do the conference a favor by beating Notre Dame on Saturday. Otherwise the Fighting Irish, with wins over Stanford, Arizona State and USC, could claim their own Pac-12 title.
2. Arizona State:
You can't undersell what Todd Graham has done in Tempe. If the Sun Devils beat rival Arizona on Saturday, they will play host to Stanford in the Pac-12 title game. So there are considerable stakes outside of pride. And we know how well the Sun Devils play at home. The result earlier this season at Stanford might be meaningless.
3. Oregon:
It has been a long time since the Ducks weren't Nos. 1 or 2 in the Power Rankings. After getting blown out at Arizona, coach Mark Helfrich said there needed to be some "inward" looking inside the locker room. Can the Ducks regain their mojo? The Civil War against Oregon State will be a pretty grumpy affair, without substantial external stakes for either team for the first time in a long time.
4. USC:
The Trojans, as expected, improved to 6-1 under interim coach Ed Orgeron after whipping Colorado. Yet, much of the present goodwill would be surrendered with a second consecutive loss to UCLA. If Orgeron delivers a victory, however, his candidacy to become the next head coach takes on substantial legitimacy.
5. UCLA:
Losing at home to Arizona State hurt, but the Bruins know exactly how to turn their frowns upside down: Beat USC. That also would boost their bowl options, of course.
6. Washington:
While there has been a lot of hyperventilating about Steve Sarkisian and the inconsistent Huskies, the ultimate story will be written over the next two games, starting with Friday's Apple Cup. If Washington beats Washington State and then wins a bowl game, it will finish 9-4, and that would represent a strong step forward after three consecutive 7-6 seasons. On the downside, anything less would cap a disappointing season, and certainly wouldn't cool Sarkisian's coaching seat.
7. Arizona:
While Arizona's friends up North have taken a solid lead in the battle of second-year head coaches between Rich Rodriguez and Graham, the Wildcats can take back a lot with an upset win in Tempe. Not only would they boost their bowl prospects and make Rich Rod 1-1 versus Graham, they'd force the Sun Devils to travel to Stanford for the Pac-12 title game, which would substantially reduce their Rose Bowl chances.
8. Washington State:
The Cougars are bowl eligible, but they could become bowl eligible with a bang -- as well as positively giddy -- with a second consecutive upset win over the hated Huskies in Seattle. An added consolation would be seeing Sarkisian's seat heat up substantially and seeing a potential shift in the balance of power in the state.
9. Oregon State:
That was a dreadful performance against Washington. The worst I've personally witness from the Beavers. Coach Mike Riley is a class act and a heck of a guy, but he needs to answer for that. It wasn't about losing to the Huskies. It was about how it went down at home, with a listless, uninterested effort.
10. Utah:
While there are legitimate excuses for how Utah's season has gone, the loss at Washington State, even without QB
Travis Wilson
, delivered a resounding thud to Year 3 in the Pac-12. The Utes are 1-7 in conference play. A loss at home to Colorado on Saturday would make coach Kyle Whittingham's seat hot heading into 2014.
11. Colorado:
While the Buffaloes were brought back down to Earth after getting pounded by USC, they showed admirable fight in the second half. Concluding the season with a road win over Utah would bode well for the future. And it would mean the Buffs finish 10th in the Pac-12 Power Rankings, not 11th.
12. California:
The best news for the Bears is the season is over. Little went right in Sonny Dykes' first season, and he took the blame upon himself after the blowout Big Game defeat to Stanford. There is plenty of justifiable fan frustration. Dykes' first question is his staff, particularly on defense. He probably needs to make some changes. And then he needs to look at his roster and decide who cares about winning and who doesn't.
October, 21, 2013
10/21/13
11:00
AM PT
Taking stock of Week 7 in the Pac-12.
Team of the week
: Utah knocked down Stanford last week, but the Cardinal got up, wiped away the blood and posted an inspired performance on both sides of the ball in a 24-10 win over UCLA. RB
Tyler Gaffney
rushed for a career-high 171 yards, including 84 yards in the fourth quarter, while the defense throttled QB
Brett Hundley
and the Bruins.
Best game
: Utah's visit to Arizona was a back-and-forth affair and wasn't iced until Wildcats running back
Ka'Deem Carey
capped an epic night with a 44-yard touchdown run in a 35-24 victory. Both teams showed resolve, with the Utes fighting back after losing starting QB
Travis Wilson
to a hand injury, and the Wildcats bouncing back after losing a big first-half lead.
[+] Enlarge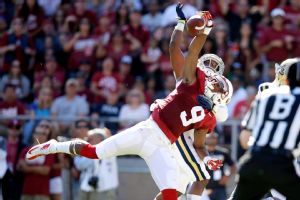 Ezra Shaw/Getty ImagesStanford's defense was spectacular in a 24-10 win over previously unbeaten UCLA, but Kodi Whitfield's one-handed touchdown grab might be the play of the year.
Biggest play
: Stanford receiver
Kodi Whitfield
's 30-yard touchdown reception against UCLA gave Stanford a 10-3 lead in the third quarter, so it was important. But this time we're more about best play instead of biggest. As in ... best play of the year? His twisting, one-handed grab between two defenders was unbelievable. It certainly will make a top-10 list of plays for the 2013 college football season. It's also amusing that such an acrobatic catch came from the son of a former All-Pac-10 offensive lineman, Bob Whitfield.
Offensive standout(s)
: We have a "chicken or the egg" deal with Oregon State. QB
Sean Mannion
completed 35 of 45 passes for 481 yards with four touchdowns and no interceptions in the blowout win over California. Receiver
Brandin Cooks
caught 13 passes for 232 yards and a touchdown. He also rushed for a score. Mannion leads the nation in passing and touchdown passes. Cooks lead the nation in every notable statistical category for his position, including receiving yards and touchdowns. Feel free to tap whichever one is your personal favorite.
Offensive standout 2
: Carey rushed 40 times for 236 yards against a tough Utah run defense. It was a big-time performance by a big-time player when his team really needed it.
Offensive standout 3
: Arizona State RB
Marion "006" Grice
rushed for 158 yards on 21 carries -- 7.5 yards per rush -- with two touchdowns in the 53-24 win over Washington. He also caught four passes for 37 yards and a score. He now has 18 total touchdowns this season.
Defensive standout
: Arizona State's defensive effort against Washington was beastly, particularly considering the Huskies had decent success against the two best defenses in the Pac-12: Stanford and Oregon. The Sun Devils held the Huskies to 212 total yards, including minus-5 yards rushing.
Bishop Sankey
, who entered the game leading the nation in rushing, had 22 yards on 13 carries. The Sun Devils had seven sacks and 12 tackles for a loss. That Huskies offense, by the way, ranked 15th in the nation in rushing, eighth in total offense (526.8 yards per game) and averaged 35 points per game.
Defensive standout 2:
Stanford safety
Jordan Richards
had a team-high 10 tackles as well as two interceptions in the win over UCLA.
Special teams standout
: It's not good when your punter is called upon 11 times, but Washington's
Travis Coons
averaged 46.8 yards on 11 boots with a long of 61 yards. He also made a 27-yard field goal and three PATs.
Smiley face
: The Pac-12 is playing defense this fall. The five winners Saturday plus USC, which lost 14-10 at Notre Dame, combined to hold their opponents to 19.6 points per game, and many of those points -- hello, Washington State, says Nick Aliotti -- came in obvious fourth-quarter garbage time. The Pac-12 offenses, of course, are still good, other than a few stragglers (USC!), so there's strength on both sides of the ball. And fewer 52-50 games.
Frowny face
: Washington!
Washington
! That performance at Arizona State was abysmal (though we type that without taking credit away from an inspired Sun Devils effort and game plan). If the Huskies win in Tempe, they buck the "overrated!" taunt that their adversaries -- mostly Ducks fans but also many Cougars and Beavers -- have enjoyed tossing their way for, oh, 12 or so years. A win at Arizona State would have hinted at a team headed toward nine or 10 wins. Now the ugly possibility of a fourth consecutive 7-6 season -- how is that possible! -- is in play.
Thought of the week
: The Pac-12 is the center of the college football universe this weekend with two matchups of ranked teams in the BCS standings. And it's all happening in the state of Oregon! In Eugene, with ESPN's "College GameDay" setting up camp, the No. 3 Ducks play host to No. 12 UCLA, while No. 6 Stanford is visiting No. 25 Oregon State just up the road in Corvallis. The Ducks are looking to further burnish their national title game resume, while UCLA is looking for a breakthrough win. The Beavers are trying to move up in the North Division pecking order and make themselves the top challenger for the Ducks. And Stanford is trying to get to its Nov. 7 showdown with Oregon in control of its destiny.
Questions of the week
: Which quarterback(s) has the best weekend in Oregon? Does Ducks QB
Marcus Mariota
make a loud Heisman Trophy statement, or is he upstaged by Mannion? And what about the visitors? Does Hundley rediscover his mojo at Oregon? Or does Stanford's
Kevin Hogan
show everyone that steady and unspectacular wins the day when you've got a great defense?
Question of the week 2
: Who rises above the noise and consistently plays to its ability over the homestretch of the season? It's not easy to go unbeaten, even when you're more talented than everyone on your schedule, because it's difficult to get 40 or so guys to bring their A-game 12 games in a row. It's not easy to go 8-4 and know your team reached its max winning potential, that you only lost to superior teams. And it's hard to win on the road. Take Arizona State. The version of the Sun Devils who blistered USC and Washington at home would have romped Notre Dame in Cowboys Stadium, but that team didn't show up that evening in Arlington, Texas. And the Huskies that nearly beat Stanford and whipped Boise State would have won in Tempe. Stanford's tumble at Utah, Oregon State's defeat to Eastern Washington -- losses full of regret. The pressure is building. Which teams win all the games they are supposed to -- as favorites -- and which teams fall to underdogs?
October, 18, 2013
10/18/13
2:30
PM PT
Welcome to the mailbag.
Follow the Pac-12 blog on Twitter
. Your IQ will thank you.
To the notes.
Jeff from Eugene, Ore., writes
: My concern was that Oregon was going to be
scheduling teams like
Michigan State and Nebraska. Now I feel a little upset seeing it happen. I mean they are OK, but I was hoping the Ducks would play teams like Georgia, Florida, Alabama or someone like that. It is my understanding that it helps recruiting to play in the area being recruited, so the recruits' families and friends will get to see them play at least once and it gives the team exposure. Oregon needs to recruit nationally in order to maintain its national presence. And it seems to me that it would have helped their upcoming class if they had been able to schedule a home and home with Florida State for example instead of Nebraska. Plus, I want to see the Ducks play really quality games vs. quality opponents, not mediocre opponents from mediocre conferences. Is Oregon not trying or are those other schools chicken?
Ted Miller
: The Big Ten has been struggling the past few years, but I suspect that won't be permanent. So tread carefully here.
Getting A-list Pac-12 and SEC teams together for nonconference games has been difficult for a variety of reasons, other than the Ducks' matchup with LSU in Cowboys Stadium to start the 2011 season with a bang.
To make such games happen, it takes two to tango. I get a feeling there's reluctance on both ends, not just down south. We do have some notorious instances of the SEC running away like scared kittens,
such as Georgia
canceling a home-and-home series with Oregon and essentially admitting they were afraid of the Ducks.
And there are others
. But I haven't heard from any Pac-12 athletic directors getting the stiff arm from their SEC counterparts of late.
Further, the SEC as a whole has greatly improved its nonconference scheduling. Georgia, for example, added Clemson to its slate, a game that once was a classic southern rivalry. The new College Football Playoff can expedite quality nonconference scheduling nationwide by making sure whimpy nonconference schedules will kill a team's chances to make the playoff.
But future Pac-12 nonconference schedules are Big Ten-heavy and include a lot of BYU and Notre Dame as well as a smattering of Texas. As of yet, there is no Alabama, LSU, Georgia or Florida, though I suspect -- hope? -- that we may get some "special event," neutral-site SEC-Pac-12 games sometime down the road.
The Pac-12's first choice for quality nonconference games always will be the Big Ten, in large part because there's a special relationship between the Rose Bowl conferences.
You can review future Pac-12 nonconference schedules here
.
---
Joe from Everett, Wash., writes:
The selection committee is a joke
, primarily because of one selection: Tyrone Willingham. Are you freaking kidding me?! He is absolutely reviled at Notre Dame and Washington for running those programs into the ground. He's proven that he's no longer qualified to lead an NCAA college football program.
Ted Miller
: Well, for one, he's not leading a college football program. He will be evaluating them for a four-team playoff.
My guess is you're chaffed at the potential for Willingham to have a conflict of interest -- as in he'll want to screw over Notre Dame and Washington for firing him. I seriously doubt that. For one, it would be so transparent that other committee members would surely call him on it. It's as likely he'd overcompensate the other way to protect against such a perception.
I have not talked to Willingham since his termination at Washington. Through the years, I've dealt with lots of different coaches, lots of different personalities. I feel like I'm pretty good at "getting" guys -- seeing their perspectives and how their coaching filters through their character and personality. Willingham, I must admit, was a guy I never totally "got."
I've read and heard a lot of negative reviews on him through the years, but I think folks underestimate how close the Huskies were to breaking through under him. For one, what if QB Isaiah Stanback didn't get hurt in 2006? Or QB Jake Locker in 2008? And it's not as though things were much different when he was replaced by Mr. Strategic Advantage at Notre Dame.
Is Willingham a dynamic, fan- and media-friendly personality? No. Did he do a good job at Notre Dame and Washington. No.
Can he objectively evaluate college football teams for a four-team playoff? Absolutely.
---
Dan from Denver writes:
Hey Ted,I've got a coworker that's been reading SEC fan blogs too much. He believes that an undefeated Clemson, FSU or even Miami are more worthy of the No. 2 ranking than the Ducks. He also claims that Alabama's WRs would dominate Oregon's "undersized" DBs, and that there are no SEC-caliber linebackers in the Pac-12 to challenge UO. My apparent lack of football acumen (or his stubbornness) leave me unable to make my case. Got any good talking points for me?
Ted Miller
: Ramdom coworker No. 1 will have little say on how the pecking order of unbeatens is established. So you have that.
If Alabama, Oregon, FSU/Clemson and Ohio State all finish unbeaten, the strong odds are that Alabama and Oregon will play for the national title.
What could make that change? Well, imagine if Oregon struggles while winning and the Pac-12 eats itself alive and finishes with just, say, three ranked teams and only the Ducks with double-digit wins. And picture the ACC packing the Top 25 with teams, and Clemson/FSU putting together dominant shows on a weekly basis. Then pollsters might jump the ACC champ over the Pac-12 champ and get support from the computers while doing so.
I doubt it though.
As for a lack of Pac-12 linebackers or an undersized Oregon secondary,
all you need to do is educate him
. I know it's en vogue to relish saying factually incorrect things, to deny science, obsess over conspiracy theories and imaginary scandals, but
Anthony Barr
,
Trent Murphy
,
Shayne Skov
,
Myles Jack
,
Eric Kendricks
,
Hayes Pullard
,
Shaq Thompson
, etc., as well as
Ifo Ekpre-Olomu
and
Terrance Mitchell
and the rest of the beastly Oregon secondary, are a reality that can't be denied.
---
Duck Fam from Camas, Wash., writes:
After Stanford's loss last week, the Mrs. and I, both Duck fans, have been arguing about who it is better to root for (or against) in helping Oregon's cause: Stanford or UCLA? The Transitive Property of College Football does not apply (as it never should), as Oregon will play both head-to-head. If UCLA wins against Stanford, and Oregon manages to beat both, will it matter from a BCS/national perception that Oregon beat an undefeated UCLA team and a two-loss Stanford team, or is it better for Oregon if they beat two one-loss teams? Of course, there are dozens of scenarios beyond this, including one-loss teams (yes, Oregon too) throughout the Pac-12 as the season marches on (as you astutely pointed out earlier this season what the perception will be if the conference cannibalizes itself). Just trying to get an "I told you so" for the sake of a healthy marriage! Thanks!
Ted Miller:
The ideal scenario is probably this.
UCLA beats Stanford and loses to Oregon twice, the second time in a competitive Pac-12 championship game. That gets the Bruins, at 11-2, a Rose Bowl invitation while the Ducks play for the natty, er, national title. Stanford would finish 9-3, still potentially a top-15 team with a chance to move up in, I'd guess, the Alamo Bowl.
I think Oregon is going to be fine in any scenario if it finishes 13-0, so this is mostly a splitting-hairs exercise. In either potential "best-case" scenario, Stanford or UCLA end up with three and two defeats.
---
Dylan from Salt Lake City writes:
Kevin presented several decent reasons
as to why Utah should be lower than Washington in the power rankings ... provided the power rankings are representative of the season rather than the week. If you're looking at the week, then Utah should clearly be above Washington. This is the problem with being noncommittal about walking the line and being noncommittal with the power rankings. Although based on the power rankings, maybe I answered my own question about what they represent.
Ted Miller
: First, I second what Kevin wrote. Of course, I will add more.
The power rankings are organic throughout the season. They prioritize the most recent week, but they also accumulate data as the weeks pass, and that in itself reduces the overall value of a single game. For example, if 8-3 Utah were to lose to three-win Colorado in the season finale, we wouldn't rank the Buffaloes ahead of the Utes in the power rankings.
The biggest problem for the Utes climbing dramatically in the power rankings is the home loss to Oregon State, which opened the season with a loss to an FCS foe. As the Beavers pick up wins, that loss gets "better" but it also makes it difficult to move the Utes ahead of Oregon State, which faces a much tougher schedule over the season's final third. So then the question is whether Oregon State has done enough to eclipse Washington. We think the Huskies résumé still remains stronger than the Beavers.
In fact, the way the Huskies played at Stanford and against Oregon actually increased their rating, at least for me.
Now you could have justified going: Oregon State, Utah and Washington in the power rankings. And we looked at that. That would have given more weight to the week -- a Utah win over a Stanford team that beat the Huskies -- but that doesn't feel right based on the product Washington has put on the field through the entire season.
So how does Utah move up? Glad you asked. Keep winning.
Know when the power rankings
actually
matter? Two times: At the end of the regular season and after the bowls.
---
David from Salt Lake City writes:
Ted,I couldn't help but noticing that Utah has performed just about
exactly to the 'Best' scenario
from your 'Best/Worst Case -- Utah blog. Your preseason picks are, apparently, spot on. Do you have premonitions? Or is this just an innate ability to [humorously] pick winners?
Ted Miller
: Funny how that works. A 9-4 record actually now seems a not unreasonably optimistic projection.
Now go watch all the Rocky movies, MUSS members.
October, 17, 2013
10/17/13
9:00
AM PT
Ted went 5-1 last week. Kevin went 4-2. Both missed Utah's upset of Stanford. Ted correctly picked Oregon State over Washington State.
Wait. Ted got an Oregon State pick correct? Oh no ... the sun has turned black and is that ... on the horizon ... THE FOUR HORSEMEN OF THE APOCALYPSE!
Run for your lives.
For the season, they are both 46-6.
Utah at Arizona


Kevin Gemmell
: I'm curious to see what Utah does with its new-found momentum. If the Utes play the way they did against Stanford, they should win. If they play the way they did against Oregon State and UCLA, well, they still might win. Like what Utah has done defensively in recent weeks.
Utah 31, Arizona 24
.
Ted Miller:
I agree with what Kevin said. But I also wonder what happens if the Wildcats get four quarters from QB
B.J. Denker
like his fourth quarter against USC. RB
Ka'Deem Carey
will be tough to contain if the Wildcats produce some reliable balance. Further, the Utes have yet to beat a quality Pac-12 foe on the road. So … it's time for that to happen.
Utah 35, Arizona 30
.
Washington at Arizona State


Kevin Gemmell
: This feels like one of those games in the past we thought Washington should win, but it didn't. This year's team is different, and I think the defense can be disruptive enough and the offense explosive enough to pick up a quality win on the road.
Washington 38, Arizona State 34
.
Ted Miller
: A critical game for both teams. Washington has struggled on the road against quality foes, and the Sun Devils are a far tougher test than Illinois. Yet here's a guess that the Huskies bounce back after consecutive losses to top-five teams, winning with a superior defense and better offensive balance.
Washington 35, Arizona State 28
.
USC at Notre Dame


Kevin Gemmell
: Looks like my streak of picking road dogs continues … not a great recipe for success. But this USC team seems to have a little more confidence and pep in its step. It gets peppier with the presumptive return of
Marqise Lee
. Going crazy and picking the Trojans.
USC 31, Notre Dame 21
.
Ted Miller
: The good news for the Trojans is Notre Dame's offense won't tax its lack of depth like up-tempo offenses in the Pac-12. The bad news is the Fighting Irish might tax the Trojans with their physical play up front on both lines. The Orgeron magic might not travel as well away from the Coliseum, too.
Notre Dame 24, USC 21.
UCLA at Stanford


Kevin Gemmell
: This feels like one of those games where everyone is down on Stanford and expecting them to go in the tank. Maybe. UCLA has the credentials and the momentum. And something special is brewing in Pasadena. But Stanford is at its best when its back is against the wall and they can rally around the "us vs. the world" mentality.
Stanford 27, UCLA 24
.
Ted Miller
: It's hard to ignore the different results both teams got at Utah. Further, a little bird -- read: someone with NFL interests -- told me a few weeks back the loss of DE
Henry Anderson
was going to be bigger than many thought. I like the Bruins' two superstars, OLB
Anthony Barr
and QB
Brett Hundley
, to live up to their marquee billing.
UCLA 31, Stanford 28.
Washington State at Oregon


Kevin Gemmell
: Cougs, Cougs, Cougs. Every time I put my faith in you, you let me down. No upset this week. Ducks roll.
Oregon 56, Washington State 27
.
Ted Miller
: A nice matchup for the Oregon secondary, which was outstanding at Washington last weekend. A good matchup for the Ducks' offensive line against a strong Cougars D-front. But the Ducks starters probably won't be needed too deep into the fourth.
Oregon 47, Washington State 24.
Oregon State at California


Kevin Gemmell
: Curious to see if Oregon State's run game picks up against a depleted Cal team. But then again, when you have
Sean Mannion
-to-
Brandin Cooks
cranking, it's all good.
Oregon State 42, California 17
.
Ted Miller
: At some point you'd think Cal is going to shock someone. Its beleaguered defense will have an inspired effort and its passing attack will tie an opposing secondary in knots. But I don't think it happens this weekend. (Beavers fans, you still should probably retain possession of your Miller Prediction Countering Rabbit's Foot).
Oregon State 44, California 31.
Charleston Southern at Colorado


Kevin Gemmell
: A midseason switch to a true freshman quarterback feels like a move that the Buffs are looking to the future. Maybe. Or maybe he gives them their best option to pick up win No. 3. Full disclosure, I don't know much about Charleston Southern, other than it is undefeated. But I'm a firm believer that FBS teams from BCS conferences are supposed to beat FCS teams.
Colorado 30, CSU 21
.
Ted Miller
: I suspect Colorado will take out some frustration on the Buccaneers and pick up a third win. The larger question is whether the Buffs will get No. 4.
Colorado 41, CSU 17.
October, 6, 2013
10/06/13
1:15
PM PT
In a sign of respect for Washington and Stanford, the Huskies only lost one spot in both the
AP and coaches' polls on Sunday
after the Cardinal's nail-biting 31-28 victory.
The Huskies fell to No. 16 with the AP and No. 19 with the coaches. Stanford remained at No. 5 in both polls, while Oregon remained at No. 2 behind Alabama.
Washington plays host to the Ducks on Saturday.
UCLA rose one spot in the AP poll to No. 11 after winning at Utah. The Bruins remained No. 13 in the coaches poll.
Arizona State, after losing 37-34 to Notre Dame at AT&T Stadium, fell out of the Top 25 for the second time this season.
October, 4, 2013
10/04/13
7:00
AM PT
Some notes to get you through the hours until Saturday. Thanks to ESPN Stats & Information for many of these numbers.
With a win over Notre Dame, Arizona State will become the first school ever to beat USC and Notre Dame in consecutive games. The last team to beat both IN THE SAME SEASON? You don't have to look far, Stanford has done it three times since 2009.
Arizona State coach Todd Graham is no stranger to beating Notre Dame. In 2010, his Tulsa team came to South Bend and upset the Irish 28-27.
Arizona State's offense has been lethal this season, especially through the air. The Sun Devils have thrown for at least 350 yards in all four games and last week racked up 612 total yards and 62 points on USC.
That could spell trouble for a Notre Dame defense that is a far cry from what it was a year ago. Entering the BCS Championship Game last season, the Notre Dame defense allowed just nine total touchdowns -- seven through the air. Through five games this season, they have already allowed 14 touchdowns -- 10 of the passing variety.
Notre Dame has allowed at least 24 points in three games so far this season. In 12 regular season games last season, only one team reached that mark (Pitt, 26).
Arizona State's Marion Grice has scored 12 TDs from scrimmage this season (eight rush, four receiving). No other FBS player has more than nine this season. In the last 10 seasons, that ties the most through four team games. Nevada's Stefphon Jefferson in 2012 and Temple's Bernard Pierce in 2011 both had 12.
California leads its series with Washington State 44-25-5 and has won eight consecutive meetings. The teams have not met in Berkeley since 2009 after playing the 2011 meeting in San Francisco at AT&T Park, home of baseball's San Francisco Giants. The Cougars' last win in the series came at Memorial Stadium, a 48-38 victory in 2002 behind Jason Gesser's 432 yards and four touchdowns along with Eric Coleman's blocked punt he returned for a touchdown.
Both Cal and WSU prefer to throw the ball. Cal ranks fourth in the nation with 373 yards per game, while the Cougars are 14th with 329.3 yards per game. Neither runs well, with Cal ranking 97th in the nation in rushing and the Cougs 121st.
Both teams were forced to make QB changes in losses last weekend -- Bears QB Jared Goff due to fumble issues and Connor Halliday due to injury. Nonetheless, it appears that neither team will change starters.
Oregon has scored at least 55 points in each of its first four games. That's the longest such streak in school history, and the longest in FBS since Houston topped 55 points in five straight games in 2011.
Oregon has 31 touchdown drives this season, and 26 of those drives have taken two minutes or less. That's the most such touchdown drives in FBS; Baylor (23) is the only other team with more than 15 such drives this season.
Oregon QB Marcus Mariota has the second-highest Total QBR (94.6) in the FBS this season. Last week against California, he posted the third-lowest Total QBR (54.3) of his career. Of course, the weather -- torrential rain -- may have had something to do with that.
Colorado has lost 11 straight games against teams ranked in the AP Top 25. The Buffaloes last win against a ranked opponent was against No. 17 Kansas in 2009; their last win against a team ranked this high was in 2001, when they beat No. 2 Nebraska to win the Big 12 North. The Buffs are also 3-17 vs. Pac-12 opponents since joining the conference in 2011 (including a nonconference match-up with California in 2011), the worst winning percentage of any conference member.
So far this season, the Pac-12 North is a perfect 5-0 against the South division.
Since the start of last season, Stanford has held its opponents to 17.7 points per game, 10th best in the nation. They held Oregon to 21 fewer points than any other team and Arizona was the only opponent to score more than 30 points.
The Cardinal rely on the front-seven to stop the run. Since the start of last season, they average 6.4 players in the box on running plays, tied for the second fewest by any AQ defense. They have brought an eighth man into the box on just 35 runs, 25 fewer than any other major conference team. More than a quarter of those runs (10) were against Wisconsin in the Rose Bowl when the Badgers used two or more tight ends in the formation.
From 1977 to 2003, Washington went 20-2 against Stanford. Since then, Washington is 2-6 against Stanford.
Stanford is one of six FBS teams since the start of last season that have held their opponent to under 100 yards rushing per game. During that time period, The Cardinal have allowed the fewest yards per rush (3.1) in the Pac-12 and have forced the seventh-most runs for a loss (191) by any FBS team.
Stanford's 3-4 defense has been just as effective in the passing game. The Cardinal lead the FBS with 66 sacks since the start of last season. They have at least one sack in every game, except for when they played Army, which had only 10 dropbacks.
Stanford has an AQ-high 196 total pressures (hurries + knockdowns) from the start of last season. That means the Cardinal hit or hurried the quarterback on 23 percent of opponents' dropbacks, including 25 percent of the time against Washington last season.
Stanford sends four or fewer pass rushers on 77 percent of opponents' dropbacks. That is slightly more than the AQ average (73 percent). When sending four or fewer, the Cardinal have an AQ-high 48 sacks and have hit or hurried the quarterback on 21 percent of dropbacks, five percentage points higher than the AQ average.
Washington QB Keith Price has been sacked 40 times since the start of last season, tied for the seventh most by any FBS quarterback. Yet, he has only been sacked three times this season. If Stanford cannot get to him with four pass rushers, it could be an issue. Price is completing 82.1 percent of his passes with four touchdown and no interceptions this season when opponents blitz.
Through five weeks, Keith Price has a Total QBR of 81.2, which is 40.3 points higher than last season. Price has the highest completion percentage in the Pac-12 and is one of four qualified quarterbacks in the FBS to improve their Total QBR from 2012 by more than 40 points.
One reason for Price's improved numbers rests on the health of his offensive line. After injuries forced Washington's projected starters to miss a combined 40 starts last season, the same unit has started every game together in 2013. With continuity on the offensive line, Price has been sacked three times this season, after taking 37 sacks in 2012, sixth most in the FBS.
Not only has the offensive line given Price more time to throw, but it has also helped open running lanes for Bishop Sankey and the Huskies running attack. Sankey has the fifth-most rushing yards (607) and tied for the seventh-most rushes of 20 yards or more (6), two fewer than he had all of last season. Through five weeks, he has nearly doubled his rushing total from this time last season. Sankey has 29 rushes where he was not contacted until he was more than five yards downfield, tied for the most among AQ rushers.
2014 TEAM LEADERS
| TEAM | RUSH | PASS | TOTAL |
| --- | --- | --- | --- |
| Offense | 208.5 | 278.2 | 486.6 |
| TEAM | PF | PA | MARGIN |
| Scoring | 35 | 27.2 | 7.8 |