May, 9, 2014
5/09/14
12:00
PM PT
One of the major items of interest coming out of
this week's Pac-12 meetings in Phoenix
was the possibility of moving the Pac-12 championship game to a neutral site -- specifically the San Francisco 49ers' new home, Levi's Stadium, in Santa Clara, California.
A neutral site would take the pressure off the host institution to prepare for a major event in just six days. It would provide a showcase game in a major population area in a shiny new venue. It would have the potential to become a major event.
That said, it also could feature a lot of empty seats, as the Pac-12 is spread out more than, say, the SEC or Big 12, which use a neutral sites for their championship games. Empty seats do not look good on television.

It also would go against the original justification for the home-host model: It provided an advantage to the team that had the best regular season in the conference. That not only seemed reasonable, and by extension, it also provided protection for the conference's No. 1 seed as it jockeyed for postseason position. That might be even more important with the advent of the College Football Playoff this fall.
Jon Wilner
provides some cogent analysis here
.
Pac-12 coaches and athletic directors seemed intrigued but also skeptical about moving the game to a neutral site, particularly for teams that had short-term visions of hosting the game.
Said USC athletic director Pat Haden: "I think the current model has actually worked pretty well, the home host. I know the CEOs are debating that and discussing that. I don't think any decision has been made. Quite honestly, at USC, we don't mind the home-host model because we think we've got a chance of hosting."
Still, a packed house at sparkling new Levi's Stadium on Dec. 5 would be a pretty compelling image to showcase the nation.
So what do you think?
Do you favor the home-host model or moving the Pac-12 title game to a neutral site?
May, 7, 2014
5/07/14
8:35
PM PT
PHOENIX -- The overriding message coming out of Pac-12 meetings is that major changes in college football governance are now inevitable, even if the details and long-term consequences of those changes remain unclear.

The Big Five conferences will meet in August and almost certainly obtain a new autonomy level within the NCAA structure. At that point, major rules changes, including those that significantly bolster the support and benefits provided to athletes, will start to be formulated. Pac-12 commissioner Larry Scott intimated that things could move fairly quickly thereafter, so his message to conference coaches and athletic directors was basically to buckle up.
"Quickly is a relative concept, but deadlines are good," Scott said. "I think if we get the autonomy that we've asked for, the commissioners will be setting out a very aggressive timetable to put proposals out ... I expect we'll have a very intensive process over the next four months -- September through December -- where practitioners from our campuses are working on different agendas, including those with a deadline of January, specific proposals that can be voted upon by the 65 schools [in the Big Five]."
So "quickly" might mean?
"The goal is to implement whatever changes we're going to implement for the 2015-16 year," Scott said.
Chief among those would be cost of attendance scholarships, which could vary significantly by team and conference. Scott, however, noted that doesn't create a massive change of direction and complication because the pure value of tuition scholarships also vary by team and conference.
What does need to be implemented to prevent any fudging is a clear formula that all 65 schools apply to calculate the new value of their cost of attendance scholarships.
"I don't think it will that big of a deal, but there will be issues to work through in terms of a common method of determining the full cost," Scott said.
There is a significant degree of consensus within the Big Five conferences for adopting the cost of attendance scholarships, and it appears there is unanimity within the Pac-12.
"These are a lot of things that are going to be costly for us but I think are necessary and in line with what I believe we should be doing for our student-athletes," said Washington State athletic director Bill Moos, echoing other conference ADs.
While Scott was unwilling to admit that the Northwestern football union challenge and Ed O'Bannon lawsuit against the NCAA were driving the oncoming changes, he did concede the legal challenges to the NCAA governance structure and the publicity surrounding them weren't too far from administrators' minds.
"Is it some of these external challenges driving it? I would say no. There's been a recognition for some time [about these issues]," Scott said. "But I'd say external pressures bring a helpful focus and helpful push to get these things done."
[+] Enlarge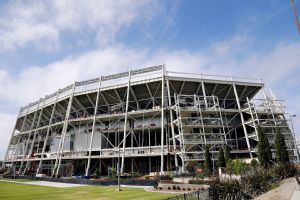 AP Photo/Marcio Jose SanchezLevi's Stadium, the new home of the San Francisco 49ers, could be the new home of the Pac-12 championship game as well.
As for the other major item on the Pac-12 agenda, it was more based on the West Coast: The location of the 2014 Pac-12 championship game. There were earnest discussions over the two days about changing it from a game hosted by the conference's top team to a neutral site, specifically the San Francisco 49ers' new home, Levi's Stadium, in Santa Clara, California.
While the potential move was an intriguing idea, it also isn't a done deal.
"I think there was a lot of positive feeling about it," Scott said. "Some objected. There are some pros and cons."
Said Moos: "Personally, I think [Levi's Stadium] is the way to go."
Said USC athletic director Pat Haden: "I think the current model has actually worked pretty well, the home host. I know the CEOs are debating that and discussing that. I don't think any decision has been made. Quite honestly, at USC, we don't mind the home-host model because we think we've got a chance of hosting."
Shrugged Washington's Scott Woodward: "I'm ambivalent. I trust the league and what they want to do. I have no problem one way or the other."
If the title game is going to be played in the new 49ers stadium on Dec. 5, a decision almost certainly would be announced in June, when the Pac-12 presidents meet.
"If we are going to make the move, it wouldn't be later than that," Scott said.
So it appears that the summer, once a quiet time for college football news, will be anything but that this year.
April, 24, 2014
4/24/14
11:30
AM PT
7's the key number here. Think about it. 7-Elevens. 7 dwarves. 7, man, that's the number. 7 chipmunks twirlin' on a branch, eatin' lots of sunflowers on my uncle's ranch. You know that old children's tale from the sea. It's like you're dreamin' about Gorgonzola cheese when it's clearly Brie time, baby. Step into my office.
December, 17, 2013
12/17/13
2:30
PM PT
Postseason awards and All-America teams are a hot, and always controversial, topic this week.
Chris in Lake Stevens, Wash. writes
: (Ka'Deem) Carey over (Bishop) Sankey? Are you an idiot or an Arizona grad? Sankey had more yards, more TDs and a better YPC. You've lost all credibility as far as I'm concerned.
Kevin Gemmell
: Really? All credibility? Idiot? For picking a first-team All-American, a Doak Walker finalist, a guy who finished ahead of Sankey in the Heisman voting and the offensive player of the year as selected by the coaches?
Guess the coaches are idiots as well.
I'm happy to re-open the debate (and I will below). But your note smacks of uneducated fanaticism.
Chris L in Memphis writes
:
In making his case on East Coast bias
, Ted wrote this: "Arizona RB
Ka'Deem Carey
is the nation's best running back." Please make the case as to how Carey is even the best back in his conference.
Kevin Gemmell
: I'd be happy to, Chris. And thanks for your letter. I know this particular Chris to be an extremely educated Washington fan -- the kind that makes Washington fans look good.
First off, as I stated
in last week's mailbag
, I thought Ted's East Coast bias column was one of the strongest pieces I've ever read from him.
Obviously, the Sankey vs. Carey debate will rage for years. And it should. It's fun to debate the merits, of which there are many, of two fantastic players. Washington fans will always back Sankey -- which is right. And Arizona fans will always back Carey -- which is also right. There's just a right way and a wrong way to do it (cough, cough, Chris in Lake Stevens). Because both are outstanding running backs with the physical build and skill sets to be successful running backs at the next level.
Sankey had more total yards and more touchdowns. Carey had more yards per game and 10 fewer zero or negative rushing plays (Sankey had 45, Carey 35). We won't get into the debate of playing time because I know Sankey sat the second half of some games and Carey missed a game, etc. etc. Carey had more carries because his team didn't have the passing attack that Washington did. The Huskies averaged 271.3 yards through the air per game with 24 touchdowns. Arizona had just 186.8 passing yards per game with 14 touchdowns. Washington leaned heavily on Sankey, but I think we can all agree that Arizona leaned more heavily on Carey.
The little separation that exists in my mind is because of Carey's consistency. I
broke this down in a column
earlier this month and essentially Carey did his best work -- more than 20 yards above his average -- against the top competition.
Sankey and Carey had six games this year that involved common opponents: Oregon, ASU, California, Colorado, UCLA and Washington State. In those games Sankey averaged 144 yards with eight total touchdowns. Against the same competition, Carey rushed for 152.5 yards with 11 touchdowns.
Sankey was outstanding. But his overall season takes a hit from the ASU game (13 carries, 22 yards) and, yes, the fact that Carey's team beat Oregon and he was a huge reason why has to weigh in.
Again, this is a Fujis vs. Honey Crisp discussion. But when you look at overall consistency -- essentially zero bad statistical games for Carey -- the fact that he did better against head-to-head competition and that he was at his best against tougher defenses, I think that justifies making a case for him as the best back in the league.
Weston in Costa Mesa, Calif. writes
: Hello Kevin, I was curious to know what your view is on the state of USC football going into the next few seasons. Where does the program go if Sark doesn't work out and is he in the hot seat right away if he doesn't deliver in the first year (by deliver I mean anything less than an 8 win season).ThanksWestonps. I'm a Stanford fan living in a USC ruled area and everybody is talking about this.
Kevin Gemmell
: This is sort of a two-parter. The first part, the state of USC football over the next few seasons, is essentially asking what do I think Steve Sarkisian can do for the program. The second part is if he doesn't succeed, how quick will he get the hook.
I can't imagine that if he only wins seven games in his first year that Pat Haden would put him on the hot seat. Haden showed an amazing amount of patience with Lane Kiffin and gave him the opportunity to right the ship in 2013. When it was clear the ship wasn't being righted, he made his move.
This was a high-profile hire for USC and for Haden. A lot of eyes will be on this decision for the next few years. And my best bet is that Haden is going to do everything possible to convince people he got his guy.
As for how they'll do? Well, there are some really, really talented players on both sides of the ball. And it was pretty clear that the Trojans underachieved with Kiffin as their head coach because they clearly had the talent to rip off five in a row and beat the No. 4 team in the country in Stanford.
We've said this before … USC is a brand. It is always going to attract high-profile recruits simply because it's USC. You combine that with a bulldog of a recruiter in Sarkisian and you have to expect the Trojans will be just fine.
The question is what happens once he does get those elite athletes into the program. How does he develop the talent? How does he handle the X's and O's? He did an amazing job of bringing Washington back to respectability. But he never got them into the elite class. Perhaps with a few more years in Seattle he would have? We'll never know. But that certainly plants a lingering question about what he can do at USC.
I think given the way the South sets up for the next few years, USC could certainly win it. Or ASU could repeat. Or UCLA could win its third division in four years. Or Arizona could make a run when their potential All-Universe scout team starts playing in games.
The South is so wide open right now that there really isn't one clear-cut team that is a favorite. And I think USC has to be considered in that mix. The Trojans could win the South next year. Or they could finish fourth in the division.
I'm willing to give Sark and Haden the benefit of the doubt that they can get USC moving in the right direction. Sark might not be the biggest name nationally, but he has the pedigree that fits very well with the culture in Southern California.
Peter in Washington writes
: Did you intentionally
leave off the second common opponent
between BYU and UW? Both teams played FCS Idaho State year as well as Boise State.
Kevin Gemmell
: The simple answer would have been yes, it was intentional, because Idaho State is an FCS team and it wasn't worth mentioning. But truth be told, I just missed it. So thanks for keeping me honest. And in the interest of getting all of the information out there, Washington beat Idaho State 56-0 on Sept. 21. BYU beat the Bengals 59-13 on Nov. 16.
Mike in Boston writes
: I thought I'd give you a heads up that you came in fifth in the Cardboard's (an independently run Stanford fan community) "
Predict the Score
" game for predicting Stanford's game outcomes. We entered the predicted scores from your weekly post on Pac-12 games. Note, Miller sits all the way down at No. 15.
Kevin Gemmell
: Awesome! Had no idea you guys were doing that. Since I finished 10 spots ahead of Ted, I think it's fair that the next 10 rounds of non-alcoholic eggnog are on him.
Sun Devil Ric in San Diego writes
: I thought I understood the politics of trophies and All-American teams, but I guess I'm still clueless. Why did ASJ win the Mackey award, but isn't named on a single All-American team yet?
Kevin Gemmell
: You understand them? Really? Please share. Because I've been at this a long time and I still don't know.
Tight end was a deep position this year. And ASJ did get named third-team AA in the AP All-American team. Like every single postseason award, there is a level of subjectivity that is tough to comprehend because it's different for everyone. I wish I could climb into the minds of the voters and give you a clear-cut explanation for why things are the way they are when it comes to postseason awards. But I can't.
All I can say is I think the Mackey folks got it right.
Ryan in New York writes
: Kevin, Great work by you and your partner Miller on
the ESPN.com AA team
. I think the Pac was well represented, and that's testimony to you and Ted spreading the good word and fighting the good fight. Well done. Happy HolidaysRC
Kevin Gemmell
: Back atcha Ryan. There will never be a perfect postseason list. And I would have liked to see
Anthony Barr
on our list also. But the fact that Barr appears on others, as does
Trent Murphy
, shows just how deep and talented the Pac-12 was this season.
Looking forward to another year of why UCLA is overrated mailbag drops from you. But for now, enjoy the bowl season and the holiday season.
That goes for the rest of you, too. (Yes, Chris in Lake Stevens, even you).
November, 4, 2013
11/04/13
9:00
AM PT
If you don't like where you are in the Power Rankings, play better.
Click here for
last week's Power Rankings
.

1. Oregon
: The Ducks get the national stage Thursday night to make clear their national title candidacy. Or not.
2. Stanford
: The Cardinal get the national stage Thursday night to make clear that the Pac-12 belongs to the less flashy team in the North Division. Or not.
3. Arizona State
: The Sun Devils brought their A-game on the road to Washington State, particularly QB
Taylor Kelly
. Now can they do the same on Saturday at Utah, a wounded team that is coming off a bye week and looking to make a South Division statement?
4. UCLA
: It was far from perfect, but the Bruins took care of business at Colorado. The final four games, starting Saturday with a tricky visit to Arizona in a key South clash, will provide a chance for UCLA to climb into the top 10 and take control of the South Division. Or something more mediocre than that.
5. USC
: Knock, knock. Who's there? USC. USC who?! US-see, we're pretty darn OK when we care and have a good plan! I bet there are more than a few folks who aren't USC fans, at least those who don't wear powder blue, who are enjoying the Trojans' elevated level of play under Ed Orgeron. What if that is less about Lane Kiffin being gone and more about Coach O being in charge? And if the Trojans win out? "Hmm," says athletic director Pat Haden. At the very least, USC's next coach should make an effort to retain Orgeron.
6. Arizona
: The Wildcats have established that they are a solid team, maybe even pretty good. UCLA's visit on Saturday could significantly elevate that perception. A win would make Arizona a South contender and a Top 25 team.
7. Washington
: The Huskies should beat Colorado in Husky Stadium on Saturday and become bowl eligible, though this team shouldn't take anything for granted (see the Buffaloes' early effort versus UCLA). Then they must win at least two of the final three games to make the case that this was a successful season. The catch? That will require a road win at UCLA or Oregon State.
8. Oregon State
: After consecutive losses at home to Stanford and USC, the peanut gallery has adopted a fair tweak: "The Beavers weren't any good. They just had an easy schedule over the first seven games." The only way to defeat that take is to win two of the final three games, which won't be easy. The Beavers have a bye in which to get healthy and refocused before heading to Arizona State on Nov. 16.
9. Utah
: This is Utah's
BIG
weekend. The Utes had a week off to get healthy (
Travis Wilson
's throwing hand!), refocus and game plan for surging Arizona State. The MUSS also should be well-rested and properly annoyed so as to make Arizona State, traditionally a bad team on the road, uncomfortable. A win would be transformative for bowl possibilities, as well as Pac-12 prestige.
10. Washington State
: A third consecutive blowout loss, albeit against a tough slate,
has some grumbling in Pullman
. Where's our Mike Leach magic that we were promised? The Cougars are off this week, and they need to win two of their final three games to become bowl eligible. Won't be easy.
11. Colorado
: Colorado showed some fight against UCLA, but it couldn't keep up with
Brett Hundley
and company. Fair to say bowl chances are extremely remote -- the Buffs would have to win out. A visit to Washington is next, but the home game against California is the most likely chance to pick up a Pac-12 victory this season.
12. California
: Cal hung with Arizona for four quarters, repeatedly fighting back when the Wildcats seemed to be taking charge. The defense played better. The offense scored its most points (28) since Sept. 14 versus Ohio State (34). So there's that. The Bears host surging USC on Saturday, though the visit to Colorado on Nov. 16 looms as the season's biggest game -- the one that determines the bottom of the conference.
October, 8, 2013
10/08/13
2:00
AM PT
1. No. 7 Georgia lost two receivers and a tailback to knee injuries Saturday, which is something to which the Dawgs' next opponent, Missouri, can relate. The Tigers had so many injuries during last season's 5-7 SEC debut that head coach Gary Pinkel revamped his entire practice and training regimen, eliminating two-a-days and reducing contact drills. Missouri is 5-0, ranked No. 25 and its starters have a missed a total of three games because of injury.

2. Here's what I noticed about the 13 names reported to be on the College Football Playoff Selection Committee. Three people have won a national championship (Pat Haden as a player, Tom Osborne as a coach and Barry Alvarez as an assistant). There are more former quarterbacks (four) than former head coaches (three, and Ty Willingham is on both lists). If Stanford comes up for discussion, Willingham and Condoleezza Rice would have to leave the room, but what would West Virginia athletic director Oliver Luck do?

3. No. 11 UCLA should move to 5-0 this week by defeating a Cal team that is 0-4 against FBS opponents. That would set up not only a showdown the following week at No. 4 Stanford but it would put the Bruins on the cusp of returning to the top 10 for the first time in eight seasons. Since the glory days under Bob Toledo, when the Bruins appeared in the top 10 in four of five years from 1997-2001, UCLA has appeared in the top 10 for a total of three weeks. A long drought appears to have ended in Westwood.

September, 30, 2013
9/30/13
11:00
AM PT
Taking stock of Week 5 in the Pac-12.
Team of the week
: Arizona State's home victory over USC was an announcement to the rest of the country that the Sun Devils deserve to be ranked, and the country responded by putting ASU back in the Top 25 at No. 22. More important than national perception, however, is that the Sun Devils didn't fall to 0-2 in conference play, which would have been devastating for the team's season-long goals. They picked up a South Division win and are still in control of their destiny in the division. One last nonconference game next week against Notre Dame and then it's all league games the rest of the way -- including a pivotal Oct. 19 game against Washington and the all-important No. 23 game at UCLA.
Best game
: In a week where the average margin of victory was 29 points in the five games, the "closest" was Washington's 18-point victory over visiting Arizona. But there was a sense Washington was in control all 60 minutes. Oregon was fun to watch simply for the fact that not even Mother Nature could play defense against the Ducks. Stanford was fun to watch because the Cardinal looked explosive. Oregon State was fun to watch because it was a complete performance. But the ASU-USC game probably had the most drama. We had an idea of what was at stake, and even when USC cut it to 48-34 with 9:54 left in the game, there was still that lingering thought that maybe it wasn't over. Of course, ASU scored two more touchdowns to put it away. And the end result was Lane Kiffin's dismissal.
[+] Enlarge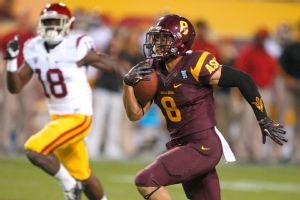 AP Photo/Rick ScuteriD.J. Foster played a part in Arizona State's offensive explosion against USC.
Biggest play
: After USC took a 21-20 lead in the opening minute of the second half, the Sun Devils responded 21 seconds later with a 74-yard touchdown from
Taylor Kelly
to
D.J. Foster
. But that wasn't the biggest play. On USC's next series, less than a minute later,
Alden Darby
jumped a
Cody Kessler
pass and returned it 46 yards for a score, giving the Sun Devils a 34-21 lead less than two minutes into the third quarter. He had two picks on the day, and the pick-six was a massive momentum swing, and it happened while Pat Haden and USC decision-makers were huddling to decide Kiffin's future.
Offensive standout
: Tough to ignore the kind of numbers
Sean Mannion
is putting up. After matching a school record two weeks ago at Utah with five touchdown passes, he surpassed the record by throwing for six touchdowns and 414 yards in the blowout win over Colorado. He did have an interception, but only because his receiver's hands and chest got in the way and it was tipped in the air. Mannion now has 21 touchdowns on the year to just two picks.
Defensive standout
: Has to be Darby, who totaled seven tackles to go with his two interceptions and a fumble recovery. Defensive standout 1B goes to Stanford's
Trent Murphy
. Is there any outside linebacker with better hands? Or does he only show them off at CenturyLink Field? Saturday he intercepted a point-blank pass in the backfield from
Austin Apodaca
and returned it 30 yards for a touchdown. If that looked familiar, he did the same thing last year at the CLink against Washington.
Special teams standout:
With four games in the Pacific Northwest Saturday, weather was dominant storyline when it came to special teams. We saw numerous fumbles, bad snaps and weather-induced wackiness. But there was nothing wacky about Oregon's
Bralon Addison
, who returned two punts for touchdowns. The first was a 75-yard return in the second quarter that was pure sideline speed. The second, a 67-yard return, required a little more dancing and cutting -- and avoiding being knocked down by his teammate before the play even got started.
Smiley face:
The Pac-12 once again has five teams ranked in the Top 25 in both polls with ASU's victory over USC. And Oregon State is receiving votes in the coaches poll.
Frowny face:
Injuries always get a frowny face -- and Saturday saw two of the league's superstars go down with injuries. Oregon's De'Anthony Thomas was injured on the kickoff and didn't return. And USC wide receiver
Marqise Lee
suffered a knee injury that hopefully looked worse than it really is.
Thought of the week:
The Beavers are back, sort of. Oregon State finally strung together a game where its defense matched the offense. And Colorado is a much-improved team from last season. Are the Buffs bowl bound? Probably not. But they aren't the Buffs of last year, which gives a little credence to Oregon State's dominating performance. The initial thought was that the Beavers would be 7-0 or 6-1 heading into their Oct. 26 showdown with Stanford. And they might still be (though Washington State isn't going to make it easy). Not suggesting you go all-in on the Beavers. Remember, they are only a week removed from a miraculous win over San Diego State. But don't sell just yet, either.
Question of the week
: The Trojans have a bye week to patch holes and put "Operation: Changing Lanes" in action. Do they look to an NFL name or a college name? UCLA is showing that a former NFL coach can have success in Los Angeles, even if he's not an alumnus. USC is an attractive gig, and you can bet there were a lot of back-channel phone calls going out over the past 72 hours.
2014 TEAM LEADERS
| TEAM | RUSH | PASS | TOTAL |
| --- | --- | --- | --- |
| Offense | 199.4 | 268.5 | 467.9 |
| TEAM | PF | PA | MARGIN |
| Scoring | 32.9 | 27.5 | 5.4 |