March, 7, 2014
3/07/14
9:00
AM PT
There are plenty of issues Pac-12 teams will be addressing this spring. Here are some that are front and center for your Pac-12 insiders.
Ted Miller
: Spring practice is the official transition from taking stock of the 2013 season, including recruiting, to looking ahead to next fall. The 2013 season was all about top-to-bottom depth for the Pac-12 -- and the lack of an elite national-title contender. That might be the case again in 2014, but if the conference is going to be nationally relevant in Year 1 of the four-team College Football Playoff, I think it will be because of the depth and quality of the quarterbacks.
If
Travis Wilson
is cleared to play at Utah, 10 Pac-12 teams welcome back their 2013 starters, and many of these guys are All-American candidates, most notably Oregon's
Marcus Mariota
, UCLA's
Brett Hundley
, Arizona State's
Taylor Kelly
and Oregon State's
Sean Mannion
.
[+] Enlarge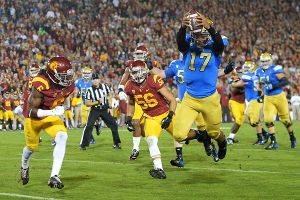 Kirby Lee/USA TODAY SportsHaving Brett Hundley back makes UCLA the favorite in the Pac-12 South.
The big question for these guys is if they can be better this season than last. If that happens -- for the above four and the six other returning starters -- then it should be a high-flying season with lots of offense. And perhaps a team emerges as a candidate for the playoff.
What most interests you this spring with the Pac-12?
Kyle Bonagura
: As a result of the continuity at quarterback, offenses should be in line for a collective step forward. How far could be determined by how quickly the conference's seven new defensive coordinators acclimate to -- and perform at -- their new jobs.
We won't get a great read on how that process is going during the spring, but it'll be interesting to see in what ways defenses evolve moving forward.
For Arizona State, Oregon, Stanford and UCLA, the change will be minimal. Todd Graham will remain heavily involved in how ASU plays defense, and the other three promoted staff members will use the framework and schemes already in place. USC might have a new staff, but considering coach Steve Sarkisian and defensive coordinator Justin Wilcox were in the conference last season, it should be an easy transition.
I'm more interested to see how things play out at California and Washington.
Washington is set up for success with the much-anticipated arrival of longtime Boise State coach Chris Petersen, who brought his defensive coordinator for the past four seasons, Pete Kwiatkowski. They have a talented front seven to work with and a favorable early schedule that will allow the staff to iron out any kinks: at Hawaii, Eastern Washington, Illinois, Georgia State.
Art Kaufman's job taking over the Cal defense won't be as easy. The Golden Bears should be in better shape than last season from a health and experience standpoint -- the latter partially a result of 2013's injury woes -- but there's a lot of ground to cover between where they were and being competitive.
Ted Miller
: One team that had coaching continuity at both coordinator spots is Arizona, and I think the Wildcats are setting up to be a dark horse in the Pac-12 South, though I do see UCLA as a strong favorite at this point. The intrigue with Arizona, though, is at quarterback. It seems like the most wide-open competition in the conference.
If
Cyler Miles
gets back in Petersen's good graces, he's got a significant lead for the Washington QB vacancy. At USC, I think that
Cody Kessler
is likely to retain his starting job over touted redshirt freshman
Max Browne
. Kessler steadily improved as a difficult season went on, and he still has his 2013 offensive coordinator/position coach in Clay Helton. At Utah, a healthy Wilson starts for the Utes.
But Arizona has four guys with a legitimate shot at winning the starting QB job this fall: Redshirt freshman
Anu Solomon
, senior
Jesse Scroggins
, sophomore
Connor Brewer
and junior Jerrard Randall. Solomon was one of the jewels of the 2013 recruiting class, while the other three are transfers from A-list programs -- Scroggins from USC, Brewer from Texas and Randall from LSU.
The first big question will be whether Rich Rodriguez narrows the field at the end of spring practices. How much does he want to establish a clear pecking order? You'd think at least one of these guys is going to be relegated to fourth place because there are only so many practice reps to go around.
The good news is the guy who wins the job is going to have an outstanding crew of receivers. He won't have running back
Ka'Deem Carey
lining up as a security blanket behind him, but Rodriguez's offenses almost always run the ball well. The Wildcats will average more than 200 yards rushing again next season, I feel confident saying that.
The million-dollar question -- the difference between competing for the South title and winning eight games again -- is how efficient the guy behind center is.
Any position battles particularly intrigue you this spring?
Kyle Bonagura
: Like you, I'm really intrigued to see how the quarterback competition at Arizona progresses. That's a lot of pressure for the three guys who already transferred from big-time programs. All of them clearly want to play, and it makes you wonder if one of them will end up at an FCS school before the season starts.
The most high-profile battle outside of quarterback has to be at Stanford, where four guys are competing to replace
Tyler Gaffney
at running back. I was out at the Cardinal's first open practice of the spring last week -- and will be out there again on Saturday -- and what stood out immediately was how balanced the reps were. If
Remound Wright
,
Ricky Seale
,
Barry Sanders
and
Kelsey Young
didn't have equal reps with the first team, it was close.
However it plays out, it's unlikely Stanford will feature one back like it has the past six years with Gaffney, Stepfan Taylor and Toby Gerhart.
Wright probably holds a slight edge in terms of the overall package -- largely because of his capabilities in pass protection -- but there are more similarities than differences in comparing each guy. A lot of people ask about Sanders because of his famous father (my favorite football player as a kid), but the reality with him is that expectations were probably too high when he arrived. His name and recruiting profile are to blame, and the coaching staff isn't going to force his development.
Young, who switched back to running back from receiver, might be the most dangerous with the ball in his hands and Seale, a fifth-year senior, might have the best grasp of the offense.
February, 14, 2014
2/14/14
1:00
PM PT
The
shuffling of defensive coordinators
appears to be over. We think. And as previously noted, all five of the top scoring defenses in the Pac-12 last year have seen changes at the top of the defensive coaching hierarchy. Three of the hires were internal promotions and two were coordinators who stayed with their head coach while switching schools.
This is how the top five scoring defenses played out last year:
Stanford (19.0 points per game)
Oregon (20.5)
USC (21.2)
Washington (22.8)
UCLA (23.2)
Who got the better end of the deal? Sounds like a poll question for you to ponder all weekend long.
Which team will lead the Pac-12 in scoring defense in 2014?
Your options:

Stanford
: Derek Mason departed to become head coach at Vanderbilt and Lance Anderson was promoted from within. The Cardinal lose some marquee players but have others such as safety
Jordan Richards
and linebacker
A.J. Tarpley
returning.
Oregon
: Out is longtime coordinator Nick Aliotti, who retired. In is longtime position coach Don Pellum. The Ducks lose some talent but return standout cornerback
Ifo Ekpre-Olomu
, who gives the Ducks' secondary instant credibility.
USC
: Clancy Pendergast was not retained by new head coach Steve Sarkisian. So Justin Wilcox is in after working his magic at Washington. The Trojans lost a lot of players to the draft, but a couple key players are back and there is a pretty good crop of young, talented players.
Washington
: New head coach Chris Petersen brought his guy, Pete Kwiatkowski, with him from Boise State. The Huskies made tremendous strides in two seasons under Wilcox and have some pretty solid personnel returning.
Other
: UCLA's Lou Spanos returned to the NFL and Jeff Ulbrich was promoted from within. Head coach Jim Mora will still oversee a lot of the defense. Though impact players like
Anthony Barr
and
Cassius Marsh
are gone, the Bruins have plenty of talent coming back. ... Arizona was sixth in the conference last year and made huge strides from 2012 to 2013. Can it keep the momentum going? ... Arizona State (seventh) also shuffled its defensive staff around with
the hiring of Keith Patterson
, though Todd Graham will still be heavily involved in the defense. ... Utah (eighth) is just two seasons removed from leading the conference in scoring defense. Can the Utes get back to the top?
January, 20, 2014
1/20/14
7:00
PM PT
The Pac-12 has seen a flurry of defensive coordinator movement over the last couple of weeks -- starting with the
power struggle for former Washington defensive coordinator Justin Wilcox
to the recent exoduses of Stanford's
Derek Mason to Vanderbilt
as head coach and UCLA's
Lou Spanos to the Tennessee Titans
as linebackers coach. Oregon's promotion of
Don Pellum to defensive coordinator
to replace Nick Aliotti will also shine a spotlight on the Ducks' defense in 2014 and beyond.
And then there is, of course, former USC defensive coordinator Clancy Pendergast, who mysteriously continues to be out of work.
[+] Enlarge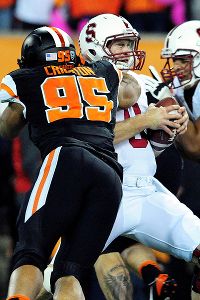 Steve Dykes/Getty ImagesOregon State defensive end Scott Crichton is among the Pac-12 defensive stars entering the NFL in 2014.
Look at the top five scoring defenses in the Pac-12 in 2013: Stanford, Oregon, USC, Washington and UCLA, respectively. All five have had defensive coordinators in flux in the young offseason.
That makes for an interesting transition period for the Pac-12. Defenses had closed the gap in recent years with several teams ranking in the top 25 nationally in scoring defense. That in itself is an achievement considering the level of offensive skill players and the diversity of offenses in the conference.
But when you look ahead to 2014, there are a lot of quarterbacks coming back to man the league's high-powered offenses --
Marcus Mariota
,
Brett Hundley
,
Taylor Kelly
,
Sean Mannion
,
Connor Halliday
, etc. You combine that with a massive talent drain of defensive players graduating or declaring for the NFL, plus all of the shifting within the defensive coaching ranks, and you have to wonder if 2014 is going to be the Year of Offense in the Pac-12.
Consider a few of the defensive standouts leaving:
Anthony Barr
(UCLA),
Will Sutton
(ASU),
Shayne Skov
(Stanford),
Dion Bailey
(USC),
Terrance Mitchell
(Oregon),
Scott Crichton
(Oregon State),
Trent Murphy
(Stanford),
Carl Bradford
(ASU),
Deone Bucannon
(Washington State),
Trevor Reilly
(Utah). There are a couple dozen others who aren't mentioned who were high-impact guys like Stanford's
Ben Gardner
and
Ed Reynolds
,
Eric Kendricks
,
Jordan Zumwalt
and
Cassius Marsh
from UCLA and
Alden Darby
,
Osahon Irabor
and
Robert Nelson
from ASU.
In total, 19 of the 25 all-conference defensive players from 2013 will be gone next year -- including 10 of 12 from the first team. Plus about a dozen more that were honorable mention are leaving or graduating. That is a major hit to the defensive talent in the league.
The Pac-12 is rarely appreciated nationally for its defensive prowess, either from a player or coaching perspective. And now three of the best coordinators in the conference are gone, one has moved from Washington to USC and another is looking for a gig.
Pac-12 offenses are going to be loaded in 2014 while the defenses have huge question marks. There is plenty of young talent. Guys like
Myles Jack
(UCLA),
Addison Gillam
(Colorado) and
Su'a Cravens
(USC) have all made names for themselves early in their careers. There are also some very notable returners like
Ifo Ekpre-Olomu
(Oregon),
Henry Anderson
(Stanford),
Shaq Thompson
(Washington) and
Hayes Pullard
(USC).
But a lot more is gone than is coming back.
That opens the door for all sorts of comparison storylines. Wilcox did an outstanding job re-tooling the defense at Washington. And now Pete Kwiatkowski will be measured against what Wilcox was able to accomplish. Likewise, Pendergast probably should have been USC's MVP for what he did with the Trojans in one season. Now Wilcox has to take over an outfit that is losing a lot of playmakers to the NFL. No doubt, he'll be compared to his predecessor. Just as Pellum will be compared to Aliotti, and whoever fills the seats at Stanford and UCLA will be compared to what Mason and Spanos were able to accomplish.
The guard is changing, as it does every year in college football. This year it might be the Pac-12 defenses that take a step back.
2014 TEAM LEADERS
| TEAM | RUSH | PASS | TOTAL |
| --- | --- | --- | --- |
| Offense | 199.4 | 268.5 | 467.9 |
| TEAM | PF | PA | MARGIN |
| Scoring | 32.9 | 27.5 | 5.4 |