March, 27, 2013
3/27/13
7:19
PM PT
LOS ANGELES -- Rick Pitino? Really?
Billy Donovan? Phil Jackson?
Why on Earth would UCLA want to hire one of those guys?
OK, they are all proven winners who have shown they know how to run a program with consistent success. On that level, it makes sense. Those guys are legends and maybe you want to go after the best in the business.
[+] Enlarge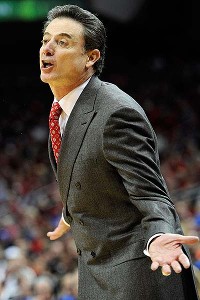 Jamie Rhodes/USA TODAY SportsRick Pitino would be a big name for UCLA to land as coach, but would he be a good fit for the Bruins?
But this is UCLA we're talking about. UCLA makes legends, not the other way around. It is one of college basketball's meccas. It's the dream job for just about any coach in the country and the place where the coach should become a star.
Those other guys are already stars for things they did somewhere else. The stories for those coaches and others in their class have already been written. Bringing them to the Bruins would be a mercenary hire. UCLA shouldn't be looking at coaches who cemented their legacies at some other job; UCLA should be looking for someone who will cement his legacy in Westwood. UCLA should be looking for a guy who will eventually go to the Hall of Fame and there will be no doubt about what hat he chooses to wear.
Ask yourself: Is Pitino the Louisville guy or the Kentucky guy? Is Jackson better known as the former Lakers coach or the former Bulls coach? That's what you'd be asking about Donovan if he came to UCLA and won a couple of national titles the way he already has at Florida.
The coach is the face of the program, but when you see Pitino or Donovan or Jackson, you're going to see many different teams or programs. That's not something you should be seeing when you see the coach of UCLA, one of the Mount Rushmore programs in college basketball. UCLA should be looking for the guy who will become known only for leading the program back to the national elite. UCLA should be looking for the next Pitino, the next Donovan, the next Jackson.
That's why coaches like Brad Stevens of Butler and Shaka Smart of Virginia Commonwealth make so much more sense. Guys like that have cut their teeth and shown they can coach. They've taken their respective schools to unprecedented heights but haven't yet reached the pinnacle. If a coach like that came to UCLA and won a national title, they would become college basketball royalty.
Stevens or Smart have been the top two candidates on any coaching list the past couple of years, but it doesn't have to be one of them. They have in the past spurned the advances of bigger schools because of their love of small-college life.
Smart looks as if he's done it again
, and if Stevens does, too, Bruins fans shouldn't fret.
2014 TEAM LEADERS
| TEAM | RUSH | PASS | TOTAL |
| --- | --- | --- | --- |
| Offense | 199.4 | 268.5 | 467.9 |
| TEAM | PF | PA | MARGIN |
| Scoring | 32.9 | 27.5 | 5.4 |