July, 17, 2012
7/17/12
5:08
PM PT
Editor's note: ESPN.com's Summer Shootaround series catches up on the offseason storylines for each conference. For more on the Pac-12,
click here
.
Arizona: Nick Johnson
The shooting guard tapered off at the end of his freshman season, when he averaged just 6.1 points in his last seven games. It will be interesting to see if the presence of highly touted freshman Gabe York and Xavier transfer
Mark Lyons
will cause Johnson to step up his game.
[+] Enlarge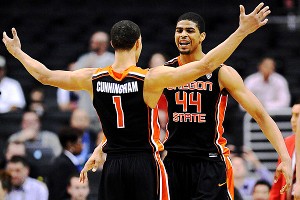 Jayne Kamin-Oncea/US PresswireJunior forward Devon Collier, right, will be heavily leaned on by the Beavers this upcoming season.
Arizona State: Jordan Bachynski
The 7-foot-2 center was a bright spot for the Sun Devils during an otherwise frustrating season in 2011-12. Don't be fooled by his ho-hum statistics (6.0 points; 4.0 rebounds). In Arizona State's last 13 games, Bachynski averaged 10.1 points, 6 boards and 2 blocks. He'll be one of the top post players in the league this season.
California: Richard Solomon
The 6-foot-10, 220-pound forward was averaging 6.8 points and 6.2 rebounds when he was declared academically ineligible after 13 games last season. It was a huge loss for the Golden Bears, who are a much better team when Solomon is anchoring the defense down low.
Colorado: Andre Roberson
The forward ranked third in the nation in rebounding last season with 11.1 boards per game. Most NBA mock drafts predict that Roberson will be a first-round pick next summer. For now, the biggest question is whether Roberson can lead the Buffaloes to the NCAA tournament for the second straight season.
Oregon: Tony Woods
The 6-foot-11, 250-pound Woods put up modest numbers (6.3 points, 3.7 rebounds) after transferring to Eugene last season. Still, the former Wake Forest post player has yet to live up to the lofty expectations that have hovered over him since high school. Oregon will be a different caliber team if Woods takes that "next step" in his final season.
Oregon State: Devon Collier
With
Jared Cunningham
now in the NBA, the spotlight will shine on Collier. The 6-foot-7 forward averaged 13.2 points and 5.3 rebounds as a sophomore last season, when he shot 61.5 percent from the field. He also blocked an average of 1.3 shots per contest.
Stanford: Aaron Bright
The point guard should be full of confidence after averaging 16.8 points and 4.2 assists during Stanford's march to the NIT title. Bright's performance earned him tournament MVP honors. If he plays that way in 2012-13, the Cardinal will be back in the NCAA tournament.
UCLA: Larry Drew
The Bruins' recruiting class has generated a ton of offseason buzz, and rightfully so. But a strong performance by Drew at point guard will be vital if the Bruins hope to be a mainstay in the top 10. Drew was North Carolina's starter before walking out on his team midway through the 2010-11 season.
USC: J.T. Terrell
The shooting guard averaged 11.1 points as a freshman at Wake Forest in 2009-10. He withdrew from school last fall after he was arrested for driving while impaired. Terrell played last season at Peninsula Junior College. Trojans coach Kevin O'Neill said Terrell is one of the most talented players he's ever signed.
Utah: David Foster
The 2009-10 Mountain West Defensive Player of the Year missed all of last season with a broken foot. Foster, a 7-foot-3, 243-pound center, will return this season and try to help the Utes bounce back from the worst season in school history. Foster holds Utah's all-time record for blocked shots with 219.
Washington: Scott Suggs
C.J. Wilcox
and
Abdul Gaddy
are the most recognizable names on the roster. But don't forget about Suggs, a sharpshooter who averaged 7.4 points and shot 45 percent from 3-point range as a junior two years ago. The 6-foot-6 Suggs, who redshirted last season because of a foot injury, could be one of the X factors for the Huskies.
Washington State: Reggie Moore
The Cougars might be decent if Moore can keep his head on straight. The point guard was suspended in January 2011 following his arrest on marijuana-related charges. Last season, he played in all 37 games and averaged 10.2 points and 5.2 assists. Moore is one of the most underrated players in the country at his position. His leadership this season will be key.
February, 18, 2010
2/18/10
12:07
PM PT
UCLA played a stingy version of its inconsistent zone defense the last time it met Washington State for
an easy victory
. The Bruins contained Cougars guard
Klay Thompson
by crowding him whenever he touched the ball. Thompson looked bothered and never found a rhythm, missing 12 of his 17 shot attempts, including seven of nine from beyond the arc.
"We were real focused on him,"
Michael Roll
said. "Wherever he went in the zone, we were talking, trying to get a hand in his face at all times and making him dribble before the shot."
But the focus on Thompson freed up
Reggie Moore
, who capitalized by scoring 24 points.
"Reggie Moore got off,"
Reeves Nelson
said. "We did a nice job on Klay, but we're going to have to do that again to get a win."
Apparently, UCLA guard
Malcolm Lee
has been hanging out with Nelson.
"Moore got off," Lee said about five minutes after Nelson spoke to reporters at Tuesday's weekly press conference. "He had, like,
their first 12 points
. We have to have him put the ball on the floor."
Moore scored just 14 points combined last weekend. Thompson, meanwhile, is coming off a 28-point performance in Washington State's
86-70 loss to California
. He had 19 against Stanford two days prior.
"Klay, I'm sure, is going to be looking to get off on this game as well," Lee said.
January, 23, 2010
1/23/10
2:11
PM PT
So far, UCLA looks determined to prevent a hangover from Thursday's thrilling win over Washington.

And it seems that coach Ben Howland has taken a liking towards the 2-3 zone defense – once an unfathomable thought in his suffocating man-to-man scheme.

The fun hasn't stopped for Mustafa Abdul-Hamid, who earned the top play in Thursday night's Sportscenter. Abdul-Hamid has a team-high eight points as UCLA leads Washington State 30-27 at halftime.

Klay Thompson, the Pac-10's leading scorer at 23 points per game, has only shot 2-of-8 for six points, while teammate Reggie Moore leads all scorers with 12 points.

UCLA's zone defense has been a double-edged sword. The Bruins have held the Cougars to 35 percent shooting, but they have allowed nine offensive rebounds.
January, 23, 2010
1/23/10
1:07
PM PT
UCLA's last two victories have been as dramatic as they come.
The latest came Thursday, when
Mustafa Abdul-Hamid
hit a shot at the buzzer to give the Bruins a one-point win over visiting Washington. In an act that has quickly
drawn criticism
, some students even dared to storm the floor. It was that kind of moment.
No word on what UCLA students would have done earlier this month had
Michael Roll
's clutch, game-winning jumper in overtime against California come at Pauley Pavilion.
But thanks to a lackluster effort at Stanford three days later, whatever momentum Roll had given the Bruins dissolved.
"One thing that we really can't do is go into (today's) game thinking we're going to win,"
Tyler Honeycutt
said.
Stanford's
Jeremy Green
and
Landry Fields
combined for 46 points to overpower the Bruins in Palo Alto. Today, sophomore guard
Malcolm Lee
will have the task of containing Washington State's
Klay Thompson
, who is perhaps the most explosive scorer in the conference. Thompson -- the son of former Los Angeles Lakers forward
Mychal Thompson
-- leads the Pac-10 with 23 points per game.
"Washington State has great shooters," Honeycutt said. "They shoot better than Washington. We've got to come in with the same focus and not take them lightly."
The 2-3 zone didn't work against Green and Fields, so it's unclear whether coach
Ben Howland
will implement the same defensive scheme in an attempt to slow down Thompson. Howland also has to worry about guard
Reggie Moore
, whose 21 points led the Cougars (14-5, 4-3) to a come-from-behind win over USC on Thursday.
"Against the zone, you're going to get some open shots," Howland said.
Reeves Nelson
thinks UCLA has to worry about itself first.
"We just need to take another big step," he said.
2013 TEAM LEADERS
| TEAM | RUSH | PASS | TOTAL |
| --- | --- | --- | --- |
| Offense | 196.6 | 251.6 | 448.2 |
| TEAM | PF | PA | MARGIN |
| Scoring | 36.5 | 24.1 | 12.4 |