November, 28, 2011
11/28/11
11:39
PM PT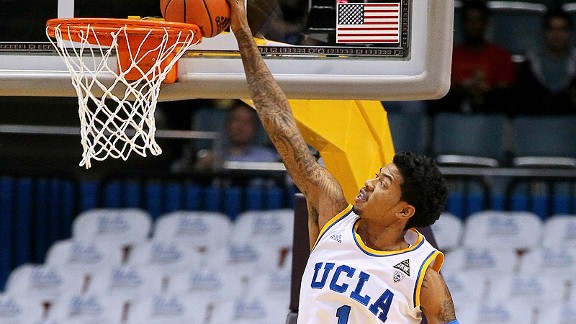 Stephen Dunn/Getty ImagesTyler Lamb dunks during UCLA's first-half dominance against Pepperdine on Monday night.
UCLA was successful in its return to the mainland, earning its first victory over a Division I opponent Monday night with a 62-39 drubbing of Pepperdine.
But by no means were the Bruins crisp, especially to start. They managed only five points in the first 7 minutes 46 seconds of play before going on a 20-2 run midway through the first half to pull away. The Bruins, fresh off an uninspiring trip to Hawaii for the Maui Invitational, got their first victory at the L.A. Sports Arena and improved to 2-4 overall.
Five observations from the game:
1
Perimeter defense was in sync
Suffocating pressure from starting guards Lazeric Jones and Jerime Anderson played a major role in Pepperdine's first-half funk. The Waves went scoreless for over five minutes and managed just one basket in a rough stretch that lasted nearly nine minutes.

UCLA gave up only 11 points in the first half, the fewest since holding Florida International to 13 in 2008.

"Our team defense wasn't even close [at the beginning of the season] to what it is now," coach Ben Howland said.

Remember, the Bruins lost their best perimeter defender when Malcolm Lee left for the NBA last spring, and they don't have another player that will fill his shoes this year. Instead, UCLA will have to be good as a unit. Jones, who had a career-high six steals, attributed the change to better communication.

"I continued to hear people talk behind me," Jones said.
2
The Wear twins meshed well as a tandem
Sophomore forward Travis Wear took an inadvertent elbow that knocked out his two front teeth -- causing him to speak with a noticeable lisp during the postgame news conference -- but that didn't stop him from pegging it as his best game as a Bruin. Travis Wear had eight points, a career-high 10 rebounds and three blocks, and, before he left the court to get his mouth examined, spent a considerable amount of his minutes alongside brother David Wear, who added 10 points and a career-high seven boards.

Howland seems intent on having both on the floor at the same time, and their collective performance Monday probably won't make him stray from that strategy.

"I think we're on the right path to being a really good team," Travis Wear said.
3
The Bruins excelled without Joshua Smith and Reeves Nelson
A total of 22 minutes from Reeves Nelson and Joshua Smith is an alarming statistic to take from this one. The two projected frontcourt starters were afterthoughts, really.

Nelson, who hasn't made a start since the season opener, played only two minutes in the first half because of foul trouble. Smith, again plagued by the whistle, played only four minutes in the first half. The duo combined for six points and six fouls.

"They'll play better," Howland said, "I'm confident, as we move forward."
4
Norman Powell has potential to wow
Former UCLA guard Darren Collison and Russell Westbrook thrived in fast-break opportunities during their time in Westwood, usually capping their runs with dazzling moves near the rim.

Freshman Norman Powell might be UCLA's next can't-blink-when-he-has-the-ball player. He had a flashy dunk late in the first half that drew a surprisingly loud response from the 3,885 in attendance. Powell also added a pair of 3-pointers and notched a career-high with 10 points.
5
Lazeric Jones bounced back
Jones appeared to regain his shooting touch, scoring a team-high 14 points Monday following his 0-for-5 performance in the Maui finale against Michigan. The Bruins will need similar efforts from him the rest of the season, and Jones knows it.

"I feel like sometimes you've got to get a win to know how to win," Jones said. "To see us go out there and play hard, it showed us what we need to do to win."
January, 25, 2011
1/25/11
9:01
AM PT
That's what UCLA signee Norman Powell (San Diego, Calif./Lincoln) wants to become -- and something coach Ben Howland wouldn't have an issue with.

Hear what the guard had to say following the California Elite Showcase in this video:


July, 20, 2010
7/20/10
2:14
PM PT
Former UCLA teammates
Russell Westbrook
and
Kevin Love
have been reunited in Las Vegas.
The duo that led UCLA to the 2008 Final Four is part of the 22 players competing for 12 spots on Team USA, which will compete in the world championships this summer in Turkey. ESPN Insider
Chris Sheridan
has both making the squad
in this breakdown
.
Westbrook (Oklahoma City Thunder) and Love (Minnesota Timberwolves), entering their third seasons in the league, are already two of the NBA's rising stars. They were taken fourth and fifth, respectively, in the 2008 NBA Draft (Westbrook as a sophomore, Love as a freshman).
NBATV is airing training camp practices live from Vegas' Cox Pavilion (check your listings for the next showing). For those wondering, Westbrook is wearing No. 31 and Love No. 40.
March, 14, 2010
3/14/10
3:13
PM PT
Aside from Nikola Dragovic, no player took more criticism than Jerime Anderson during UCLA's disappointing 14-18 season. Granted, expectations for UCLA point guards are at an all-time high after NBA up-and-comers Russell Westbrook, Darren Collison, Jrue Holiday and Jordan Farmar experienced success in college. Anderson lost his starting spot after coach Ben Howland suspended him for being late to a rehab session in January. But even before the suspension, Anderson's demotion seemed inevitable. The 6-foot-2 sophomore struggled to generate offense and eventually surrendered his ball-handling duties to Malcolm Lee. Anderson came off the bench to score a career-high 15 points in UCLA's 13-point loss to California on Friday night. His contributions probably left fans wondering where it came from.
----------
Blair Angulo: You had a career-high 15 points off the bench [Friday], something we have not seen much of from you. Was there a change in mentality?
Jerime Anderson
: Really, I was just trying to help my team. I picked my spots. I was not as aggressive as I could have been all year -- sometimes I was in my head a lot. I was not trying to make mistakes. This summer and spring, I just have to get back to who I was as a player -- before all this, before this bad season. The 15 points is a look at what I can do and I've just got to try to build on it.
Angulo: What kind of player were you? What changed?
Anderson
: I was a lot more aggressive going to the rack, taking shots, trying to make something happen, you know. I used to force the issue. I just lost my aggressiveness, really. I lost my confidence. I don't know what to attribute that to right now, but I've got to work on it and not let it happen next year.
Angulo: How much of the offseason will you set aside for the mental side of the game?
Anderson
: Every day. I have to get better as a basketball player. I'm going to take some time off, but whether that's watching film, hitting the weights or getting in the gym, that's what I'm going to do.
Angulo: Are you at your ideal physical state?
Anderson
: I want to get a little bit bigger -- not bigger in terms of my frame, more so my legs. I need to get stronger so I don't have to worry about injuries. That's the biggest issue right now.
Angulo: Before the season, you talked about the work you put in to correct your jump shot by keeping your elbow in. Was that a factor this year?
Anderson
: No, no. I just don't think I was that aggressive and confident with my shot and with my game. That comes with putting more work in. I don't think I put enough work in during the offseason to play the way that I needed to play this year. I'm not going to make that same mistake again.
March, 10, 2010
3/10/10
8:48
AM PT
If there's a bright side to UCLA's disastrous 13-17 season, it's that UCLA fans don't need to worry about anyone leaving early for the NBA.

For now, at least.

But the fact that not one player is even thinking about jumping to the league is a cause for concern. It's a pick-your-poison situation, really. Needless to say, coach Ben Howland has missed on some players, or else there would be some rumbling about possible early exits.

UCLA fans were spoiled with guards Jordan Farmar, Arron Afflalo, Darren Collison and Russell Westbrook making Final Four runs. Jerime Anderson, the guy who was supposed to be next in line, has not shown any resemblance to them.

In order for the Bruins to stay atop the Pacific 10 Conference, Anderson had to take over for Collison -- just as Collison did for Farmar and Westbrook did for Afflalo. But Anderson has underperformed, losing his starting spot earlier this season. The sophomore was so bad that Howland was forced to move Malcolm Lee from the off guard position to a ball-handling role.

Lee has struggled there too, at times too sped up to think. His decision-making has been spotty at best. Lee has committed a team-high 82 turnovers. Anderson has 62 while averaging 10 minutes less.

On offense, Anderson is as reluctant with the ball as Farmar, Collison and Westbrook are assertive in the NBA. Granted, the three former players were also restricted by Howland's limit-the-possessions philosophy (let's just say guards dribble more than they drive). But unlike Anderson, the preceding guards showed glimpses of greatness when the clock was winding down and they had the ball in their hands.

Anderson has not.

Howland's misjudgments are not limited to the back court. Six-foot-10 center J'mison Morgan, a former five-star prospect who had conditioning problems coming in, was supposed to be thrive in Howland's methodical and slow-paced offense. Instead, Morgan has seen the kind of minutes that are more appropriately suited for walk-ons.

Morgan is adequate with his back to the basket and can block shots when he finds a defensive rhythm. That's really all we can draw from his two seasons in Westwood. Many expected Morgan to be great (i.e. Kevin Love), but he doesn't rebound with the aggressiveness of No. 42.

If you're seeking an explanation for UCLA's fifth-place finish in the conference, look no further than the Bruins' bench, where Anderson and Morgan have become staples.
March, 8, 2010
3/08/10
11:17
PM PT
In case you missed it, former UCLA standout point guard
Darren Collison
dished out a career-high 20 assists
in the New Orleans Hornets' 135-131 win over the Golden State Warriors on Monday night.
Collison's rookie season has taken off since New Orleans' all-star leader
Chris Paul
was sidelined with a knee injury in late January. He is averaging nearly 19 points and nearly nine assists in 25 starts.
Monday's stellar performance may have left Bruins fans wondering where this double-double machine was last season when UCLA exited the tournament in the second round.
The same goes for Oklahoma City Thunder guard
Russell Westbrook
, who averages nearly 17 points and eight assists per game.
Perhaps these two were not used correctly during their time in Westwood. Perhaps their numbers have benefited by the fast-paced style of the NBA.
Whatever Collison and Westbrook's success -- along with the continued progression of
Arron Afflalo
,
Jordan Farmar
and
Jrue Holiday
-- may be attributed to, it only raises the standard by which coach
Ben Howland
's current batch of underachieving guards is judged upon.
That may not be fair to
Malcolm Lee
and
Jerime Anderson
, but that's just the way it is.
March, 8, 2010
3/08/10
7:16
AM PT
Coach
Ben Howland
never wanted to turn his back on the man-to-man defense
Luc Richard Mbah a Moute
,
Arron Afflalo
and
Russell Westbrook
helped him cultivate.
He did earlier this season, mostly out of necessity (see: UCLA's lack of athleticism).
He did it again Saturday with the Bruins trailing by just five early in the second half of
an eventual 56-46 loss to Arizona State
at Wells Fargo Arena.
"I went back to the zone, stupidly," Howland said.
The Sun Devils were glad he did. ASU's
Jamelle McMillan
nailed a 3-pointer thanks to
Ty Abbott
's ability to infiltrate the zone. Less than two minutes later, Abbott did it again, this time finding
Eric Boateng
inside for an easy layup.
Just like that, the Sun Devils' lead was back to double digits.
"We just couldn't make stops,"
Tyler Honeycutt
said.
And that's why no matter how UCLA does in the Pacific 10 Conference tournament at Staples Center this week, Howland intends to return to a man-t0-man scheme next season. Perhaps Howland will be able to stick with it.
There are some promising signs. First, UCLA should be more athletic -- at least defensively -- with the graduation of
Nikola Dragovic
, as well as the continued progression of post players
Honeycutt
,
Reeves Nelson
and
Brendan Lane
. Honeycutt's versatility and
Malcolm Lee
's cover skills should be assets for defenses of the future.
But for now, the 2-3 zone that earlier in the season allowed Howland to compensate for a lack of athleticism is simply not working.
"It's being torn apart by good teams," Howland said.
In need of some Love this Valentine's Day weekend? What about some Westbrook?
If you answered yes to both (or even just one), you're in luck. Former UCLA teammates
Kevin Love
and
Russell Westbrook
-- who were recently
named to USA Basketball's national team program
-- will play together tonight (6 p.m./PT) as part of the sophomore team in the
T-Mobile Rookie Challenge
. The game will be televised live on TNT.
Bruins fans might become nostalgic if
any of this takes place
-- especially with the way things have been going in Westwood.
Westbrook
, who is averaging 16 points and more than seven assists for the Oklahoma City Thunder, would be a senior if he had not left after his sophomore season.
Love
, who is posting 15 points and 11 rebounds per game for the Minnesota Timberwolves, would be a junior. ESPN's Tim Legler likes Westbrook in
tonight's contest
:
"...my personal choice for dark horse MVP in the game, is Russell Westbrook. His confidence has grown on a nightly basis and he will thrive in an open court 'pickup'style of game in which he can use his burst and athleticism to get to the rim at will. If nothing else, he will give everyone a few highlight-reel dunks that we will all be talking about at work the next day." -- Legler
2014 TEAM LEADERS
| TEAM | RUSH | PASS | TOTAL |
| --- | --- | --- | --- |
| Offense | 199.4 | 268.5 | 467.9 |
| TEAM | PF | PA | MARGIN |
| Scoring | 32.9 | 27.5 | 5.4 |