January, 18, 2011
1/18/11
9:30
PM PT
By
ESPNLosAngeles.com staff
From a UCLA news release:
Running back
Johnathan Franklin
, linebacker
Akeem Ayers
and safety
Tony Dye
were selected winners of UCLA's Henry R. "Red" Sanders Award for Most Valuable Player at the Annual UCLA Football Awards Banquet, held Tuesday evening at the Hyatt Century Plaza Hotel.
Franklin became the first Bruin since
Chris Markey
in 2006 to rush for over 1,000 yards. He finished with 1,127 yards, the highest total by a Bruin since 1997. He ranked fifth in the Pac-10 in rushing and earned second-team All-Pac-10 honors from the league's coaches.
Ayers, one of the most versatile defensive performers in the country, earned second-team All-America honors from the Walter Camp Football Foundation. On the year, Ayers ranked fourth on the team with 68 tackles, first (tied) with 4.0 sacks, second with 10.0 tackles for loss and second with two interceptions.
Dye led the team with 96 tackles in his 12 games and his average of 8.00 tackles per contest ranked fourth (tied) in the Pac-10. He also led the Bruins and ranked seventh (tied) in the league with 10 passes defended (nine passes broken up and one interception). He earned All-Pac-10 honorable mention from the league's coaches.
The complete list of winners:
Charles Pike Memorial Award for Outstanding Scout Team Player: Offense: running back Jordon James; Defense: linebacker Eric Kendricks; Special Teams: linebacker Aramide Olaniyan
Jack. R. Robinson Award for Highest Scholarship of a Senior Player: holder/punter Danny Rees
N.N. Sugarman Award for Best Leadership: Offense: center Ryan Taylor; Defense: linebacker Sean Westgate
Captain Don Brown Memorial Award for Most Improved Player: Offense: tackle Sean Sheller; Defense: linebacker Patrick Larimore
John Boncheff, Jr. Memorial Award for Rookie of the Year: Offense: F-back Anthony Barr; Defense: linebacker Jordan Zumwalt, tackle Cassius Marsh, end Owa Odighizuwa
Ed Kezirian "Coach K" Award for Academic and Athletic Excellence: safety Dietrich Riley
Tommy Prothro Award for Outstanding Special Teams Player: place kicker Kai Forbath, punter Jeff Locke, running back Derrick Coleman
Kenneth S. Washington Award for Outstanding Senior: Offense: tackle Micah Kia; Defense: tackle David Carter
George W. Dickerson Award for Outstanding Offensive Player vs. USC: running back Johnathan Franklin
Donn Moomaw Award for Outstanding Defensive Player vs. USC: safety Tony Dye
Paul I. Wellman Memorial Award for All-Around Excellence: wide receiver Taylor Embree
Jerry Long "Heart" Award: offensive guard Darius Savage
Special Recognition: linebacker Akeem Ayers, safety Rahim Moore
Henry R. "Red" Sanders Award for Most Valuable Player: Offense: running back Johnathan Franklin; Defense: linebacker Akeem Ayers, safety Tony Dye
October, 3, 2010
10/03/10
11:00
PM PT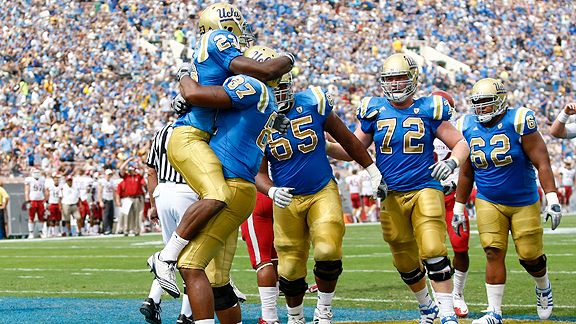 Craig Bennett/Icon SMI
UCLA offensive linemen, who embrace the nickname the "Filthy Five" enjoy the reward of helping a running back reach the end zone.
When UCLA took the ball at its 1-yard line in the fourth quarter with the score tied Saturday against Washington State, the Bruins had only one thing on their minds.
"Time to get filthy," guard
Eddie Williams
said.
It worked. UCLA went on a 99-yard scoring drive, keyed in large part by the play of UCLA's ragtag bunch of offensive linemen, who have been dubbed "The Filthy Five" by the Bruins coaches.
It's a collection of former castoff linemen suddenly thrust into starting roles who have become the most consistent performers in what has been a wildly inconsistent Bruins team.
"This isn't the most talented group that I've ever coached in my career, but they work as hard as any group I've ever coached," said Bruins veteran offensive line coach
Bob Palcic
. "They work for each other. There's no selfishness in the group. They've bought into what we're doing and it's showing up on the field."
There are actually six of them -- Williams,
Sean Sheller
,
Ryan Taylor
,
Darius Savage
,
Micah Kia
and
Mike Harris
-- but the name applies to whichever five are on the field at the time.
On Saturday, all six were blasting open holes for a UCLA running game that piled up 437 yards rushing—the most by a Bruins team since 1979.
Johnathan Franklin
had a career-high 216 yards rushing and
Derrick Coleman
set his career high with 185.
It was the first time in school history that two backs had rushed for 180 yards in a game, and it was no fluke. The offensive line has allowed Franklin to eclipse the 100-yard mark in three consecutive games—the first Bruins back to do that since Maurice Jones-Drew in 2004.
September, 28, 2010
9/28/10
8:21
PM PT
UCLA returned to practice for the first time since their 34-12 upset over Texas on Saturday. Coach
Rick Neuheisel
said he liked the energy of the team, saying that guys showed they had put the big victory behind them and were focused on the next game against Washington State.
A few tidbits from practice:
Quarterback Kevin Prince sat out because of an injury to his right knee. He said there is pain and swelling but an MRI exam revealed no structural damage. He is day to day.
Backup quarterback Richard Breahut ran most of the first-team drills. He looked a bit rusty in the passing game with a few low throws but also threw some very nice medium-range balls. Darius Bell also got in significant work. He would be the backup if Prince can't go.
Center Ryan Taylor, named the Pac-10 offensive player of the week, said he was honored to be recognized, but said he accepted the award on behalf of the entire offensive line. "It obviously means a lot, but I feel like it's a group award," Taylor said. "They should have given it to the entire line. It's not just me. All five of us have to play together for us to be successful."
Linebacker Akeem Ayers, who bruised his shoulder against Texas, participated fully in practice. There wasn't a lot of hitting, but Ayers didn't seemed slowed by the injury.
Owamagbe Odighizuwa got a lot of reps with the first- and second-team defense. The freshman defensive end, a highly-rated recruit out of high school, has played sparingly this season and has one tackle.
Linebacker Sean Westgate was named the Pac-10 defensive player of the week after registering 11 tackles and a forced fumble against Texas. not bad for a 5-foot-11, 217 pound junior who said he has been told he was too small to play since "before day one." "If you let it get to you, you're going to be too small," he said. "You give that up and you're done. You can't listen to what people say. I let it fuel me and say, watch, I'll get it done."
September, 27, 2010
9/27/10
5:48
PM PT
UCLA center Ryan Taylor was selected Pac-10 offensive player of the week after leading the Bruins to 264-yard rushing performance in a 34-12 upset over Texas. He is the first offensive lineman to earn the honor since Oregon's Adam Snyder in 2003.

Here are a few sights and sounds from after the Texas game and some post-game reaction from Taylor.


September, 21, 2010
9/21/10
8:03
PM PT
UCLA center Ryan Taylor has always been a Texas Longhorns fan, but he'll have to put that allegiance on hold this week and so will his family and friends.

Taylor grew up in Denison, Texas -- about a 3 1/2-hour drive from Austin, where UCLA will play Texas on Saturday. He said he has dozens of friends and family heading to the game, and he said none will be wearing burnt orange.

"All of them are like, 'This one week, I'm not a Longhorns fan. This one week, I'm a UCLA fan," Taylor said.

Taylor is the only current UCLA player from Texas, so naturally he's been getting a lot of questions from teammates this week.

"I just tell them it's going to be a great way to see how football is down South," Taylor said. "It's like a religion down there."

Taylor said he's excited to play a game at Texas. He's never been to a game there, though he did take a recruiting visit so he saw the stadium and locker room.

"It's going to be pretty neat," he said. "But it's going to be weird because I've been a fan my whole life and I get to go to a game and I can't like them."
August, 24, 2010
8/24/10
5:03
PM PT
With starting center Kai Maiava out because of a broken ankle, Ryan Taylor is taking over the position and redshirt freshman Greg Capella is assuming duties as backup.

But Capella is struggling with the shotgun snaps the Bruins are using in the Pistol offense, snapping them low or on the ground several times over the last two days of practice.

Coach Rick Neuheisel is making Capella do 10 push-ups after each bad snap and it has happened so often that observers were joking about putting up a Capella push-up counter. Neuheisel was also in Capella's face several times Monday and Tuesday.

"I need him," Neuheisel said. "I can't be patient with him."
August, 23, 2010
8/23/10
12:38
PM PT
Stepping in to replace Kai Maiava at center is not going to be easy, but Ryan Taylor says he is up for the challenge.

Maiava broke his ankle Saturday during the Fall scrimmage and will have surgery to repair the injury when the swelling goes down.

Coach Rick Neuheisel said he hopes to have Maiava, a 12-game starter for the Bruins last year, back by the end of October.

In the meantime, Taylor, a redshirt senior who transferred from Tyler College in Texas in Spring, 2009, moves over from guard and takes over as the signal caller for the offensive line.

"He was a big leader," Taylor said of Maiava. "That's a big blow, but I think we'll be OK. We have really good senior leadership and I feel like we're going to keep rolling and carry the team."

Center for the UCLA this year takes on added importance because the Bruins will be using the Pistol offense, a shotgun formation, much of the time. Taylor, who worked a little as a center last year and played center during spring football, said he's not worried.

He played center at Tyler, where they ran a spread offense and used many shotgun formations, and he said he worked with quarterback Kevin Prince a lot during the last few months.

"It's a little different, but it's all good," Taylor said. "Shoot, me and Kevin were out here every Saturday just getting extra snaps in. I feel like I've put in enough work and I feel like I'm ready for the role."
April, 19, 2010
4/19/10
8:57
PM PT
Without being prompted, football coach
Rick Neuheisel
began talking about his frustrations on Monday afternoon.
There wasn't a particular play that provoked the vent session. There was no on-field outburst that signaled his discontent.
"I come over here and I'm pleased," Neuheisel said as soon as he approached reporters. "But it's important that these kids understand, whether it's their time here at UCLA or whatever business opportunities that they go on into -- whether it's the NFL or Wells Fargo bank -- that you have to seize your opportunity."
No word on whether any of UCLA's players are thinking about becoming bankers. Neuheisel did not want to elaborate on those players who are failing to leave an impression on him, but he did mention that center
Ryan Taylor
, defensive tackle
Nate Chandler
, linebacker
Patrick Larimore
and defensive back
Dalton Hilliard
are making the best of their opportunities.
"Other than that, I had a great day," Neuheisel said, drawing a few laughs from reporters.
Some news and notes from Monday's practice session:
Center Kai Maiava will miss the remainder of the spring with an MCL sprain in his left knee. Maiava, who started every game last season with the exception of the EagleBank Bowl (academically ineligible), had been relegated to backup before collapsing during Friday afternoon's scrimmage. Maiava is scheduled to be out for six weeks. "It is labeled as moderate, but it cancels Christmas as far as spring is concerned," Neuheisel said. That leaves Taylor, a redshirt senior, at center. "Ryan Taylor is taking advantage of a great opportunity," Neuheisel said. "I think he's having a great spring."
Redshirt senior Christian Ramirez was back on the offensive side of the ball on Monday, adding depth to UCLA's new F-back position. He had been playing safety the whole spring after seeing time as a running back last season. "We've got this position, a moving tight end slash running back," Neuheisel said. "I wanted to take a look at him and I thought he was terrific... He's a good football player. I want to find a place." Neuheisel added that Ramirez is not done at safety.
Junior receiver Nelson Rosario tweaked his knee during one-on-one drills, according to Neuheisel. Rosario seemed to be walking normally following practice.
Quarterback Kevin Prince had another solid day under center. Prince's best throw came late on a fade route down the sideline, as he lofted a pass to a diving Jerry Johnson in the end zone. Johnson appeared to catch it for a score, but he lost control of the ball when he landed.
UCLA will host its annual Select-A-Seat Open House for potential new season ticket holders at the Rose Bowl on Sunday between 4 and 5 p.m. Available seats will be marked. Click here for the latest seating and pricing guide. The team will hold its annual Spring Game at the Rose Bowl at 7 p.m. on Saturday night.
2013 TEAM LEADERS
| TEAM | RUSH | PASS | TOTAL |
| --- | --- | --- | --- |
| Offense | 196.6 | 251.6 | 448.2 |
| TEAM | PF | PA | MARGIN |
| Scoring | 36.5 | 24.1 | 12.4 |