October, 17, 2011
10/17/11
5:05
PM PT
QUARTERBACKS
Instability at the most important position has been the story of the season, with
Kevin Prince
and
Richard Brehaut
shuffling between starting roles. As a result, neither has been able to find much of a groove. Both have played well at times and the passing numbers are up nearly 100 yards a game over this time last season, but the quarterback play must get more consistent if the Bruins are to remain in the Pac-12 title race.
RUNNING BACKS
Johnathan Franklin
and
Derrick Coleman
have been the standouts of the UCLA offense this season, with a combined four 100-yard games in the first half. Franklin, with 509 yards, is on pace for a second consecutive 1,000-yard season and Coleman's six touchdowns are already a career high.
Jordon James
has emerged as a valuable pass-catching threat as an F-back.
RECEIVERS
Nelson Rosario
has made his share of highlight-reel plays, tight end
Joe Fauria
has become a valuable weapon in the passing game and
Josh Smith
has shown flashes of electric playmaking ability, but inconsistency has plagued this unit. The dropped passes are down from last season, but there are still too many, and it sometimes feels like the receivers aren't giving a 100 percent effort.
OFFENSIVE LINE
This unheralded bunch has played admirably through the first half, paving the way for a rushing attack that is 28th in the nation with 194 yards a game. The pass blocking, while suspect at times, has been better than anticipated as UCLA quarterbacks have been sacked only four times, the ninth fewest in the nation. Losing
Sean Sheller
to a broken arm was a setback, but getting
Jeff Baca
back at around the same time helped offset that loss.
DEFENSIVE LINE
This unit has been the biggest disappointment of the season. The Bruins are 115th in the nation in sacks and no player has more than one this season. They are 111th in tackles for a loss and no defensive lineman has more than 2.5. They played admirably going into the break with two sacks and eight tackles for a loss against Washington State, and will need more of those types of games if they are to contend for the conference title.
LINEBACKERS
Another pretty disappointing unit that has shown signs of improvement in recent weeks. Tackling was a major issue early in the season and pass-coverage problems continues to hamper the UCLA linebackers.
Patrick Larimore
leads the team in tackles while
Eric Kendricks
is emerging as a future star and
Jordan Zumwalt
leads the team with 3.5 tackles of a loss.
DEFENSIVE BACKS
Sheldon Price
had established himself as a top-tier cover corner before he sprained his knee and
Aaron Hester
has been far more consistent this year and also a boon in run support.
Andrew Abbott
has proven himself a valuable contributor as injuries have hampered the unit the last three games. Those injuries have caused inconsistent play among the safeties. The Bruins have only two interceptions by defensive backs and are 95th in the nation in pass-efficiency defense.
SPECIAL TEAMS
Jeff Locke
has been his usual solid self with a 43.77 punting average and the field goal kicking has had its moments, but the special teams are a disaster in other areas. The Bruins rank 102nd or lower in punt returns, kickoff returns, punt return defense and kickoff return defense. Some of UCLA's most memorable gaffes this season -- Oregon State's punt return for a touchdown and
Taylor Embree
's fumble against Stanford -- have come on special teams.
OFFENSIVE COACHING
The offense is still a little run heavy and conservative at times, but offensive coordinator
Mike Johnson
and coach
Rick Neuheisel
have shown a willingness to take shots downfield when needed. Pistol guru
Jim Mastro
has added some new wrinkles to the run game to keep opponents off balance and UCLA's run game is still difficult to stop. Still, you'd like to see a bit more creativity in getting the ball into the hands of playmakers in the open field.
DEFENSIVE COACHING
The UCLA defense is giving up 413 yards and 32 points a game and defensive coordinator
Joe Tresey
's puzzling unwillingness to adjust to short, quick passing routes is a major reason why. UCLA's opponents are completing 68.32 percent of their passes because of soft coverage schemes and UCLA is 118th in the nation in third-down defense, allowing opponents to convert nearly 55 percent of the time.
September, 29, 2011
9/29/11
7:05
PM PT
Jeff Baca surprised his doctors and coaches by returning from a broken ankle about two weeks earlier than expected and now he's surprising himself with the amount of playing time he has received since.

Baca, an offensive lineman, played part time in his first game back against San Jose State, but has started at tackle in the two games since and has not missed a snap.

"It's very surprising," Baca said. "But people heal in different ways and I was definitely blessed enough to be able to heal super fast."

Baca broke his ankle in spring practice and was supposed to be out six months. As the recovery process went on, that turned into five and a half months and the target date for a return was last Saturday at Oregon State, but Baca was back two weeks before that.

The challenge was not only getting back into game shape but having to shake the rust off of his technique as well as play in UCLA's offense at game speed. Baca missed last year because he was academically ineligible so he practiced with the scout team.

"He's coming back after a long layoff and there's going to be rust as part of that," coach Rick Neuheisel said. "I don't know that he's 100 percent, but he's getting closer all the time. As he gains more and more confidence in the ankle and all that stuff I think he'll continue to improve."

An eight-game starter in 2008 and a 12-game starter in 2009, Baca was considered UCLA's top lineman coming into this season. His return helped couch the loss of Sean Sheller for the season because of a broken arm suffered against Texas, but Baca said he's still not quite to the level he was before the injury.

"It didn't help that I didn't play last year and I didn't play in spring, so I'm still shaking off the rust a little bit," he said. "It's an ongoing process with technique, especially when you are off as long as I was. I don't know how long it's going to take before I'm back to where I was, but I'm definitely glad to be back out there helping the team."
September, 20, 2011
9/20/11
8:52
PM PT
UCLA returned to the practice field for the first time since Saturday's 49-20 loss to Texas and began preparation fo their Pac-12 opener this weekend at Oregon State.
"It's always cathartic to be back on the practice field after you've suffered a disappointment," coach
Rick Neuheisel
said. "Obviously we want to do better. We have zero quit on this team. We're going to fight, we're going to come back and we're going to play a whale of a game on Saturday."
A few tidbits:
Richard Brehaut took the first-team reps at quarterback and for the first time this season, did not split them with Kevin Prince.
Offensive lineman Sean Sheller, who broke his arm against Texas, had surgery to repair the break Tuesday and Neuheisel said he was probably out for the season. "It was a little more complicated than we had hoped. We hope he can get him back and we'll remain optimistic, but it'll be close."
Kicker Kip Smith did not practice as he continues to nurse a hip-flexor issue. Jeff Locke, who made field goals of 51 and 49 yards against Texas, took most of the field-goal reps. He made three of four during a drill at the start of practice, but missed a 45-yard attempt to close the two-minute drill. Neuheisel said Smith's availability for Saturday would be "a game-time decision."
The maligned UCLA defense showed a sign of solidarity when, after Iuta Tepa intercepted a pass during team drills, they all chased after him and cheered around him in celebration. "We loved him up," defensive end Datone Jones said.
Cornerback Andrew Abbott, who suffered a concussion and needed a CT scan Saturday, did not dress for practice and his status is still uncertain as he will have to go through the school's concussion protocol when he returns.
Defensive back Jamie Graham, out since the first week of training camp after undergoing surgery to repair a torn meniscus, was expected to return Tuesday but has been pushed back two weeks.
Safety Tony Dye sat out with what Neuheisel termed "stingers." Tevin McDonald moved into the free safety spot on the first team defense with Dietrich Riley getting first-team reps at strong safety.
Tight end Raymond Nelson missed practice to attend to a family matter.
September, 17, 2011
9/17/11
3:19
PM PT
UCLA offensive lineman Sean Sheller has a right arm injury and will not return to Saturday's game against Texas.

Sheller, a sixth-year senior and a starting guard, was injured on a running play near the goal line late in the third quarter. UCLA was trailing, 35-13 at the time, but scored two plays later to make it 35-20.

Sheller has already missed two full seasons with injuries. He had a medial collateral ligament tear in his right knee in 2006 and had anterior and medial collateral ligament surgery in 2008 after an off-road vehicle accident.

The NCAA granted Sheller a sixth year of eligibility that allowed him to play this season.

Also, defensive back Andrew Abbott suffered a concussion on a hit to the head in the second quarter. He also will not return.
September, 15, 2011
9/15/11
9:00
AM PT
Derrick Coleman patiently waited on the sidelines in the first half of Saturday's game against San Jose State as his running back mate Johnathan Franklin struggled to get yards against a Spartans defense committed to stopping the run.
Coleman wanted a shot at that defense, but he watched without complaint as UCLA churned out only 51 yards rushing in the first half against a Spartans defense that is marginal at best.
[+] Enlarge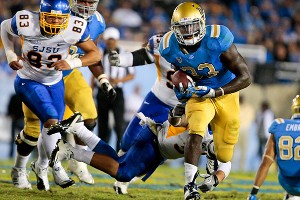 AP Photo/Bret HartmanDerrick Coleman, a big-bruising back, was key in the Bruins' second-half success against San Jose State.
And then at halftime came word from the coaching staff that brought a smile to Coleman's face: It's time to unleash the thunder.
Coleman, a 240-pound bruising senior, proceeded to lower his shoulders and plow through defenders en route to a 135-yard second half that basically carried the Bruins to a 27-17 victory. He used his straight-ahead, physical style to wear down the Spartans, who seemed all too willing to avoid contact with the rock-solid runner.
"We came in at halftime and said we need to stop playing around with them," Coleman said. "We've got to hit them in the mouth. They hit us in the mouth. They stopped our running game and forced us to pass and we said we're not going to let them stop us off the line."
Coleman became the perfect weapon of choice for that strategy. Franklin is unquestionably the team's lead runner, his 1,127 yards rushing last season and 128 in Week 1 this season are plenty of evidence of that, but Coleman's power game proved a valuable counterpart to Franklin's speed and elusiveness.
"It's nice to have in your back pocket when you have a guy you call your thumper," offensive coordinator
Mike Johnson
said. "A guy who can go in there and close out games and execute run plays in the fourth quarter when you need them. I like both our backs. They both have a certain style and a role and at the end of games when you have to go pound somebody, I think Derrick Coleman fits that role."
It's a role that could come in handy again this week when UCLA plays Texas. The Longhorns always play hard-nosed defense and this year is no exception as they have held opponents to 86.5 yards rushing and 12.5 points a game. Last year, however, Coleman had a breakout performance against Texas when he rushed for 94 yards in 16 carries during a 34-12 UCLA victory.
August, 5, 2011
8/05/11
4:17
PM PT
With UCLA preparing to open fall camp on August 8, we will break down the depth charts at each position in order to look at how the Bruins stack up heading into this season. We've previously looked at
quarterbacks
and
defensive line
. Now we move to the offensive line.
Current depth chart:
TACKLE
Sean Sheller (Sr., 6-5, 304)
Connor Bradford (Jr., 6-6, 275)
GUARD
Jeff Baca (Jr., 6-4, 305)
Casey Griffiths (So., 6-4, 284)
CENTER
Kai Maiava (Sr., 6-1, 318)
Greg Capella (So., 6-3, 292)
Kody Innes (Fr., 6-4, 291)
GUARD
Chris Ward (So., 6-4, 330)
Wade Yandall (Fr., 6-4, 328)
TACKLE
Mike Harris (Sr., 6-5, 326)
Brett Downey (Jr., 6-7, 290)
July, 25, 2011
7/25/11
5:45
PM PT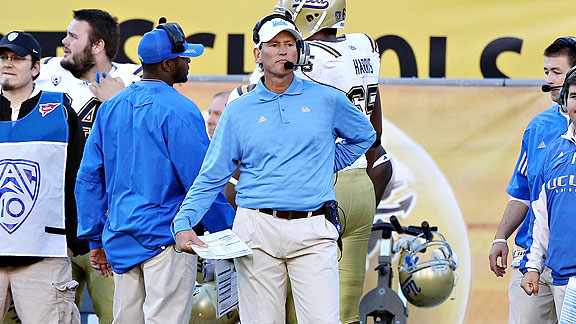 Christian Petersen/Getty ImagesRick Neuheisel will face many questions about his job security on PAC-12 media day.
Questions abound when it comes to the 2011 UCLA football team, and there will be plenty of questions directed the way of Coach
Rick Neuheisel
concerning the direction of the program and his future within it.
The real answers, of course, will come during the season when we find out if the Bruins can improve upon their disappointing 2010 season, but we'll start hearing from Neuheisel and the other coaches in the newly aligned Pac-12 Tuesday during the annual conference media day.
Here, we take a look at some of the biggest questions facing UCLA:
1. HOW HOT IS NEUHEISEL'S SEAT?
This is guaranteed to be the topic of the day when it comes time for Neuheisel to address the media on Tuesday. Each coach gets 15 minutes in front of the reporters and cameras and it could very well be the only topic Neuheisel discusses.
In his first three seasons at UCLA, his teams have gone 4-8, 7-6 and 4-8. Last season injuries played a significant factor, but there is no getting around the fact that UCLA left a sour taste in the mouths of their fans by losing six of seven games to close the season and going 2-7 in conference.
Neuheisel is 8-19 in conference games as UCLA's coach and the Bruins have finished no better than eighth in the Pac-10 in Neuheisel's three seasons. UCLA has only two victories against teams that ended up with a winning record (Tennessee and Temple in 2009).
Neuheisel has gotten a pass for the first three years because he has been rebuilding the program, but outside pressures and calls for his job are going to come early and often if he doesn't get things turned around this season.
2. WILL THE NEW COACHING STAFF GEL?

Neuheisel cleaned house as far as the coaching staff is concerned. Offensive coordinator
Mike Johnson
and defensive coordinator
Joe Tresey
replace
Norm Chow
and
Chuck Bullough
while
Inoke Breckterfield
(defensive line),
Jim Mastro
(Tight ends/F-backs) and
Angus McClure
(special teams) are also new to the staff.
Neuheisel has cited a lack of chemistry among the coaching staff as a reason for some of the problems over the last couple of years so bringing in some different personalities could help resolve some of those issues.
Neuheisel, who is adding quarterbacks coach to his responsibilities, has worked with Johnson in the past, so that is a proven relationship and should help get the offensive braintrust on the same page—a place it couldn't seem to find last season.
Tresey, the man in charge of the defense, is bringing a freewheeling, spirited style that should help the players stay more comfortable on the field.
3. WHO WILL PLAY QUARTERBACK?
It's been the big question on the field since fall camp of last season and it will most likely linger all the way until the season opener Sept. 3 at Houston.
Kevin Prince
entered last season with the job, but promptly got hurt in fall camp. He tried to play through it and was ineffective early in the season. When he finally got healthy, the Bruins got on a bit of a roll, but he then suffered a season-ending knee injury.
That gave
Richard Brehaut
a chance to show his mettle, and while he showed flashes of top-tier talent, he failed to overwhelm with his performance.
Prince, when healthy, is probably the best choice. While not a flashy talent with a big arm, he's a respected leader with field smarts and the fortitude to win big games (at Tennessee in 2009, against Temple in the 2009 Eagle Bank Bowl and at Texas in 2010).
Brehaut is a talented athlete with a strong arm, but seems to keep himself at arm's length from fully committing to becoming a top-tier quarterback. If the competitive fire lights and he becomes fully immersed in the competition, he could win the job this fall.
Waiting in the wings is freshman
Brett Hundley
, who is undoubtedly the quarterback of the future. He'll be in the mix, but even though he participated in spring camp, is still probably a year away from getting enough of a command of the position to seize the job full time.
4. WILL THE DEFENSE BE AS GOOD ON THE FIELD AS IT IS ON PAPER?
Defensively, UCLA appears to be loaded from the front line to the deep safety. Defensive end
Datone Jones
, middle linebacker
Patrick Larimore
and safety
Tony Dye
are All-Conference caliber players. Cornerbacks
Aaron Hester
and
Sheldon Price
are both physical and quick. Interior linemen
Cassius Marsh
and
Nate Chandler
are as tough as they come.
Their defensive front goes 10 deep with talented experienced players. The linebacker crew is filled with gritty, blue collar workhorses and the secondary could be among the conference's best.
Now, the Bruins must translate that talent into performance. Last year, many of those players were raw and inexperienced and the defense suffered. With a year of seasoning and on-the-job training, this is a unit that could carry the Bruins this season.
5. HOW WILL THE OFFENSIVE LINE HOLD UP?
The Bruins are deep at running back with 1,000-yard rusher
Johnathan Franklin
leading a group that goes four deep, and have enough speed and talent at wide receiver to make any quarterback look good.
But the offense will only go as far as the offensive line, and keeping that unit on the field has been a problem. Injuries and ineligibility made this a fairly shallow unit last season and things got off on the wrong foot in the spring when projected starters
Jeff Baca
,
Kai Maiava
and
Sean Sheller
all missed time because of injuries.
When healthy, this unit is at worst passable and at best very good. Staying healthy hasn't been all that easy, though, and it will need to if the Bruins want to have success.
6. WHERE WILL THE BRUINS FINISH?
It's media day, so we have to have a prediction, right?
The new conference alignment helps the Bruins in a big way. They are in the Pac-12 South and away from Oregon and Stanford, widely considered the top two teams in the conference (UCLA plays Stanford, but won't be in a division race with the Cardinal).
The South is wide open and it's conceivable that the Bruins could win the Pac-12 South. Yes, you read that right.
In order for that to happen, however, everything would have to go right: The coaching staff has to gel, Prince has to stay healthy, the offensive line has to stay together and the defense has to take a step forward.
The chances of all those forces aligning are, admittedly, slim, so we're going to shy away from picking the Bruins to win the South. We'll say Prince stays healthy and the coaching staff has good chemistry, but the offensive line depth will be problematic and the defense will have a crucial lapse or two.
The Bruins finish 7-5, good enough for a second-tier bowl game.
Predicted Pac-12 standings:
NORTH
Oregon
Stanford
Washington
Oregon State
California
Washington State
SOUTH
USC
Arizona State
UCLA
Utah
Arizona
Colorado
April, 10, 2011
4/10/11
2:13
PM PT
A few tidbits from Saturday afternoon's scrimmage at Spaulding Field:
Richard Brehaut was impressive, completing 11 of 21 passes for 146 yards and a touchdown. He started off well before tailing off, but Brehaut was pleased with his overall efficiency. "We had a good day and established what we wanted to," he said. "I like where I'm at."
Brett Hundley used his legs well, running for 82 yards on 10 carries, a large chunk of that coming on a 50-yard touchdown scamper. The true freshman made a few mental mistakes, but he didn't seem too concerned about them. "Right now I sort of have to run a lot because my reads aren't there," Hundley said. "So if I do feel a little pressure in the pocket, I'm taking off. Once I get the reads then all the passes will start coming, but right now, I'm using my legs a lot because all these reads are going so fast and I don't have it down to 100 percent. In two weeks, I don't expect to have it. But once I do have it, then the passes will start coming and everything will come together."
Starting tackle Sean Sheller sat out practice with a broken right hand. The injury occurred on what he called a freak accident near the end of Thursday's practice. Sheller wore a splint Saturday but will be in a cast Monday and will wear a club protector for the remaining practices. He said he would miss some of the heavy contact periods over the rest of the spring but added that if this were the regular season he wouldn't miss any time. "It's something you can play through," Sheller said.
Jordon James and Damien Thigpen had the other rushing touchdowns. Thigpen's nine-yard score earned the loudest roar of the afternoon -- the 5-foot-8 speedster ran to the right, was met by a few defenders near the goal line, reversed his field and soared over the left pylon for the touchdown. Johnathan Franklin had seven yards on five carries; Malcolm Jones had two on three.
Ricky Marvray had the only touchdown catch, an 18-yarder from Brehaut. The pocket collapsed, so Brehaut broke to the right and saw Marvray streaking toward the sideline. The ball was under thrown, but Marvray beat out the taller Glenn Love for the jump ball in the end zone. "That whole play was all about trust," Marvray said. "Brehaut knows. I always tell him, 'Just put it up.' I'm going to come down with it, no matter who is around."
Place kicker Kip Smith had field goals of 28, 42 and 45 yards and missed one from 48. It was his first live-action of the spring. Smith said he used to practice nothing but 50-yarders to help improve his power, but has since changed his method. "I'm working on my consistency from inside 40," he said.
Nate Chandler made the defensive play of the day, blowing up a play in the backfield to cause a Thigpen fumble. Donovan Carter scooped it up and returned it for a score. "We're playing fast," Chandler said. "I feel like I've found my spot on the defense, feel like I can be a leader."
January, 18, 2011
1/18/11
9:30
PM PT
By
ESPNLosAngeles.com staff
From a UCLA news release:
Running back
Johnathan Franklin
, linebacker
Akeem Ayers
and safety
Tony Dye
were selected winners of UCLA's Henry R. "Red" Sanders Award for Most Valuable Player at the Annual UCLA Football Awards Banquet, held Tuesday evening at the Hyatt Century Plaza Hotel.
Franklin became the first Bruin since
Chris Markey
in 2006 to rush for over 1,000 yards. He finished with 1,127 yards, the highest total by a Bruin since 1997. He ranked fifth in the Pac-10 in rushing and earned second-team All-Pac-10 honors from the league's coaches.
Ayers, one of the most versatile defensive performers in the country, earned second-team All-America honors from the Walter Camp Football Foundation. On the year, Ayers ranked fourth on the team with 68 tackles, first (tied) with 4.0 sacks, second with 10.0 tackles for loss and second with two interceptions.
Dye led the team with 96 tackles in his 12 games and his average of 8.00 tackles per contest ranked fourth (tied) in the Pac-10. He also led the Bruins and ranked seventh (tied) in the league with 10 passes defended (nine passes broken up and one interception). He earned All-Pac-10 honorable mention from the league's coaches.
The complete list of winners:
Charles Pike Memorial Award for Outstanding Scout Team Player: Offense: running back Jordon James; Defense: linebacker Eric Kendricks; Special Teams: linebacker Aramide Olaniyan
Jack. R. Robinson Award for Highest Scholarship of a Senior Player: holder/punter Danny Rees
N.N. Sugarman Award for Best Leadership: Offense: center Ryan Taylor; Defense: linebacker Sean Westgate
Captain Don Brown Memorial Award for Most Improved Player: Offense: tackle Sean Sheller; Defense: linebacker Patrick Larimore
John Boncheff, Jr. Memorial Award for Rookie of the Year: Offense: F-back Anthony Barr; Defense: linebacker Jordan Zumwalt, tackle Cassius Marsh, end Owa Odighizuwa
Ed Kezirian "Coach K" Award for Academic and Athletic Excellence: safety Dietrich Riley
Tommy Prothro Award for Outstanding Special Teams Player: place kicker Kai Forbath, punter Jeff Locke, running back Derrick Coleman
Kenneth S. Washington Award for Outstanding Senior: Offense: tackle Micah Kia; Defense: tackle David Carter
George W. Dickerson Award for Outstanding Offensive Player vs. USC: running back Johnathan Franklin
Donn Moomaw Award for Outstanding Defensive Player vs. USC: safety Tony Dye
Paul I. Wellman Memorial Award for All-Around Excellence: wide receiver Taylor Embree
Jerry Long "Heart" Award: offensive guard Darius Savage
Special Recognition: linebacker Akeem Ayers, safety Rahim Moore
Henry R. "Red" Sanders Award for Most Valuable Player: Offense: running back Johnathan Franklin; Defense: linebacker Akeem Ayers, safety Tony Dye
October, 26, 2010
10/26/10
8:02
PM PT
UCLA receiver
Ricky Marvray
and left tackle
Sean Sheller
,
suspended for Saturday's game
against Arizona because of a violation of team rules, spoke with reporters after practice Tuesday and expressed remorse for their infractions.
"It's unfortunate," said Marvray, UCLA's leading receiver. "I decided to make a bad decision -- a couple of bad decisions and it's coming back to bite me. I'm really sorry to my parents, they didn't raise me that way. It's not something I'm proud of. I'm just trying to get this week over with as fast as possible and move on from it. I learned my lesson and it for sure won't happen again."
Sheller, who has started every game this season, said he regretted causing a distraction to the team.
"I let the fans down, I let my teammates down, I let my family down," he said. "I'm sorry."
Marvray and Sheller have been moved to the scout team for this week.
Josh Smith
took most of the reps in Marvray's spot and
Micah Kia
took over for Sheller.
"I don't know at this point in time what my reasons were for doing whatever I did," Marvray said. "I just know it's gotten to this point and it's unfortunate that it has. It's something that I have to learn from and not do it again."
October, 25, 2010
10/25/10
6:45
PM PT
UCLA Bruins leading receiver Ricky Marvray and offensive lineman Sean Sheller have been suspended for one game for a violation of team rules, the school announced Monday. They will sit out Saturday's Pac-10 game against Arizona.
Full story
here
.
October, 3, 2010
10/03/10
11:00
PM PT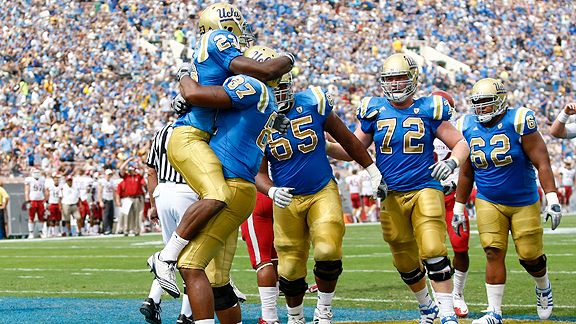 Craig Bennett/Icon SMI
UCLA offensive linemen, who embrace the nickname the "Filthy Five" enjoy the reward of helping a running back reach the end zone.
When UCLA took the ball at its 1-yard line in the fourth quarter with the score tied Saturday against Washington State, the Bruins had only one thing on their minds.
"Time to get filthy," guard
Eddie Williams
said.
It worked. UCLA went on a 99-yard scoring drive, keyed in large part by the play of UCLA's ragtag bunch of offensive linemen, who have been dubbed "The Filthy Five" by the Bruins coaches.
It's a collection of former castoff linemen suddenly thrust into starting roles who have become the most consistent performers in what has been a wildly inconsistent Bruins team.
"This isn't the most talented group that I've ever coached in my career, but they work as hard as any group I've ever coached," said Bruins veteran offensive line coach
Bob Palcic
. "They work for each other. There's no selfishness in the group. They've bought into what we're doing and it's showing up on the field."
There are actually six of them -- Williams,
Sean Sheller
,
Ryan Taylor
,
Darius Savage
,
Micah Kia
and
Mike Harris
-- but the name applies to whichever five are on the field at the time.
On Saturday, all six were blasting open holes for a UCLA running game that piled up 437 yards rushing—the most by a Bruins team since 1979.
Johnathan Franklin
had a career-high 216 yards rushing and
Derrick Coleman
set his career high with 185.
It was the first time in school history that two backs had rushed for 180 yards in a game, and it was no fluke. The offensive line has allowed Franklin to eclipse the 100-yard mark in three consecutive games—the first Bruins back to do that since Maurice Jones-Drew in 2004.
August, 10, 2010
8/10/10
2:33
PM PT
Could UCLA's offensive line -- a group with more holes than a bowling ball -- be more penetrable this year than it has been in recent years?
Apparently, the answer is yes.
Junior tackle/guard
Jeff Baca
said Tuesday that he has been
ruled academically ineligible
. Baca added that he is appealing the NCAA's ruling, which may be overturned by the Sept. 4 opener at Kansas State. Baca was the recipient of the "Coach K" award for academic and athletic excellence in 2008.
The news of his ineligibility comes a few weeks after sophomore
Stanley Hasiak
, a backup guard, was ruled academically ineligible. On Monday, coach
Rick Neuheisel
announced that junior tackle
Mike Harris
will be suspended for the season opener for violating team rules.
In the meantime, UCLA has to prepare without them. An offensive line that took a major step forward last season has now taken two, three steps back. Here's a look at what the tentative depth chart looked like heading into fall camp (starters first, backups second):
LT Sean Sheller (Sr.), Brett Downey (So.)
LG
Jeff Baca (Jr.)
, Darius Savage (Sr.)
C Kai Maiava (Jr.), Ryan Taylor (Sr.)
RG Eddie Williams (Sr.), Wade Yandall (Fr.)
RT
Mike Harris (Jr.)
, Micah Kia (Sr.)
----------
That means two starters are potentially out for the opener.
Ryan Taylor
is a candidate to spell Baca -- he made two starts at right guard while filling in for an injured
Eddie Williams
last season.
The problems just keep piling on for the Bruins.
In December, it was center
Kai Maiava
who missed the EagleBank Bowl due to academic problems.
Sean Sheller
appears to be the leader to replace
Xavier Su'a-Filo
(two-year Mormon mission) at left tackle, but his capabilities are unclear. Sheller spent the 2009 season on the other side of the trenches -- adding depth at defensive tackle -- and missed the entire 2008 season after suffering ligament damage in his left knee in an off-the-field accident. That means he hasn't played with the offense since 2007 (a year in which he did not see game action). Sheller tore a ligament in his right knee in 2006, missing the entire season.
The story at the other tackle spot is no different.
Micah Kia
is finally 100-percent healthy, according to Neuheisel. But what can be expected from a player who missed all of last season after suffering a knee injury in fall camp?
Sophomore quarterback
Kevin Prince
said Monday that he added about 10 pounds in the offseason. He's now up to a comfortable 230. The added weight may come in handy if UCLA keeps losing linemen.
2014 TEAM LEADERS
| TEAM | RUSH | PASS | TOTAL |
| --- | --- | --- | --- |
| Offense | 208.5 | 278.2 | 486.6 |
| TEAM | PF | PA | MARGIN |
| Scoring | 35 | 27.2 | 7.8 |