March, 14, 2014
Mar 14
5:30
PM PT
Greetings and happy Friday to ya.
Follow the Pac-12 blog on Twitter
.
To the notes!
Shane from Red Bluff, Calif., writes:
Just curious if you have ever written a story on the diversity of Pac-12 offensive schemes vs. those in the B1G and SEC, and the effect on the stats of conference defenses. It seems to me it would be easier for defenses to appear more elite when facing similar offenses throughout the conference slate, i.e. SEC and B1G. For example, in the Pac-12 there is Oregon, Stanford, Wazzu, USC, Zona and Utah. Offenses as unique and different as those must make for different recruiting/scheming practices for the Pac-12 than other conferences.

Ted Miller
: The Pac-12 probably has the most offensive diversity, with six teams averaging more than 190 yards rushing and seven teams averaging more than 250 yards passing in 2013.
You have Arizona, Arizona State, California, Oregon, UCLA and Washington playing really, really fast. You have Cal, Oregon State and Washington State throwing the ball all over the place. You have Oregon State, USC and Stanford running pro-style offenses.
Diversity? You have Utah changing offensive coordinators every single season.
But I think the national trend toward up-tempo, spread offenses has touched every conference, even the Big Ten and SEC.
Former Big 12 teams Texas A&M and Missouri have put to bed the notion of SEC big-boy defenses automatically shutting down the up-tempo, spreads hailing from other regions. Auburn twice won the SEC in the past four years and played for two national titles with an up-tempo spread. Florida under Urban Meyer was dominant with a spread-option, and now he's doing the same thing in the Big Ten at Ohio State, with Northwestern, Indiana, Illinois, Minnesota and Nebraska running spreads or using up-tempo, spread elements.
This article does a good job of pointing out how
the SEC has changed
:
Perhaps no other conference in the land has seen more of a drastic shift in scoring than the SEC, where defense used to be king. In 2005 for instance, only one team (Auburn, 32.2 ppg) averaged over 30 points per game. On the contrary, six teams allowed less than 20 points per game. In 2006, only one team (LSU, 33.7 ppg) averaged more than 30 an outing; eight held their opponents to 20 points or less.

Fast-forward to 2013.

A year ago, the SEC had nine teams that scored 30 or more points per game. Out of those nine, four (Texas A&M, Auburn, Missouri and Ole Miss) are true hurry-up, no-huddle offenses. But unlike the 2005 and 2006 seasons, only Alabama (13.9 ppg) ended last season allowing less than 20 points per game.
And it's not just about spreads. Heck, Georgia averaged 314 yards passing per game last season, making it one of three SEC teams that ranked in the top 25 in passing yards. That top 25 included four Pac-12 teams, two Big 12 teams, two Big Ten teams and two ACC teams.
In total plays, the Pac-12 had five in the top 25, the Big 12 three, SEC three, Big Ten two and ACC three.
But know what I found most fascinating? Yards per play. The SEC had seven teams ranked in the top 25, compared to one for the Pac-12 (Oregon), one for the Big 12, three for the Big Ten and three for the ACC. (It's worth noting Stanford and Washington were tied for 26th).
That means two things: 1. SEC offenses are often highly efficient; 2. SEC defenses are often
not
highly efficient, despite the popular perception.
It will be interesting to see how the SEC and Pac-12 stack up offensively this coming year. While the Pac-12 welcomes back 10 starting QBs, the SEC welcomes back just five, if you include Florida's
Jeff Driskel
, and the attrition includes just about all the A-list guys at the traditional powers.
So, with QB play questionable, we may hear a lot of about super-awesome SEC defenses again in 2014.
---
Lou from Phoenix writes:
Ted, with
the recent legal trouble
of WSU's [
DaQuawn Brown
], we can only assume he's off the team (violating one of Leach's three pillars of accountability). How does this bode for the Cougs already really, REALLY thin secondary, and do you think we can still be competitive in the Pac-12 North?

Ted Miller
: Brown is accused of getting into a fight with a man and a woman at the Washington State campus union, and Cougars coach Mike Leach has long used a one-strike-and-you're-out policy for drugs, stealing and hitting women.
It was, by the way, the Cougars' fourth arrest since the start of February, so the Pullman police are making Leach's offseason long.
Most seem pessimistic about Brown's future with the team, but we should let things play out.
But, yes, cornerback specifically and the secondary in general is a big question for the Cougars, and that's not a good thing in this quarterback-rich conference. Safety
Taylor Taliulu
is the only returning player with starting experience, and he's no sure-thing. Moreover, Brown was a promising CB who played well as a backup last season and even started four games.
Obviously, this puts pressure on youngsters such as redshirt freshman
Charleston White
and freshman
Marcellus Pippins
-- a fortuitous early enrollee -- to grow up quickly. Senior
Tracy Clark
also might want to finally break through this spring.
Three more freshmen arrive in the fall, and there's always the chance of a position change. A player could move over from safety, where the depth is better, or the Cougs coaches could try to convert a running back or receiver.
Does this doom the season? Absolutely. Best to head to The Coug right now and begin drowning future Saturday sorrows. Kevin is buying!
Or maybe one player doesn't make or break a football team, at least in most cases.
Leach has been recruiting pretty well, so I suspect there are speedy players he can insert at CB who can adequately do the job. Is CB a question? Without question. But that doesn't mean there won't be an inspired answer. I'd rate it 50-50 that Kevin or I will be writing a story in November about how much better the Cougs secondary was than we'd thought it would be in March.
With or without Brown, I didn't envision Washington State challenging the Stanford-Oregon hegemony on the Pac-12 North this fall. But I also think this team is trending up and certainly remains a likely bowl team.
---

Josh from Koror, The Republic of Palau writes:
Living exactly 7,251 miles away from Sun Devil stadium in a small, remote island in the South Pacific doesn't afford much opportunity to watch Sun Devil football. So, thank you for helping me stay in touch with my Alma mater. I've always hoped that you living in Scottsdale would make you a little biased towards the Sun Devils, but unfortunately you do your job right. Nonetheless, how could PITT possibly be one spot ahead of ASU in the
best college coach rankings
? The determining factor of which school: ASU v. PITT, is the better coaching job was answered by Coach Graham when he bolted PITT for ASU two years ago. That has to count for something, right?
Ted Miller
: Yes, it counts for something. The only folks who'd say Pittsburgh is a better job than Arizona State are Panthers fans. And most of them would, at least privately, concede the point.
And, well, a publication making a list that knows exactly what it's doing lining up Pittsburgh, Arizona State and Arizona, one after the other.
I think Athlon did a pretty good job with that list, but it's obviously extremely subjective. With that as a cover, the compilers of the list probably saw another chance to tweak Todd Graham, a coach who still has a negative national reputation, despite his two years of success in Tempe, most notably among folks who either have never talked to him or do so rarely.
---
Mark from Phoenix writes:
Wondering what you think of the following power conference breakdown by best food. Pac-12 - best burritos; SEC - best shrimp; B1G - best pizza; Big 12 - best steak. Any missing, any honorable mentions?
Ted Miller
: That's pretty fair. We have to include the ACC, which could alternate with the SEC over shrimp and barbecue.
But, to be real, the Pac-12 would win best food overall by a wide, wide margin.
The Pac-12 would win:
Best high-end cuisine.
Best Asian -- all categories.
Best seafood -- Seattle and San Francisco? Are you kidding me?
Best Mexican.
Best brew pubs.
And most diverse.
One of the great and pleasurable challenges when you cover Pac-12 football is deciding where to eat the Friday night before the game.
January, 31, 2014
Jan 31
5:30
PM PT
Happy Friday. Welcome to the mailbag.
Follow the Pac-12 blog on Twitter
.
By the way, we will be reviewing the
top-25 list
on Monday, explaining some of our thinking, and looking ahead.
So stay tuned! To the notes!

RidingTheRange from Dallas writes:
Thanks for your Top 25 list
! I enjoy this every year. However, with Top 25 lists, they always encourage witty banter. And here's my suggestion: Where is
Ty Montgomery
? If memory serves me correct,
the KR/PR from Utah was rated last year
. Montgomery was a much more integral part of the Stanford offense (though the offense as a whole was not particularly potent). Any word on where he would actually fall or if there was any debate between the Pac-12 bloggers?
Ted Miller
: I suspect the list last year will be more controversial than this year's. Kevin fired off a first draft to me and Kyle a few weeks ago, and that list stuck pretty well with minimal changes. We also knew the handful of players who would be tops among the "HOW CAN YOU LEAVE OFF [PLAYER X]? YOU HAVE LOST ALL CREDIBILITY!"
Utah's Reggie Dunn ended up at No. 25 last year because he returned four kickoffs for touchdowns, which had never been done before. Yes, it was controversial. To me, the worst omission from the list was
Desmond Trufant
, and we not unfairly took a lot of crud for it. Kevin felt more strongly about Dunn than I did, but I'd also say that setting an NCAA record is pretty darn shiny on a résumé.
Montgomery returned two kicks for touchdowns in 2013 and was the Cardinal's leading receiver, ranking ninth in the Pac-12. You could make a case for him.
But here's what I typically say to folks making the case for another player: Who do you take off our top-25 to make room for Montgomery?
Here's the bottom six:
No. 20
:
Trevor Reilly
, DE/OLB, Utah
No. 21
:
Sean Mannion
, QB, Oregon State
No. 22
:
Austin Seferian-Jenkins
, TE, Washington
No. 23
:
Hroniss Grasu
, C, Oregon
No. 24
:
Josh Huff
, WR, Oregon
No. 25
:
Myles Jack
, LB/RB, UCLA
That's a pretty strong group to break into.
---

Bobby from Phoenix writes:
Carl Bradford
not in the top 25? You guys were very generous to put in Sutton, Grice and Kelly, but I can't imagine a list without Bradford! Rabble rabble rabble!
Ted Miller
: Bradford was one of the top guys who got left out, along with several All-Pac-12 defenders, such as Stanford safety
Ed Reynolds
, Washington defensive end
Hau'oli Kikaha
, USC LBs
Devon Kennard
and
Hayes Pullard
, etc.
I'm surprised more Washington fans aren't griping about leaving out Kikaha, who finished second in the Pac-12 with 13 sacks. We rated him higher than Bradford, who had 8.5 sacks, and I personally found leaving him out one of our toughest calls, in large part because he came back from two knee surgeries this season.
Bradford had a good, but not great, season. In fact, I'm not sure he'd rank better than fifth on the Sun Devils defense this season, behind DT
Will Sutton
, DB
Alden Darby
, CB
Robert Nelson
and LB
Chris Young
.
Further, with all that talent, I do question why the Sun Devils' defense wasn't better, ranking eighth in the Pac-12 in yards per play -- 5.5 -- and seventh in scoring (26.6 ppg).
---

Spencer from Orem, Utah, writes:
I would argue that
Anthony Barr
is better than
Ka'Deem Carey
. I would be interested on your thoughts on why you disagree.
Ted Miller
: You could argue that. I'm sure many folks are guessing that Barr is headed to a better NFL career as a perennial All-Pro.
NFL prospects factor more in my judgments than they do with Kevin. To me, it's a safeguard against getting too googly-eyed about statistics. That said, what separates Carey are his numbers. To quote our review:
"[Carey] ranked second in the nation with 157.1 yards per game. He completed his career by topping 100 yards in 16 consecutive games, a Pac-12 record and a streak that hasn't been accomplished by any other back in a decade. He is Arizona's career rushing leader (4,232 yards) and ranks seventh in Pac-12 history."
Barr had a great season and earned consensus All-American honors, just like Carey. But his best football is in front of him. His numbers -- 10 sacks (No. 3 in the conference) and 20 tackles for a loss (No. 2) -- were good, but not epically good, like Carey's.
Further, I think UCLA's defense wouldn't have collapsed without Barr. If you took Carey away from Arizona, the Wildcats would have lost at least a touchdown from their scoring average of 33.5 and wouldn't have sniffed bowl eligibility.
So that's the distinction.
---

Undeniable Stanford Homer from East "of" Palo Alto writes:
My question is about the top 25 players list for this past season. I understand the issues with rankings vs. grades is same reason why people do rankings over grades -- you get to say 1 player is "better" then another player because of their standing in the rankings. As we all know, the top 10 players are all All-Pac-12 performers, but by ranking them you infer that one is better than the other, causing intrigue and argument (which is both good and bad). What I am wondering is when you compile this list, how do you have eight players better than
David Yankey
, and five players ahead of
Trent Murphy
. The former was the best player on the best team on the best unit in the Pac-12 (hard to argue unit but this question is too long for my explanation already, and hard to argue with Morris but he already had one) and the latter is the best defensive player (depends on if you look at qualitative data, the DPOY by coaches vs. quantitative data, statistics). I know you have reasons why you chose players over these two outstanding athletes but i just would like to hear them.
Ted Miller
: We rated Yankey at No. 8 as the Pac-12's top offensive lineman, despite his playing guard and not tackle. I don't think guards would make the top 10 many years. But Yankey, a unanimous All-American, is a beast.
That said ... I'm not sure he's better than UCLA OG
Xavier Su'a-Filo
, who won the the Morris Trophy over Yankey, an award voted on by opposing defensive players. Yankey got more All-American love, but Su'a-Filo, who ranked 12th, was just as beastly. It will be interesting to see who ends up better in the NFL.
So who do you drop from our top seven in order to boost Yankey? That's a pretty salty group.
Murphy is the most interesting case. The Pac-12 blog named Murphy the conference
Defensive Player of the Year
after the coaches went with Sutton. Why? Murphy ranked second in the nation and first in the Pac-12 with 15 sacks and fourth in the nation and first in the Pac-12 with 23.5 tackles for a loss.
Like Carey, his numbers speak for themselves, as well as his being the best player on the conference's best defense.
So how did he end up rating behind Barr at No. 3? And how do I type this without immediately contradicting my explanation for putting Carey ahead of Barr (epic numbers!)?
We have debated this before
, and I've had what some might call controversial takes. I ranked
Matt Barkley
and
Matt Scott
higher in 2012 than many might have in large part based on the notion of, "If you were drafting Pac-12 players for your team, what would be the selection order?"
That's not specifically about NFL prospects. It's about who you subjectively view as being the best college player.
While I think Murphy was the most
accomplished
defensive player in the Pac-12 this year, I also think Barr was the best defensive player. If I were drafting Pac-12 players for the Ted Miller Super Awesome squad, I'd pick Barr before Murphy.
But would I pick Barr before Carey? I'd rate that a toss-up. Ergo, I fall back to Carey's numbers for our ranking order.
---


Paul from Boise, Idaho, writes:
I'm willing to bet nobody would have guessed that at the end of the year, both
Marqise Lee
and
De'Anthony Thomas
would be left out of the illustrious Pac-12 postseason top 25. It seems every season a team or a top-tier player plays subpar, either because of injury or an underperforming team. Would the blog care to take a gamble and bet on somebody next year that is in danger of underperforming?
Ted Miller
: Injuries are the biggest reason neither Lee nor Thomas made the Top 25, though Thomas was pretty underwhelming much of the year.
There's no way I'd speculate on who might get hurt next fall. That's sort of morbid.
Further, only eight guys will be back next season: 1.
Marcus Mariota
; 8.
Brett Hundley
; 10.
Leonard Williams
; 14.
Taylor Kelly
; 15.
Ifo Ekpre-Olomu
; 21. Sean Mannion; 23. Hroniss Grasu; 25. Myles Jack.
Of that list, the most challenged will be Mannion because he loses No. 4
Brandin Cooks
.
I expect Mannion's passing numbers to go down in any event because I suspect coach Mike Riley will work a lot harder to be more balanced next fall. The key for Mannion is being more efficient and avoiding the mistakes that littered his season's second half.
---

Haggmeez from Cincinnati writes:
Here we are, just one week before national signing day and the Pac-12 has a whopping 35 combined commits in the
ESPN 300
. By contrast, Alabama and LSU have a combined 32 ESPN 300 commits just between the two of them (not including the JC 50). I'm not usually one to buy into recruiting rankings at face value, but the disparity is fairly staggering. Do you think that the Pac-12 is going to be able to continue to keep up with the amount of raw physical talent that is being basically channelled into these southern power programs?
Ted Miller
: Yes.
---

Jack from La Quinta, Calif., writes:
Ted and Kevin, many thanks for your work in keeping the Pac-12 Blog current and interesting. However, I am still smarting over
your season grade of B-plus for Stanford
. Stanford won its division, won the Pac-12 championship and was only defeated by four points in the Rose Bowl by the third-ranked team in the country -- certainly no blowout. But they only deserve a B-plus. I think you place too much emphasis on the postseason -- bowl games, a national championship and ranking the Pac-12 against other conferences. The road to a Pac-12 championship should be your primary emphasis. The rest is gravy. Many Oregon players started looking too far ahead, to a national championship instead of next Saturday's game. Look where they ended up. The Rose Bowl on 1/1/14 was not a worthy goal for Oregon. Your thinking plays a part in influencing players, coaches and fans and your current emphasis is not in the best interest of the sport. I certainly would not give Stanford a solid A for their work. They lost two games on their way to the Pac-12 championship and the Rose Bowl. But, this is no less than an A-minus performance -- unless winning the Pac-12 conference championship is no big deal and is only a stepping stone to more worthy goals.
Ted Miller
: Is this an example of the grade inflation at Stanford that Cal fans are always telling me about?
You meet expectations, you get a B. You want an A? Exceed expectations.
Stanford has become an elite team -- a Pac-12 and national title contender. It's not graded the same as most other teams. It has a smaller margin for error. 11-3 is a good, but not great, season on The Farm these days. That should feel like good news, by the way.
Stanford and Oregon were co-favorites to win the Pac-12. Both Kevin and I picked Stanford to win the Pac-12. By winning the Pac-12, the Cardinal therefore met expectations. If the Cardinal had won the Rose Bowl, they would have received an A-minus.
What are the knocks on Stanford's season?
It lost to two teams it was better than: Utah and USC. And, in a toss-up matchup with Michigan State in the Rose Bowl, it got solidly beaten.
Good, but not great.
No Pac-12 team received an A this year. An "A" for Stanford and Oregon would have been a final top-five ranking and a BCS bowl win. An "A" for, say, Washington State, would have been eight wins, including the Apple Cup, and a bowl victory.
Just like Stanford, Arizona State also got a B-plus, the highest grade any Pac-12 team received from us this year. If the Sun Devils had won their bowl game, they would have received an A-minus. UCLA also got a B-plus. If it had won the South Division and its bowl game, it would have received an A-minus.
The Pac-12 blog doesn't believe in grade inflation. It is a demanding taskmaster. It believes in high standards.
And awesomeness.
---
UCLA Fan from Federal Way, Wash., writes:
I was just wondering why I haven't seen anyone talk about how after it was all said and done, the
four hardest schedules of the year
belonged to Pac-12 teams. Including those four, eight Pac-12 teams were ranked in the top 13 for strength of schedule. There was only one SEC team in the top 13. I haven't heard anyone talk about this, and would like to hear your opinion about what this says about the SEC vs. Pac-12 discussion, among other things.
Ted Miller
: It shows that the Pac-12 was the deepest conference, top to bottom, in the nation. Not sure anybody really disagrees with that. Further, in a year when the Pac-12 did well overall, it means the nine-game conference schedule significantly boosted strength-of-schedule measures.
If this continues to be a pattern going forward, the Pac-12 should do well in the eyes of the selection committee for the four-team college football playoff, which has said it will put an emphasis on strength of schedule.
November, 25, 2013
11/25/13
3:00
PM PT
The Pac-12 is what we thought it was back in August --
as deep and as good as it's been
. Probably ever.
Before the season, five Pac-12 teams were ranked. As we head into the final weekend of the regular season, five Pac-12 teams are ranked. Nine Pac-12 teams are bowl-eligible, the most in conference history. That's the same number as the 14-team SEC, which has six ranked teams.
We wrote this on Aug. 26
:
The Pac-12 needs to go at least 2-1 against [Notre Dame] and finish the regular season with a 31-6 nonconference record. That would mean going 29-5 in the first four weeks.
Guess what happens if Stanford beats Notre Dame on Saturday? The Pac-12 would go 31-6 in nonconference games, though 1-2 versus Notre Dame, and 22-5 versus FBS teams and 6-3 versus the AQ conferences.
[+] Enlarge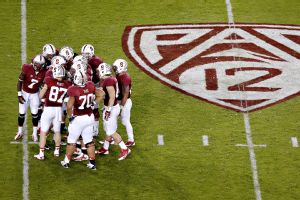 Ezra Shaw/Getty ImagesStanford is among the Pac-12's elite teams, as expected. And while the league was as deep as it's ever been, the Pac-12 is expected to only get one BCS berth.
So excellent for the Pac-12. And there was great rejoicing.
And yet, if you're a big-picture Pac-12 observer, the season feels disappointing.
The Pac-12 is not only out of the national title picture, but it won't get a second BCS bowl team for the first time since 2009. That will cost 12 athletic departments about $500,000, money that most expected to get again this year. The Pac-12 has just one top-10 team: No. 8 Stanford. For just the second time since 2000, the Pac-12 could finish the season without a team ranked in the top five. The Cardinal will need to win out in order to climb that high.
Sometimes being deep and good costs you. That's the often counterintuitive reality of college football, where perception rules the day.
Lots of conferences talk about "cannibalism," which means a conference eats up its own with a brutal conference schedule. But it became the reality in the Pac-12 this year while being a myth in other conferences.
Consider the BCS standings.
Click the schedules of the teams ranked No. 2 through No. 7
, the teams behind Alabama and ahead of Stanford, vying for a spot in the title game. We'll wait here.
Done? Did you notice something? Of course you did.
No. 2 Florida State, No. 3 Ohio State, No. 4 Auburn and No. 7 Oklahoma State each have just one victory over a team that is presently ranked in the BCS standings. No. 5 Missouri and No. 6 Clemson? They have zero wins over currently ranked teams.
Meanwhile, No. 8 Stanford has wins over No. 12 Arizona State, No. 13 Oregon and No. 22 UCLA. Arizona State has wins over No. 15 Wisconsin, No. 23 USC and UCLA. Oregon has a win over UCLA. USC has a win over Stanford.
The Pac-12 grind was like no other conference this year. Utah, for example, was good enough to beat Stanford, Utah State and BYU -- combined record 24-10 -- but enters the final weekend at 1-7 in conference play.
Washington fans were throwing up their hands after consecutive losses to Sanford, Oregon and Arizona State. Of course, those three are each ranked in the top 13. The Huskies' four losses all came to ranked teams.
Washington State is just 6-5 but was good enough to beat USC (which beat Stanford), Arizona (which beat Oregon) and Utah (which beat Stanford). Oh, and the Cougars outgained Auburn 464-394 in a tight, 31-24 road defeat, with the Cougars undone by three turnovers.
Everyone knows what's coming, right? Yep, we're again going to point to the nine-game conference schedule. The Pac-12 and Big 12 play nine conference games. The Big Ten has announced it will start playing nine in 2016. The ACC and SEC have both talked about it, but then have hidden behind excuses for not playing nine games.
The ACC and SEC say they don't want to play nine games because of intraconference rivalry games such as Georgia-Georgia Tech, Clemson-South Carolina and Florida State-Florida. Of course, this is pure disingenuousness. At least they could just be honest and admit they are trying their darnedest to make things as easy on themselves as possible.
The thinking in the ACC and SEC, with the new four-team playoff coming, is to wait and see, to really and truly see how important strength of schedule is going to become.
None of this means any Pac-12 team could beat Florida State, a team I believe is very good. And we'll likely get to see what the Pac-12 champ will do against Ohio State in the Rose Bowl.
In fact, if the Pac-12 flops in its bowl games, there will be plenty of chuckling over this "world's deepest conference" talk. There are no excuses this year, with USC eligible and just one BCS bowl team.
Yet if the four-team playoff began this year, Pac-12 folks can see what's at stake. We don't yet know how much money teams and conferences that earn spots in the playoff will pocket, but it will be north of the $18 million the teams/conferences playing for the final BCS title this year will receive.
If Pac-12 coaches, athletic directors and administrators end up watching as the SEC or ACC pockets an extra, oh, $40 million after placing two teams in the playoff while the Pac-12 gets some nice parting gifts, then perhaps there would be a sense of urgency about making sure that every major conference plays the same number of conference games.
That, above all else, will be the critical issue for the Pac-12 as we make a transition into the playoff era.
November, 19, 2013
11/19/13
11:00
AM PT
Despite Stanford's loss at USC, there was almost no change in the
ESPN Stats & Info's Conference Power Rankings
, with the SEC No. 1, the Pac-12 No. 2 and the Big 12 No. 3.
The Pac-12 actually went up 0.8 points, gaining on the SEC, which went up 0.1 points. The Big 12 went down 0.1 points.
The Pac-12 is No. with
ESPN Stats & Information's FPI rating
, but it's taken down by the human polls. With the FPI, the Pac-12 has seven of the nation's top-19 teams, compared to five in the top-20 for the SEC.
November, 5, 2013
11/05/13
11:00
AM PT
The Pac-12 solidified its No. 2 position in the
ESPN Stats & Info's Conference Power Rankings
after a weekend with just four conference games, none involving the top-two teams, Oregon and Stanford.
The Ducks and Cardinal, of course, will play Thursday for the top spot in the Pac-12's North Division.
The No. 1 SEC improved by 0.9 points and the Pac-12 went up 0.8 points. The No. 3. Big 12 fell by 3.7 points and now trails the Pac-12 by 6.1 points. The No. 4 ACC dropped 3.9 points.
That partially explains why most BCS standings gurus believe an undefeated Oregon would eclipse an undefeated Florida State in the final BCS standings, if things come to that.
The big gainer was the Big Ten, which jumped 3.9 points after Michigan State rose six spots in the polls. Still, it's the Pac-12's Rose Bowl partner is a distant fifth, 12.5 points behind the ACC.
October, 22, 2013
10/22/13
8:00
AM PT
A wild weekend didn't knock the SEC out of the top spot of the
ESPN.com conference power rankings
, but it did tighten things among the top-four conferences.
The SEC lost 2.9 points, but it still remains almost eight points ahead of the Pac-12, which gained 0.2 points.

The third-place ACC advanced 1.1 points and is 5.3 points behind the Pac-12. But the big mover was the Big 12, up 14.8 points, so that it is now 1.5 points below the ACC.
The conference power rankings equally weighs the rankings from the AP poll and ESPN's new Football Power Index (FPI) in order to determine the best and worst conferences in the country.
From ESPN Stats & Analysis:
The Big 12 gained 14.8 points in the power rankings after its top four teams -- Baylor, Texas Tech, Oklahoma and Oklahoma State -- all rose in the polls. As a result, the Big 12 jumped to second in the portion of the power rankings that measures the AP Poll.

Similarly, the Pac-12 moved from second to first in the computer portion of the conference power rankings (FPI). The Football Power Index (FPI) is one of ESPN's new storytelling metrics that measures the relative strength of a team in terms of scoreboard points on roughly a -30 to +30 scale with 0 being average. The average Pac-12 team has an FPI rating of 14.6, meaning they are 14.6 points better than an average FBS team on a neutral field. In comparison, the SEC's average FPI rating is 12.8.
So the ESPN.com computers actually like the Pac-12 the best!
October, 18, 2013
10/18/13
2:30
PM PT
Welcome to the mailbag.
Follow the Pac-12 blog on Twitter
. Your IQ will thank you.
To the notes.
Jeff from Eugene, Ore., writes
: My concern was that Oregon was going to be
scheduling teams like
Michigan State and Nebraska. Now I feel a little upset seeing it happen. I mean they are OK, but I was hoping the Ducks would play teams like Georgia, Florida, Alabama or someone like that. It is my understanding that it helps recruiting to play in the area being recruited, so the recruits' families and friends will get to see them play at least once and it gives the team exposure. Oregon needs to recruit nationally in order to maintain its national presence. And it seems to me that it would have helped their upcoming class if they had been able to schedule a home and home with Florida State for example instead of Nebraska. Plus, I want to see the Ducks play really quality games vs. quality opponents, not mediocre opponents from mediocre conferences. Is Oregon not trying or are those other schools chicken?
Ted Miller
: The Big Ten has been struggling the past few years, but I suspect that won't be permanent. So tread carefully here.
Getting A-list Pac-12 and SEC teams together for nonconference games has been difficult for a variety of reasons, other than the Ducks' matchup with LSU in Cowboys Stadium to start the 2011 season with a bang.
To make such games happen, it takes two to tango. I get a feeling there's reluctance on both ends, not just down south. We do have some notorious instances of the SEC running away like scared kittens,
such as Georgia
canceling a home-and-home series with Oregon and essentially admitting they were afraid of the Ducks.
And there are others
. But I haven't heard from any Pac-12 athletic directors getting the stiff arm from their SEC counterparts of late.
Further, the SEC as a whole has greatly improved its nonconference scheduling. Georgia, for example, added Clemson to its slate, a game that once was a classic southern rivalry. The new College Football Playoff can expedite quality nonconference scheduling nationwide by making sure whimpy nonconference schedules will kill a team's chances to make the playoff.
But future Pac-12 nonconference schedules are Big Ten-heavy and include a lot of BYU and Notre Dame as well as a smattering of Texas. As of yet, there is no Alabama, LSU, Georgia or Florida, though I suspect -- hope? -- that we may get some "special event," neutral-site SEC-Pac-12 games sometime down the road.
The Pac-12's first choice for quality nonconference games always will be the Big Ten, in large part because there's a special relationship between the Rose Bowl conferences.
You can review future Pac-12 nonconference schedules here
.
---
Joe from Everett, Wash., writes:
The selection committee is a joke
, primarily because of one selection: Tyrone Willingham. Are you freaking kidding me?! He is absolutely reviled at Notre Dame and Washington for running those programs into the ground. He's proven that he's no longer qualified to lead an NCAA college football program.
Ted Miller
: Well, for one, he's not leading a college football program. He will be evaluating them for a four-team playoff.
My guess is you're chaffed at the potential for Willingham to have a conflict of interest -- as in he'll want to screw over Notre Dame and Washington for firing him. I seriously doubt that. For one, it would be so transparent that other committee members would surely call him on it. It's as likely he'd overcompensate the other way to protect against such a perception.
I have not talked to Willingham since his termination at Washington. Through the years, I've dealt with lots of different coaches, lots of different personalities. I feel like I'm pretty good at "getting" guys -- seeing their perspectives and how their coaching filters through their character and personality. Willingham, I must admit, was a guy I never totally "got."
I've read and heard a lot of negative reviews on him through the years, but I think folks underestimate how close the Huskies were to breaking through under him. For one, what if QB Isaiah Stanback didn't get hurt in 2006? Or QB Jake Locker in 2008? And it's not as though things were much different when he was replaced by Mr. Strategic Advantage at Notre Dame.
Is Willingham a dynamic, fan- and media-friendly personality? No. Did he do a good job at Notre Dame and Washington. No.
Can he objectively evaluate college football teams for a four-team playoff? Absolutely.
---
Dan from Denver writes:
Hey Ted,I've got a coworker that's been reading SEC fan blogs too much. He believes that an undefeated Clemson, FSU or even Miami are more worthy of the No. 2 ranking than the Ducks. He also claims that Alabama's WRs would dominate Oregon's "undersized" DBs, and that there are no SEC-caliber linebackers in the Pac-12 to challenge UO. My apparent lack of football acumen (or his stubbornness) leave me unable to make my case. Got any good talking points for me?
Ted Miller
: Ramdom coworker No. 1 will have little say on how the pecking order of unbeatens is established. So you have that.
If Alabama, Oregon, FSU/Clemson and Ohio State all finish unbeaten, the strong odds are that Alabama and Oregon will play for the national title.
What could make that change? Well, imagine if Oregon struggles while winning and the Pac-12 eats itself alive and finishes with just, say, three ranked teams and only the Ducks with double-digit wins. And picture the ACC packing the Top 25 with teams, and Clemson/FSU putting together dominant shows on a weekly basis. Then pollsters might jump the ACC champ over the Pac-12 champ and get support from the computers while doing so.
I doubt it though.
As for a lack of Pac-12 linebackers or an undersized Oregon secondary,
all you need to do is educate him
. I know it's en vogue to relish saying factually incorrect things, to deny science, obsess over conspiracy theories and imaginary scandals, but
Anthony Barr
,
Trent Murphy
,
Shayne Skov
,
Myles Jack
,
Eric Kendricks
,
Hayes Pullard
,
Shaq Thompson
, etc., as well as
Ifo Ekpre-Olomu
and
Terrance Mitchell
and the rest of the beastly Oregon secondary, are a reality that can't be denied.
---
Duck Fam from Camas, Wash., writes:
After Stanford's loss last week, the Mrs. and I, both Duck fans, have been arguing about who it is better to root for (or against) in helping Oregon's cause: Stanford or UCLA? The Transitive Property of College Football does not apply (as it never should), as Oregon will play both head-to-head. If UCLA wins against Stanford, and Oregon manages to beat both, will it matter from a BCS/national perception that Oregon beat an undefeated UCLA team and a two-loss Stanford team, or is it better for Oregon if they beat two one-loss teams? Of course, there are dozens of scenarios beyond this, including one-loss teams (yes, Oregon too) throughout the Pac-12 as the season marches on (as you astutely pointed out earlier this season what the perception will be if the conference cannibalizes itself). Just trying to get an "I told you so" for the sake of a healthy marriage! Thanks!
Ted Miller:
The ideal scenario is probably this.
UCLA beats Stanford and loses to Oregon twice, the second time in a competitive Pac-12 championship game. That gets the Bruins, at 11-2, a Rose Bowl invitation while the Ducks play for the natty, er, national title. Stanford would finish 9-3, still potentially a top-15 team with a chance to move up in, I'd guess, the Alamo Bowl.
I think Oregon is going to be fine in any scenario if it finishes 13-0, so this is mostly a splitting-hairs exercise. In either potential "best-case" scenario, Stanford or UCLA end up with three and two defeats.
---
Dylan from Salt Lake City writes:
Kevin presented several decent reasons
as to why Utah should be lower than Washington in the power rankings ... provided the power rankings are representative of the season rather than the week. If you're looking at the week, then Utah should clearly be above Washington. This is the problem with being noncommittal about walking the line and being noncommittal with the power rankings. Although based on the power rankings, maybe I answered my own question about what they represent.
Ted Miller
: First, I second what Kevin wrote. Of course, I will add more.
The power rankings are organic throughout the season. They prioritize the most recent week, but they also accumulate data as the weeks pass, and that in itself reduces the overall value of a single game. For example, if 8-3 Utah were to lose to three-win Colorado in the season finale, we wouldn't rank the Buffaloes ahead of the Utes in the power rankings.
The biggest problem for the Utes climbing dramatically in the power rankings is the home loss to Oregon State, which opened the season with a loss to an FCS foe. As the Beavers pick up wins, that loss gets "better" but it also makes it difficult to move the Utes ahead of Oregon State, which faces a much tougher schedule over the season's final third. So then the question is whether Oregon State has done enough to eclipse Washington. We think the Huskies résumé still remains stronger than the Beavers.
In fact, the way the Huskies played at Stanford and against Oregon actually increased their rating, at least for me.
Now you could have justified going: Oregon State, Utah and Washington in the power rankings. And we looked at that. That would have given more weight to the week -- a Utah win over a Stanford team that beat the Huskies -- but that doesn't feel right based on the product Washington has put on the field through the entire season.
So how does Utah move up? Glad you asked. Keep winning.
Know when the power rankings
actually
matter? Two times: At the end of the regular season and after the bowls.
---
David from Salt Lake City writes:
Ted,I couldn't help but noticing that Utah has performed just about
exactly to the 'Best' scenario
from your 'Best/Worst Case -- Utah blog. Your preseason picks are, apparently, spot on. Do you have premonitions? Or is this just an innate ability to [humorously] pick winners?
Ted Miller
: Funny how that works. A 9-4 record actually now seems a not unreasonably optimistic projection.
Now go watch all the Rocky movies, MUSS members.
October, 16, 2013
10/16/13
8:00
AM PT
Due mostly to Stanford's loss at Utah, the Pac-12 lost ground to the SEC in this week's conference rankings,
compiled by ESPN Stats & Information
.
The rankings will use ESPN's new Football Power Index (FPI) instead of the BCS computers, as it did last year, but the premise of the rankings remains the same. The AP poll will measure the strength of the top schools in the conference and the FPI will measure the depth of the conference.
The Pac-12 lost 3.5 points while the SEC gained 0.7 points, largely on its strength in the AP poll. The SEC is the first conference to have eight top-25 teams in a single poll.
The SEC now leads the Pac-12 by 10.8 points. The third-place ACC gained 4.7 points and is now just 6.2 points behind the Pac-12.
Notes ESPN Stats & Information:
Losses by Georgia and Florida did not significantly impact the SEC in the conference rankings because they lost to other ranked opponents. Therefore, the points that the Bulldogs and Gators lost in the AP poll were accrued by Missouri and LSU, respectively.

In comparison, fifth-ranked Stanford lost 454 points in the AP poll after its 27-21 loss to unranked Utah. The Utes remained unranked and were able to add only 47 points (in the "others receiving votes" section) for the Pac-12 with their win.
It will be interesting to see how the conference rankings react to the UCLA-Stanford game. Both teams figure to remain ranked even with a loss, but it will be interesting to see how much ground the winner gains and the loser falls.
October, 15, 2013
10/15/13
11:30
AM PT
The first half of the Pac-12's 2013 season was good to the conference in terms of national image, but Stanford's loss at Utah reminded everyone that nothing can be taken for granted.
It's clear this is the deepest the Pac-12 has been in years. Competitive with the SEC? Nation's No. 2 conference? We shall see. Things can change quickly, after all.
That marquee national matchup between top-five Oregon and Stanford teams on Nov. 7 in Palo Alto, Calif., that many projected in the preseason? It's lost its luster. Now the conference's game of the year might be UCLA's visit to Oregon on Oct. 26. That is, if the Bruins win in Palo Alto on Saturday.
Wait. We're doing it again. One week at a time, eh?
[+] Enlarge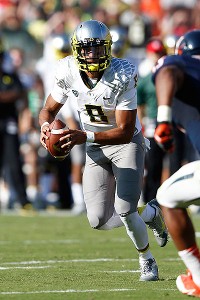 Joe Robbins/Getty ImagesOregon triggerman Marcus Mariota has become a serious Heisman Trophy contender.
Oregon dominated its first-half schedule, making it the clear lead dog -- lead Duck! -- in the conference. The Ducks are No. 2 in the nation and gaining on two-time defending national champion Alabama. At this point, it's not unreasonable to project the Ducks in the national title game and QB
Marcus Mariota
, at the very least, getting an invitation to New York for the Heisman Trophy ceremony.
So we know Oregon is good, and we know that Colorado and California aren't. After that, there's some gray area.
UCLA, Stanford, Washington, Arizona State, Oregon State also look like top-25 teams, with Utah gaining. Washington State, USC and Arizona are too dangerous to ignore.
The pecking order from Nos. 2 to 10 is still wide open. UCLA can make a statement at Stanford, or the Cardinal can regain their perch at No. 2. The Bruins' matchups with Washington and Arizona State also will be meaningful.
What about Oregon State? The Beavers should improve to 6-1 this weekend at California, but they remain a cypher based on the schedule. They could end up being the second-best team in the North Division. Or they could end up 6-6.
Obviously, there's a lot we don't know. That, my friends, makes it fun.
Bold prediction
: This is Oregon's year. The Ducks will win the national title, Mariota will win the Heisman, and Mark Helfrich will earn national coach of the year honors. And Ducks fans will shock everyone by not relentlessly gloating but instead will be gracious and humble as they reach college football's pinnacle.
Looking forward to
: The bowl season. The Pac-12 has made a reasonable claim that it is as good as the SEC over the first half of the season, whether the SEC has eight ranked teams at present or not. At this point, it's purely a moot, academic debate. But let's see what both conferences do in the bowl season. If Oregon beats Alabama for the national title -- still a LONG way off on that, by the way -- and the Pac-12 otherwise distinguishes itself in bowl games, the Pac-12 could walk away from the final year of the BCS as the reigning champion.
Or it could flop amid national snickers.
Top remaining games
:
UCLA at Stanford, Oct. 19: The Bruins could make a claim to being the top challenger to Oregon. Or the Cardinal could grab it back.

UCLA at Oregon, Oct. 26: If the Bruins beat Stanford, this could be a battle of top-five teams. A great QB battle between Mariota and Brett Hundley.

Stanford at Oregon State, Oct. 26: This is when we find out if the Beavers are a top-25 team and contenders in the North.

Oregon at Stanford, Nov. 7: This is still a major North Division battle, particularly if Stanford beats UCLA. Last year, the Cardinal ruined the Ducks' national title hopes.

Washington at UCLA, Nov. 16: Both teams might need a victory here to reach double-digit wins. It's been a while since either savored that.

Arizona State at UCLA, Nov. 23: (Nice to be relevant, eh Bruins?) This still might be the game that decides that South Division.
2013 TEAM LEADERS
| TEAM | RUSH | PASS | TOTAL |
| --- | --- | --- | --- |
| Offense | 196.6 | 251.6 | 448.2 |
| TEAM | PF | PA | MARGIN |
| Scoring | 36.5 | 24.1 | 12.4 |