April, 2, 2014
Apr 2
5:30
PM PT
One of the ways a football team transitions from a group of wishful maybes to a sense of near-ontological certainty is when its collection of spring practice questions becomes mostly an array of appealing potential options.
So we have
UCLA
as it transitions from an underachieving program (1999-2011) to a good one (2012-2013) to one that has the makings of a national contender in 2014.
[+] Enlarge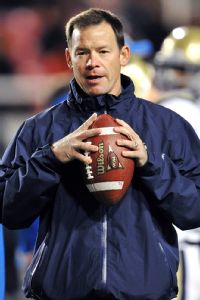 Gene Sweeney Jr/Getty ImagesWith few questions to answer this spring, Jim Mora has the makings of a special 2014 season with UCLA.
While the Bruins have questions on their depth chart, there isn't any particular area of vexing concern. The five positions where starters need to be replaced seem likely to be filled by promising athletes with playing experience. If those more veteran players don't rise to the fore during spring practices, that mostly speaks to the program's strong recruiting under Jim Mora.
Further, it's reasonable to project that those 20 or so freshmen and sophomores who saw significant playing time last year will physically and mentally mature into their primes.
There simply aren't any worrisome voids on this team.
As in:
There are, of course, important questions.
Is defensive end
Owamagbe Odighizuwa
fully healthy? He told reporters Tuesday that he is. So then is the former A-list recruit ready to break through as a senior?
What does LB/RB
Myles Jack
do for an encore after one of the best true freshman seasons in recent memory?
And speaking of what's next, is it reasonable to project Hundley taking a strong step forward as a third-year starter? Of course, that's why the program has already launched a Heisman Trophy campaign.
A lot of variables beyond personnel go into a special season -- a Rose Bowl-, College Football Playoff-type season. A team needs a great offseason. It needs positive chemistry and leadership. It needs to avoid injuries. It needs to stay hungry. It needs laser-like focus every week.
Returning starters do not guarantee anything. National champion Florida State only had 11 of them last year.
But on paper, UCLA appears to be the most likely candidate to break the five-year Stanford-Oregon Pac-12 hegemony atop the Pac-12. The Bruins might even be a team that catches the notice of the CFP selection committee in December.
February, 24, 2014
Feb 24
11:00
AM PT
Raise your hand if you thought Stanford running back
Tyler Gaffney
would run a faster 40-yard dash than Oregon's
De'Anthony Thomas
at the NFL combine.
Put your hand down, liar.
Granted, it was still only by a hundredth of a second -- Gaffney ran 4.49 and Thomas 4.50 -- but, still, Thomas built his reputation on speed, while Gaffney's was more on toughness and vision. It ranked as one of the surprise performances among Pac-12 players over the weekend at the NFL combine.
[+] Enlarge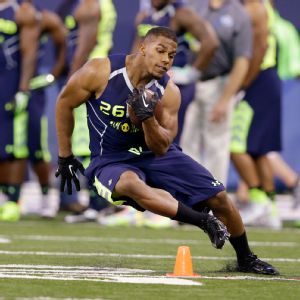 AP Photo/Michael ConroyWashington running back Bishop Sankey made a move up draft boards with his performance at the NFL combine.
Sunday proved to be a great day for Washington running back
Bishop Sankey
, who might have jumped Arizona's
Ka'Deem Carey
on some draft boards,
according to ESPN's John Clayton
.
From Clayton's story:
There may not be a running back who could entice a team to use a first-round pick, but the backs who ran Sunday looked great. Bishop Sankey of Washington may have entered the combine as the No. 3 halfback, but his stock probably rose with a 4.49 40 time along with a good show of lifting strength. Tre Mason of Auburn displayed second-round numbers with his 4.5. Both backs might have jumped ahead of Ka'Deem Carey of Arizona, who had a 4.70.
Sankey ranked No. 2 among running backs with 26 reps on the bench press and his 40-time was tied for No. 9.
Another one of the weekend's big winners was Oregon State receiver
Brandin Cooks
, who turned in the fastest 40 among receivers. His time of 4.33 was second to only to Kent State running back
Dri Archer
, who ran a 4.26.
Cooks, who set Pac-12 single-season records with 128 catches and 1,730 receiving yards this year, also turned in the fastest time registered in the 60-yard shuttle (10.72) at the combine
since at least 2006
. During that same time period, he's
tied for the fastest time
in the 20-yard shuttle (3.81) with Tennessee cornerback Jason Allen from 2006.
Washington tight end
Austin Seferian-Jenkins
, the John Mackey Award winner, has a stress fracture in his foot that is expected to need six to eight weeks to recover,
according to a report from the Tacoma News Tribune
. Due to the injury, Seferian-Jenkins was able to participate only in the bench press. He put up 20 reps, which ranked tied for No. 10 among the 15 tight ends who participated.
See the complete list of Pac-12 invitees.
Here are the Saturday and Sunday results from the Pac-12 players in the 40 and bench press:
Running back
Gaffney, Stanford: 4.49/did not lift
Sankey, Washington: 4.49/26 reps
Thomas, Oregon: 4.50/8 reps
Carey, Arizona: 4.70/19 reps
Silas Redd
, USC: 4.70/18 reps
Ryan Hewitt
, Stanford (fullback): 4.87/did not lift
Marion Grice
, Arizona State: Did not participate
Lache Seastrunk
, Baylor (transferred from Oregon): 4.51/15 reps
Wide receiver
Cooks, Oregon State: 4.33/16 reps
Paul Richardson
, Colorado: 4.40/did not lift
Shaquelle Evans
, UCLA: 4.51/13 reps
Josh Huff
, Oregon: 4.51/14 reps
Marqise Lee
, USC: 4.52/did not lift
Offensive line
Xavier Su'a-Filo
, OG, UCLA: 5.04/25 reps
Cameron Fleming
, OT, Stanford: 5.28/26 reps
David Yankey
, OG, Stanford: 5.48/22 reps
Marcus Martin
, C, USC: did not run/23 reps
Tight end
Colt Lyerla, formerly of Oregon: 4.61/16 reps
Anthony Denham
, Utah: 4.77/did not lift
Jake Murphy
, Utah: 4.79/24 reps
Richard Rodgers
, TE, California: 4.87/16 reps
Seferian-Jenkins, Washington: did not run/20 reps
Xavier Grimble
, USC: did not run or lift
Quarterback
No Pac-12 quarterbacks are at the combine, which is a rarity. The conference has sent at least one every year since at least 1999, which was as far back as we could go to find combine rosters.
November, 25, 2013
11/25/13
6:00
PM PT
Arizona running back
Ka'Deem Carey
has been named the Pac-12 offensive player of the week, along with Arizona State linebacker
Chris Young
, who was named defensive player of the week and UCLA returner
Ishmael Adams
, who was named special teams player of the week.
Here's some more on the trio per the Pac-12's release:
Carey, a junior from Tucson, Ariz., racked up 206 yards on a school-record 48 carries to become the Wildcats' all-time leading rusher with 3,913 career yards as Arizona upset No. 5 Oregon 42-16 on Saturday afternoon in Tucson. His four touchdowns on the day established a new program mark for career touchdowns with 49 while his 45 career rushing touchdowns are also a school record. The 48 carries were the most by an FBS player in a game this season and his string of 14 straight 100-yard rushing games is tied for the longest streak by an FBS player over the past ten seasons. The nation's second-leading rusher (155.9 ypg) earns the conference offensive player of the week honor for the second time this year.

Young, a senior from Seattle, Wash., led an Arizona State defense that limited a potent UCLA offense and squashed a fourth-quarter comeback bid in a 38-33 win over the Bruins at the Rose Bowl on Saturday night as the Sun Devils clinched the Pac-12 South Division title with the victory. He collected a game-leading 13 tackles, including 12 solo, and three sacks for a loss of 27 yards. His two fourth-quarter sacks and game-ending tackle on the Bruins' final two drives secured the win for the Sun Devils, who earned a spot in the Pac-12 Football Championship Game on Dec. 7.

Adams, a sophomore from Woodland Hills, Calif., collected 234 return yards in his first game serving as the return man in the Bruins' 38-33 loss to Arizona State. His efforts in the return game led to three UCLA scores, including a 58-yard return on the Sun Devils' first kickoff of the game to set up a 42-yard scoring pass on the next play and a 49-yard punt return that set up a 48-yard field goal that put the Bruins ahead late in the first quarter.

Also nominated for offensive player of the week honors were quarterbacks Taylor Kelly of Arizona State and Connor Halliday of Washington State; running backs Javorius Allen of USC and Bishop Sankey of Washington; and wide receivers Ty Montgomery of Stanford and Shaq Evans of UCLA. Also nominated for defensive player of the week honors were linebackers Anthony Barr of UCLA and Justin Sagote of Washington State; cornerbacks Shaquille Richardson of Arizona and Marcus Peters of Washington; and defensive end Leonard Williams of USC and free safety Jered Bell of Colorado. Also nominated for special teams player of the week honors was Washington State kicker Andrew Furney and USC fullback/special teams member Soma Vainuku.
December, 28, 2012
12/28/12
12:29
AM PT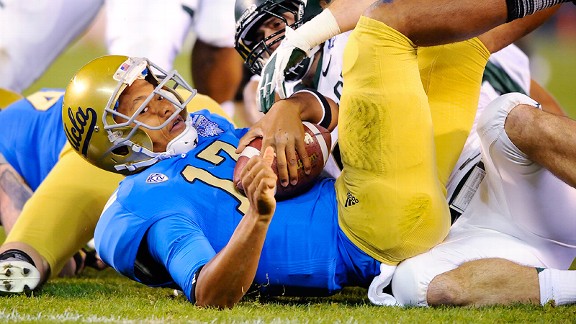 Christopher Hanewinckel/USA TODAY SportsBrett Hundley may be an emerging star, but the Holiday Bowl showed how far the Bruins have to go.
SAN DIEGO -- Bigger, stronger and faster is what every football team strives to be.
It's what UCLA became this season compared with Bruins teams of the recent past, but a stumble to the finish line showed that they aren't quite big enough, strong enough or fast enough to play at an elite level just yet.
A 49-26 loss to Baylor on Thursday night in the Holiday Bowl at Qualcomm Stadium sent UCLA to its third consecutive loss to cap a season of resurgence. The streak -- losses to Stanford in the regular-season finale and the Pac-12 championship game followed by the Holiday blowout -- showed that UCLA's rebuilding project is far from complete.
"We've got a long ways to go," coach Jim Mora acknowledged. "But we're on the right path. … The team that we want to be is a national champion and tonight showed us just how far we have to go, but we're determined to get there. We're heading in the right direction, but we're a long ways off."
Much of the talk around UCLA this season focused on how far the Bruins had come in the first year under Mora. They put up an impressive early victory over Nebraska, came from behind in the final minutes to win on the road at Arizona State and ended a five-game losing streak to cross-town rival USC.
But Stanford showed two weeks in a row that UCLA was not strong enough, and Baylor on Thursday showed that the Bruins are not yet fast enough.
"There are still a lot of little things that need to get done," safety
Andrew Abbott
said. "UCLA is right there. We broke through so many things this year and now we just need to break through the top. I know coach Mora will get the players there."
Experience should help. What needs to be remembered about this UCLA team is that few projected it to be in this position in the first place. Eight wins was thought to be the ceiling for the team, so getting to nine has to be considered a success.
Still, with each victory the pressure mounted as the stakes grew higher. UCLA hadn't been in a position to win high-stakes games for a while, certainly not with the current team, so the last three games should serve as a learning experience heading into next season.
"We have to finish stronger," junior receiver Shaq Evans said. "I think it's experience. I think the moment got too big for a lot of people because this is their first year playing and we have to learn how to finish."
The offseason will be littered with questions about just how far UCLA has come. Is this a top-10 team for next year with an emerging star, in
Brett Hundley
, leading the offense at quarterback? Or is this a one-hit wonder that benefited from an easy schedule and will be brought back to reality next season?
Certainly, UCLA took advantage of the easier schedule and seven home games this season, but what better way to bring along a team that was starting seven freshmen on offense at times. Next year, those players will be battle-tested as they take on a more difficult schedule that includes Oregon and Washington.
And knowing that the season ended with three consecutive losses will stick in the minds of the returning players, who vowed to use the losing streak as fuel to get better before next season.
"We're going to take these losses and really apply it to our offseason workouts," linebacker
Eric Kendricks
said. "I'm going to remember them when I'm training."
It is a bitter end to what had been a sweet season, but the Bruins will still almost certainly begin next season in the top 25 and with hopes that they can get the program to an elite level. It's something that many would have put in the category of foolish pipe dream before this season, but nobody will be shaking their heads at the notion now.
For that, these Bruins can hold their heads high despite the disappointing finish to the season.
"I don't think it takes away anything from what we accomplished this season," Evans said. "The accomplishments of the season can never be taken away from one loss or the last three games."
December, 27, 2012
12/27/12
10:42
PM PT
SAN DIEGO, Calif. -- In a game that was supposed to feature lots of offense, only one team lived up to its end of the bargain. Baylor routed UCLA, 49-26, Thursday night in the Holiday Bowl at Qualcomm Stadium. Here's how the Bruins graded out:
PASSING OFFENSE
Brett Hundley
's 51.1 completion percentage was his lowest of the season. He passed for 329 yards and three touchdowns but had trouble making decisions. It didn't help that he was under pressure all game. The Bruins' depleted offensive line gave up six sacks against a defense that was barely averaging one per game this season.
RUSHING OFFENSE
Johnathan Franklin
had only 34 yards on 14 carries, his lowest total of the season. The Bruins, behind a makeshift offensive line, rushed for only 35 yards as a team -- also the fewest for UCLA this season. The Bruins averaged only 1.2 yards per carry against a Baylor defense that had been giving up 190 yards per game and 4.74 per carry.
PASS DEFENSE
UCLA's secondary was burned for a couple of long plays early, which set the tone of the game as receivers
Tevin Reese
and
Terrance Williams
outran the coverage. The Bruins tightened, however, and Baylor quarterback
Nick Florence
completed only 10 of 13 passes for 188 yards and two touchdowns. Reese and Williams had each had two catches for 68 yards and UCLA sacked Florence only twice.
RUN DEFENSE
Missed tackles plagued UCLA's defense for the entire game as the Bears rushed for 306 yards -- 46 more than any other team against UCLA this season.
Lache Seastrunk
had 138 yards and a touchdown in 16 carries.
Glasco Martin
added 98 yards and three touchdowns in 21 carries, providing a potent 1-2 punch UCLA couldn't stop.
SPECIAL TEAMS
A 51-yard kickoff return by
Steven Manfro
was easily UCLA's biggest play of the game. The second longest was a 43-yard punt return by Shaq Evans.
Jeff Locke
had two punts of 50 yards or more and put three inside the 20. Kicker
Ka'imi Fairbairn
had field goals of 30 and 40 yards.
COACHING
Play calling and decisions on whether to go for it or kick field goals were questionable throughout the game, but the real issue was preparation. With nearly a month between games, the Bruins had no schematic answers for Baylor's potent offense and could not come up with an offensive plan to exploit one of the worst defenses in the nation.
November, 17, 2012
11/17/12
3:51
PM PT
PASADENA, Calif. -- The
UCLA Bruins
jumped out to a 24-0 lead in their crosstown rivalry game against the
USC Trojans
on Saturday before hanging on to win 38-28. It is UCLA's first win over USC since 2006 and the Bruins' second victory since 1998, with the last three wins in the rivalry coming at the Rose Bowl.
With the win, the Bruins (9-2, 6-2) will play in the Pac-12 Championship Game for the second year in a row with a berth in the Rose Bowl on the line. UCLA has not played in the Rose Bowl Game since 1999.
Here's how the Bruins graded out after their biggest win in the Jim Mora era:
PASSING ATTACK
Brett Hundley
completed 22 of 30 passes for 234 yards and one touchdown and rushed for two touchdowns. He began the game with 10 consecutive completions and showcased how much confidence he had and that the team had in him when he hit
Shaquelle Evans
for a 21-yard strike on fourth-and-14 at the USC 30-yard line in the first quarter. Evans finished with eight receptions and 114 yards as UCLA shredded USC's pass defense.
RUSHING OFFENSE
Johnathan Franklin had 171 yards rushing on 29 carries and two touchdowns as UCLA's passing game set up the Bruins' running attack. Franklin put the finishing touches on UCLA's win with a 29-yard touchdown run that gave UCLA a 38-28 lead with 4:02 left. The Bruins finished with 172 rushing yards and four rushing touchdowns, with Hundley showing his scrambling ability by eluding USC's pass rush and scrambling for a couple of first downs.
PASS DEFENSE
The talk heading into the game was that UCLA's secondary was no match for USC's potent passing attack. UCLA had made strides this season, but
Matt Barkley
was going to carve up the Bruins by playing catch with
Marqise Lee
and
Robert Woods
. Nothing could be further from the truth. UCLA cornerback
Aaron Hester
picked off Barkley on the first play of the game and UCLA linebacker Eric Kendricks intercepted Barkley in the fourth quarter, while UCLA's pass rush pressured Barkley into poor decisions all day.
RUSHING DEFENSE
The one player on USC's team who had a game above his season average was
Curtis McNeal
, who finished with 161 yards on 21 carries. With 33 of those yards coming on a run in the first quarter, UCLA was more than fine with that output. As a team, USC finished with 172 yards, and
Silas Redd
had only three carries for eight yards.
SPECIAL TEAMS
UCLA put the exclamation point on the win when
Sheldon Price
blocked a
Andre Heidari
field goal attempt in the fourth quarter. Earlier in the game, UCLA blocked a USC punt that led to a touchdown. In addition to pressuring every field goal try and punt, it neutralized Lee and Woods in the return game. The tandem combined for only 29 yards on four returns.
COACHING
Whenever a new coach, and certainly one with little college football experience, takes over a major program, there will be plenty of questions. In his first year at UCLA, Jim Mora has answered most questions and proved he is the right person to finish what Rick Neuheisel promised but couldn't quite deliver -- ending the football monopoly in Los Angeles.
November, 9, 2012
11/09/12
5:41
PM PT
The
UCLA Bruins
end the road portion of their regular-season schedule with a difficult trip to
Washington State
for a 7:30 p.m. game Saturday night that will be televised by ESPN2.
The Bruins (7-2, 4-2 Pac-12) have a four-game win streak over Washington State (2-7, 0-6) and have outscored the Cougars, 141-63, during that stretch. Washington State is currently on a six-game losing streak and has lost three in a row at home. The Bruins are 3-1 on the road this season. Here are five things to watch:
Avoid the trap
Coach Jim Mora says he doesn't believe in trap games, but there is no mistaking that this game is exactly that. The Bruins are riding high after a resounding 66-10 victory over
Arizona
put them atop the Pac-12 South Division and into the BCS standings for the first time since 2006. Not only that, but the Bruins are now the "it" team in Los Angeles as
USC
struggles with its image and UCLA is ranked ahead of USC for the first time in a decade. The Bruins play the Trojans next week, so there is always the possibility of getting caught looking ahead and add it all up and you have a possible letdown game coupled with a team possibly looking ahead that is playing on the road against a last-place team. In other words, it's a classic trap game.
Weather the storm
The weather forecast in Pullman, Wash., calls for the game-time temperature to be 23 degrees. It looks as if the Bruins will escape the light snow projected for Friday night, but that is not the kind of cold any UCLA players have experienced over the last couple of seasons. It will be the same weather for both teams, obviously, but for a team coming from 90-degree temperatures earlier this week, it will be a major adjustment. The ball will be harder to throw, catch and hold on to, especially with frozen hands. It could be particularly troubling for quarterback
Brett Hundley
, who hails from Arizona. Still, the Bruins can at least rely on their ground game if passing proves difficult. As indicated in the next item, that is not a luxury the Cougars have.
August, 11, 2012
8/11/12
11:14
PM PT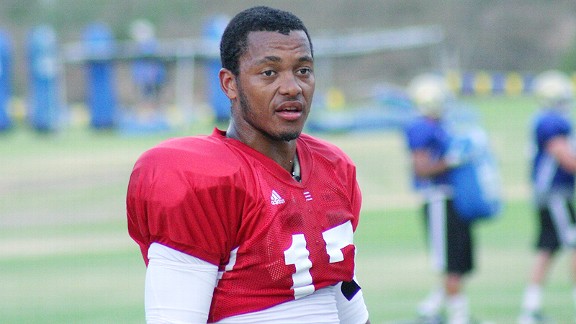 Peter Yoon/ESPNLosAngeles.comOn his first day of practice after being named the starting quarterback, Brett Hundley led the Bruins during a spirited session.
SAN BERNARDINO -- UCLA shed some light on who its starting quarterback will be, but the Bruins were literally in the dark at the end of practice Saturday night.
Coach
Jim Mora
moved the practice start time back a half hour to 6 p.m. and there was very little daylight left by the time
newly-named starting quarterback
Brett Hundley
was finishing up his first day as the official starter two hours later. The facility they are using at Cal State San Bernardino has no lights so the team ran two-minute drills in conditions that made it very difficult to see.
"That was a lot of fun," Mora said. "I think the guys enjoyed it. I think it took some guys back to when they were younger and playing on the streets and you went until your mom called you in, it didn't matter how dark it was."
The session had an energy level that had been missing the last few days as UCLA has fought through temperatures of 105 and higher. It was 96 at the start of practice Saturday night and was in the low 90s by the time the session was over. Plus, nearby storms left a cloud layer that blocked the sun and kept things even cooler.
"I think the combination of having yesterday off and it was cooler and they are young, they're kids," Mora said of the increased energy level. "They like to play ball. They like to go out in the yard and play ball and tonight probably took them back to when they were younger. It was a good energy."
Because of expected high temperatures again Sunday, Mora moved practice to 4 p.m., rather than taking the field at the previously scheduled 11:45. The cooler temperatures Saturday night had a major impact as no players left because of heat-related symptoms for the first time in six practices.
August, 3, 2012
8/03/12
5:58
PM PT
The preseason positional reviews are in and camp is set to begin, so with a little time to kill, how about a prediction on UCLA's upcoming season?

Preseason predictions by nature are pretty silly because nobody knows how a season is going to unfold, what players are going to emerge as stars and which won't live up to their preseason accolades. Everyone loves a prediction, however, so predict we must.

But how about taking the silliness factor up a notch and not only project who will win each of UCLA's games, but how? That's right, fictional game recaps before the games happen. As if giving you just a score wasn't enough of an inane endeavor, we present the following dreamed-up version of how UCLA's season might go:


July, 31, 2012
7/31/12
3:21
PM PT
With UCLA training camp set to begin Aug. 4 at Cal State San Bernardino, we're taking a preseason look at the roster and breaking down the Bruins position by position.
We've gone through the offense by looking at
quarterbacks
,
offensive line
,
receivers
and
running backs
. Before switching to defense, we'll take a look at the guys who help make that transition: Special teams specialists.
DEPTH CHARTS AT THE END OF SPRING PRACTICE:
FG Kicker
Joe Roberts (6-1, 206, So.)
Kickoffs
Jeff Locke (6-0, 207, Sr.)
Punter
Jeff Locke (6-0, 207, Sr.)
Michael Leamy (5-11, 183, Fr.)
Punt / Kickoff Return
None. These positions were listed in numerical order because of the ongoing competition.
Long Snapper
Kevin McDermott (6-4, 234, Sr.)
(others listed numerically)
Peter Hajimihalis (5-6, 180, Fr.)
Jay Weneta (6-0, 216, Fr.)
Christopher Longo (6-3, 200, Fr.)
PROJECTED OPENING-DAY DEPTH CHARTS:
FG Kicker
Ka'imi Fairbairn (6-0, 171, Fr.)
Jeff Locke (6-0, 207, Sr.)
Kickoffs
Jeff Locke (6-0, 207, Sr.)
Ka'imi Fairbairn (6-0, 171, Fr.)
Punter
Jeff Locke (6-0, 207, Sr.)
Ka'imi Fairbairn (6-0, 171, Fr.)
Punt Return
Shaq Evans (6-1, 201, Jr.)
Ricky Marvray (5-11, 192, Jr.)
Steven Manfro (5-9, 192, Fr.)
Devin Lucien (6-0, 200, Fr.)
Kenny Walker (5-9, 175, Fr.)
Randall Goforth (5-10, 173, Fr.)
Kickoff Return
Steven Manfro (5-9, 192, Fr.)
Jordon James (5-8, 193, So.)
Damien Thigpen (5-8, 178, Jr.)
Andrew Abbott (5-8, 180, Sr.)
Kenny Walker (5-9, 175, Fr.)
Randall Goforth (5-10, 173, Fr.)
Long Snapper
Kevin McDermott (6-4, 234, Sr.)
Christopher Longo (6-3, 200, Fr.)
Peter Hajimihalis (5-6, 180, Fr.)
KEY LOSSES:
Kip Smith, FG kicker, transfered.
Tyler Gonzalez, FG kicker, graduated.
Josh Smith, kick returner, graduated.
Taylor Embree, punt returner, graduated.
July, 28, 2012
7/28/12
3:31
PM PT
With UCLA training camp set to begin Aug. 4 at Cal State San Bernardino, we're taking a preseason look at the roster and breaking down the Bruins position by position.
We looked at
quarterbacks
and the
offensive line
earlier this week. We stick with the offense and check in a group that must replace its two most productive members over the last three season: Receivers.
DEPTH CHART AT THE END OF SPRING PRACTICE:
X (receiver)
Jerry Johnson (6-3, 211, Sr.) OR
Devin Lucien (6-0, 200, Fr.)
Sam Handler (5-10, 195, Fr.)
Y (receiver)
Joseph Fauria (6-7, 255, Sr.) OR
Darius Bell (5-10, 205, Jr.)
John Young (6-6, 255, Fr.)
Jordan Barrett (6-2, 255, Jr.)
Jackson Reeder (6-3, 194, Fr.)
F (receiver)
Ricky Marvray (5-11, 192, Jr.)
Jordon James (5-8, 193, So.)
Roosevelt Davis (5-6, 155, Fr.)
Z (receiver)
Shaq Evans (6-1, 201,Jr.)
Jerry Rice, Jr. (5-11, 185, Jr.)
Logan Sweet (6-0, 185, Fr.)
Tyler Scott (6-2, 205, Fr.)
PROJECTED OPENING-DAY DEPTH CHART:
X (receiver)
Jerry Johnson (6-3, 211, Sr.)
Devin Lucien (6-0, 200, Fr.)
Javon Williams (6-5, 180, Fr.)
Sam Handler (5-10, 195, Fr.)
Christoph Bono (6-1, 162, Fr.)
Y (receiver)
Joseph Fauria (6-7, 255, Sr.)
Darius Bell (5-10, 205, Jr.)
John Young (6-6, 255, Fr.)
Jordan Barrett (6-2, 255, Jr.)
Jackson Reeder (6-3, 194, Fr.)
F (receiver)
Jordon James (5-8, 193, So.)
Ricky Marvray (5-11, 192, Jr.)
Kenny Walker (5-10, 171, Fr.)
Ahmaad Harris (5-6, 155, Fr.)
Roosevelt Davis (5-6, 155, Fr.)
Z (receiver)
Shaq Evans (6-1, 201, Jr.)
Jordan Payton (6-2, 214, Fr.)
Jerry Rice, Jr. (5-11, 185, Jr.)
Tyler Scott (6-2, 205, Fr.)
Logan Sweet (6-0, 185, Fr.)
KEY LOSSES:
Nelson Rosario, 64 catches, 1,161 yards, 5 TDs. Graduated.
Taylor Embree, 20 catches, 228 yards, 2 TDs. Graduated.
Josh Smith, 11 catches, 243 yards, 1 TD. Graduated.
Cory Harkey, 1 catch, 10 yards. Graduated.
Anthony Barr, 3 catches, 16 yards, 1 TD. Switched to linebacker.
2013 TEAM LEADERS
| TEAM | RUSH | PASS | TOTAL |
| --- | --- | --- | --- |
| Offense | 196.6 | 251.6 | 448.2 |
| TEAM | PF | PA | MARGIN |
| Scoring | 36.5 | 24.1 | 12.4 |