February, 24, 2014
Feb 24
11:00
AM PT
Raise your hand if you thought Stanford running back
Tyler Gaffney
would run a faster 40-yard dash than Oregon's
De'Anthony Thomas
at the NFL combine.
Put your hand down, liar.
Granted, it was still only by a hundredth of a second -- Gaffney ran 4.49 and Thomas 4.50 -- but, still, Thomas built his reputation on speed, while Gaffney's was more on toughness and vision. It ranked as one of the surprise performances among Pac-12 players over the weekend at the NFL combine.
[+] Enlarge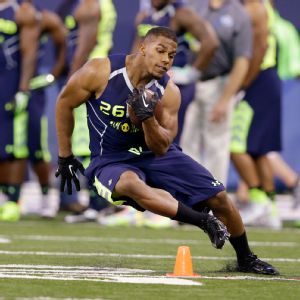 AP Photo/Michael ConroyWashington running back Bishop Sankey made a move up draft boards with his performance at the NFL combine.
Sunday proved to be a great day for Washington running back
Bishop Sankey
, who might have jumped Arizona's
Ka'Deem Carey
on some draft boards,
according to ESPN's John Clayton
.
From Clayton's story:
There may not be a running back who could entice a team to use a first-round pick, but the backs who ran Sunday looked great. Bishop Sankey of Washington may have entered the combine as the No. 3 halfback, but his stock probably rose with a 4.49 40 time along with a good show of lifting strength. Tre Mason of Auburn displayed second-round numbers with his 4.5. Both backs might have jumped ahead of Ka'Deem Carey of Arizona, who had a 4.70.
Sankey ranked No. 2 among running backs with 26 reps on the bench press and his 40-time was tied for No. 9.
Another one of the weekend's big winners was Oregon State receiver
Brandin Cooks
, who turned in the fastest 40 among receivers. His time of 4.33 was second to only to Kent State running back
Dri Archer
, who ran a 4.26.
Cooks, who set Pac-12 single-season records with 128 catches and 1,730 receiving yards this year, also turned in the fastest time registered in the 60-yard shuttle (10.72) at the combine
since at least 2006
. During that same time period, he's
tied for the fastest time
in the 20-yard shuttle (3.81) with Tennessee cornerback Jason Allen from 2006.
Washington tight end
Austin Seferian-Jenkins
, the John Mackey Award winner, has a stress fracture in his foot that is expected to need six to eight weeks to recover,
according to a report from the Tacoma News Tribune
. Due to the injury, Seferian-Jenkins was able to participate only in the bench press. He put up 20 reps, which ranked tied for No. 10 among the 15 tight ends who participated.
See the complete list of Pac-12 invitees.
Here are the Saturday and Sunday results from the Pac-12 players in the 40 and bench press:
Running back
Gaffney, Stanford: 4.49/did not lift
Sankey, Washington: 4.49/26 reps
Thomas, Oregon: 4.50/8 reps
Carey, Arizona: 4.70/19 reps
Silas Redd
, USC: 4.70/18 reps
Ryan Hewitt
, Stanford (fullback): 4.87/did not lift
Marion Grice
, Arizona State: Did not participate
Lache Seastrunk
, Baylor (transferred from Oregon): 4.51/15 reps
Wide receiver
Cooks, Oregon State: 4.33/16 reps
Paul Richardson
, Colorado: 4.40/did not lift
Shaquelle Evans
, UCLA: 4.51/13 reps
Josh Huff
, Oregon: 4.51/14 reps
Marqise Lee
, USC: 4.52/did not lift
Offensive line
Xavier Su'a-Filo
, OG, UCLA: 5.04/25 reps
Cameron Fleming
, OT, Stanford: 5.28/26 reps
David Yankey
, OG, Stanford: 5.48/22 reps
Marcus Martin
, C, USC: did not run/23 reps
Tight end
Colt Lyerla, formerly of Oregon: 4.61/16 reps
Anthony Denham
, Utah: 4.77/did not lift
Jake Murphy
, Utah: 4.79/24 reps
Richard Rodgers
, TE, California: 4.87/16 reps
Seferian-Jenkins, Washington: did not run/20 reps
Xavier Grimble
, USC: did not run or lift
Quarterback
No Pac-12 quarterbacks are at the combine, which is a rarity. The conference has sent at least one every year since at least 1999, which was as far back as we could go to find combine rosters.
November, 7, 2013
11/07/13
10:15
AM PT
A few storylines to keep an eye on this week in the Pac-12:
The big one: No. 5 Stanford will host No. 3 Oregon on Thursday night in a game that is sure to send shock waves throughout the Pac-12 and BCS Standings. A win for the Ducks likely re-catapults them back over Florida State and into the No. 2 spot of the BCS rankings -- the outcome of Alabama-LSU pending. A victory for the Cardinal keeps their national championship hopes alive, but they'd still need some help along the way to pass Ohio State and Florida State. This is just the second time that two Pac-12 teams have met while ranked in the top five of the BCS standings. The last time was No. 4 Arizona State and No. 5 Oregon in 2007.

[+] Enlarge

Scott Olmos/USA TODAY SportsByron Marshall leads the Oregon rushing attack at Stanford on Thursday night.

Edges matter: Per the brilliant number crunchers at ESPN Stats & Info, the Cardinal will have to contain the Ducks when they try to run outside. Oregon averages 8.7 yards per rush outside the tackles, second among all AQ teams behind Wisconsin. Last season, Stanford forced Oregon to run 63 percent of the time between the tackles. And when the Ducks did get outside, the Cardinal were able to contain them to the tune of just 29 yards, 1.9 yards per rush and 1.3 yards before contact. In Oregon's other games last season, they averaged 108.1 yards per game outside the tackles.

The other side of the ball: We know about Oregon's offense. We know about Stanford's defense. How about when roles are reversed? The Cardinal offense hasn't been all that productive of late, averaging just 21.6 points over its past three games. Oregon's defense yields just 16.9 points per game -- seventh-best in the country. Turnovers will obviously be a premium for both defenses. Stanford has a zero turnover margin with 11 takeaways and 11 giveaways. Oregon, however, is plus-13 with 23 turnovers gained to 10 turnovers lost.

Quotable: Always good for a one-liner, Stanford coach David Shaw was asked earlier in the week about De'Anthony Thomas' comments that he expects the Ducks to score at least 40 points. "I don't have an issue with that," Shaw said. "He's a confident young man, and they put it on film. They've done it. So I have no problem with that if that's his mentality. I'm just glad he only said 40." Seeing as Shaw has a penchant for the us-against-the-world approach for his team, here's betting he had a different message for his defense behind closed doors.

South showdown (1): UCLA heads to Tucson, where it hasn't won since 2003 -- the first year of the Karl Dorrell era. Both teams have already achieved bowl eligibility. Both teams sit at 3-2 in conference play. Now it becomes a question of pecking order. Ka'Deem Carey has rushed for at least 100 yards in 11 straight games, which is tops in the FBS. The Bruins snapped their two-game losing streak with a win over Colorado last week. Brett Hundley posted the third game of his career with two rushing and two passing touchdowns and he accounted for 345 yards of total offense. Keep an eye on how things play out in the first 30 minutes, because the Bruins are 13-0 under coach Jim Mora when they lead at the half.

South showdown (2): The Sun Devils look to strengthen their foothold on the South with a trip to Utah -- a team they blasted in Tempe last season. In fact, Utah coach Kyle Whittingham said he has "horrible memories" of last season's loss and called it one of Utah's poorest performances since joining the Pac-12. The obvious sidebar here is it's the first time Utah offensive coordinator Dennis Erickson is facing the team he used to coach. But Whittingham said Erickson is a pretty even-keeled guy and he doesn't expect sentiment or emotions to play a role. Whittingham also said that quarterback Travis Wilson is healed from his hand injury and won't wear a glove. Across the field, ASU quarterback Taylor Kelly is coming off of a seven-touchdown game on the road at Washington State.

Trojans rolling: Since making the coaching switch from Lane Kiffin to interim coach Ed Orgeron, the Trojans have gone 3-1, including a convincing 31-14 win last week on the road at Oregon State. For the second time this season USC had a pair of running backs post 100-yard games with senior Silas Redd rushing for 140 yards and Buck Allen collecting 133 yards (8.3 yards per catch) and 3 TDs. Allen was USC's fourth different back to rush for 100 yards this season. Marqise Lee is also coming off an outstanding performance, grabbing five passes for a season-high 105 yards and one touchdown in the win over the Beavers. Cal is still looking for a conference win, but should have some more confidence after an improved showing last week against Arizona.

Bowl eligible: So far there are six teams already bowl eligible (Oregon, Stanford, Oregon State, Arizona State, Arizona and UCLA) with two more on the verge of becoming eligible this week. USC, because of the 13-game regular season schedule sits at 6-3 overall and needs to pick up a win at California to get a spot in the postseason. Washington is at 5-3 with a visit from Colorado. Both teams are favorites, which would give the league eight teams headed to the postseason with the legitimate potential for two more (Utah and Washington State). Both have four wins and Colorado still has an outside shot. Cal is the only Pac-12 team eliminated from bowl eligibility.

Star power: Two of the nation's elite offensive playmakers square off in Seattle when Colorado visits Washington. Buffs wide receiver Paul Richardson has 57 catches for 984 yards with eight touchdowns and continues to close in on several of Colorado's single-season receiving marks. Washington counters with running back Bishop Sankey, who enters the week as the nation's No. 3 rusher, averaging 145.3 yards per game. He's coming off a career-best 241-yard performance against Cal and ranks fourth nationally with 12 rushing touchdowns.

Taking a breather: There are two teams on bye this week with Oregon State looking to refocus after dropping back-to-back games against Stanford and USC and Washington State taking its second bye week in the past three. The Beavers, who are already bowl eligible, close the season with two of their final three on the road; at ASU, home to Washington and at Oregon for the Civil War. With four wins, the Cougars need to win two more to teach the postseason. They are also on the road for two of their past three with dates at Arizona next week and home to Utah before closing out the Apple Cup in Seattle.
November, 5, 2013
11/05/13
9:00
AM PT
Just cause it's the mailbag doesn't mean I mail it in.
Trojan Nation in (Downtown LA) writes:
For the mailbag ... Kevin! You picked
USC to lose against Oregon State
. You Picked
USC to lose against Utah
. When are you going to show us Trojans some love and admit that we're a good football team with great talent who are WINNING despite going through what no other college team in college football has to. Would any other team in college football be doing as well as SC is if it had the same restriction put unfairly upon them??? I think not!
[+] Enlarge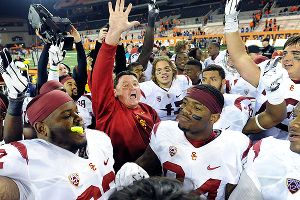 Steve Dykes/Getty ImagesEd Orgeron's Trojans have managed to overcome plenty of obstacles this season.
Kevin Gemmell
: I did, and I did. But I'll say the same thing to you that I said to the ASU fan
who berated my Washington pick
a couple of weeks ago: Where were the mailbag notes thanking me for my support when I picked
USC over Notre Dame
and
Washington State
or
Utah State
? Though I will admit, your note was far more polite and playful, which is appreciated.
Color me egg-faced, because you're right, USC is doing some pretty incredible things considering the roller coaster ride the program has been on with the sanctions and the coaching change and the injuries it has sustained.
When it comes to close games, I tend to lean toward the home team. And given USC's lack of recent success in Corvallis, I took the best data I had available and made a decision. I was wrong. Ted was right, so a tip of the cap to him.
What impressed me most about USC was the power running game. Getting
Silas Redd
back has obviously helped, but
Justin Davis
goes down,
Tre Madden
exits and
Buck Allen
steps in and absolutely throttles Oregon State. Say this for USC's depth, it's bad in a lot of places, but it's freaking awesome at tailback.
Now the Trojans are 3-1 since the coaching change, playing inspired defense and pushing people around on the lines. So yes, you are a good football team with great talent who is winning.
I'm not sure what to expect from USC down the stretch. But here's a spoiler alert, I'm going to go out on a limb and pick you guys this week.
---
Ryan in New York writes
: Kevin,
Nice article on the new coach at CU
. I wish them well this weekend and for the rest of the season. Snarky and spiteful? Ouch. I'll try and get back to my playful self. Let's be clear: I don't love UCLA, but Jim Mora's done a nice job and has handled himself admirably. I just think the media loves to over-hype sometimes, and given the Bruins' most impressive performances have been close losses, I do believe they need to win a meaningful game to earn so much praise. Keep up the good work and give your partner-in-crime a shout out, too.
Kevin Gemmell
: This is why Ryan is one of my favorite mailbaggers.
He flew off the handle a bit last week
. I called him on it and had to reel him back in. And he comes right back with another note. The dedication is appreciated.
First, thanks for the kudos on the Mike MacIntyre story. I know the wins and losses aren't there. And I don't think anyone expected a massive swing in the win column in just one season. But he's a proven rebuilder and recruiter, and I think he's got the program moving in the right direction.
Regarding UCLA, I still consider the win in Nebraska to be a meaningful game. Not just because of the tragic circumstances that led up to it, but simply for how explosive UCLA looked in that second half when everything was clicking. We got a glimpse of a team with remarkable offensive and defensive potential and saw firsthand that when it's clicking, it can hang with anybody.
Now, it wasn't clicking the past couple of weeks, and it clicked off and on against Colorado. A lot of that has to do with youth and injuries.
Right now ASU looks like the team to beat in the South. But I'm not banking on anything in this final month. With USC yet to play UCLA, and the Bruins and Sun Devils yet to play Arizona, a lot can, and probably will, happen.
---
Mahalo in Honolulu writes
: Hey Kevin, most of us Buff fans are happy with the new coach, yet are still skeptical on the outlook for the future -- primarily because of recruiting. High school kids don't have any memory of the glory days, the facilities are bleh, and the product on the field is, well, you know. What would you do to sell CU to the kids that can come here and help Mac build the Buffs to a contender?
Kevin Gemmell
: Your skepticism is valid. You've been jilted a few times over the past five or six years.
I don't know Mike MacIntyre as well as I do some of the other coaches. We've met a few times and speak on the phone every week during the teleconference. And for the story last week, he was gracious with his time and gave me an extended phone interview.
But there is a sense when talking to the man that he's going to at least get the program back to respectability or go down with the ship trying. He's a no-excuses guy. His pedigree is phenomenal, and there is no question about his dedication to the program.
That's what you sell. You buy into the man, not the facilities or the school's record 25 years ago. Take, for example, linebacker
Addison Gillam
. He had committed to MacIntyre at San Jose State. And when Mac changed to Colorado, Gillam followed. Here's a young man who had a chance to go to an 11-win team, ranked in the Top 25 and moving into the Mountain West, a very respected non-AQ conference. But he followed MacIntyre because he believes in the man and the vision. He wants to be a part of something special -- building up a program from scratch and restoring it.
There is something admirable about that. And I think that's MacIntyre's greatest asset in recruiting.
And though the wins aren't there yet, I think we definitely see a fiery, competitive team on the field. One playing with much more confidence than we've seen the past couple of seasons.
---
Daniel in Pittsburg writes
: Hey Kevin, as a diehard Stanford fan and family member, I'm curious to know what your projected BCS standings would be if Stanford beats Oregon? I would also like to know if a Baylor victory would also play a role? Thanks Kevin.
[+] Enlarge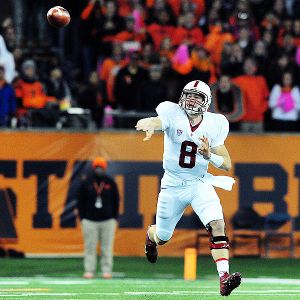 Steve Dykes/Getty ImagesEven if Stanford and Kevin Hogan beat Oregon, the Cardinal may need help from some other teams.
Kevin Gemmell
: Everything plays a role. A butterfly flaps its wings in Uzbekistan and the Colley Matrix blue screens.
I think Stanford would still need help, even if it beat Oregon, for the obvious reason that there are still undefeated teams in front of the Cardinal. If Florida State and Ohio State were to lose, then we could see the Cardinal jump into that No. 2 spot if they were to beat Oregon. And if Alabama loses, obviously the rest of the field moves up. So Stanford's best chance is to beat Oregon and hope for an assist from a Syracuse or Florida, an Indiana or a Michigan, or an LSU or Auburn.
Assuming everyone else wins, Stanford beating Oregon would further supplant Florida State as the No. 2 team and strengthen Ohio State even more as one of the few undefeated teams. Perhaps Stanford gets a couple of No. 2 or No. 3 votes in either of the human polls, but I'm not sure voters would spring them over an Ohio State team that hasn't lost in almost two seasons.
As for Baylor, I think it would enjoy a nice bump if it beat No. 10 Oklahoma. But I don't think it would be enough to vault the Bears over Stanford if the Cardinal beat Oregon. If Stanford loses, it's moot, because it will drop. If Baylor loses, it's moot, because the Bears will drop. Both teams need to win to keep pace, and I think Stanford's win would be viewed as more significant, so I don't see Baylor jumping the Cardinal.
---
Joe Bruin in Westwood writes
: Hey Kev ... Joe Bruin here. As a fan (and a mascot), I seem to be a little too worried about my team, especially after the games against Stanford and Oregon. I concur with Coach Mora when he said the team seemed to have a "hangover" from those games. Is it just me, or did the win against Colorado not look too impressive? Should I be worried about this team? Or will the Bruins get back in the swing of things?
Kevin Gemmell
: I'd be concerned about this game coming up. The Bruins haven't won in Tucson since 2003, Karl Dorrell's first season, and
Ka'Deem Carey
is obviously one of the nation's most elite playmakers. I know a lot of focus is on the Nov. 23 date with Arizona State -- and rightfully so -- but the Bruins still have a couple of tough tests in Arizona and Washington before that showdown.
However,
Brett Hundley
actually turned in the best quarterback performance of the week, per ESPN's Adjusted QBR rating (note, adjusted reflects opponent's strength).
Here's the other side of it. As I said earlier, Colorado is a better team than it was last fall so give those guys a little credit for coming in and not being intimidated.
I think Colorado provided a nice little test (when was the last time we typed that?) for UCLA to knock off some of the rust from the back-to-back losses. The Bruins figured a few things out, and the offensive line got some more experience.
And Mora has shown that he can rally the troops when they are down. And I wouldn't call the Bruins down right now. I'd just say they have a tough November ahead of them.
November, 3, 2013
11/03/13
12:54
AM PT
On Thursday morning, the best thing Week 10 had going for it was that it was right before Week 11. It was seven more days of watching the water boil till we could get to the Oregon-Stanford showdown -- the game we've been speculating about and talking about and writing about and blogging about and message-board-flaming about for the past nine months.
[+] Enlarge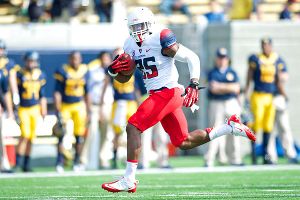 Matt Cohen/Icon SMIKa'Deem Carey rushed for his 11th straight 100-yard game in Arizona's win over Cal.
Week 10 was supposed to be filler material; B-roll compilation highlights; a stop-gap to sate us before the game we all want to see. But as it turned out, Week 10 was pretty darn entertaining. For what little buck there was, there was decent amount of bang.
Nothing was particularly earth-shattering or landscape-altering. But there was just enough entertainment value and drama to remind us why we tune in to every Pac-12 game. Not just the ones with ranked teams.
Taylor Kelly
was nothing short of brilliant with his seven-touchdown performance in Arizona State's victory Thursday at Washington State. It wouldn't be a Halloween game without something scary happening. And the scary happening in Pullman was that the Sun Devils scored 55 points and
Marion Grice
didn't have a single touchdown.
USC took its Corvallis curse and shoved it right down Oregon State's front seven as
Silas Redd
and
Buck Allen
combined for 273 rushing yards. The Trojans are now 3-1 since the coaching change.
California gave Arizona a scare and was an onside kick away from making things really interesting. But
Ka'Deem Carey
did what Ka'Deem Carey does best and rushed for his 11th straight 100-yard game -- tops in the FBS.
And UCLA got back to form against a Colorado team that came to play. The drama in Pasadena, Calif., wasn't breathtaking, but Colorado quarterback
Sefo Liufau
looked extremely poised, and there was a sense that, even down 18 points in the fourth quarter, the Buffs believed they could win. And yes, even in defeat, it's nice to see a little swagger out of the Buffs. I like seeing Liufau, a true freshman, shove back when
Anthony Barr
, a probable top-five draft pick, was penalized for excessively slamming the quarterback. I like the entire Colorado offensive line rushing to its quarterback's defense. And I like that Barr came right back and hit Liufau on the next two plays.
The Sun Devils look like the team to beat in the South, but USC and Arizona have climbed back into the hunt and UCLA isn't going to go gently -- especially after knocking off some of the rust from its two-game losing streak to Stanford and Oregon.
We can pretty much eliminate Oregon State from the race in the North after it lost another conference game. Combined with the loss to Stanford, the Beavers are in a pretty deep hole. It's not impossible, but they'll have to run the table over their final three games against ASU, Washington and Oregon, plus get a little help along the way.
However, the next Pac-12 game to be played will feature the Nos. 2 and 5 teams in the country. The speculation will soon come to an end and will be replaced with actual results. Said results could be a 21-point Oregon win or a three-point Stanford victory. Neither would be completely shocking.
The Ducks and Cardinal have split their past four meetings, with each team winning once at home and once on the road. The Cardinal got the better of the rivalry last year in one of the most thrilling games of the 2012 season. Two years ago in Palo Alto, Calif., it was the Ducks who dominated with a 23-point victory.
The wait is almost over. We can officially stop looking over the horizon and focus on the game that could have massive Pac-12 and BCS implications.
But before we do, a tip of the cap to Week 10. Thanks for making things fun. We're glad we stuck around to watch.
October, 17, 2013
10/17/13
10:15
AM PT
A few storylines to keep an eye on this week in the Pac-12:
1. Title game rematch
: UCLA and Stanford will face each other for the third time in the last 10 months. Only this time it's the Bruins who are the higher-ranked team, coming in at No. 9 after Stanford slid to No. 13 following its loss at Utah. Remember all of those side-to-side swing passes that Dennis Erickson and Utah used to keep Stanford off balance? Remember who worked for Erickson at ASU? Yep, Noel Mazzone. And UCLA loves to hit its receivers in the flat. Keep an eye on what happens after the second-half kickoff, as well. The Bruins are outscoring opponents 71-0 in the third quarter this year. Stanford has a 12-game home winning streak -- third longest in the nation -- and is 10-1 at home against ranked opponents since 2009. Stanford hasn't lost consecutive games since the middle of the 2009 season.
[+] Enlarge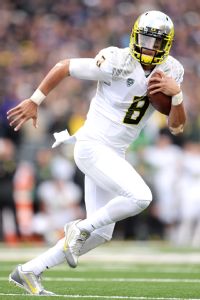 Allen Kee/ESPN ImagesMarcus Mariota and the Ducks are expected to be one of the top two teams when the BCS standings are released on Sunday.
2. BCS time
: The first Harris Poll of the season was released Sunday and featured four Pac-12 teams in the top 25: Oregon (2), UCLA (9), Stanford (12) and Washington (25). The first BCS standings will be released this week -- which comes on the heels of the announced selection committee for the College Football Playoff that starts next year. We're all expecting Oregon to be in one of the top two spots. Question is, where will UCLA or Stanford land?
3. North vs. South:
Two more critical North versus South showdowns this week with UCLA traveling to Stanford and Washington heading to Arizona State. The UCLA-Stanford game takes center stage for obvious reasons. But Washington-ASU has all the makings of a thriller. This is one of those 50-50 games that either team needs to win to show they belong in the upper tier of the Pac-12. The quarterbacks,
Keith Price
and
Taylor Kelly
, are obviously the mechanisms that make their teams go. But Washington running back
Bishop Sankey
(899 yards) has rushed for at least 125 yards in five of six games and ASU gives up almost 170 yards per game on the ground. Look for him to probably break 1,000 for the season by the final whistle. On the flip side, ASU's
Marion Grice
already has 15 total touchdowns. He had 19 last year, so look for him to eclipse that mark in the next couple of games.
4. Making up is hard to do
: Colorado will face Charleston Southern this week as a makeup for the Sept. 14 game against Fresno State that was canceled because of severe rain and flooding in Colorado. Charleston Southern is a perfect 7-0 on the year and is receiving votes in the Sports Network FCS College Football Poll. The Buffs are looking to get to 3-3 for the first time since 2010. And they are making a change at quarterback with
Sefo Liufau
stepping in after going 18 of 26 for 169 yards and a touchdown and two interceptions in relief against Arizona State.
5. No. 5?
The Cougars are looking for their fifth win for the first time since 2007. Tough draw, however, this week with a trip to Oregon. The Ducks are averaging 56.8 points per game and are second in the country in total offense with 630.5 yards per game.
6. Taking care of the ball
: Speaking of Oregon, quarterback
Marcus Mariota
, the Heisman frontrunner through the first half of the season, continues to impress with turnover-free performances. Though his completion percentage is down from last year, he hasn't thrown an interception in 165 pass attempts this year -- which extends a streak dating back to last season of 233 attempts. His last interception was against Stanford. During that stretch, he's completed 100 passes for 1,724 yards and 17 touchdowns. Receivers
Josh Huff
and
Bralon Addison
have 27 catches each for a combined 1,054 yards and 11 touchdowns.
7. Rebuilding the brand:
Nothing can unite the USC fan base like a win against Notre Dame. Better yet, a win
at
Notre Dame. The Trojans won their first game of the Ed Orgeron era and look to follow it up against the Irish. Neither team is ranked, but the names carry a lot of weight. This is a game that could re-energize the Trojans moving forward.
Marqise Lee
and
Morgan Breslin
have both practiced and it's looking like both will play. That should be a huge boost after getting running back
Silas Redd
back last week.
8. Momentum building?
What do the Utes do with their big win over Stanford? Do they keep the momentum rolling? They have to go on the road for four of their next six -- including leaving the state for the first time this season when they travel to face Arizona. The Wildcats are still looking for their first conference win, though quarterback
B.J. Denker
had a strong statistical performance in the loss last week to USC, completing 28 of 44 passes for a career high 363 yards and four touchdowns.
9. Who needs a running game?
The Pac-12's top two passing offenses square off with Oregon State's trip to Cal. OSU quarterback
Sean Mannion
has six straight games of 350 passing yards and the Beavers lead the conference with 433.2 passing yards per game and 25 passing touchdowns. Cal averages 371.3 yards in the air -- second in the league, but just 11 passing touchdowns, third worst. The Bears can move it, they just haven't been able to convert yards into points.
10. No off week:
For the second straight week, all 12 schools will be in action. This was supposed to be a bye week for Colorado, but the Charleston Southern game fills the void. Next week Arizona State and Washington State are on bye. It will be the first of two byes in three weeks for the Cougars, who will have opened the year with eight straight games following this week's matchup with Oregon.
November, 16, 2012
11/16/12
5:34
PM PT
By
Pedro Moura
| ESPNLosAngeles.com
The
USC Trojans
(No. 18 BCS, No. 21 AP) and
UCLA Bruins
(No. 17 BCS, No. 17 AP) haven't matched up in a game that meant this much in a long time.
The winner of Saturday's 12 p.m. PT game at the Rose Bowl will secure the Pac-12 South title and earn a trip to the conference championship to compete for a bid to another game at the Rose Bowl.
Here are 10 things to watch in the winner-take-all matchup:
1. Mora vs. Kiffin
. Long-term, the most important takeaway from this game will be who takes the upper hand between the two coaches who seem destined for a nice rivalry. Jim Mora and Lane Kiffin have the perfect mix of similarities and differences to make things interesting -- coaching bloodlines, NFL failures and recruiting successes, plus their opposite personalities. Mora is engaging and exciting as a speaker; Kiffin is, at his best, mildly entertaining. But who's a better coach? Perhaps we'll find out on Saturday.
2. More Marqise Lee
. Lee hasn't lost any of his luster over the past couple of weeks, as he continues to be probably the second-hottest player in the country, behind only
Johnny Manziel
of Texas A&M. The whole defense thing from last week didn't work out, and Lee said he won't be playing there this week, but even so, he should be able to exploit a weak UCLA secondary. Lee is just 14 catches, 86 yards and four touchdowns away from breaking the Pac-12 single-season marks in all three categories.
3. Strength vs. weakness
. If this isn't a recipe for abject disaster, what is? UCLA's biggest weakness is its secondary, and specifically, at corner. USC's biggest strength is its receivers, the top pass-catching duo in the nation. If the Bruins single-cover Lee with
Sheldon Price
or
Aaron Hester
at any point, they'll essentially be inviting the Trojans to score a touchdown. If they double- or triple-cover him, they'll be inviting Kiffin to re-explore throwing the ball to
Robert Woods
, which has never worked out too poorly for USC.
4. Hundley and Franklin
. USC has Lee and
Matt Barkley
. UCLA has
Brett Hundley
and
Johnathan Franklin
, and the Bruins' duo isn't far off in terms of overall excitement and ability to explode for dynamic plays. It'll be particularly interesting to see how the Trojans try to stop Franklin, who has reinvented himself this season as an outside runner after running mostly between the tackles in the old Bruins scheme. As for Hundley, he's a dual-threat quarterback who has been more effective as a passer than a runner, and he makes his living passing short to backs and tight ends. In fact, only one of the Bruins' top four receivers is an actual wide receiver, and only four of Hundley's 24 touchdown passes have gone to an actual receiver, not counting newly healthy running back/receiver
Damien Thigpen
.
5. The offensive lines
. No, they won't be battling directly against one another, but the Trojans' and Bruins' lines will collectively determine a lot of what happens at the Rose Bowl. UCLA's offensive line is particularly young and hasn't kept Hundley off the ground, but the Trojans' linemen probably would've been on the hook for more sacks if Kiffin didn't call so many three-step drops because of them. Who will step up to the occasion? If there's an indicator, maybe it's that USC starts a fifth-year senior at center in
Khaled Holmes
, and UCLA starts a redshirt freshman,
Jake Brendel
.
2014 TEAM LEADERS
| TEAM | RUSH | PASS | TOTAL |
| --- | --- | --- | --- |
| Offense | 199.4 | 268.5 | 467.9 |
| TEAM | PF | PA | MARGIN |
| Scoring | 32.9 | 27.5 | 5.4 |