October, 22, 2012
10/22/12
9:40
PM PT
LOS ANGELES -- Noel Mazzone is the
UCLA Bruins
' offensive coordinator, but he expects to spend some time in the defensive team meetings this week.
The Bruins play on the road this weekend, but quarterback
Brett Hundley
has been busy trying to find tickets for friends and family.
When UCLA visits the
Arizona State Sun Devils
in Tempe on Saturday, the teams will be playing for position in the Pac-12 South Division race, but for several Bruins with Phoenix-area ties the game carries a bit more meaning.
Mazzone was the offensive coordinator at Arizona State in 2010 and 2011 and played a major role in recruiting many of the current Sun Devils players. Hundley went to high school in nearby Chandler, Ariz.
Running backs coach Steve Broussard spent the last two seasons as receivers coach at ASU. And punter
Jeff Locke
went to high school in nearby Glendale and grew up and Arizona State fan.
"It special in that I know mostly all of those kids over there and they're great kids," Mazzone said. "But I'm a UCLA Bruin now and I want to go over there and play as hard as we can and come away with a win."
Hundley may have been raised near Tempe, but his father went to Arizona so he grew up in a home that disliked the Sun Devils. Still, he has many friends and family in the area who want to see him play in his first appearance here, so he's been hitting up teammates for extra tickets this week.
"I've been asking everybody," Hundley said. "I've got to try and get as many as possible, so I'm on the prowl for all of them. I'm hoping about 20, but I'm pushing for more."
Finding tickets is not a problem for Locke. He has already warned his friends and family that he wouldn't be able to get enough ducats for them, so they have already bought theirs.
"I've actually been giving tickets to Brett," Locke said.
Locke grew up an Arizona State fan. He said he still has a Sun Devils sweatshirt in his closet at home and that his college choice came down to ASU and UCLA. Still, he said, he enjoyed his last experience playing against the Sun Devils even though it was a bit nerve-racking playing at the stadium where he grew up watching games.
"I got control of my excitement," Locke said. "I got so excited when I went back there. You have to calm it down a little bit and make sure you do your thing."
Arizona State won 55-34 in that 2010 game to which Locke was referring, rallying from a 17-0 first-quarter deficit with an offensive coaching staff that included Mazzone and Broussard. Having two coaches on staff who know the Arizona State players well would seem to be an advantage for the Bruins, but Mazzone said that's only an illusion.
"I think that's sometimes a little overrated," Mazzone said. "It still comes down to blocking and tackling."
Conversely, it might be an advantage for Arizona State's defense to play an offense so similar to the one it faced for two years in practice.
"They know our offense and they know some of our tendencies and things like that," Broussard said. "So we're going to have to try to do some things a little bit different than we would normally do."
One thing Broussard said he wouldn't be doing this week is sending too many text messages or posting on Facebook to his former players.
"You have some friends over there and some relationships with some players," he said. "You tell them, 'Hey, see you on Saturday,' but the last thing you want to do is give anybody any bulletin board material."
August, 3, 2012
8/03/12
5:58
PM PT
The preseason positional reviews are in and camp is set to begin, so with a little time to kill, how about a prediction on UCLA's upcoming season?

Preseason predictions by nature are pretty silly because nobody knows how a season is going to unfold, what players are going to emerge as stars and which won't live up to their preseason accolades. Everyone loves a prediction, however, so predict we must.

But how about taking the silliness factor up a notch and not only project who will win each of UCLA's games, but how? That's right, fictional game recaps before the games happen. As if giving you just a score wasn't enough of an inane endeavor, we present the following dreamed-up version of how UCLA's season might go:


April, 19, 2012
4/19/12
9:07
PM PT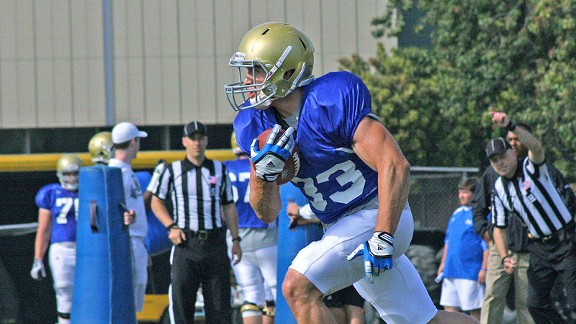 Peter Yoon / ESPNLA.comSteven Manfro set records at Valencia High School, but UCLA was one of the only schools to offer a scholarship.
LOS ANGELES--Somehow, some way,
Steven Manfro
will make a believer out of those who doubt him.
One visit to UCLA's spring practice ought to do the trick.
Manfro, a freshman running back for the Bruins, seems to have a permanent spot on the "guys who are overlooked" list, but he's making people pay attention to him with his performances over the past couple of weeks at Spaulding Field.
The shifty, quick scat back regularly draws oohs and aahs from the fans assembled in the crowd and leaves defenders grasping at air with an array of open field moves and stop-on-a-dime cuts. He's fast enough to out-race defenders down the sideline and has earned the nickname "White Mamba" -- a spinoff of Oregon running back
DeAnthony Thomas
' "Black Mamba" moniker -- because of his similar play-making ability.
"Every day I'm kind of looking at him and saying 'What is he going to do today?' " coach
Jim Mora
said. "And he doesn't disappoint."
Not bad for a kid who received little attention from recruiters while at Valencia High School for reasons no one can quite explain. He received only two scholarship offers, one from Wyoming and one from UCLA, despite setting 27 school records and earning CIF Southern Section Northern Division player of the year honors.
Manfro rushed for 2,553 yards and 29 touchdowns his senior season and once ran for 420 yards in one game to set a Foothill League record, yet heard mostly crickets when it came time for scholarship offers.
"I'm not really sure why," Manfro said. "I really don't know."
Some say his size was a detractor, but at 5 feet 10, 190 pounds his size isn't all that unusual for a college running back.
"I don't really understand most of those because I'm the same size as most of the running backs," he said. "I don't think I'm that below average in size."
Others say his high school jukes and cuts wouldn't translate well when faced against college players, but he's showing in camp that he is, indeed, an effective runner at this level. Manfro laughs off all the doubters and uses them as motivation.
"I'm trying to prove to people that I could play on this level," he said. "Whoever doubted me, I am a D-1 player and I can show them."
December, 17, 2011
12/17/11
2:13
PM PT
There never was a question regarding
Devin Lucien
's readiness as a true freshman. Those who saw him during fall camp gushed about the potential and raw ability.
But with three seniors and two juniors making up the receiving corps, there was no need to rush the process. Lucien understands that, though he wasn't necessarily thrilled with the decision.
"I hated redshirting," Lucien said. "I hated it with a passion, especially when traveling with the team because you do everything but you don't play."
After
Rick Neuheisel
was fired, Lucien said he'd reassess his options based on which coach UCLA hired, according to the
Orange County Register
. Making Lucien's decision easier was coach
Jim Mora
's hiring of Arizona State receivers coach
Steve Broussard
, who nearly lured Lucien to Tempe out of high school.
"I'm really excited with the new coaching staff," Lucien said. "I've been able to talk to coach Mora one time and I'm just really excited for next year. I'm hungry as can be and I'm ready to go."
Other news and notes from Saturday's practice, as the Bruins continued to prepare for the Dec. 31 Kraft Fight Hunger Bowl against Illinois:
-- A flock of local recruits unofficially visited campus and met Mora for the first time, attending the latter half of Saturday's practice. The bunch included highly touted defensive tackle
Ellis McCarthy
(Monrovia), defensive backs
Brandon Beaver
(Dominguez) and
Kevon Seymour
(Muir), lineman
Jeremy Castro
(Vista Murrieta) and offensive linemen
Kyle Long
(Saddleback College) and
Colby Cyburt
(Mission Viejo). Linebacker
Aaron Porter
(La Habra) and lineman
Lacy Westbrook
, among a group of those already committed to UCLA, also attended.
-- Quarterback
Kevin Prince
returned to practice after missing Friday's session with a sore knee. "I thought he looked good," interim coach
Mike Johnson
said. "He came out with good energy and I thought he made the right checks and got the ball out of his hand. I thought the day off was good for him."
-- Johnson, a candidate for the head coaching position at Akron, had no update on his job status, but said he anticipates to make a decision early next week. "There's a couple of things out there that I'm looking at," Johnson added. "Probably sometime next week I'll know."
-- It just keeps getting worse for safety
Alex Mascarenas
(concussion), who has been out of practice since the middle of November. Mascarenas suffered two cuts above his left eye when
Randall Carroll
ran into him during an interception return, needing a towel to wipe off the blood. He was taken into the trainer's room.
-- Interim quarterbacks coach
Marques Tuiasosopo
, who will serve as the tight ends coach on Mora's staff, combined both groups for a quick-pass drill early in practice.
-- Safety
Dalton Hilliard
once again practiced in a red no-contact jersey.
December, 15, 2011
12/15/11
6:48
PM PT
UCLA defensive line coach Inoke Breckterfield and quarterbacks coach Marques Tuiasosopo will be retained by incoming coach Jim Mora, the school announced Thursday.

The school also confirmed the previously reported hirings of Demetrice Martin, Adrian Klemm and Steve Broussard. Martin, from Washington, will serve as passing game coordinator/defensive backs coach. Klemm, from Southern Methodist, will take over as run game coordinator/offensive line coach and Broussard, from Arizona State, will serve as running backs coach for the Bruins.

Klemm and Martin will join Mora's staff immediately, while Broussard will come to Los Angeles after Arizona State competes in the Maaco Bowl Las Vegas on Dec. 22. Breckterfield will stay on as defensive line coach, and Tuiasosopo will move to tight ends coach. Mora can add three more coaches.

"Each of these coaches will bring unique qualities to the UCLA football program," Mora said in a statement released by the school. "All of them will be integral pieces of the UCLA football puzzle from their first day on the job."
2013 TEAM LEADERS
| TEAM | RUSH | PASS | TOTAL |
| --- | --- | --- | --- |
| Offense | 196.6 | 251.6 | 448.2 |
| TEAM | PF | PA | MARGIN |
| Scoring | 36.5 | 24.1 | 12.4 |