February, 17, 2012
2/17/12
4:05
PM PT
On the long plane ride from Los Angeles to New York, UCLA basketball coach
Ben Howland
was preparing for his team's game Saturday against St. John's at Madison Square Garden so he watched game film from the Bruins' 66-59 victory over the Red Storm from last season.
He might have been better off taking a nap.
[+] Enlarge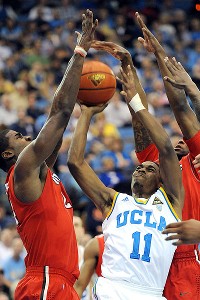 Jayne Kamin-Oncea/US PresswireUCLA's Lazeric Jones played against St. John's last season, but the same can't be said for any current Red Storm player of having played UCLA in 2011.
St. John's bears little resemblance to the team UCLA faced a year ago at Pauley Pavilion, with no players on the current roster having played in that game and coach
Steve Lavin
taking a limited role as he recovers from prostate cancer.
The Red Storm, because of player graduations and defections, will run out a starting lineup of five freshman for the 10 a.m. PT tipoff and use a junior college transfer as their only significant bench player. Last year's Red Storm squad finished 21-12 and advanced to the second round of the NCAA tournament with a roster that included 10 seniors, but the lone returning player from that team -- guard
Malik Stith
-- quit the team last week for personal reasons.
The Red Storm (10-16, 4-10 Big East) have lost nine of their last 11 games, including four in a row, but Howland says he isn't taking the team lightly.
"They are really playing hard," Howland said. "Some of their freshmen have been incredible. These kids are very talented. They are young, but they are very talented."
Leading the way for St. John's are
D'Angelo Harrison
, a 6-foot-3 guard, and
Moe Harkless
, a 6-8 forward. Harrison is averaging 16.7 points to lead all Big East freshmen and Harkless is averaging 15.9 points and 8.5 rebounds -- second among Big East freshmen in scoring and first in rebounding.
Harkless is the tallest player on the team, so the smaller, quicker Red Storm will present a matchup problem for the Bruins, who have four regulars at 6-10.
"They are a very dangerous, long, athletic team," Howland said. "They're pressing back to their zone. Their zone is very aggressive with a lot of ball pressure. It's a hard matchup for us because they play small."
October, 12, 2011
10/12/11
10:46
PM PT
The UCLA men's basketball team will officially begin practice Thursday for a highly anticipated 2011-12 season, but it will have a decidedly different feel than seasons past.

With Pauley Pavilion undergoing major renovations and the team being displaced for its home games this season, the Bruins also will need to find a new practice home.

So they're going to reach a little into their past.

Workouts and game preparations will take place in "the Old Men's Gym" or the Student Activities Center on campus.

The team held its annual media day Wednesday in the Men's Gym -- a place where coach John Wooden once practiced with his teams from 1948 to '65.

"That chalk board over there is the actually chalk board that Coach used to write on," UCLA coach Ben Howland told reporters. "It's the actual board itself, it's pretty cool. His 101st birthday is Friday, always right at the start of the college basketball season. Coach Wooden's teams practiced in here until Pauley was built."

This season's UCLA team is looking to do big things, despite the departures of underclassmen Tyler Honeycutt and Malcolm Lee, who left school early to pursue professional aspirations.

The Bruins' strength appears to be on the front line, giving the team some size and bulk, especially with the additions of twins David and Travis Wear, former Mater Dei High standouts who transferred from North Carolina and sat out last season.

The Wear twins, each 6-foot-10 sophomores, could open things up on the inside for 6-10, 305-pound center Joshua Smith, who averaged 10.9 points and 6.3 rebounds as a freshman last season. UCLA also returns athletic junior Reeves Nelson, who was the team's leading scorer last season at 13.9 points per game.

Adding depth inside are 6-10 sophomore defensive specialist Anthony Stover and 6-9 junior forward Brendan Lane.

"Our real strength is our front line," said Howland, who is beginning his ninth season in Westwood.


February, 5, 2011
2/05/11
5:17
PM PT
LOS ANGELES--The must-win portion of UCLA's schedule is officially over. Now, the Bruins head into the must-not-lose stretch.

UCLA passed the biggest hurdle remaining on its road to the NCAA tournament by spoiling Steve Lavin's return to Pauley Pavilion with a 66-59 victory over St. John's Saturday in a nonconference game that probably took UCLA off of the bubble and into the bracket.

Along with it's victory over Brigham Young, UCLA now has two victories over highly-regarded teams that will look nice and sparkly on its resume come tournament selection time.

The key now is to not trip up. UCLA (16-7) can probably afford a loss or two in its final eight regular-season games, as long as they are against Arizona or Washington. If they are against anyone else, it's bubble time again.

So while UCLA's turnover-filled victory Saturday wasn't the prettiest to watch, it might end up being one of it's best looking on paper at the end of the season.

"It's a big win for us," forward Tyler Honeycutt said. "This team had a top 25 RPI, they just beat Duke who is No. 3 in the country so we kind of had a part of that win. We need this real bad."

Five observations from the game:


February, 5, 2011
2/05/11
2:05
PM PT
LOS ANGELES -- Former UCLA coach Steve Lavin was still on the floor an hour after Saturday's game ended, tending to old friends and familiar faces from his time in Westwood.

Even a 66-59 loss to the Bruins couldn't keep Lavin from smiling. He posed for photos, shook hands and waved hello at anyone who approached him.

"I've always felt at home and comfortable at Pauley because of the 12 years I spent here," Lavin said. "There's always familiar faces, friendly faces, that make you feel at ease. As I anticipated, it was a bit surreal walking into the opposing locker room. It did take me a moment."

Lavin stood near the UCLA bench before the game and momentarily stayed there until he was approached by an assistant.

"Coach (Gene Keady) was like, 'Steve, we're on the other end,'" Lavin said with a grin.

For the most part, Lavin received a warm welcome. The only questionable move was made by UCLA's student section, which mocked Lavin's slick hairdo by passing a tub of hair gel around prior to the game. Students took their share of gel and slabbed it on.

UCLA coach Ben Howland said afterward that he didn't notice any negativity. He was happy Lavin was treated well in his return.

Lavin said he probably would reflect on the game in the offseason.

"Once the game started, as coaches we're trained to focus on the task at hand," he said. "I lost myself in the competition of the game."
February, 4, 2011
2/04/11
5:08
PM PT
When UCLA faces St. John's in a nonconference game Saturday at Pauley Pavilion, it will mark the
return of former Bruins coach Steve Lavin
.


Lavin said he expected to receive a creative welcome from the UCLA fans, but Bruins coach
Ben Howland
says he hopes the fans don't cross the line as he felt they they did against USC on Wednesday night.
Several times during that game, fans chanted "F--- SC," over and over. Howland said it was uncalled for.
"That was obviously something that we don't condone," Howland said. "I was excited about how enthusiastic our fans were, especially the students, but we absolutely do not condone that cheer. ... This is a very classy place and we want to represent the university in a first-class manner. It's really unfortunate and it's something I need to address because we don't need that."
Rise and (try to) shine
Game time Saturday is 10 a.m., an early start to accommodate a national broadcast by CBS.
It is the second morning game in three weeks for UCLA. On Jan. 22, the Bruins played Stanford in an 11 a.m. game.
"10 a.m. is obviously an early game," Howland said. "It's going to be an early rise and breakfast for these kids."
2014 TEAM LEADERS
| TEAM | RUSH | PASS | TOTAL |
| --- | --- | --- | --- |
| Offense | 199.4 | 268.5 | 467.9 |
| TEAM | PF | PA | MARGIN |
| Scoring | 32.9 | 27.5 | 5.4 |